We are all guilty of letting things get a little cluttered at home sometimes. A kitchen counter stacked high with unopened mail… Clean clothes piled up on a bedroom chair… A bathroom cabinet filled with dated toiletries and barely-used beauty products…
You are not alone. The clutter can become a problem if you continue to let it happen, though. Guests might feel uncomfortable sitting in a living room area with a shoe collection a Kardashian would be jealous of. A dining room lined with reusable shopping bags isn't a great place to host friends for game night. Visitors might not enjoy sharing a bedroom with exposed stacks of old papers and file folders you were "getting around to clearing." Before it gets too bad, it can get a lot better! Not only will your loved ones feel more welcome in your tidy space, you'll feel more confident in hosting them in your spacious and neat 1st Lake home!
Start New Habits. Slowly.
It would be pretty stressful and exhausting to try and organize everything at once! According to Zen Habits, "When your home is filled with clutter, trying to tackle a mountain of stuff can be quite overwhelming. So here's my advice: start with just five minutes. Baby steps are important. Sure, five minutes will barely make a dent in your mountain, but it's a start. Celebrate when you've made that start!"
Zen Habits then suggests starting with your paper possessions like mail, magazines, and important documents. First, sort through and designate a home for that disheveled mail pile. If you have a console in your entryway, consider adding a small tray with tall sides to the table. If you really want to organize your mail, add a few trays to the table – one for important mail and bills, one for junk mail or magazines, and one for outgoing mail. No room for a table or console? There are plenty of wall-based organization products you can hang up in your entryway to hold your keys, bags, sunglasses, and yes, your mail!
If five minutes isn't enough, Apartment Therapy guest-professional organizer, Nicole Anzia says, "It's much better to spend a few hours — 2 or 3 — on one project or space. This way you'll feel motivated to do more, not be burned out by the process."
Go Room by Room
How do you eat an elephant? One bite at a time. If you have de-cluttering goals for every room in your house, it's best to go one room at a time. That way you can focus entirely on that room's purpose and specific de-cluttering needs instead of half-starting your work then bouncing around to other rooms.
Use this room-by-room guide by The Spruce to hit the ground running on your de-cluttering efforts!
Accomplish Each Goal in Its Entirety
Whether it's the 5-minute task of organizing your mail pile or the 3-hour task of cleaning out your closet, you've got to finish what you've started. Sure, it might make you anxious. It might feel too overwhelming. It might keep you from doing something social. But the feeling of accomplishment and achievement well surpasses any feelings of stress!
You'll be proud you put away your living room line-up of shoes. You'll be proud you organized that tangled mess of electronics cords and earphones. You'll be proud you donated your clothes and shoes to people in need. Once you start adjusting to these new habits and routines, you'll never look back! Starting small will open the door to more efficient habits, so don't be afraid to tidy up, organize, and de-clutter! You'll love the space you created yourself!
---
Happy Valentine's Day! We know it might be difficult to plan a romantic date after celebrating Mardi Gras all weekend, so we've rounded up a few at-home date options you can use for inspiration this February 14th. 
Your 1st Lake home is the perfect setting for a relaxing and intimate Valentine's Day date. In fact, you can shower your loved one with mini-dates all day long without having to leave the house. Starting with…
Breakfast in Bed
Start off your day of love with breakfast in your cozy 1st Lake bedroom.
They'll love waking up to a tray of homemade pancakes, scrambled eggs, and fresh fruit. Cooking your loved one's breakfast is a meaningful and thoughtful beginning to a warm and affectionate day! 
Candle-lit Day Spa Indulgence
Line your 1st Lake bathroom's spacious soaking tub with flickering battery-powered faux candles, then fill it with an essential oil-scented bubble bath.
We like lavender for its calming and relaxing capabilities. A moody, candle-lit bubble bath will make your loved one feel royally loved. 
May I Have This Dance?
To get the evening started, clear your 1st Lake living room and turn it into a dance floor for two.
It might seem silly, but there's something tender about dancing to the songs that have shaped your time together. It's a great reminder of all of the memories you've made with your loved one. 
Dinner Under the Night Sky
Many of our 1st Lake communities have beautiful gazebos and outdoor spaces you can use to host a twilight dinner. Our newest development in Covington, Artesia, has a spacious poolside grilling area that's perfect for cooking an open-air Valentine's Day dinner.
After you're done with dinner, share a toast to the lovely day you shared in the home you made together!
Feeling Inspired?
Your 1st Lake home is a great place to make memories without having to go far or spend a lot of money (maybe a little on some chocolates). The best part? No reservations. How are you going to spend Valentine's Day this year? Share the love with us on our Facebook page!
---
The first big weekend of Mardi Gras has officially come and gone, but there are more parades to come! Your First Lake home is probably already filled with beads, toys, and dubloons, but we think you should add a shoe or purse to your Carnival collection. There are plenty of parades left on the schedule, so take a look at this day-by-day line-up, and prepare yourself for the last few days of Mardi Gras 2018!
Wednesday, February 7
Uptown New Orleans
Krewe of Druids [6:00 p.m.] 
The Krewe of Druids doesn't host a coronation ball or post-parade celebration, and their riders' identities are never revealed to the public. This 200-person parade-only Krewe starts rolling from the corner of Jefferson Avenue and Magazine Street. They ride the traditional Uptown route, heading down St. Charles Avenue towards Canal Street downtown. Their final turn happens on the corner of Canal Street and South Peters Street.
Krewe of Nyx [7:30 p.m.]
The Krewe of Nyx parade will start immediately after Druids' last float rolls. This all-female Krewe has grown in popularity since its founding in 2012. During the off-season, members spend their time hand-decorating the coveted Nyx Purse, which parade-goers vie for with comical signs and good old-fashioned pleading. Expect ornate floats, high-energy marching bands, and sequined handbags.
Thursday, February 8
Uptown New Orleans
The Knights of Babylon [5:30 p.m.]
The Knights of Babylon were established in 1939, and they've dedicated their parade to the preservation of traditional float design. The parade is lit by flambeauxs and their King's float is still pulled by mules. The Knights of Babylon is the first parade of the night, and it starts on the corner of Magazine Street and Napoleon Avenue. It will follow the traditional St. Charles Avenue route to Canal Street downtown, where it will conclude.
The Knights of Chaos [6:15 p.m.]
Immediately following the Knights of Babylon are the Knights of Chaos. Much like Druids, the Knights of Chaos never reveal their riders' identities, and their theme is only revealed once they start rolling.
Krewe of Muses [6:30 p.m.]
Established in 2000, the all-female Krewe of Muses is Thursday's most-anticipated parade. The reason? Hand-decorated high heels! The Muses Shoe is considered a collector's item to many Mardi Gras fans. The local, social, political commentary of this parade has become a major crowd pleaser, and their new signature float – a string of larger-than-life yellow rubber duckies – is a can't-miss sight. If you want to get a Muses Shoe, a clever sign will help!
Friday, February 9
Uptown New Orleans
Krewe of Hermes [6:00 p.m.]
Hermes was founded during the Great Depression to help ease the suffering of New Orleans' most vulnerable. Named after the "winged courier of the gods," Hermes is led down St. Charles Avenue by its costumed Captain.
Krewe d'Etat [6:30 p.m.]
The most satirical parade of the night belongs to the mysterious Krewe d'Etat. Their traditional floats are covered with sarcastic captions, outrageous props, and mildly inappropriate depictions of current events. Their Captains ride on horseback, their riders dress as skeletons, and their signature throw is a blinking skull bead.
Krewe of Morpheus [7:00 p.m.]
The final parade of Friday night, Morpheus, was established in 2000 as an inclusive Krewe that welcomes all interested riders to join. They aim to provide paradegoers with a traditional Mardi Gras experience. Morpheus starts on the corner of Jefferson and Magazine Street before heading up Napoleon and continuing down St. Charles Avenue.
Saturday, February 10
Uptown New Orleans
Krewe of Iris [11:00 a.m.]
The Krewe of Iris was formed in 1917, making it one of the oldest Krewes of Mardi Gras. The all-female parade boasts over 1500 members, and they uphold the traditional mystique of Mardi Gras by hiding their faces and wearing clean, white gloves. Isis' route is a little different from its predecessors. It begins on Napoleon Avenue above St. Charles Avenue and turns left onto St. Charles instead of coming up from Magazine.
Krewe of Tucks [12:00 p.m.]
The Krewe of Tucks is the brainchild of a group of college students. Two Loyola New Orleans wanted to reignite the legacy of a defunct Uptown bar – named Tucks – as a new Mardi Gras Krewe. This wild and raucous daytime parade has a few handy signature throws  – Tucks-printed toilet paper and hand-decorated plungers. Paradegoers can expect rolls to fly over the oak tree branches on St. Charles Avenue resulting in a teepee'd stretch of New Orleans most iconic street.
Mid-City New Orleans
Krewe of Endymion [4:15 p.m.]
The culmination of Saturday's parade line-up is the Krewe of Endymion. Considered one of Mardi Gras' "Super Krewes," the Krewe of Endymion pulls out all of the stops for their nighttime parade. Not only do they host an array of celebrity guests, their floats are some of the most spectacular creations to roll each year. Their signature float is also Mardi Gras' largest creation. The extravagant and wildly popular Pontchartrain Beach float has nine sections and holds 300 of their 3,000 riders. This mega-parade starts on Orleans Avenue in Mid-City, turns down Carrollton, then heads downtown on Canal Street before pulling into the Mercedes-Benz Superdome for the Endymion Extravagana.
Sunday, February 11
Uptown New Orleans
Krewe of Okeanos [11:00 a.m.]
Be on the lookout for Okeanos' Captain and King. Their intricate costumes are one of the parade's many highlights! Catch the first parade of the day on St. Charles Avenue or anywhere downtown.
Krewe of Mid-City [11:45 a.m.]
This day parade is a delight to paradegoers young and old. Mid-City dedicates its parade to childlike wonder and joy, and every year they invite a boy and girl from the local Ronald McDonald House to serve as King and Queen of their parade. See this enchanting parade roll right after Okeanos.
Krewe of Thoth [12:oo p.m.]
The Krewe of Thoth is one of the longest parades of Mardi Gras. With over 1600 riders and a float count around 50 annually, Thoth is also one the largest. Thoth's route begins near Audubon Park on Tchoupitoulas Street before snaking its way up Henry Clay Avenue to Magazine Street and then to Napoleon Ave.
Krewe of Bacchus [5:15 p.m.]
Super Krewe number two, Krewe of Bacchus, and its 1,000-member group are the last to roll on Sunday. The nighttime parade is a tribute to the god of wine, and it is one of Carnival's most outrageous parades. The massive floats of Bacchus include two very famous primates, King and Queen Kong, and paradegoers are often seen slinging their beads back at the two rolling statues.
Monday, February 12 (Lundi Gras)
Uptown New Orleans
Krewe of Proteus [5:15 p.m.]
The Krewe of Proteus is the second-oldest Mardi Gras Krewe still in operation. Named after Poseidon's son, Proteus is best known for its nautical-themed throws and its signature seashell float.
Krewe of Orpheus [6:00 p.m.]
Founded in 1993 by members that included legendary New Orleans musicians, Harry Connick and his son, Harry Connick Jr., this Lundi Gras Super Krewe lights up St. Charles Avenue with its bouquet-like floats. Orpheus is best known for its massive floral decor and signature float, The Smoky Mary – a high-tech locomotive-themed float complete with steaming action. Orpheus takes a slightly different route once it arrives downtown, though. Instead of stopping just after turning onto South Peters Street, Orpheus continues through the business district and into the convention center.
Tuesday, February 13 (Mardi Gras Day)
Uptown New Orleans
Krewe of Zulu [8:00 a.m.]
Coconuts! Get your Zulu Coconuts! The early morning Krewe of Zulu parade kicks off Fat Tuesday's festivities in Central City. The parade works its way down Jackson Avenue to St. Charles Avenue where it turns and heads downtown. Upon reaching Canal Street, the parade takes a left turn up Canal and towards Basin Street. From there, Zulu winds its way up Basin to Orleans Avenue until it reaches its headquarters, the Zulu Social Aid & Pleasure Club.
Krewe of Rex [10:00 a.m.]
The grandfather to some of Mardi Gras' oldest-held traditions, the Krewe of Rex is the last major parade to roll on Mardi Gras Day. This Krewe is responsible for the establishment of Mardi Gras' signature colors and the creation of the coveted Mardi Gras doubloon. Every year, Rex throws collectible float beads with pendants that represent each float's theme. Please note: Rex actually rolls on the opposite side of St. Charles Avenue, which houses the mansion they toast from each year.
---
This Sunday, February 4, is the big game, and although we wish the Saints were suiting up to play, we know the matchup between New England and Philadelphia will be an exciting one! If you're hosting a game day viewing party in your 1st Lake home and feel overwhelmed with what to cook for your guests, start here! We've rounded up our favorite appetizer and snack recipes from New Orleans' most celebrated chefs so you can add a little Louisiana to your football watching party this weekend.
Creole Quesadillas from Chef John Folse
Now that crawfish are back in season, we can't think of a better way to incorporate them into your game day offerings than in a melty, cheesy, and oh so spicy quesadilla. This recipe from Chef John Folse will certainly score you some big flavor points.
Ingredients:
1 pound fresh crawfish tails
½ cup butter
1 cup sliced green onions
2 tbsps minced garlic
½ pound wild oyster mushrooms
½ pound sliced button mushrooms
½ pound Chanterelle mushrooms
1 tbsp fresh thyme leaves
2 tbsps chopped cilantro
1 cup diced Creole tomatoes
½ cup diced yellow bell pepper
½ cup diced red bell pepper
1 tbsp Creole seasoning
salt and black pepper to taste
hot sauce to taste
8 large tortilla shells
1 pound grated Monterey Jack cheese
Instructions:
Preheat oven to 375 degrees F. You may wish to substitute shrimp, crab or even chicken if crawfish is unavailable in your area. In a large cast iron skillet, melt butter over medium-high heat. Add green onions, garlic, and mushrooms. Sauté 3-5 minutes or until mushrooms are wilted. Add crawfish, thyme, cilantro, tomatoes and bell peppers. Continue to sauté until juices are rendered and liquids have almost completely evaporated approximately 10 minutes. Season to taste using Creole seasoning, salt, pepper and hot sauce. Place the tortilla shells on a large cookie sheet and sprinkle with a small amount of Monterey Jack cheese. Top with a portion of the crawfish stuffing and more of the Monterey Jack cheese. Fold each tortilla in half and bake 7-10 minutes or until cheese is melted and tortillas are slightly crisp but not over-browned.
Dooky Chase's Shrimp Gumbo by Chef Leah Chase
The Queen of Creole Cooking, Leah Chase, shared her world famous gumbo recipe with The Food Network so you can make your guests feel like they're dining at Dooky Chase in your 1st Lake living room! The weather will be a little chilly this Sunday, and a big pot of gumbo is a great way to warm up the football crowd.
Ingredients:
1/2 cup peanut oil
4 tablespoons flour
1 cup chopped onions
1 pound small white shrimp (30/40), peeled and deveined
8 ounces Creole hot sausage, cut into bite-size pieces
8 ounces smoked sausage, cut into bite-size pieces
8 ounces beef stew meat, cubed
8 ounces smoked ham, cubed
6 chicken wings, cut in half
1 tablespoon file powder
1 tablespoon paprika
1 tablespoon salt
2 dozen oysters, with their liquid
1/4 cup chopped parsley
3 cloves garlic, minced
1 teaspoon ground thyme
Instructions:
Heat the oil in a skillet over low heat and add the flour to make a roux, browning until golden about 3 minutes. Add the onions and cook over low heat until the onions wilt about 4 minutes.
Put the shrimp, sausages, stew meat and ham in a 5-quart pot over medium heat. Pour the onion mixture over the ingredients and add 3 quarts water, the chicken wings, file powder, paprika, and salt. Bring to a boil and cook for 30 minutes or until broth reaches desired thickness.
Add the oysters, parsley, garlic, and thyme. Lower the heat and cook until the shrimp is pink, about 10 minutes more, before serving.
Bacon Wrapped Dates by Chef Emeril Lagasse
Bacon is always a crowd pleaser in our book! Chef Emeril Lagasse's Bacon Wrapped Dates are a tasty and perfectly-portioned appetizer to serve before the game begins. These individually served treats are the perfect blend of salty and sweet, and they'll complement those commercial breaks nicely.
Ingredients:
24 Medjool dates
24 Marcona or whole roasted almonds
4 ounces honey goat cheese
12 slices very thin bacon
Instructions:
Preheat the oven to 400 degrees F. Line a baking sheet with parchment paper.
Slice the dates lengthwise, on one side only, and remove the pit. Place an almond inside each date. Spoon about 1 teaspoon of goat cheese into the other side of the date and press both sides together to close.
Cut each slice of bacon in half. Wrap each date with a slice of bacon and secure it with a toothpick.
Transfer the dates to the parchment paper lined baking sheet and bake for 10 minutes. Remove the baking sheet from the oven, take out the toothpick and turn the dates over. Bake for another 10 minutes or until the bacon is crisp on both sides.
Remove from the oven and transfer to a paper towel-lined plate and let cool for 3 to 5 minutes before serving.
---
Can you believe January is almost over? It's amazing how fast this month has flown by! If you're like us, you've been rocking your new year's resolutions (Our's was launching the beautifully built Clearwater Creek Premier community) and things are going well!  Keep up the great work! If you're looking to add more purposeful initiatives to your daily routine, or need some inspiration for organizing your 1st Lake space, use this list to guide you toward achieving even MORE goals in 2018!
Well-Being Life Hacks
1. "Eat the frog." According to Insider's Lucy Yang, completing your hardest task first is the best way to overcome procrastination. Do you have an assignment at work you're avoiding? Is there a closet full of clothes you've been meaning to organize but dread the task? Yang refers to Reddit as her source for this daunting, yet rewarding idea. "That thing you feel crummy about? That thing you're dreading? That is exactly the thing you need to do […] You know you're going to end up feeling bad if you procrastinate anyway […] [so] you might as well take the action that will improve your life." – Reddit user, ParallaxBrew
2. If it only takes one minute? Do it right then! Think about how many times you've left dishes in the sink or tossed your jacket over your sofa or chair instead of hanging it up properly? If you're avoiding a task that only takes a little time to accomplish, they'll eventually pile up and come back to haunt you.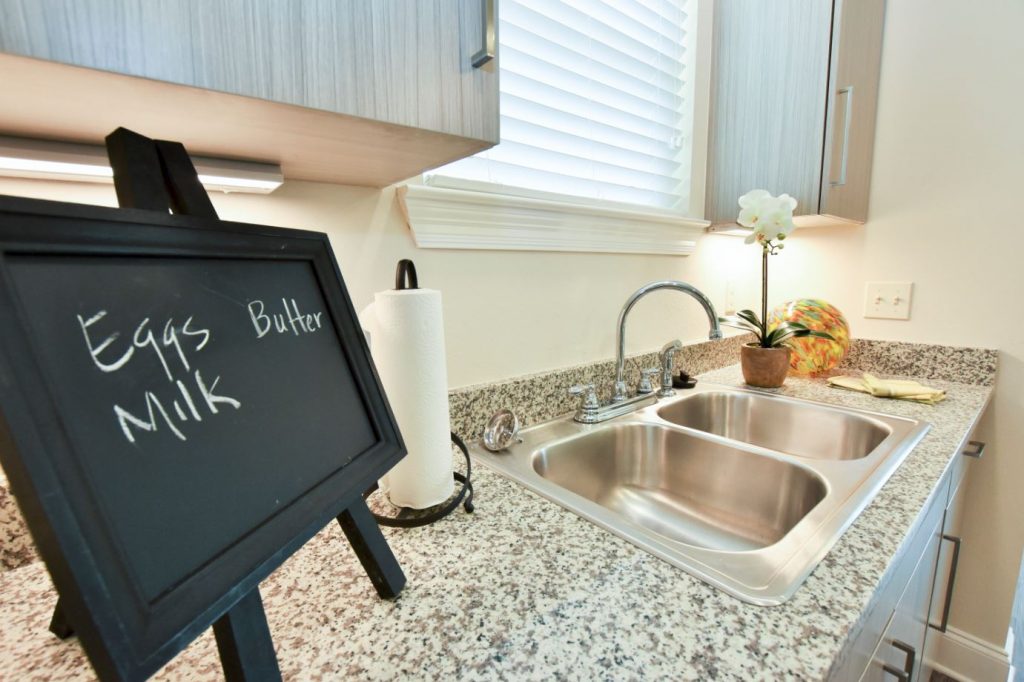 Rinse that cup out and put it in the dishwasher immediately! Done! Grab a hanger and put your coat neatly back in your closet! Done! You'll keep your space tidy and feel significantly less stressed knowing there isn't a pile of shoes accumulating outside of your closet door and a pile of dishes smelling up your beautiful kitchen.
3. Get an "anti-workout" workout in. If you're not a fan of going to a gym or fitness class, that's okay! There are dozens of other ways to improve your physical and mental health without leaving your 1st Lake home. Many of our apartment communities feature landscaped nature trails and walking paths you can use to get healthy.
According to Prevention.com, walking just 30 minutes a day can improve your mental well-being, your creativity, and help reduce your waistline. If that's still too much, start small with 15 push-ups or crunches in your bedroom or living room. It'll be 15 more than you did the day before!
4. Meditate. According to Insider, "It sounds too good to be true, but research has shown that meditation can help reduce stress and negative emotions, improve your memory and emotional control, and literally change your brain for the better."
Home Life Hacks
1. Evaluate and donate unworn wardrobe items. Remember that "Eat the frog" tip from above? This is how you apply it. Stop putting this off and take some time on the weekend to really dig through your wardrobe. Not only will you free up space in your overcrowded closet and drawers, you could potentially make a little cash on the items you decide to sell to consignment stores. And in the long run, you'll feel good about accomplishing this goal, making some money, and donating to people in need.
2. Store plastic grocery bags in a tissue container. This hack is pretty simple, but it can solve a very annoying problem. It's great to repurpose grocery bags for trash bins and pet needs, but your collection might outweigh your frequency of use and that pantry looks like a plastic warzone! Head to your local home accessories store and pick up a few cute tissue holders. That way, they're stylishly hidden, yet easy to access.
3. Donate towels and bedding to shelters. Refinery29 says, "…the best place to give them a second life is an animal shelter or vet's office. "Animals often need to be bathed in these facilities — they'll need tons of towels and blankets to find comfort in." Here's a list of Greater New Orleans area animal shelters.
4. Store owner manuals & toss cardboard packages. The first step in this home hack is to head to your local office supply store and buy an accordion-style file holder. Then, find all of the empty appliance and electronics boxes you've kept over the years, collect the owner's manuals from the depths of those dusty cardboard containers and file them neatly in your new accordion filer! After you've assembled and organized every manual you have, pitch those space-sucking boxes. Not only will you have much more room for other items, you'll be ridding your home of a dangerous fire hazard!
How's Life Hacking?
This is a lot of information to absorb, and it may seem overwhelming. The best way to really start hacking is to single out one or two of the tips above to start with! Over time, you'll be able to chip away at this list and accomplish more than you thought possible at the start of the new year! Which tips caught your eye first? Tell us on social media and share your progress with our 1st Lake community!
---