Autumn in Louisiana is the perfect time of year for biking. But no matter what time of year it is, there are fantastic spots to bike near all of 1st Lake's gated residential communities.
Read on for the best places to bike in New Orleans, Baton Rouge, and the Northshore, and get ready to enjoy the beautiful natural environment of South Louisiana!
New Orleans
New Orleans is, for the most part, completely flat, making it ideal for cycling. There are lots of great places to go for a bike ride in the Crescent City.
Lafitte Greenway
The Lafitte Greenway is a 2.6-mile bicycle and pedestrian trail and green corridor connecting neighborhoods from Armstrong Park to City Park, extending from the intersection of N. Alexander and St. Louis streets in Mid-City to Basin Street and St. Louis Street in Tremé, blocks from the French Quarter.
According to the official website, "The Greenway includes a 12-foot asphalt path for cyclists and pedestrians, new recreation fields, basketball courts, outdoor fitness parks, green space, and landscaping improvements including approximately 500 shade trees, native plant meadows, and stormwater retention features. The path is fully lit with LED energy-efficient trail lighting and includes curb extensions, signalized high visibility crosswalks, a crushed stone walking path, and a bicycle and pedestrian roundabout."
St. Charles Avenue
Historic St. Charles Avenue is a major attraction in the city due to the majestic oaks and beautiful homes that line the street. Tulane and Loyola University campuses are also located along St. Charles, as well as the famous Columns Hotel. 
Biking down St. Charles is a great way to spend an afternoon. Plus, there are plenty of great restaurants and parks along the way, for those that would rather take their time and relax.
Lakeshore Drive
Lakeshore Drive is a popular place for biking because it provides a path with a view of beautiful Lake Pontchartrain. There are also plenty of places to eat or relax along the way.
Baton Rouge
If you live at one of our Baton Rouge properties, you'll also have a chance to bike along the Mississippi River, as well as many other beautiful landscapes in the city.
Mississippi River Levee
Along the Mississippi River levee is a 4-mile bike path that extends from just north of the I-10 Mississippi River Bridge down past Skip Bertman Drive at LSU to Farr Park. The path accommodates walkers, joggers and bikers. Water fountains and benches can be found along the way.
Downtown Greenway
Baton Rouge's Downtown Greenway is a bicycling corridor that stretches through the inner city. It's the perfect place to bike. Make sure you take advantage of the many parks, businesses and cultural attractions along the way.
Northshore
The Northshore is a great place to get away from the hustle and bustle of New Orleans and slow things down. There is more open and unused space on the Northshore compared to New Orleans, and this lends itself to biking perfectly.
Mandeville Trailhead Along The Tammany Trace 
The Tammany Trace is a hiking and biking trail that makes its way through every city on the Northshore, spanning from Covington, through Abita Springs, Mandeville and Lacombe, and ending in Slidell. Incredibly, this biking trail is over 30 miles long.
The Mandeville Trailhead is a public waypoint along the trace, where you will find restrooms, pavilions, an amphitheater, and other well-maintained public facilities to use before you begin your journey. The Mandeville Trailhead also hosts a farmers market on Saturday mornings.
There is a trailhead located in every city that the trace runs through, and each of them holds unique events and activities. To learn more about the trace and its trailheads, check out the official Tammany Trace website.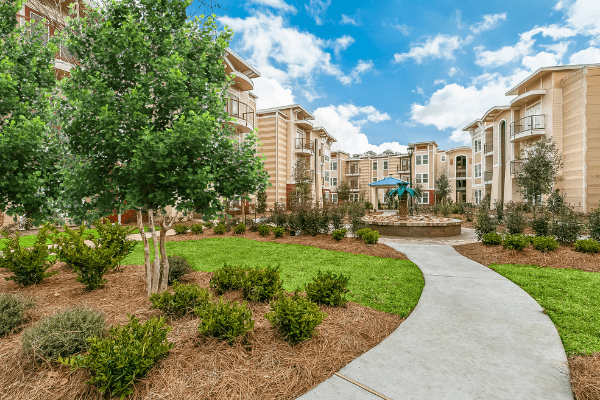 Find A Home At 1st Lake and Start Exploring Your City!
1st Lake has properties located near all of the biking spots listed above!  Contact us today to learn more about our private gated apartment communities.
---