After a certain amount of time, even the most wonderfully-decorated bedrooms can feel boring and in need of a change, but spending a ton of money on re-decorating isn't always in the cards. Luckily, there are many ways that you can infuse new life into your bedroom that don't cost any money at all. Try these simple tactics to help you see your personal space with fresh eyes and excitement.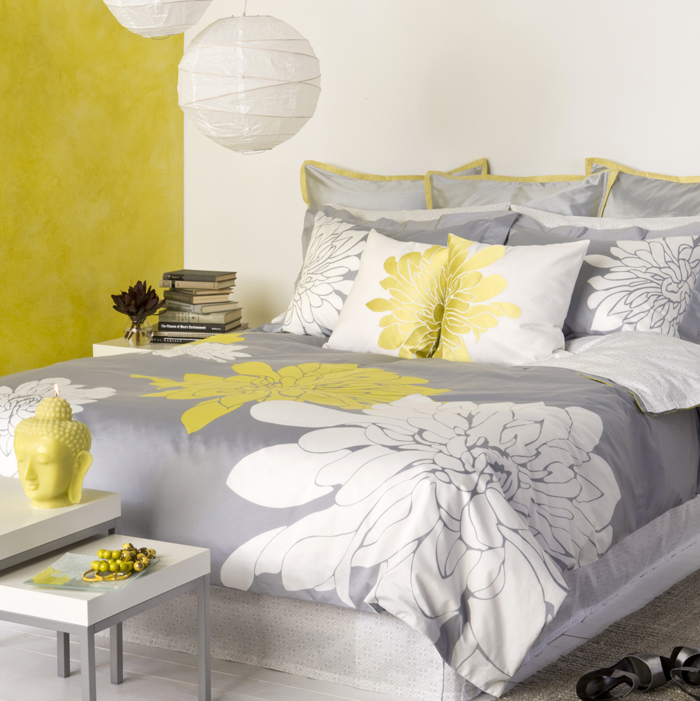 Clean Your Bedding
When life is busy, cleaning the bedding may be the last thing on your list, but if you take everything off the bed and give it a good wash, putting the bed together again with crisp, delicious smelling fabric can make the whole room feel fresh and renewed.
Use Pieces from Other Rooms
If your bedroom is feeling drab, try taking artwork and lighting from other rooms in your home. Maybe the wall piece above your couch would really change the space above your dresser; or maybe the floor lamp by your book case could really bring a fresh lighting scheme into your bedroom. Small changes like this make the world of a difference, and get you excited about the things you already own.
Organize Your Nightstand
It's easy to let your nightstand gather clutter and that can make your bedroom feel messy and frustrating, especially since it is the last thing you see at night and the first thing you see in the morning. Take time to organize and de-clutter your nightstand; keep only what you need and want displayed next to your bed and you can change your whole attitude about your room.
Make Your Bed
Cleaning your bedding is one way to help refresh your bedroom, but on a daily basis, making your bed is key. When you are busy, it may be an easy thing to think you can "do later", but then you end up with an un-made bed all day, every day, and the bed is one of the biggest pieces in any bedroom. Simply making your bed every morning can make you feel organized and make your space look clean. And you can always remind yourself: in a world of chaos, at least the bed is made.
Get Rid of Things You Don't Love
In your closet, in your dressers, and on your tables, take a month and each day get rid of one thing that you don't use, need, or love. Built up clutter and things that we see and don't want anymore can make us feel frustrated and chaotic. Getting rid of excess makes room for the new, and seeing only the things we love in our closets and dresser can help us to appreciate and utilize the things we own more, and more clearly see what it is we actually need in our lives.
---
A common feeling for people who are juggling a lot in their life, like work, school, parenting, being involved in extracurricular activities, etc. is to get stressed and overwhelmed which can result in not knowing how to handle it all. When this feeling takes over, it's best to follow a few basic steps to begin scaling the situation down to a manageable size so you can tackle everything one by one.
How To Get Organized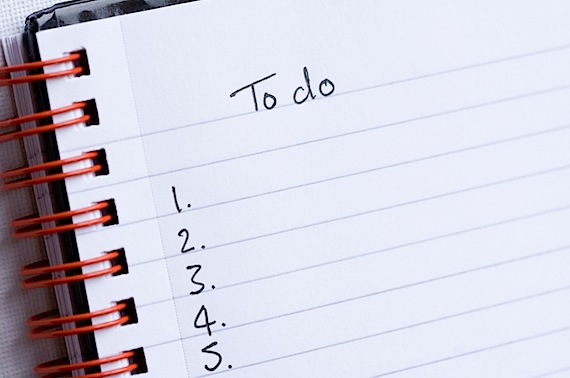 Get prepared – This may seem pretty basic, but the best way to get started is to get up, get out of bed, get dressed, have breakfast and formulate an action plan before you dive right in. Being mentally and physically ready will allow you to be more efficient and effective once you get started.
Organize your workspace – A clean and organized workspace really does make a difference. It will help your work go faster when you have easier access to the tools you need to do the job, and a neat and tidy workspace will put you in the right mentality to focus and finish.
To-do list – Making a to-do list is crucial to keep you on track at the tasks at hand and the order they need to be completed. Start by writing absolutely everything down that needs to be done sooner or later, and then prioritize the list by what needs to happen ASAP and what can be addressed after those items are completed. Once you have your divide and conquer plan in place, go through each task one by one.
These three basic steps will get you to the best place to finish everything you set out to do, including work tasks, home chores, errands and extra commitments.
---
Some people living on their own for the first time have to learn the hard way. If you're new to certain household chores, there can be a big margin of error. You'll quickly discover common rookie mistakes like washing clothes incorrectly as well as the wrong way to wash dishes. Not everything is meant to be thrown in the dishwasher. To avoid damaging your dishes and cookware, here's what you should avoid putting in the dishwasher and the proper way to clean these items.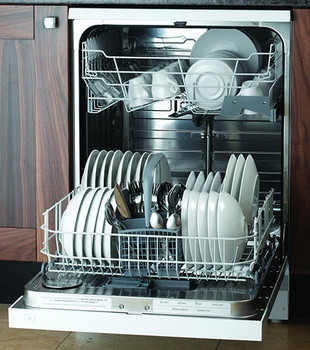 Cast Iron – Because of its heavy duty nature, cast iron needs a little extra care than normal dishes. Cast iron can be properly cleaned with hot water and a sponge or brush and then towel dried. Stubborn stuck-on food can be removed by scrubbing with coarse salt and water.
Good Knives – Quality, sharp knives should not be washed in the dishwasher, as they could become dull quicker. It's better to handwash your knives and dry with a tea towel.
Crystal – Expensive, delicate crystal dishware should be given extra care and washed individually by hand. Putting in the dishwasher can cause chipping or cracking.
Wooden Utensils – Some wooden utensils can be put in the dishwasher, put others could warp, crack or lose its finish, so check the manufacturer for directions.
Nonstick Pans – Putting non-stick pans in the dishwasher may ruin their effectiveness, so it's best to hand wash them to be safe, or check with the manufacturer on the best way to clean.
Copper Pans – The main draw for these kind of pans is their beautiful color, which may be compromised if put in the dishwasher.
Soft Plastic – Soft plastic will melt if run through the dishwasher; hard plastic can be placed on the top shelf.
Disposable Aluminum – Aluminum trays that are reusable should be handwashed, otherwise they will flake if run through the dishwasher.
Anything with Adhesives – If any of your tuperware, glass bottles or any other dishes have adhesive labels attached, they should not be put in the dishwasher as they can come off and clog parts of the dishwasher.
---
Have you got too much stuff in your apartment than you know what to do with? It might be time to consider methods for getting rid of what you don't need and organizing what you do. Here are some tools and tricks for elimination and consolidation to make life at home cool, calm and collected.
Remove the clutter
Before you can truly enjoy your apartment, it needs to be free of clutter. Clutter takes on a lot of forms. Clutter is something you have too much of, something you no longer use, or something that makes you feel disorganized. Removing these items will make your apartment feel relaxed and open. Not sure where your clutter is hiding? Junk drawers and hallway closets are a good place to start.
Reduce clutter on a day-to-day basis
After you've removed all of your pre-existing clutter, work to make sure it never comes back. Clean the kitchen and bathroom every time you use them. Whenever you move an item, return it back to its rightful spot. The worst thing you can do is let the clutter grow. Try to make cleaning up clutter your daily routine.
Use the shopping bag method

This is a smart rule of thumb, courtesy of the fine folks at Apartment Therapy, especially for those conspicuous consumers among us. For whatever number of new products you bring into your home, discard an equal amount. For example, if you come home with three new shirts, donate or give away three of your old ones. This will ensure you don't have a collection of clothing or household items you don't use and that you have enough space for your new additions.
Organize with rolling cart shelves and mirror cabinets
Rolling cart shelves are great organizing units to keep around the apartment for multiple uses. If you don't have enough storage for Tupperware, shoes, towels, sheets, or practically anything in any room of your apartment, keep them in these convenient and portable shelves.
Need a full length mirror? Take advantage of that used space by getting a mirror cabinet that serves two purposes in one: a mirror and storage. Keep multi-use items in your apartment is a small space hack that will create extra storage while achieving its original function.
Create a location for your day-to-day essentials
Find a bowl, table or corner that is your designated "needs" area. Every day, place your keys, phone and wallet in that same place and you will never misplace them again! At first you will have to remind yourself to put things in your "needs" area, but after long it will be habit.
For another great way to use space wisely and keep your belongings neatly stored to avoid clutter around your apartment, check out our blog on how to best use vertical space!
If you enjoyed this article, please share on Facebook or Twitter.
Related posts:
Must Know Refrigerator Organization Tips
Apartment Spring Cleaning Checklist
How to Clean a Refrigerator: 5 All-Natural Fridge Cleaning Hacks
---
Spring is finally here and that means change and new beginnings, not only with the weather, but in your own apartment, too. Part of making room for the new is getting rid of the old, and one of the best ways to do that is to take inventory of your possessions and evaluate what you want to keep and what your don't really use anymore that you can pass on to others in need. After you've gone through your drawers and closets and sorted your discarded items in a donation section, decide where and how to give them away. Use these places below for ideas.
Shelters – Community shelters in your area are a great option to donate your clothes and household items. Shelters can always use donations and there will always be people who are in need of clothing and other items.
Online – We live in a digital era where most things are done online. Freecycle, Craigslist and EBay are free and easy online tools to use to give away your old clothes or appliances. You can manage the entire process by listing the items you want to give away for free or sell, and coordinate your own shipping or delivery.
Clothing Swaps – Another great way to pass on your unwanted items to someone who might be happy to take them, plus discover some new treasure of your own, is to participate a clothing swap. A clothing swap is a gathering of people who all contribute clothing that doesn't fit or that they don't need anymore, and anyone can take someone else's clothing if they choose. If you don't know of anyone having one, host your own and invite family and friends!
Salvation Army – The Salvation Army is always a great option that accepts all types of donations to sell for a discounted price to underprivileged people, or anyone looking for a bargain. Check your area for Salvation Army drop-off locations.
Looking for a great New Orleans area apartment? Check out what's available at our Metairie, Kenner and River Ridge locations!
---