Just like with every other holiday, Louisiana turns what would be a pretty average St. Patrick's Day celebration into one of grand proportions, spanning multiple days with parades and parties. If you're a resident of 1st Lake's apartments in Metairie, Kenner, River Ridge or surrounding locations, you'll have the luck of the Irish with you on St. Patrick's Day. Check out these fun local festivities to attend.
Traceys and Parasol's Block Party – These two New Orleans Irish pubs will hold their famous annual block party on March 14.  Enjoy live music, delicious food and plenty of festive libations.
Molly's At the Market Parade – Jim Monaghan's annual Molly's At The Market St. Patrick's Day parade on March 15 will wind through the French Quarter in New Orleans featuring carriages and marching groups.
Irish Channel Parade – Widely considered the St. Patrick's main event in New Orleans, the Irish Channel St. Patrick's Day Club will parade through the Irish Channel in New Orleans on March 16 with Mardi Gras-caliber floats and droves of Irishmen dressed in kilts handing out flowers and kisses on the cheek.
Parade on Metairie Road – Residents of 1st Lake's Metairie apartments can enjoy the convenience of the Metairie Road St. Patrick's Day parade, starting at noon on March 17 in front of Rummel High School on Severn Avenue, then down Metairie Road to the parish line.
Downtown Irish Club Parade – For a low-key local vibe, check out the Downtown Irish Club Parade in New Orleans on March 17 beginning on the corner of Burgundy and Piety in the Bywater, going through the Marigny and ending on Bourbon Street.
Louisiana Irish-Italian – Close out the St. Patrick's Day festivities at the Louisiana Irish-Italian parade celebrating the unity of the two cultures in Louisiana, rolling on March 24 down Veterans Highway in Metairie.
Celebrate St. Patrick's Day with 1st Lake in New Orleans!
---
Looking to move to a town in Louisiana that has the perfect balance of activity and opportunity? Baton Rouge could be the perfect place for you. Whether you are already a resident of Baton Rouge or thinking about becoming one, 1st Lake Properties has apartments for rent in Baton Rouge at three great communities: Lake Towers, Regency Club and Spring Brook.
Baton Rouge has a top notch dining and nightlife scene. Being the home of the LSU Tigers brings the demand for popular food and beverage options, and Baton Rouge delivers in every way. From regional delicacies like alligator sausage and crawfish to plenty of international cuisine, the Baton Rouge culinary community has something for everyone.
Because Baton Rouge is the capitol of Louisiana and home of the Tigers, it attracts a youthful and talented community. Baton Rouge is a very artistic city, showcasing many excellent galleries, museums and exhibits throughout the city, including the LSU Museum of Art, the Louisiana Art and Science Museum, the Baton Rouge Gallery and the Manship Theatre.
Coming up on May 25-26 is one of the biggest events of the year in Baton Rouge, the Bayou Country Superfest. This year, the Superfest at the LSU Tiger Stadium features Miranda Lambert, Lady Antebellum, Zac Brown Band, Luke Bryan and more awesome musical acts.
Whether you're familiar with or new to Baton Rouge, check out some of the great cultural attractions it has to offer, and while you're at it, the excellent Baton Rouge apartment rentals at 1st Lake.
---
If you celebrated Mardi Gras in New Orleans, that means you inevitably ate lots of king cake and probably indulged in some adult beverages. While both are delicious, they aren't exactly the best for the old waist line. That's why many running races are strategically scheduled shortly after Carnival season in the Greater New Orleans area. In addition to the state of the art gyms at many 1st Lake Properties communities, residents can work off the calories by training for a variety of races.
The Rock 'n' Roll Marathon takes place in New Orleans on Sunday, February 28, 2016, offering a full marathon, a half marathon and a two person half marathon relay. The Rock 'n' Roll Marathon is unique because there are live music and cheer squads to motivate you along the race course. Registration is available online.
The Crescent City Classic is another popular annual New Orleans road race which takes place the Saturday before Easter.. This year's event will happen on Saturday, March 26, 2016. It starts in front of the home of the New Orleans Saints, the Mercedes-Benz Superdome, and ends at the beautiful City Park. The CCC is a great New Orleans tradition, now in its 36th year.
Tenants of our Baton Rouge apartments will want to check out the Louisiana Marathon which brings together nearly 8,300 participants from around the state and beyond. This race offers a variety of lengths, including a full marathon, half marathon, 5K and a kid's event. It takes place on January 15-17, 2016 in Baton Rouge.
---
Carnival season in Louisiana is the most anticipated time of the year. We look forward to the parades, balls, parties, and of course, king cake.
King cakes are one of the best, and tastiest, Mardi Gras traditions. The king cake is a religious symbol representing the three kings in the New Testament. King cakes are made of sweet dough, filled with cinnamon and topped with purple, green and gold sugar.
Every year local cooks and chefs work tirelessly to make their king cake the best in the city. Every one is a little different, but they are always delicious.
If you live in the metro New Orleans area, you can be the judge. Here are some places where you can find delicious king cakes in New Orleans.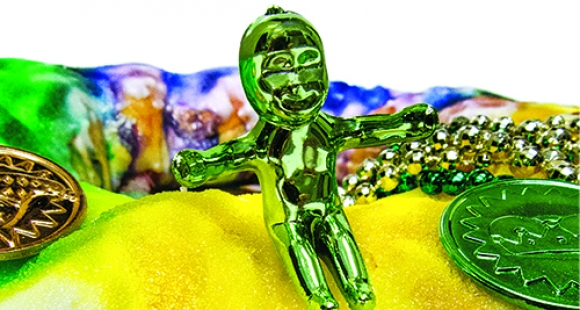 Contemporary King Cakes
Sucre is a relative newcomer to the New Orleans king cake community; but that doesn't mean their cakes aren't delicious. They take a buttery dough, fold it into cream cheese, and then add the cinnamon and sugar. This award-winning cake is sure to please guests at any Mardi Gras party.
It's no surprise that John Besh's Domenica is making innovative king cakes. This king cake is unlike any other- it's filled with salted caramel, bananas, toasted pecans, mascarpone, and carmello. If that wasn't elegant enough, it's topped with a praline glaze and gold flakes. If you're looking to impress your friends, bring one of these to a carnival party.
Cochon is another world-renowned restaurant doing exciting things with king cakes. Cochon offers a variety of fillings like meyer lemon, almond, chocolate pecan and strawberry. They even offer mini king cakes for one to two people, each with a tiny plastic pig inside. But the most intriguing king cake Cochon produces is the Elvis cake. This king cake is filled with bananas and  peanut butter and topped with marshmallow fluff and bacon. That's right, bacon. Bring this cake to one of your more adventurous friend's house.
Traditional King Cakes
Manny Randazzo has been using the same king cake family recipe since 1965. Their king cakes are always classic, fresh and delicious. Manny lightly ices the cakes and sprinkles purple, green and gold sprinkles on top. That's it. Don't fix it if it ain't broke, right? Randazzo's is located at 2515 N. Hullen Street in Metairie, just a short drive from 1st Lake's Metairie apartment communities.
Haydel's is another mainstay in the New Orleans king cake scene. They have a huge variety of king cakes to choose from, ranging from traditional to ones shaped like fleur de lis. Haydel's is located at 4037 Jefferson Hwy. in New Orleans, convenient for residents of Bella Ridge and our other River Ridge apartments.
If you enjoyed this article, share it on Facebook and Twitter!
Related posts: Baton Rouge Dining Guide, Kenner Dining Guide, Metairie Dining Guide.
---
The biggest sporting event of the year is coming up soon in New Orleans! Fortunately for 1st Lake residents of the Metairie, River Ridge and Kenner communities, they are in an ideal location to enjoy all the exciting events surrounding Super Bowl XLVII, and Northshore residents aren't far away! Among the multitude of entertainment and activities that the Super Bowl will bring to New Orleans, here are the main events we're looking forward to!
Super Bowl Boulevard – If there's one thing New Orleans knows how to do, it's putting on a festival, and that's exactly what this four day long Super Bowl soiree will be. From Jan. 31 to Super Bowl Sunday, Feb. 3, there will be music, food and fan activities at Woldenburg Park right along the Mississippi River in the French Quarter. The musical entertainment will no doubt be impressive with Quint David in charge, whose portfolio includes producing the New Orleans Jazz and Heritage Festival.
NFL Experience – This long-running NFL event will give Super Bowl visitors the opportunity of a behind the scenes look into pro football with an interactive theme park including games, displays, kids' football clinics, free autograph sessions, a huge football memorabilia show and much more. The tickets are $25 for adults, $20 for children 12 and under, and includes all games and attractions. The NFL Experience is open daily from Jan. 30 through Feb. 3.
Super Bowl Gospel Celebration – Some of the biggest names in gospel music will be performing at the New Orleans Lakefront Arena for the Super Bowl Gospel Celebration, including Fantasia, Marvin Winans, Lecrae, Bishop Paul S. Morton, Donnie McClurkin and host Kirk Franklin. This will no doubt be a night of incredible, uplifting faith and music two nights before the big game on Friday, Feb. 1.
Super Saturday of Service – On Super Bowl XLVII eve, the New Orleans Super Bowl Host Committee will hold a city-wide community service event with the NFL, New Orleans Recreation Development Commission (NORDC), Young Leadership Council (YLC), the Urban League of Greater New Orleans Young Professionals (ULGNOYP) and the New Orleans Area Habitat for Humanity. The Super Saturday of Service entails the renovation of five NORDC playgrounds and their surrounding neighborhoods. Those who want to participate in Super Saturday of Service can register to volunteer on the Host Committee website.
Super Bowl XLVII – Of course the whole reason for the aforementioned events is the big game – the 47th annual Super Bowl in New Orleans at the Mercedes-Benz Superdome. The two best NFL teams of the year will go head to head for the Lombardi trophy starting at 5:25 p.m. with Beyonce and Destiny's Child headlining the half time show.
---