Carnival season in Louisiana is the most anticipated time of the year. We look forward to the parades, balls, parties, and of course, king cake.
King cakes are one of the best, and tastiest, Mardi Gras traditions. The king cake is a religious symbol representing the three kings in the New Testament. King cakes are made of sweet dough, filled with cinnamon and topped with purple, green and gold sugar.
Every year local cooks and chefs work tirelessly to make their king cake the best in the city. Every one is a little different, but they are always delicious.
If you live in the metro New Orleans area, you can be the judge. Here are some places where you can find delicious king cakes in New Orleans.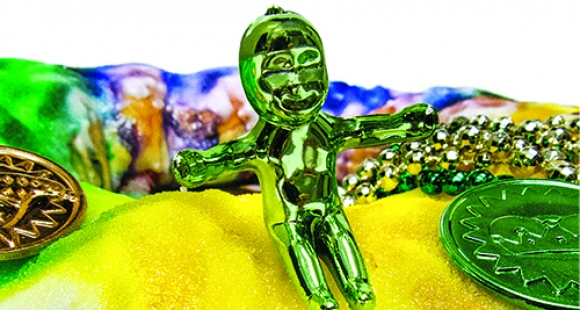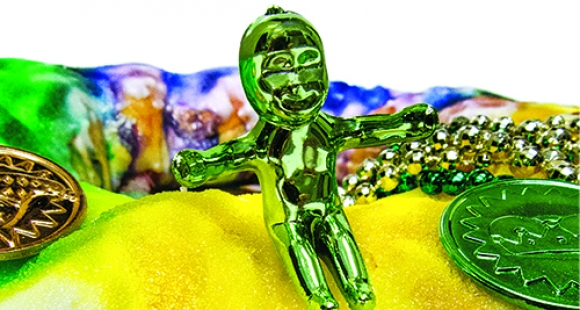 Contemporary King Cakes
Sucre is a relative newcomer to the New Orleans king cake community; but that doesn't mean their cakes aren't delicious. They take a buttery dough, fold it into cream cheese, and then add the cinnamon and sugar. This award-winning cake is sure to please guests at any Mardi Gras party.
It's no surprise that John Besh's Domenica is making innovative king cakes. This king cake is unlike any other- it's filled with salted caramel, bananas, toasted pecans, mascarpone, and carmello. If that wasn't elegant enough, it's topped with a praline glaze and gold flakes. If you're looking to impress your friends, bring one of these to a carnival party.
Cochon is another world-renowned restaurant doing exciting things with king cakes. Cochon offers a variety of fillings like meyer lemon, almond, chocolate pecan and strawberry. They even offer mini king cakes for one to two people, each with a tiny plastic pig inside. But the most intriguing king cake Cochon produces is the Elvis cake. This king cake is filled with bananas and  peanut butter and topped with marshmallow fluff and bacon. That's right, bacon. Bring this cake to one of your more adventurous friend's house.
Traditional King Cakes
Manny Randazzo has been using the same king cake family recipe since 1965. Their king cakes are always classic, fresh and delicious. Manny lightly ices the cakes and sprinkles purple, green and gold sprinkles on top. That's it. Don't fix it if it ain't broke, right? Randazzo's is located at 2515 N. Hullen Street in Metairie, just a short drive from 1st Lake's Metairie apartment communities.
Haydel's is another mainstay in the New Orleans king cake scene. They have a huge variety of king cakes to choose from, ranging from traditional to ones shaped like fleur de lis. Haydel's is located at 4037 Jefferson Hwy. in New Orleans, convenient for residents of Bella Ridge and our other River Ridge apartments.
If you enjoyed this article, share it on Facebook and Twitter!
Related posts: Baton Rouge Dining Guide, Kenner Dining Guide, Metairie Dining Guide.
---