Moving Checklist and Tips
Moving Resources Main Page – Our moving checklist and resources are here to help take the stress out of your move. Watch our videos and check out our articles for more!



Moving Checklist

Whether moving long distance or just down the street, our checklist will have you ready for the big move. Watch this video for more »




Paperless

Do you know all the perks to being a 1st Lake resident? Learn more about our convenient online resident portal by watching this video »




FAQ

Have questions about 1st Lake? We have your answers right in this video »
Moving isn't nearly as hard if you have a plan. Our new apartment checklist has you covered in the months and weeks leading up to your move! We look forward to welcoming you to one of our New Orleans apartment communities very soon! Though a local move may be easier than a long-distance one, there's still plenty to consider, plan, and prepare for in the months and weeks leading up to your move. Review our moving checklist and tips for moving into your new apartment below:

One Month Before Your Move
Plan ahead and save yourself from moving day stress. Here's what to work on one month before you move.
Change your address with the post office.
Head to your local United States Postal Service office to ask for a change of address form. Fill this form out with your new address information so you will be sure not to miss any important mail. You may also access and submit the form online. There is typically a small service fee associated with changing your address through USPS, but the hassle you'll save is well worth the cost!
Make arrangements with a moving company or reserve a rental truck for your moving date.
Depending on the size of your move, you will either want to hire a moving company or rent a truck at least one month prior to make certain they are available on the day you need them. Ask friends, co-workers, and neighbors for recommendations or try an online service like Angie's List or Yelp. For long distance moves, you can choose to rent a one-way truck with unlimited miles, participate in a van line, or hire a private mover. Another option is moving pods such as U-Box or PODS.
Take inventory of all your belongings – and write it down!
Write down, take pictures, and/or video record your belongings before they are boxed up in the event that you need to file an insurance claim. For electronic equipment, record serial numbers and carry warranty information and receipts with you so that you know their monetary value. This is a great time to clean all your closets and drawers out, and either donate or discard what you don't need. Start a file for all your moving paperwork (estimates, lease agreements, expenses, receipts, etc.). Staying organized during the move will save you a lot of time later!
Make travel arrangements for pets.
If you are in a situation where your pet cannot travel with you, make sure you make arrangements for them to be transported at least a month in advance. Many pets benefit from anti-anxiety medications on moving day, but you'll need to schedule an appointment with your vet in advance to talk to them about best practices and procure any helpful medicines or treatments. Long-distance moves can also be stressful for animals. Make sure to contact airlines and hotels to confirm their pet policies, and plan to schedule an appointment with your vet to discuss best practices for transporting your animal. You can also ask for help in finding a new veterinarian in your new city. Read more in the ASPCA's guide for moving with pets.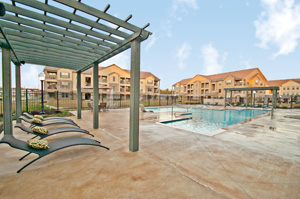 Start using up food items so there is less to pack and possibly spoil.
Rather than spending more money on grocery shopping in the month before you move, be creative in the kitchen with what you already have. Remember that anything in the refrigerator or freezer is likely to spoil if you try to transport it, so plan to use it rather than waste it! Have your friends over for a "clean out the refrigerator" party. The party will be a fun farewell for you and will help you get rid of things you can't eat on your own.
Make arrangements for a self-storage unit.
If you are downsizing your living space, combining two homes by moving in with a roommate or partner, or simply needing extra storage space beyond what your new apartment will provide, make arrangements for a self-storage unit near your new apartment. 1st Lake offers self-storage units in Metairie and Kenner, conveniently located close to many of our apartment communities. Our self-storage space offers amenities like 24-hour access and drive- up access to your storage unit, plus you can manage your self-storage rental online with our easy online payment system. Climate-controlled storage units are also available.
Extra Steps for Moving Long Distance
The stresses of moving are amplified when you're moving to a new city, state, or country. For long-distance moves, you'll want to take extra care to prepare and plan for each aspect of your journey. Check out these extra steps for making your long distance move a breeze:
Planes, trains, and automobiles!
Make any necessary travel arrangements with airlines, hotels, or car rental agencies at least a month in advance. The closer you get to your departure date, the more likely reservations are to fill up and prices are to rise. Service your car before making the move, especially if you're moving out of state.
Transfer or terminate memberships in clubs and civic organization.
Prior to your move, take time to research the organizations that are important to you in your new city.
Have your medical records and prescriptions transferred.
Before you find yourself in a jam without a prescription you need or a good doctor, have all of your medical records and prescription histories transferred to your new location. Start asking your doctor and dentist for recommendations and referrals at least a month before you move.
Open a checking account in your new city.
Avoid costly ATM fees and delays in check processing by setting up a bank that is local to your new home. Check to make sure there are ATM locations and banking centers close to both your home and workplace so that you will not have to drive out of the way.
Research the local laws and requirements of your new city.
Check into laws and requirements of your new city regarding home-based businesses, professional tests, business licenses, tax regulations, and any special laws that might be applicable to you. If you are planning to switch careers or start a new business from home once you arrive in your new city, the last thing you want is a surprise with the law slowing you down!
One to Two Weeks Before Your Move
The big day is almost here! In the final weeks leading up to your move, here's what you should focus on:
Stop/transfer all of your utility services.
Make sure to close or transfer all services such as electric, telephone, high-speed internet, cable, disposal, water, and newspaper or magazine subscriptions. If you have trouble remembering all of your services, make a list of all company names and numbers from your last month's bills.
Change your address with creditors and banks.
Be sure to update your banks, credit card accounts, and retirement accounts with your new address information.
Arrange for help on moving day.
Whether you are using a moving company or renting a truck, it is always a good idea to have an extra set of hands around. Whether they're helping you moving items or simply for keeping an eye on things and keeping you company, friends are a wonderful addition on moving day. If you're moving long distance, you might enlist a close friend or family member to travel with you to your new location and lend a helping hand. Plan to look into travel arrangements for them to get back home, and of course remember to thank them for their help!
Clean all rugs and clothing, and have them packed up prior to your move.
Have items that you would like to decorate with or wear cleaned before you move so that they are ready to use when you arrive.
Back up all computers.
It's always a good practice to regularly backup your computers and other electronic devices, but before a move this is especially important. Back it up the old fashioned way on an external hard drive, or better yet, use a cloud-based online backup system to automatically back up your files on a regular basis.
Document the setup of your electronic devices.
Take a photo of how your electronics are set up, so you'll remember where to plug in all of the wires and cords when you get to your new place.
Pack it up!
The most dreaded part, packing your belongings, can be made easier with a few handy life-hacks. Wrap your breakable items like dishes and glassware in clothing, blankets and towels to save space and eliminate the need to buy extra packing supplies. Label your boxes with both what's in them as well as what room they'll be headed to. Better yet, use different colors of duct tape to color code your boxes by room. Pack the items you'll need access to first in a clear plastic bin, for easy access. Be sure to also pack an overnight bag with all of your essentials that you'll need for the first day or two in your new apartment.
Extra Steps for Moving Long Distance
Confirm travel reservations.
Double-check yourself for any errors you or the agent could have made by confirming your time, destination, and name are all correct on your reservations.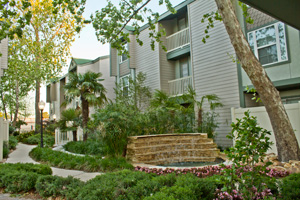 Have your car serviced.
If you are traveling by car, make sure to have your oil, water, and tires all checked at least a week before you plan to leave.
Close your bank accounts and have all funds transferred to your new bank.
Before you close your accounts, make certain that all checks and outstanding payments have cleared from your account.
Collect valuables from your safe deposit box.
If you have any important documents, birth certificates, marriage license, social security cards, etc., be sure to make digital and/or hard copies for safekeeping.
The Big Day
Arrive at your 1st Lake Properties apartment wearing a smile and ready to move in!
Once You're Settled
Whether your move is local or long distance, you'll need to take time once you've moved in and set up some of the basics as part of your new apartment checklist. Our leasing professionals are happy to provide the convenience of connecting the high-speed internet, cable, and phone through Cox Communications – simply stop by our leasing center for more information. In addition to Cox Communications, whose number we've listed below, here are other websites and resources you'll want to bookmark:
*Service providers may vary by community. 
New To New Orleans?
Are you moving to the New Orleans area for the first time? Be sure to read our top tips for moving to New Orleans and get the local's scoop on what you might not know about living here.
Will this be your first apartment?
If you'll be living on your own for the first time, you should also check out our free printable First Apartment Checklist and tips for moving into your first apartment.
---