Fully-Equipped Duplex for Rent at 439 Helios Avenue 
Located in the desirable Old Metairie neighborhood, this 1,200 sq ft, three-bedroom, one-bath duplex at 439 Helios offers everything you need in the area you want. 
Inside, you will find:
In-unit washer and dryer
Refrigerator with ice maker
Ceramic tile throughout the living areas and plank tile in the bedrooms
Ceiling fans throughout
Central gas heating
Pet friendly ($300 deposit)
Outside, you will find:
Private driveway
Off-street parking
Large private backyard with lawn maintenance provided
This beautiful duplex is leasing for $1,785/month for a 12-month lease.   NOTE:  Electricity, gas, telephone, cable, and Internet are separate.      
Application Fee $35/ leaseholder, & $25/ occupant over 18 years. $175 non-refundable admin. fee.
Small pets are welcome. Pet deposit $300.00, additional $25/month added to rent. The property is managed by 1st Lake Properties.
The Security Deposit is $800.
*Special: Sign a lease now to receive $400 off of November rent!
For more information, contact us at 855.382.3433
---
Lease a stunning home in Kenner's coveted Gabriel Subdivision!
This custom home resides within a gated community just minutes from downtown New Orleans and the Metairie CBD. Centrally located near shopping centers and entertainment venues, Gabriel Subdivision is the ideal place to live.
Our Kenner home spreads over 2,400 sq. ft. with 3 bedrooms, 2.5 baths, a downstairs master, a double car garage, granite countertops, a cozy fireplace, a beautiful sunroom, a tranquil courtyard, and more.
---
Luxury 3 BR, 2.5 BA townhome in the prestigious Gabriel Subdivision in Kenner! Monthly rent: $3,500* Deposit: $3,500* on approved credit; prices subject to change. For questions and inquiries, call Pelican Bay Apartments at 1-855-208-4295 or email PelicanB@1st-lake.com.
---
This home at 84 Palmetto, Kenner, LA, 70065, is a luxurious hideaway that will exceed your highest expectations in home living.
84 Palmetto, features amenities like:
Gas Stove
Fireplace
Outside Entrance
Granite Countertops
Kitchen Island
Ample Cabinet Space
Pantry
Double Sink
Double Oven
3 BR, 2.5 BA

Downstairs Master
Stand up Shower and Jacuzzi Tub
Large Walk-in Closet
Sun Room
Courtyard
Expansive Dining and Living Combo
Double Car Garage
Extra Driveway
Washer/ Dryer Hookups
End Townhome
---
*Prices are subject to change based on availability. 
---
---
Jefferson Parish must be on the nice list, because there are so many fun activities for us to enjoy this holiday season! Whether you live in Metairie, River Ridge, Kenner, or elsewhere in the Greater New Orleans region, we've got you covered with a veritable winter wonderland of holiday happenings.
Holiday Activities in Greater New Orleans
✨ Music and Theater Events

Jefferson Performing Arts Society Presents: "The Nutcracker"
Experience classic characters like the Mouse King and the Sugar Plum Fairy this holiday season as part of the fantastical journey with The Nutcracker. Get your tickets online for Dec. 16 at 2 p.m. or Dec. 17 at 2 p.m.
Rivertown Theaters Presents: "A Christmas Story" The Musical
This nostalgic and heartwarming musical features memorable characters, catchy songs, and spectacular choreography, bringing you the charm of the classic film. Tickets to the show, running from Dec. 1-17 at the Rivertown Theater in Kenner, can be found here.
Rock out with Trans-Siberian Orchestra as they embark on their 2023 Winter Tour: The Ghosts of Christmas Eve. On Dec. 13 at 7:00 p.m., they will be making their way to the Smoothie King Center, just in time to get you in the holiday spirit! Tickets start at just under $50 and can be purchased here.
The National World War II Museum's "Louisiana Christmas Day"
From the raucous Cajun bayous to the splendors of caroling in historic Jackson Square, the vintage-chic Victory Belles take you on a holiday musical tour with classic tunes like "Have A Holly Jolly Christmas" and "Christmastime in New Orleans." Celebrate the holidays Louisiana-style by purchasing tickets here to one of the shows happening throughout the holiday season. 
🎄 Outdoor Events
Holiday Champagne Stroll presented by Gulf Coast Bank & Trust
Start the holiday season on Magazine Street, Dec. 2 from 6:00 p.m. to 9 p.m., with an evening of festive after-hours shopping. Enjoy champagne, explore the shops, and discover ideal gifts with special offerings from participating businesses.
Kenner Parks & Recreation invites guests to Christmas Tea with Santa, which will include food and activities. The event will take place at the Kenner City Park Pavilion on Dec. 9, with the first seating at 10:00 a.m. and the second seating at 12:30 p.m. Click here to register.
The Grinch is back in Kenner! Join Kenner Parks & Recreation at Heritage Hall on Dec. 16 from 6:30 p.m. to 8:30 p.m. for yummy food and fun activities before spending time in the Christmas Village. To pre-register for the event, please click here.
Celebrate the holidays with your furry friend! On Dec. 2 from 12 p.m. to 4 p.m., Port Orleans Brewing Company will be hosting a fundraiser to benefit ARNO. There will be photo opportunities with Santa, local vendors to shop from, a raffle with various prizes, and pints for purchase. All proceeds go toward vet bills for ARNO's special needs cases.
Holiday Market with the Grinch
Join Port Orleans Brewing Company on Dec. 9 from 12:00 p.m. to 5:00 p.m. for a holiday market featuring the Grinch. Local vendors will be selling crafts and gifts, the Grinch will be taking photos, and there will be a bounce house for children.
On Fridays and Saturdays from 5:30 p.m. to 8:30 p.m. on Dec. 1-23, you can enjoy snow, crafts, food vendors, entertainment, and a special appearance from Santa at Heritage Park in Rivertown. Admire beautiful Christmas lights and animated scenery, and don't even worry about bringing your wallet – admission is free! (Of course, food and drink are additional costs.)
Lafreniere Park hosts this dazzling event throughout its lush grounds. Explore LED light displays plus amusements like the Children's Carousel ride. Admission is $10 per vehicle in advance and $15 at the gate, so plan to carpool and save some money! Christmas in the Park runs every Sunday through Thursday from 5:30 p.m. to 9:00 p.m. and Friday and Saturday until 10:00 p.m. throughout the holiday season.
Pontchartrain Conservancy is hosting its 10th annual holiday celebration at the New Canal Lighthouse on Lake Pontchartrain on Dec. 9 from 5:00 p.m. to 8:00 p.m. Enjoy the West End Boat Parade, activities for the children, local food trucks, hot chocolate, and more. Admission is $10 for ages 6+ and tickets can be purchased online or at the event.
🎁 Indoor Events
Polar Express Cake Class and Pajama Party
Join Sweetooth Bakery and Cafe Caribe for a holiday decorating class that is perfect for both children and adults! The cost is $35 per person and includes a cake to decorate, decorating tools, hot chocolate, cookies, and more. Tickets can be purchased here for the event on Dec. 22 from 6:30 p.m. to 8:00 p.m. Don't forget to wear your favorite PJs!
Celebrating its 10th anniversary, this indoor, family-friendly holiday fest brings an enchanting winter wonderland right here to New Orleans. It features attractions like ice skating lessons, a holiday display, dining, and carnival rides to name a few. Hosted at the Ernest N. Morial Convention Center, this fest runs from Dec. 21-30 with tickets for purchase online.
🦌 Northshore Events
Ring in the holiday season with the 15th annual Merry Madisonville Parade and Celebration. The event takes place at Madisonville's ballpark and playground on Dec. 3 from 1:00 p.m. to 6:00 p.m., with the parade at 2 p.m. and pictures with Santa at 4:00 p.m. There will also be food trucks, hot chocolate, activities, and more!
Twinkle on the Tchefuncte, taking place Dec. 16 from 5:00 p.m. to 8:00 p.m. at the Madisonville Riverfront, is a lighted boat parade and holiday decorating contest, as well as a toy and food drive. Bring your chairs to set up for the parade and stroll along the riverfront for eats and treats, face painting, carolers, and more. If you're interested in entering the boat parade, click here for more information.
From wintery wonderlands to nostalgic theater productions, there is an event for everybody to enjoy this holiday season! What's more, you can find a new home to ring in the holiday season even further by checking out our list of communities here!
---
Fall is a perennial favorite for so many reasons. The weather cools down just a touch and fall festivals help everyone get in the spirit. There's also nothing quite like pulling on a cozy sweater and sipping on a warm drink brimming with the flavors of fall. But you don't have to hit Starbucks for that famous Pumpkin Spice Latte. Save some cash by taking the DIY route — the results are just as delicious!
Fall Drink Recipes
Pumpkin Spice Latte
This is a classic, of course. But instead of waiting in line at Starbucks, you can make your own at home with this recipe from the Food Network.
1 cup milk
2 tablespoons pure pumpkin puree
1 tablespoon sugar
1/4 teaspoon pumpkin pie spice, plus more for sprinkling
1/4 teaspoon pure vanilla extract
1/4 cup hot espresso or strong brewed coffee
Sweetened whipped cream, for serving
Directions
Combine the milk, pumpkin puree, sugar, pumpkin pie spice, and vanilla in a medium microwave-safe bowl, cover the bowl with plastic wrap and vent with a small hole. Microwave until the milk is hot, 1 to 2 minutes. Whisk vigorously until the milk mixture is foamy, about 30 seconds.
Pour the espresso or coffee into a large mug and add the foamed milk. Top with whipped cream and a sprinkle of pumpkin pie spice.
Spiced Hot Chocolate
Hot chocolate is a go-to drink for cold weather, but you can also add a taste of autumn during the fall months. Try this recipe for Spiced Hot Chocolate and enjoy while you watch the leaves change color.
Ingredients
1 cup unsweetened cocoa powder
1 cup granulated sugar
2 Tbsp vanilla sugar (use store-bought or see recipe below)
1 Tbsp ground cinnamon
½ tsp freshly grated nutmeg
½ tsp ancho chile powder
½ tsp ground ginger
¼ tsp ground cardamom
½ fresh vanilla bean
2 cups granulated sugar

Directions
Sift all ingredients together into a large bowl. Whisk the mixture together to be sure the spices are evenly distributed.
To serve, stir 3 tablespoons of the mix into 1½ cups (12 ounces) of hot milk. Serve in large mugs. Store the remaining mix in a tightly sealed jar.

Split the vanilla bean lengthwise and scrape out the seeds with the back of a knife. Combine the sugar, vanilla pod, and seeds together and store in an airtight container for at least 1 week before using.
Pumpkin Smoothie
This Whole Foods recipe is perfect for when you're craving autumn flavors but the weather is still warm!
Ingredients
1 cup pumpkin purée

1 large ripe banana

1 cup unsweetened soymilk or coconut milk beverage

1 tablespoon honey

1/2 teaspoon pure vanilla extract

1 1/4 teaspoon pumpkin pie spice

5 ice cubes
Directions
Combine all ingredients in a blender and blend until smooth. Pour into 2 glasses and serve.
Make These Recipes and More in Your New Home at 1st Lake!
Get more great recipe ideas by checking out all of our Cooking Tips on our blog, and contact us today for more information about our residential communities!
---
Do you enjoy having company over to your apartment and hosting dinner parties? Then chances are you're always on the hunt for table-setting ideas.
We've got just what you need for decorating inspiration! Impress your friends and family at your next occasion with these creative table settings for a dinner party to remember.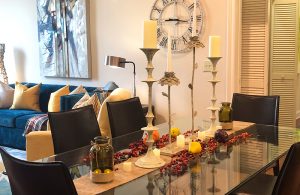 Flowers and Natural Elements
Incorporating flowers into your table setting always adds a fresh and attractive touch.
Depending on the occasion, you can customize the color scheme to fit the theme. For fall occasions, pick out red, orange, or yellow flowers with nice green stems. For winter, red and green colors are a classic choice. If it's for a friend's birthday, choose flowers in their favorite color.
And other natural elements can add a fun, unexpected touch, like pinecones or fall leaves scattered around the centerpiece.
Crafts
For a celebration, decorations that can be found at a crafts store are a festive addition. Tying a pretty ribbon around a wine glass, sprinkling confetti between place settings, and using a big white sheet of paper with colorful stamps can add that special touch.
Candles
For a more grown-up or intimate occasion with friends or loved ones, add some glass-encased votive candles to your table setting for some understated elegance.
Place Setting Accessories
To make your table setting pop, add some colorful elements that stand out and bring your dinner party to life. Try placing brightly colored napkins in between white dinner and salad plates, or personalizing your place settings with handmade name cards and place mats.
Fruit
Fruit is not only delicious to eat, but a pretty natural addition to your table setting. Get creative by poking holes in citrus fruit with straws that have name tags attached, place pineapples around your centerpiece, or make a fruit cornucopia centerpiece.
There you have it! A few tips and tricks to create a beautiful table setting for your next dinner party that is sure to wow your guests!
If you're looking for a new home that's perfect for gatherings, browse our communities here!
---
Toward the end of November, schools are out for a few days and this break is the perfect time to immerse yourself in the wonders of fall! Embrace the season with fun activities that will spark creativity and bring smiles. Here are some fantastic ideas:
Coloring/Activity Sheets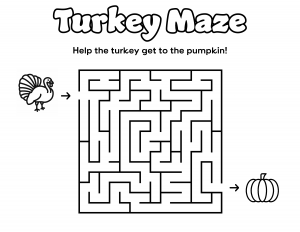 Coloring sheets are a great way to explore your artistic side, while activity sheets are a great way to engage your mind. Simply click here to download some fall-inspired sheets, print them out, and let the fun begin!
DIYs
Looking to get a little more creative? The DIYs below are a fun way to get creative while using resources you may already have at home!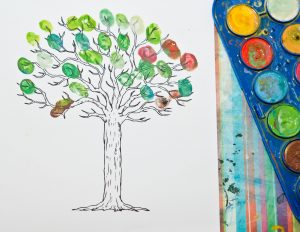 Tree Art

First, draw out the base of a tree and its trunks onto a piece of paper.
Then, put as many colors of paint as you like onto a paper plate, piece of cardboard, or anything else you don't mind getting paint on.

For ease and convenience, you can also use a pre-potted paint set, like this one found at Michaels. 

Finally, dip your finger into the paint and press it onto the bare tree trunks to create "leaves."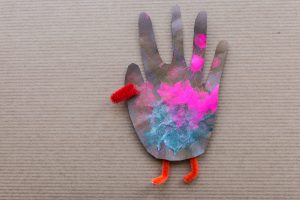 Turkey Handprint

Start by tracing your hand on any type of paper.
Cut out the traced handprint and begin decorating it how you like!
You can use pipe cleaners as legs, paint to color the turkey, a pen to draw a face, and more. The possibilities are endless!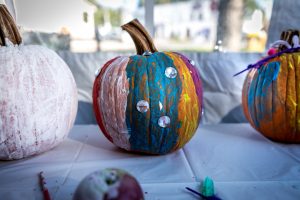 Painted Pumpkins

A classic DIY project is painting pumpkins!
All you need to do is pick out the pumpkin size of your choosing, grab some paint, and let your creativity flow!
For extra pizzazz, you can even add stickers, rhinestones, and more!
There you have it, a few simple and cost-effective activities to make this break unforgettable! Enjoy!
Looking for a new home? Check out our communities here. 
---