1st Lake Properties is committed to being a resource to our residents, especially now. If you need anything from your rental office team, you can continue to contact your rental office by phone or online through the resident portal with any questions or comments.
Below, we've compiled a list of resources for you that can offer further assistance during this time. 
Companies Hiring:  
Costco: hiring temporary workers   
Langenstein's Grocers: hiring part time
LCMC Hospitals: hiring at West Jefferson Hospital, Children's Hospital, Touro Hospital, New Orleans East Hospital, and University Medical Center
Quest Diagnostics:  jobs listing site
US Census Bureau:  jobs listing site
WorkNola.com: jobs listed here and updated by GNO, Inc.
New Orleans City Business has been updating their blog with even more job opportunities
1stlake.com: yep, we're hiring!
Boilinger Shipyards
PROFESSIONAL:
Structural Designer – Lockport, LA
Project/Electrical Engineer – Mandeville, LA
Electrical Engineer – Lockport, LA
Electrical Designer – Lockport, LA
Info. Technology Director–Lockport-LA
Safety Coordinator – Algiers, LA
Buyer – Lockport, LA
Oracle Apps. Developer – Lockport, LA
PRODUCTION:
TIG CuNi Pipefitters – Lockport, LA
Maintenance Tech. – Mathews, LA
Crane Operator (N-Shift) – Harvey, LA
Crane Operator (D-Shift) – Amelia, LA
CNC Machinist – Lockport, LA
TIG CuNi Pipe Welder – Lockport, LA
Repair Wkg. Leaderman -Algiers-LA
GMAW Welders – Lockport, LA
GMAW Tack Welder – Lockport, LA
Shipfitters – Lockport, LA
Warehouse Material Spclst. – Lockport, LA
For more information apply at: www.bollingerjobs.com
Cabildo Staffing
Quality Care Representative

For more informati
on:
C
LICK HERE
Quality Care Helper

For more information:
CLICK HERE
Resources for Financial Assistance:
Louisiana Restaurant Associations (LRA) For Employee Relief Fund
Louisiana Unemployment and Benefits
Gayle Benson Community Funds to benefit those in the service and hospitality industry
LaCap (La. food assistance for 60-years or older)
La. Workforce Commission helping those with reduced hours or not working, email:  EmployerServices@lwcla.gov
American Jobs Center: 1801 Airline Hwy, Ste F, Metairie, LA 70001, 504-838-5678
Government Resources
Centers for Disease Control Corona Virus disease
US Dept of State Travel Advisory
Jefferson Parish Council on Aging  

School Resources:
Local Hospitals:
LCMC Health Systems (Children's Hospital, West Jefferson Hospital, Touro Hospital, University Medical Center, and New Orleans East Hospital)

Local Television stations:
Business Resources:
St. Tammany Chamber of Commerce
Baton Rouge Chamber of Commerce
Entergy Charitable Relief Foundation – "Entergy shareholders are committing to $700,000 to the COVID-19 Emergency Relief Fund to help qualifying customers  with basic needs such as food and nutrition, rent and mortgage assistance, and other critical needs until financial situations become more stable."
---
Hello 1st Lake Commercial Tenant,
Effective immediately, we have arranged for additional rent payment options to 1st Lake Commercial Properties, Inc.  
To take advantage of these new options, please complete the
appropriate authorization form
(attached) and send a signed copy to commercial@1st-lake.com.
Bank Draft Authorization:
Use this form to have funds drafted from your bank account.  There are no fees associated with this option.
Credit Card Authorization:
If you would like to pay your rent by credit card, please use this form.  The fees associated with the transaction are:
–
Payments using a personal debit card are $6.95
–
Payments using a personal credit card are $3.50 + 2.95% of the payment amount
–
Payments using a commercial credit or debit card are 3.5% of the payment amount
–
Payments using an international credit or debit card are 4.0% of the payment amount
We are still allowing payments to be accepted by mail.  If you use this option, please allow enough time for the payment to be received in our office on time.
If you need to hand deliver your rent payment, you may do so by delivering to our mail slot that is located on the front door of our office.  Our office is located at  3925 N. I-10 Service Rd Suite 103, Metairie, LA.  The building is open between 7:30am-5:00pm, M-F.
We are available by email at commercial@1st-lake.com or phone 504.455.8644.  Please note, we are working limited hours.  The best time to call our offices would be between 9am-1pm.  
We appreciate your understanding as we work to abide by social distancing mandate.  We hope your family and businesses success through this tough time.
Respectfully, 
1st Lake Commercial Properties, Inc.
Forms are below for your convenience: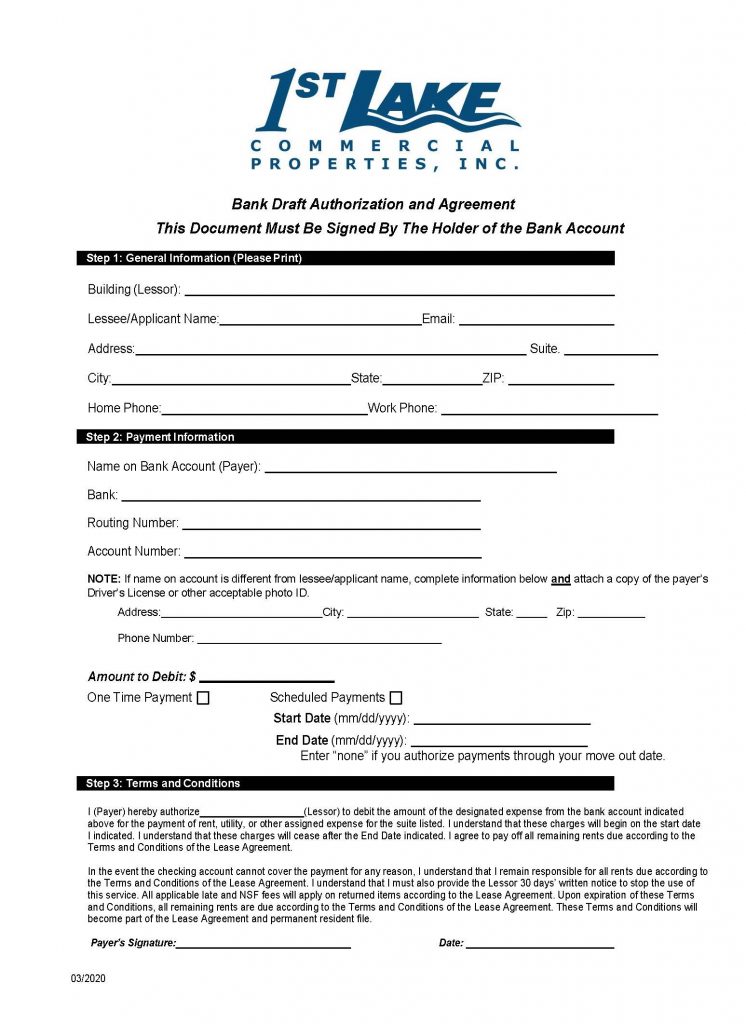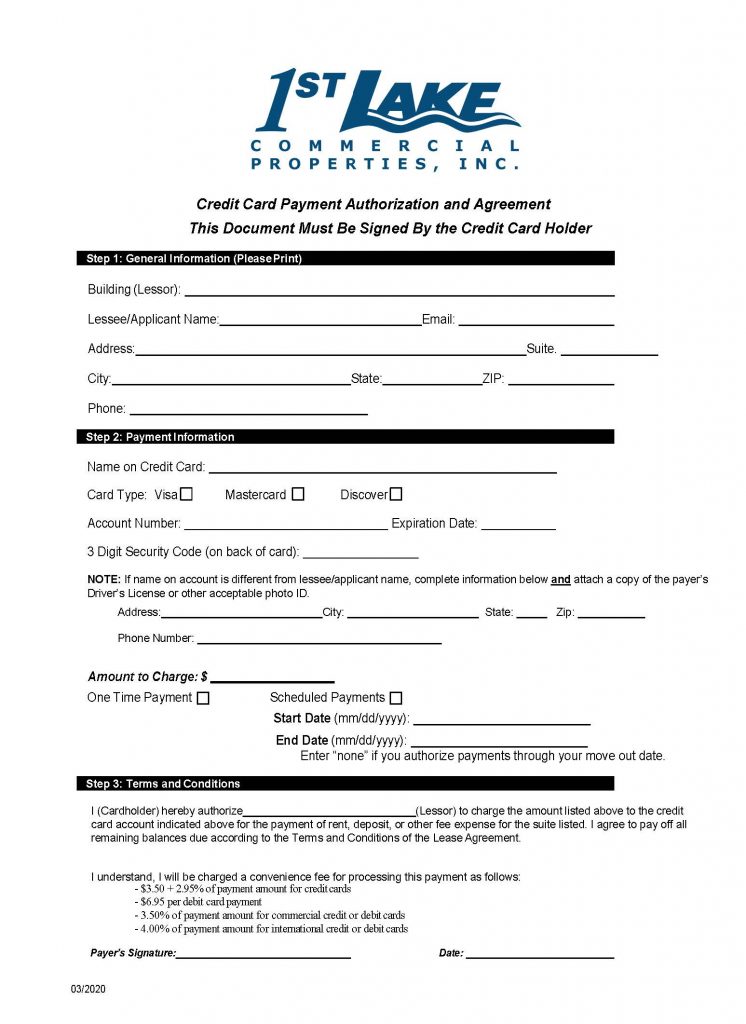 ---
Valentine's Day is right around the corner, and seemingly everyone with a significant other is looking for that perfect gift! While there are the tried and true go-to gifts such as chocolates or roses, sometimes it's good to try something a little different.
A gesture that veers away from the classic gifts can show that you care even more, as it requires a bit more thought! There are several things you can do to show that special someone how much they mean to you while sticking to a budget as well. With finances being tight for a lot of people, there's no need to break the bank just to make a sweet gesture on Valentine's Day!
Breakfast in Bed
We think there's no better way to start this love-centered day than by waking your boo up to breakfast. One gesture that goes a long way without having to spend a lot of money is to make a simple and delicious breakfast spread. Stacked pancakes, hot coffee, and a side of scrambled eggs–what more could we ask for? Plus, breakfast food is the least expensive of all so you won't break the budget. 
Even if you're no expert in the kitchen, looking up a special pancake recipe or giving homemade french toast a shot might be a sweet idea. Even if you come up a little short in your attempt to be a gourmet chef, the effort involved will certainly prove how much he or she means to you! Try finding a recipe that isn't too heavily involved, and a meal that can be relatively mess free (since you'll be eating it from the comfort of your sheets).
Here are 45 breakfast in bed ideas. 
Gifts From The Heart
Another way to show that you care on a budget is to create your own gift. Sometimes these gifts are the most meaningful, because they require genuine time and thought. Do you have a special talent that you can utilize? Perhaps you're a great singer, photographer, or artist.
Take an inventory of the skills you can use to create a gift that shows you really care. If you can play a guitar or sing, try singing a song about your loved one.
Another idea that most anyone can do is to create a scrap book of your time together. You could include photos you've taken together, movie ticket stubs from your first date or dates thereafter, small mementos from trips you've taken together, and other sentimental scraps. The more thought and effort you put into your scrap book, the more special it will be.
A Sweet Retreat
Sometimes, the best gift you can give is a simple escape from everyday life. Take a brief trip with your loved one for Valentine's Day. Perhaps you can manage a day off of work together and take a day trip to a close-by destination that you both enjoy. If you or your significant other isn't able to take off of work, book a hotel room in your city or town! Even if it's close by, simply being able to stay somewhere else, have someone else pick up after you, and be away from the normal stresses and tedium of home can be huge! Some hotels run specials, and you might be able to find a room fairly cheap. Try using one of our favorite apps/sites, Hotel Tonight to see day-of hotel specials in the area. In their own words, Hotel Tonight "partners with top-rated hotels, they give us their unsold rooms, and we show you each day's best deals. You check out those deals, book the one you like and boom! You're on your way to a great stay." 
Get a little creative this Valentine's Day, and you may find that not only can you save a little money, but the added sentiment of creativity can go a long way! Here's to a safe and happy Valentine's Day for everyone!
---
From adding indoor plants to creating less waste, there are plenty of small ways to have a healthy and happy apartment. But if you want to take things a step further, you can switch to healthy, chemical-free cleaning products to keep your apartment clean!
Here are a few of our favorite natural cleaning products for you to try in 2020! 
Castile Soap: Traditionally, castile soap is made from plant-based oils like olive oil or avocado oil, which makes this as natural of a cleaner as you can get. However, when searching for this multi-purpose, non-toxic cleaning agent, it's imperative that you look for the label "100% pure." To reap the natural benefits of this soap, you'll need to read the ingredients list to ensure nothing harmful has been added to the mixture. Nearly any health and food store today sells castile soap in both liquid and bar soap form!  
Why castile? Some of the known benefits of switching over to castile soap:
It's a multi-purpose cleaner! From your face wash to your dish wash, you can rest assured that castile soap will meet all of your cleaning needs!
It doesn't contain fillers and toxins that traditional soap brands use. 
It's safe for sensitive skin and naturally hydrating. This means: no more chapped hands when cleaning your kitchen counters or washing your dishes!
Branch Basics: This company of all-natural cleaning products comes to us from a trio of ladies with truly inspiring stories about overcoming chronic sickness by eliminating harmful toxins in their homes! Their journey sparked a "positive rebellion" to make clean, healthy products. Head to their "our story" section to feel all the inspirational feels.
Why Branch Basics:
You can clean just about anything in your home with their one concentrate cleaner! From your kitchen to you bathroom and laundry, this cleaner will get the job done. 
They have a non-toxic laundry detergent that claims to even detox clothes previously washed in conventional detergents! Plus, you can add Branch Basics to your dishwasher!
A Branch Basics Starter Kit comes with the concentrate as well as these adorable spray bottles that help distinguish between bathroom, kitchen and laundry! *Bonus perk: you can try it for just $5 before purchasing an entire kit. Head to their site to learn more!
Common Good: Founded in 2011, this company set out to "reduce the amount of single-use plastic generated by household soaps and cleaners…We created a range of reusable plastic and glass bottles that can be refilled at our refill stations located nationwide." From laundry detergent to scrub brushes, you can buy these green, sustainable products directly from their website. 
Why Common Good:
Their soaps are safe, green and refillable! Plus, they really work! 
Their products are even safe on kids and pets.
Their Clean Kitchen set comes with everything you need, including an adorably minimalist aesthetic. 
---
Each new Mardi Gras season brings a whole new wave of king cake creations.  That means, you have lots to try and little time!  To make things easier, here's our breakdown of the delectable desserts you must try before it's too late! 
King Cake In Its Many Forms
We're loving everything from Beth Biundo Sweets! Whether you want king cake pound cake or this purple, green, and gold layer cake, she's got you! Oh and did we mention…king cake ice cream sandwiches. We'll wipe that drool off for you. 
Chocolate Addict? Us Too.
That's why we're obsessed with Bittersweet Confections' Chocolate King Cake filled with chocolate cream cheese. We'll take it!
It Just Keeps Getting Sweeter.  
Our next two recs are a New Orleans tradition and a modern-day classic. First up: Manny Randazzo's King Cakes are a family tradition dating back 55 years! From traditional flavors to pecan praline and many more in between,  you'll never forget your first Randazzo's king cake. 
Back at Caluda's King Cakes, you'll get your hands on special flavors each week like Maple Bacon Praline or Blueberry Cheesecake king cake. But make sure you follow their Instagram because these bakers announce one-day only king cakes too! For example… Cannoli King Cake. Yep.  
Trying to Be Healthy This Carnival?
How about some portion control to help curb the carbs? District Donuts has you covered (sort of) by offering king cake donuts. Get all the king cake flavors jam packed into a tiny(ish) version of this season's sweet of choice. But they also just came out with this king cake statement: "We have our New School and our Old School. The New School is a Danish dough with a touch of cream cheese, vanilla, cinnamon, and a pearlized sugar glaze. The Old School is a soft brioche dough with sanding sugar and a cherry 🤗." You decide.
Now if you're really trying to cool it with the carbs, try the healthy king cake everyone's been talking about: Eat Fit Nola's King Cake. This traditional treat checks all our health boxes: it's all-natural, gluten-free, Keto friendly, low carb, & absolutely delicious. Yep, that about does it. 
Tried All Those and Still Want More?
Our friends at GoNola wrote a very extensive blog on all the king cake finds this city offers. Check it out here!
---