Spring is finally here and that means change and new beginnings. Not only with the weather, but in your apartment, too!
Whether you're on the messy or neat-freak side of the spectrum, the spring cleaning tradition is always a good annual practice. Spring is all about fresh starts and rebirth, and the best way to rejuvenate your place is by following a spring cleaning checklist.
Besides regular chores like putting clothes or dishes away, sweeping, and cleaning the bathroom, this is your chance to pay attention to details. Time to store, sort, and get rid of extraneous clutter!
Use this as a guide for spring cleaning the areas of your apartment that aren't usually on the cleaning to-do list. Here's our definitive spring cleaning checklist!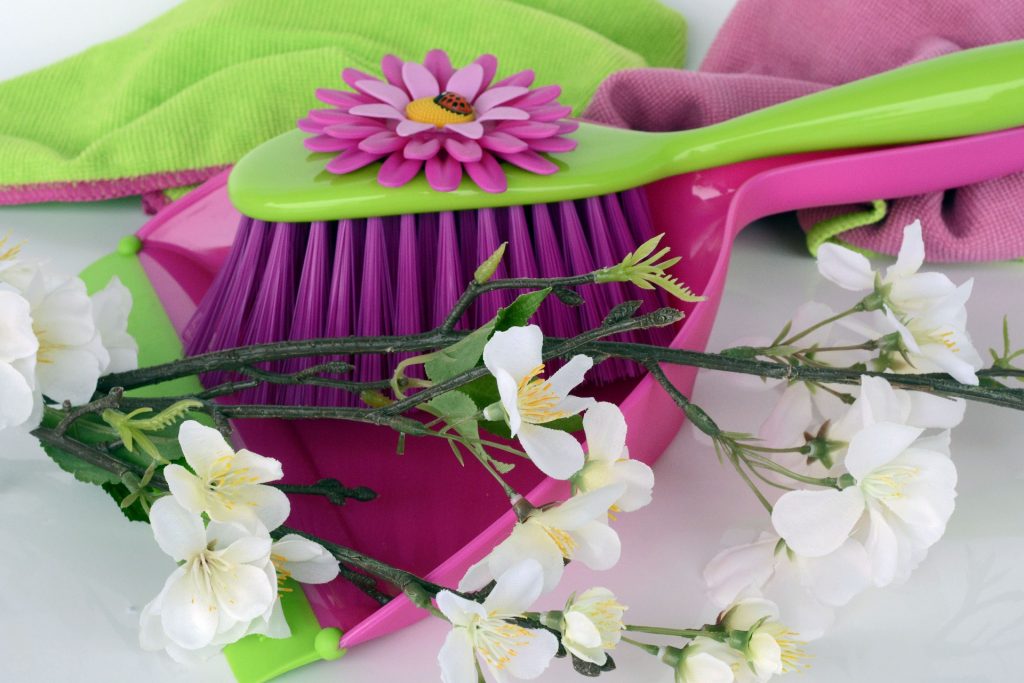 Spring Cleaning Checklist
Around the Apartment
Wax wooden furniture with paste wax after cleaning the surface with a damp cloth and dishwashing liquid.
Ensure clean window treatments by machine washing draperies or curtains and wiping down wooden blinds.
Change all burned-out lightbulbs.
Wipe off the dust on ceiling fans with a damp cloth or paper towel.
Vacuum and shampoo rugs with an industrial shampoo machine.
Use a duster on house plants like orchids or ferns. The plants will immediately look brighter and refreshed, plus you'll be removing surface dirt and grime!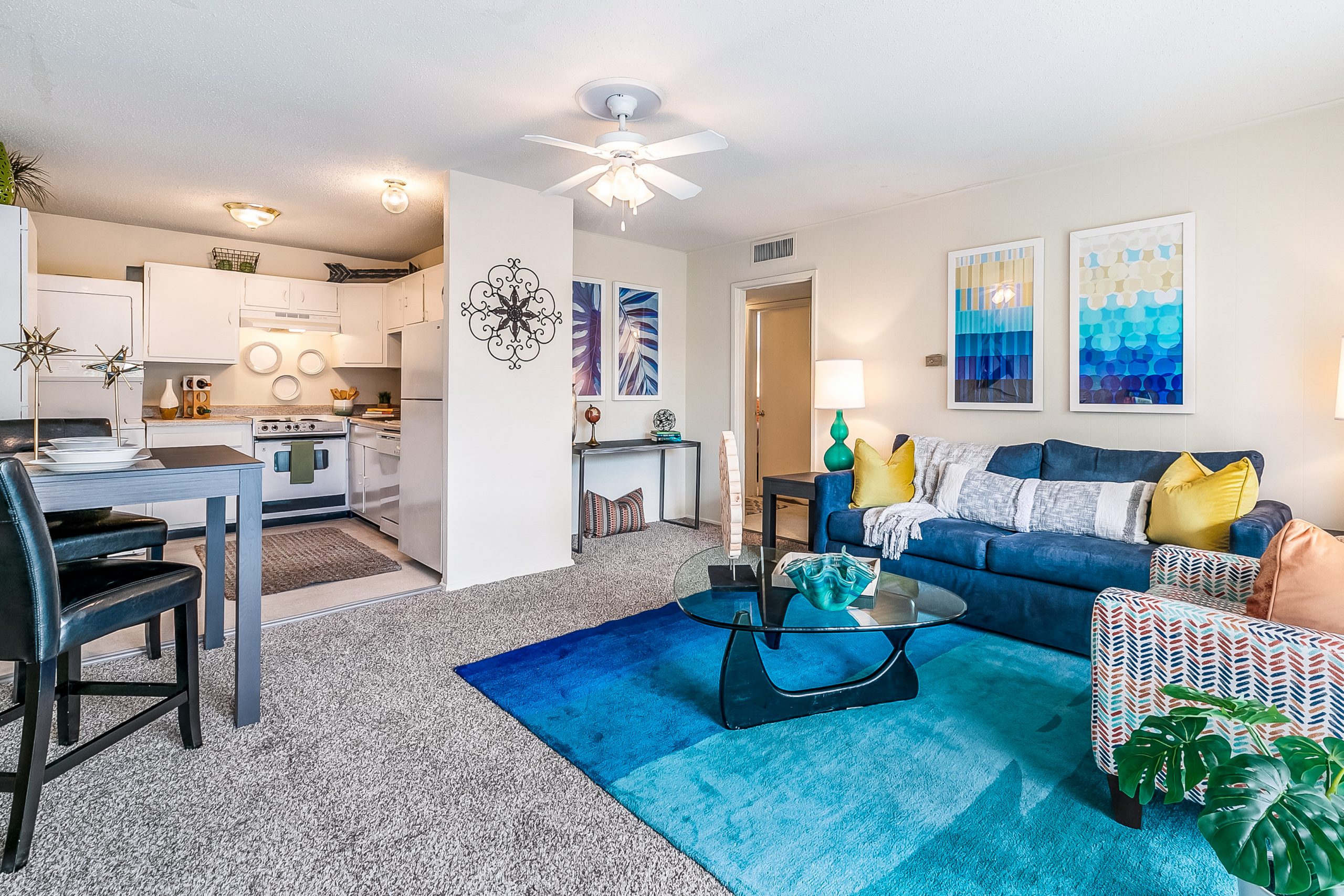 Kitchen
Wipe down walls, ceilings, and fronts of cabinets to scrub off any old residue.
Clean the tops and sides of appliances such as microwaves, refrigerators, and stove vents.
Clean the freezer by turning off the power to defrost it, clear out all contents and wipe the interior with a solution of two tablespoons baking soda per one-quart hot water.
Clean crevices between appliances. Use a crevice attachment on your vacuum or a long, thin duster to capture grime between nooks and crannies.
Clean salt & pepper shakers and reusable condiment dispensers. Wipe and disinfect the outside of bottles and empty, clean and refill the containers.
Clean the inside of the microwave. Heat up water and lemon in a glass container for a few minutes prior to cleaning to make removing food particles a breeze.
Clean the inside of the fridge.
Check out more tips on de-cluttering your kitchen!

Living Room
Clean and disinfect remote controls and game controllers.
Remove any artwork from the walls, dust them and replace.
Take couch cushions and pillows outside, fluff them up, and leave them in the sun to air out for a couple of hours. Meanwhile, use a vacuum to clean out the crevices of sofas and armchairs.
Clean any curtains (follow their individual instructions) and wipe down windows both inside and out using glass spray.
Check out more of our living room de-cluttering and rearranging tips!

Bathroom
Discard old cosmetic or hygienic products.
Deep-clean the toilet using a bleach-based cleaning product.
Wipe down all baseboards to instantly brighten the bathroom and give it that "clean" feeling.
Wash your shower curtain and replace the shower curtain liner.
Disinfect and rinse all surfaces including the tub, sink, and faucets. If needed, clean the grout as well.
Polish surfaces like sinks, vanity, mirror, and even the toilet paper holder!
Check out more of our bathroom de-cluttering tips!

Bedroom
Clean washable pillows to get rid of any lingering odors or bacteria.
Wash all bed linens, including mattress covers.
Flip your mattress before replacing clean linens.
De-clutter any surfaces like nightstands or desks.
Clean floors and baseboards.
Remove and clean any artwork or mirrors.

Home Office
Clean monitor screens and keyboards of computers.
Get rid of any old papers, taking care to recycle when possible.
Rearrange daily-use items so that they're within easy reach.
Store items you use less often, like a stapler or envelopes, inside your desk to keep your working surface clean.
Clean out your computer, carefully reviewing and deleting any old documents, emails, or photos to free up valuable storage space.
De-clutter bookshelves and drawers.
Closets
Separate out unwanted clothing and accessories (see below for how to donate these items).
Repurpose shower hooks to hang items like belts and handbags.
Enlist a friend – sometimes a second opinion can help you decide what suits you best and what you no longer need.
Invest in smart organization pieces like slim hangers and shoe organizers.
Utilities
Change batteries in smoke detectors and make sure all units are thoroughly dusted.
Replace air filters.
Outdoor Areas
Wash windows.
Wipe down outdoor furniture.
Take care of any outdoor plants, perhaps repotting them or freshening up the soil.
Eliminate Extra Possessions
Part of making room for the new is getting rid of the old. It's all about finding that perfect feng shui, and one of the best ways to do that is to take inventory of your possessions and evaluate what you want to keep.
We love the method outlined in Marie Kondo's best-seller, The Life-Changing Magic of Tidying Up: The Japanese Art of Decluttering and Organizing. The gist is this: starting with your clothing, go through all of your possessions, category by category, and keep only those items that spark joy when you hold them.
Once you've decided what to keep, you can pass on the remaining items to others in need. After you've gone through your drawers and closets and sorted your discarded items in a donation section, decide where to give them away. Use these places below for ideas:
Where to Donate Clothes and Household Items
Shelters – Community shelters in your area are a great option to donate your clothes and household items. Bridge House and Hagar's House provide services to those in need in the southeast Louisiana region.
Online – Freecycle, Craigslist, and eBay are free and easy online tools to use to give away your old clothes or appliances. You can manage the entire process by listing the items you want to give away for free or sell and coordinate your own shipping or delivery.
Clothing Swaps – Another great way to pass on your unwanted items to someone who might be happy to take them, plus discover some new treasure of your own, is to participate a clothing swap. A clothing swap is a gathering of people who all contribute clothing that doesn't fit or that they don't need anymore, and anyone can take someone else's clothing if they choose. If you don't know of anyone having one, host your own and invite family and friends!
Salvation Army – The Salvation Army is always a great option that accepts all types of donations to sell for a discounted price to underprivileged people, or anyone looking for a bargain. Check your area for Salvation Army drop-off locations.
The Green Project also provides a recycling guide for the greater New Orleans area, with details about local organizations that accept donations of various materials.
If you accomplish all these tasks, you'll be well on your way to being completely spring cleansed! Other than looking shiny and new, your living space will be rid of dirt and dust that you may have not even be aware of that can make you and your guests sick. So tie your hair back, put on those yellow gloves, and spring into action!
---
From adding indoor plants to creating less waste, there are plenty of small ways to have a healthy and happy apartment. But if you want to take things a step further, you can switch to healthy, chemical-free cleaning products to keep your apartment clean!
Here are a few of our favorite natural cleaning products for you to try in 2020! 
Castile Soap: Traditionally, castile soap is made from plant-based oils like olive oil or avocado oil, which makes this as natural of a cleaner as you can get. However, when searching for this multi-purpose, non-toxic cleaning agent, it's imperative that you look for the label "100% pure." To reap the natural benefits of this soap, you'll need to read the ingredients list to ensure nothing harmful has been added to the mixture. Nearly any health and food store today sells castile soap in both liquid and bar soap form!  
Why castile? Some of the known benefits of switching over to castile soap:
It's a multi-purpose cleaner! From your face wash to your dish wash, you can rest assured that castile soap will meet all of your cleaning needs!
It doesn't contain fillers and toxins that traditional soap brands use. 
It's safe for sensitive skin and naturally hydrating. This means: no more chapped hands when cleaning your kitchen counters or washing your dishes!
Branch Basics: This company of all-natural cleaning products comes to us from a trio of ladies with truly inspiring stories about overcoming chronic sickness by eliminating harmful toxins in their homes! Their journey sparked a "positive rebellion" to make clean, healthy products. Head to their "our story" section to feel all the inspirational feels.
Why Branch Basics:
You can clean just about anything in your home with their one concentrate cleaner! From your kitchen to you bathroom and laundry, this cleaner will get the job done. 
They have a non-toxic laundry detergent that claims to even detox clothes previously washed in conventional detergents! Plus, you can add Branch Basics to your dishwasher!
A Branch Basics Starter Kit comes with the concentrate as well as these adorable spray bottles that help distinguish between bathroom, kitchen and laundry! *Bonus perk: you can try it for just $5 before purchasing an entire kit. Head to their site to learn more!
Common Good: Founded in 2011, this company set out to "reduce the amount of single-use plastic generated by household soaps and cleaners…We created a range of reusable plastic and glass bottles that can be refilled at our refill stations located nationwide." From laundry detergent to scrub brushes, you can buy these green, sustainable products directly from their website. 
Why Common Good:
Their soaps are safe, green and refillable! Plus, they really work! 
Their products are even safe on kids and pets.
Their Clean Kitchen set comes with everything you need, including an adorably minimalist aesthetic. 
---
It's springtime, and that means it's time to give your apartment the deep clean it deserves. Soon, you'll be having family gatherings and dinner parties with friends, and the relaxed housekeeping techniques you used during your winter hibernation will need to change.
Read on for the best ways to deep clean the rooms in your apartment.

The Living Room
Your living room is a notorious location for dust. That's why dusting is priority number 1 here. 
Using a duster, dust the living room from top to bottom. We mean that literally: start by dusting the corners of the ceiling, move to picture frames, tabletops and furniture, and then thoroughly dust the baseboards. After you've systematically dusted the room, move on to the door frames. 
Next, use a rag, water, and furniture polish to scrub down any chair/couch legs and tabletops. Once you've cleaned all the hard surfaces, use your vacuum hose attachment to remove debris from all cushions and crevices. Next, vacuum the carpet and mop any wood flooring. 
The Kitchen
First, use the same dusting process you used in the living room.
Next, explore the refrigerator. Chances are you'll need to throw out some expired food and clean some spills. Scrub the interior of the refrigerator thoroughly, and wipe it down with a dry towel.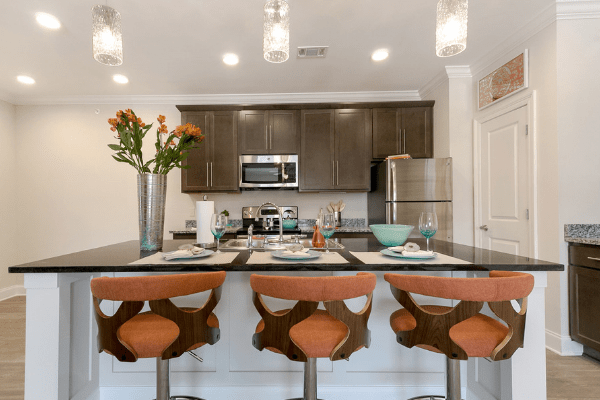 Using disinfectant, scrub all appliances (stove, oven, microwave, etc.) with the same care that you cleaned the refrigerator. Afterwards, disinfect all kitchen surfaces so that you can cook in a sterile environment. Finish cleaning the kitchen by mopping the floor. 
The Bedroom
Winter coats, furry sweaters, thick scarves–these things can take up a lot of space in your closets and dressers. Fold 'em up in an air tight space bag and place them on the top shelf of your closet! Have items you know you'll never wear again? Pack those up too and bring them to your local donation center.

Next, your bed. Let's clear the air and admit: we've all shoved things under our beds right before company comes over. But today is the day you tackle that beast. Take a few minutes to climb under there and remove any items you find. You might just stumble upon that other sock you've been looking for or that sandwich you made a few weeks ago (we won't tell). Trash what's trash and re-organize what's important.
Curtains and carpet: we hope you clean these items more than just once a year, but in the event that you don't, it's time to start. Give your carpets a deep vacuum to remove any pet hair, human hair, dust, and dirt. There's nothing like fresh vacuum lines marking the trail of your cleanliness. Curtains are the next thing you will want to vacuum. Grab your handheld vacuum for this task. Then from top to bottom, bust that dust!    
The Bathroom
Dust all necessary items, just like the living room and the kitchen.
Use a glass cleaner to make your mirror shine! Disinfect the counters and sink.  Scrub the shower/tub area with a mild cleaner like distilled vinegar, and use mildew spray if necessary afterward. Wash or replace your shower curtain if necessary.
Tackle the toilet bowl with toilet bowl disinfectant. Make sure to clean the handle and seat. 
Last, mop the floor, and enjoy your fresh bathroom!

Other Resources
There are plenty of other sites that have great tips on giving your apartment a deep clean. Try Apartments.com, BuzzFeed, and U-Pack for more great cleaning advice.
Once your apartment is clean as a whistle, start inviting your friends to your apartment with pride!
---
Have you ever downsized? In case you haven't — simply put, downsizing refers to moving to a smaller apartment or home. 
Over the last few years, minimalism has become a trend among millennials and others attempting to simplify their lives as a reaction to the fast-paced, cluttered lives that we lead. People also downsize in order to use fewer natural resources. Or, they'd just like to focus and compartmentalize their lives based on their top priorities.
No matter what, downsizing requires a lot of organization. This post will give you a few tips on how to make downsizing easier. Read on for more!
Get Rid of the Clutter
This process can be difficult. After determining how much space you'll have in your new place, you'll probably realize that you need to get rid of a lot of your stuff. 
The easiest way to make these decisions is to plan ahead. If you intend to toss or donate your excess personal items, you should give yourself plenty of time to track how much you actually use the things that you own. Observe the parts of your wardrobe that you didn't touch for a month, six months, or a year. Do the same thing for the items in every room. 
Which kitchen utensils haven't been touched? What furniture hasn't been used? Do you notice any items on your grocery list that you regularly don't end up using?
After creating this list, bite the bullet and be ruthless about de-cluttering your space. Give away what you can and toss the rest.
Measure Your New Home
This is pretty simple. Make sure you have exact measurements of every room in your new place. There's no bigger pain than realizing your furniture won't fit after you bring it up three flights of stairs. 
Make a List of Items You Can't Do Without
This is a slightly different process than de-cluttering your home. 
Imagine yourself in an emergency scenario — any other situation where you have to leave your house with a very limited amount of time to prepare. Or, simply keep the term "bare necessities" in mind as you meticulously take an inventory of your possessions.  
These are the kinds of items to hold onto:
Family heirlooms
Important prescription medication
First aid kits
Expensive or meaningful artwork
A few important books
Private records and personal information (digital or hard copy)
Another trick, suggested by House Beautiful Magazine, is to categorize your possessions and ask yourself this question about every category: "If I could only take 5 of these with me, which 5 would I take?" 
The maximum number of items may change depending on the category. For example, a 3-item cap on paintings makes more sense than a 3-item cap on forks. 
Avoid Purchasing Unnecessary Items
Moving to a new place is an exciting event. It's a time for a fresh start, and sometimes we get carried away with trying to reinvent ourselves by changing our surroundings. 
Something you want to avoid is buying items to complement your new home — and the "new you" — that end up ruining all the hard work you've done to de-clutter and optimize your use of space. For more tips on avoiding unnecessary purchases, check out this guide from Nationwide.
After all, it's important to remember that "downsizing" means your home will be smaller. And you may have many reasons for your new lifestyle, but part of the process is acknowledging that you can't fit everything you currently own into your downsized living space.
Learn More About 1st Lake's Floorplans, Seasonal Promotions, and More Today!
Contact us today to learn about our wide variety of locations and amenities, and let us help you find the perfect home in one of our gated apartment communities!
---
Looking to donate clothes and purge your closet to free up space in your apartment? Every so often, it becomes time to get rid of the old to make room for the new. This applies to household items as well. 
If your closet has become too cluttered lately, you might want to consider donating clothing that you no longer wear. There are plenty of ways to dispense of your retired outfits and make some space for your new ones. 
Take an inventory of your possessions and look for items that you don't really use anymore that you can pass on to others in need. After you've gone through your drawers and closets and sorted your discarded items in a donation section, there are a few ways to get them off your hands. 
Listed below are a few different ways to have a get-together, turn a profit, or make a charitable donation with your unused clothes and household items.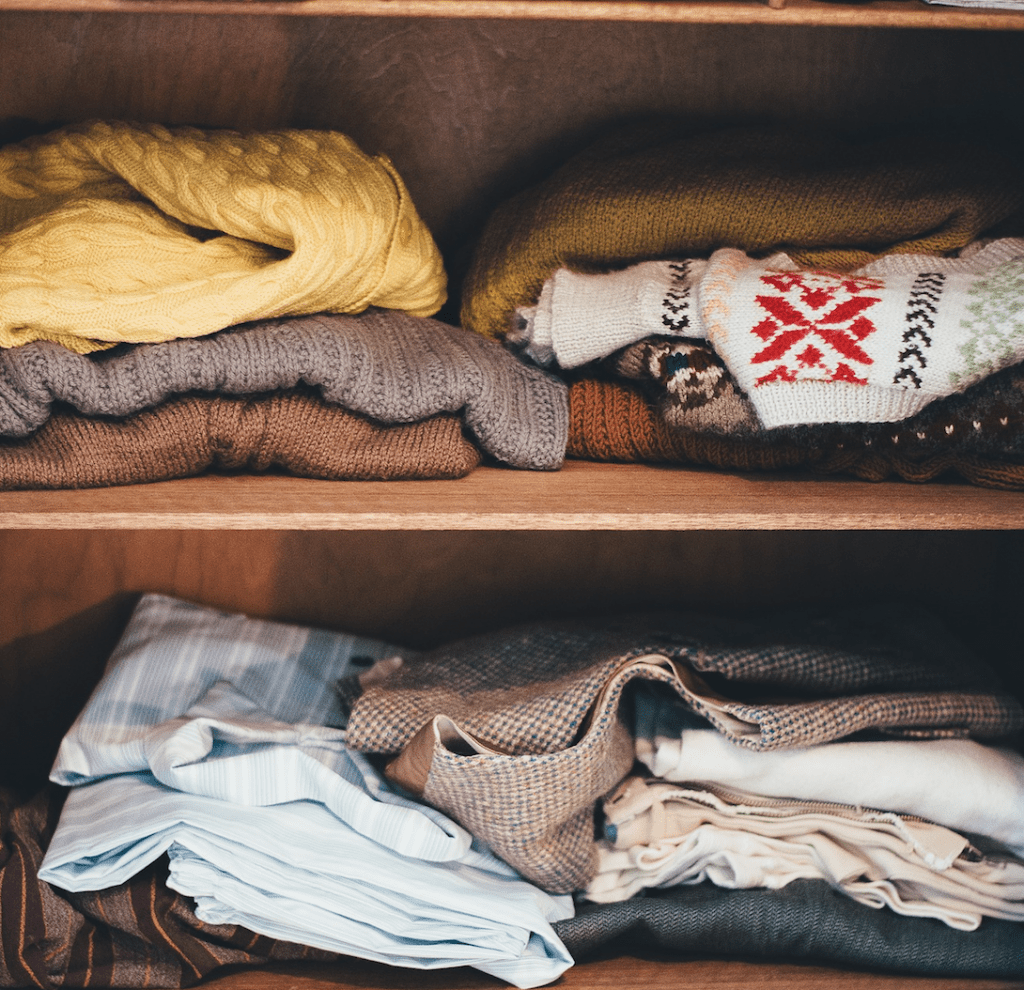 Shelters 
Community shelters in your area are a great option for donating your clothes and household items. Shelters can always use donations, and there will always be people who are in need of clothing and other items.
Below are some shelters in the New Orleans area:
Bridge House/Grace House – 4243 Earheart Blvd & 7901 Airline Dr
New Orleans Mission – 

1134 Baronne St

New Orleans Women & Children's Shelter – 

2020 S Liberty St
Online
We live in a digital era where most things are done online. Freecycle, Craigslist, and eBay are free and easy online tools you can use to give away your old clothes or appliances. You can manage the entire process by listing the items you want to give away for free or sell, and coordinate your own shipping or delivery.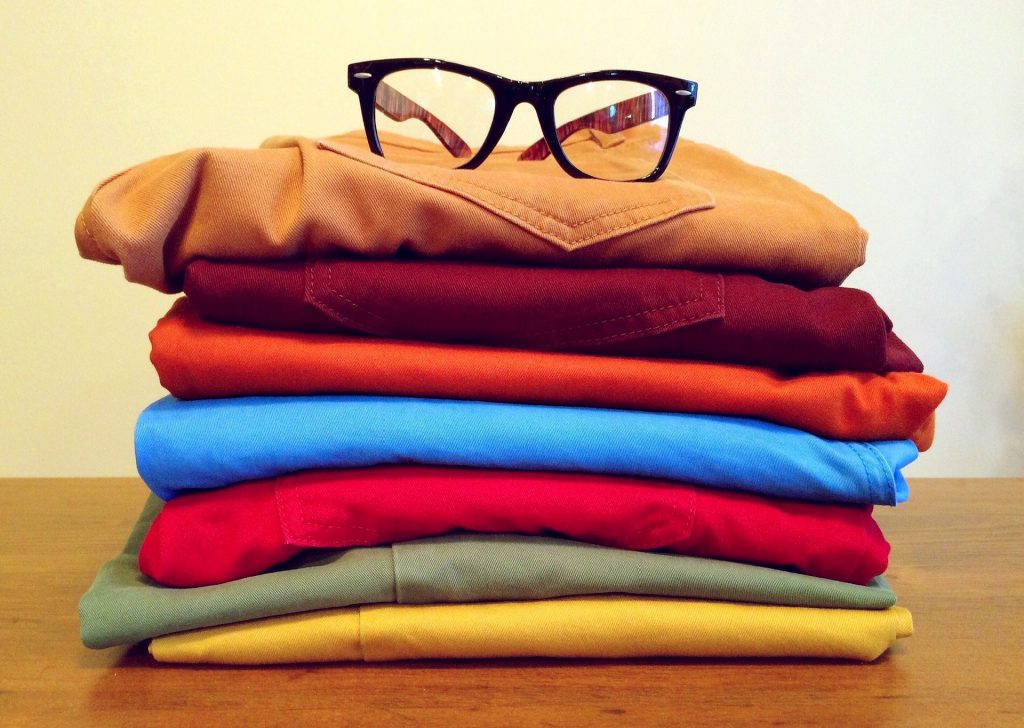 Clothing Swaps 
Another great way to pass on your unwanted items to someone who might be happy to take them, plus discover some new treasures of your own, is to participate in a clothing swap. A clothing swap is a gathering of people who contribute clothing that doesn't fit or that they don't need anymore, and anyone can take someone else's clothing if they choose. Host your own and invite family and friends!
Salvation Army
The Salvation Army, located at 4526 S Claiborne Ave, is always a great option. They are a social services organization that accepts all types of donations to sell for a discounted price.
Let 1st Lake Help You Find a Great New Orleans Apartment!
Looking for a great New Orleans area apartment? Check out what's available at our Metairie, Kenner and River Ridge locations!
---