Sometimes, life takes us far away from home. Whether it's for a new job, a new relationship, or some other unforeseen circumstance, you may find yourself searching for a place to live in a different state.
If life is taking you to New Orleans in the near future, 1st Lake Properties is a fantastic place to begin your search for a new home. 
In this post, we'll explore all the reasons why you'll love living in one of our New Orleans apartment communities. Read on to learn about what 1st Lake Properties has to offer, from on-site amenities to the fantastic shopping, dining, and entertainment located nearby.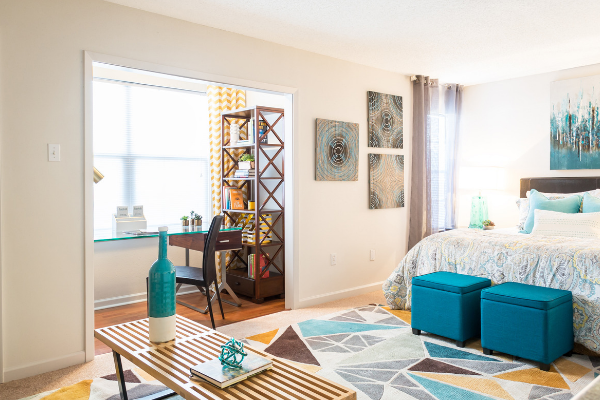 Convenience
There are dozens of our private, gated communities located throughout Metairie, Kenner, and River Ridge. These apartments are on the edges of the city, giving residents the best of two worlds: you'll have the off-street parking and nearby gyms, pools, and grocery stores of the suburbs while being just minutes away from the shopping, dining and entertainment of the city. 
It's a perfect combination. Peace, privacy, and convenience with the option to take part in the bustle of New Orleans as you please.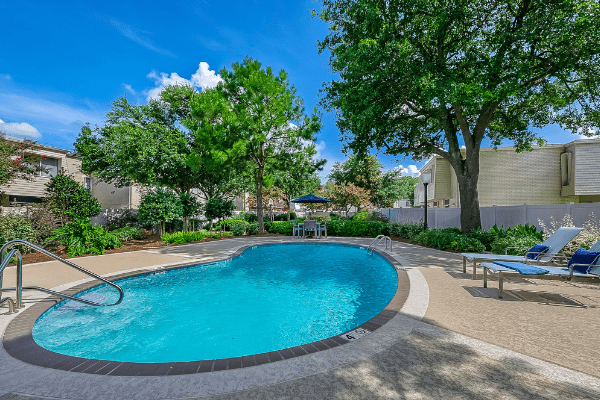 On-Site Features
1st Lake's New Orleans communities offer a multitude of convenient on-site features and amenities.
Our communities offer:
Free parking
Free bike rentals
Free use of pools
On-site fitness centers
Movies
Cabanas
Dog parks
Beautifully landscaped walkways
We also offer discounts at local businesses such as pet services and storage facilities, as well as 24/7 maintenance.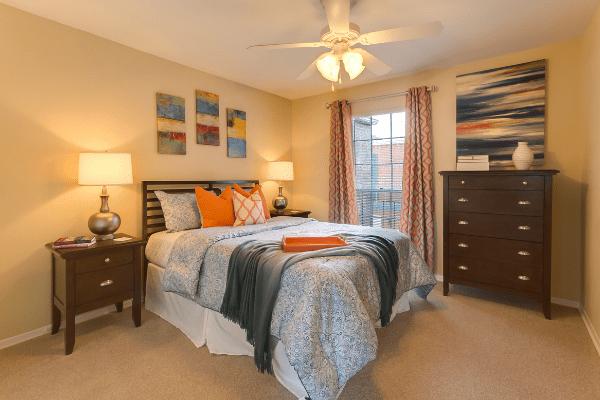 Nearby Fun & Community Perks
When you live in one of our New Orleans communities, you'll be just minutes away from New Orleans' best shopping, dining, and entertainment districts. Take a 10-minute drive and visit any of the following places:
Our apartment communities are also located near world-class medical resources, such as Ochsner Medical Center and Touro Infirmary Hospital.   
If you're unfamiliar with New Orleans, don't sweat it! 1st Lake offers its residents free discounts for local businesses, auto shops, restaurants, spas, and fantastic local entertainment. Taking advantage of these perks is a great way to get to explore the city and get to know your new home. Contact us for more information.
Discounts include special offers for the Audubon Zoo, New Orleans Pelicans, New Orleans Baby Cakes, and Massage Envy.
Let Us Help to Make Your Long-Distance Move a Breeze!
1st Lake Properties is a family-owned management company, and we offer apartments to suit a variety of needs. Contact us today to find out more about communities, which range from inexpensive to high-end luxury. 
---
It's no secret Jefferson Parish's Elmwood neighborhood is a shopping destination for residents across the Greater New Orleans Area. Its large shopping center has a great selection of big-box stores, its movie theater boasts 20 screens, and its area attractions include an indoor trampoline park and laser tag venue. In addition to an abundance of amenities, Elmwood is an ideal place for those looking for a quiet and affordable alternative to downtown New Orleans living.
You Can Shop 'til You Drop
Living in Elmwood makes shopping a breeze. Elmwood Shopping Center is a one-stop shop for all of the items on your shopping list. In one trip, you can find new shoes at DSW, find a new dining table at World Market, find a television at Best Buy, and more! Instead of having to drive all over town to get the items you need, you can make one trip to one central location and then head right on home! It will save you gas, time, and a lot of patience.
The Great Outdoors are Just Out Your Doors
Elmwood's little corner of the Mississippi River is a quaint residential area with quick access to paved bike paths, public parks, and recreational spaces. La Salle Park is a well-kept multi-purpose recreational space for sports and nature explorations. Its nature boardwalk winds through native cypress trees, making it a scenic and calming spot for outdoor enthusiasts.
If you're looking for some two-wheeled fun, the paved levee bike path is a great way to enjoy the action on the river while you get some exercise in. Pack a blanket and some snacks for a riverside picnic, or wind your way over to Oak Street on the outskirts of New Orleans for some good local eats and live music.
The Living's Easy in Elmwood
Elmwood might be a shopping haven, but it's also a secluded treasure. Many of our 1st Lake properties sit tucked away on peaceful, open green areas which provide a feeling of escape and relaxation.
You can unwind poolside at Bella Ridge without the distracting sounds of blaring car horns, screeching sirens, or chatty tourists. You can share a casual and fun afternoon with your dog and your neighbors' dogs in Clearwater Creek Premier's gated pet park. You can go for an easy evening stroll alongside the flowing streams of Palmetto Creek. Every one of our Elmwood locations is designed to make you feel like you're living in a remote luxury retreat.
If you're considering a move, consider Elmwood as your new neighborhood. With great shopping, great outdoor spaces, and great living communities, you'll find it easy to settle in and make yourself at home in Elmwood.
---
It's not hard to find countless tips and best practices for apartment hunting online, but what if you're looking for the perfect apartment space for you and your significant other?
While apartment hunting individually or as a couple can be similar in many ways, there are certain factors to consider that are unique to approaching the process as a pair – just like deciding how to spend the holidays or making big purchases. If you're launching into an apartment hunt with that special someone, check out these 3 things that'll make the process faster, easier and more enjoyable for both of you.
1.  Know Your Apartment Negotiables & Non-Negotiables in Advance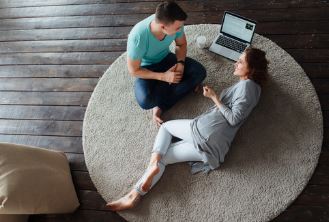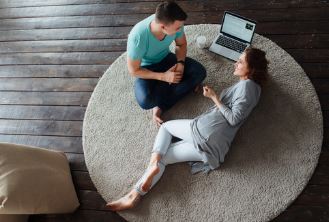 This is a largely ignored step that can save couples a ton of hassle and disagreements. Before launching into your couple apartment search, make sure to write separate lists of each of your apartment negotiables and non-negotiables. Then, combine all your non-negotiables into one list and make this your starting point. If the list seems too long, try to cut it down by eliminating items that both of you don't feel strongly about. Completing this exercise before going into the process will be instrumental in avoiding nasty surprises later on.
For example, are there certain locations that won't work for one of you? Is a community pool a necessity or are both of you willing to forgo that amenity? Questions like these can help both partners get on the same page and narrow down the apartment search criteria – separating the necessities from the "icing on the cake" items will help speed up the apartment search process tremendously.   
2. Split the Apartment Search to Double the Efficiency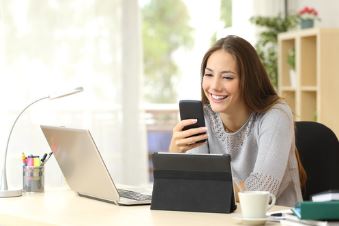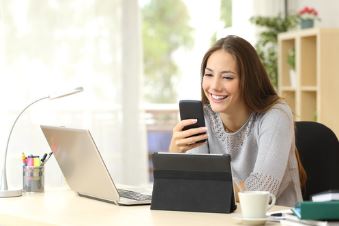 Okay, we get it, you do everything together. However, when it comes to apartment hunting as a couple, this may not be the most efficient strategy. We suggest maximizing the fact that there are two of you – you can cover twice as many locations, online resources and showings if you split the search process between the two of you. While there will be times when you need to research a listings site or attend an apartment appointment as a pair, tackling some of the legwork separately can make your apartment search twice as effective.
To avoid any miscommunication or confusion, make sure to keep each other in the loop through cc'd emails, pictures and regular touch bases. As far as visiting apartments solo, that's what FaceTime is for.
3. Establish a Soft Timeline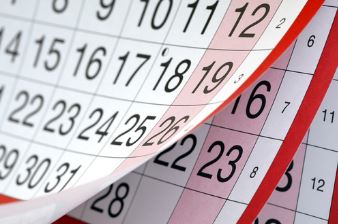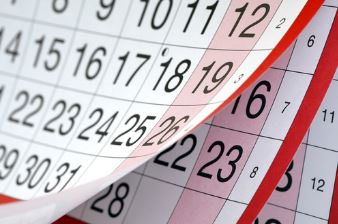 When you first decide to rent, you've most likely discussed a feasible timeline for research, appointments, application process, etc. However, it's best not to place a hard deadline on when to make a decision. Unless there are factors such as a new job or the birth of a child to consider, it's best to leave plenty of room for research, discussion and changes of heart. Renting an apartment as a couple should never be approached in a rushed fashion, and if one person isn't 100% on board with a particular place, it's best to wait rather than try to convince them otherwise.
Apartment hunting with a significant other can be an exciting time but can turn ugly if both parties aren't open to reaching common ground. It's important to consider your partner's point of view while being clear about your own needs and non-negotiables. As long as you know what to stand firm on and what to let go, you'll be moving into both of your dream apartment in no time!
Finding the ideal apartment is a big part of the puzzle when moving as a couple but there are many other moving-related tasks to consider as well. If you're moving in the near future, check out CableMover's Custom Moving Guide for personalized tips, tools & timelines for your move – your way. 
Guest blog by CableMover
---
Congratulations, you've found a great new apartment!
Before you settle in, you must go through the inevitable moving process. If you opt to do the moving yourself, there are a number of factors you must consider. Number one: how am I going to get my stuff from here to there? Before you jump the gun and rent a truck, consider the following items.
If you plan on renting a truck…
Thinking about renting a truck for a DIY move? Consider these factors:
Distance
For the most part, if you're staying in the same place or making a short move (from the city to the suburbs), a rental truck makes sense.
However, if you're moving across the state or out-of-state, make sure the company offers one-way trips. That way, you can drive the truck from your original destination and leave it at the new one. Before renting, make sure to check whether or not the company charges large fees for driving out-of-state or not returning to the pick-up destination.
You can estimate your U-Haul rate here.
Size
Once you have decided you're renting a truck, make sure to get the right size. You don't want to be driving around an extra-large truck for no reason, but by the same token you don't want to choose a truck that's too small to safely fit your belongings. Make sure to consult your truck rental company before settling on a vehicle.
Time
Make sure to reserve your truck for the correct length of time. If you think your drive will take two days, reserve the truck for three. You don't want to be hit with crazy overage fees.
Also, book your truck as far ahead of time as possible. Trucks can be hard to nail down, especially during peak moving season (May through September).
Vehicles
If you have several vehicles, you may need to rent a trailer and a hitch to tow them. Make sure to have the correct materials to transport your motorcycle, boat, or extra car safely.
Moving Materials
Once all of your moving transportation is set up, you need to think about the actual items you are moving. Buy dollies, pads, and packing materials to avoid damaging any furniture or decor. You'll also likely be able to rent these items from your moving company.
If you are thinking about hiring movers…
Movers are a fantastic option if you have more flexibility in your budget. Professional movers can move more quickly, safely, and easier than you can, even with the help of your friends and family in tow. Here are our top 3 ways to save money when you hire movers:
Move in the "off-season" 
Although the end of July and early August are prime moving seasons for students, if you can move in less busy moving months or in the middle of the month, movers usually have more availability. This can translate to lower rates!
Book movers as early as possible
The closer you try to book movers to your move, the harder it is to a) find ones who are available and b) find them at an affordable price. Aim to book a moving company as far in advance as possible to secure lower rates and enjoy that priceless gift: peace of mind. At least two weeks in advance is recommended.
Settle up ahead of time
It's easy for additional charges to spring up during the moving process if you use movers. Most movers charge for extras like packing, unpacking, flights of stairs, long-distance carrying, or multiple pickups. Remember to be as transparent as possible about the conditions of your move, and confirm all charges before movers get started so you aren't taken by surprise.
Read our blog post on How to Save Money with a Moving Company for even more top tips! 
---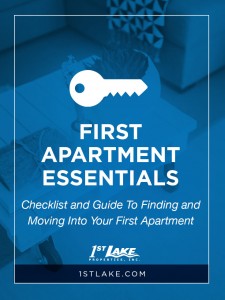 Congratulations! You've finished college. Enter the inevitable post-grad dilemma: "Now What?" While career and relationship issues are a bit more complex, you can at least get a grasp on your living logistics. Whether you're stressing about moving because your lease is up at the end of the summer, or you've enjoyed relaxed, rent-free living with the parents until now, refer to these tips for finding and moving into your first apartment.
Before Moving Into Your First Apartment…
For those who are taking their time adjusting to life after college and haven't yet made the big move to apartment living, there are some first apartment essentials to consider. Keep these questions in mind when it's time to start thinking about moving out of Mom and Dad's.
Be smart about your budget.
Most experts will tell you when looking for an apartment for rent; the rent should be no more than 25-30% of your annual income. While you might be dying to move into that two bedroom luxury apartment, you may not be able to afford it and should take many factors into consideration. Budgeting realistically for your new apartment, and finding one that suits your needs, is key.
Take the time to examine what your exact income is after taxes and subtract your expenses. Include food, household supplies, phone, car payment and insurance, credit card bills, clothing, gas, internet, healthcare, school loans, entertainment, and an extra category for "miscellaneous" for those unexpected expenses. What you have left is the rental budget for your new place. Some management companies, like 1st Lake Properties, Inc. include a flat rate for certain utilities per month, others you may have to pay separate.  Keep this in mind when considering monthly expenses.
Consider roommates carefully.
Choosing who you're going to live with should not be taken lightly. With the right roommate, sharing a space can be a breeze and really fun, but if they're the wrong choice, it can end badly. Before agreeing to live with someone you didn't know before, make sure to spend some time with them first and decide if you'll be able to get along and live in harmony. On the other hand, living with your best friend can also be tricky. Best friends don't always make the best roommates. It's up to you to decide what's best.
Is it a good location?
While you're apartment hunting, be sure to consider how close the location is to work, grocery stores, hospitals and entertainment. You might find your dream apartment, but it's not worth it if the location is a nightmare.
What facilities are available?
Does the house or apartment you're looking to rent have what you need, like washers and dryers, an alarm system, dishwasher, garbage disposal or outside space? Decide what is important for you to have.
You should never move into an apartment for rent before at least touring the community. It's most helpful to view the layout of the apartment as it gives you a good idea of where and how much furniture you can have. Sometimes the actual apartment is not available to view, in these cases its best to see an interior to view the fixtures and finishes.
Turn knobs, open and shut doors, and open windows. Do you get a cell phone signal inside your apartment? Don't be afraid to test all of these things out when you're looking at potential apartments. While it may feel awkward, it is a very necessary step in making sure your new home is right for you. Ask as many questions when touring apartments as you need. You should be happy and comfortable and the tour should be a good experience.
Lease Items to Consider
Once the hard part is over and you've decided on your brand new first apartment, take the time to read the lease from cover to cover. Since this is your first time renting, you probably aren't familiar with the legal lingo, try to familiarize yourself with it before showing up for the lease signing. Don't be afraid to take your time combing through the details, and ask the agent about any questions or concerns you may have. Sometimes, simple clarification can lend to a huge peace of mind.
If you're unclear about what your future plans may be long-term, ask about the possibility of a short lease term. Everything from re-painting the walls to what kind of roommates you can have is typically covered in the language of the lease. Reading the small print can make a big difference.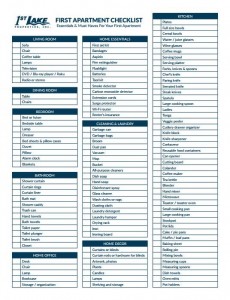 Free Printable First Apartment Checklist
Download our free printable first apartment checklist to make your move a breeze.
Furnishing Your First Apartment Cheaply
Many first-time apartment renters may find it hard to furnish their new apartment on a budget. While many of us would like a comfortable and stylish home, finding the finances to do so can be tough sometimes. Thankfully, there are many resources and decorating ideas available for furniture shoppers without a lot of money to spare. It is possible to have a stylish apartment without a lot of funds! Finding everything you need simply requires a little hunting, a dash of luck, and a bit of scrutiny!
Begin by digging through your local classified ads. Whether you're looking at your local paper or at a local site online, make sure you check in on all the ads you can find. Once you have some free time, devote a day or two to hitting up local flea markets, thrift shops or second-hand stores.
Sometimes neighborhood garage sales, yard sales, or rummage sales can yield amazing vintage finds, perfect for decorating! If you're at a neighborhood sale, don't be afraid to ask about the history of the item or why they might be getting rid of it. You can never be too cautious, and most owners are more than happy to answer any questions you may have.
If you lack the time to peruse local resources or simply haven't had any luck when doing so, online sales and auctions are always a possibility. However, do your research and try to stick to more reputable sites when buying larger items. If you're unfamiliar with the website or source, there is a possibility of it being a scam. Even if the site is reputable, there are also risks involved. Generally, you will not be able to inspect the item in person before buying it and sales are usually final. You should also take into account how much shipping costs will be before bidding on or buying an item online. Depending on how much shipping costs will be it may be cheaper to simply buy the item closer to home at a local store.
Whether you're buying online or in person, it's always important to inspect your item closely and thoroughly! Pull out drawers, look underneath the piece of furniture, and test doors. If the seller doesn't allow you to inspect the item, don't buy it! Even if the price of the item is cheap, you should expect it to be of good quality. Don't be pressured into buying a sub-standard item!
Lastly, don't be afraid to haggle with the seller. This can be most effective when buying from a garage sale, yard sale, or rummage sale. Most times, the owner of the item is simply looking to get rid of it. As long as you remain realistic when haggling, you can generally come to an agreement on a lower price. If you do a little research and have a working understanding of the going rate for the item you're trying to purchase, this can help you immensely. Stand your ground, but be fair. If the seller refuses to lower the price, you can always shop elsewhere.
If you keep your wits about you and search thoroughly, you may find it easier than expected to make your home look stylish on a budget. Your new apartment should reflect your personality and be a comfortable place to call home! Have fun searching for the perfect furnishings and trust your instincts when buying everything you need for your new apartment home!
Remember: rent comes first!
Without a place to call home, your other expenses might as well go out the window. Make sure to prioritize rent above all else when payday comes. If money is tight, try to trim down by seeing what expenses you may be able to cut down on or remove completely from your expenditures. If you have a cell phone and no longer use your home phone very much, switch to cell phone only. If you're going out to eat too much, try cooking at home instead to save money. There are always solutions to trimming your expenses down to help make ends meet.
Enjoy your first apartment!
Renting your own place for the first time can be exciting and perhaps stressful. If you take the time to make sure your apartment and lease are right for you, budget your expenses, make sure your utilities get turned on, and plan for the unexpected, transitioning into this new step in your life should be a smooth and fun process.
1st Lake = A Great Choice for Your 1st Apartment
Now that you've made all the important decisions about renting your first apartment after college, it's time to start looking! Search for the perfect apartment in the greater New Orleans area at 1st Lake Properties and check out our map to see what 1st Lake location works best for you!
Be sure to also download our free printable first apartment checklist to ensure you make the move with everything you need.
---