All pet owners understand the struggle of keeping a home clean with their favorite furry friends roaming around. So we selected five quick tips to make this challenge a bit easier.  
1. The Wag Rag
Try our simple wag rag hack by hanging a small wash cloth on a hook near the inside of your front door. This is the designated spot for wiping your wagging friend's paws before your pooch waltzes through the house from outside.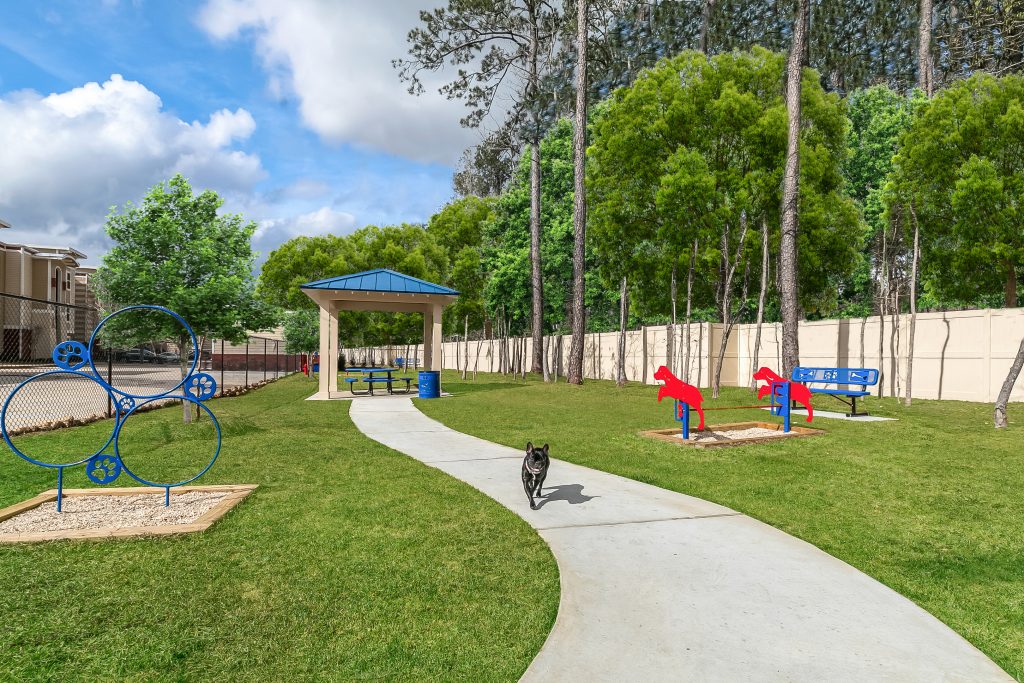 2. Shake the Smell
Notice an odor coming from your cat or dog's bed? Place the bed out of reach from your pets and sprinkle baking soda over it. Let the baking soda soak up the stench, then vacuum up the deodorizer before placing the bed back on the floor for your furry friend to enjoy.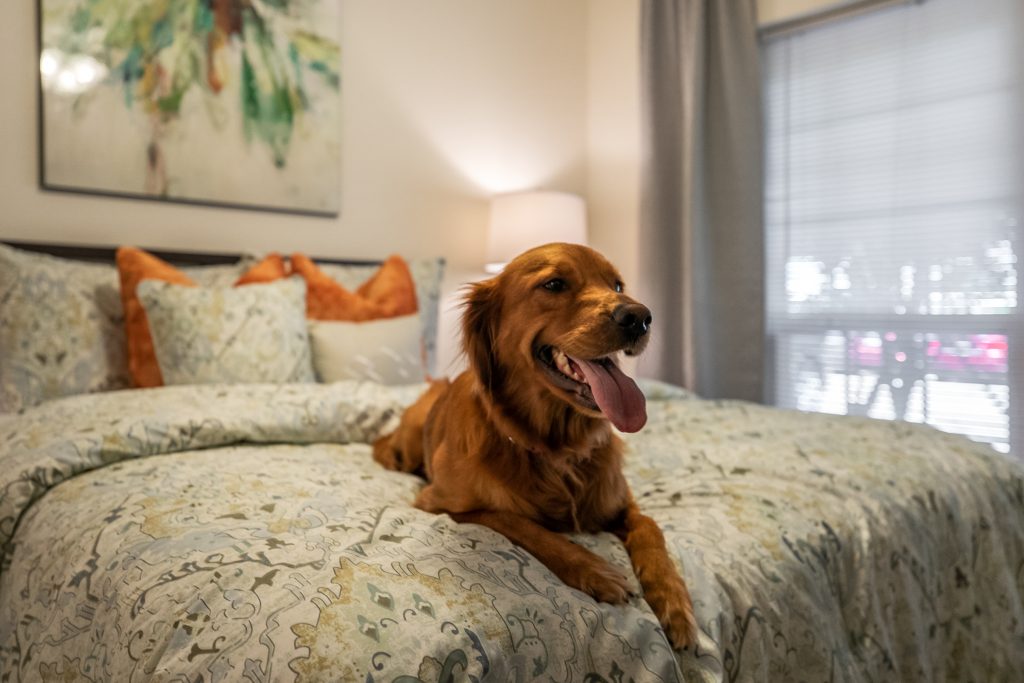 3. Stop the Shedding 
Feel like you're living in a sea of pet hair? Save yourself from drowning in it by keeping a lint roller or roll of duck tape handy to eliminate small and large hair clumps before vacuuming. Doing this on a weekly basis will make conquering your carpet and clothes less daunting.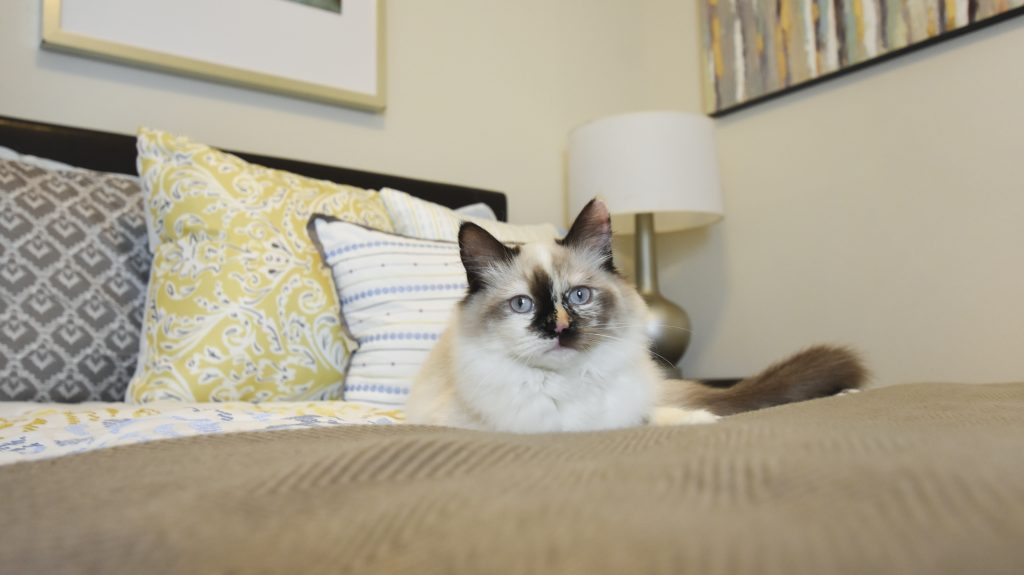 4. Accidents Happen
Accidents happen every once in a while, but don't fear! Soak a rag in a combination of half a cup of white vinegar and two tablespoons of salt to make a natural cleaning solution. Rub the stain with the soaked rag until it is no longer visible. Get rid of any lingering smell by sprinkling baking soda over the stained area and vacuum it up after a little while.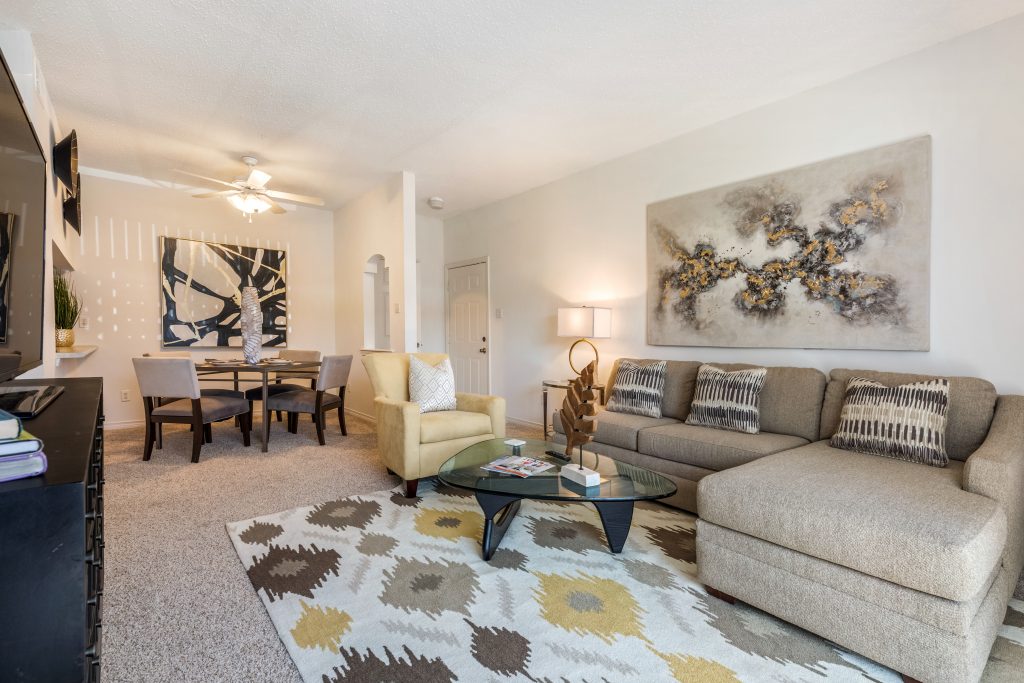 5. Simplify Sick Pet Clean-up 
Taking care of a sick pet is hard but the cleanup can be simple. If you catch the accident right when it happens, remove any solids from the stained area and clean the area with dish soap. If you have to clean it up a little while after the incident occurred, coat the area in baking soda and salt. After the spot drys, vacuum it up and blot it with vinegar and water to rid it of bad odors.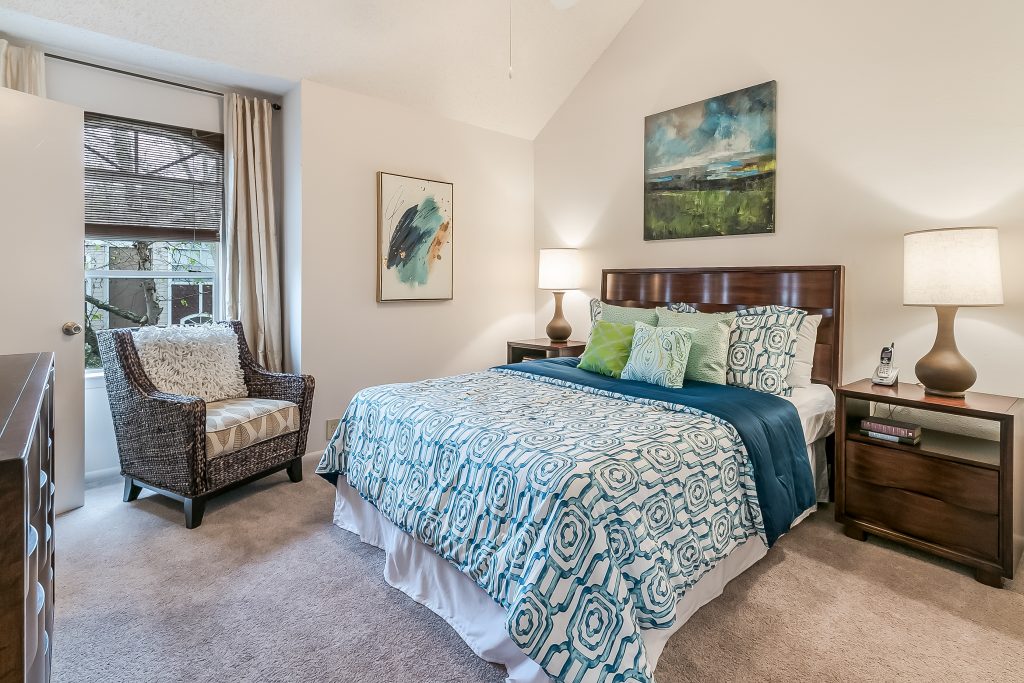 Keep your pet and your apartment happy and clean with these tips. Are you and your furry companion looking for a new home? Find your new place at any one of our pet-friendly apartments today!
---
According to some studies, over half of the apartment renters in the United States own a pet. Living with pets can be a challenge, but for those of you that have pets, you know that it is well worth it to have your best friend around. We've created a list of tips to make living with a pet in an apartment an enjoyable experience (for you and your neighbors).
Read on for more info!
Establish Bathroom Routines
One of the most important parts of living with a pet is making sure they have a routine for bathroom breaks. Establish routine times to take your pet outside, and train them where it is acceptable for them to go to the bathroom. If your pet develops a routine, your chances of coming home to a mess are greatly reduced. This keeps your apartment clean and your guests happy.
When it comes to cats, make sure you place litterboxes in a relatively private place.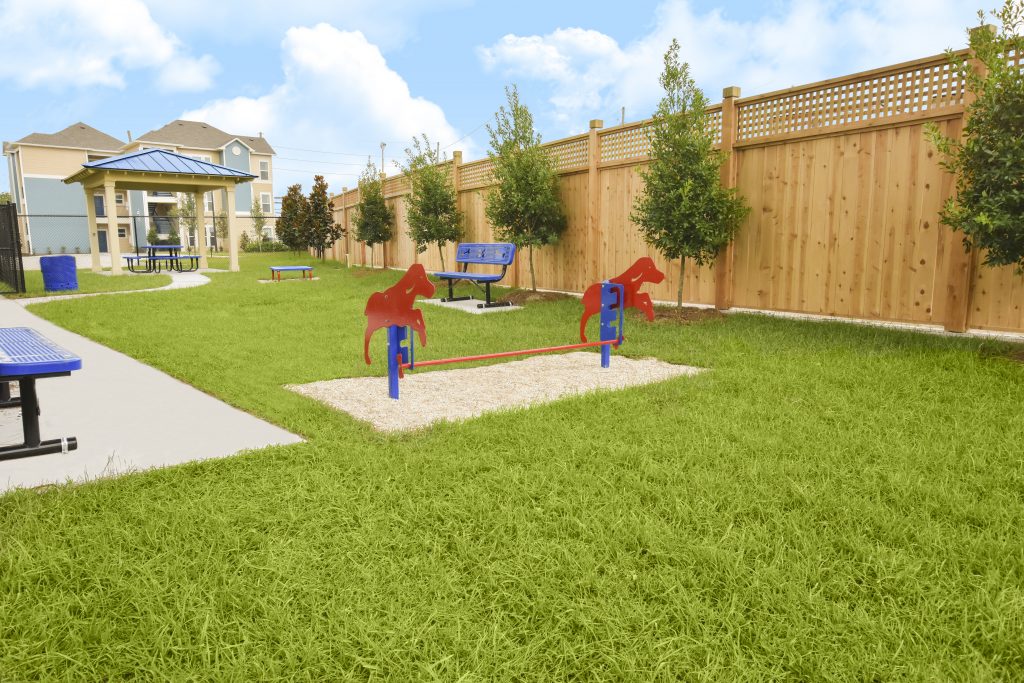 Give Your Pets Time to Exercise
Allowing your pets to expend their energy will make your home much calmer. Certain high-energy breeds of dogs need exercise, and they love playing fetch and other games that require large amounts of space. If your job doesn't allow you the time to take your pet outside to play very often, you can hire a professional dog walker to take care of it for you.
Consider the Breed
If you haven't bought a pet yet but are planning on it, do some research and choose a breed that is well-suited for apartment living. Smaller, calmer breeds are ideal for apartments since they require less space to expend energy. Additionally, some breeds have more energetic personalities and aren't advisable apartment pets unless it's certain that you can provide them with plenty of time to play and exercise.
Pet-Proof Your Apartment
Before you allow your pet into the apartment, make sure it is safe for them. Inspect rooms at their level, making sure there isn't any hazardous electrical wiring or harmful objects available to them. Place any clothing items that you don't want to be chewed on in a location your pets can't reach. Also, check out this list of potentially harmful plants and make sure they aren't in your apartment.
Once you've taken these simple steps to make living with your pet safe and enjoyable, welcome them home! If you'd like more information on apartment living with pets, check out these great resources: Pets Best, BarkPost, and TripsWithPets.
---
Kenner is upping its game with a new dog park and skate park, plus plenty of playgrounds for the kids. Get the scoop below!
Parks in Kenner
City Park Dog Park
Dogs in Kenner had it "ruff" without any designated city dog park. But it's official — Kenner City Park has started phase one of construction on a brand-new, dedicated dog park. The dog park will be one of only three others in Jefferson Parish (besides ones at our properties like Bella Ridge, of course). Dogs and their pet parents will love this fully fenced park, featuring watering stations, benches, lush landscaping, and fun, decorated fire hydrants scattered throughout its expansive grounds.
"This dog park is a tremendous addition for Kenner's City Park, and it's the kind of quality of life feature that families look for when choosing a place to live," says Kenner District 5 Councilman Dominick Impastato, who added that the dog park is "part of a master plan to transform City Park into a premier destination for Kenner residents and others in the region."
Once the park is complete, it will feature three areas for different types of dogs, including an area for small dogs, one for large, passive dogs, and another for large, active dogs. Planners say they also hope to include agility equipment, a splash pad, and a memorial brick paw walkway.
The dog park isn't all that's coming to Kenner City Park, either. Just-announced plans for a 2,400-square-foot synthetic ice skating rink for the expanded Christmas Village mean that plenty of fun is available for humans, too!
Wentwood Skate Plaza
Skateboarders will (kick) flip over Kenner's new Wentwood Skate Plaza at 200 W. Loyola Drive. Clocking in at 2,400 square feet, the state-of-the-art skate park is the first of its kind in Jefferson Parish.
The park is open daily from 10 a.m. until dusk with the potential for expanded hours after new lighting is added.
Kenner Mayor Ben Zahn notes that the skate plaza spotlights Kenner's commitment to outdoor spaces.
"The timely opening for our youth to have another recreational attraction with summer right around the corner is perfect for all Kenner residents to enjoy," Zahn told NOLA.com.
Kids' Playgrounds
Families can enjoy Kenner's wide variety of parks and playgrounds, including Woodlake Playground on Esplanade Avenue. This spacious spot features recreation leagues for soccer, football, baseball, volleyball, cheerleading, track, and more. Plus, clean, well-maintained play equipment like slides and swings are great for the little ones. Other great Kenner playgrounds include those at Kenner City Park and the Lions Playground on Williams Boulevard.
Take a look at all our convenient Kenner properties — plus, they're dog friendly!
---
The old saying goes that you don't own your cat – your cat owns you. Cats are typically quite clean and low-maintenance animals, but you'll still need to put in the extra effort to ensure your apartment doesn't emanate that unsavory "litter box smell."
Here are a five ways to keep your space clean and inviting while living with feline roommates.
Five Purrrfect Habits to Keep Your Home Clean with Cats
Wipe down counters and surfaces. Cats are avid athletes, and they're not too mindful of those "no pets on furniture" rules. It's easy for most cats to jump on high furniture and surfaces, meaning their paws have been just about everywhere – including your kitchen counters. Because cats use the litter box, you certainly don't want any lingering debris or germs in any food prep areas. Get in the habit of wiping down your kitchen counters before and after meal prep for a clean slate.
Brush your cat regularly. The benefit here is twofold. Although cats are superb self-groomers, they can suffer from hairballs as a result. If you take time each day or a few times a week to gently brush your cat, you'll reduce the risk of hairballs and help mitigate excess fur that can end up on your furniture and in your home. Win, win! Our hands-down favorite tool is the Furminator brush, which works wonders for both shorthair and longhair cats.
Choose furniture wisely. Many animal professionals agree that declawing your cat is not humane. If your cat has its claws, however, your furniture can become a prime target! Try to avoid materials and fabrics that are more palatable to your cat like wicker or basic upholstery. Instead, opt for leather, treated wood, or metal. If new furniture isn't an option, you can create your own natural, safe "cat repellant" spray to help discourage them from clawing. Simply mix a few drops of 100% orange essential oil into a spray bottle with water and spray your furniture generously. Most cats don't like the smell of citrus and will steer clear! And remember, scratch pads are a great way to redirect your cat to a safe scratching zone.
Vacuum at least once per week. Even if you brush your cat regularly, you'll still want to vacuum at least once per week to mitigate fur and litter debris. You might consider investing in a handheld vacuum to clean up targeted areas with ease, like Fluffy's favorite chair or the litter box area.
About that litter box… Aim to place your cat's litter box in a private, infrequently used area like a spare bathroom or closet space. Ideally, choose a space with tile or hardwood as opposed to carpet. Clean your cat's litter box at least once a day – and remember, the longer waste sits in a litter box, the more likely it is to smell. Keep helpful tools at arm's length, including plastic bags to clean up the waste and a small broom or handheld vacuum to remove any excess litter that may have fallen onto the ground. You can also put a mat or old towel underneath the litter box to help prevent your cat from tracking it into other parts of the house.
For more pet tips, visit our Living with Pets posts on the blog! 
---
Dogs are family. It's just that they shed a whole lot more than our human family. Dogs bring us so much love and light in our lives, but they also require a little extra cleaning at home. Read on for tips on how to maintain a picture-perfect apartment, even when you've got a four-legged friend or two.
7 Helpful Habits
In addition to basic care for your dog — flea control, regular vet visits — there are a few habits you can implement at home to help keep your apartment clean. Here are 7 helpful habits to work into your routine:
Keep washable mats at each door: You might have a welcome mat outside the front door, but consider placing one just inside the door as well. This simple addition can help tamp down dirt and mud that dogs might track in. Remember to add mats both inside and outside any additional doors, as well. And remember to choose a washable mat!
Groom and bathe your dog regularly: Frequent bathing and grooming is one of the best ways to limit dog hair and dander inside your home. Try to brush your dog every day (preferably outside) to loosen and remove any dirt or shedding fur. Another great habit is to wipe your dog's paws after a walk or trip to the dog park. Keep scrolling for one of our favorite products to tackle the job!
Clean up accidents ASAP: Accidents happen, and even though it can be frustrating and you might just want to ignore it for a little bit, you'll be a lot better off to stop what you're doing and clean things up. The longer dog urine sits, the more likely it is to permanently stain (and stink!). If it's a, um, solid situation, remove any residue with a dull knife. Then, blot fresh stains with a cloth and apply lukewarm water mixed with a drop of dish soap. Keep alternating dry blotting with the soapy water solution until the stain is gone. You can also try ingredients like baking soda and hydrogen peroxide to help lift stains — just do a small test first for colorfastness.
Wash all bedding regularly: This means human bedding and pet bedding! Regular washing helps mitigate any lingering odors and accidents you may have missed.
Keep your dog active – before he comes in the house: This one is simple — a tired dog simply doesn't get into as much trouble inside. Some of our properties like Bella Ridge have on-site dog parks to make it easy on you!
Have old towels handy for rainy days: New Orleans weather can be unpredictable, but you can pretty much count on rain. Keep old towels in a bin in the pantry so they're at arm's reach to quickly dry off a wet dog. You can also use the towels to cover up rugs or carpet so your wet dog can get from A to B without ruining anything!
Avoid micro-suede and micro-fiber furniture: This furniture is more affordable, but it's also a magnet for pet hair. If you're able to afford a leather couch or chair, you'll be rewarded with an easy-to-wipe-down surface that will last for years. Of course, you could also try (key word: try!) to not let your dog up on the furniture.
Paw-some Products
A lot of helpful cleaning products are probably already inside your kitchen. Take a look at a few of our favorite products for a clean and happy home for you and your dog.
Baking Soda: This grocery store staple is an affordable and effective way to remove odors. Sprinkle it on carpets before vacuuming, or add it to a spray bottle with water and a drop of essential oil, then spray in the air or on curtains and upholstery.
Hydrogen Peroxide: Try pouring it on pet accidents (remember to test for colorfastness first) to help eliminate tough stains.
Grooming Wipes: You can buy special wipes just for dogs, but good ol' baby wipes will work, too. Keep a box by the front door, and wipe down your dog's paws after every outing.
Stain-resistant dog beds: Invest in a high-quality dog bed from brands like Crypton. Not only are the beds extremely durable and easy to wash, they also feature anti-microbial stain protection and a resistant fabric barrier that prevents germs from penetrating into the cushion.
Roomba: These are expensive vacuums, no doubt. But they're one of the most effective ways to win the war against dog fur. The vacuums run automatically, taking the burden completely off you. They also learn to get to know every nook and cranny of your home over time for a deeper clean than you ever thought possible.
For even more pet tips, check out our Living With Pets section on the blog. 
---