No matter what holiday you choose to celebrate this time of year, we believe that everyone can participate in the collective spirit of giving throughout the winter season. That's why year after year at 1st Lake Properties, we partner with local charities to lend a helping hand to members of our community. This holiday season, we worked with the Apartment Association of Greater New Orleans to host a toy drive benefitting the Metropolitan Center for Women & Children and Angel's Place, a charity for families with children diagnosed with life-threatening illnesses. We also participated in an ongoing, yearlong campaign to fundraise for the United Way. All the results are in, and we couldn't be more pleased with how much 1st Lake Properties employees and residents were able to help our community!
A Tower of Toys for Kids in Need
Our ongoing toy drive aimed to make the holidays memorable and happy for all children, even those living at a shelter like the Metropolitan Center for Women & Children or suffering from life-altering diseases like cancer at Angel's Place. The toy drive allowed us to fulfill many holiday wishes for sheltered families and hospitalized children in the Greater New Orleans area, and we give thanks to all those who participated in the drive.
"These gifts represent the generosity of our team members and residents at 1st Lake Properties," says Stacey Shane Schott, our senior vice president. We are grateful to share our blessings with underprivileged members of our community in hopes we all can enjoy a more peaceful and bright holiday season.
Uniting Together for United Way
Throughout 2015, 1st Lake Properties held an ongoing drive benefitting United Way, the global organization with a Greater New Orleans branch that aims to end the cycle of poverty. We are proud to report that we raised $9,776 for United Way through payroll deductions, cash donations, a raffle, and Jean Day, where 1st Lake Employees were allowed to wear jeans to work for a $5 donation. Our local chapter of United Way will use these funds to build a stronger support system for people in need, from education and career opportunities to health services and beyond.
How to Help
If you feel compelled to assist any of these amazing local organizations, please visit their websites at www.mcwcgno.org, www.AngelsPlaceNOLA.org, and rebuildnola.unitedway.org. Monetary donations, volunteer opportunities, and donations of goods are all welcome. We've found throughout 2015 that the old saying is true: it truly is better to give than to receive!
---
Each year, Pantone picks a new color bound to serve as inspiration for interior looks or even clothes and makeup. But for 2016, the international color-matching company couldn't choose just one. For the first time, they picked two colors: Serenity, a peaceful, wisteria blue shade, and Rose Quartz, a pale and warm rosy hue. The two shades are at opposite ends of the color wheel, making them complementary colors. While they're a little trickier to incorporate into design schemes than, say, the 2015 Color of the Year, Marsala, we still have some ideas on how you can spruce up your space with a bit of Serenity and Rose Quartz (sounds dreamy, doesn't it?). They're surprisingly versatile across any room in the house – just check out our guide below.
How to Decorate with Pantone Colors of the Year, Serenity and Rose Quartz
Kitchen
Serenity
Studies show that blue dishware can actually deter overeating, so think of Serenity as your big chance for a blue plate special. We love this pale blue dishware for so many reasons: it's microwave safe and nicely fits both rustic and transitional design styles.
Rose Quartz
This subtle pink hue is warm and relaxed – exactly the way you feel when you're in your home kitchen. We like this ethereal table runner, which would look beautiful across a countertop (and, frankly, even as a scarf!).
Living Room
Serenity & Rose Quartz Artwork
Why not get a two-for-one dose of the colors of the year with selected, affordable artworks that incorporate both shades? Because of their complementary positions on the color spectrum, they work with a range of existing shades and serve to really pop when paired together. West Elm has two affordable prints we're loving: Pink Noise gives a graphic and modern feel while incorporating darker hues, and Pink Moon features painterly strokes and a splash of deep red (hello again, Marsala!).
Bedroom
Serenity
This blue hue is one of the most calming we can think of, which is ideal for the bedroom. Use it in bed linens like these, or add just a touch of color with a beautiful accent like this ombre velvet pillow.
Rose Quartz
This hue is also well-suited to the bedroom, particularly if you prefer a romantic or rustic-country decorating style. Use these lush curtains from West Elm to add to the romantic look, or if you'd like to splurge, do it on one amazing piece: this pillow from ABC Carpet & Home features real quartz hand-pressed into it for a literal take on the trend (Urban Outfitters offers a similar style for a much lower price).
Bathroom
Serenity
Our top pick for where to incorporate this hue in the bathroom might be a bit surprising – a bath mat! It's a bit deeper than the rose quartz hue, which means it hides stains better. It also extends a calming, relaxing, and eclectic vibe similar to a European spa.
Rose Quartz
Take the trend figuratively and choose rose-scented products. This multi-use hand and body soap has a bold, graphic pattern and a beautiful scent. You can also browse rose-scented products from L'Occitane and Bath & Body Works.
---
Seasonal greenery like fir trees and wreaths delight the senses with their wintry look and fresh scent. But after the holidays are over, disposing of these decorations can be a real headache. However, with a few pro tips, you can remove holiday greenery with ease – and even create new decorations for next year in the process. Here's how:
How to Dispose of Christmas Trees and Other Live Greenery
Removing the Tree
Don't let your tree get too dried out before you remove it: the dryer a tree is, the more likely you are to be at risk of a house fire. Take care to remove all ornaments, tinsel, and lights, then remove the tree from its stand. If possible, you can break the tree down into more manageable sections, then carry the pieces to the curb. If not, use a tree bag or an old sheet to wrap the tree in, which will help prevent needle and sap transfer onto your floors as you carry it outside. Take the tree to the dumpster, and make sure it doesn't obstruct any roads or sidewalks.
Cleaning Up
Once you remove the tree, you'll likely have extra needles to clean up. We suggest using a broom rather than a vacuum at first because too many needles can clog vacuums. After you've swept, you can go over the area with a vacuum to pick up any stray remains. Also, check for sap or water stains – be sure to clean and dry these areas using color-safe carpet cleaner or floor cleaner.
Recycling
In Jefferson Parish, the Department of Environmental Affairs will recycle all trees collected to use for marsh restoration and composting. All Jefferson parish residents in places like Kenner and Harahan who place their live trees out for collection will automatically have them recycled as long as the trees are free of all lights, tinsel, garland, ornaments, stands, and plastic bags. The parish will collect eligible trees on January 7, 8, and 9, 2016.
Other Ideas
Use parts of your tree as decorations for next year. You can carefully cut thin slices of the trunk or branches to decorate and hang on next year's tree with a ribbon (use a bit of hot glue on the back of the wood or drill a small hole). You can also create coasters out of the wooden discs – seal them with a wood varnish first!
---
Every year as January approaches we reflect on the year that passed. We boast accomplishments, regret missed opportunities, and think about the upcoming year. "What can I do differently? What can I do better?" This is usually when we decide to make a "New Year's Resolution". A resolution to eat healthier, drink less, exercise more, and so on.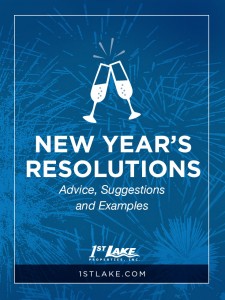 In theory, resolutions are a great way to promote a progressive new year. The problem with resolutions is that we almost never stick to them. In fact, only 65% of resolution-makers make it to February and only 46% will continue past June.
So how do we get ourselves to stick to our promises? Simple: pick the right resolutions, and make a plan to stick to them. This is easier said than done; so we've put together a couple of tips to help you out.
Choosing the Right Resolution
This may sound strange, but some resolutions actually are better than others. In order to follow through with a resolution, you need to be passionate, driven and internally motivated.
Pick a resolution that will make you happier: Happiness is a huge driver in decision-making. If your resolution will bring you immediate, or even far-off happiness, you are more likely to follow through with it. Try planning more time with your family, or giving yourself more free time.
Pick a resolution that is concrete: Too many people make abstract resolutions like "I will lose weight". Instead, focus on specific goals like working out for 30 minutes 3 days a week.
Pick a resolution that matches your style of internal motivation: Do you respond better to starting an action, or stopping one? If you are a "yes" resolver, add something positive to your life. If you are a "no" resolver, take away something negative.
Choosing a resolution might seem overwhelming, but don't let it be! If you can't choose just one, try out a couple of different resolutions. All that matters is that you are growing as a person.
Sticking to Your Resolution
Once you have chosen the right resolution(s), it's time to put them in action. As soon as the ball drops, begin planning out how you will commit to your new promise.
Write down an action plan: One of the most important aspects of resolution-making is accountability. By creating an action plan, you are making yourself responsible for success every day/week/month. Action plans will also help you record-keep and remind you of your progress.
Change one behavior at a time: Many resolutions require several behavioral changes in order to be successful. Do not try to tackle all of them at once. If you want to lose five pounds, first drink more water, then cut fatty foods, and then begin exercising. Slowly changing behaviors will help ease you into your resolution and make you feel like you're on an upward climb.
Ask for support! Changing your day-to-day life is challenging, no matter what. Whenever you are feeling doubtful or lost, contact a friend. Chances are, they need a pick-me-up just as much as you do.
We wish you the best of luck in the completing your goals for 2016.
But we're not only dishing the advice, we're taking it too.
Here's what we plan to achieve in 2016:
Provide a beautiful living environment: At 1st lake, we pride ourselves on maintaining beautifully landscaped apartment communities with pools, exercise and recreational facilities, lush plantsm greenery, creeks, bridges and other outside features. We want your apartment lifestyle to feel like a vacation. So many of our apartment communities do such a great job grooming their grounds that we recognize the best of the best with quarterly Beautification Award winners. We're committed to continuing our standard of quality for our residents in 2016.
Provide specials and reduced rates: We often offer exclusive bonuses to our friends on Facebook and Instagram, like a chance to win a free iPad mini or flat screen TV for leasing at select communities as well as special reduced rates on apartments at featured properties. We vow to continue giving prospective residents of 1st Lake these unique opportunities to take advantage of!
Provide new properties: A few years ago, we proudly welcomed the new Regency Club apartments in Baton Rouge. In 2015, we introduced the new Bella Ridge apartments in River Ridge. This year we hope to welcome many more properties to the 1st lake family.
So let's all work together to make 2016 the best year yet. Happy New Year everyone!
Love this post? Share it!
---
If you've just moved into a new place, first things first: check out our First Apartment Essentials list and Moving Checklist. After you've sifted through these resources, your next step is decidedly more fun – it's time to decorate! With the holidays coming up, we've put together a gift guide on what to buy for your first apartment. Share it with family members or use it yourself to help create a chic, inviting space at home.
For the Entryway
Pretty storage. Ask for unique pieces like a monogrammed tray, hooks, or a small side table so you have somewhere to place your keys and mail as soon as you walk in the door. Attractive storage helps alleviate clutter and create a streamlined – yet decorative – look.
For the Living Room
An area rug. Bringing color and comfort to your space is as easy as purchasing an area rug. Choose a neutral color scheme or pick a bright hue that complements your existing decor.
Artwork. Framed artwork instantly pulls your space together. Look for one oversized piece, or hang several together in a gallery-style arrangement.
Mirrors. Similar to artwork, mirrors provide that extra decorative pop on walls. The bonus? They're much easier to gift than artwork – no mulling over which print to pick out or whether to choose something traditional or modern! Mirrors also maximize space by reflecting light, doubling their impact on a blank wall. Ask for a hanging mirror or a jumbo-sized one to lean casually against a wall (you may want to mount it for extra security, especially if you have pets or small children).
Throw pillows. Pillows are an easy way to add bright pops of color and texture; they can easily change the whole look of your couch or other upholstered items. As local interior designer Whitney Jones shared with us, "Pillows are a really good way to update a space and make an apartment look totally different without spending too much money." Anthropologie, West Elm, and Target all have a wide selection of beautiful throw pillows.
For the Bedroom
Bedding. High thread counts are extra-sumptuous but can be pricey. Asking for high-end bedding as a gift helps cover the cost and treat yourself to something you'll use every single night.
Throw pillows. For all the awesome reasons why, scroll up to the "For the Living Room" section!
For the Kitchen
A blender. You can find them for $20, but when you have to replace them over and over, is it really worth the deal? Ask for a nice, name-brand blender, and you'll be making smoothies and milkshakes for years to come.
Pans. Quality is key here. Non-stick saute pans from brands like Calphalon are expensive but will last and last. You can also look for a black steel skillet, which combines facets of cast iron and stainless steel into one seamless piece.
Knives. Just like pans, quality determines price. Extra-sharp knives do the work for you, tackling laborious kitchen tasks like chopping and cutting with ease. A chef's knife and a serrated knife should cover most of your needs.
---