Baton Rouge is the capital of Louisiana. It's centrally located in the southern half of the state, just an hour away from both New Orleans and Lafayette. It's nicknamed the "Red Stick," and has 300+ years of history.
If you're in the process of moving to Baton Rouge, you should know that there are three 1st Lake Properties in the Red Stick. In this article, we'll take a better look at our Baton Rouge properties so that you can spend more time learning about the unique culture and history of Baton Rouge to prepare for your big move!
Read on to learn more about 1st Lake's Baton Rouge properties.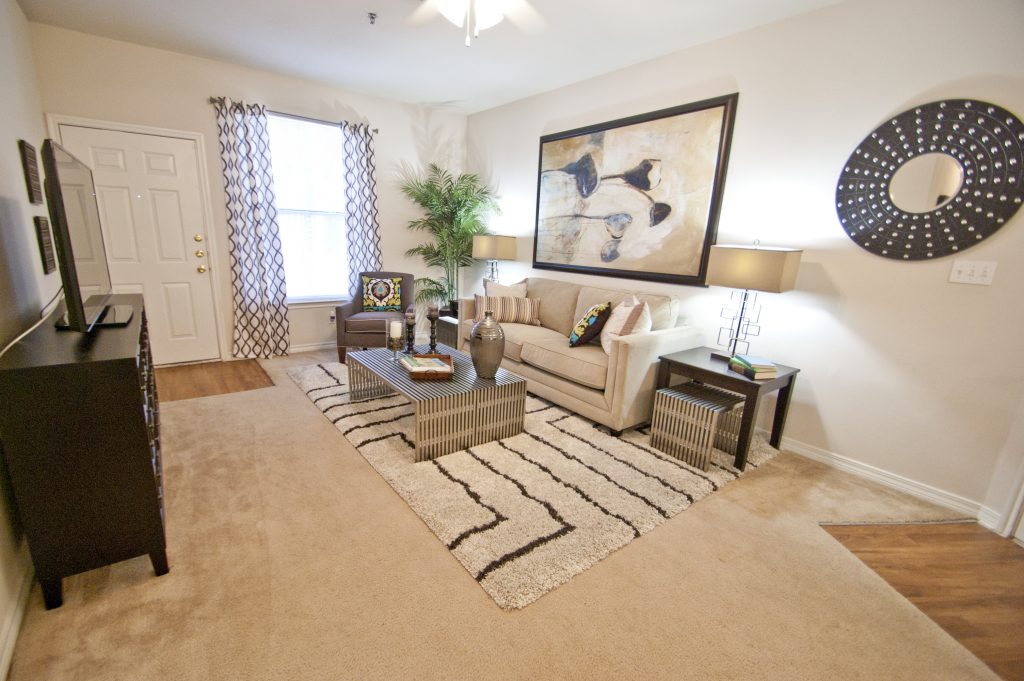 Spring Brook
If you are looking for an apartment for rent in Baton Rouge, experience the difference with Spring Brook. This gated apartment community, located between Jones Creek Road and O'Neal Lane, is minutes from Siegen Lane and Highland Road with easy access to I-12 and walking distance to fine dining and local grocery stores.
At Spring Brook, a Baton Rouge, LA, apartment community, we offer you:
five spacious floor plans

9 ft. ceilings

patios or balconies with additional storage

chef-style kitchens

frost-free refrigerators with ice makers

ceiling fans

plush carpet

double vanities

full-size washer and dryer
There's also a 24-hour fitness center, soothing hot tub, and a private pool!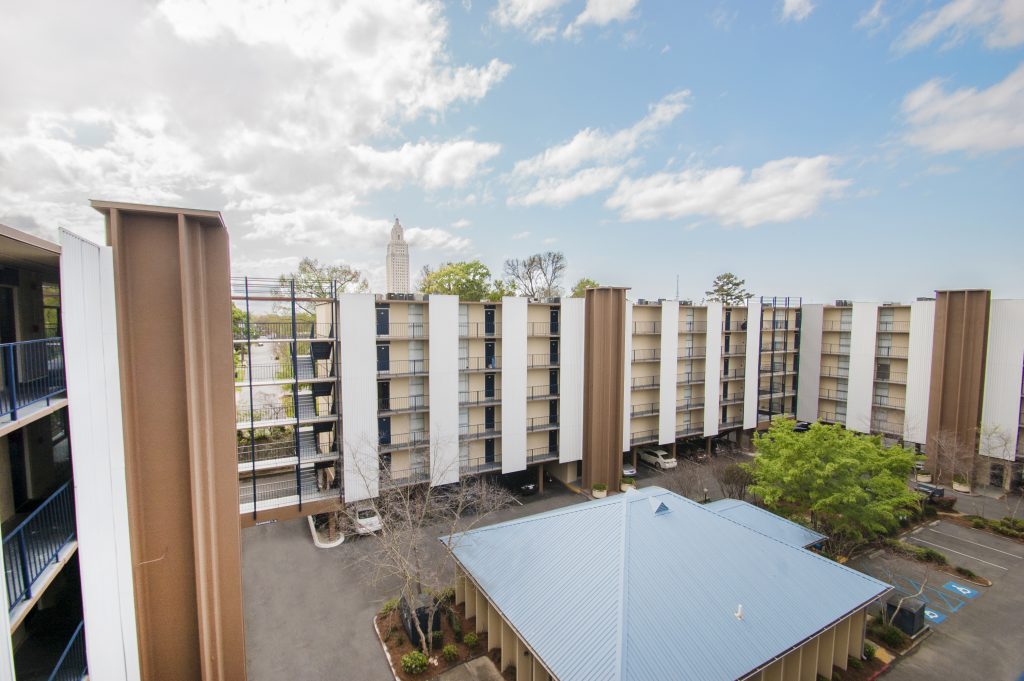 Lake Towers
Located within the historic Spanish Town community, this gated, lakefront property offers wood-tone flooring, open living spaces, chic lighting, and expansive picture windows. Updated kitchens and appliances with the convenience of a washer and dryer in every apartment make Lake Towers Apartments the smart Downtown Baton Rouge choice.
Lake Towers Apartments in Baton Rouge offers a variety of stylish "extras," with free, off-street covered parking, access gates, elevators and urban high-rise style architecture. Also, enjoy lavish landscaping, on-site fitness center, and a private pool and courtyard area with a gazebo overlooking Capital Lakes.
In addition to the wonderful amenities you'll have access to while you're at home, you'll also have easy access to the Downtown Baton Rouge Lifestyle. You'll be able to bike or walk to festivals, farmer's markets, and special events.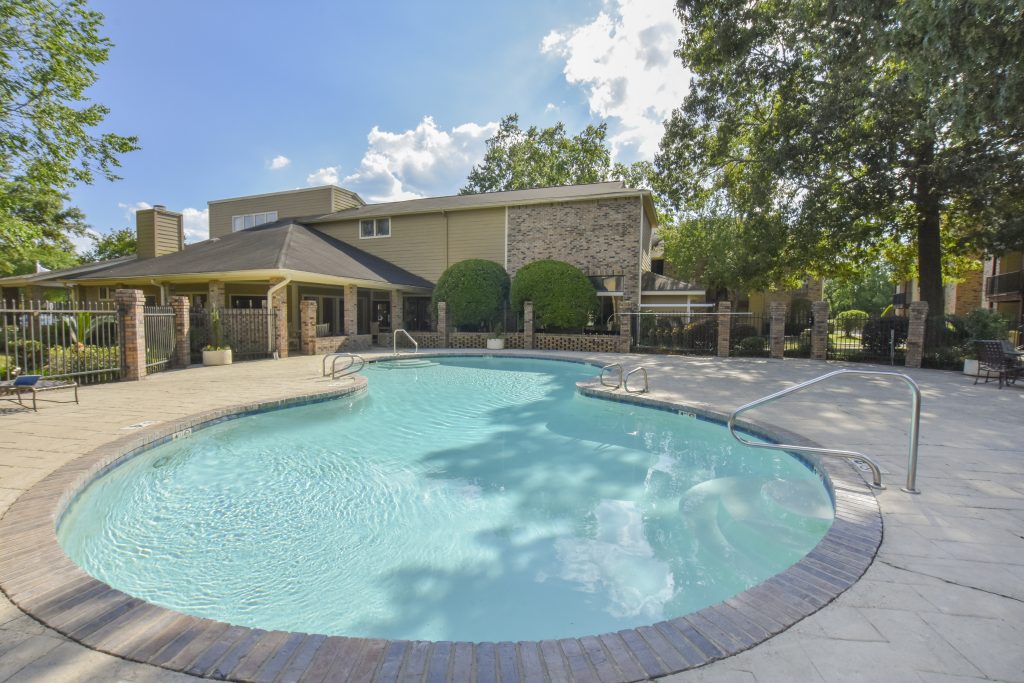 Regency Club
Moments from shopping, dining and entertainment, Regency Club apartments is a quick drive from I-12, The Mall of Louisiana, LSU and Southern University. But, it's far enough away to give you a picture perfect escape.
Regency Club offers spacious one and two bedroom apartment homes, allowing you to choose the best home suited for you. It also features wood-burning fireplaces, private patios or balconies, and beautiful accent walls to create the perfect ambiance for entertaining guests year-round. Fully equipped kitchens and washer/dryers within your home make living at Regency Club simple and stress-free.
Let Us Help You Find a Home in Baton Rouge!
If you'd like to see any of these wonderful properties with your own eyes, just contact us!
---
Our brand-new luxury living community in Elmwood, Clearwater Creek Premier, is loaded with state-of-the-art features and apartment amenities you won't find anywhere else in the Greater New Orleans Area. One of our goals for this new development was to provide energy efficient options in every single one of Clearwater Creek Premier's living spaces.
Cooking Up Savings
At the center of this effort are the electric convection range and double-ovens located in the kitchen of each residence. The range uses radiant heating elements on its stovetop, which is significantly more energy efficient than its generic electric coil counterparts. Radiant coils are similar to traditional coil burners, but instead of protruding from the top of the range, they sit under a smooth and flat ceramic surface. Heat is conserved better under the ceramic top, which allows for faster heating times and higher heat outputs. Plus, it's easier to clean!
Just under the range's sleek stove are two, that's right, two ovens! The ovens on this range utilize a dual element baking technique, which combines the efforts of the baking coil and the broiling coil for comprehensive cooking. The smaller top oven is ideal for warming or short cooking times, while the larger, convection-style oven offers delay bake and audible preheating capabilities.
If you're ready to enjoy all of the perks of your Clearwater Creek Premier stovetop and range, put on your chef's hat and try your hand at a few of our favorite seasonal recipes below!
Corn & Crab Soup for the Winter Soul
Warm up when there's a chill in the air with this rich and creamy Corn and Crab Soup recipe from Bon Appetit:
Ingredients
1 16- ounce bag frozen petite white corn (do not thaw), divided

1 cup low-fat (1%) milk

1 8- ounce bottle clam juice

4 tablespoons sliced green onions, divided

2 teaspoons minced peeled fresh ginger, divided

4 1/2 teaspoons fresh lemon juice, divided

2 tablespoons (1/4 stick) butter

4 ounces cooked crabmeat, flaked
Instructions
Reserve 1/4 cup corn. Bring remaining corn and milk to boil in medium saucepan. Cover; remove from heat. Let stand 10 minutes. Puree mixture in blender. Add clam juice, 3 tablespoons green onions, and 1 teaspoon ginger; puree again until almost smooth. Return puree to saucepan; bring to simmer. Mix in 1 1/2 teaspoons lemon juice. Season with salt and pepper.
Melt butter in small skillet over medium heat. Add reserved 1/4 cup corn; sauté 1 minute. Add crab, 1 tablespoon green onions, 1 teaspoon ginger, and 3 teaspoons lemon juice; stir just until warm. Season with salt and pepper. Divide soup among bowls; mound crab mixture in center.
Chili-Roasted Black-eyed Peas for a Lucky New Year
Good luck starts by pre-heating your state-of-the-art oven. Munch on this recipe from My Recipes:
Ingredients
2 (15.8-oz.) cans black-eyed peas, rinsed and drained
3 tablespoons olive oil
1 1/2 teaspoons chili powder
1 teaspoon pepper
3/4 teaspoon ground cumin
1/2 teaspoon salt
Instructions
Preheat oven to 425°. Combine all ingredients in a medium bowl. Transfer mixture to a lightly greased 17- x 12-inch jelly-roll pan. Bake 45 to 50 minutes or until crispy and dry, stirring every 10 minutes. Let cool 20 minutes.
Become a King Cake Connoisseur before Carnival
Mardi Gras will be here before you know it! Parade your new oven's capabilities with this popular Mardi Gras King Cake recipe from Epicurious:
Ingredients
For the cake:

1 cup lukewarm milk, about 110°F
1/2 cup granulated sugar
2 tablespoons dry yeast
3 3/4 cups all-purpose flour
1 cup melted butter
5 egg yolks, beaten
1 teaspoon vanilla extract
1 teaspoon grated fresh lemon zest
3 teaspoons cinnamon
Several gratings of fresh nutmeg

For the icing:

2 cups powdered sugar
1/4 cup condensed milk
1 teaspoon fresh lemon juice
Purple, green, and gold decorative sugars
1 fève (fava bean) or plastic baby to hide in the cake after baking
Instructions
For the cake, pour the warm milk into a large bowl. Whisk in the granulated sugar, yeast, and a heaping tablespoon of the flour, mixing until both the sugar and the yeast have dissolved.
Once bubbles have developed on the surface of the milk and it begins to foam, whisk in the butter, eggs, vanilla, and lemon zest. Add the remaining flour, cinnamon, and nutmeg and fold the dry ingredients into the wet ingredients with a large rubber spatula.
After the dough comes together, pulling away from the sides of the bowl, shape it into a large ball. Knead the dough on a floured surface until it is smooth and elastic, about 15 minutes.
Put the dough back into the bowl, cover with plastic wrap, and set aside in a draft-free place to let it proof, or rise, for 1 1/2 hours or until the dough has doubled in volume.
Preheat the oven to 375°F. Once the dough has risen, punch it down and divide the dough into 3 equal pieces. Roll each piece of dough between your palms into a long strip, making 3 ropes of equal length. Braid the 3 ropes around one another and then form the braided loaf into a circle, pinching ends together to seal. Gently lay the braided dough on a nonstick cookie sheet and let it rise until it doubles in size, about 30 minutes.
Once it's doubled in size, place the cookie sheet in the oven and bake until the braid is golden brown, about 30 minutes. Remove the cake from the oven, place on a wire rack, and allow to cool for 30 minutes.
For the icing, while the cake is cooling, whisk together the powdered sugar, condensed milk, and lemon juice in a bowl until the icing is smooth and very spreadable. If the icing is too thick, add a bit more condensed milk; if it's a touch too loose, add a little more powdered sugar.
Once the cake has cooled, spread the icing over the top of the cake and sprinkle with purple, green, and gold decorative sugars while the icing is still wet. Tuck the fève or plastic baby into the underside of the cake and, using a spatula, slide the cake onto a platter.
Tour Clearwater Creek Premier Today!
If you're looking to make moves in 2018, consider visiting Clearwater Creek Premier today! Not only will you enjoy the cost-saving benefits of our kitchen appliances, but you'll gain access to a multitude of other living amenities that will make you feel like you're living in a luxury resort.
---
It's official: Our pools are open for the 2017 season! Grab your bathing suits and swim trunks and get ready for some fun in the sun at your 1st Lake pool! Whether you live at Bella Ridge, Crossings, Lakes of Chateau Estates, Turtle Creek, or many of our other properties throughout Greater New Orleans, Baton Rouge, and Southern Mississippi, you can enjoy the water in a tranquil environment.
There's nothing more peaceful than a sparkling pool – unless distracting noise, glass bottles, and other nuisances are happening around you. We're so lucky to have respectful residents, but it never hurts to know what rules we've established to ensure your swimming experience is enjoyable. In addition to basic pool rules (not entering the pool after hours, for example), we think pool etiquette is equally important. Read up on how to be on your best behavior before your next swim session.
Pool Etiquette at 1st Lake Properties
Children under 12 must be accompanied and supervised by an adult. We love when kids have a blast at the pool, but we also don't want there to be any accidents. Kids under 12 must have an adult with them in order to swim and play poolside.
No pets allowed. While we love our furry friends and are happy to accommodate dogs within our apartment homes and at dedicated dog parks, we do not allow animals at the pool. Service animals are an exception.
No glass bottles. Broken glass can lead to serious injury. You can use non-breakable containers, such as thermoses, paper, or plastic cups.
Keep things clean! Always clean up after yourselves and make sure you have all of your belongings before exiting the pool.
Keep your tunes turned down. Music is a fun addition while you're relaxing poolside, but be mindful of others who might not appreciate loud music. Use headphones or keep the volume at a minimal level.
Be mindful of spray sunscreen. We always advocate wearing sunscreen to protect yourself from the sun, and spray formulas are a popular option because they're easy to apply. However, you don't need to spray everyone else around you! Try misting it into your hand or step away from others so that extra spray doesn't blow onto them.
No diving into the pool, including cannonballs! Diving or jumping into the pool can cause quite a splash (literally) – you wouldn't want to ruin a fellow resident's favorite book or magazine.
Remember, pools are open now through Sept. 30, 2017. Enjoy — and don't forget your sunscreen!
---
Springtime is one for new beginnings. With that in mind, our April specials offer the possibility of a new apartment home in one of many of our communities. Take a closer look at our featured properties for April. Interested in taking a tour? Contact us today to arrange an in-depth visit!
When your home features a light-filled sunroom made for relaxing, an in-apartment washer and dryer, and plush carpeting, you'll find it hard to leave. Crossroads Apartments in Metairie is one of our most conveniently located apartments, set just three blocks south of Veterans Boulevard. That translates to quick and easy access to the best shopping and dining of Metairie – or take a ten-minute drive and find yourself in the heart of New Orleans. Call to find out more about special rates on select units.
But – back to the units themselves. Choose from studios, one-bedroom, and two-bedroom apartments to meet your needs: select apartments feature cathedral ceilings while all are outfitted with oversized closets and set within a beautifully landscaped community that features bubbling creeks and winding paths tucked safely behind a censored access gate. We said it before, and we'll say it again: you'll find it hard to leave!
This River Ridge community offers proximity to New Orleans at a decidedly quieter pace. Find yourself in a peaceful atmosphere peppered with pines and local flora and fauna. You won't just enjoy the green space and your walk to and from your apartment – on-site amenities like sparkling pools, private patios and balconies, and dedicated grilling stations allow you to experience the beauty of the outdoors each and every day.
Sawmill Creek offers a variety of floor plans to meet your needs. Choose a one-bedroom townhouse, a two-bedroom traditional style, or something in between. What's more, you can choose from bathrooms, too – anywhere from one to 2.5 bathrooms are available. Corporate apartments are available to truly make this lushly appointed community your home away from home.
Brand-new apartment homes. Need we say more? We just completed our latest property, Bella Ridge, and its modern touches shine through. From granite countertops to crown molding to separate oversized tubs and showers, Bella Ridge feels like a luxury retreat – one that you get to live in year-round! Other savvy details include a covered parking garage (no more dashing through a rainy day) and an on-site dog park. A sparkling pool with built-in tanning ledges will give you a bronzed, summery, just-back-from vacation look – without the cost of an actual vacation! For April, you could receive up to $175 off your move-in costs plus up to $100 off monthly rent. 
Size definitely matters when it comes to your apartment. The Villas at Laketown offer vast square footage and contemporary designs – architectural details like arched doorways, for example, are a regal touch. You'll feel entirely at home as soon as you walk in and experience these apartments. From personal intrusion alarms at the door to wood-burning fireplaces, these townhomes offer all the convenience of a stand-alone home (attached garages included) and then some. These apartments rarely have availability, so we're pleased to offer openings in addition to reduced rates on select units.
Millstream apartments in Metairie are that rare blend of convenience, space, style. Amenities include meticulously landscaped greenspace (plus a pool) and secure access gates. You'll live amongst thoughtful interior details like natural brick accent walls, floor-to-ceiling windows, and built-in bookcases and vanities. But it's hard to keep a home beautiful when it's not organized – that's why Millstream features spacious closets with organized shelving. Call us to find out more about special, reduced rents on select units.
---
If the warmer weather hasn't put a spring in your step, these incredible deals on apartments just might offer the extra pep you need. March into spring with our March Featured Properties, including up to $1,800 in savings at our newest property, Bella Ridge, and up to $50 per month in rent savings at Regency Club. Arbor Gate, Brewster Commons, and Lakes of Chateau Estates South are all part of the mix, too – check out the deals below, and call for more information!
March Apartment Specials
Bella Ridge – Get up to $1,800 in rent savings for your March move in (more than a month's free rent on select floor plans!). This gorgeous new property features granite countertops, oval tubs plus a shower, wood-style flooring, kitchen islands, and an attached parking garage.
Regency Club – Enjoy up to $50 per month rent reductions and ask how to get 1/2 month free! This offer only applies to a few select units, so don't miss out: call today.
Lakes of Chateau Estates North – Premium finishes such as crown molding, plantation-style blinds, recessed lighting, and double sinks offer a luxury living experience. Ask about how you can save on move-in costs at this beautiful property, which also has garage space available for monthly rental.
Lakes of Chateau Estates South – This property is full of amenities for outdoor enthusiasts, including walking paths, tennis courts, and a sun-filled swimming pool. Limited floor plans are available now – call today for more information.
Hickory Creek Central – This luxury property in River Ridge features split-level stairs, sunrooms, and patios in select units plus all the comforts of home like a washer/dryer and fireplace. Call now to find out more!
Arbor Gate – A full week of free rent plus $100 to put toward decorating are part of this month's specials – not to mention a $99 deposit special, reduced rates, and reduced initial moving fees with select lease terms.
Brewster Commons – Select floor plans and this thoughtfully conceived community are at an all-time low. We're offering half off your deposit plus waived administrative fees on select units.
Grand Palms – Reduced rates and moving specials are part of March's specials, not to mention a $99 deposit special and waived move-in fees. With two pools, beautiful courtyards, and a playground, this property has lovely amenities for everyone.
Clearwater Creek – This River Ridge community is all about the amenities. Beautiful landscaping with fountains and creeks plus a pool provide a tranquil space for outdoor enthusiasts. Call today to find out how to make Clearwater Creek your home.
Crossroads – These renovated apartment feature washers and dryers in every single unit in addition to sunrooms that let in gorgeous natural light all year long. A tranquil setting of bubbling creeks and winding paths plus a secure access gate provide ultimate peace of mind. Call for more information.
---