Candy canes and silver lanes are aglow in South Louisiana. The spirit of the season is here, and New Orleans, the Northshore, and Baton Rouge have a host of spectacular events you can check out to celebrate the holidays in true Louisiana fashion.
Read on for a regional breakdown of some great family-friendly holiday events this year.
Metairie & Kenner
Metairie and Kenner certainly get merry and bright for the holidays, which is why we love having apartment communities in those areas. You're just a quick drive away from extravagant lighting displays, Santa visits, and remarkable holiday performances.
Christmas in Lafreniere Park
Lafreniere Park's annual light display keeps getting better and better. This year they'll have a 60-foot lighted Sea Serpent in the park's lagoon, a giant gingerbread man, and a sparkling magical castle. Saints fans can see a towering Lombardi Trophy, and kids can enjoy an illuminated spin on the Children's Carousel. Entry is $5 per vehicle. Carousel rides are $1 per child.
Kenner Christmas Village 
Kenner Christmas Village is a great idea for a family outing this holiday season. The Christmas Village is filled with things to do and see the whole family will love. There's ice skating, nightly performances, and Santa's workshop. Parents can enjoy the spirit of the Biergarten and take care of some shopping, as well. On December 15th, let your kids have "Breakfast with Santa," for Santa photo opportunities, a pancake &  sausage breakfast, arts and crafts, story time with Mrs. Claus, and more! Entry is free, but the Village's special events are an additional charge.
Santa Photos at Lakeside Shopping Center & Esplanade Mall
Kenner's Esplanade Mall will have Santa photo opportunities daily until December 24 at 6:00 p.m. Check out Santa's photo hours on the Esplanade Mall's event page. Lakeside Shopping Center also has Santa photo shoots from now through December 24.
Northshore
The Northshore is just a short drive from New Orleans, across Lake Pontchartrain. The Northshore's holiday calendar is always jam-packed with wonderful events for the whole family.
Merry Madisonville & Lighting of the Oaks
The 10th annual Merry Madisonville is a holiday festival that begins with a holiday parade, where Santa arrives by boat at Town Hall. Soon after is "Santa's Workshop," which features caroling, kids' activities, photos with Santa and Mrs. Claus, and arts and crafts. 
Finally, Madisonville Mayor Jean Pelloat will begin the "Lighting of the Oaks," during which Madisonville's majestic oaks will be illuminated with beautiful twinkling lights.
Slidell's Bayou Christmas
The 5th annual Bayou Christmas is a free festival presented by the Boys and Girls Club of Southeast Louisiana. It will take place December 19-22, 2018 in Slidell's Heritage Park.
Over 80,000 lights decorate wonderful lighted displays and holiday music, setting the scene for free photo shoots in Santa's Village.
Baton Rouge
Louisiana's capital city will soon feature plenty of events and shows that will put you in the holiday spirit.
Holiday Lights at Baton Rouge General
Baton Rouge General Medical Center presents its first fantastic holiday lights display this year, transforming its lawn into a synchronized musical light show. It's already running, and you'll have the opportunity to see it through December 31! 
Festival of Lights
Go Downtown to Baton Rouge's Town Square for an immersive holiday celebration. According to Visit Baton Rouge, the whole family can "frolic in the imported snow, ride a magical train at the Old Governor's Mansion, see Santa and Movies at the Old State Capitol, and listen to Holiday Music Magic at the Art and Science Museum." Sounds like a blast!
This year's event will also feature a "Cajun Night Before Christmas" performance.
Get Cozy in Your New 1st Lake Apartment this Holiday Season!
Contact us today to learn more about our private gated apartment communities!
---
Autumn in Louisiana is the perfect time of year for biking. But no matter what time of year it is, there are fantastic spots to bike near all of 1st Lake's gated residential communities.
Read on for the best places to bike in New Orleans, Baton Rouge, and the Northshore, and get ready to enjoy the beautiful natural environment of South Louisiana!
New Orleans
New Orleans is, for the most part, completely flat, making it ideal for cycling. There are lots of great places to go for a bike ride in the Crescent City.
Lafitte Greenway
The Lafitte Greenway is a 2.6-mile bicycle and pedestrian trail and green corridor connecting neighborhoods from Armstrong Park to City Park, extending from the intersection of N. Alexander and St. Louis streets in Mid-City to Basin Street and St. Louis Street in Tremé, blocks from the French Quarter.
According to the official website, "The Greenway includes a 12-foot asphalt path for cyclists and pedestrians, new recreation fields, basketball courts, outdoor fitness parks, green space, and landscaping improvements including approximately 500 shade trees, native plant meadows, and stormwater retention features. The path is fully lit with LED energy-efficient trail lighting and includes curb extensions, signalized high visibility crosswalks, a crushed stone walking path, and a bicycle and pedestrian roundabout."
St. Charles Avenue
Historic St. Charles Avenue is a major attraction in the city due to the majestic oaks and beautiful homes that line the street. Tulane and Loyola University campuses are also located along St. Charles, as well as the famous Columns Hotel. 
Biking down St. Charles is a great way to spend an afternoon. Plus, there are plenty of great restaurants and parks along the way, for those that would rather take their time and relax.
Lakeshore Drive
Lakeshore Drive is a popular place for biking because it provides a path with a view of beautiful Lake Pontchartrain. There are also plenty of places to eat or relax along the way.
Baton Rouge
If you live at one of our Baton Rouge properties, you'll also have a chance to bike along the Mississippi River, as well as many other beautiful landscapes in the city.
Mississippi River Levee
Along the Mississippi River levee is a 4-mile bike path that extends from just north of the I-10 Mississippi River Bridge down past Skip Bertman Drive at LSU to Farr Park. The path accommodates walkers, joggers and bikers. Water fountains and benches can be found along the way.
Downtown Greenway
Baton Rouge's Downtown Greenway is a bicycling corridor that stretches through the inner city. It's the perfect place to bike. Make sure you take advantage of the many parks, businesses and cultural attractions along the way.
Northshore
The Northshore is a great place to get away from the hustle and bustle of New Orleans and slow things down. There is more open and unused space on the Northshore compared to New Orleans, and this lends itself to biking perfectly.
Mandeville Trailhead Along The Tammany Trace 
The Tammany Trace is a hiking and biking trail that makes its way through every city on the Northshore, spanning from Covington, through Abita Springs, Mandeville and Lacombe, and ending in Slidell. Incredibly, this biking trail is over 30 miles long.
The Mandeville Trailhead is a public waypoint along the trace, where you will find restrooms, pavilions, an amphitheater, and other well-maintained public facilities to use before you begin your journey. The Mandeville Trailhead also hosts a farmers market on Saturday mornings.
There is a trailhead located in every city that the trace runs through, and each of them holds unique events and activities. To learn more about the trace and its trailheads, check out the official Tammany Trace website.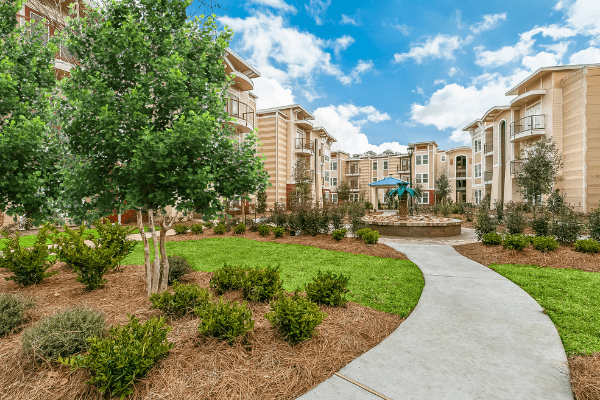 Find A Home At 1st Lake and Start Exploring Your City!
1st Lake has properties located near all of the biking spots listed above!  Contact us today to learn more about our private gated apartment communities.
---
Farmers markets have been part of the Louisiana way of life for centuries. All across the state, these markets feature a wide array of seasonal produce, flowers, local delicacies, and arts & crafts.
Autumn is a great time of year to check out the farmers markets in your area. The weather is lovely, and there is a strong sense of community surrounding these weekly or monthly gatherings.
Read on for some of our farmers market recommendations.
New Orleans
There are dozens of farmers markets in the New Orleans area, and each one features a variety of items including produce and local arts & crafts. The French Market Farmers Market and the Crescent City Farmers Market have regular hours and are well known throughout the city. 
French Market Farmers Market
This is a historic market that features full-service eateries serving breakfast, lunch and dinner and a variety of fresh produce and seafood. 
Two weekly fresh food farmers markets can be found here: The Wednesday Crescent City Farmers Market and the Artisan Saturday Market.
The Crescent City Farmers Market offers items from local farmers, fishers, and food producers, as well as cooking demonstrations and occasional live music performances.
The Artisan Saturday Market offers handmade arts & crafts including clothing, candles, and many other locally made and carefully selected items. 
Marketplace at Armstrong Park (Thursdays, 3 – 7 p.m.)
This marketplace boasts "produce, crafts, and culture." Its mission is to help revitalize the local community by increasing access to "fresh, local, and affordable food, and enhance economic viability" for its vendors.
Metry Market at the Park (Wednesdays, 3:30 – 7:30 p.m.)
Metry Market at the Park offers family fun in Metairie's Lafreniere Park, and offers a weekly community event for all ages. Its mission is to "provide a source of fresh fruit, vegetables and local goods to residents, highlight more of what Metairie, LA can offer to their residents and encourage residents to get in the habit of buying local goods."
This market also features artisans from all across Louisiana selling handmade jewelry, crafts, and more. 
Baton Rouge
Baton Rouge is also a great place to find locally sourced produce and other goods, and there are two major markets you should definitely check out.
Main Street Market
Main Street Market is located in downtown Baton Rouge, and features locally owned restaurants and shops inside of a marketplace setting. It is open Monday through Saturday and serves breakfast and lunch, as well as coffee. 
On Saturdays, Main Street combines with the Red Stick Farmers Market to create a community market that offers cooking demonstrations, as well as other standard farmers market fare.
Red Stick Farmers Market (Thursdays & Saturdays, 8:00 a.m. – 12:00 p.m.)
Red Stick Farmers Market has been in operation for nearly a decade, and only offers produce that is locally grown. Depending on the time of year, Red Stick operates in up to 7 locations across Baton Rouge, and has over 50 farmers that regularly participate. 
Red Stick offers a fantastic variety of "fresh fruits and vegetables, meats, seafood, artisan breads, homemade pies, honey, milk and cheese, native plants, herbs, and specialty food items." 
Northshore 
For those of you staying in one of our Northshore communities, don't worry! Both Mandeville and Covington have great farmers markets that aren't far from your apartment.
Covington Farmers Market (Wednesday & Saturday, 10:00 a.m. – 2:00 p.m.)
The Covington Farmers Market takes place every Wednesday and Saturday morning, and is a community gathering featuring fresh produce, prepared food and music. All produce offered at the market is grown locally, and what's available will depend on the season.
You'll also find "jam, jelly, bread, pastries, pies, and candy" as well as a "broad selection of live native, ornamental and culinary plants."
Mandeville Trailhead Farmer's Market (Saturday, 9:00 a.m. – 1:00 p.m.)
Since 2002, the Mandeville Trailhead Farmers Market has brought the local community together to buy local goods and enjoy local entertainment and educational activities. 
The market features over 50 vendors offering "food of all types, wood-crafted items, artwork, pottery, children's toys and clothing, soaps & lotions, and more." 
Let Us Help You Find a Home and a Great Community!
Contact us today to learn more about our private gated apartment communities!
---
Happy Valentine's Day! We know it might be difficult to plan a romantic date after celebrating Mardi Gras all weekend, so we've rounded up a few at-home date options you can use for inspiration this February 14th. 
Your 1st Lake home is the perfect setting for a relaxing and intimate Valentine's Day date. In fact, you can shower your loved one with mini-dates all day long without having to leave the house. Starting with…
Breakfast in Bed
Start off your day of love with breakfast in your cozy 1st Lake bedroom.
They'll love waking up to a tray of homemade pancakes, scrambled eggs, and fresh fruit. Cooking your loved one's breakfast is a meaningful and thoughtful beginning to a warm and affectionate day! 
Candle-lit Day Spa Indulgence
Line your 1st Lake bathroom's spacious soaking tub with flickering battery-powered faux candles, then fill it with an essential oil-scented bubble bath.
We like lavender for its calming and relaxing capabilities. A moody, candle-lit bubble bath will make your loved one feel royally loved. 
May I Have This Dance?
To get the evening started, clear your 1st Lake living room and turn it into a dance floor for two.
It might seem silly, but there's something tender about dancing to the songs that have shaped your time together. It's a great reminder of all of the memories you've made with your loved one. 
Dinner Under the Night Sky
Many of our 1st Lake communities have beautiful gazebos and outdoor spaces you can use to host a twilight dinner. Our newest development in Covington, Artesia, has a spacious poolside grilling area that's perfect for cooking an open-air Valentine's Day dinner.
After you're done with dinner, share a toast to the lovely day you shared in the home you made together!
Feeling Inspired?
Your 1st Lake home is a great place to make memories without having to go far or spend a lot of money (maybe a little on some chocolates). The best part? No reservations. How are you going to spend Valentine's Day this year? Share the love with us on our Facebook page!
---
The first big weekend of Mardi Gras has officially come and gone, but there are more parades to come! Your First Lake home is probably already filled with beads, toys, and dubloons, but we think you should add a shoe or purse to your Carnival collection. There are plenty of parades left on the schedule, so take a look at this day-by-day line-up, and prepare yourself for the last few days of Mardi Gras 2018!
Wednesday, February 7
Uptown New Orleans
Krewe of Druids [6:00 p.m.] 
The Krewe of Druids doesn't host a coronation ball or post-parade celebration, and their riders' identities are never revealed to the public. This 200-person parade-only Krewe starts rolling from the corner of Jefferson Avenue and Magazine Street. They ride the traditional Uptown route, heading down St. Charles Avenue towards Canal Street downtown. Their final turn happens on the corner of Canal Street and South Peters Street.
Krewe of Nyx [7:30 p.m.]
The Krewe of Nyx parade will start immediately after Druids' last float rolls. This all-female Krewe has grown in popularity since its founding in 2012. During the off-season, members spend their time hand-decorating the coveted Nyx Purse, which parade-goers vie for with comical signs and good old-fashioned pleading. Expect ornate floats, high-energy marching bands, and sequined handbags.
Thursday, February 8
Uptown New Orleans
The Knights of Babylon [5:30 p.m.]
The Knights of Babylon were established in 1939, and they've dedicated their parade to the preservation of traditional float design. The parade is lit by flambeauxs and their King's float is still pulled by mules. The Knights of Babylon is the first parade of the night, and it starts on the corner of Magazine Street and Napoleon Avenue. It will follow the traditional St. Charles Avenue route to Canal Street downtown, where it will conclude.
The Knights of Chaos [6:15 p.m.]
Immediately following the Knights of Babylon are the Knights of Chaos. Much like Druids, the Knights of Chaos never reveal their riders' identities, and their theme is only revealed once they start rolling.
Krewe of Muses [6:30 p.m.]
Established in 2000, the all-female Krewe of Muses is Thursday's most-anticipated parade. The reason? Hand-decorated high heels! The Muses Shoe is considered a collector's item to many Mardi Gras fans. The local, social, political commentary of this parade has become a major crowd pleaser, and their new signature float – a string of larger-than-life yellow rubber duckies – is a can't-miss sight. If you want to get a Muses Shoe, a clever sign will help!
Friday, February 9
Uptown New Orleans
Krewe of Hermes [6:00 p.m.]
Hermes was founded during the Great Depression to help ease the suffering of New Orleans' most vulnerable. Named after the "winged courier of the gods," Hermes is led down St. Charles Avenue by its costumed Captain.
Krewe d'Etat [6:30 p.m.]
The most satirical parade of the night belongs to the mysterious Krewe d'Etat. Their traditional floats are covered with sarcastic captions, outrageous props, and mildly inappropriate depictions of current events. Their Captains ride on horseback, their riders dress as skeletons, and their signature throw is a blinking skull bead.
Krewe of Morpheus [7:00 p.m.]
The final parade of Friday night, Morpheus, was established in 2000 as an inclusive Krewe that welcomes all interested riders to join. They aim to provide paradegoers with a traditional Mardi Gras experience. Morpheus starts on the corner of Jefferson and Magazine Street before heading up Napoleon and continuing down St. Charles Avenue.
Saturday, February 10
Uptown New Orleans
Krewe of Iris [11:00 a.m.]
The Krewe of Iris was formed in 1917, making it one of the oldest Krewes of Mardi Gras. The all-female parade boasts over 1500 members, and they uphold the traditional mystique of Mardi Gras by hiding their faces and wearing clean, white gloves. Isis' route is a little different from its predecessors. It begins on Napoleon Avenue above St. Charles Avenue and turns left onto St. Charles instead of coming up from Magazine.
Krewe of Tucks [12:00 p.m.]
The Krewe of Tucks is the brainchild of a group of college students. Two Loyola New Orleans wanted to reignite the legacy of a defunct Uptown bar – named Tucks – as a new Mardi Gras Krewe. This wild and raucous daytime parade has a few handy signature throws  – Tucks-printed toilet paper and hand-decorated plungers. Paradegoers can expect rolls to fly over the oak tree branches on St. Charles Avenue resulting in a teepee'd stretch of New Orleans most iconic street.
Mid-City New Orleans
Krewe of Endymion [4:15 p.m.]
The culmination of Saturday's parade line-up is the Krewe of Endymion. Considered one of Mardi Gras' "Super Krewes," the Krewe of Endymion pulls out all of the stops for their nighttime parade. Not only do they host an array of celebrity guests, their floats are some of the most spectacular creations to roll each year. Their signature float is also Mardi Gras' largest creation. The extravagant and wildly popular Pontchartrain Beach float has nine sections and holds 300 of their 3,000 riders. This mega-parade starts on Orleans Avenue in Mid-City, turns down Carrollton, then heads downtown on Canal Street before pulling into the Mercedes-Benz Superdome for the Endymion Extravagana.
Sunday, February 11
Uptown New Orleans
Krewe of Okeanos [11:00 a.m.]
Be on the lookout for Okeanos' Captain and King. Their intricate costumes are one of the parade's many highlights! Catch the first parade of the day on St. Charles Avenue or anywhere downtown.
Krewe of Mid-City [11:45 a.m.]
This day parade is a delight to paradegoers young and old. Mid-City dedicates its parade to childlike wonder and joy, and every year they invite a boy and girl from the local Ronald McDonald House to serve as King and Queen of their parade. See this enchanting parade roll right after Okeanos.
Krewe of Thoth [12:oo p.m.]
The Krewe of Thoth is one of the longest parades of Mardi Gras. With over 1600 riders and a float count around 50 annually, Thoth is also one the largest. Thoth's route begins near Audubon Park on Tchoupitoulas Street before snaking its way up Henry Clay Avenue to Magazine Street and then to Napoleon Ave.
Krewe of Bacchus [5:15 p.m.]
Super Krewe number two, Krewe of Bacchus, and its 1,000-member group are the last to roll on Sunday. The nighttime parade is a tribute to the god of wine, and it is one of Carnival's most outrageous parades. The massive floats of Bacchus include two very famous primates, King and Queen Kong, and paradegoers are often seen slinging their beads back at the two rolling statues.
Monday, February 12 (Lundi Gras)
Uptown New Orleans
Krewe of Proteus [5:15 p.m.]
The Krewe of Proteus is the second-oldest Mardi Gras Krewe still in operation. Named after Poseidon's son, Proteus is best known for its nautical-themed throws and its signature seashell float.
Krewe of Orpheus [6:00 p.m.]
Founded in 1993 by members that included legendary New Orleans musicians, Harry Connick and his son, Harry Connick Jr., this Lundi Gras Super Krewe lights up St. Charles Avenue with its bouquet-like floats. Orpheus is best known for its massive floral decor and signature float, The Smoky Mary – a high-tech locomotive-themed float complete with steaming action. Orpheus takes a slightly different route once it arrives downtown, though. Instead of stopping just after turning onto South Peters Street, Orpheus continues through the business district and into the convention center.
Tuesday, February 13 (Mardi Gras Day)
Uptown New Orleans
Krewe of Zulu [8:00 a.m.]
Coconuts! Get your Zulu Coconuts! The early morning Krewe of Zulu parade kicks off Fat Tuesday's festivities in Central City. The parade works its way down Jackson Avenue to St. Charles Avenue where it turns and heads downtown. Upon reaching Canal Street, the parade takes a left turn up Canal and towards Basin Street. From there, Zulu winds its way up Basin to Orleans Avenue until it reaches its headquarters, the Zulu Social Aid & Pleasure Club.
Krewe of Rex [10:00 a.m.]
The grandfather to some of Mardi Gras' oldest-held traditions, the Krewe of Rex is the last major parade to roll on Mardi Gras Day. This Krewe is responsible for the establishment of Mardi Gras' signature colors and the creation of the coveted Mardi Gras doubloon. Every year, Rex throws collectible float beads with pendants that represent each float's theme. Please note: Rex actually rolls on the opposite side of St. Charles Avenue, which houses the mansion they toast from each year.
---