The flowers are blooming, the weather is warming up, and the crawfish are boiling! Whether you're in River Ridge, Metairie, or Kenner,  we have curated a list of some of the best places to get hot and ready-to-eat crawfish this spring. 
River Ridge
(504) 738-2104
9013 Jefferson Hwy, River Ridge, LA 70123
(504) 738-1116
279 Hickory Ave, Harahan, LA 70123
(504) 405-5263
8311 Jefferson Hwy, Harahan, LA 70123
(504) 818-2200
901 South Clearview Parkway, Metairie, LA 70121
Kenner
(504) 468-1647
 2000 W Esplanade Ave, Kenner, LA 70065
(504) 443-6454
3201 Williams Blvd, Kenner, LA 70065
(504) 466-4701
3140 Loyola Dr Kenner, LA
Metairie
(504) 469-7216
8006 W Metairie Ave, Metairie, LA 70003
(504) 887-1150
5010 Veterans Memorial Blvd, Metairie, LA 70006
(504) 831-2840
1700 Lake Ave, Metairie, LA 70005
Want more options? Try downloading The Crawfish App and view all the local restaurants offering hot-boiled crawfish this season. 
Take your crawfish to go and eat them in your new 1st Lake Properties home! To view a full list of our available apartment homes, click here. 
---
King Cake in New Orleans is a beloved and special tradition – and one you can only enjoy during the Carnival season. So it's important to make the most of your King Cake window and try as many delicious renditions as you can!
Ask any local and they'll tell you that King Cake in New Orleans is only eaten from Twelfth Night (January 6) through Mardi Gras Day. And there are so many bakeries, restaurants and special spots that serve up their own spin on the confection.
Need a good starting point to find the best King Cake in New Orleans? Here's some must-try options for you to enjoy!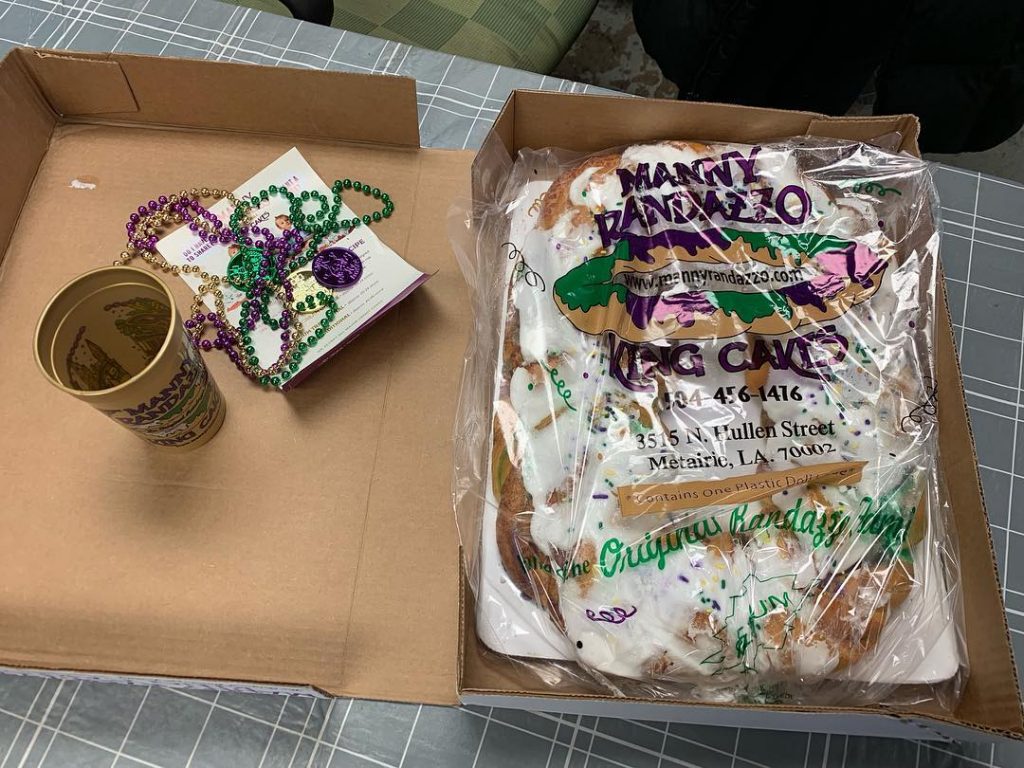 Almost everyone has heard of the Randazzo family and their secret family king cake recipe is the stuff of legend in New Orleans. As the most well-known keeper of the family's sweet treat, Manny Randazzo's King Cakes offers everything from traditional King Cakes to special flavors like apple, lemon and strawberry. 
A bite of Manny Randazzo's king cake is an essential part of the Mardi Gras experience!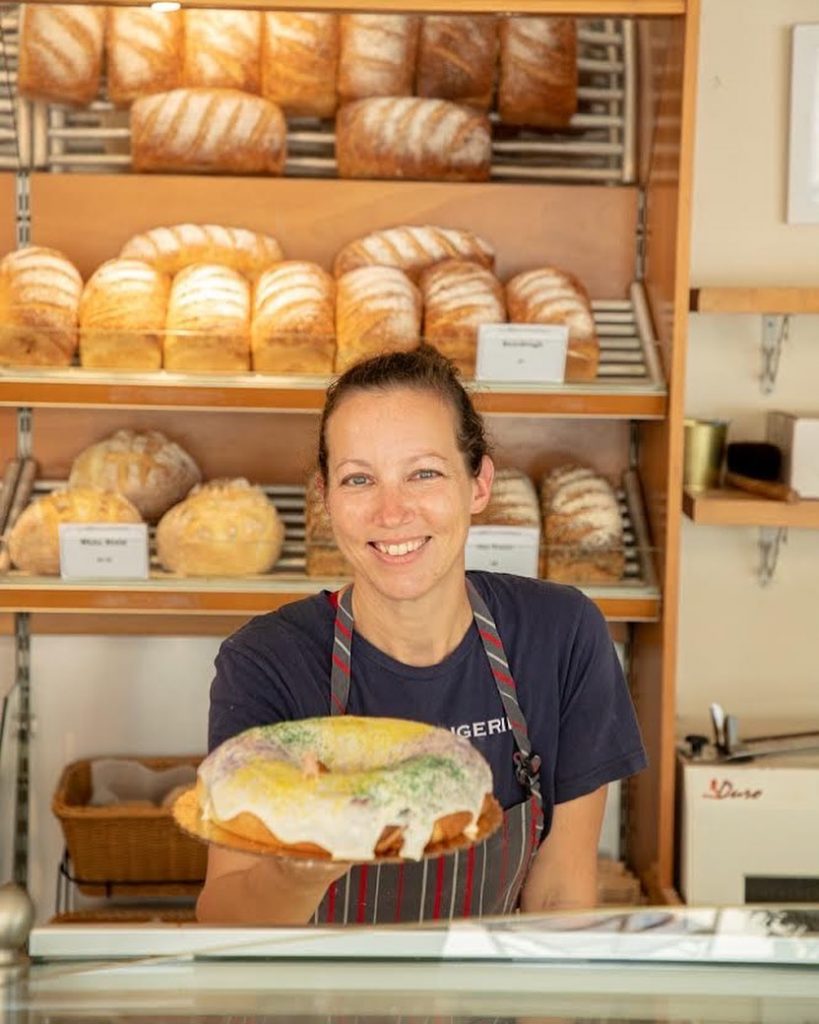 This French bakery on New Orleans' charming Magazine Street is the perfect spot to pick up a delicious King Cake. Well-known and popular year-round for their croissants and pastries, they offer traditional cakes alongside cinnamon, strawberry, almond, and pretzel flavors during Carnival. 
You can even grab a personal mini King Cake to enjoy on the go!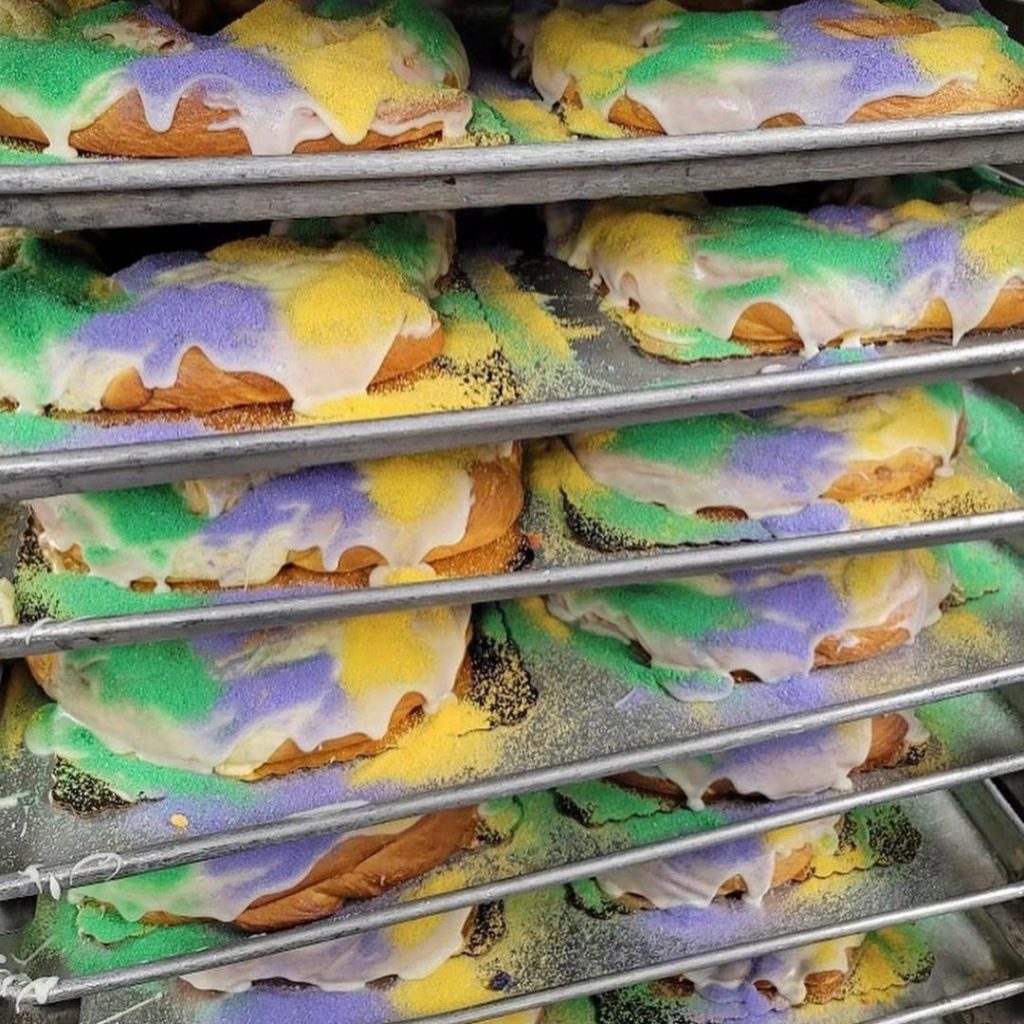 Haydel's classic king cake is famous around town. Made of danish dough, hand braided with cinnamon and sugar, and baked to perfection, these treats are sure to be one of your top favorites with just one bite. 
Plus, they have many special flavors to choose from like praline pecan, cream cheese, strawberry cream cheese, German chocolate, and brownie chocolate chip!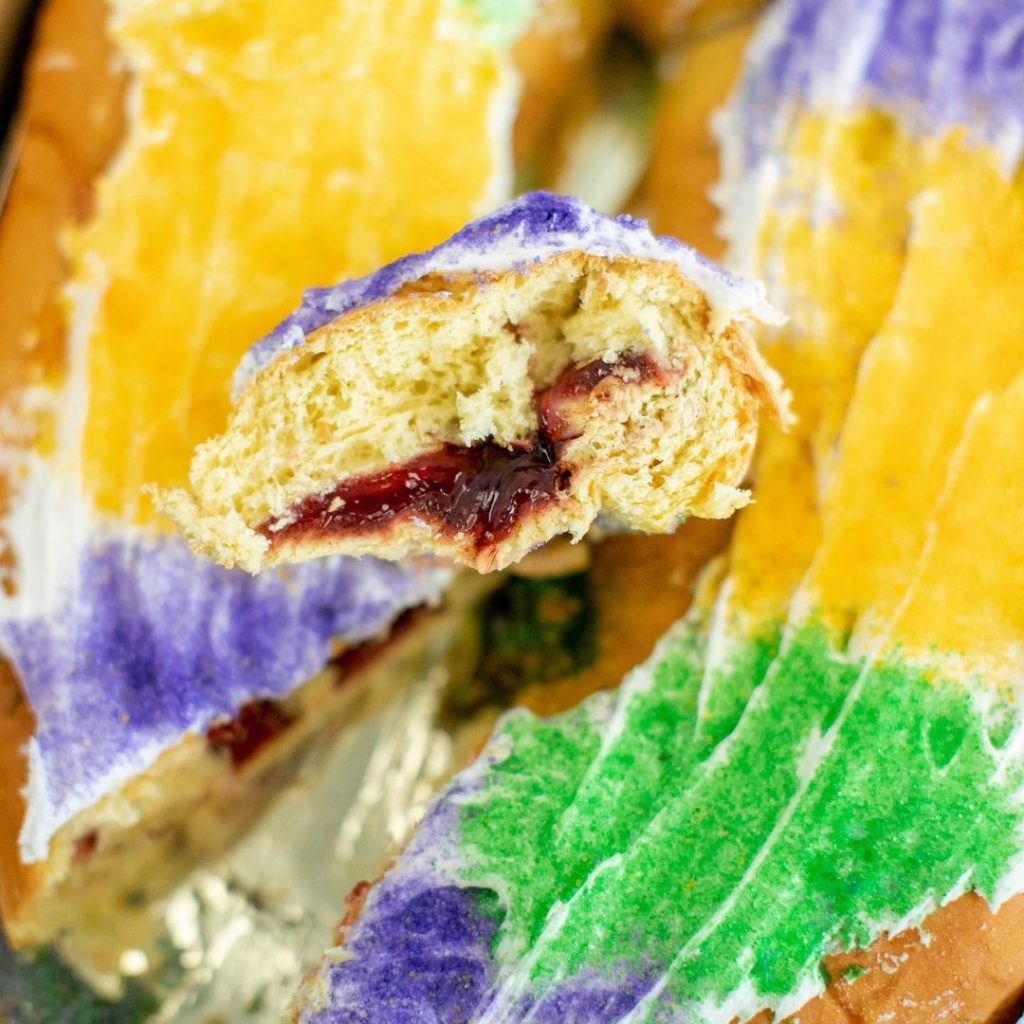 Gambino's has been a well-known New Orleans King Cake spot for decades. Many call them the King of King Cakes and with good reason. Their classic King Cake is just that – fluffy dough, topped with icing, and drizzled with sugar, exactly how a King Cake should taste.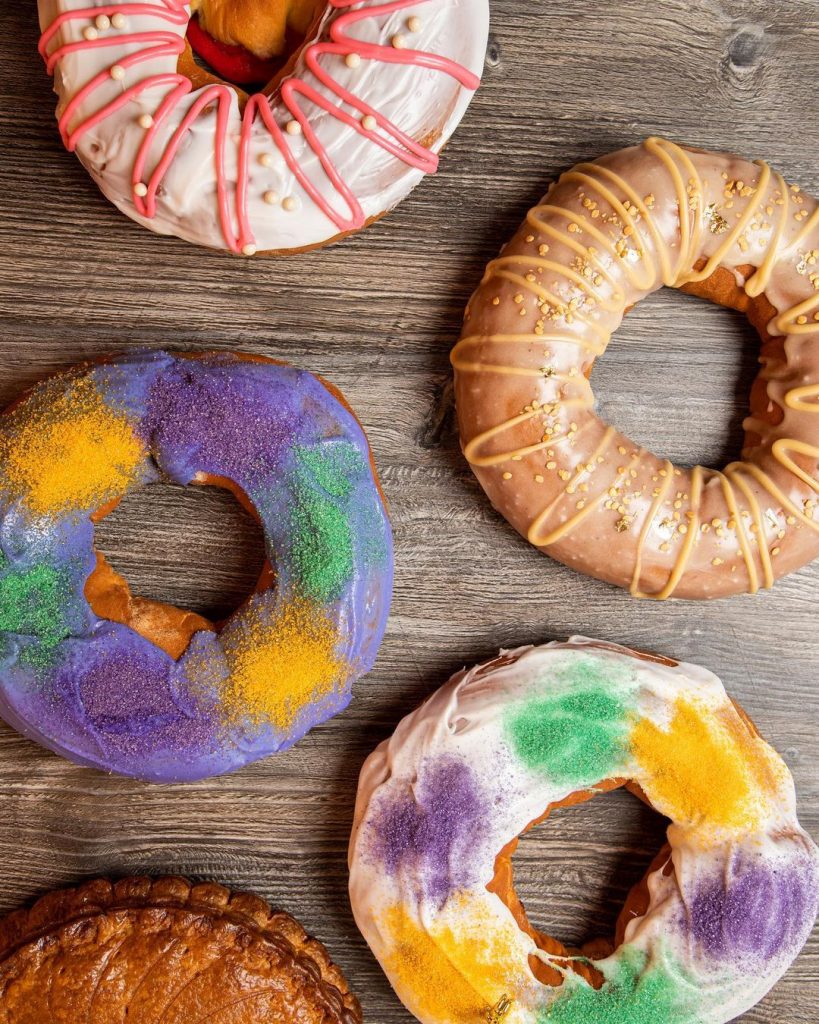 If you're looking for an adventurous flavor to try for your King Cake indulge, Gracious Bakery is the perfect place to start. Their delicious confections showcase some mouthwatering flavors like chocolate, almond frangipane, and nectar cream – they even have a bananas foster flavored King Cake that's definitely worth a bite!
Tried All Those and Still Want More?
Our friends at NewOrleans.com wrote a very extensive blog on all the king cake finds this city offers. Check it out here!
---
There's no season like snowball season in New Orleans! Snowballs are a delicious combination of finely shaved ice and decadent cane syrup, available in more flavors than you can imagine, that come together as the perfect treat.
Get one to go and enjoy it at the lake, or have one at home on your balcony. No matter how you enjoy them, each icy spoonful of a snowball is delightful when the weather heats up. Getting one is definitely a must-do summer activity in New Orleans!
Keep reading for our list of some of the best snowballs in the Lakeview, Metairie, Elmwood, and Harahan areas. What's even better is they're close to several 1st Lake Properties like Bella Ridge, Millstream, and more!
Casey's Snowballs
Says one Yelp reviewer, "The ice doesn't clump, they don't skimp on the syrup, and the flavor choices are vast and unique." Could you ask for anything more in a snowball stand?
Casey's Snoballs in Metairie is located on West Esplanade Avenue, so it's a great option for a to-go snowball you can enjoy at the lake. We're partial to nutty flavors like almond cream, and exotic choices like orchid vanilla, but you'll find plenty of classics like nectar, lemon, and wild cherry.
Sal's Sno-Ball Stand
Tree stump seating sets this Old Metairie snowball stand apart. Sal's stays open late, so if you get a snowball craving at 10 p.m.– and really, who could blame you? – you can still get your fix.
Fun flavor names like Robin (ice cream and nectar), Pink Squirrel (nectar, almond, and cream), and Joker (grape, blackberry, and raspberry) will delight youngsters and adults alike. Sugar-free options are available for those looking to stay trim, but it's hard to resist toppings like condensed milk – again, who could blame you?
It's one of our favorite spots in Metairie and definitely worth checking out!
Ike's Snowballs
Ike's is located in Mid-City, and it's just a quick drive – or a fun bike ride – from Metairie Road on City Park Avenue.
We love Ike's because of their doggie snowballs. A chicken snowball doesn't sound particularly appetizing to us, but we know your four-legged friends will love them.
Don't have a pet? Trust us, you'll still want to go to Ike's. It's open year-round, and it offers juicy flavors like watermelon, strawberry, and pineapple that are sure to satisfy. You'll find plenty of outdoor seating here, although another option is to order your snowball to-go and enjoy it at City Park!
NOLA Snow
With a convenient location on Harrison Avenue in Lakeview, NOLA Snow is a great place to grab a snowball before heading to the lakefront.
Kids love their cotton candy and bubblegum flavors, and mellower flavors like nectar and wedding cake please more grown-up palates. The ice is particularly soft and fluffy, but if you prefer something denser, any snowball flavor can be served as a milkshake or malt instead.
Soft serve ice cream, floats, and stuffed snowballs are also available – definitely bring your sweet tooth.
---
Whether with your friend or with your love, these are some of the best fall date ideas!
New Orleans
The Music Under the Oaks Fall Concert Series is not only free, but it's a majestic evening of melodies provided by The New Orleans Concert Band. Head to Audubon Park from 5-6:30 p.m. this Sunday to enjoy! Any donations you choose to make will fund the continual preservation and improvement of the park. 
The Paradigm Gardens will host their annual fall concert series from October 2 – November 13. Each of the four concerts will feature an evening of music, along with a menu from local chefs and restaurants, as well as beer and cocktails from local breweries and bars.
These concert series are a wonderful way to spend a low-key but romantic evening with your special someone or your best friend. 
Nola Mac N' Cheese Fest is everything you're hoping for and more. From the Big Cheezy to Frey Smoked Meats, your taste buds will thank you for gobbling up crawfish mac, vegan mac, and pulled pork mac (cue the salivating). Head to Armstrong park Saturday from 11 a.m. to 6 p.m. to enjoy this fest, plus admission is free!
The Second Saturday Community Market at the Audubon Louisiana Nature Center is this Saturday! Head over to enjoy this family-friendly event full of local produce, handmade items, community services, nature hikes, live music, Planetarium shows and more!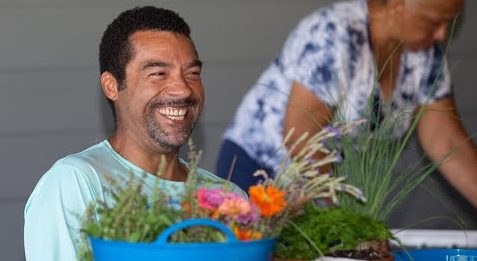 Audubon Nature Institute Photo
Northshore
St. Tammany Parish, also known as the Northshore, is a great place to get away from the hustle and bustle of New Orleans for a leisurely autumn date.
The Covington Farmers Market is full of in-season veggies, fruit, dairy, pastries, dog treats, potted plants and more! Rise and shine early on Saturday so you can get the cream of the crop! This event happens every Saturday, so you can always mark this one for next weekend.  
Covington Three Rivers Arts Festival
The Three Rivers Arts Festival takes place November 9 – 10 in the historic downtown district of Covington, LA. This weekend-long event is a showcase of over 200 artists from around the US. The festival takes over several city blocks, featuring ceramics, paintings, photography, fiber art, woodworking, metalwork, sculptures, jewelry and more.
There's no admission charge, and parking is free. Take a leisurely stroll, enjoy live music in the crisp November air, and maybe purchase a handmade keepsake for your significant other. 
Mandeville Trailhead Farmer's Market
Sometimes, a morning date can be a great way to shake up your dating routine. The Mandeville Trailhead Farmer's Market takes place every Saturday from 9 a.m. – 1 p.m. It features over 50 vendors offering "food of all types, wood-crafted items, artwork, pottery, children's toys and clothing, soaps & lotions, and more." Fall is the perfect time of year to grab a cup of coffee and enjoy the local flavor. 
Once you've seen the marketplace, take a 5-minute walk to the shores of Lake Pontchartrain and soak in the incredible view.
Baton Rouge
Coffee, Pastries, and Nostalgia
It's no secret that Baton Rouge is exploding with incredible coffee shops and cafes! With so many options, you can get just about any ambience you're searching for. If it's the warm, cottage feel you want, head to Magpie or Highland Coffees. For the bustling downtown feel, pop in at French Truck  or Magpie Downtown. Right now it seems like everyone is talking about  Light House Coffee, the number 1 rated coffee shop on Yelp.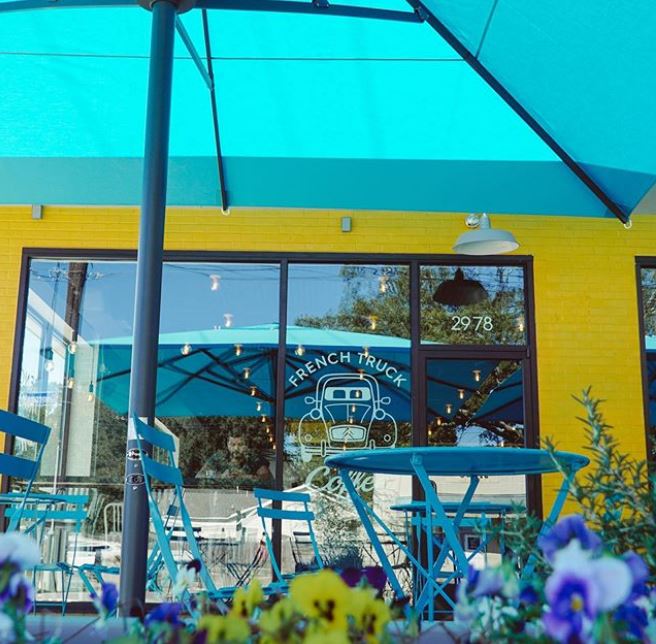 Fall is the Perfect Time to Find a New Home at 1st Lake Properties!
We hope you take advantage of the fantastic weather and jam-packed events schedule this autumn in Louisiana.
1st Lake has properties located near all of our suggested date spots. Contact us today to learn more about our private gated apartment communities!
---
In Thrillist's latest article, The Best American Cities for Creatives (That You Can Actually Afford to Live In), guess who ranked top 15?
That's right! Nola is booming with opportunities for creatives to work and live without busting the bank. 
With such an influx of incredible people making the move here, we've been adding even more apartments and even better amenities! From resort-style pools with poolside food delivery to free bike rentals, it's even more enticing to make your home here. Not to mention, all of the incredible attractions throughout the Greater New Orleans area like biking paths and Farmers Markets!
But if you're like us, you prefer having the option to head into the city when you want to, while dwelling in the suburbs for your day in and day out routine. For that reason, we have bark parks and outdoor fitness centers, movie rentals and more, so you never really have to leave if you don't want. Plus, all of our communities are just a short drive from some of the best shopping, dining, and entertaining you can find! 
Need help looking for a new apartment? We'd love to help. Just head to our homepage and start your apartment search today! Or, you can take our apartment quiz to find out which apartment size is just right for you!
---