Looking for more pieces to make your apartment feel like home? We did the digging for you and found deals on everything you need! From kitchen appliances to accent tables, we scrounged up several sales you can benefit from today!
1. Kitchen Clearance
Spice up your kitchen with new cookware! With up to 75% off from Sur La Table, you can feel like a master chef while trying out that new recipe. Plus, take advantage of Williams & Sonoma's semi-annual cookware event and save up to 25%  on essentials at Home Depot. We love this juicing blender from Sur La Table and it's currently 56% off! 
2. Bed & Bath Bargains
Looking for a fresh new look for your room or bathroom? Head to the semi-annual bed & bath sale at Wayfair. They've got steals like this classic comforter set that's 78% off! Oh and you can snag 60% off items at Birch Lane's Memorial Day Presale.
3. Furniture Finds
Home Depot does it again with this functional, classic side table. With up to 25% off here, you can find anything from headboards to dining tables without breaking the bank. 
4. More Steals
Still have things on your shopping list? No worries, we found even more deals. We love how this rug from West Elm adds subtle color and class to the room (and that it's 25% off!) Once you've filled your virtual shopping cart, take advantage of the Overstock Memorial Day Blowout with up to 70% off and free shipping! World Market has big sales on everything too! From chairs to towels and even snacks, you can get a bargain. 
Already have your pieces but need a place to call home? Check out our apartment homes to find your perfect place today! 
---
It's impossible to put a price on moms; they're just so precious to us. But when it comes to gift-giving, it can be overwhelming to find just the right gift at a price we can afford. So we crafted six thoughtful gift ideas that don't break the bank.
1. Breakfast In Bed
Start Mother's Day off strong by making her favorite breakfast. Awaken mom with a gentle knock on the door and the scent of fresh-brewed coffee wafting through the air. Deliver her meal on a tray (and for extra brownie points, add fresh flowers!). Mom will love the royal treatment! Need breakfast inspo? Country Living has plenty of recipes you can try.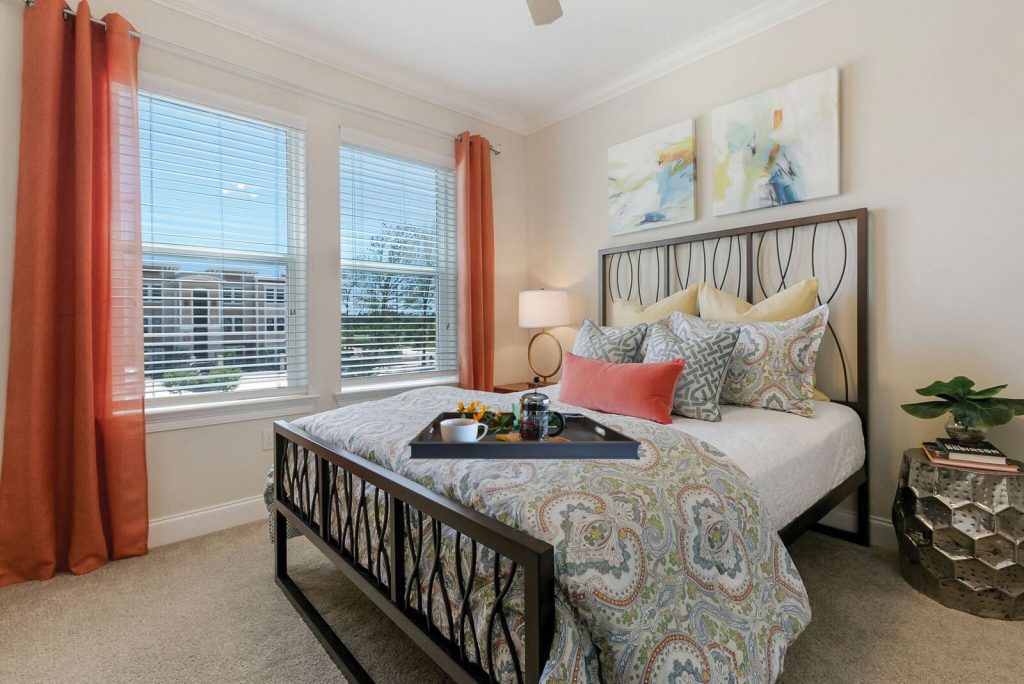 2. Mother's Day Concert with Irma Thomas at the Audubon Zoo
Take a trip to Audubon Zoo with your mama. With Audubon gifting moms free admission and a free concert by Irma Thomas, it is a lovely way to spend the afternoon together! Find more info here. 
3. Handwritten Note 
Your mom knows you love her, but take a pen to paper and remind her of all the reasons why. It might seem like a simple gift, but we're pretty sure she will treasure it forever! Hallmark has some tips on how to write a sweet note to mama.
4. Give Mom A Day Off
Give your mom a break by sending her to her favorite restaurant or cafe with a gift card. While she is out enjoying time to herself, you can clean her house or run her errands. Find out how to pull off giving Mom a day to herself here (with some extra ideas too!). 
5. Create a Photo Book
Find your favorite photos with Mom and create a photo book. You can make one for only $15 at Artifact Uprising.
6. A Spa Package
Pamper your mama with a spa package. Whether you want to pitch in with others and pay for a spa experience, or if you want to DIY for Mom, we can help. Learn how to make your own spa package here. Or take advantage of your Resident Rewards and gift Mom with spa services from places like Chronos Wellness, Le Cristal Nails, or Franco's Health Club Mandeville. 
Now you are ready to show your mother just how much you cherish her without stressing about spending lots of money!
---
Attention Residents:
In the event of a hurricane, we ask for your cooperation in taking the following safety precautions if needed:
Please remove everything (plants, chairs, doormats, etc.) from your patios, balconies and stairwells. These items must be placed inside your apartment or storage
Fill your tub(s) with water to be used to help flush toilets in the event of little or no water
Please remember you are responsible for your refrigerator. If electricity is out, or expected to be out, for more than 24 hours, remove all food from refrigerator.
It may be possible the rental office is not been able to re-open immediately following the storm. In the case of an extreme emergency, call 911. In the event of power outage or downed power lines, call your service provider. See list below.*

ENERGY PROVIDERS*

Metairie, Kenner, River Ridge: Entergy 1-800 ENTERGY (1-800-368-3749)
Covington & Mandeville & Slidell: Cleco 1-800-622-6537
Baton Rouge (Regency Club & Lake Towers): Entergy 1-800 ENTERGY (1-800-368-3749)
Baton Rouge (Springbrook): Demco 1-800-262-0221
As the hurricane approaches, monitor your local ABC, CBS and NBC television stations for news and updated advisories.
Listen to local & State emergency management officials. They will advise if an evacuation is necessary.
---
Review the Hurricane Checklist below for further helpful information on hurricane preparation
HURRICANE PREPARATION CHECKLIST
ALWAYS HAVE THE FOLLOWING ITEMS AT YOUR DISPOSAL DURING HURRICANE 

First Aid Kit
Medicine and Prescription Drugs
Insurance and Personal Papers
Containers of Water
Canned Foods/Juices/Soft Drinks (At Least a 3 Day Supply)
Manual Can Opener/Utensils
Disinfectants/Bleach/Insect Repellant
Battery Operated Radio and/or TV
Flashlight, Extra Batteries and Bulbs
Personal Toilet Articles and Sanitary Needs (Include Extra Diapers)
Bedding (Sleeping Bags, Blankets)
Portable Cooler/Ice

BEFORE THE STORM …

Prepare Yourself in case of Evacuation
Have a Hurricane Plan for Your Family
Keep Track Of the Storm
Note The Name Of Your Nearest Emergency Shelter
Know Where You Will Bring Your Pet(s) – The length of time you may be away is unknown; therefore we do not recommend leaving your pet in your apartment.
IN THE CASE OF EVACUATION, WE ADVISE YOU TO FOLLOW THE INSTRUCTIONS OF LOCAL, PARISH AND STATE OFFICIALS.
AT A WATCH OR WARNING

Keep Your Gas Tank Full
Store Water
You May Want to Fill the Bath Tub with Water
You May Want to Empty Your Refrigerator and Freezer to Avoid Food Contamination Due to Power

Outage WHEN THE HURRICANE STRIKES 
Beware Of The Eye! Once It Passes, Winds Rise Rapidly To Hurricane Force From The Opposite Direction and Flooding Can Occur
AFTER THE HURRICANE PASSES 

Cooperate With Your Emergency Management Officials. Listen for instructions regarding re-entry procedures
Drive carefully & Stay Out Of Flooded Areas
Avoid Dangling or Loose Wires
Prevent Fires – If Power is Out, You Should Have Battery Operated Lighting Available to Use. Candles Should Not Be Used.  Low Water Pressure May Make Firefighting Difficult
Check Refrigerated Food for Spoilage
6/19
---
In Thrillist's latest article, The Best American Cities for Creatives (That You Can Actually Afford to Live In), guess who ranked top 15?
That's right! Nola is booming with opportunities for creatives to work and live without busting the bank. 
With such an influx of incredible people making the move here, we've been adding even more apartments and even better amenities! From resort-style pools with poolside food delivery to free bike rentals, it's even more enticing to make your home here. Not to mention, all of the incredible attractions throughout the Greater New Orleans area like biking paths and Farmers Markets!
But if you're like us, you prefer having the option to head into the city when you want to, while dwelling in the suburbs for your day in and day out routine. For that reason, we have bark parks and outdoor fitness centers, movie rentals and more, so you never really have to leave if you don't want. Plus, all of our communities are just a short drive from some of the best shopping, dining, and entertaining you can find! 
Need help looking for a new apartment? We'd love to help. Just head to our homepage and start your apartment search today! Or, you can take our apartment quiz to find out which apartment size is just right for you!
---
---