Valentine's Day is right around the corner, and seemingly everyone with a significant other is looking for that perfect gift! While there are the tried and true go-to gifts such as chocolates or roses, sometimes it's good to try something a little different.
A gesture that veers away from the classic gifts can show that you care even more, as it requires a bit more thought! There are several things you can do to show that special someone how much they mean to you while sticking to a budget as well. With finances being tight for a lot of people, there's no need to break the bank just to make a sweet gesture on Valentine's Day!
Breakfast in Bed
We think there's no better way to start this love-centered day than by waking your boo up to breakfast. One gesture that goes a long way without having to spend a lot of money is to make a simple and delicious breakfast spread. Stacked pancakes, hot coffee, and a side of scrambled eggs–what more could we ask for? Plus, breakfast food is the least expensive of all so you won't break the budget. 
Even if you're no expert in the kitchen, looking up a special pancake recipe or giving homemade french toast a shot might be a sweet idea. Even if you come up a little short in your attempt to be a gourmet chef, the effort involved will certainly prove how much he or she means to you! Try finding a recipe that isn't too heavily involved, and a meal that can be relatively mess free (since you'll be eating it from the comfort of your sheets).
Here are 45 breakfast in bed ideas. 
Gifts From The Heart
Another way to show that you care on a budget is to create your own gift. Sometimes these gifts are the most meaningful, because they require genuine time and thought. Do you have a special talent that you can utilize? Perhaps you're a great singer, photographer, or artist.
Take an inventory of the skills you can use to create a gift that shows you really care. If you can play a guitar or sing, try singing a song about your loved one.
Another idea that most anyone can do is to create a scrap book of your time together. You could include photos you've taken together, movie ticket stubs from your first date or dates thereafter, small mementos from trips you've taken together, and other sentimental scraps. The more thought and effort you put into your scrap book, the more special it will be.
A Sweet Retreat
Sometimes, the best gift you can give is a simple escape from everyday life. Take a brief trip with your loved one for Valentine's Day. Perhaps you can manage a day off of work together and take a day trip to a close-by destination that you both enjoy. If you or your significant other isn't able to take off of work, book a hotel room in your city or town! Even if it's close by, simply being able to stay somewhere else, have someone else pick up after you, and be away from the normal stresses and tedium of home can be huge! Some hotels run specials, and you might be able to find a room fairly cheap. Try using one of our favorite apps/sites, Hotel Tonight to see day-of hotel specials in the area. In their own words, Hotel Tonight "partners with top-rated hotels, they give us their unsold rooms, and we show you each day's best deals. You check out those deals, book the one you like and boom! You're on your way to a great stay." 
Get a little creative this Valentine's Day, and you may find that not only can you save a little money, but the added sentiment of creativity can go a long way! Here's to a safe and happy Valentine's Day for everyone!
---
Anyone else been super obsessed with rugs lately? 
It seems like every time we scroll through Insta or Pinterest, there's another rug company we want to buy from or a new design that we just need to have!
Whether you're looking to add flare, funk or just a practical piece of foot-warming fabric, rugs will give your space an upscale upgrade. (And hint: they don't have to cost an upscale price!)

What To Consider When Selecting a Rug
In Joanna Gaines' recent blog, she said the three most important things to consider when selecting a rug are your style, your space, and your lifestyle.  
What Your Life and Your Rug Have in Common
While rugs obviously serve as a staple design element in your home, selecting a rug goes beyond physical appearance. We can't stress this enough. You need to know yourself to know the right rug for your home. For example, if you're married to a mechanic who comes home a tad dirtier than a desk-dwelling counterpart, you might not want that all white shag rug. Or if you have a furry friend with muddy paws, same thought process applies. In either instance, you may opt for a natural-fiber rug. While you won't get that soft and fluffy feel, you will get a longer lasting, life-resistant rug. Sites like Rugs USA offer chic and tough styles! 
Now before we can move on, there's something you should know: 
Perhaps the most basic thing you should know while rug shopping is a term called "rug pile." The pile of a rug refers to the density of a rug's fibers. A flat rug would be described as having short piles, while a shaggy rug would be described as having long piles. In this One Kings Lane blog , you'll discover 5 useful tidbits to help you choose the right rug pile! In general, shorter pile rugs are longer-lasting than longer piles! Plus, cleaning and maintaining shorter rugs is much easier than maintaining your 70's shag (mostly because your vacuum won't get in a tug of war with those pesky long fabrics). 
Now, maybe you're super clean, don't do much playing in the dirt, and don't have any pets. You could definitely swing that white fluffy rug. But for real, if you're looking for that lush feel, you may want to move toward Moroccan rugs. These rugs are experts at keeping your toes toasty, while also pulling in some plushness. As you may have guessed, these are considered high-pile rugs and are usually made of cotton or wool. Check out some of these Moroccan looks from West Elm. 
Get Inspired 
A rug is an important decision, so don't take it lightly. There are virtually thousands of different styles you can choose. To make your hunt a bit easier though, here's a great read: 10 Sources for Good, Cheap Rugs on a Budget from our friends at Apartment Therapy. So while you're seeking the perfect piece, keep your eyes peeled for some design inspiration. Some of our favorite social accounts to follow these days are Loloi Rugs, West Elm and Apartment Therapy.
Still Need Tips?
You can find Joanna's rug buying guide by clicking here. 
Need More Than a New Rug? Need a New Apartment? 
You can find our available ones right here!
---
There are tons of things to do with friends in New Orleans, Baton Rouge, and the Northshore. From beautiful city parks to the rambunctious nightlife scene, the options seem endless.
But, sometimes it's more fun to stay in and have fun with your buddies at home. That's what game nights are for!
In this post, we'll provide you with some tips on how to host a great game night in your 1st Lake apartment. Pour yourself a glass of wine, grab those board games off the shelf, and read on to learn more!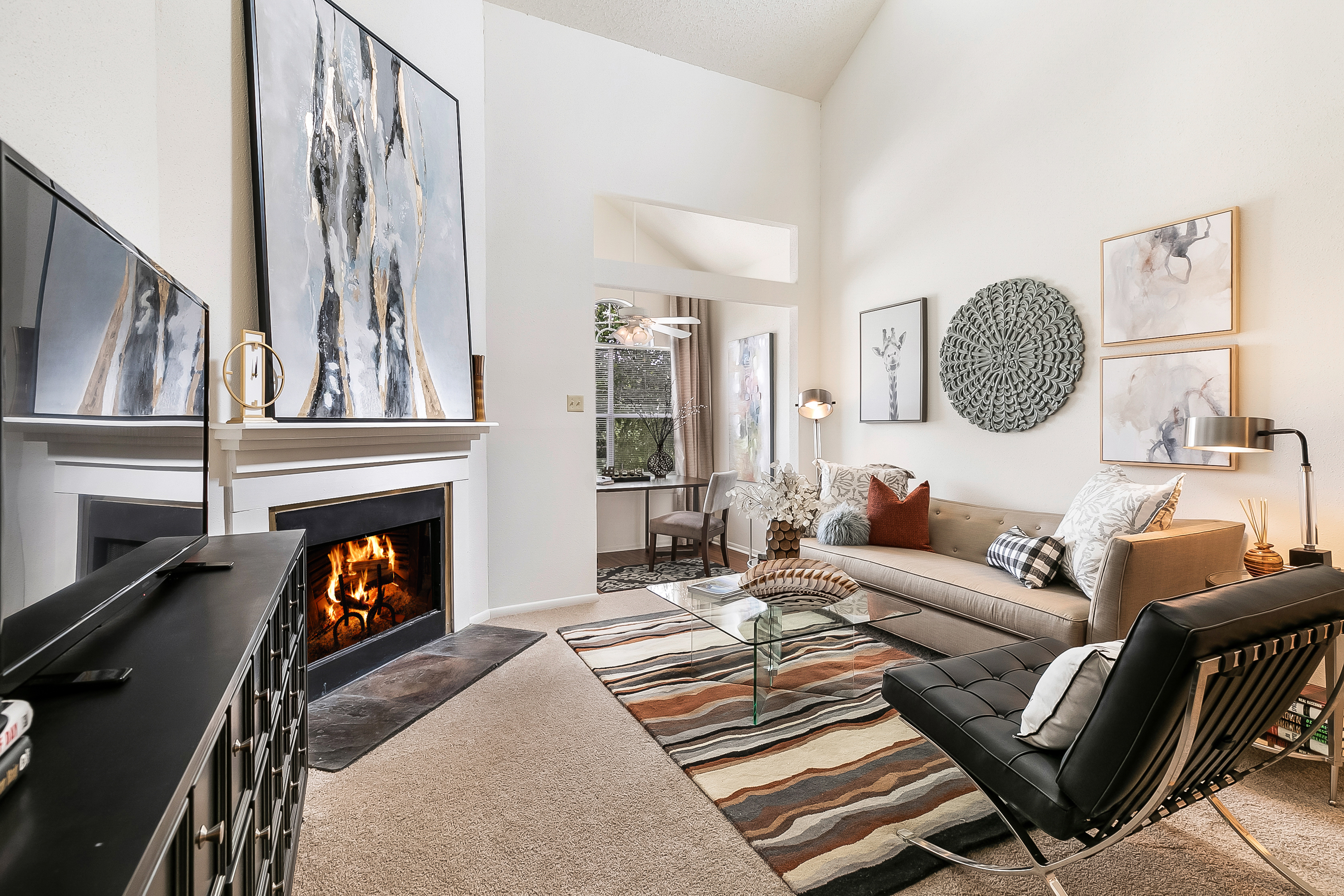 Clean Your Apartment
First things first. Before hosting a game night, it's important to make sure your apartment is in good condition. 
Start by cleaning all the surfaces you'll be using, like coffee tables, counters, and dining tables. Remember that in addition to games, you'll need room for food and drinks.
Make sure your bathrooms are clean and fully stocked. Avoid the awkwardness of running out of toilet paper or hand soap.
Provide ample seating for your guests. De-clutter and organize your living area to maximize couch and chair space, as well as space for walking. 
Wash your dishes and drinking glasses, and check to see if you have enough ice. If you're running low, make a quick trip to the gas station or supermarket and buy a bag or two.
Overall, the lesson here is that your apartment should be tidy and fully stocked with the bare necessities.
Decorate
If you want to liven up your apartment's atmosphere, a few simple decorations go a long way. It just takes a little creativity. Try one of these fun suggestions by apartment therapy: "Make a banner out of Monopoly money, bingo cards or playing cards. Hang vintage board games on the wall or use a Twister mat as a tablecloth."
Food
When you host a game night, it's important to have some snacks on hand. There's no need to provide entire meals for your guests, but consider providing a few of the suggestions below:
Chips and dip (salsa, guacamole, queso)
Fruit
Charcuterie board
Grilled cheese sandwiches
Baked snacks: pretzels, jalapeno poppers
Games
It's important to choose a game that all of your guests want to play. So, we suggest having a few options available to pick from.
Provide options that range from the classic to the contemporary. Twister, Monopoly, Life, Balderdash or even charades are tried and true games that most people are familiar with.
Newer games like Cards Against Humanity, Settlers of Catan, and Code Names are super fun games that aren't very hard to learn. 
For more options, check out this list by Hobby Lark.
Let Us Help You Find a New Place to Host Game Night Today!
Contact us today for information on our private residential communities.
---
Create instant warmth in your home by streaming our cozy, crackling fireplace on your TV, iPad,  or smart phone.  You can stream directly from our blog or head to our Youtube channel.
Let's get crackling!
Want your own apartment with a fireplace? See our list of apartments here:  http://bit.ly/1stlakefireplaceapts.
---
Whether you're entertaining guests or just having a relaxing night watching Netflix, it's important to feel like you've got space to breathe.
Even though 1st Lake's apartments are quite spacious, there are plenty of ways to creatively and elegantly "open up" your home. Read on for a few tips on how to add depth and space to your apartment!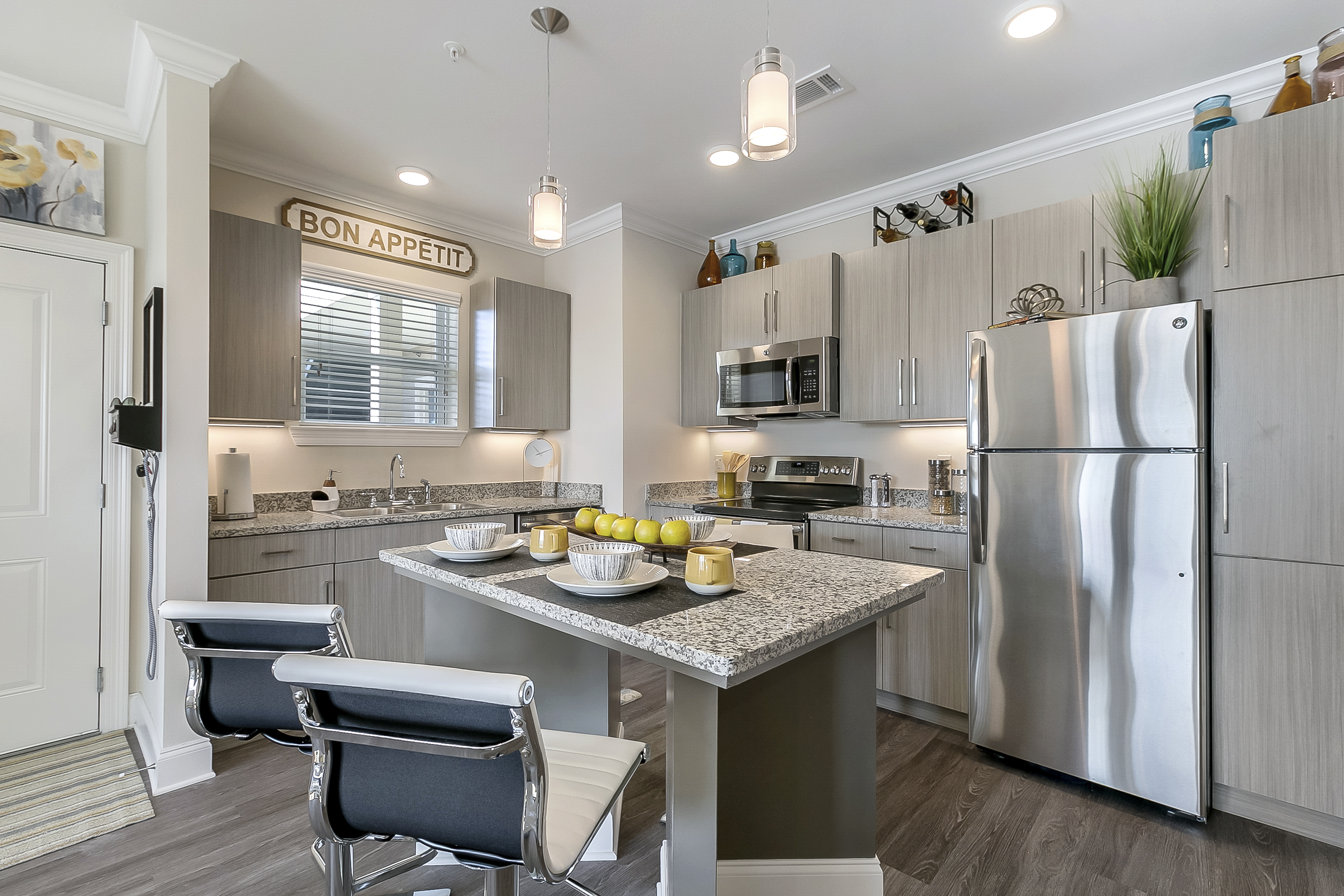 Monochromatic Colors
Implementing a monochromatic color scheme in your living space will immediately give it a sense of increased space and depth. According to Apartment Therapy, "Monochromatic schemes are more peaceful as a rule, as the eye can move easily around the room without abrupt interruption by other colors."
Glass & Mirrors
Adding glass to doors and walls will create the sensation of added space by disrupting the continuity of wallpaper and paint, and mirrors create the perception that your space is twice as large as it actually is. Glass also adds a sense of delicacy to your living room or bathroom.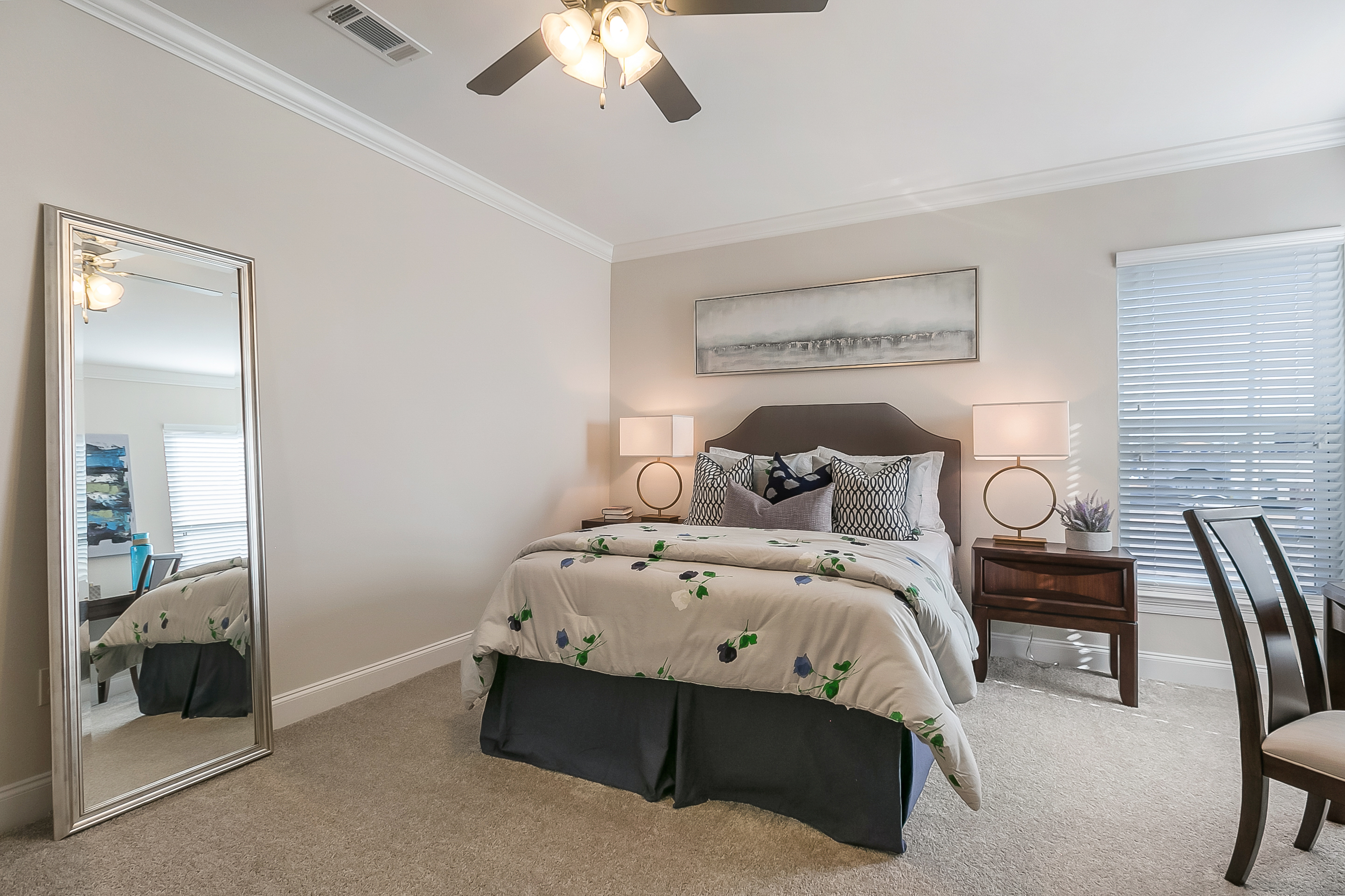 Furniture
Studies have shown that the more furniture you put in a room, the smaller it appears. Try to limit your use of big furniture pieces, such as ornate couches, coffee tables, and chairs.
Try instead using open-framed chairs and tables to maximize visibility within your living spaces. Also, "fitted" furniture designed to hug walls and corners are preferable to pieces that aren't suited to maximize movement within your living space. Mounted televisions and speakers free up lots of space compared to stand-alone units.
Natural Light
Make use of natural light by using light-colored fabrics and sheers for curtains, because they will pleasantly diffuse light.  
Brighter color schemes in your living space will be more reflective of natural or indirect light, giving your room a sense of spaciousness and fluidity.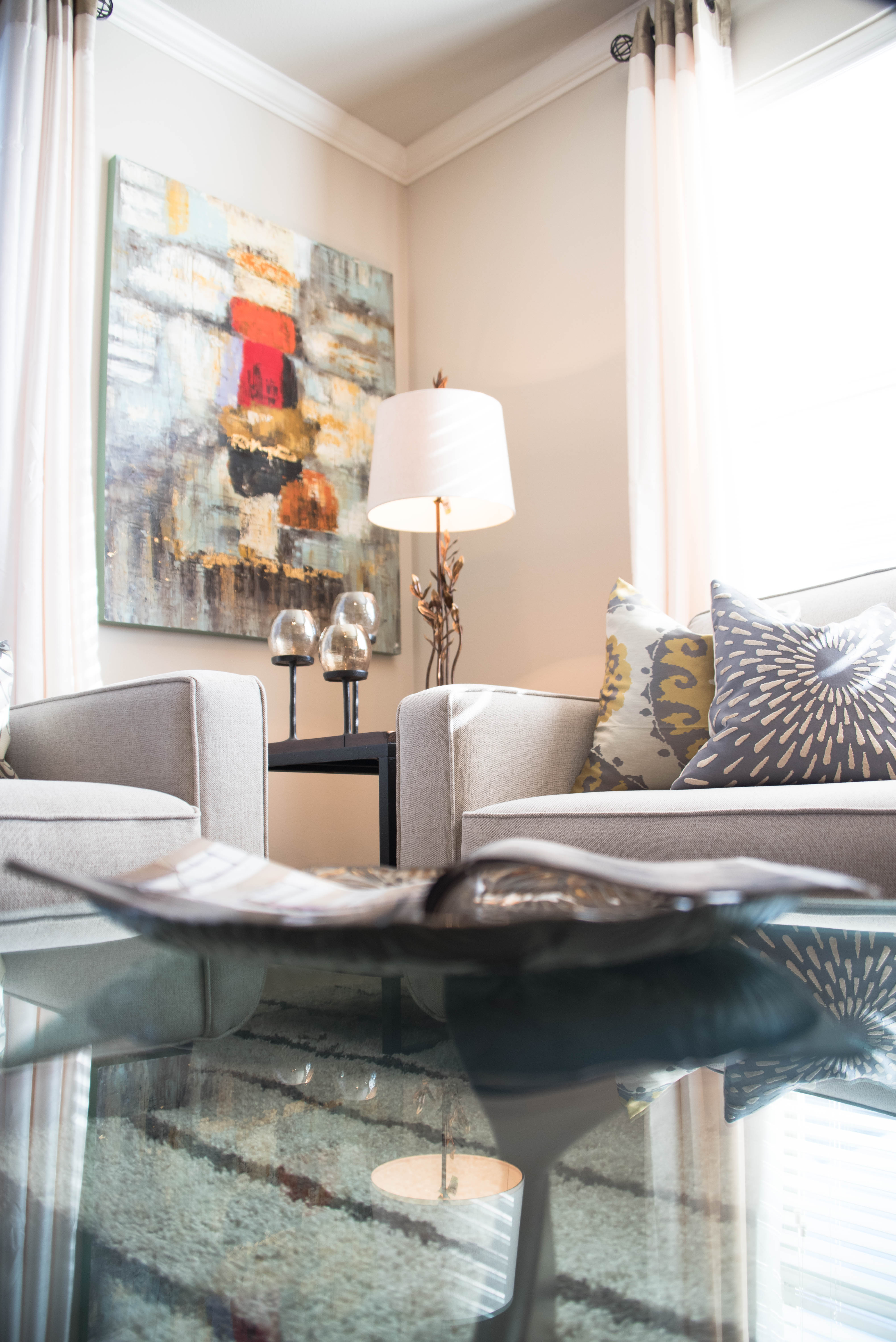 Make Use of Storage Space
Take advantage of the spaces underneath your counters and inside your cabinets. Freshome says, "Don't forget space on top of your cabinets, refrigerator, and back of the bathroom door. In the bedroom, take advantage of space under the bed, and over doorways."
Also, finding ways to hang miscellaneous items within cabinets as well as using vertical bookshelves is a simple and extremely effective way of creating space.
Make Use of All the Space in Your New Apartment Today!
Contact us today for information on our private residential communities.
---