What's your favorite part of the holiday season?
Spending time with family, gift-giving, and some time off of work probably rank high on your list. But what about the food?
The holidays are a time to indulge in deliciousness, and this post will help you do just that in the coming weeks. Read on for 1st Lake's list of holiday baking ideas that will keep you, your family, and your friends full of cookies for the entire season!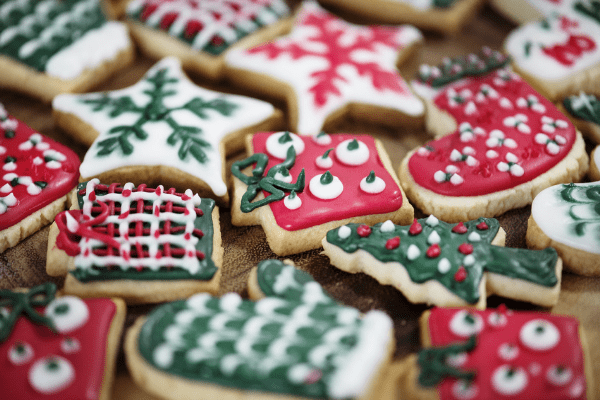 Perfect Sugar Cookies
Delish breaks down the process of baking the perfect batch of classic holiday treats:
Ingredients (Cookie Dough)
3 c.

 

all-purpose flour, plus more for surface
1 tsp. baking powder

1/2 tsp. 

kosher salt
1 c.

 

(2 sticks) butter, softened
1 c.

 

granulated sugar
1 large egg
1 tsp.

 

pure vanilla extract
1 tbsp.

 

milk
Ingredients (Buttercream Frosting)
1 c.

 

(2 sticks) butter, softened
5 c.

 

powdered sugar
1/4 c.

 

heavy cream
1/2 tsp.

 

pure almond extract
1/4 tsp.

 

kosher salt
Food coloring 
Directions
In a large bowl, whisk together flour, baking powder, and salt and set aside.
In another large bowl, beat butter and sugar until fluffy and pale in color. Add egg, milk, and vanilla and beat until combined, then add flour mixture gradually until totally combined.
Shape into a disk and wrap in plastic. Refrigerate 1 hour.
When ready to roll, preheat oven to 350º and line two baking sheets with parchment paper. Lightly flour a clean work surface and roll out dough until 1/8" thick. Cut out shapes and transfer to prepared baking sheets. Freeze 10 minutes (so your shapes hold while baking!).
Meanwhile, make frosting: In a large bowl using a hand mixer, beat butter until smooth, then add powdered sugar and beat until no lumps remain. Add cream, almond extract, and salt and beat until combined.
Bake cookies until edges are lightly golden, 8 to 10 minutes. 
Let cool, then frost and decorate as desired.
Photo by tasteandtellblog.com via Pinterest
Cake Mix Cookies
What if you could eat cake AND cookies at the same time? Well, with Taste and Tell's cake mix cookie recipe, you can!
Ingredients
1 cake mix* (dry ingredients only)
1/2 cup vegetable oil
2 eggs
1/2 cup mix-ins
Directions
Preheat the oven to 350ºF. Line a baking sheet with a

 

silpat liner

 

or

 

parchment paper.
In a bowl, mix together the cake mix, vegetable oil and eggs until combined. Stir in the mix ins.
Scoop the dough onto the prepared baking sheet, at least 2 inches apart. Bake just until the cookies are set in the middle, 10-12 minutes.
Cool for 2 minutes on the baking sheet then transfer to a cooling rack or a sheet of waxed paper.
Eggnog Snickerdoodles
This recipe takes a year-round favorite — snickerdoodles — and adds a holiday twist. 
Ingredients
1 cup butter, softened
2 1/3 cups sugar, divided
1 egg
1 teaspoon vanilla or rum extract
1 cup eggnog
4 1/2 cups flour
1 teaspoon baking soda
1 teaspoon salt
1 teaspoon cream of tartar
1/2 teaspoon ground nutmeg
Directions
Preheat oven to 350 degrees.
In a large bowl, cream together the butter and 2 cups sugar until light and fluffy. Beat in the egg and vanilla.
In a large bowl, sift together the flour, cream of tartar, baking soda and salt.
Add the flour mixture to the creamed mixture, alternately with the eggnog. The dough will be thick and slightly sticky.
Mix together 1/3 cup sugar and 1/2 teaspoon ground nutmeg in a small bowl.
Shape the dough into rounded tablespoons; roll in sugar and nutmeg mixture. Place 2 inches apart on ungreased baking sheets and bake for 8-10 minutes, or until cookies are just set and starting to crack.
This recipe, when done correctly, should only take 30 minutes to prepare. This will save you tons of time when preparing a larger holiday meal.
Gingerbread Cutout Cookies photo by Taste of Home
Gingerbread Cookies
Sally's Baking Addiction describes these delectables as "perfectly spiced, molasses and brown sugar-sweetened holiday goodness." Quite a review! 
Complete your holiday baking vision with these iconic holiday cookies from Taste of Home.
Ingredients
3/4 cup butter, softened
1 cup packed brown sugar
1 large egg, room temperature
3/4 cup molasses
4 cups all-purpose flour
2 teaspoons ground ginger
1-1/2 teaspoons baking soda
1-1/2 teaspoons ground cinnamon
3/4 teaspoon ground cloves
1/4 teaspoon salt
Vanilla frosting of your choice
Red and green paste food coloring
Directions
In a large bowl, cream butter and brown sugar until light and fluffy. Add egg and molasses. Combine the flour, ginger, baking soda, cinnamon, cloves and salt; gradually add to creamed mixture and mix well. Cover and refrigerate until easy to handle, about 4 hours or overnight.
Preheat oven to 350°. On a lightly floured surface, roll dough to 1/8-in. thickness. Cut with floured 2-1/2-in. cookie cutters. Place 1 in. apart on ungreased baking sheets.
Bake until edges are firm, 8-10 minutes. Remove to wire racks to cool. Tint some of the frosting red and some green; leave remaining frosting plain. Decorate cookies.
Bake Your Holiday Treats in Your New 1st Lake Apartment!
Now that you've got the recipes that it takes to fill the holiday season with delicious snacks, let us help you find a beautiful apartment to bake them in! Contact us today for information on our private residential communities.
---
It's that time of year again — when the weather gets colder and family and friends become a priority, and the feeling of togetherness with loved ones warms your heart.
Have you started making your shopping list for the year? For us, making sure we've checked off every name is a fun pursuit, even if it's difficult. 
Shopping for your friends and family is a personal journey that is different for everyone. However, every gift must get wrapped.
That's why we've put together a list of unique gift-wrapping ideas for the holiday season. 
Read on for a few ways to make sure your gift is a memorable one, even before it's opened!
Add Some Evergreen
While wrapping paper may be the most noticeable thing about how you present your gift — and we'll get to that — including a few natural elements that reflect the season is a great way to add some fresh flair to your present. According to Good Housekeeping, "kumquats, holly sprigs, and other seasonal decor attached with floral wire add a burst of color" to an otherwise plain wrapping.
Memorable & Sustainable 
A way to add a personalized touch to your gift is to wrap it in the traditional Japanese "furoshiki" style. A furoshiki wrapping technique uses only a single cloth or square piece of fabric and was created centuries ago in ancient Japanese culture. It is a convenient, economical, and eco-friendly way to wrap gifts.
Below is Wellness Mama's 2 step instruction manual for furoshiki gift wrapping:
Use a yardstick to measure out a square or rectangular piece of fabric. A typical size for a furoshiki wrap is 36 inches by 36 inches, but these can be made larger or smaller depending on what will be wrapped. Larger premade fabric pieces, like tablecloths and bedsheets, will probably also need to be cut down to size.
For a no sew version, cut out the fabric

 

with pinking shears. (Fabric must not be prone to fraying.) Otherwise, use scissors to cut out the measured fabric. Pin the edges like you would for a hem and sew.

Polka Dots
As far as patterns go, plaid is the go-to for holiday gifts. But it's important to differ from the norm if you want your wrapping to stand out. 
Just use a different, but extremely recognizable, pattern. Polka dots!
A Used, But Nice, Button-Down Shirt
Repurposing old dress clothes can be a quirky, fun way to wrap your gifts. In fact, it serves as two gifts in one! Using a button-down shirt to wrap a small gift makes it ready-to-wear.
Check out Country Living's tutorial on reusing patterned clothing for gift wrapping here.
Hand-Painted Wrapping Paper
This is the most personalized wrapping idea on our list. And all it takes is a few markers, or acrylic paint, and a brush. 
By painting minimal, simple patterns on several 24 inches x 36 inches or 18 inches x 24 inches poster boards, you will create plenty of wrapping paper for your gifts. 
Check out these instructions by Camille Styles to make beautiful, personalized wrapping paper for your loved ones:
SUPPLIES
1 hand painted poster board per book
scissors
ruler
pencil
hole punch
ribbon
Lay the book flat on the back side of the poster. Fold the edge of the poster until it covers 2/3 of the book front from top-to bottom. Let the folded poster fall back down and do not move the book. Measure the space between the bottom of the book and the edge of the poster.
Measure and mark the same amount of space from the top edge of the book. Cut along the mark. There should now be the same amount of poster from the top and bottom edge of the book.
Fold the left edge of the poster until it covers 2/3 of the book from left-to-right. Repeat the rest of steps 1 and 2. Your book should now be in the center of a rectangle that's perfectly sized to wrap around it.
Cut the corners out of your rectangle as pictured.
The edge of the folding flaps should line up with the edges of the book, as pictured.
Fold in the top and bottom flaps.
Fold in the left and right flaps, then mark and cut only the left and right flaps to form a triangular envelope shape with a flat point. Make sure that when you cut, these two flaps still overlap when folded.
Use a hole punch to poke two holes into the top flap.
Press the top flap down, and use a pencil to mark through the holes onto the second flap. Punch where holes were marked on the second flap. Repeat onto the third and bottom-most flap until all four flaps have holes punched in them that align.
Cut a long piece of ribbon and thread it through the bottom flap.
Fold the next flap down and thread the ribbon through again, as pictured.
Repeat with the two top flaps, then tie the ribbon into a pretty bow.
Fill Your New 1st Lake Apartment With Holiday Cheer!
Contact us today to learn more about our private gated apartment communities!
---
Create instant holiday warmth in your home by streaming our cozy, crackling fireplace on your TV, iPad,  or smart phone. Throwing a festive party? Use this fireplace as the centerpiece. You can stream directly from our blog or head to our Youtube channel.
Let's get crackling!
Want your own apartment with a fireplace? See our list of apartments here:  http://bit.ly/1stlakefireplaceapts.
---
So, it's the day after Thanksgiving and you have a fridge full of leftovers: Don't throw it out! Luckily, a lot of cooking magazines and lifestyle websites have taken action against pitching Thanksgiving's tastiest dishes. They've come up with a multitude of clever and delicious recipes for your leftovers, so you can finish off your whole feast, pocket some spending money, and save from wasting perfectly good food this year.
Here are some of our favorite ways to reuse your Thanksgiving meal leftovers.
Baked by Rachel's Leftover Thanksgiving Turkey Shepherd's Pie
 Shepherd's Pie is a delicious, flavorful dish that will make use of your leftover turkey and potatoes. Check out Baked by Rachel's recipe here.
Bon Appetit's Turkey and Mushroom Risotto
Do you still have a lot of turkey left? Shred it and use it in Bon Appetit's Turkey and Mushroom Risotto recipe. The dish's gravy is filled with the delicious flavors of mushrooms, onions, parmesan cheese, and parsley. It's a warming winner for a cold weather dinner.
Country Living's Sweet Potato Spoon Breads
It might even be worth cooking more sweet potatoes than needed if it means making this sweet single-serve dish after the big day is over. Country Living's Sweet Potato Spoon Bread with Caramel-Pecan Topping is our favorite way to treat yourself after hosting the holiday at your 1st Lake home. You deserve to celebrate a successful Thanksgiving Day with the help of cinnamon, sugar, caramel, and pecans. Trust us.
Delish's Turkey & Rice Soup
On a simpler note than most of the recipe's we've listed so far, sometimes you just want a quick but exciting meal made from your decadent leftovers. Delish's Turkey & Rice soup is your answer.
Have Your Thanksgiving Leftovers in Your New 1st Lake Apartment
Contact us today to learn more about our private gated apartment communities!
---
Fall is finally here. If you live in Louisiana, that means it's safe to leave the comfort of your air-conditioned living room and head outside for some beautiful weather.
The schedule is jam-packed with lovely fall events. You shouldn't miss any opportunity to spend some time in the crisp autumn air having fun with friends and loved ones.
We've put together a list of events to look out for this fall, so read on to start planning your 2018 autumn itinerary!
New Orleans
Boudin, Bourbon & Beer Festival
On November 9, the Emeril Lagasse Foundation will hold another Boudin, Bourbon & Beer Fest in Champions Square. The festival has quickly become one of New Orleans' most popular outdoor food and music festivals.
The event features a special menu comprised of 70 chefs, both local and national. This year's festival includes co-chairs Donald Link, Stephen Stryjewski and Guy Fieri. If you're a foodie, this one-night event is the place for you. 
The all-inclusive ticket price is $135, and the festival runs from 6:00 p.m. – 10:00 p.m.
Oak Street Po-Boy Festival
The Oak Street Po-Boy Festival is Sunday, November 11 in the Carrollton neighborhood of Uptown New Orleans. Oak Street transforms into a walkway full of great local music, drinks, and over 60 variations of the famous local sandwich.
This year's festival will also feature the "Where Y'arts Market," which will offer local arts and crafts. Check out the full schedule here.
Treme Creole Gumbo Festival
This festival, held in Congo Square and Louis Armstrong Park on November 17 -18, is a local favorite. Even better, admission is free!
The festival features a wonderful variety of gumbos to choose from. You'll find Creole gumbo, seafood gumbo, chicken & sausage gumbo, and much more. There's also a great music lineup centered primarily around jazz.
If you think eating a delicious bowl of gumbo while listening to New Orleans jazz in the park sounds like a good time, you should definitely attend the Treme Creole Gumbo Festival.
Baton Rouge
Cajun Country Corn Maze
Every weekend from September 29 – November 25, you can go to the Cajun Country Corn Maze, and it's the perfect place to enjoy the fall. The maze is constructed from a 7.5 acre corn field, and takes 1 – 1.5 hours on average to walk through.
It's located in the countryside just outside of Baton Rouge. Check out the maze's official website for detailed directions.
White Light Night
On Friday, November 16 from 6:00 p.m. – 10:00 p.m., the Mid City Art & Design Cultural District of Baton Rouge celebrates local art and music with White Light Night.
Head down to bustling Mid City, Baton Rouge's cultural hub, and enjoy the local businesses along the oak-lined streets. The festival is free, and functions as a way to stimulate the Baton Rouge economy and showcase the city's most exciting artists and small businesses. 
Have A Fantastic Fall With 1st Lake This Year!
We hope you take advantage of the beautiful weather and jam-packed events schedule this autumn in Louisiana. Contact us today to learn more about our private gated apartment communities!
---