In Thrillist's latest article, The Best American Cities for Creatives (That You Can Actually Afford to Live In), guess who ranked top 15?
That's right! Nola is booming with opportunities for creatives to work and live without busting the bank. 
With such an influx of incredible people making the move here, we've been adding even more apartments and even better amenities! From resort-style pools with poolside food delivery to free bike rentals, it's even more enticing to make your home here. Not to mention, all of the incredible attractions throughout the Greater New Orleans area like biking paths and Farmers Markets!
But if you're like us, you prefer having the option to head into the city when you want to, while dwelling in the suburbs for your day in and day out routine. For that reason, we have bark parks and outdoor fitness centers, movie rentals and more, so you never really have to leave if you don't want. Plus, all of our communities are just a short drive from some of the best shopping, dining, and entertaining you can find! 
Need help looking for a new apartment? We'd love to help. Just head to our homepage and start your apartment search today! Or, you can take our apartment quiz to find out which apartment size is just right for you!
---
---
It's springtime, and that means it's time to give your apartment the deep clean it deserves. Soon, you'll be having family gatherings and dinner parties with friends, and the relaxed housekeeping techniques you used during your winter hibernation will need to change.
Read on for the best ways to deep clean the rooms in your apartment.

The Living Room
Your living room is a notorious location for dust. That's why dusting is priority number 1 here. 
Using a duster, dust the living room from top to bottom. We mean that literally: start by dusting the corners of the ceiling, move to picture frames, tabletops and furniture, and then thoroughly dust the baseboards. After you've systematically dusted the room, move on to the door frames. 
Next, use a rag, water, and furniture polish to scrub down any chair/couch legs and tabletops. Once you've cleaned all the hard surfaces, use your vacuum hose attachment to remove debris from all cushions and crevices. Next, vacuum the carpet and mop any wood flooring. 
The Kitchen
First, use the same dusting process you used in the living room.
Next, explore the refrigerator. Chances are you'll need to throw out some expired food and clean some spills. Scrub the interior of the refrigerator thoroughly, and wipe it down with a dry towel.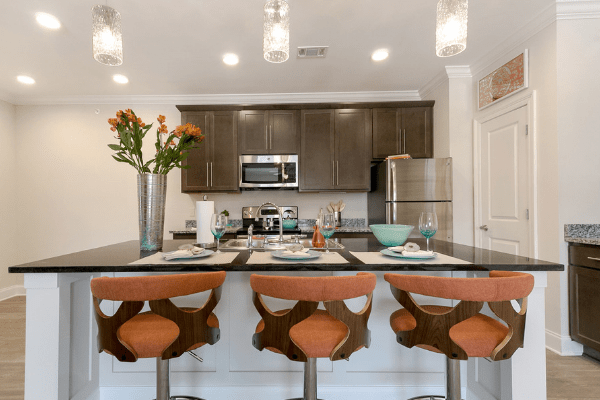 Using disinfectant, scrub all appliances (stove, oven, microwave, etc.) with the same care that you cleaned the refrigerator. Afterwards, disinfect all kitchen surfaces so that you can cook in a sterile environment. Finish cleaning the kitchen by mopping the floor. 
The Bedroom
Winter coats, furry sweaters, thick scarves–these things can take up a lot of space in your closets and dressers. Fold 'em up in an air tight space bag and place them on the top shelf of your closet! Have items you know you'll never wear again? Pack those up too and bring them to your local donation center.

Next, your bed. Let's clear the air and admit: we've all shoved things under our beds right before company comes over. But today is the day you tackle that beast. Take a few minutes to climb under there and remove any items you find. You might just stumble upon that other sock you've been looking for or that sandwich you made a few weeks ago (we won't tell). Trash what's trash and re-organize what's important.
Curtains and carpet: we hope you clean these items more than just once a year, but in the event that you don't, it's time to start. Give your carpets a deep vacuum to remove any pet hair, human hair, dust, and dirt. There's nothing like fresh vacuum lines marking the trail of your cleanliness. Curtains are the next thing you will want to vacuum. Grab your handheld vacuum for this task. Then from top to bottom, bust that dust!    
The Bathroom
Dust all necessary items, just like the living room and the kitchen.
Use a glass cleaner to make your mirror shine! Disinfect the counters and sink.  Scrub the shower/tub area with a mild cleaner like distilled vinegar, and use mildew spray if necessary afterward. Wash or replace your shower curtain if necessary.
Tackle the toilet bowl with toilet bowl disinfectant. Make sure to clean the handle and seat. 
Last, mop the floor, and enjoy your fresh bathroom!

Other Resources
There are plenty of other sites that have great tips on giving your apartment a deep clean. Try Apartments.com, BuzzFeed, and U-Pack for more great cleaning advice.
Once your apartment is clean as a whistle, start inviting your friends to your apartment with pride!
---
It seems like each new Mardi Gras season brings a whole new wave of king cake creations.  With just one week left of Carnival, you have lots to try and little time!  To make things a little easier, here's our breakdown of the delectable desserts you must try before it's too late! 
Chocolate Addict? Us Too.
That's why we're obsessed with Bittersweet Confections' Chocolate King Cake filled with chocolate cream cheese. Cue the drool. 
Cannolis and Cookies…In a King Cake? Oh Yeah. 
Two unexpected favorites of ours include the Cannoli King Cake from Nor-Joe Imports (Metairie's Favorite Italian Deli & Grocery) and Cookie Dough King Cake from Caluda's King Cake! Both of these spots are centrally located near many of our apartment communities. The Cannoli King Cake is everything you are thinking and more. The delicious traditional king cake gets an Italian twist with sliced almonds topping this decadent, cannoli-filled pastry. 
Back at Caluda's King Cakes, you'll get your hands on special flavors each week like Cookie Dough King Cake and Banana's Foster. But you might miss your window of opportunity on your new favorite flavor, because this baking crew rolls out new dough each week! Check their Instagram to keep yourself in-the-know. 
Trying to Be Healthy This Carnival?
How about some portion control to help curb the carbs? District Donuts has you covered (sort of) by offering king cake donuts. Get all the king cake flavors jam packed into a tiny(ish) version of this season's sweet of choice. 
Now if you're really trying to cool it with the carbs and sugar, try the healthy king cake everyone's been talking about: Eat Fit Nola's King Cake. This traditional treat checks all our health boxes: it's all-natural, gluten-free, Keto friendly, low carb, & absolutely delicious. Yep, that about does it. 
Tried All Those and Still Want More?
Our friends at GoNola wrote a very extensive blog on all the king cake finds this city offers. Check it out here!
---

Welcome to our Bella Ridge South info page! Here, you can sign up to receive email updates of our newest luxury apartment community in River Ridge, Bella Ridge South! When completed, Bella Ridge South will be a 240-unit luxurious community with high-end apartments and must-have amenities.
Bella Ridge South, which broke ground last month, will feature exclusive amenities our residents have come to expect (plus some not-so-expected surprises!). These amenities include bike rentals, a Lifestyle Center with a kitchenette, TV, hang out space, a serenity fountain, and a dog park. Residents will also enjoy package lockers, a resort-style pool, a fitness center, a dog wash area, ride-share pick up, bike storage and a fully covered parking garage. Residents will be able to park on the same floor as their apartment and be just a few steps away from their front door.
The community is minutes from local dining, shopping and entertainment spots like the Elmwood Shopping Center, Zea's, DSW, AMC Palace Theater, Theo's Pizza, Zoe's Kitchen, Hour Blast, District Donuts, and more!
Click our subscribe button below to be the first to know about Bella Ridge South updates like availability, floor plans and amenities!
---