It's Monday in New Orleans and everywhere you go, Red Beans and Rice are what's being served. Dating back to the 19th century, New Orleanians and Louisianians alike have gathered around a large pot of Red Beans and Rice for Monday dinners. Traditionally, ham was served on Sundays in New Orleans and the leftover ham bone would be used the next day for flavoring. There are many ways to prepare a Red Beans and Rice dish. Some use sausage, some use pork, some with rice, and some don't use anything but the beans! No matter how it's cooked, you know it'll be good! 
When Governor John Bel Edwards signed his proclamation that Monday, March 22 will be a statewide Red Beans and Rice Day, we headed straight to Bobby Hebert's Cajun Cannon restaurant, where our residents get special discounts! If you're a resident of any 1st Lake Properties community, login to the resident portal to access your 15% off coupon!
Chef Karlton prepared two heaping servings of red beans with a bed of rice and a yummy roll. Following their staff's recommendation, we also got a plate of their fried chicken on the side. We loved their suggestion and learned the secret to their unique fried chicken – it was battered in fish fry!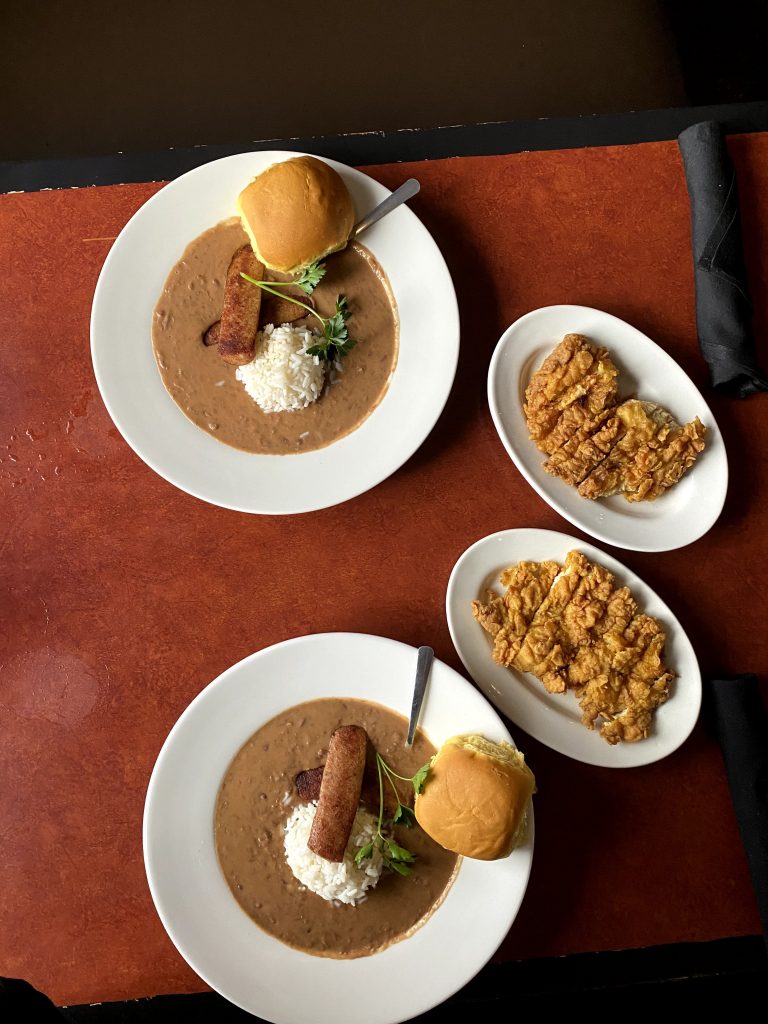 Looking for a smaller portion? Bobby Hebert's Red Beans and Rice is served as a side or appetizer! 
---
It's Mardi Gras, y'all! This year Mardi Gras may look a little different, but that hasn't stopped Louisiana from parading! Hundreds of houses across the New Orleans area are participating in The Krewe of House Floats, and the official map can be viewed here.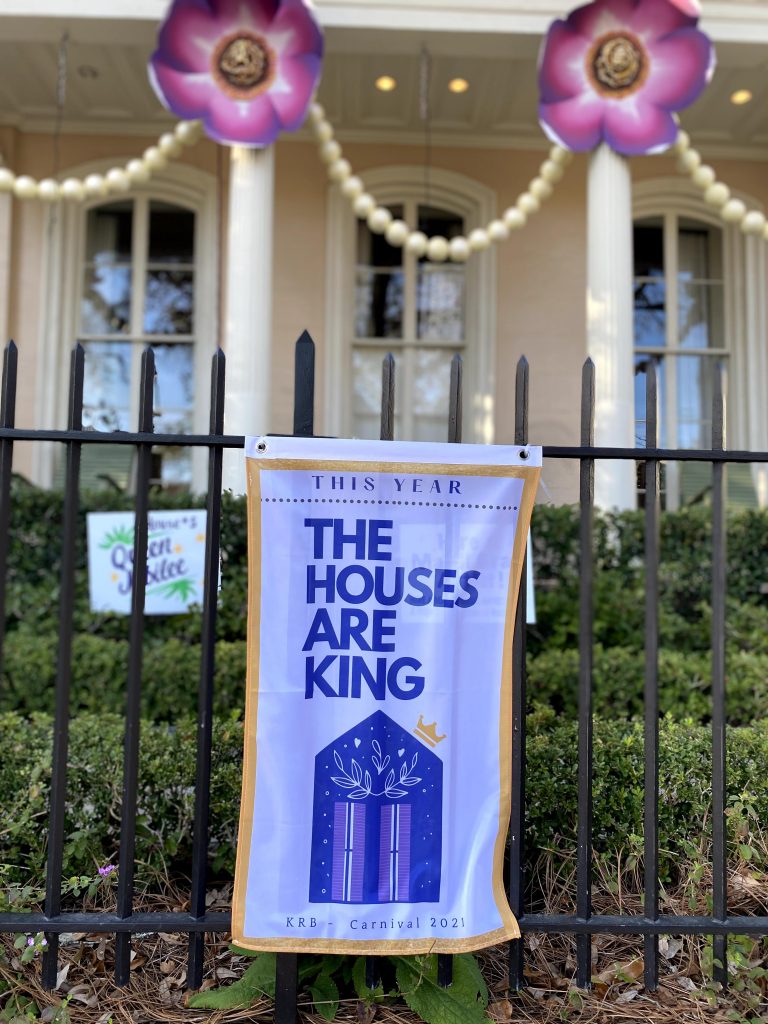 A lot of our communities at 1st Lake Properties, are just minutes away, so we planned an entire day for you and your family to celebrate Mardi Gras this year! You can see our favorite houses on the map below, or by clicking here!
Our map starts at Bella Ridge South, our newest community in River Ridge. 
To kick off the day, head on over to Beads by the Dozen. Grab a fun bead, a boa, maybe a wig for the pup, whatever speaks to you! After grabbing your Mardi Gras essentials, head to PJ's coffee for their amazing King Cake Latte, and then get on the road!
We recommend taking the Earhart expressway to the first stop, on Zimpel street. Continue on the route to one of our favorite houses on Fern titled, "Snacking in Place".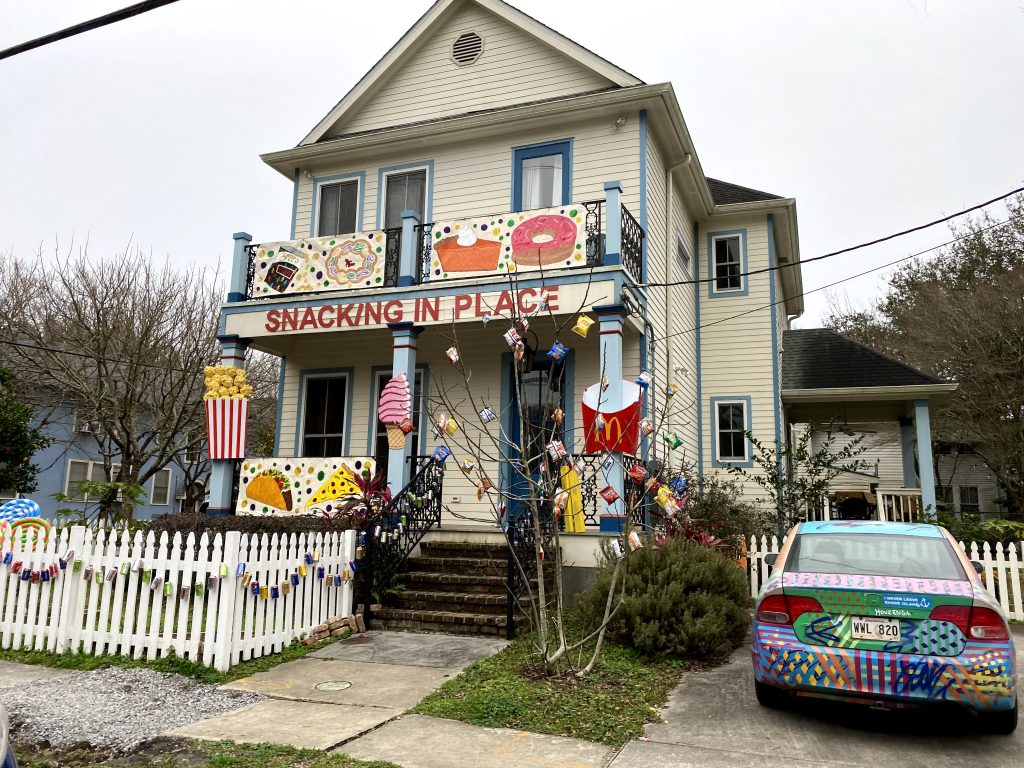 Next up, visit St. Charles Ave and see favorites, like DINOgras, Maison Maskerade, The Animal House, The Flower House, and more!
Take a quick break after visiting the houses on St. Charles, for some Popeyes! Because what is Mardi Gras without some delicious fried chicken. Next on the map is Magazine St., where many businesses and residents also decorated! One of our favorite houses is the Mardi Gras Chatter house on Valence Street, which has common Mardi Gras sayings on display!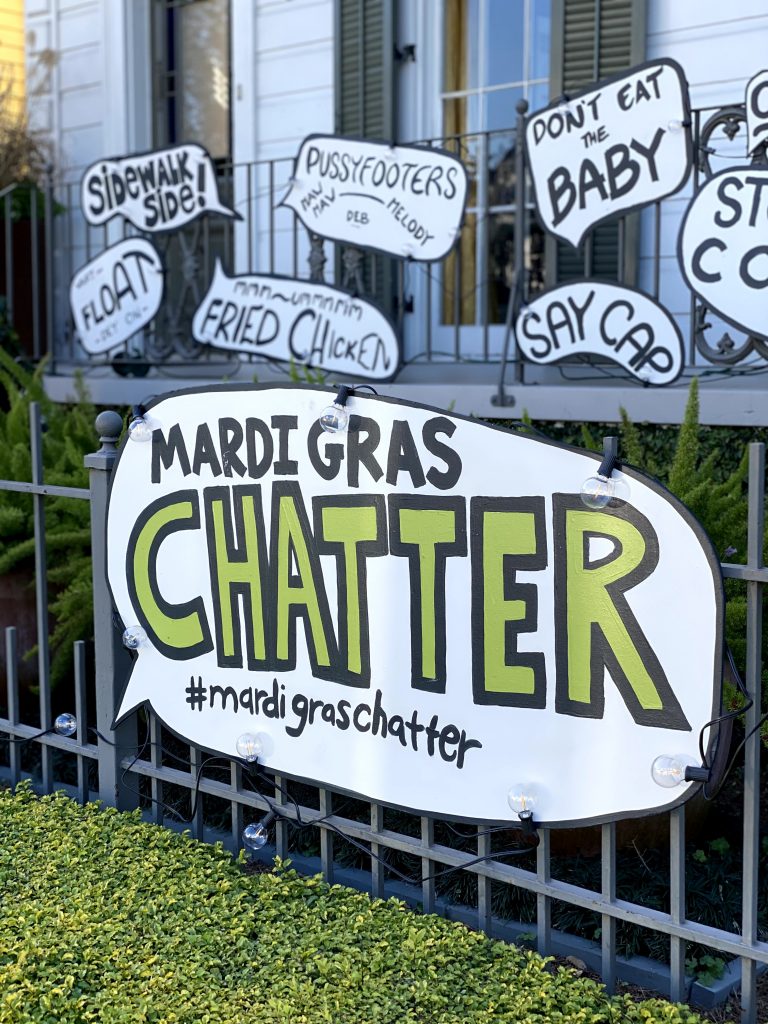 The last house that you can't miss is called: The Moira Rose, which is located on Canal Street in Lakeview near City Park.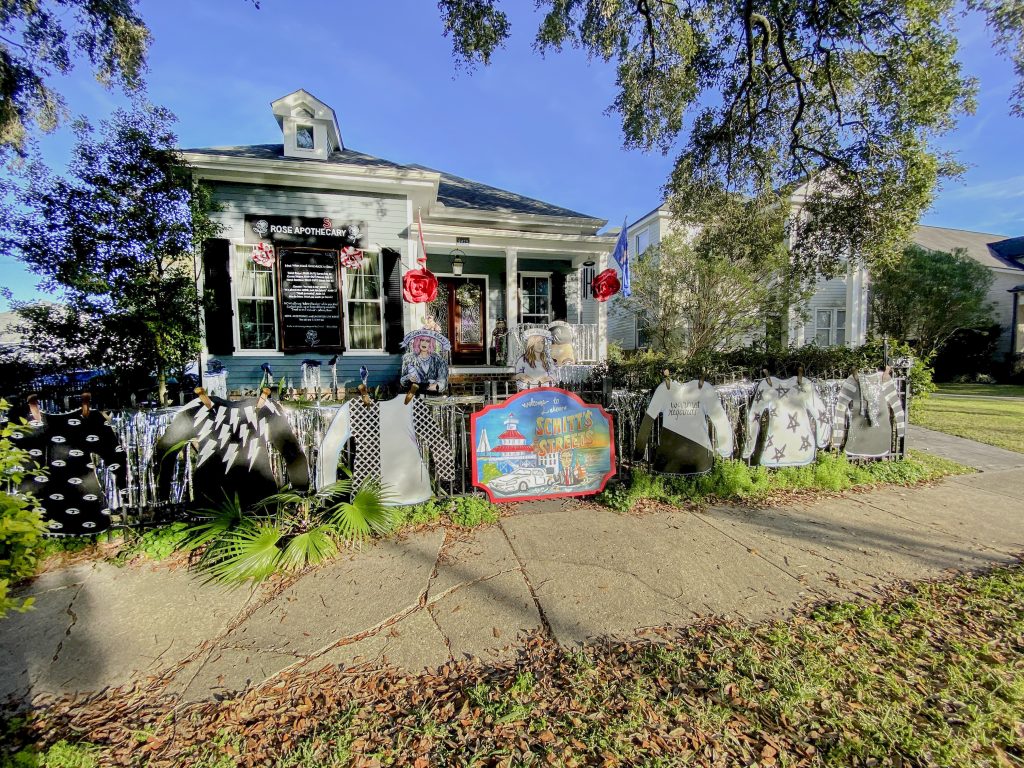 Finish off the perfect day by visiting City Parks Float in The Oaks. Floats in the Oaks will open Thursday, February 4th through Sunday, February 14th. 
---
Need some help planning the perfect Valentine's Date Night at home? We have some quick and easy tips on how to decorate and enjoy an evening in your own space!
Dine In Your Den
Bring the dinner date home by ordering take-out or delivery from your favorite restaurant. We love to go local and get our favorite cajun dishes from Bobby Hebert's Cajun Cannon restaurant or visiting The Gregory in Baton Rouge. You could even try out Parcel, a local subscription meal service, for a gift that keeps on giving. Like to cook up something yummy yourself? Visit the Crescent City or Red Stick Farmer's Markets to help create your perfect dinner! 
Spruce Up Your Space
Show some love to your place! We ran by Hobby Lobby and the Dollar Tree to grab these cute decorations and dress up our table setting. Want to have your place look AND smell great? Visit Villere's Florist to get some fresh blooms to accent your decor!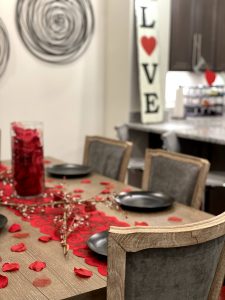 Don't limit your creativeness to just one room, embrace the theme throughout. We were able to dress up a few different areas to make our apartments look darling!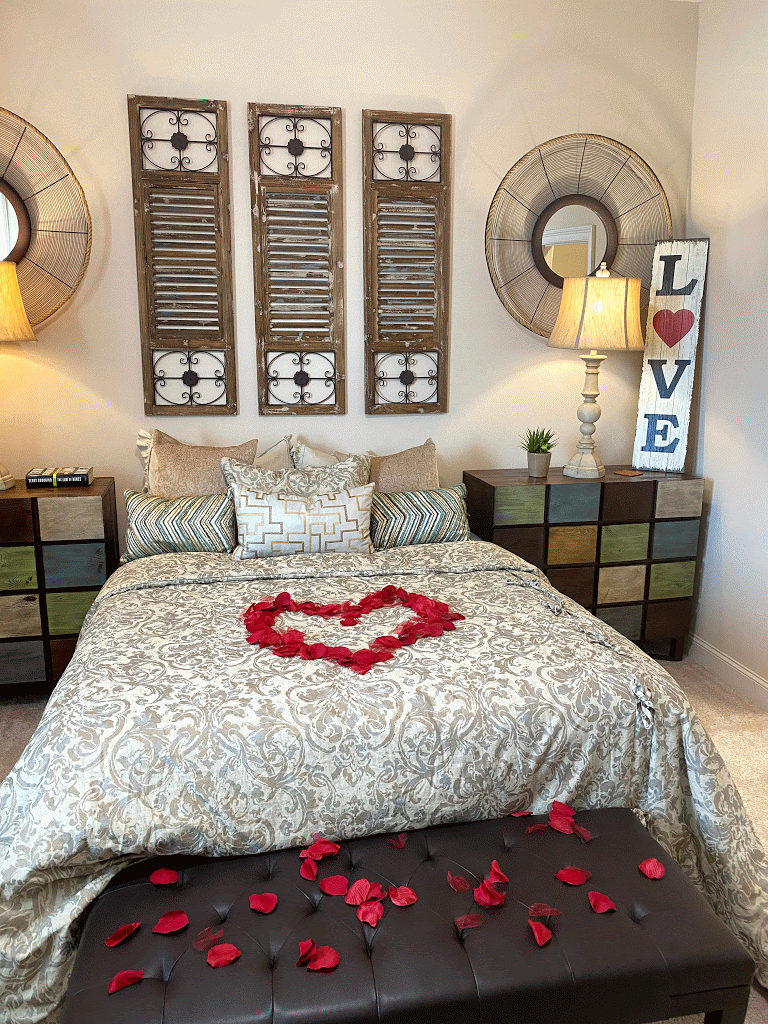 Savor Some Sweets
Get your cutie pie some treats from your local bakery. We cured our sweet tooth with these adorable goodies from Vain Villian Candy!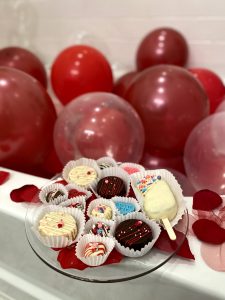 Looking for a new home to celebrate your V-Day? Let us help you find your perfect fit today!
---
Creating a show-stopping table setting for the holiday season is a must! Wow your guests with these easy tips and tricks.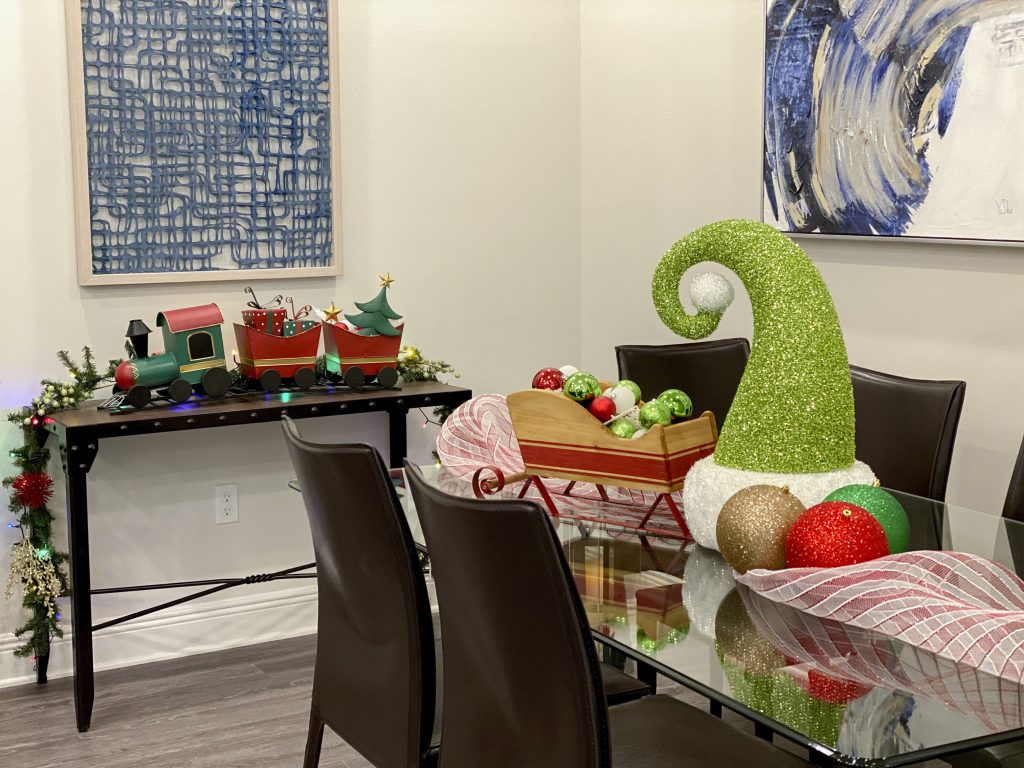 Keep It Simple 
Use items that you already have. Candles make for great centerpieces, and if you have neutral placemats those work too! 
Be Creative 
Adding a pop of color to your table makes it fun and inviting. At Bella Ridge South, we decided to bring color into the model and grabbed these fun pieces from Hobby Lobby.
Pick A Color Theme
Whether you want your table colors to match the rest of your holiday decor or you want to set your own tone, pick a color theme, and run with it! 
Decide On Your Centerpiece
The centerpiece of your table will be the focal point. The place where everyone's eyes go to first. Add height to your centerpiece to draw even more attention to the table.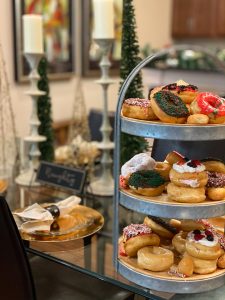 Add Some Donuts To Your Table
What better way to welcome guests than with a tray full of donuts! We grabbed our delicious doughnuts from Little J's Donuts on Hickory Ave in Harahan. 
Create A Delicious Vibe With Cookies
If donuts aren't your first pick for dessert, try baking up some festive cookies to add to your place settings or as a centerpiece. Not sure which recipe you want to try? No worries, we have our favorites here! 
Have Fun
More than anything, your table should represent you. Have fun with however you decided and don't be afraid to try something new.
Need more ideas for hosting this holiday season? Check out our tips for creating the perfect charcuterie board!
Looking for a new place to decorate? We can help with that! Check out our current specials and find your new home today!
---
A typical Charcuterie board usually consists of a variety of meats and cheeses and is a staple for holiday parties. This year, they have become more popular and people are making their boards with a variety of different items! 
We tried our hand at it with a couple of our own twists and tricks! See how we assembled two, modern charcuterie boards just in time for the holiday season, using items you will love! 
A Cheddar Together Board
First up, we created a charcuterie board that pairs perfectly with a glass of wine! Our board included three main ingredients: cheese, grapes, and crackers. All of which were purchased from Rouses! This year, our holiday decor at Artesia Apartments featured a lot of snowflakes, and we decided to bring those elements to the board.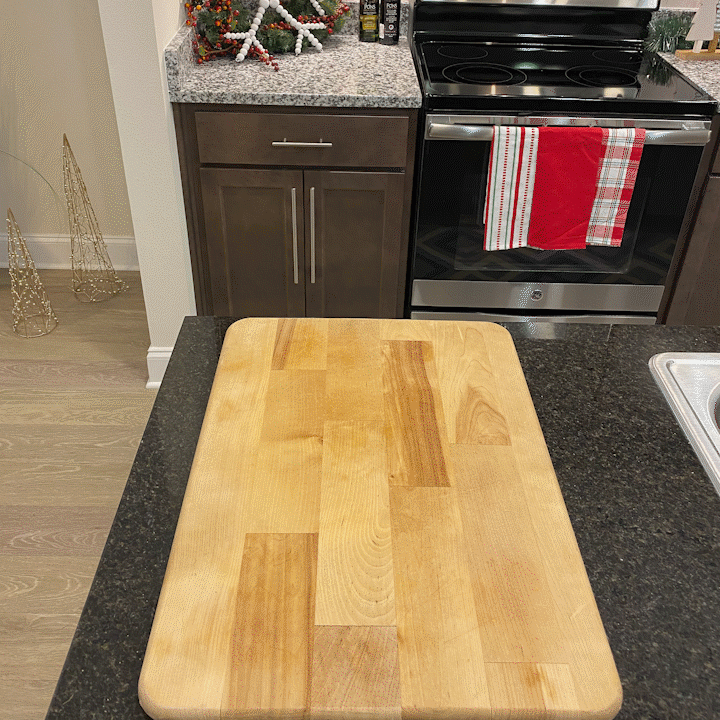 We placed tinsel in the shape of a tree and alternated between grapes and cheese. Add some snowflakes on top and you have a cheesy winter wonderland scene. Not only did this one come out tasty, but it also added a festive flair to our countertop! 
Dreamy Dessert Board
For our second board, we decided to go down a sweeter path to make the dessert board of our dreams! We gathered all of our favorite holiday treats and found the perfect spot to share, at our new apartment community, Bella Ridge South.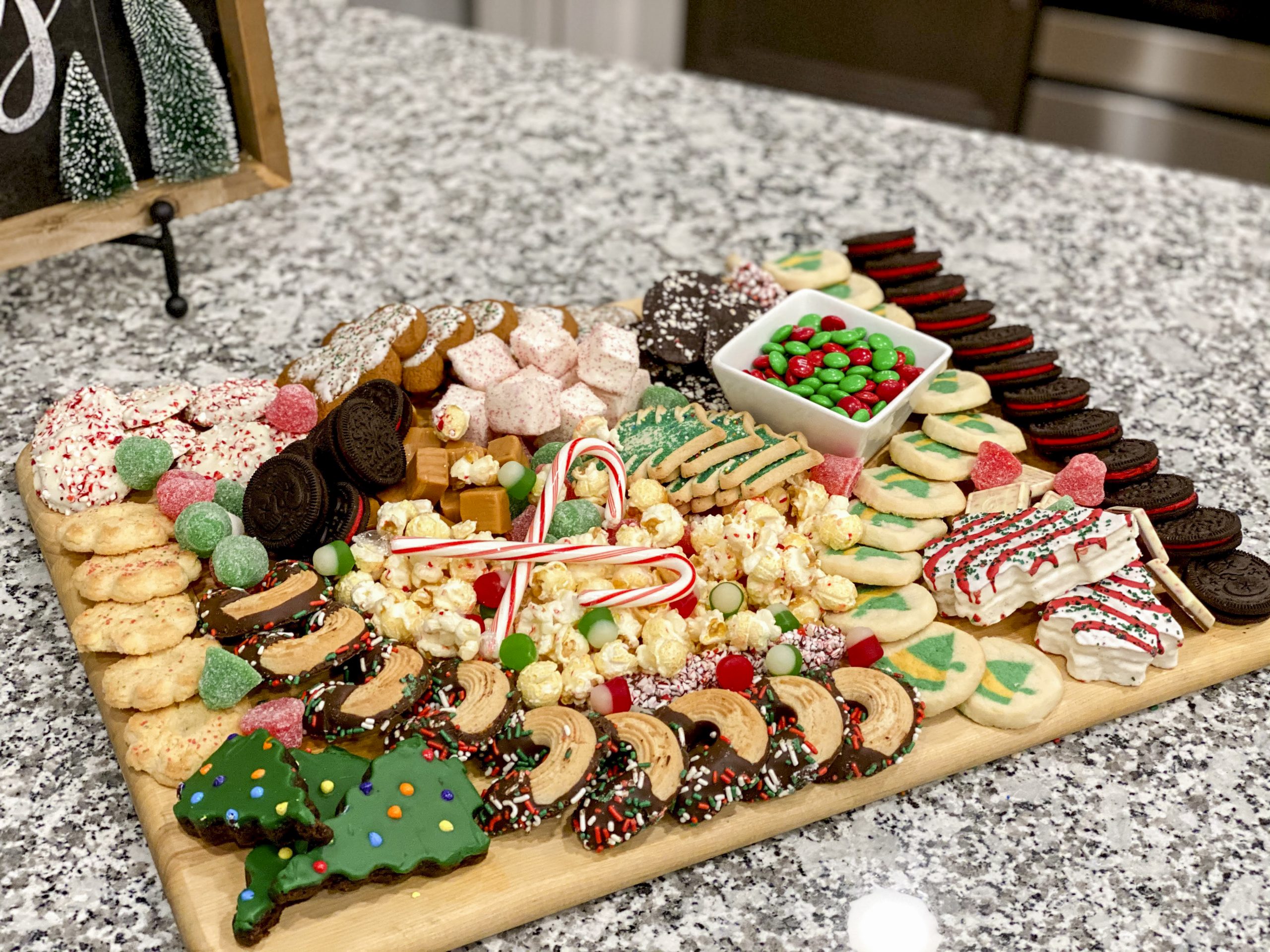 We suggest making yourself a delicious cup of hot chocolate or egg nog to enjoy this one. From staples like Little Debbie Treats, red and green gumdrops to peppermint marshmallows and even Oreo cookies, this board had everything! Adding popcorn and pretzels is a great way to add a splash of salty snacks into the mix. The final product is perfect to leave in the kitchen for midnight snacking or even to make as your table's centerpiece!
With oversized kitchens and huge floorplans, our apartment homes are a perfect place to come home to for the holidays!
For more ideas on holiday decorating, check out our blog on how to create a Show-Stopping Table Setting! 
---