As the days get longer and the weather gets warmer, you may want to celebrate the end of your winter hibernation by inviting family and loved ones over for a weekend gathering. Or maybe you've been asked to help out a friend hosting a backyard cookout. While events like these are joyful, important elements of our social lives, they also take some planning, which can be stressful. We're here to tell you it doesn't have to be that way!
We've put together some basic tips for hosting a great get-together, as well as a few easy recipes for keeping large groups of people well-fed and satisfied.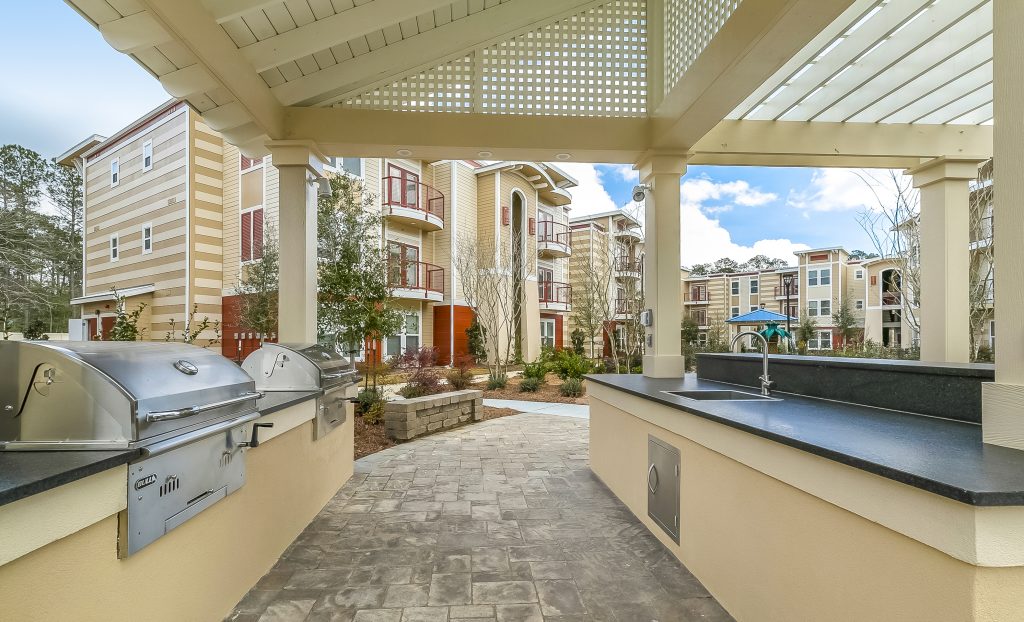 Basic Tips for Stress-Free Hosting
1. Simple is Better
There's no need to weigh down the atmosphere with painstaking details that – let's be honest – only you will notice. Keeping food, decor, and expectations casual will let all your guests know that everyone is just there to have a good time.
2. Make Food in Advance
It's a good idea to prepare as much food as you can before your guests arrive. You don't want anyone waiting around with an empty stomach for too long. This will also give you time to adjust if an unforeseen problem arises. 
3. Only Clean What's Necessary
Cleanliness is a good thing, obviously. However, there's no need to deep clean your home in places where your guests will not be spending any time. Give your attention to bathrooms, the kitchen, and your living room. But don't sweat the small stuff: nobody will judge you if a throw pillow isn't fluffed.
Simple Recipes for a Stress-Free Gathering
Here are two easy, crowd-pleasing recipes from CDKitchen, a great online resource for simple dishes.
1. 25 Minute Meat Loaf
Ingredients
Meat:
3 pounds ground beef
1 teaspoon salt
1/2 teaspoon black pepper
4 tablespoons dry onion flakes
2 large egg, beaten
2 cups breadcrumbs
2 cans (8 ounce size) tomato sauce
Sauce:
2 cans (8 ounce size) tomato sauce
4 tablespoons brown sugar
4 tablespoons chopped fresh parsley
2 teaspoons Worcestershire sauce
Directions
Preheat oven to 450 degrees F. 
For the meatloaf, combine the ground beef, salt, pepper, and onion flakes until just mixed. Add the beaten egg and breadcrumbs and mix well. Gently mix in the tomato sauce. Shape the meat into small oval loaves and place in a single layer in a baking dish (not touching each other if possible). Place the baking dish in the oven and bake for 20 minutes at 450 degrees F. Drain off excess grease. 
For the sauce, combine the tomato sauce, brown sugar, parsley, and Worcestershire sauce until well blended. Pour the sauce over the meatloaves in the baking dish and bake for 5 more minutes or until meatloaves are cooked through. Serve hot or cold.
2. Roaster Oven Corn on the Cob
Ingredients
3 cups hot water
12 ears corn on the cob, shucked
Directions
Place a rack in the bottom of an 18-quart roaster oven. Add the water. Cover and heat to 400 degrees F for 20 minutes. Place the shucked corn on the rack. Cover, and let the corn cook for 25-30 minutes or until tender. To keep the corn warm during serving, reduce the roaster oven temp to 300 degrees F.
3. Potato Onion Tomato Curry
Ingredients
4 potato, cut into cubes
2 onion, cut into cubes
1 bay leaf
1 piece (1 inch size) finely chopped ginger
4 green chiles, sliced lengthwise
1/2 teaspoon panch phoron
1/2 teaspoon red chili powder
2 chopped tomato
1/2 teaspoon turmeric powder
2 whole red chiles
salt, to taste
1/2 teaspoon sugar
2 bunches chopped cilantro
2 cups water
Directions
For seasoning: Heat oil. Add panch phoron, bay leaf and whole red chili. Fry for 30 seconds. Add potato and onion. Fry for a few minutes. Add salt, turmeric powder and red chili powder. Fry for a few minutes. Add chopped tomatoes, salt and sugar. Fry for few minutes. Add water and cook till potatoes are cooked properly and gravy just thickens. Remove from heat. Garnish with chopped cilantro leaves and serve with roti, puri or paratha.
---
Spring is just around the corner, and that means it's time to start enjoying the outdoors again. And while everyone seems to be looking forward to beach vacations and picnics in the park, you should also consider taking your exercise routine outside of the gym. Although it may be tempting to stay inside — climate control, predictable conditions, and convenience are three major factors — studies show that there are many physical and psychological benefits to exercising outdoors.
Read on to learn a few major benefits of outdoor exercise!
Outdoor Exercise Equals an Improved Mood
Studies have also shown that individuals that exercise outdoors "score significantly higher on measures of vitality, enthusiasm, pleasure and self-esteem and lower on tension, depression and fatigue" in comparison to those who exercise inside. Activities such as walking, jogging or gardening can make one feel more connected to nature. They also increase exposure to sunlight and vitamin D.
Many First Lake Properties have outdoor amenities like nature paths and swimming pools, placing your "outdoor gym" just a few steps away.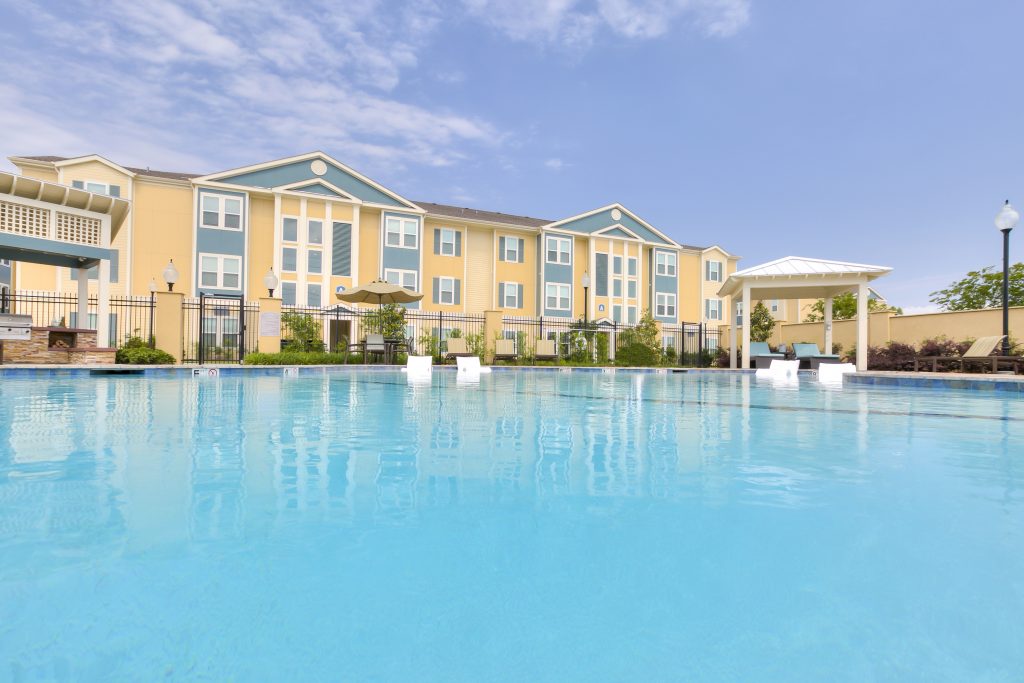 Low Cost
If your budget doesn't allow for a costly gym membership, the solution is right outside your front door. According to ACE Fitness, the cost of a gym is commonly cited as a major barrier to regular exercise. In addition to cost, it's often time consuming to travel to and from a gym. Traffic, parking, and other factors can add up to several additional hours to your exercise regimen, leaving no time for leisure after a long day at work. 
Taking your fitness routine into the great outdoors provides an immediate, low-cost solution. Low-traffic neighborhoods and nature trails are just waiting to be explored!
Wind Resistance & Natural Challenges
If you've been using a treadmill this winter, consider finding a scenic pathway for your jogs instead. Studies show that when running on a treadmill, runners expend less energy due to a lack of wind resistance. Natural terrain also forces runners to stride differently, causing them to flex their ankles more. Exercising in a constantly changing environment causes your body's connective tissue to become more adaptive, and may prevent certain injuries over time.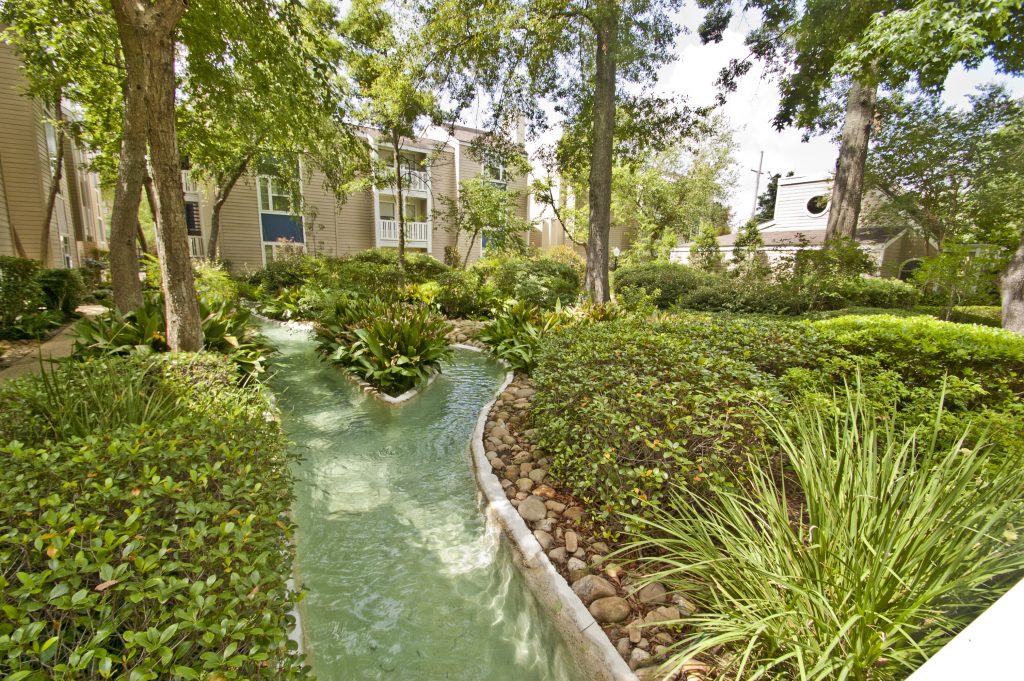 Now that you know all that you stand to gain from spending more time outdoors this spring, check out our beautiful residential properties and prepare for a springtime full of activity with 1st Lake!
---
Sleep experts say that we spend about one third of our lives sleeping, which is probably more time than we devote to any other activity. And if you're like us, you cherish every hour of rest. Taking care of your mattress – and knowing when to buy a new one – will keep you from missing out on optimal sleep and all the health benefits associated with it.
A mattress's age, the quality of sleep it provides, and your personal health concerns all play major roles in determining when it's time to move on to a superior sleeping arrangement. In this article, we'll explain a few signs that it's time to replace your mattress, as well as how to choose one that suits your personal needs.
Knowing When It's Time
First, it's important to take an inventory of any health issues that are affecting your quality of sleep. Have you recently been diagnosed with arthritis or sleep apnea? If so, it's essential that your mattress is helping rather than hurting your condition. If your mattress has been around for a while, it's likely that it's not providing you with optimal comfort.
The National Sleep Foundation says that while there is no strict rule about when to replace your mattress, most of them have a lifespan of about eight years. Finding worn or sagging spots in the middle or at the edges of your mattress typically means your bed surface has seen its better days, and will often lead to stiffness and discomfort upon waking. Nights of tossing and turning or waking up when your partner moves are other signs it's time to find a new sleeping surface.
Do you always feel tired? Do you expect your best nights of sleep on business trips or vacations? In addition to physical signs of wear and tear, it's time to get a new mattress if you sleep better away from home, or if you prefer to sleep on your sofa. If any of these things sound familiar, you're not meeting your full potential for restful sleep.
Once you've decided that it's time to move on, the following tips will ensure that you purchase the mattress that best suits you.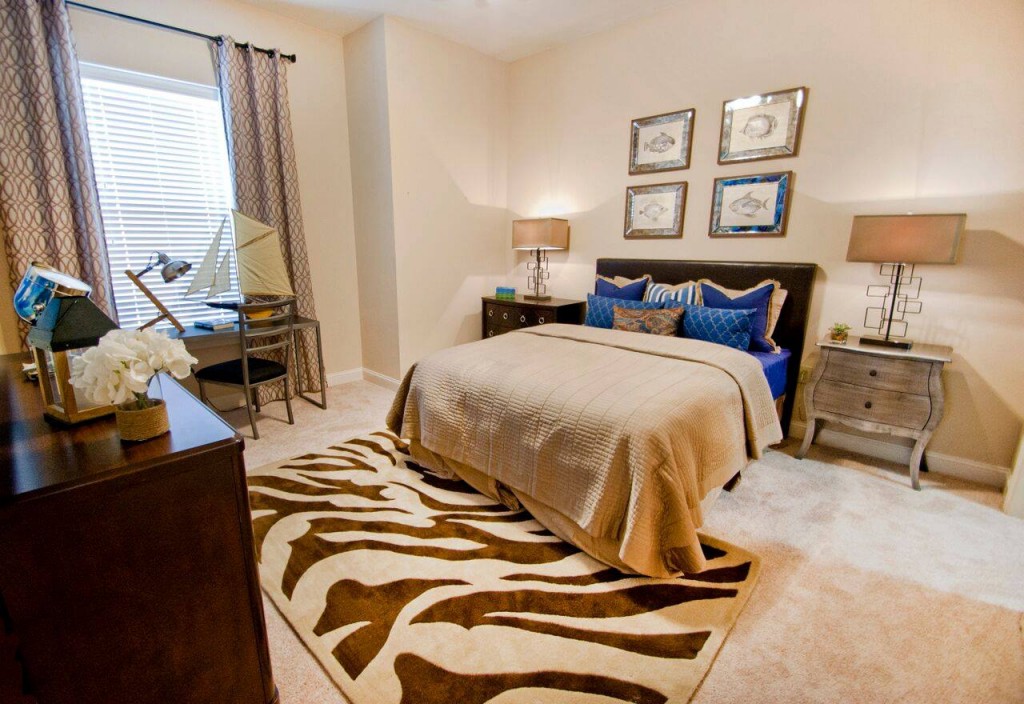 Buying a Mattress
The first step in buying a new mattress is understanding your personal sleep needs. The mattress that is best for your neighbor may not be best for you. Due to age and body type, each one of us has different sleeping requirements that change over time. To begin, try the Better Sleep Council's mattress shopping quiz – it's a great way to determine your priorities before entering a mattress store.
Once you've assessed your needs, you'll need to actually spend time shopping! Your mattress should feel comfortable to you, which means you'll need to search for the right fit. While it's not ideal, enduring the awkwardness of laying down in a mattress outlet will pay off. Sleep educators suggest trying out any mattress for at least 15 minutes before deciding to buy it. 
Consider your budget and bedroom space. Before you buy a mattress, it's important to know which sizes will fit in your bedroom. If you're unsure about the specific dimensions of a mattress size, the Better Sleep Council has created a comprehensive guide. And if you're pinching pennies, don't worry! Expensive mattresses aren't necessarily good mattresses. The Mattress Nerd has created a great mattress buying guide that includes standard prices, negotiation tactics, and shopping outlet recommendations so that you can get the most comfort for your buck.
Now, Start Sleeping Soundly
There comes a time when all mattresses have served their noble purpose and must be left behind. If you know when to say when, we guarantee you'll be catching better z's in no time – and who doesn't want that?
---
We are all guilty of letting things get a little cluttered at home sometimes. A kitchen counter stacked high with unopened mail… Clean clothes piled up on a bedroom chair… A bathroom cabinet filled with dated toiletries and barely-used beauty products…
You are not alone. The clutter can become a problem if you continue to let it happen, though. Guests might feel uncomfortable sitting in a living room area with a shoe collection a Kardashian would be jealous of. A dining room lined with reusable shopping bags isn't a great place to host friends for game night. Visitors might not enjoy sharing a bedroom with exposed stacks of old papers and file folders you were "getting around to clearing." Before it gets too bad, it can get a lot better! Not only will your loved ones feel more welcome in your tidy space, you'll feel more confident in hosting them in your spacious and neat 1st Lake home!
Start New Habits. Slowly.
It would be pretty stressful and exhausting to try and organize everything at once! According to Zen Habits, "When your home is filled with clutter, trying to tackle a mountain of stuff can be quite overwhelming. So here's my advice: start with just five minutes. Baby steps are important. Sure, five minutes will barely make a dent in your mountain, but it's a start. Celebrate when you've made that start!"
Zen Habits then suggests starting with your paper possessions like mail, magazines, and important documents. First, sort through and designate a home for that disheveled mail pile. If you have a console in your entryway, consider adding a small tray with tall sides to the table. If you really want to organize your mail, add a few trays to the table – one for important mail and bills, one for junk mail or magazines, and one for outgoing mail. No room for a table or console? There are plenty of wall-based organization products you can hang up in your entryway to hold your keys, bags, sunglasses, and yes, your mail!
If five minutes isn't enough, Apartment Therapy guest-professional organizer, Nicole Anzia says, "It's much better to spend a few hours — 2 or 3 — on one project or space. This way you'll feel motivated to do more, not be burned out by the process."
Go Room by Room
How do you eat an elephant? One bite at a time. If you have de-cluttering goals for every room in your house, it's best to go one room at a time. That way you can focus entirely on that room's purpose and specific de-cluttering needs instead of half-starting your work then bouncing around to other rooms.
Use this room-by-room guide by The Spruce to hit the ground running on your de-cluttering efforts!
Accomplish Each Goal in Its Entirety
Whether it's the 5-minute task of organizing your mail pile or the 3-hour task of cleaning out your closet, you've got to finish what you've started. Sure, it might make you anxious. It might feel too overwhelming. It might keep you from doing something social. But the feeling of accomplishment and achievement well surpasses any feelings of stress!
You'll be proud you put away your living room line-up of shoes. You'll be proud you organized that tangled mess of electronics cords and earphones. You'll be proud you donated your clothes and shoes to people in need. Once you start adjusting to these new habits and routines, you'll never look back! Starting small will open the door to more efficient habits, so don't be afraid to tidy up, organize, and de-clutter! You'll love the space you created yourself!
---
Happy Valentine's Day! We know it might be difficult to plan a romantic date after celebrating Mardi Gras all weekend, so we've rounded up a few at-home date options you can use for inspiration this February 14th. 
Your 1st Lake home is the perfect setting for a relaxing and intimate Valentine's Day date. In fact, you can shower your loved one with mini-dates all day long without having to leave the house. Starting with…
Breakfast in Bed
Start off your day of love with breakfast in your cozy 1st Lake bedroom.
They'll love waking up to a tray of homemade pancakes, scrambled eggs, and fresh fruit. Cooking your loved one's breakfast is a meaningful and thoughtful beginning to a warm and affectionate day! 
Candle-lit Day Spa Indulgence
Line your 1st Lake bathroom's spacious soaking tub with flickering battery-powered faux candles, then fill it with an essential oil-scented bubble bath.
We like lavender for its calming and relaxing capabilities. A moody, candle-lit bubble bath will make your loved one feel royally loved. 
May I Have This Dance?
To get the evening started, clear your 1st Lake living room and turn it into a dance floor for two.
It might seem silly, but there's something tender about dancing to the songs that have shaped your time together. It's a great reminder of all of the memories you've made with your loved one. 
Dinner Under the Night Sky
Many of our 1st Lake communities have beautiful gazebos and outdoor spaces you can use to host a twilight dinner. Our newest development in Covington, Artesia, has a spacious poolside grilling area that's perfect for cooking an open-air Valentine's Day dinner.
After you're done with dinner, share a toast to the lovely day you shared in the home you made together!
Feeling Inspired?
Your 1st Lake home is a great place to make memories without having to go far or spend a lot of money (maybe a little on some chocolates). The best part? No reservations. How are you going to spend Valentine's Day this year? Share the love with us on our Facebook page!
---