This Sunday, February 4, is the big game, and although we wish the Saints were suiting up to play, we know the matchup between New England and Philadelphia will be an exciting one! If you're hosting a game day viewing party in your 1st Lake home and feel overwhelmed with what to cook for your guests, start here! We've rounded up our favorite appetizer and snack recipes from New Orleans' most celebrated chefs so you can add a little Louisiana to your football watching party this weekend.
Creole Quesadillas from Chef John Folse
Now that crawfish are back in season, we can't think of a better way to incorporate them into your game day offerings than in a melty, cheesy, and oh so spicy quesadilla. This recipe from Chef John Folse will certainly score you some big flavor points.
Ingredients:
1 pound fresh crawfish tails
½ cup butter
1 cup sliced green onions
2 tbsps minced garlic
½ pound wild oyster mushrooms
½ pound sliced button mushrooms
½ pound Chanterelle mushrooms
1 tbsp fresh thyme leaves
2 tbsps chopped cilantro
1 cup diced Creole tomatoes
½ cup diced yellow bell pepper
½ cup diced red bell pepper
1 tbsp Creole seasoning
salt and black pepper to taste
hot sauce to taste
8 large tortilla shells
1 pound grated Monterey Jack cheese
Instructions:
Preheat oven to 375 degrees F. You may wish to substitute shrimp, crab or even chicken if crawfish is unavailable in your area. In a large cast iron skillet, melt butter over medium-high heat. Add green onions, garlic, and mushrooms. Sauté 3-5 minutes or until mushrooms are wilted. Add crawfish, thyme, cilantro, tomatoes and bell peppers. Continue to sauté until juices are rendered and liquids have almost completely evaporated approximately 10 minutes. Season to taste using Creole seasoning, salt, pepper and hot sauce. Place the tortilla shells on a large cookie sheet and sprinkle with a small amount of Monterey Jack cheese. Top with a portion of the crawfish stuffing and more of the Monterey Jack cheese. Fold each tortilla in half and bake 7-10 minutes or until cheese is melted and tortillas are slightly crisp but not over-browned.
Dooky Chase's Shrimp Gumbo by Chef Leah Chase
The Queen of Creole Cooking, Leah Chase, shared her world famous gumbo recipe with The Food Network so you can make your guests feel like they're dining at Dooky Chase in your 1st Lake living room! The weather will be a little chilly this Sunday, and a big pot of gumbo is a great way to warm up the football crowd.
Ingredients:
1/2 cup peanut oil
4 tablespoons flour
1 cup chopped onions
1 pound small white shrimp (30/40), peeled and deveined
8 ounces Creole hot sausage, cut into bite-size pieces
8 ounces smoked sausage, cut into bite-size pieces
8 ounces beef stew meat, cubed
8 ounces smoked ham, cubed
6 chicken wings, cut in half
1 tablespoon file powder
1 tablespoon paprika
1 tablespoon salt
2 dozen oysters, with their liquid
1/4 cup chopped parsley
3 cloves garlic, minced
1 teaspoon ground thyme
Instructions:
Heat the oil in a skillet over low heat and add the flour to make a roux, browning until golden about 3 minutes. Add the onions and cook over low heat until the onions wilt about 4 minutes.
Put the shrimp, sausages, stew meat and ham in a 5-quart pot over medium heat. Pour the onion mixture over the ingredients and add 3 quarts water, the chicken wings, file powder, paprika, and salt. Bring to a boil and cook for 30 minutes or until broth reaches desired thickness.
Add the oysters, parsley, garlic, and thyme. Lower the heat and cook until the shrimp is pink, about 10 minutes more, before serving.
Bacon Wrapped Dates by Chef Emeril Lagasse
Bacon is always a crowd pleaser in our book! Chef Emeril Lagasse's Bacon Wrapped Dates are a tasty and perfectly-portioned appetizer to serve before the game begins. These individually served treats are the perfect blend of salty and sweet, and they'll complement those commercial breaks nicely.
Ingredients:
24 Medjool dates
24 Marcona or whole roasted almonds
4 ounces honey goat cheese
12 slices very thin bacon
Instructions:
Preheat the oven to 400 degrees F. Line a baking sheet with parchment paper.
Slice the dates lengthwise, on one side only, and remove the pit. Place an almond inside each date. Spoon about 1 teaspoon of goat cheese into the other side of the date and press both sides together to close.
Cut each slice of bacon in half. Wrap each date with a slice of bacon and secure it with a toothpick.
Transfer the dates to the parchment paper lined baking sheet and bake for 10 minutes. Remove the baking sheet from the oven, take out the toothpick and turn the dates over. Bake for another 10 minutes or until the bacon is crisp on both sides.
Remove from the oven and transfer to a paper towel-lined plate and let cool for 3 to 5 minutes before serving.
---
Can you believe January is almost over? It's amazing how fast this month has flown by! If you're like us, you've been rocking your new year's resolutions (Our's was launching the beautifully built Clearwater Creek Premier community) and things are going well!  Keep up the great work! If you're looking to add more purposeful initiatives to your daily routine, or need some inspiration for organizing your 1st Lake space, use this list to guide you toward achieving even MORE goals in 2018!
Well-Being Life Hacks
1. "Eat the frog." According to Insider's Lucy Yang, completing your hardest task first is the best way to overcome procrastination. Do you have an assignment at work you're avoiding? Is there a closet full of clothes you've been meaning to organize but dread the task? Yang refers to Reddit as her source for this daunting, yet rewarding idea. "That thing you feel crummy about? That thing you're dreading? That is exactly the thing you need to do […] You know you're going to end up feeling bad if you procrastinate anyway […] [so] you might as well take the action that will improve your life." – Reddit user, ParallaxBrew
2. If it only takes one minute? Do it right then! Think about how many times you've left dishes in the sink or tossed your jacket over your sofa or chair instead of hanging it up properly? If you're avoiding a task that only takes a little time to accomplish, they'll eventually pile up and come back to haunt you.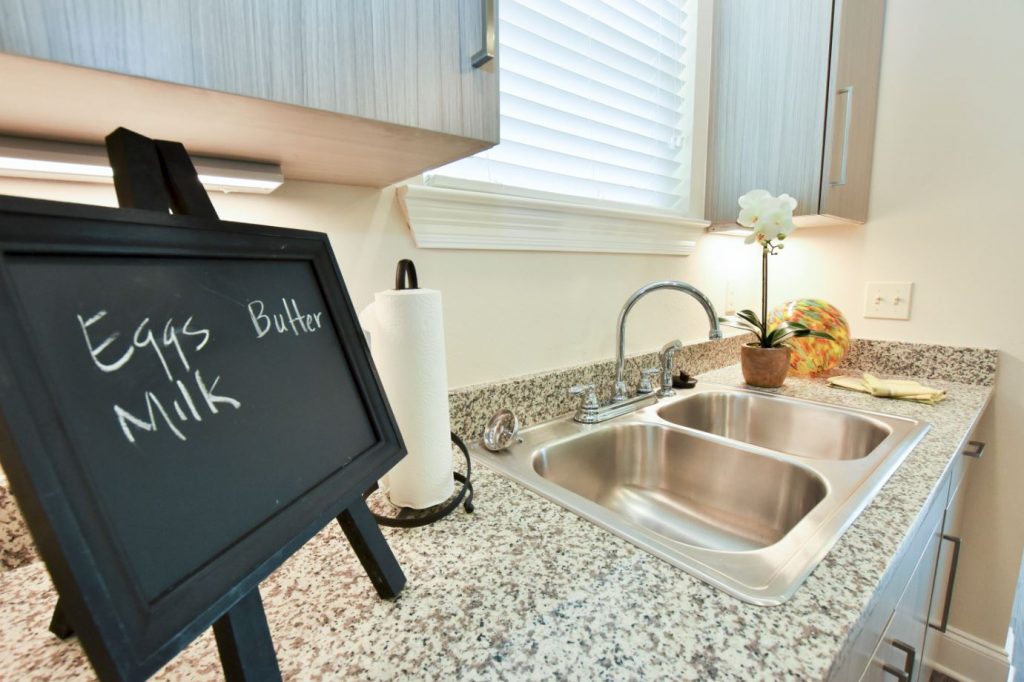 Rinse that cup out and put it in the dishwasher immediately! Done! Grab a hanger and put your coat neatly back in your closet! Done! You'll keep your space tidy and feel significantly less stressed knowing there isn't a pile of shoes accumulating outside of your closet door and a pile of dishes smelling up your beautiful kitchen.
3. Get an "anti-workout" workout in. If you're not a fan of going to a gym or fitness class, that's okay! There are dozens of other ways to improve your physical and mental health without leaving your 1st Lake home. Many of our apartment communities feature landscaped nature trails and walking paths you can use to get healthy.
According to Prevention.com, walking just 30 minutes a day can improve your mental well-being, your creativity, and help reduce your waistline. If that's still too much, start small with 15 push-ups or crunches in your bedroom or living room. It'll be 15 more than you did the day before!
4. Meditate. According to Insider, "It sounds too good to be true, but research has shown that meditation can help reduce stress and negative emotions, improve your memory and emotional control, and literally change your brain for the better."
Home Life Hacks
1. Evaluate and donate unworn wardrobe items. Remember that "Eat the frog" tip from above? This is how you apply it. Stop putting this off and take some time on the weekend to really dig through your wardrobe. Not only will you free up space in your overcrowded closet and drawers, you could potentially make a little cash on the items you decide to sell to consignment stores. And in the long run, you'll feel good about accomplishing this goal, making some money, and donating to people in need.
2. Store plastic grocery bags in a tissue container. This hack is pretty simple, but it can solve a very annoying problem. It's great to repurpose grocery bags for trash bins and pet needs, but your collection might outweigh your frequency of use and that pantry looks like a plastic warzone! Head to your local home accessories store and pick up a few cute tissue holders. That way, they're stylishly hidden, yet easy to access.
3. Donate towels and bedding to shelters. Refinery29 says, "…the best place to give them a second life is an animal shelter or vet's office. "Animals often need to be bathed in these facilities — they'll need tons of towels and blankets to find comfort in." Here's a list of Greater New Orleans area animal shelters.
4. Store owner manuals & toss cardboard packages. The first step in this home hack is to head to your local office supply store and buy an accordion-style file holder. Then, find all of the empty appliance and electronics boxes you've kept over the years, collect the owner's manuals from the depths of those dusty cardboard containers and file them neatly in your new accordion filer! After you've assembled and organized every manual you have, pitch those space-sucking boxes. Not only will you have much more room for other items, you'll be ridding your home of a dangerous fire hazard!
How's Life Hacking?
This is a lot of information to absorb, and it may seem overwhelming. The best way to really start hacking is to single out one or two of the tips above to start with! Over time, you'll be able to chip away at this list and accomplish more than you thought possible at the start of the new year! Which tips caught your eye first? Tell us on social media and share your progress with our 1st Lake community!
---
What better way to refresh your 1st Lake space than with some new and stylish interior design changes! Fresh color palettes, new furniture, and stylish wall art are just a few ways to transition your space into a vibrant, welcoming, and comforting environment for you, your family, and your friends in 2018.
Not only will you be on trend in 2018, updating your living space is a great way to create an inspiring sanctuary that encourages positivity in the new year. Get rid of that hand-me-down furniture, those dated decorative items, and that framed poster you've had since college. Use this guide to find the new looks you like, and transform your apartment home into a haven you just might not want to leave!
Indoor Gardens
According to NOLA.com, plant accessories are growing wild in 2018. "Expect to see more houseplants, indoor herb garden and even shower plants — that's right, plants that live in your shower — this year."
Plants are a great way to bring nature inside, and their air purifying capabilities create a healthy living environment without the need for unsightly equipment. Herb gardens are also great to incorporate into your home-cooked meals. Check out our recipe blogs for ways to incorporate your herb garden's bounty this year.
Sofa So Good!
There's no stronger way to make a statement than with a brightly colored sofa. Bold, rich hues are in for 2018, and many of these loud sofas come in velvet and satin finishes, which gives them and extra level of shine.
"A daring sofa color tackles two common design challenges: adding color and creating a focal point," says Mitchell Parker of Houzz.com.
Woven Creations for Wall Art & Functionality
The artisan aesthetic has been in style for some time, but none are more prominent now than the woven accessory. Woven accessories can give your space an international feel and add a welcoming warmth to your rooms.
Visit a local art market or international market and pick out some pieces for functionality and style. Use a deep woven basket to store your living room's throw blankets or assemble a medley of flat, uniquely-shaped weavings on the wall for an eye-catching global gallery.
Simple, Clutter-Free Bedrooms
There's no need for busy and bulky bedroom furniture in 2018. Houzz suggests you eliminate the loud patterns and oversized items from your sleeping den and replace them with simple, utilitarian-style looks.
"Instead, a pared down, verging-on-minimalist look that incorporates soothing neutrals, soft fabrics and simple, functional pieces is the direction homeowners are heading." If you really want to be on trend in 2018, incorporate soft, washed out lavender bedding into your look.
 How will you style 2018?
Did we miss a trend you've embraced for the new year? Have you already decorated with some of these trends and tips? Share your tips and interior looks with us on Facebook or tag your style updates on our Instagram so we can see how you've transitioned in 2018!
---
Our brand-new luxury living community in Elmwood, Clearwater Creek Premier, is loaded with state-of-the-art features and apartment amenities you won't find anywhere else in the Greater New Orleans Area. One of our goals for this new development was to provide energy efficient options in every single one of Clearwater Creek Premier's living spaces.
Cooking Up Savings
At the center of this effort are the electric convection range and double-ovens located in the kitchen of each residence. The range uses radiant heating elements on its stovetop, which is significantly more energy efficient than its generic electric coil counterparts. Radiant coils are similar to traditional coil burners, but instead of protruding from the top of the range, they sit under a smooth and flat ceramic surface. Heat is conserved better under the ceramic top, which allows for faster heating times and higher heat outputs. Plus, it's easier to clean!
Just under the range's sleek stove are two, that's right, two ovens! The ovens on this range utilize a dual element baking technique, which combines the efforts of the baking coil and the broiling coil for comprehensive cooking. The smaller top oven is ideal for warming or short cooking times, while the larger, convection-style oven offers delay bake and audible preheating capabilities.
If you're ready to enjoy all of the perks of your Clearwater Creek Premier stovetop and range, put on your chef's hat and try your hand at a few of our favorite seasonal recipes below!
Corn & Crab Soup for the Winter Soul
Warm up when there's a chill in the air with this rich and creamy Corn and Crab Soup recipe from Bon Appetit:
Ingredients
1 16- ounce bag frozen petite white corn (do not thaw), divided

1 cup low-fat (1%) milk

1 8- ounce bottle clam juice

4 tablespoons sliced green onions, divided

2 teaspoons minced peeled fresh ginger, divided

4 1/2 teaspoons fresh lemon juice, divided

2 tablespoons (1/4 stick) butter

4 ounces cooked crabmeat, flaked
Instructions
Reserve 1/4 cup corn. Bring remaining corn and milk to boil in medium saucepan. Cover; remove from heat. Let stand 10 minutes. Puree mixture in blender. Add clam juice, 3 tablespoons green onions, and 1 teaspoon ginger; puree again until almost smooth. Return puree to saucepan; bring to simmer. Mix in 1 1/2 teaspoons lemon juice. Season with salt and pepper.
Melt butter in small skillet over medium heat. Add reserved 1/4 cup corn; sauté 1 minute. Add crab, 1 tablespoon green onions, 1 teaspoon ginger, and 3 teaspoons lemon juice; stir just until warm. Season with salt and pepper. Divide soup among bowls; mound crab mixture in center.
Chili-Roasted Black-eyed Peas for a Lucky New Year
Good luck starts by pre-heating your state-of-the-art oven. Munch on this recipe from My Recipes:
Ingredients
2 (15.8-oz.) cans black-eyed peas, rinsed and drained
3 tablespoons olive oil
1 1/2 teaspoons chili powder
1 teaspoon pepper
3/4 teaspoon ground cumin
1/2 teaspoon salt
Instructions
Preheat oven to 425°. Combine all ingredients in a medium bowl. Transfer mixture to a lightly greased 17- x 12-inch jelly-roll pan. Bake 45 to 50 minutes or until crispy and dry, stirring every 10 minutes. Let cool 20 minutes.
Become a King Cake Connoisseur before Carnival
Mardi Gras will be here before you know it! Parade your new oven's capabilities with this popular Mardi Gras King Cake recipe from Epicurious:
Ingredients
For the cake:

1 cup lukewarm milk, about 110°F
1/2 cup granulated sugar
2 tablespoons dry yeast
3 3/4 cups all-purpose flour
1 cup melted butter
5 egg yolks, beaten
1 teaspoon vanilla extract
1 teaspoon grated fresh lemon zest
3 teaspoons cinnamon
Several gratings of fresh nutmeg

For the icing:

2 cups powdered sugar
1/4 cup condensed milk
1 teaspoon fresh lemon juice
Purple, green, and gold decorative sugars
1 fève (fava bean) or plastic baby to hide in the cake after baking
Instructions
For the cake, pour the warm milk into a large bowl. Whisk in the granulated sugar, yeast, and a heaping tablespoon of the flour, mixing until both the sugar and the yeast have dissolved.
Once bubbles have developed on the surface of the milk and it begins to foam, whisk in the butter, eggs, vanilla, and lemon zest. Add the remaining flour, cinnamon, and nutmeg and fold the dry ingredients into the wet ingredients with a large rubber spatula.
After the dough comes together, pulling away from the sides of the bowl, shape it into a large ball. Knead the dough on a floured surface until it is smooth and elastic, about 15 minutes.
Put the dough back into the bowl, cover with plastic wrap, and set aside in a draft-free place to let it proof, or rise, for 1 1/2 hours or until the dough has doubled in volume.
Preheat the oven to 375°F. Once the dough has risen, punch it down and divide the dough into 3 equal pieces. Roll each piece of dough between your palms into a long strip, making 3 ropes of equal length. Braid the 3 ropes around one another and then form the braided loaf into a circle, pinching ends together to seal. Gently lay the braided dough on a nonstick cookie sheet and let it rise until it doubles in size, about 30 minutes.
Once it's doubled in size, place the cookie sheet in the oven and bake until the braid is golden brown, about 30 minutes. Remove the cake from the oven, place on a wire rack, and allow to cool for 30 minutes.
For the icing, while the cake is cooling, whisk together the powdered sugar, condensed milk, and lemon juice in a bowl until the icing is smooth and very spreadable. If the icing is too thick, add a bit more condensed milk; if it's a touch too loose, add a little more powdered sugar.
Once the cake has cooled, spread the icing over the top of the cake and sprinkle with purple, green, and gold decorative sugars while the icing is still wet. Tuck the fève or plastic baby into the underside of the cake and, using a spatula, slide the cake onto a platter.
Tour Clearwater Creek Premier Today!
If you're looking to make moves in 2018, consider visiting Clearwater Creek Premier today! Not only will you enjoy the cost-saving benefits of our kitchen appliances, but you'll gain access to a multitude of other living amenities that will make you feel like you're living in a luxury resort.
---
Whether you're hosting your loved ones in your 1st Lake residence or traveling to celebrate the holiday, there's no better way to show them how much you care than with a thoughtfully crafted homemade gift. Homemade gifts can mean more to your loved ones, too. You put a lot of effort into creating the perfect gift exclusively for them! Nothing is more loving than that.
Even with a short amount of time left, there are still plenty of quick and affordable homemade gift options you can create without worrying. Some of our favorite homemaking websites offer a plethora of choices and instructions for these gifts, but we're going to highlight a few of our favorites to get you started on your crafts.
For the Coffee Connoisseur
Good Housekeeping caught our DIY-eye with this easy, thoughtful, and tasty gift idea for the coffee drinker on your list. "Coffee Mug Mixers" are created from vintage silver spoons and baking goods. Head to an area thrift or antique store, or hunt down a garage sale, and find some intricately designed antique spoons for cheap. Then, head down to the grocery store to pick up an assortment of baking sweets, like chocolate, crushed nuts, and candy. Melt your mixed sweets onto the spoons, let them dry, and wrap them in clear packages. Your coffee-loving visitor might just dip one into his or her mug immediately after opening this delightful and thoughtful treat!
For the Farmhouse Design Fan
If they are big fans of rustic-themed home makeover shows and decorate with reclaimed wood and metal accent items, shower them with a homemade wood gift. Both The Nest and Country Living Magazine have a great collection of homemade wood gift ideas to show them how much you notice their personal interests. We love the idea of wood-burned labels on cutting boards and cooking utensils. You can add your personal signature to these items with a wood burner from your local craft store. That way every time they use these items, they'll be reminded of you.
For the First-Time Family
This homemade gift option might require a little more effort, but for the loved ones on your list with a newborn, it will mean the world. Your local craft store will have everything you need to create this precious hot air balloon-themed mobile for their baby's bedroom. Craftiness is Not Optional provides a great step-by-step visual guide to building this homemade gift with ease. If this seems too difficult, Craftiness is Not Optional has other easier new parent gifts.
For the Home Spa Fan
We all know someone who spends their free time soaking in hot bubble baths and pampering themselves with sugar scrubs, pedicures, and moisture-rich lotions. Show them you care with your own self-care creations! There are do-it-yourself soap recipes, easy sweet or floral-scented sugar scrub formulas, and nurturing lotion how-to's across the Internet! One of our favorites comes from PopSugar. Their DIY Spa Kit Trio features a scrub, a body butter, and a foot soak. We are not going to lie, this one you might want to keep for yourself!
From the Heart
These are just a few of the countless ways to make the holidays mean more this year. Do you have go-to homemade gifts you've perfected for the big day? Share your tips with our social communities and help your fellow 1st Lake residents make the ideal gift to go under the tree.
---