Want to create an inspiring accent wall without the hassle of a hammer?  Check out these easy accent wall alternatives. 
 1. Rest an oversized, eclectic mirror against any wall you want. Not only will this be a great talking piece, but mirrors instantly create the illusion of a larger space because they reflect the natural and artificial lighting in your apartment. 
2.  Install a plant stand. This simple addition to your space can go anywhere in your home, and the plants you use can add aesthetically pleasing health benefits like air purification to your apartment!
3. Set up an accent table with your favorite pieces. Rather than hanging your favorite art or plants on the wall, skip the nails and hammer and just place your pieces on a cute bench or table in your apartment.  
There are plenty of ways to revamp your space! Share your accent walls with us and tag @apartmentsat1stlake on Instagram.
Fall in love with your next apartment by visiting 1stlake.com!
---
If you're entertaining at home this Thanksgiving, it's important to provide your guests with as much personal space as possible. All of our apartments at 1st Lake Properties are spacious and modern, but we know how easy it is for your space to feel more stuffed than a turkey when hosting friends and family.
That's why we've put together a list of tips for spatial optimization during the holidays. Read on to learn our favorite hosting hacks!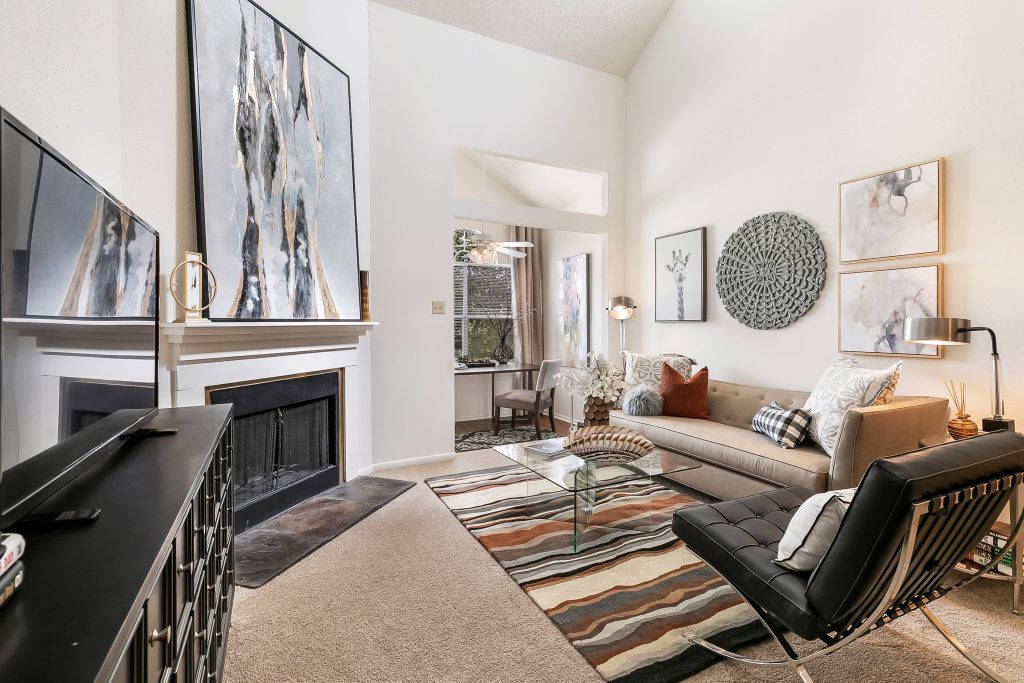 Think Vertically
Thinking vertically is one of our best tips for Thanksgiving. Maximize space on the dinner table by using tiered plates to hold appetizers and desserts.
This trick even works for the turkey, too: carve it ahead of time and separate white meat, dark meat, and legs on a three-tier display.
Table Your Concerns
If your dining table won't accommodate all of your guests, use other flat surfaces as well. Consoles, sofa tables, and nightstands can all work as alternate eating spaces or food displays. This allows you to create intimate areas throughout your space instead of cramming your guests into one giant table.
Folding tables and chairs from a party rental store can also help you maximize space on a small budget. Whatever you choose, drape coordinating linens over mismatched tables to transform them into a cohesive unit.
Rearrange the Furniture
We get so used to seeing our stuff in the same place, it's easy to forget it's not bolted down! Rearranging furniture is a fun, free, and instant way to transform your home at any time of year, but during the holidays it can be a space-saving trick.
Push couches against the wall or move them to a different room altogether during dinner. Other rooms in your apartment can serve as temporary storage units, leaving you maximum space for entertaining.
Get Creative with Miscellaneous Items
Your ironing board works great for extra counter space, and a spare side chair positioned near the front door is ideal for letting guests set down their purses and bags when they come in.  These two tricks help free up space and make the most of precious square footage at the same time.
Be Mindful of the A/C
A nice, cool space with proper air circulation will ensure that your guests are comfortable, even if your apartment is a little bit crowded.
Smaller apartments can heat up quickly with the oven going and extra guests mingling about. Keep everyone happy by being mindful of the A/C — turn it down a few notches and adjust accordingly throughout the evening!
Spend Thanksgiving in Your New 1st Lake Apartment
Contact us today to learn more about our private gated apartment communities!
---
What better way to refresh your 1st Lake space than with some new and stylish interior design changes! Fresh color palettes, new furniture, and stylish wall art are just a few ways to transition your space into a vibrant, welcoming, and comforting environment for you, your family, and your friends in 2018.
Not only will you be on trend in 2018, updating your living space is a great way to create an inspiring sanctuary that encourages positivity in the new year. Get rid of that hand-me-down furniture, those dated decorative items, and that framed poster you've had since college. Use this guide to find the new looks you like, and transform your apartment home into a haven you just might not want to leave!
Indoor Gardens
According to NOLA.com, plant accessories are growing wild in 2018. "Expect to see more houseplants, indoor herb garden and even shower plants — that's right, plants that live in your shower — this year."
Plants are a great way to bring nature inside, and their air purifying capabilities create a healthy living environment without the need for unsightly equipment. Herb gardens are also great to incorporate into your home-cooked meals. Check out our recipe blogs for ways to incorporate your herb garden's bounty this year.
Sofa So Good!
There's no stronger way to make a statement than with a brightly colored sofa. Bold, rich hues are in for 2018, and many of these loud sofas come in velvet and satin finishes, which gives them and extra level of shine.
"A daring sofa color tackles two common design challenges: adding color and creating a focal point," says Mitchell Parker of Houzz.com.
Woven Creations for Wall Art & Functionality
The artisan aesthetic has been in style for some time, but none are more prominent now than the woven accessory. Woven accessories can give your space an international feel and add a welcoming warmth to your rooms.
Visit a local art market or international market and pick out some pieces for functionality and style. Use a deep woven basket to store your living room's throw blankets or assemble a medley of flat, uniquely-shaped weavings on the wall for an eye-catching global gallery.
Simple, Clutter-Free Bedrooms
There's no need for busy and bulky bedroom furniture in 2018. Houzz suggests you eliminate the loud patterns and oversized items from your sleeping den and replace them with simple, utilitarian-style looks.
"Instead, a pared down, verging-on-minimalist look that incorporates soothing neutrals, soft fabrics and simple, functional pieces is the direction homeowners are heading." If you really want to be on trend in 2018, incorporate soft, washed out lavender bedding into your look.
 How will you style 2018?
Did we miss a trend you've embraced for the new year? Have you already decorated with some of these trends and tips? Share your tips and interior looks with us on Facebook or tag your style updates on our Instagram so we can see how you've transitioned in 2018!
---
Pumpkins are having a moment. They're in lattes, muffins, pancakes, hummus (seriously!), brownies, pies, smoothies, and just about any seasonal treat you can think of— but pumpkins are just as important a design element as a recipe ingredient this time of year. What front step (or living room mantel) is complete without a jack-o-lantern?
Take a look at these pumpkin patches throughout the Greater New Orleans area. Whether you go to pick up a pumpkin or just snap a fun fall selfie, they're a great way to spend a few hours.
Bonus: check out these free carving templates from GoNOLA!
Pumpkin Patches in New Orleans Metro
New Orleans
City Park Pumpkin Patch
Where: Wheel Fun Rentals in City Park along the Big Lake Trail
When: September 30-October 22
More info: Ticket prices are $5-$9; enjoy pumpkin patch, hay ride, unlimited bounce house and inflatables, games, and picture stations. Other items, such as Surrey rides, pedal boats, snacks, and pumpkins are available for purchase.
St. Paul's Episcopal School
Where: 6249 Canal Boulevard in New Orleans
When: October 7-31
More info: Pumpkins at this patch weigh up to 40 pounds! There's also a designated photo area for pictures
Aurora United Methodist Pumpkin Patch
Where: 3300 Eaton Street in Algiers
When: October 16-31
More info: This patch hosts a family day on October 21 with food, games, and pumpkins for all
Metairie/Kenner
Plum Street Snoball Pumpkin Patch
Where: Lafreniere Park near the Splash Pad and carousel
When: October 6-31
More info: Pumpkins range in cost from $1 to $20; the patch can host birthday parties and field trips
St. Martin's Episcopal Church
Where: 2216 Metairie Road in Metairie
When: September 25 through October 31
More info: This location is collecting nonperishable goods to donate to Second Harvest
St. Augustine's Pumpkin Patch
Where: 3412 Haring Road in Metairie
When: October 5-31
More info: This patch will also sell jewelry, crafts, baked goods, and different types of gourds
Mandeville
Jim's Pumpkins
Where: Corner of Highway 59 and Florida in Mandeville
When: October 8-31
More info: The Knights of Columbus also sponsors this patch
Covington
St. Peter Parish
Where: 125 E 19th Avenue in Covington
When: October 15-31
More info: The Knights of Columbus sponsors this patch
Lagniappe
Stella Plantation Pumpkin Patch
Where: Stella Plantation in Braithwaite
When: October 22
More info: Tickets available here Make a to-do out of your pumpkin hunt at this event from 10 a.m. to 4 p.m., which features hayrides, bounce houses, photo opps, and more.
---
Is your 1st Lake residence missing something? Are you looking to update your home decor? Luckily, a large portion of 1st Lake communities are in close proximity to the area's best furniture stores. Kenner, Metairie, and River Ridge all have a great selection of furniture and home decor stores you can shop to find your new style. Unique, one-of-a-kind pieces? Antique or modern looks? Casual and traditional styles? The Greater New Orleans Area has your vision covered. Here are a few of our favorite furniture spots in the area:
Christian Street Furniture
Christian Street Furniture is a locally-owned, family-run furniture store with two locations, one in Baton Rouge and one in Metairie. They carry a large selection of unique, reclaimed looks for the artesian aesthetic. You can customize a multitude of pieces from Christian Street Furniture, which makes it a fun place to piece together your perfect look.
Hurwitz Mintz
You might get lost in Metairie's furniture megastore, Hurwitz Mintz, but it's totally worth it. They don't call it the south's largest furniture store for nothing! Their Airline Drive location is two stories, which means you have plenty of furniture options to choose from. Hurwitz Mintz is another locally-owned store, and it's been serving this area for over 90 years. They carry a large portion of traditional and timeless styles, so if that's what you're interested in, check out Hurwitz Mintz!
Cost Plus World Market
If you're going for the Bohemian look, head to Elmwood Shopping Center! Cost Plus World Market is a bright and bold furniture store with styles curated from countries around the world. Eclectic decor? Check! Eccentric artwork? Check! Eco-conscious furniture? Check and check! If you want your 1st Lake apartment to look like a fabulous hippy hideaway, snag some furniture from World Market!
Rooms To Go
Rooms To Go is designed to make furnishing a space easy. Rooms To Go introduced the concept of "displaying and packaging furniture in complete room settings" all the way down to the accent items, which allows the shopper to literally pick the room they want. Instead of piecemealing your room together one purchase at a time, why not knock out the whole thing? That's where the Metairie store comes into play!
Do you have a favorite furniture store in the Greater New Orleans Area? Share your tips with us on Facebook or Instagram!
---