In this post, we'll give you some tips on how to create a warm atmosphere in your apartment. Soon enough, your home will be the coziest place around.
You can look forward to game nights, large dinners, or relaxing movie nights with friends and family.
Lighting
There are several ways to use light to your advantage when creating a warm atmosphere in your apartment.
Flameless candles, stringed lights or wax burners are great alternatives for creating a warm ambiance because they provide a sense of calm and a source of indirect light. Still want a cozy winter scent? Essential oil and stick diffusers can also add to the atmosphere — think lavender, pine, or other smells that evoke a warm haven from the cold weather.
Purchase window curtains that are slightly transparent, allowing some natural light to seep in and brighten your living area.
If you have a fireplace, use it when you have guests over. Fireplaces are especially useful during the coldest days of the year — you and your guests can bond by warming your hands and feet in the warm glow of the fire. 
Finally, try to use lamps rather than overhead lights as much as possible. Lamps radiate soft light while overhead lighting can be harsh and uncomfortable for intimate gatherings.
Blankets
Keeping lots of cozy, soft blankets around your living room will give your guests easy access to quick warmth, and will make people feel at home. Plus, you can choose blankets that visually complement your apartment's interior.
Plants
Well-placed, warmly-colored flowers and other plants add feelings of life and vitality to your living space. Reds, yellows, and oranges make your space seem vibrant and lived-in, rather than sterile and dull. 
Fabrics & Textures
In addition to blankets, use other fabrics and textures to your advantage. Cover cold wood floors and bathroom tiles with plush rugs.
According to Kenmore Development, rugs help rooms look larger while also providing texture and color to your living areas.
Alternate Sources of Heat
If there are any parts of your apartment that get drafty or particularly cold, strategically place space heaters. A small, portable heater will work just fine — there's no need for anything large and difficult to move. 
Make sure you use a space heater that will automatically shut off if it gets too hot.
Start Getting Cozy in Your New Apartment Today!
Contact us today for information on our private residential communities.
---
2019 Interior Design Trends
This year, designers everywhere are calling 2019 the "year of maximalism." But before we go out and buy anything, we thought we'd ask our own 1st Lake interior designer what trends she thinks we should take on! Here are her thoughts on the year ahead!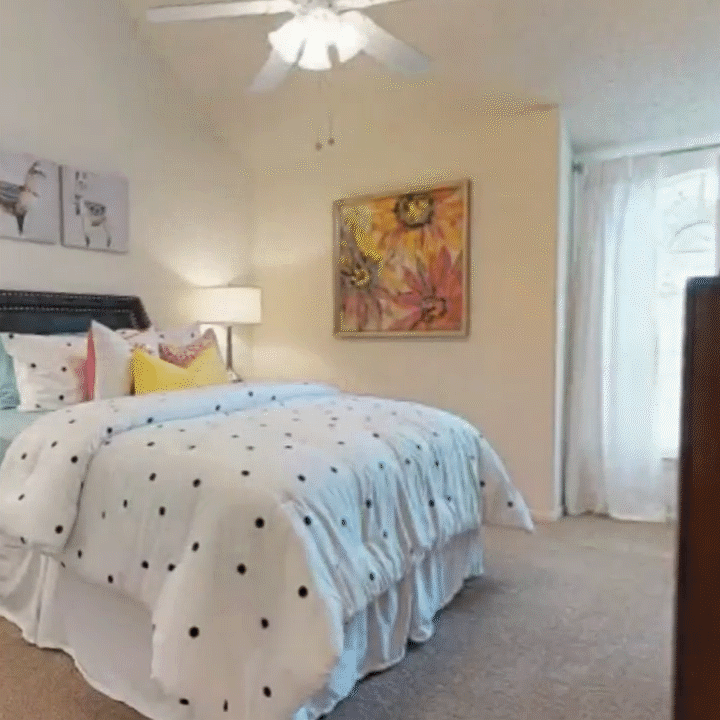 Color 
It's definitely the year of color, but we don't need to go overboard. The rule: 90% white and 10% color. By keeping your walls and ceilings neutral, you have more versatility with how you want to accent your space. Think of your white walls as a blank canvas that you can recreate over and over again. When choosing color, think rich. Rich color palettes with deep hues will add pleasantly unexpected pops in your room. We'll talk more about what pieces you can use to pull that color into your home. 
Furniture
Canopy four poster beds are coming back home. This style bed creates a sensation of being protected and elevated from the rest of the world. The four posts can feel like comfy walls beckoning you back to the safety of your cozy bed. "To make one [a canopy bed] work in your bedroom, follow suit and source a canopy bed that is quiet and slim to ensure that it won't take up too much space or ever go out of style"-Decoraid.com. 
Now back to our pops of color: there's no stronger way to make a statement than with a brightly colored sofa. Bold, rich hues are in for 2019, and many of these loud sofas come in velvet and satin finishes, which gives them an extra level of shine. But if you don't want to make such a bold purchase, opt for an inexpensive rug or pillows that contain the color spectrum you desire!
Patterns
Patterns are another way to accent your space! Take a look at our accent rug in our Bella Ridge model. The multi-color, crushed triangular slices add interest and flare to the room, plus it complements the velvet blue couch.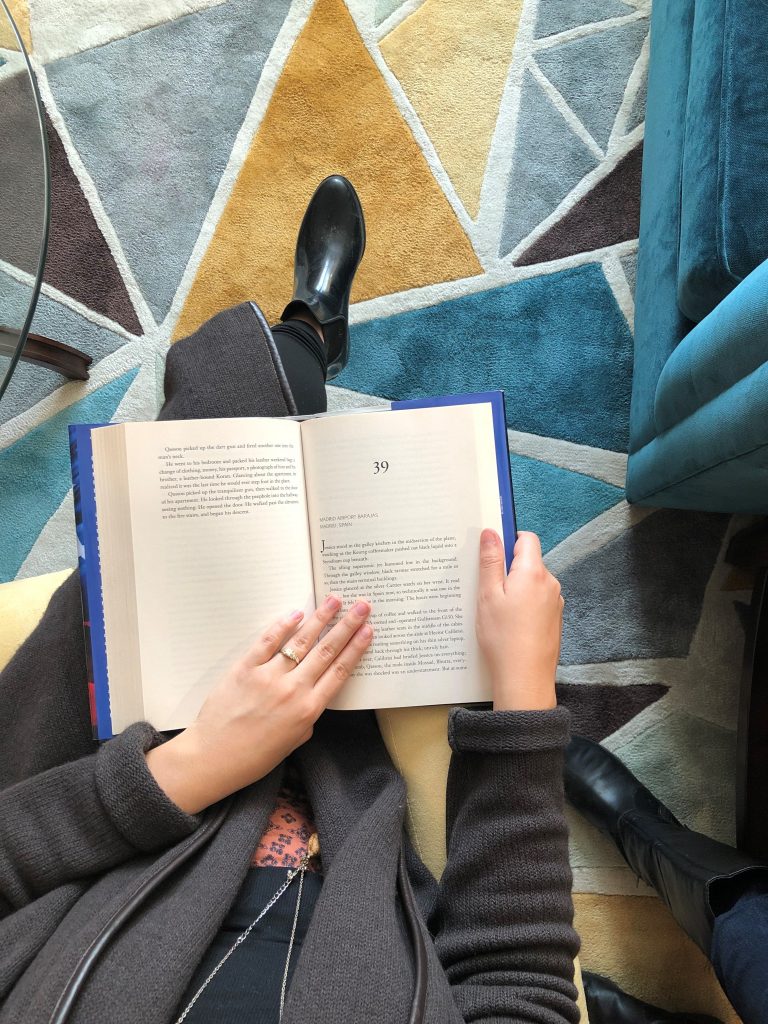 If shape patterns aren't really your thing, floral patterns are here to stay. You can incorporate any pattern you want in small ways like on your shower curtain or your headboard, or even your place mats!  
For more funky finds, visit one of these local furniture thrift stores on our blog to find inexpensive pieces for your space.   

Plants
This year's spotlight plants: Mother in Law's Tongue and Money Tree! Plants are a great way to bring nature inside, and their air purifying capabilities create a healthy living environment without the need for unsightly equipment. To learn more about what plants are just right for you, read our Ultimate Guide for Indoor Plants! Tips for Herb gardens are also great to incorporate into your home-cooked meals.
 Check out our recipe blogs for ways to incorporate your herb garden's bounty this year.
How will you style 2019?
Did we miss a trend you've embraced for the new year? Have you already decorated with some of these trends and tips? Share your tips and interior looks with us on Instagram so we can see how you've transitioned in 2019!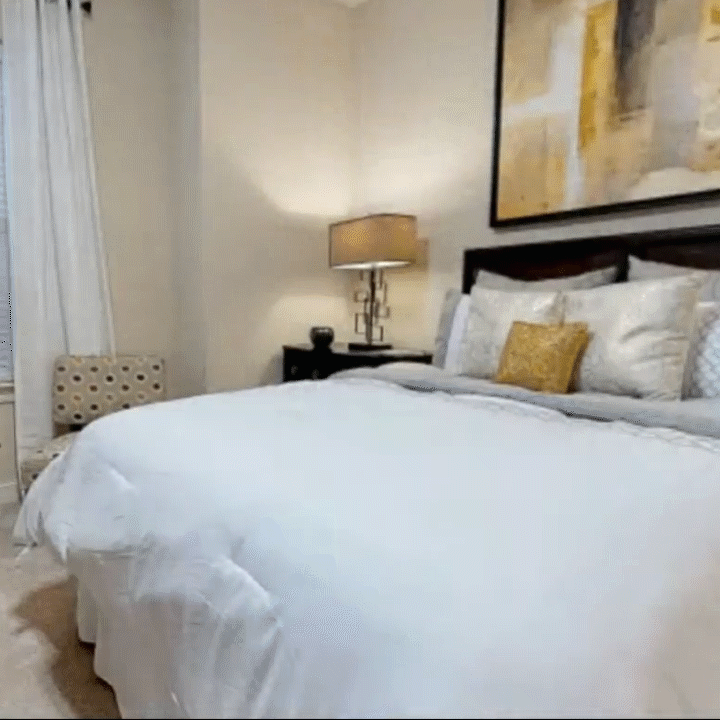 ---
It's that time of year again — when the weather gets colder and family and friends become a priority, and the feeling of togetherness with loved ones warms your heart.
Have you started making your shopping list for the year? For us, making sure we've checked off every name is a fun pursuit, even if it's difficult. 
Shopping for your friends and family is a personal journey that is different for everyone. However, every gift must get wrapped.
That's why we've put together a list of unique gift-wrapping ideas for the holiday season. 
Read on for a few ways to make sure your gift is a memorable one, even before it's opened!
Add Some Evergreen
While wrapping paper may be the most noticeable thing about how you present your gift — and we'll get to that — including a few natural elements that reflect the season is a great way to add some fresh flair to your present. According to Good Housekeeping, "kumquats, holly sprigs, and other seasonal decor attached with floral wire add a burst of color" to an otherwise plain wrapping.
Memorable & Sustainable 
A way to add a personalized touch to your gift is to wrap it in the traditional Japanese "furoshiki" style. A furoshiki wrapping technique uses only a single cloth or square piece of fabric and was created centuries ago in ancient Japanese culture. It is a convenient, economical, and eco-friendly way to wrap gifts.
Below is Wellness Mama's 2 step instruction manual for furoshiki gift wrapping:
Use a yardstick to measure out a square or rectangular piece of fabric. A typical size for a furoshiki wrap is 36 inches by 36 inches, but these can be made larger or smaller depending on what will be wrapped. Larger premade fabric pieces, like tablecloths and bedsheets, will probably also need to be cut down to size.
For a no sew version, cut out the fabric

 

with pinking shears. (Fabric must not be prone to fraying.) Otherwise, use scissors to cut out the measured fabric. Pin the edges like you would for a hem and sew.
Polka Dots
As far as patterns go, plaid is the go-to for holiday gifts. But it's important to differ from the norm if you want your wrapping to stand out. 
Just use a different, but extremely recognizable, pattern. Polka dots!
A Used, But Nice, Button-Down Shirt
Repurposing old dress clothes can be a quirky, fun way to wrap your gifts. In fact, it serves as two gifts in one! Using a button-down shirt to wrap a small gift makes it ready-to-wear.
Check out Country Living's tutorial on reusing patterned clothing for gift wrapping here.
Hand-Painted Wrapping Paper
This is the most personalized wrapping idea on our list. And all it takes is a few markers, or acrylic paint, and a brush. 
By painting minimal, simple patterns on several 24 inches x 36 inches or 18 inches x 24 inches poster boards, you will create plenty of wrapping paper for your gifts. 
Check out these instructions by Camille Styles to make beautiful, personalized wrapping paper for your loved ones:
SUPPLIES
1 hand painted poster board per book
scissors
ruler
pencil
hole punch
ribbon
Lay the book flat on the back side of the poster. Fold the edge of the poster until it covers 2/3 of the book front from top-to bottom. Let the folded poster fall back down and do not move the book. Measure the space between the bottom of the book and the edge of the poster.
Measure and mark the same amount of space from the top edge of the book. Cut along the mark. There should now be the same amount of poster from the top and bottom edge of the book.
Fold the left edge of the poster until it covers 2/3 of the book from left-to-right. Repeat the rest of steps 1 and 2. Your book should now be in the center of a rectangle that's perfectly sized to wrap around it.
Cut the corners out of your rectangle as pictured.
The edge of the folding flaps should line up with the edges of the book, as pictured.
Fold in the top and bottom flaps.
Fold in the left and right flaps, then mark and cut only the left and right flaps to form a triangular envelope shape with a flat point. Make sure that when you cut, these two flaps still overlap when folded.
Use a hole punch to poke two holes into the top flap.
Press the top flap down, and use a pencil to mark through the holes onto the second flap. Punch where holes were marked on the second flap. Repeat onto the third and bottom-most flap until all four flaps have holes punched in them that align.
Cut a long piece of ribbon and thread it through the bottom flap.
Fold the next flap down and thread the ribbon through again, as pictured.
Repeat with the two top flaps, then tie the ribbon into a pretty bow.
Fill Your New 1st Lake Apartment With Holiday Cheer!
Contact us today to learn more about our private gated apartment communities!
---
Create instant holiday warmth in your home by streaming our cozy, crackling fireplace on your TV, iPad,  or smart phone. Throwing a festive party? Use this fireplace as the centerpiece. You can stream directly from our blog or head to our Youtube channel.
Let's get crackling!
Want your own apartment with a fireplace? See our list of apartments here:  http://bit.ly/1stlakefireplaceapts.
---
If you're entertaining at home this Thanksgiving, it's important to provide your guests with as much personal space as possible. All of our apartments at 1st Lake Properties are spacious and modern, but we know how easy it is for your space to feel more stuffed than a turkey when hosting friends and family.
That's why we've put together a list of tips for spatial optimization during the holidays. Read on to learn our favorite hosting hacks!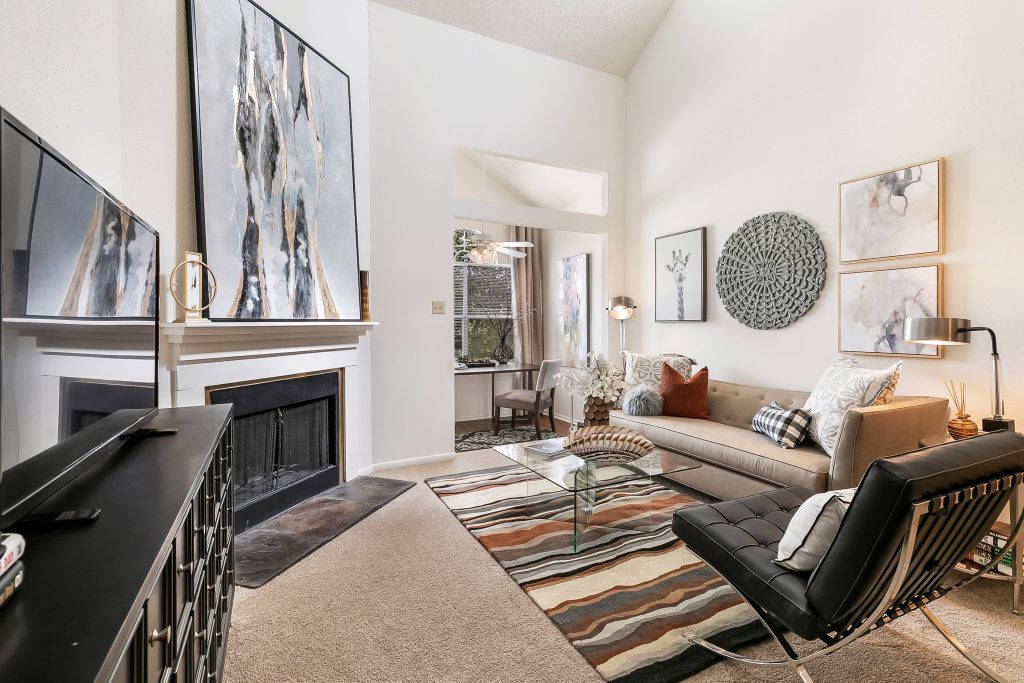 Think Vertically
Thinking vertically is one of our best tips for Thanksgiving. Maximize space on the dinner table by using tiered plates to hold appetizers and desserts.
This trick even works for the turkey, too: carve it ahead of time and separate white meat, dark meat, and legs on a three-tier display.
Table Your Concerns
If your dining table won't accommodate all of your guests, use other flat surfaces as well. Consoles, sofa tables, and nightstands can all work as alternate eating spaces or food displays. This allows you to create intimate areas throughout your space instead of cramming your guests into one giant table.
Folding tables and chairs from a party rental store can also help you maximize space on a small budget. Whatever you choose, drape coordinating linens over mismatched tables to transform them into a cohesive unit.
Rearrange the Furniture
We get so used to seeing our stuff in the same place, it's easy to forget it's not bolted down! Rearranging furniture is a fun, free, and instant way to transform your home at any time of year, but during the holidays it can be a space-saving trick.
Push couches against the wall or move them to a different room altogether during dinner. Other rooms in your apartment can serve as temporary storage units, leaving you maximum space for entertaining.
Get Creative with Miscellaneous Items
Your ironing board works great for extra counter space, and a spare side chair positioned near the front door is ideal for letting guests set down their purses and bags when they come in.  These two tricks help free up space and make the most of precious square footage at the same time.
Be Mindful of the A/C
A nice, cool space with proper air circulation will ensure that your guests are comfortable, even if your apartment is a little bit crowded.
Smaller apartments can heat up quickly with the oven going and extra guests mingling about. Keep everyone happy by being mindful of the A/C — turn it down a few notches and adjust accordingly throughout the evening!
Spend Thanksgiving in Your New 1st Lake Apartment
Contact us today to learn more about our private gated apartment communities!
---