There's no better place to be than New Orleans for Halloween. It's such an exciting time with so much to do and see. If you're a resident of 1st Lake Properties or thinking of becoming one, then you're in a great position to have the best time possible for the fall holiday.
(And if you still need a pumpkin, check out this post!)
New Orleans Area Halloween Happenings
Frenchmen Street – Each year in New Orleans, the local hotspot that is Frenchmen Street hosts a block party Halloween night and usually continues the party a day or two after (or for 2017, the weekend before). Some of the best costumes in New Orleans can be seen on Frenchmen Street during Halloween.
Haunted Houses – If you're into the whole fear factor of Halloween, there are two pretty terrifying haunted houses in New Orleans to get in the scary Halloween spirit. The Mortuary is located in a haunted building on historic Canal Street and delivers a heavy dose of frights each year. House of Shock is considered by some to be the scariest haunted house in Greater New Orleans, located on Butterworth Street in Jefferson.
Voodoo Music + Arts Experience – To keep the party going into the weekend, the Voodoo Music + Arts Experience from October 27-29 will bring a three-day music festival with incredible headliners like Kendrick Lamar, LCD Soundsystem, the Foo Fighters, and The Killers along with local acts, plus interactive art installations, an art market, food and more all in New Orleans City Park.
Boo at the Zoo – If you're looking for fun for the whole family, this is the place. Audubon Zoo hosts Boo at the Zoo October 27 and 28 from 5:00 – 9:00 p.m., rain or shine. Dress up in costumes and bring the kids for trick or treat houses, a Ghost Train, a scary and not-so-scary haunted house, games, entertainment and more. Tickets are $17 and are free for children 12 months and younger.
Halloween Photos + Goblin Express — The Lakeside Mall in Metairie has all the makings of a ghoulish good time. Get your shop on, then hop on the Goblin Express for $1.50 per ticket. The mall also offers photos with the Great Pumpkin. While both these events are designed for kids, kids at heart can join in the fun, too.
---
Festival season took a quick break in the hotter months of summer, but September is here the festival scene is about to really take off! The fall festival line-up has some new additions, so prepare your stomach for a lot of deep-fried celebrations. Mark your calendars with this one-stop list:
End of September Festivals
NOLA on Tap [September 23] – Sip on some of the region's best craft beers and support the Louisiana SPCA at this fun-filled festival. NOLA on Tap is also the region's largest beer festival, with over 400 breweries participating. There will be live music, beer judging, local artwork, and more!
Fried Chicken Festival [September 23-24] – Head to Woldenberg Park downtown and feast on renditions of this sacred Southern tradition. It's free to enter, and attendees can chow down on fried chicken from over thirty vendors, watch cooking demos, and dance to live music. Make sure your stomach is ready!
Treme Fall Fest [September 30 – October 1] – This donation-based festival helps benefit the neighborhood's architecture, culture, and history. Watch some of the city's best in gospel, brass, and jazz all weekend long.
Carnaval Latino [September 30] – Celebrate National Hispanic Heritage Month at the 18th annual Carnaval Latino festival. This French Quarter festival celebrates all aspects of Hispanic culture in New Orleans.
October
Oktober Fest [October 6-21] – Head to 1700 Moss Street near Bayou St. John in Gentilly any of the first three weekends in October and you'll be right at the heart of this city's Oktober Fest celebration. The new home to Oktober Fest will feature a wide variety of German beers, German brass bands, and brats! All the brats!
Beignet Festival [October 7] – The city's most iconic dish definitely deserves its own festival! Beignet Festival will feature original takes on the powdered sugar classic from some of the city's best chefs, as well as a great live music line-up!
New Orleans Film Festival [October 11-19] – This one is for all you film buffs in the area! New Orleans Film Festival is a multi-venue event featuring some of the nation's best filmmakers and the city's most innovative cinephiles. Be the first to see the best in independent filmmaking this year!
Crescent City Blues & BBQ Fest [October 13-15] – This free festival in Lafayette Square will bring the area's best barbeque cooks and blues artists together for a weekend of saucy celebration. If you love all things BBQ, this is the festival for you!
Krewe of Boo Halloween Parade [October 21] – Although this isn't technically a festival, it's a fun, family-friendly event in celebration of the Halloween season! Bring your kids down the French Quarter for a spooky parade of crazy costumes and creative floats!
Mac n Cheese Festival [October 21] – This is the inaugural Mac n Cheese Festival and it's definitely worth checking out! Cheese fans rejoice, and make your way to Louis Armstrong Park for an ooey-gooey observance of one of the world's favorite comfort foods.
Cochon de Lait Festival [October 21] – Free entry, live music, local artists, and lots and lots of pork. The Cochon de Lait fest takes place in Palmer Park, just off Carrollton and Claiborne Avenue. Come hungry.
Oak Street Po-Boy Fest [October 22] – One of Oak Street's main events, Po-Boy Fest takes over the main stretch of the street with tons of po-boy vendors and live music stages for your entertainment. Dig into a traditional po-boy or try some of the area's more unique tastes on this New Orleans classic at Po-Boy Fest.
Louisiana Seafood Festival [October 27-29] – If Louisiana is known for one thing, it's seafood! Shrimp, oysters, crawfish, and other iconic gulf catches have put Louisiana on the map as one of the best places for fresh seafood in the world! Celebrate this important part of our culture at Louisiana Seafood Festival at Woldenberg Park in downtown New Orleans.
Voodoo Music & Arts Experience [October 27-29] – Worship the music at this Halloween weekend music fest in New Orleans City Park. Voodoo Fest is one of the city's largest music festivals, and it features some of pop and rock music's hottest acts. Dress in your wildest Halloween costume and dance to the sounds of the Foo Fighters, Kendrick Lamar, and more!
November
Boudin, Bourbon & Beer [November 3] – Emeril Lagasse's nighttime festival in Champions Square celebrates the savory sausage creations of the city's elite chefs. Each food booth has a unique take on boudin sausage, and you can sip and snack your way toward the stage for some amazing live music.
New Orleans Book Festival [November 11] – Add some new titles to your home's bookshelf at New Orleans Book Festival! Chat with local authors and enjoy twilight book readings with the whole family!
Treme Creole Gumbo Festival [November 18-19] – Ring in the cooler weather at Treme Creole Gumbo Fest! The Congo Square-based fest will answer all of your gumbo dreams.
Celebration in the Oaks [November 24 – January 1] – Ring in the holiday spirit with the bright lights of Celebration in the Oaks. This annual City Park event illuminates the Botanical Gardens, Storyville, and the Carousel Gardens with holiday lighting displays that will enchant and entertain everyone in your family!
Well, looks like your calendar is full for the next couple of months! Stay tuned for our winter picks!
---
The Saints regular season starts on Monday, Sept. 11, with a game against the Minnesota Vikings. We can't wait to root for the boys in black and gold, which is why we've outlined two ways to watch 'em (when you're not in the Dome, of course). Make the best of game day whether you're enjoying it at home or if you prefer a local bar in Metairie, Kenner, or Elmwood.
If You Catch the Game at Home
Create a tailgate-at-home experience with all the details of a traditional tailgate – in the comfort of your own living room (plus real restrooms and air conditioning!). One of our favorite tailgate recipes is this Creole Gumbo recipe from Smithsonian Magazine. You can make it ahead the night before and have it warming on the stove throughout the game's telecast. And to keep it truly authentic to a tailgate, don't even think about fancy silverware or china for your guests. Simply provide plastic tableware instead. It'll feel more like a real tailgate, and cleanup will be a snap. You can go as over-the-top or as understated as you like when it comes to game-day décor, but we always like having a football on hand to toss around during commercials.
If You Catch the Game Around Town
We wouldn't dare recommend trying to get into New Orleans proper on game day. Instead, take advantage of awesome sports bars outside the city that are still just a quick drive from many of our 1st Lake Properties. Here are three of our favorites:
Sports Bars in Metairie and Elmwood 
JR's Sports Bar & Grill: Conveniently located on Veterans Memorial Blvd. in Metairie, this sports bar is open 24/7 –the kitchen is open 24/7, too, churning out delicious regional classics like po-boys and shrimp plates. Big-screen TVs will hold your attention while the game is in play while diversions like video games and a fully stocked bar mean you'll still have fun even if your team isn't winning.
Coach's Corner: In addition to pleasing prices and a spacious setup, Coach's Corner lets patrons bring in food from Zita's pizza next door. If you're in the competitive spirit, challenge your friends to a game of pool, shuffleboard, or darts.
Hurricanes Sports Bar: Flat screens everywhere you look, two pool tables, delicious wings. Enough said. Head to Hurricanes on Veterans Memorial Blvd. for all of the above.
If You're on the Northshore or in Baton Rouge
As 1st Lake Properties expands, so does your chance to enjoy Saints games near our properties in Baton Rouge and on the Northshore. Some of our favorites include:
The Beach House Bar & Grill: Tropical drink enthusiasts will love this Northshore spot in Mandeville, which hosts Saints parties during the season. Their drink menu includes options like Caribbean Rain Water Rum Punch, Shangri-La Lemonade, and the Soggy Dog Pain Killer; pair it with islands-inspired dishes like jerk shrimp tacos or the Kona Lua kabobs.
Columbia Street Taproom: Head to Covington and catch the game at Columbia Street Taproom downtown. Plenty of beers will keep you going throughout the game — choose from 30 on tap and more than 60 bottles. If you need more substantial fuel, try the burger.
Stadium Sports Bar & Grill: Fancy up your game day experience at Stadium Sports Bar & Grill inside the L'Auberge Casino Hotel in Baton Rouge. With plenty of TVs and spacious seating, this bar offers up a full list of drinks plus crowd-pleasing food like "Colossal Wings" and their "Nacho Extravaganza."
---
With looks like this, it might be hard to leave our newest apartment community in Covington, but outside of Artesia's gates is a town filled with tons of great attractions for adults and kids alike. If you love the outdoors, the Northshore is a great place to venture out and explore. You're in close proximity to picturesque waterways, scenic state parks, and canopied bike paths that wind through the area's townships. Thinking of indoor options? Test your wits at an escape room or go on a date to the movies.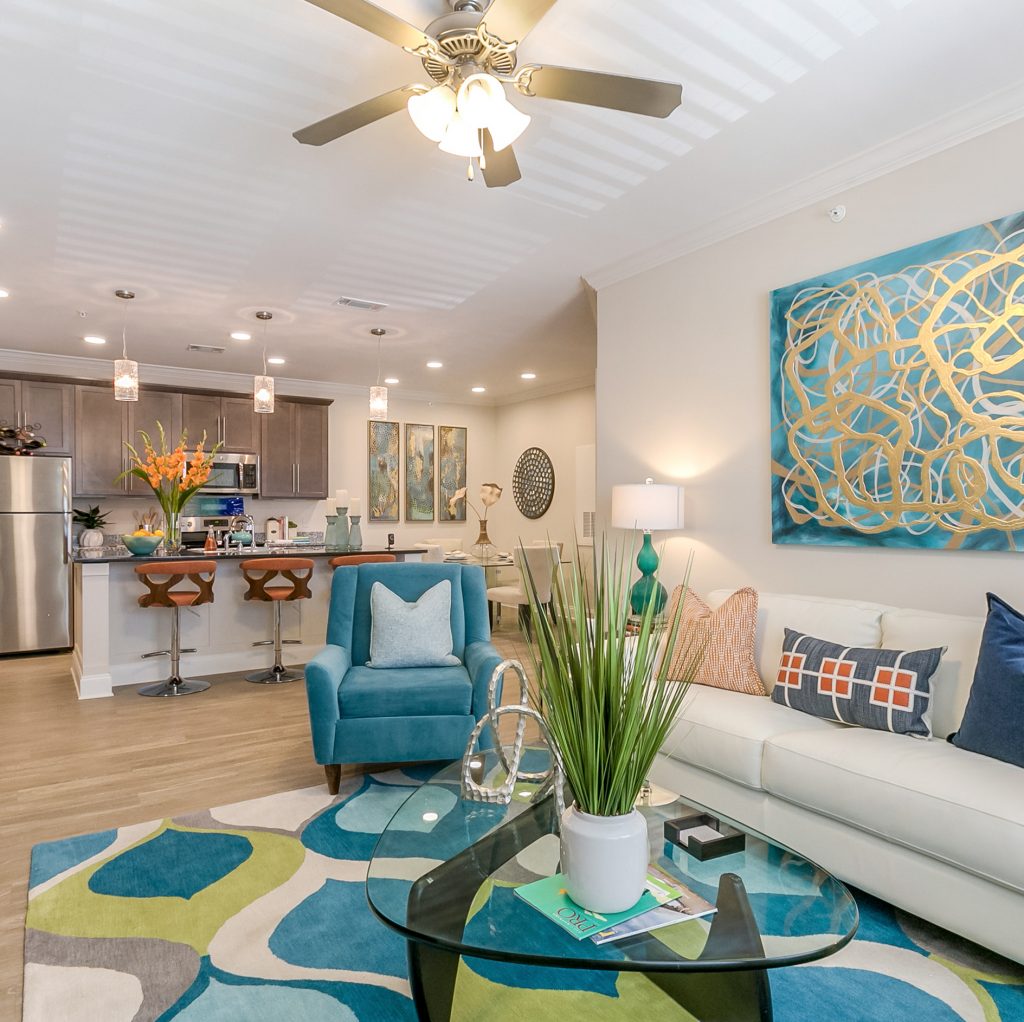 The Great Outdoors
The Northshore is home to several bayous and streams, which are ideal for an afternoon kayak ride. Beautiful cypress trees and diverse wildlife make paddling the Cane River or Tchefuncte River a relaxing experience. You can rent kayaks from a number of local outfitters, and use Louisiana Northshore's list of launch sites for your personal watercrafts. Bogue Chitto State Park has great hiking paths and riverside beaches, and Fontainebleau State Park's 2,800-acre space has boardwalk pavilions, and beautiful, renovated cabins for rent (make sure to book in advance, as they fill quickly). Did someone say, "Staycation?"
If you really want to get wild, head to the Global Wildlife Center for a safari ride alongside giraffes, zebras, kangaroos, and bison! You'll ride in an open-air bus and get the opportunity to feed the animals by hand. Be careful with those giraffe tongues, though!
If you're looking for a different kind of outdoor fun, the Tammany Tracy Bike Trail stretches from Abita Springs to Covington down to Mandeville and into Slidell's Camp Salmen Nature Park. End your light ride from Covington to Abita Springs with a beer at the Abita Brewery, or coast down to the Mandeville lakefront for a sunset stroll.
The Great Indoors
It's still a tad hot outside, so you're thinking of holding off on all things outdoors until later this season… That's ok! There is plenty of indoor fun for everyone in the family. If you're due for a date night with your loved one, the Movie Tavern is both the dinner and the movie. Take a seat and let a server bring you dinner while you watch the latest Hollywood blockbuster. Or you can clue into one of the Northshore's escape rooms like The Escape or Escapology and race against the clock to free yourself from the enclosed space.
Elevation Station is an indoor trampoline park with tons of high-flying fun. We love this place as a solution to rainy day woes, and there are plenty of different bouncy options to keep your kids engaged until exhaustion. If you want a unique experience, head to the Abita Springs Mystery House and peruse their collection of eccentric objects and off-the-wall inventions.
Artesia is at the Center
Artesia's centralized location gives you easy access to all of the Northshore's best entertainment and attractions. Whether you're looking to hit the water or hail the waiter, Covington has everything you need for your outdoor adventure or your indoor indulgences.
---
It's almost back to school time here in the New Orleans area, but summer's not officially over until the fall equinox on September 22, 2017. Luckily, the greater New Orleans region offers plenty of opportunities for summer fun for the whole family.
Whether you've got kids that are going back to school in a few weeks or little ones that need entertaining no matter what the season, we've got a few ideas for summer activities your kids will love.
1. Go for a swim!
Our apartment communities are famous for their resort-like pools and water features. At Bella Ridge, located near the Elmwood shopping center, you can reserve a cabana at our large resort-style swimming pool. Relax, unwind, and catch some rays at our tanning ledge while the kids splash around. Our poolside delivery menu is available 7 days a week.
Residents of the Lake Towers, Regency Club, and Spring Brook apartments in Baton Rouge have a fun-for-all-ages water park right in their back yard with Blue Bayou. There are water slides, roller coasters, Ferris wheels, and plenty of ways to splish and splash all summer long.
2. Read a book!
Whether you have a book collection at home or would rather opt to check one out from the public library, reading a book together is always a fun family activity. Enhance the kid's summer reading list by finding stories that fit their interests. If the kids are old enough to read on their own, let everyone pick a book of their own and read silently together.
The companionship of having your family in the room can make even this quiet activity a cozy and relaxing one. It can also be fun to read a book aloud. Perhaps the family can take turns reading parts, or an adult can take the lead and handle the reading duties. However you choose to do it, reading not only enriches minds but can also be a lot of fun!
Going on a road trip this summer? There are several services, such as Audible Kids that have a great selection of quality literature for children. Download a few to your favorite device and either give your child some headphones, or play the book over your car's speakers while they play quietly.
3. Play make believe.
A classic and time-tested family activity is building a blanket fort. All it takes is a few chairs, some blankets, and maybe a few pillows or cushions to create a magical world for your little ones! Once nestled inside, your kids can read a book, play with toys, or simply let their imaginations wander.
Your new blanket fort is a perfect place for an indoor picnic or tea party on rainy or extremely hot summer days. Lay a tablecloth on the floor and the family can enjoy a fun lunch or tea and snacks together. Your kids will get a big kick out of being able to eat their afternoon snack inside a blanket fort!
4. Take the family fishing.
One of the great things about Louisiana is all the natural waterways we have that are perfect for summer activities like fishing. Residents of our New Orleans area apartments can enjoy fishing on Lake Pontchartrain, while residents of Audubon Gates in Slidell don't have to go far to take advantage of the St. Tammany Parish fishing pier.
Residents of our newest apartment community, Artesia in Covington, can take advantage of the nearby Tchefuncte River for all their fishing and boating desires.
5. Head to the park for a picnic.
The greater New Orleans area offers plenty of spots for summer picnics, playing Frisbee, or flying a kite.
The Lafreniere apartments in Metairie are located right at the main entrance of Lafreniere Park, and all other Metairie, Kenner, and River Ridge residents are located just a short drive from the beautiful City Park and Audubon Park in New Orleans.
6. Catch a baseball game.
A great way to spend a summer evening is to enjoy a baseball game with some delicious grilled food and friends. The New Orleans Baby Cakes minor league baseball team (formerly known as the Zephyrs) play all through the summer at the "Shrine on Airline" which is conveniently located on Airline Drive in Metairie, close to many 1st Lake Properties apartments. The Baby Cakes partner with many local organizations for fun promotional events throughout the summer, like Harry Potter Night, Elvis Night, and Wayne's World Night.
7. Watch a movie.
As the season of blockbusters, the summer is always a great time to go to the movies. It's air-conditioned, the popcorn is hot and buttery, and the movies are action-packed.
There are plenty of great options to go to the movies near our apartment communities in Metairie, Kenner, and River Ridge. The AMC Elmwood Palace has 20 theaters showing all the best summer blockbusters as well as the Clearview Palace for another great nearby option.
Where to relax after a summer day.
After you've spent the day full of fun activities, your entire family can relax and recharge in one of our 9,500+ apartment rentals in the greater New Orleans area.
Our pet-friendly apartment communities feature elaborate landscaping and ample storage space. Find your perfect home today!
---