Candy canes and silver lanes are aglow in South Louisiana. The spirit of the season is here, and New Orleans, the Northshore, and Baton Rouge have a host of spectacular events you can check out to celebrate the holidays in true Louisiana fashion.
Read on for a regional breakdown of some great family-friendly holiday events this year.
Metairie & Kenner
Metairie and Kenner certainly get merry and bright for the holidays, which is why we love having apartment communities in those areas. You're just a quick drive away from extravagant lighting displays, Santa visits, and remarkable holiday performances.
Christmas in Lafreniere Park
December 2nd – December 30th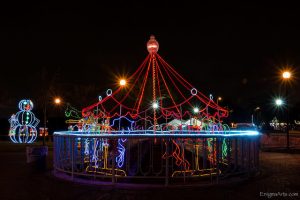 Lafreniere Park's annual light display keeps getting better and better.  Entry is $10 per vehicle. Holiday favorites from this years display include: artificial snow, an interactive walking tour set to random scenes from favorite holiday classics, and an over 10 million LED light display.
Lights on the Lake 
December 10th, 5pm – 8pm
Ponchartrain Conservancy is hosting their annual Lights on the Lake event! The boat parade is scheduled for 5:30pm to 7:15pm. Local food trucks, refreshments, live entertainemnt, holiday decor and more. Admission is $5 for all and free for children under 5.
Santa Photos at Lakeside Shopping Center
Now through December 24
Lakeside Shopping Center has Santa photos  now through December 24. While you're there, stop by the North Pole Express, Monday-Saturday 10am-7pm and Sunday noon-6pm, $2 per ride and open now until January 3rd!
Kenner Christmas Village
December 2nd – December 18th
Kenner Christmas Village is a great idea for a family outing this holiday season. The Christmas Village located at Heritage Park is filled with things to do and see the whole family will love. There's nightly performances, lights, snow, music, food, arts and crafts and more!. 
Celebrate the Season at West Bank Regional Library
December 11th – 2:30-4:30pm
Live music by Harpist Patrice Fisher and Arpa, cookie decorating, hot cocoa bar, and children's activities all at the West Bank Regional Library. 
Luna Fete
December 15th – December 18th
Luna Fete, New Orleans' free festival of light art located in Lafayette Square Park. From 6pm-10pm.
Harahan Christmas Parade
December 17th – 12pm
Join Harahan Police Department and Chief Tim Walker for the Harahan Christmas Parade! 
Movies Under the Stars
December 17th – 5pm – 7:30pm
The Riverwalk Outlets will be showing the Grinch movie at their "Movie Under the Stars" event, outside on the Spanish Plaza! Free treats will be available as well as Santa pictures! The event is free.
Northshore
The Northshore is just a short drive from New Orleans, across Lake Pontchartrain. The Northshore's holiday calendar is always jam-packed with wonderful events for the whole family.
Merry Madisonville & Lighting of the Oaks
The 10th annual Merry Madisonville is a holiday festival that begins with a holiday parade, where Santa arrives by boat at Town Hall. Soon after is "Santa's Workshop," which features caroling, kids' activities, photos with Santa and Mrs. Claus, and arts and crafts. 
Finally, Madisonville Mayor Jean Pelloat will begin the "Lighting of the Oaks," during which Madisonville's majestic oaks will be illuminated with beautiful twinkling lights.
Slidell's Bayou Christmas
The 5th annual Bayou Christmas is a free festival presented by the Boys and Girls Club of Southeast Louisiana. It will take place December 19-22, 2018 in Slidell's Heritage Park.
Over 80,000 lights decorate wonderful lighted displays and holiday music, setting the scene for free photo shoots in Santa's Village.
Baton Rouge
Louisiana's capital city will soon feature plenty of events and shows that will put you in the holiday spirit.
Holiday Lights at Baton Rouge General
Baton Rouge General Medical Center presents its first fantastic holiday lights display this year, transforming its lawn into a synchronized musical light show. It's already running, and you'll have the opportunity to see it through December 31! 
Festival of Lights
Go Downtown to Baton Rouge's Town Square for an immersive holiday celebration. According to Visit Baton Rouge, the whole family can "frolic in the imported snow, ride a magical train at the Old Governor's Mansion, see Santa and Movies at the Old State Capitol, and listen to Holiday Music Magic at the Art and Science Museum." Sounds like a blast!
This year's event will also feature a "Cajun Night Before Christmas" performance.
Get Cozy in Your New 1st Lake Apartment this Holiday Season!
Contact us today to learn more about our private gated apartment communities!
---
Fall is finally here. If you live in Louisiana, that means it's safe to leave the comfort of your air-conditioned living room and head outside for some beautiful weather.
The schedule is jam-packed with lovely fall events. You shouldn't miss any opportunity to spend some time in the crisp autumn air having fun with friends and loved ones.
We've put together a list of events to look out for this fall, so read on to start planning your 2018 autumn itinerary!
New Orleans
Boudin, Bourbon & Beer Festival
On November 9, the Emeril Lagasse Foundation will hold another Boudin, Bourbon & Beer Fest in Champions Square. The festival has quickly become one of New Orleans' most popular outdoor food and music festivals.
The event features a special menu comprised of 70 chefs, both local and national. This year's festival includes co-chairs Donald Link, Stephen Stryjewski and Guy Fieri. If you're a foodie, this one-night event is the place for you. 
The all-inclusive ticket price is $135, and the festival runs from 6:00 p.m. – 10:00 p.m.
Oak Street Po-Boy Festival
The Oak Street Po-Boy Festival is Sunday, November 11 in the Carrollton neighborhood of Uptown New Orleans. Oak Street transforms into a walkway full of great local music, drinks, and over 60 variations of the famous local sandwich.
This year's festival will also feature the "Where Y'arts Market," which will offer local arts and crafts. Check out the full schedule here.
Treme Creole Gumbo Festival
This festival, held in Congo Square and Louis Armstrong Park on November 17 -18, is a local favorite. Even better, admission is free!
The festival features a wonderful variety of gumbos to choose from. You'll find Creole gumbo, seafood gumbo, chicken & sausage gumbo, and much more. There's also a great music lineup centered primarily around jazz.
If you think eating a delicious bowl of gumbo while listening to New Orleans jazz in the park sounds like a good time, you should definitely attend the Treme Creole Gumbo Festival.
Baton Rouge
Cajun Country Corn Maze
Every weekend from September 29 – November 25, you can go to the Cajun Country Corn Maze, and it's the perfect place to enjoy the fall. The maze is constructed from a 7.5 acre corn field, and takes 1 – 1.5 hours on average to walk through.
It's located in the countryside just outside of Baton Rouge. Check out the maze's official website for detailed directions.
White Light Night
On Friday, November 16 from 6:00 p.m. – 10:00 p.m., the Mid City Art & Design Cultural District of Baton Rouge celebrates local art and music with White Light Night.
Head down to bustling Mid City, Baton Rouge's cultural hub, and enjoy the local businesses along the oak-lined streets. The festival is free, and functions as a way to stimulate the Baton Rouge economy and showcase the city's most exciting artists and small businesses. 
Have A Fantastic Fall With 1st Lake This Year!
We hope you take advantage of the beautiful weather and jam-packed events schedule this autumn in Louisiana. Contact us today to learn more about our private gated apartment communities!
---
Autumn in Louisiana is the perfect time of year for biking. But no matter what time of year it is, there are fantastic spots to bike near all of 1st Lake's gated residential communities.
Read on for the best places to bike in New Orleans, Baton Rouge, and the Northshore, and get ready to enjoy the beautiful natural environment of South Louisiana!
New Orleans
New Orleans is, for the most part, completely flat, making it ideal for cycling. There are lots of great places to go for a bike ride in the Crescent City.
Lafitte Greenway
The Lafitte Greenway is a 2.6-mile bicycle and pedestrian trail and green corridor connecting neighborhoods from Armstrong Park to City Park, extending from the intersection of N. Alexander and St. Louis streets in Mid-City to Basin Street and St. Louis Street in Tremé, blocks from the French Quarter.
According to the official website, "The Greenway includes a 12-foot asphalt path for cyclists and pedestrians, new recreation fields, basketball courts, outdoor fitness parks, green space, and landscaping improvements including approximately 500 shade trees, native plant meadows, and stormwater retention features. The path is fully lit with LED energy-efficient trail lighting and includes curb extensions, signalized high visibility crosswalks, a crushed stone walking path, and a bicycle and pedestrian roundabout."
St. Charles Avenue
Historic St. Charles Avenue is a major attraction in the city due to the majestic oaks and beautiful homes that line the street. Tulane and Loyola University campuses are also located along St. Charles, as well as the famous Columns Hotel. 
Biking down St. Charles is a great way to spend an afternoon. Plus, there are plenty of great restaurants and parks along the way, for those that would rather take their time and relax.
Lakeshore Drive
Lakeshore Drive is a popular place for biking because it provides a path with a view of beautiful Lake Pontchartrain. There are also plenty of places to eat or relax along the way.
Baton Rouge
If you live at one of our Baton Rouge properties, you'll also have a chance to bike along the Mississippi River, as well as many other beautiful landscapes in the city.
Mississippi River Levee
Along the Mississippi River levee is a 4-mile bike path that extends from just north of the I-10 Mississippi River Bridge down past Skip Bertman Drive at LSU to Farr Park. The path accommodates walkers, joggers and bikers. Water fountains and benches can be found along the way.
Downtown Greenway
Baton Rouge's Downtown Greenway is a bicycling corridor that stretches through the inner city. It's the perfect place to bike. Make sure you take advantage of the many parks, businesses and cultural attractions along the way.
Northshore
The Northshore is a great place to get away from the hustle and bustle of New Orleans and slow things down. There is more open and unused space on the Northshore compared to New Orleans, and this lends itself to biking perfectly.
Mandeville Trailhead Along The Tammany Trace 
The Tammany Trace is a hiking and biking trail that makes its way through every city on the Northshore, spanning from Covington, through Abita Springs, Mandeville and Lacombe, and ending in Slidell. Incredibly, this biking trail is over 30 miles long.
The Mandeville Trailhead is a public waypoint along the trace, where you will find restrooms, pavilions, an amphitheater, and other well-maintained public facilities to use before you begin your journey. The Mandeville Trailhead also hosts a farmers market on Saturday mornings.
There is a trailhead located in every city that the trace runs through, and each of them holds unique events and activities. To learn more about the trace and its trailheads, check out the official Tammany Trace website.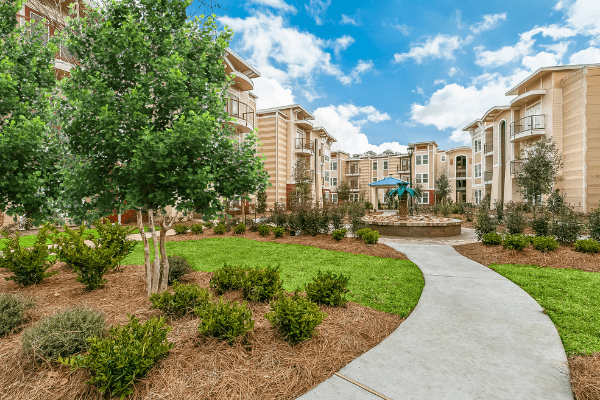 Find A Home At 1st Lake and Start Exploring Your City!
1st Lake has properties located near all of the biking spots listed above!  Contact us today to learn more about our private gated apartment communities.
---
Farmers markets have been part of the Louisiana way of life for centuries. All across the state, these markets feature a wide array of seasonal produce, flowers, local delicacies, and arts & crafts.
Autumn is a great time of year to check out the farmers markets in your area. The weather is lovely, and there is a strong sense of community surrounding these weekly or monthly gatherings.
Read on for some of our farmers market recommendations.
New Orleans
There are dozens of farmers markets in the New Orleans area, and each one features a variety of items including produce and local arts & crafts. The French Market Farmers Market and the Crescent City Farmers Market have regular hours and are well known throughout the city. 
French Market Farmers Market
This is a historic market that features full-service eateries serving breakfast, lunch and dinner and a variety of fresh produce and seafood. 
Two weekly fresh food farmers markets can be found here: The Wednesday Crescent City Farmers Market and the Artisan Saturday Market.
The Crescent City Farmers Market offers items from local farmers, fishers, and food producers, as well as cooking demonstrations and occasional live music performances.
The Artisan Saturday Market offers handmade arts & crafts including clothing, candles, and many other locally made and carefully selected items. 
Marketplace at Armstrong Park (Thursdays, 3 – 7 p.m.)
This marketplace boasts "produce, crafts, and culture." Its mission is to help revitalize the local community by increasing access to "fresh, local, and affordable food, and enhance economic viability" for its vendors.
Metry Market at the Park (Wednesdays, 3:30 – 7:30 p.m.)
Metry Market at the Park offers family fun in Metairie's Lafreniere Park, and offers a weekly community event for all ages. Its mission is to "provide a source of fresh fruit, vegetables and local goods to residents, highlight more of what Metairie, LA can offer to their residents and encourage residents to get in the habit of buying local goods."
This market also features artisans from all across Louisiana selling handmade jewelry, crafts, and more. 
Baton Rouge
Baton Rouge is also a great place to find locally sourced produce and other goods, and there are two major markets you should definitely check out.
Main Street Market
Main Street Market is located in downtown Baton Rouge, and features locally owned restaurants and shops inside of a marketplace setting. It is open Monday through Saturday and serves breakfast and lunch, as well as coffee. 
On Saturdays, Main Street combines with the Red Stick Farmers Market to create a community market that offers cooking demonstrations, as well as other standard farmers market fare.
Red Stick Farmers Market (Thursdays & Saturdays, 8:00 a.m. – 12:00 p.m.)
Red Stick Farmers Market has been in operation for nearly a decade, and only offers produce that is locally grown. Depending on the time of year, Red Stick operates in up to 7 locations across Baton Rouge, and has over 50 farmers that regularly participate. 
Red Stick offers a fantastic variety of "fresh fruits and vegetables, meats, seafood, artisan breads, homemade pies, honey, milk and cheese, native plants, herbs, and specialty food items." 
Northshore 
For those of you staying in one of our Northshore communities, don't worry! Both Mandeville and Covington have great farmers markets that aren't far from your apartment.
Covington Farmers Market (Wednesday & Saturday, 10:00 a.m. – 2:00 p.m.)
The Covington Farmers Market takes place every Wednesday and Saturday morning, and is a community gathering featuring fresh produce, prepared food and music. All produce offered at the market is grown locally, and what's available will depend on the season.
You'll also find "jam, jelly, bread, pastries, pies, and candy" as well as a "broad selection of live native, ornamental and culinary plants."
Mandeville Trailhead Farmer's Market (Saturday, 9:00 a.m. – 1:00 p.m.)
Since 2002, the Mandeville Trailhead Farmers Market has brought the local community together to buy local goods and enjoy local entertainment and educational activities. 
The market features over 50 vendors offering "food of all types, wood-crafted items, artwork, pottery, children's toys and clothing, soaps & lotions, and more." 
Let Us Help You Find a Home and a Great Community!
Contact us today to learn more about our private gated apartment communities!
---
Have you ever craved a delicious, complete lunch for a great price? We've got you covered.
We've put together a list of happy hour and weekly specials in the Metairie, Kenner, and River Ridge areas. These spots are close to our properties, making all of them as convenient as they are delicious!
Read on for our list of food happy hours in the New Orleans area:
Andy's Bistro 
Andy's Bistro is a restaurant, bar and event space located on Veterans Blvd. They were also recently voted the best pizza in Metairie.
From 4:30 – 6:00 p.m., Andy's offers a "Prime Time" menu — a fantastic 3-course meal for only $29. For the main course, you'll be able to choose between filet mignon, fresh fish, pork chop, and paneed veal. 
Loft18
Despite being featured on our Happy Hour List, Loft18 offers more than just food and drinks. It is an indoor golf and entertainment center, designed for year-round indoor golf simulation and relaxation. 
Loft18 is a great place to spend time with friends, and their weekly specials make group gatherings even better. Loft18 offers a different food and drink special every day of the week, including discounted sliders on "Lazy Saturdays" and "2 for 1" Tuesdays, which features any two select menu items for the price of one.
Check out their full list of specials here.
Drewski's Prime Seafood, Steaks & Wine Bar
Drewski's is another restaurant that offers daily lunch specials well worth checking out. Daily items include Shrimp, Tomato and Basil Pasta Topped with Bronzed Catfish and Garlic Bread and Southern Fried Chicken. 
Check out their full menu here.
Boulevard American Bistro
Boulevard American Bistro is an upscale establishment located at 4241 Veterans Blvd. in Metairie that offers a fantastic "Social Hour" menu from 3 – 6 p.m., Monday – Friday. $7 small plates like Tuna Tartare, House Made Guacamole, Fried Lousiana Oysters, and a Petite Ribeye Steak Sandwich complement their great drink specials perfectly.
Heads & Tails 
Heads & Tails is a fantastic seafood restaurant in Harahan with an incredible happy hour menu Monday – Saturday at 3 – 6 p.m. that offers discounts on oysters, BBQ shrimp, boudin stuffed mushrooms, and more. 
Taste of Tokyo
Taste of Tokyo offers delicious Lunch Combos from 11 a.m – 3 p.m. Monday – Saturday. Try this spot for great hibachi and sushi dishes.
Copeland's
Copeland's in Kenner offers great lunch discounts on their delicious appetizers, including, Seafood Stuffed Mushrooms, Crab Stuffed Beignets, and Artichoke and Spinach Dip Monday – Friday from 4 – 7 p.m.
Check out their menu here.
Stingray's 
Stingrays in Kenner offers delicious lunch specials from 11 a.m. – 4 p.m. that vary from day to day. Specials include fresh fish filets, shrimp & sausage jambalaya, and stuffed bellpepper for incredible prices. 
Chilangos Seafood 
Every Tuesday at Chilangos in Kenner, you'll get great discounts on tacos and quesadillas, as well as margaritas. 
Check out their great deals here.
Let Us Help You Find the Perfect Apartment in the New Orleans Area!
Check out our website to find a 1st Lake residential community near you! 
---