King Cake in New Orleans is a beloved and special tradition – and one you can only enjoy during the Carnival season. So it's important to make the most of your King Cake window and try as many delicious renditions as you can!
Ask any local and they'll tell you that King Cake in New Orleans is only eaten from Twelfth Night (January 6) through Mardi Gras Day. And there are so many bakeries, restaurants and special spots that serve up their own spin on the confection.
Need a good starting point to find the best King Cake in New Orleans? Here's some must-try options for you to enjoy!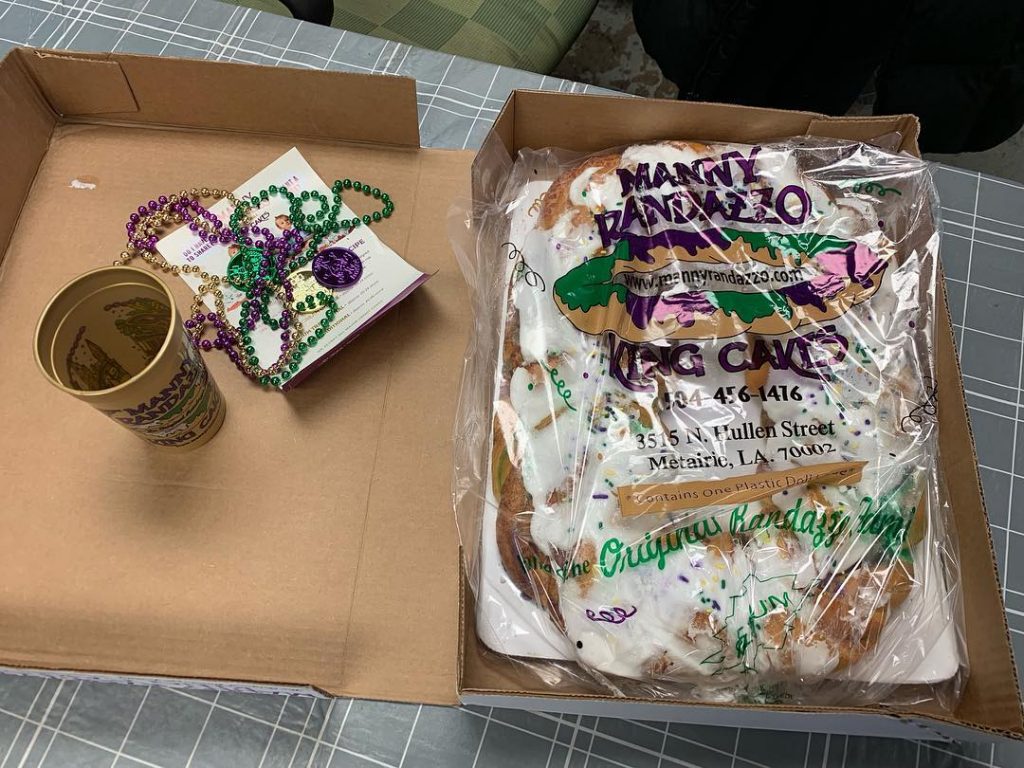 Almost everyone has heard of the Randazzo family and their secret family king cake recipe is the stuff of legend in New Orleans. As the most well-known keeper of the family's sweet treat, Manny Randazzo's King Cakes offers everything from traditional King Cakes to special flavors like apple, lemon and strawberry. 
A bite of Manny Randazzo's king cake is an essential part of the Mardi Gras experience!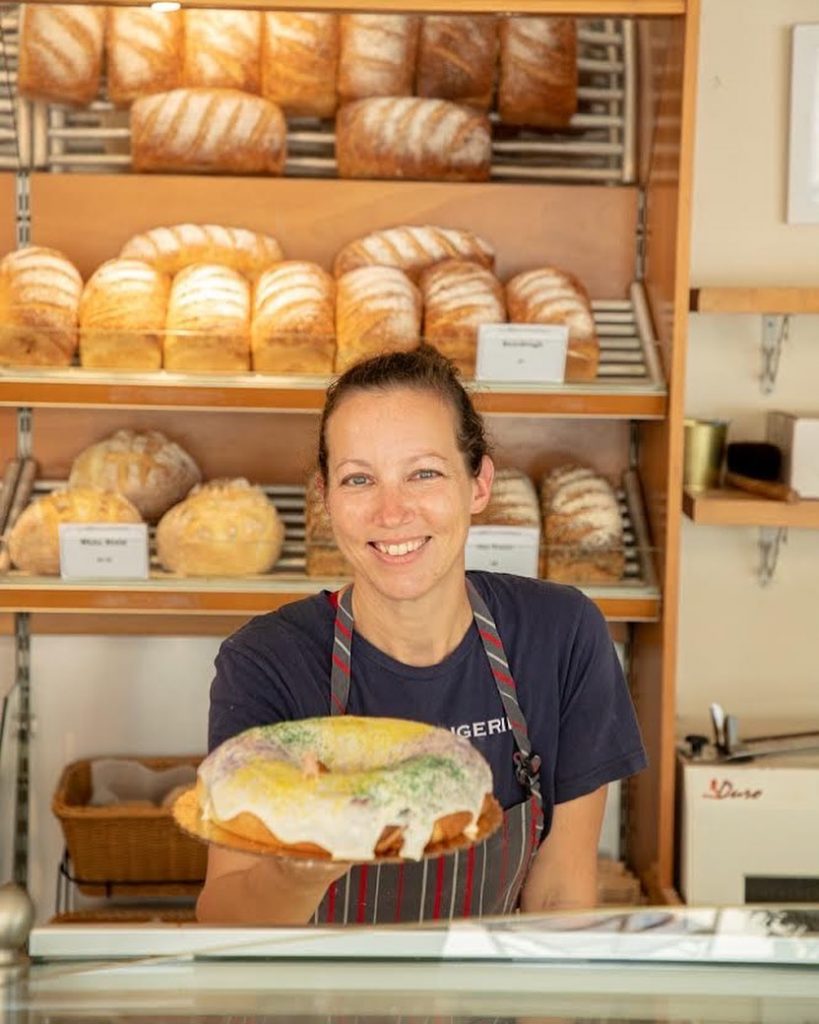 This French bakery on New Orleans' charming Magazine Street is the perfect spot to pick up a delicious King Cake. Well-known and popular year-round for their croissants and pastries, they offer traditional cakes alongside cinnamon, strawberry, almond, and pretzel flavors during Carnival. 
You can even grab a personal mini King Cake to enjoy on the go!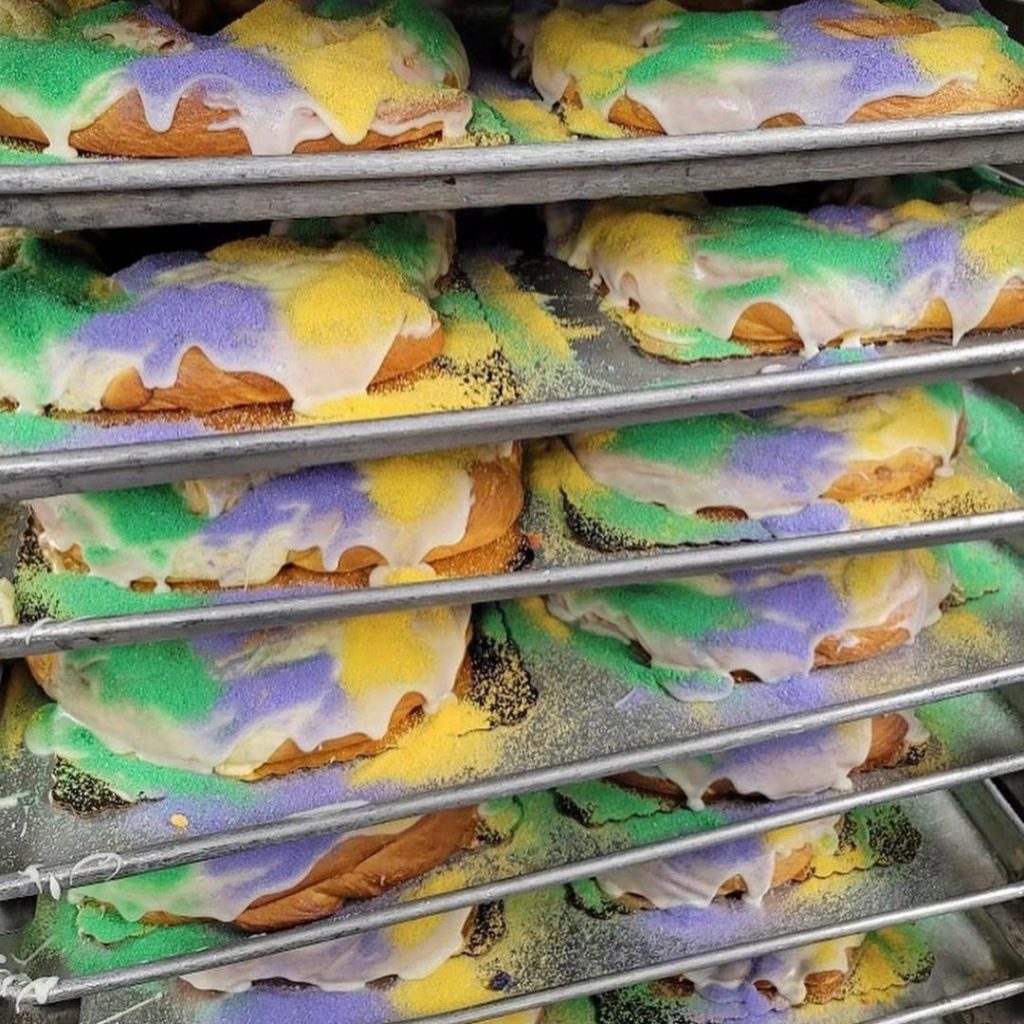 Haydel's classic king cake is famous around town. Made of danish dough, hand braided with cinnamon and sugar, and baked to perfection, these treats are sure to be one of your top favorites with just one bite. 
Plus, they have many special flavors to choose from like praline pecan, cream cheese, strawberry cream cheese, German chocolate, and brownie chocolate chip!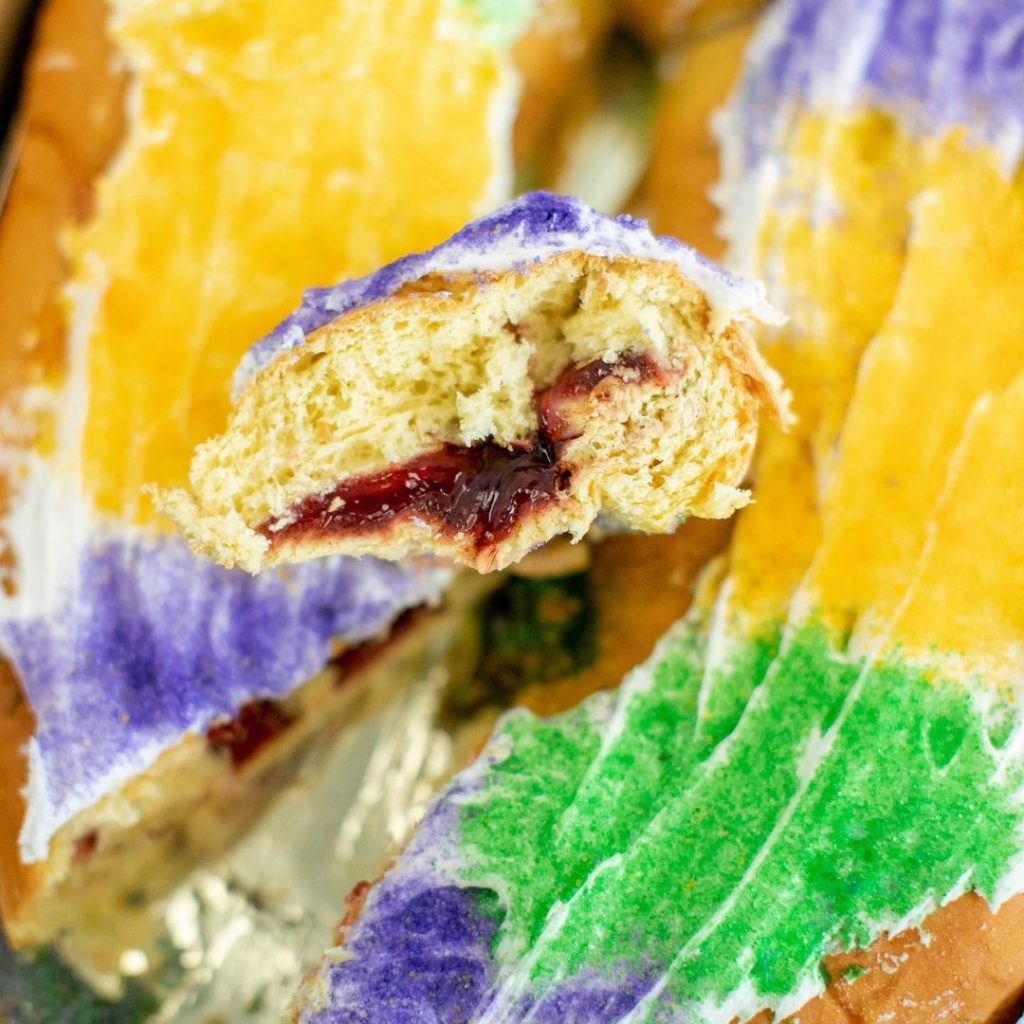 Gambino's has been a well-known New Orleans King Cake spot for decades. Many call them the King of King Cakes and with good reason. Their classic King Cake is just that – fluffy dough, topped with icing, and drizzled with sugar, exactly how a King Cake should taste.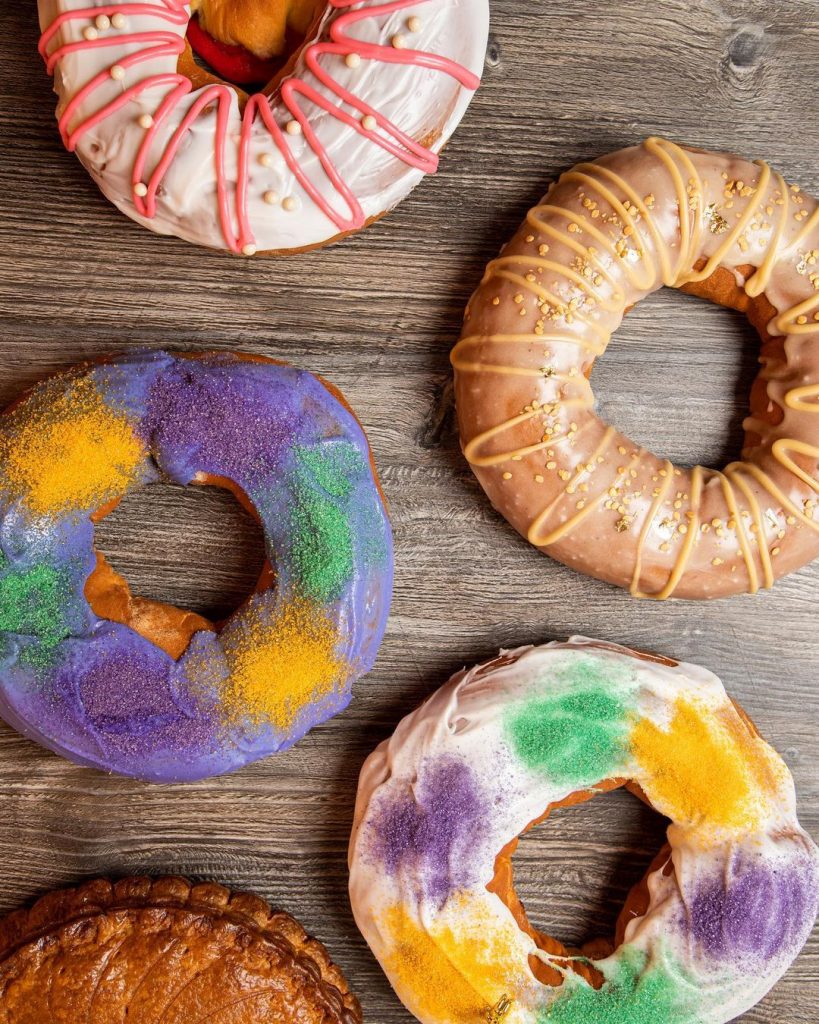 If you're looking for an adventurous flavor to try for your King Cake indulge, Gracious Bakery is the perfect place to start. Their delicious confections showcase some mouthwatering flavors like chocolate, almond frangipane, and nectar cream – they even have a bananas foster flavored King Cake that's definitely worth a bite!
Tried All Those and Still Want More?
Our friends at NewOrleans.com wrote a very extensive blog on all the king cake finds this city offers. Check it out here!
---
Sure, you have your costume picked out, but is your home decorated for Mardi Gras? We'll show you two different ways to jazz up your space just in time for Fat Tuesday. For both crafts, you'll need Mardi Gras beads. Speaking of…
Whether you're in need of beads or need to get rid of some, Beads by the Pound program – the Arc recycling center in Metairie not only saves you money but also provides green jobs and helps save the planet.
OK, do you have your beads ready? Here we go!
Mardi Gras Coasters
Materials
Beads
Felt cut into 3- or 4-inch circles (see How-To)
Fabric glue
Thread
Method
First, measure your beads. Necklaces that are 24-inches long correspond perfectly with 4-inch felt rounds; necklaces that are 16-inches long fit with 3-inch felt circles. Find the point where the string of beads joins together (usually a deformed bead) and cut it off to make one long string rather than a necklace. Remove any medallions or pendants using pliers.
Place a dot of fabric glue in the center of the felt round. Attach one end of the bead string to the center dot, then wind around in a spiral motion, adhering with fabric glue as you go around. Continue until you run out of beads, then let dry overnight.
For a complete tutorial, visit Rust & Sunshine.
Mardi Gras Centerpieces
Materials
Beads
Glass containers
Tea lights
Method
Simply place the beads in the bottom of the glass vessel, and place a tea light on top. Remember to never leave a lit candle unattended!
For color ideas and a complete how-to, visit Bustle.
---
King cake is popular this time of year, but it's not the only way to celebrate Mardi Gras. Check out some recipes inspired by one of our favorite parades, Zulu.
The krewe rolls on Mardi Gras Day, Feb. 17, in Uptown at 8:00 a.m. Perhaps you'll get one of their prized coconuts, but if not, no problem! Whether you prefer savory or sweet, we've got your coconut fix right here with these easy coconut recipes.
Toasted Coconut Brussels Sprouts
The exotic flavors of coconut create an intriguing flavor combination alongside Brussels sprouts while toasted coconut flakes add a satisfying crunch. Hearty enough for a vegetarian main, this dish is also the perfect side for a steakhouse dinner at home.
Cranberry Coconut Trifle
With Mardi Gras falling close to Valentine's Day, we think this recipe is a delectable way to celebrate both. Surprise your sweetie with a cranberry coconut trifle – pops of red cranberry tie in Valentine's colors while coconut, of course, says nothing but Zulu. You can follow the instructions for the homemade sponge cake, but we won't tell if you use store-bought ladyfingers instead.
Baked Coconut Shrimp
This classic dish is healthier when baked. The dipping sauce continues the theme of exotic flavors – curry, rice vinegar, and orange zest are spicy and bright. Serve as an appetizer or pair with a simple salad for an elegant weeknight dinner.
Slow-Cooker Chicken Curry
You had us at "slow-cooker." This one-pot meal is a wonderful and warming dish to come home to – simply put assemble all the ingredients and let the slow cooker do the work while you're at the office. Chicken breasts are a healthy choice, but you can swap boneless, skinless chicken thighs for a more budget-conscious meal.
Coconut Macaroons
Five ingredients and you're on your way to moist and chewy cookies. They're also gluten-free! Drizzle them with chocolate for extra richness and depth of flavor.
---
Not long after the decadence of Christmas, Carnival season gets underway, treating us to a calorie-laden stretch of parades and celebrations (it's not called Fat Tuesday for nothing). Although you won't see us restricting ourselves completely, we plan to at least put in the effort of baking our own vegan king cake this year.
This version from Dairy Free Cooking relies on rich – yet vegan – ingredients like maple syrup, coconut milk, and pecans to create king cake luxuriousness without the extra fat and calories of dairy products. It yields 10-12 servings, and you can make the icing and filling in advance if you're short on time. Check out some other healthy, vegetarian recipes here!
Ingredients
For the cake:
1 package dry active yeast
¼ cup warm water
1 tablespoon maple syrup
2 ½ cups all-purpose flour, plus more if needed
1 teaspoon salt
¼ teaspoon nutmeg
3 tablespoon organic white granulated sugar
6 tablespoons soy margarine, cut into pieces
3 tablespoons Egg Replacer Powder mixed with ¼ tablespoon hot water
¼ cup coconut milk (not "lite" variety), plus more for brushing
For the filling:
¾ cup dark brown sugar
¼ cup dairy-free soy margarine, softened
½ cup finely chopped pecans
½ teaspoon cinnamon
For the sprinkles:
Unrefined cane sugar (about 1 ½ cups)
Yellow, green, and purple Food Coloring
For the icing:
1 ½ cup confectioners' sugar
½ teaspoon salt
3 tablespoons warm water
Recipe
In a medium-sized mixing bowl, combine the yeast, warm water and maple syrup, mixing gently until the yeast dissolves and bubbles begin to appear on the surface. Set aside until frothy, about 5 minutes.
Meanwhile, combine flour, salt, nutmeg and sugar into a food processor. Add the soy margarine and process until the mixture resembles fine crumbs. Add this mixture to the yeast, along with the Egg Replacer and coconut milk. Knead, adding flour as necessary, until a soft dough forms. Place in an oiled bowl, covered, for 1 hour, or until the dough has doubled in bulk.
Meanwhile, make the filling. In a small mixing bowl, combine the brown sugar, soy margarine, chopped pecans and cinnamon until combined.
Make the Sprinkles. In three small bowls, mix about ½ cup of sugar in each with just a few drops of desired food coloring. Mix well until desired color is achieved. Set aside.
Preheat the oven to 350. Lightly oil a large baking sheet or round pizza pan.
Roll out the dough on a lightly floured surface to a large rectangle about 1/8" thick. Using a floured sharp knife, cut the dough in half lengthwise. Cut each of the strips into triangles, each about 3 inches at their base. (Think of a zipper or zigzag pattern when you cut, alternating the tops of triangles with the bases.) With the tips of the triangles pointed inward, place the triangles in a circle on the prepared sheet, overlapping one over the other and pressing the edges to seal. Place an even amount of the filling on the centers of the triangles, and place the baby or dried bean somewhere on the filling. Fold the outsides of the triangles over the filling, so that the reach just over the filling. Fold the tips over, pressing slightly to adhere the tips to the outside of the ring. Cover the ring lightly with a paper towel or clean dish towel, and let rise for 20 minutes more.
Brush the cake lightly with coconut milk or soy milk. Bake in the preheated oven for 25-30 minutes, or until golden brown. Allow cake to cool completely on a wire cooling rack, and then transfer the cake to a serving platter large enough to catch excess icing.
Prepare the icing. In a medium-sized mixing bowl, whisk together the confectioners' sugar and salt. Add the warm water and, stirring vigorously, stir until the mixture is a very thick glaze. Ladle the mixture over the cake in several additions, letting the icing run down the sides. While the icing is still slightly warm, sprinkle the prepared sprinkles over the cake, alternating sections of purple, green, and yellow. Allow the icing to harden completely before serving.
---
It's the most wonderful time of the year in New Orleans! No, we're not talking about the holidays – it's Carnival season! Whether you're a resident of the 1st Lake's metro New Orleans apartments in Metairie, Kenner or River Ridge, or a resident of the Northshore apartments in Slidell, Covington or Mandeville, there is a Mardi Gras parade coming soon near you! Mark these parades on your calendar for an experience like no other that's fun for all ages!
Slidell Parades

Krewe of Titans – Saturday, February 3, 6:30 p.m.
Krewe of Bilge – Saturday, February 4, 12:00 p.m.
Krewe of Poseidon – Saturday, February 4, 6:00 p.m.
Krewwe of Antheia – Sunday, February 5, 1:00 p.m.
Krewe de Paws of Olde Towne – Saturday, February 11, 10:00 a.m.
Krewe of Dionysus – Sunday, February 12, 1:00 p.m.
Krewe of Selene – Friday, February 17, 6:30 p.m.
Metairie Parades
Krewe of Little Rascals – Sunday, February 5, 12:00 p.m.
Krewe of Excalibur – Friday, February 10, 6:30 p.m.
Krewe of Symphony – follows Excalibur
Magical Krewe of Mad Hatters – Saturday, February 11, 5:00 p.m.
Krewe of Athena – Sunday, February 19, 5:00 p.m.
Krewe of Atlas – follows Athena
Krewe of Centurions – Monday, February 20, 6:30 p.m.
Krewe of Argus – Tuesday, February 21, 10:00 a.m.
Krewe of Jefferson – follows Argus
Krewe of Elks Jefferson – follows Jefferson
Kenner Parades
Krewe of Isis – 6:00p.m.
New Orleans Parades
Krewe du Vieux – Saturday, February 4, 6:30 p.m.
Krewe Delusion – Sunday, February 5, 7:00 p.m.
Krewe of Cork – Friday, February 10, 3:00 p.m.
Krewe of Oshun – Friday, February 10, 6:00 p.m.
Krewe of Cleopatra – follows Oshun
Krewe of Alla – follows Oshun
Legion of Mars – Saturday, February 11, 11:30 a.m.
Krewe of Pontchartrain – Saturday, February 11, 1:00 p.m.
Krewe of Choctaw –  follows Pontchartrain
Krewe of Freret – follows Chocktaw
Krewe of Sparta – Saturday, February 11, 5:30 p.m.
Krewe of Pygmalion – follows Sparta
Krewe of Barkus – Sunday, February 12, 2:00 p.m.
The Mystic Krewe of Femme Fatale – Sunday, February 12, 11:00 a.m.
Krewe of Carrollton – follows Femme Fatale
Krewe of King Arthur – follows Carrollton
Krewe of Druids – Wednesday, February 15, 6:15 p.m.
Krewe of Nyx – Wednesday, February 15, 6:45 p.m.
Knights of Babylon – Thursday, February 16, 5:30 p.m.
Krewe of Chaos – follows Babylon 
Knights of Muses – follows Chaos
Krewe of Hermes – Friday, February 17, 5:30 p.m.
Krewe d'Etat – Friday, February 17, 6:30 p.m.
Krewe of Morpheus – Friday, February 17, 7:00 p.m.
Krewe of Iris – Saturday, February 18, 11:00 a.m.
Krewe of Tucks – Saturday, February 18, 12:00 p.m.
Krewe of Endymion – Saturday, February 18, 4:00 p.m.
Krewe of Okeanos – Sunday, February 19, 11:00 a.m.
Krewe of Mid-City – follows Okeanos
Krewe of Thoth – Sunday, February 19, 12:00 p.m.
Krewe of Bacchus – Sunday, February 19, 5:15 p.m.
Krewe of Proteus – Monday, February 20, 5;15 p.m.
Krewe of Orpheus – Monday, February 20, 6:00 p.m.
Krewe of Zulu – Tuesday, February 21, 8:00 a.m.
Krewe of Elks Orleans – follows Zulu
Krewe of Rex – Tuesday, March 4, 11:00 a.m.
Krewe of Crescent City – follows Rex
Covington and Mandeville Parades
Krewe of Eve – Friday, February 10, 7:00 p.m.
Krewe of Olympia – Saturday, February 11, 6:00 p.m.
Carnival in Covington – Tuesday, February 21, 10:00 a.m.
---