Looking to spruce up your living room? We've collected some fantastic ideas for creating a functional living room that's big on style. Incorporate some (or all!) of these tips into your space, and folks will flock to this cozy spot in no time.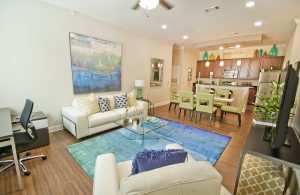 How to Create a Functional Living Room
Consider the color scheme
Lighter colors are typically best for a living room because they can make a space feel larger and more airy. If your living room is part of an open floor plan, opt for a color that complements your kitchen decor to create a cohesive look.
Anchor your space with an area rug
Even if you have carpet, an area rug helps designate the confines of the living room and adds an extra layer of comfort and style. Area rugs can introduce texture and color into a space, and can also serve as a basis for choosing other decor like curtains, pillows, and artwork.
Choose your seating wisely
When possible, opt for wipe-clean seating like a leather couch, or slipcovers that can be easily removed and washed. If the aim is to create a room everyone can enjoy (maybe even furry friends!) you'll want to rely on pieces that are as functional as they are comfortable. When in doubt, choose dark colors for your furniture to help hide stains, and keep the rest of your decor light and airy.
Add storage
Choose double-duty pieces like storage ottomans or trunks that can double as coffee tables. Then, fill them with living room essentials like board games, spare batteries for the remote, and extra blankets. Oversized wicker baskets filled with accent pillows are another way to incorporate texture while also adding storage.
Take the TV into consideration
Most living rooms are a primetime spot to watch TV, so use this simple trick to know how far away to place the TV from the sofa: multiply the size of your TV by 1.5. For example, if you have a 40″ television, the sofa should be at least 60″ (5 feet) away. Remember to place the TV at the right level so that your eye naturally gazes toward the middle of the screen when you're sitting on the sofa.
---