It's springtime, and that means it's time to give your apartment the deep clean it deserves. Soon, you'll be having family gatherings and dinner parties with friends, and the relaxed housekeeping techniques you used during your winter hibernation will need to change.
Read on for the best ways to deep clean the rooms in your apartment.

The Living Room
Your living room is a notorious location for dust. That's why dusting is priority number 1 here. 
Using a duster, dust the living room from top to bottom. We mean that literally: start by dusting the corners of the ceiling, move to picture frames, tabletops and furniture, and then thoroughly dust the baseboards. After you've systematically dusted the room, move on to the door frames. 
Next, use a rag, water, and furniture polish to scrub down any chair/couch legs and tabletops. Once you've cleaned all the hard surfaces, use your vacuum hose attachment to remove debris from all cushions and crevices. Next, vacuum the carpet and mop any wood flooring. 
The Kitchen
First, use the same dusting process you used in the living room.
Next, explore the refrigerator. Chances are you'll need to throw out some expired food and clean some spills. Scrub the interior of the refrigerator thoroughly, and wipe it down with a dry towel.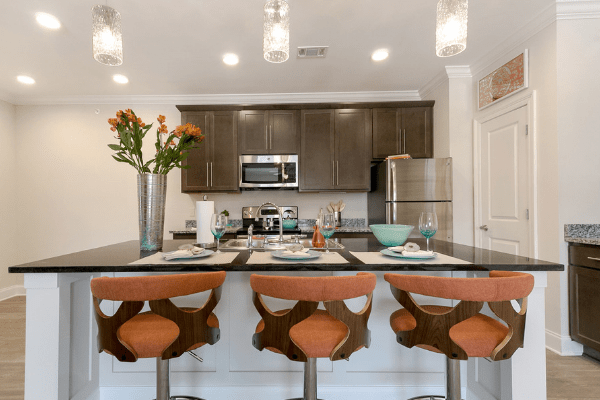 Using disinfectant, scrub all appliances (stove, oven, microwave, etc.) with the same care that you cleaned the refrigerator. Afterwards, disinfect all kitchen surfaces so that you can cook in a sterile environment. Finish cleaning the kitchen by mopping the floor. 
The Bedroom
Winter coats, furry sweaters, thick scarves–these things can take up a lot of space in your closets and dressers. Fold 'em up in an air tight space bag and place them on the top shelf of your closet! Have items you know you'll never wear again? Pack those up too and bring them to your local donation center.

Next, your bed. Let's clear the air and admit: we've all shoved things under our beds right before company comes over. But today is the day you tackle that beast. Take a few minutes to climb under there and remove any items you find. You might just stumble upon that other sock you've been looking for or that sandwich you made a few weeks ago (we won't tell). Trash what's trash and re-organize what's important.
Curtains and carpet: we hope you clean these items more than just once a year, but in the event that you don't, it's time to start. Give your carpets a deep vacuum to remove any pet hair, human hair, dust, and dirt. There's nothing like fresh vacuum lines marking the trail of your cleanliness. Curtains are the next thing you will want to vacuum. Grab your handheld vacuum for this task. Then from top to bottom, bust that dust!    
The Bathroom
Dust all necessary items, just like the living room and the kitchen.
Use a glass cleaner to make your mirror shine! Disinfect the counters and sink.  Scrub the shower/tub area with a mild cleaner like distilled vinegar, and use mildew spray if necessary afterward. Wash or replace your shower curtain if necessary.
Tackle the toilet bowl with toilet bowl disinfectant. Make sure to clean the handle and seat. 
Last, mop the floor, and enjoy your fresh bathroom!

Other Resources
There are plenty of other sites that have great tips on giving your apartment a deep clean. Try Apartments.com, BuzzFeed, and U-Pack for more great cleaning advice.
Once your apartment is clean as a whistle, start inviting your friends to your apartment with pride!
---