Spring is finally here and that means change and new beginnings. Not only with the weather, but in your apartment, too!
Whether you're on the messy or neat-freak side of the spectrum, the spring cleaning tradition is always a good annual practice. Spring is all about fresh starts and rebirth, and the best way to rejuvenate your place is by following a spring cleaning checklist.
Besides regular chores like putting clothes or dishes away, sweeping, and cleaning the bathroom, this is your chance to pay attention to details. Time to store, sort, and get rid of extraneous clutter!
Use this as a guide for spring cleaning the areas of your apartment that aren't usually on the cleaning to-do list. Here's our definitive spring cleaning checklist!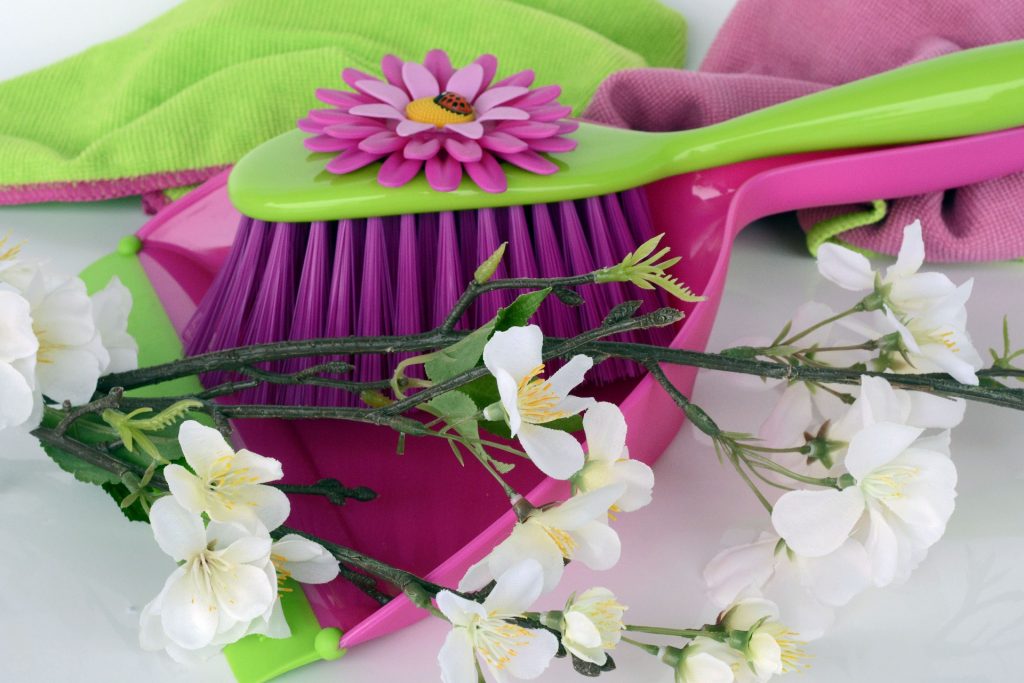 Spring Cleaning Checklist
Around the Apartment
Wax wooden furniture with paste wax after cleaning the surface with a damp cloth and dishwashing liquid.
Ensure clean window treatments by machine washing draperies or curtains and wiping down wooden blinds.
Change all burned-out lightbulbs.
Wipe off the dust on ceiling fans with a damp cloth or paper towel.
Vacuum and shampoo rugs with an industrial shampoo machine.
Use a duster on house plants like orchids or ferns. The plants will immediately look brighter and refreshed, plus you'll be removing surface dirt and grime!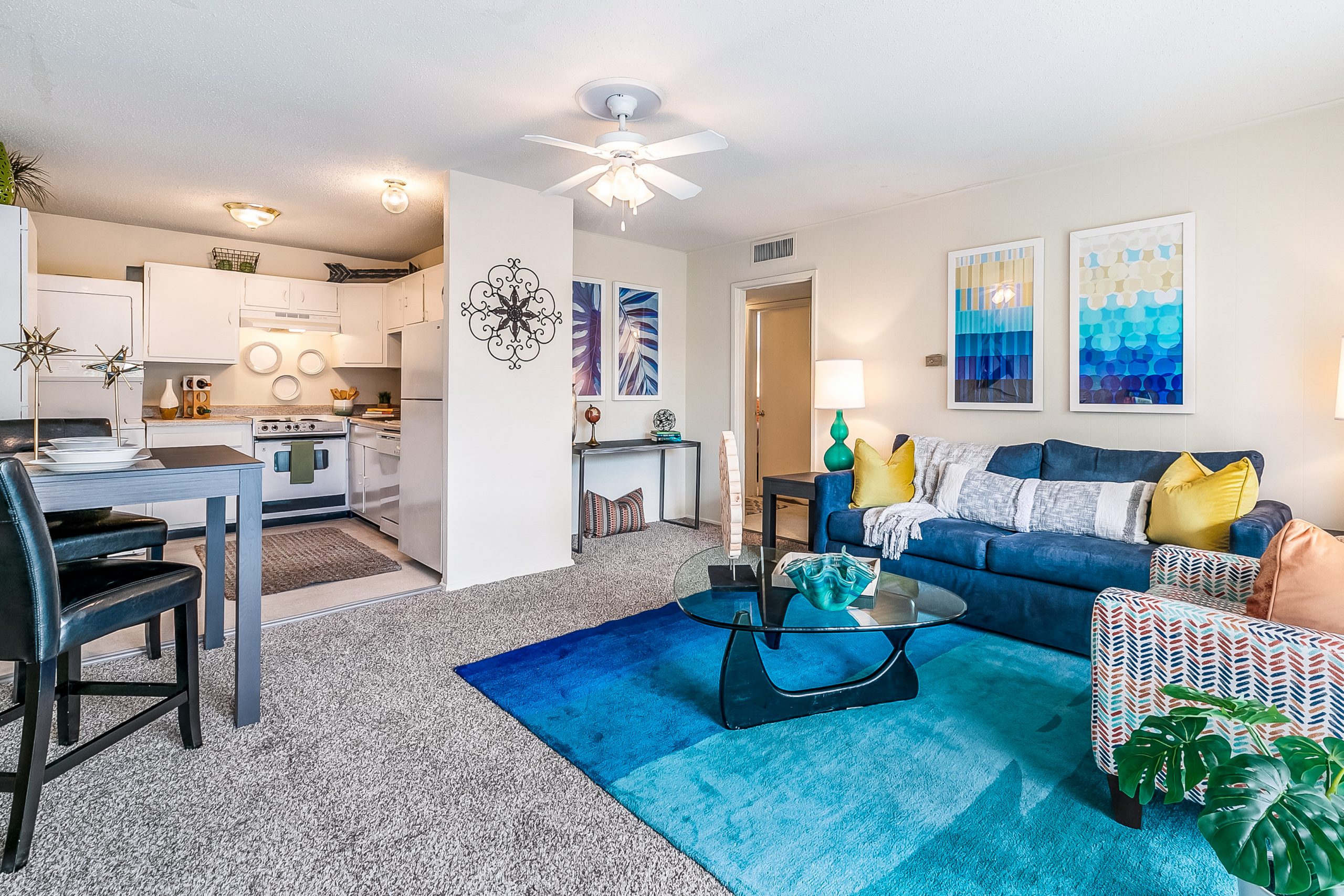 Kitchen
Wipe down walls, ceilings, and fronts of cabinets to scrub off any old residue.
Clean the tops and sides of appliances such as microwaves, refrigerators, and stove vents.
Clean the freezer by turning off the power to defrost it, clear out all contents and wipe the interior with a solution of two tablespoons baking soda per one-quart hot water.
Clean crevices between appliances. Use a crevice attachment on your vacuum or a long, thin duster to capture grime between nooks and crannies.
Clean salt & pepper shakers and reusable condiment dispensers. Wipe and disinfect the outside of bottles and empty, clean and refill the containers.
Clean the inside of the microwave. Heat up water and lemon in a glass container for a few minutes prior to cleaning to make removing food particles a breeze.
Clean the inside of the fridge.
Check out more tips on de-cluttering your kitchen!

Living Room
Clean and disinfect remote controls and game controllers.
Remove any artwork from the walls, dust them and replace.
Take couch cushions and pillows outside, fluff them up, and leave them in the sun to air out for a couple of hours. Meanwhile, use a vacuum to clean out the crevices of sofas and armchairs.
Clean any curtains (follow their individual instructions) and wipe down windows both inside and out using glass spray.
Check out more of our living room de-cluttering and rearranging tips!

Bathroom
Discard old cosmetic or hygienic products.
Deep-clean the toilet using a bleach-based cleaning product.
Wipe down all baseboards to instantly brighten the bathroom and give it that "clean" feeling.
Wash your shower curtain and replace the shower curtain liner.
Disinfect and rinse all surfaces including the tub, sink, and faucets. If needed, clean the grout as well.
Polish surfaces like sinks, vanity, mirror, and even the toilet paper holder!
Check out more of our bathroom de-cluttering tips!

Bedroom
Clean washable pillows to get rid of any lingering odors or bacteria.
Wash all bed linens, including mattress covers.
Flip your mattress before replacing clean linens.
De-clutter any surfaces like nightstands or desks.
Clean floors and baseboards.
Remove and clean any artwork or mirrors.

Home Office
Clean monitor screens and keyboards of computers.
Get rid of any old papers, taking care to recycle when possible.
Rearrange daily-use items so that they're within easy reach.
Store items you use less often, like a stapler or envelopes, inside your desk to keep your working surface clean.
Clean out your computer, carefully reviewing and deleting any old documents, emails, or photos to free up valuable storage space.
De-clutter bookshelves and drawers.
Closets
Separate out unwanted clothing and accessories (see below for how to donate these items).
Repurpose shower hooks to hang items like belts and handbags.
Enlist a friend – sometimes a second opinion can help you decide what suits you best and what you no longer need.
Invest in smart organization pieces like slim hangers and shoe organizers.
Utilities
Change batteries in smoke detectors and make sure all units are thoroughly dusted.
Replace air filters.
Outdoor Areas
Wash windows.
Wipe down outdoor furniture.
Take care of any outdoor plants, perhaps repotting them or freshening up the soil.
Eliminate Extra Possessions
Part of making room for the new is getting rid of the old. It's all about finding that perfect feng shui, and one of the best ways to do that is to take inventory of your possessions and evaluate what you want to keep.
We love the method outlined in Marie Kondo's best-seller, The Life-Changing Magic of Tidying Up: The Japanese Art of Decluttering and Organizing. The gist is this: starting with your clothing, go through all of your possessions, category by category, and keep only those items that spark joy when you hold them.
Once you've decided what to keep, you can pass on the remaining items to others in need. After you've gone through your drawers and closets and sorted your discarded items in a donation section, decide where to give them away. Use these places below for ideas:
Where to Donate Clothes and Household Items
Shelters – Community shelters in your area are a great option to donate your clothes and household items. Bridge House and Hagar's House provide services to those in need in the southeast Louisiana region.
Online – Freecycle, Craigslist, and eBay are free and easy online tools to use to give away your old clothes or appliances. You can manage the entire process by listing the items you want to give away for free or sell and coordinate your own shipping or delivery.
Clothing Swaps – Another great way to pass on your unwanted items to someone who might be happy to take them, plus discover some new treasure of your own, is to participate a clothing swap. A clothing swap is a gathering of people who all contribute clothing that doesn't fit or that they don't need anymore, and anyone can take someone else's clothing if they choose. If you don't know of anyone having one, host your own and invite family and friends!
Salvation Army – The Salvation Army is always a great option that accepts all types of donations to sell for a discounted price to underprivileged people, or anyone looking for a bargain. Check your area for Salvation Army drop-off locations.
The Green Project also provides a recycling guide for the greater New Orleans area, with details about local organizations that accept donations of various materials.
If you accomplish all these tasks, you'll be well on your way to being completely spring cleansed! Other than looking shiny and new, your living space will be rid of dirt and dust that you may have not even be aware of that can make you and your guests sick. So tie your hair back, put on those yellow gloves, and spring into action!
---