Need some help planning the perfect Valentine's Date Night at home? We have some quick and easy tips on how to decorate and enjoy an evening in your own space!
Dine In Your Den
Bring the dinner date home by ordering take-out or delivery from your favorite restaurant. We love to go local and get our favorite cajun dishes from Bobby Hebert's Cajun Cannon restaurant or visiting The Gregory in Baton Rouge. You could even try out Parcel, a local subscription meal service, for a gift that keeps on giving. Like to cook up something yummy yourself? Visit the Crescent City or Red Stick Farmer's Markets to help create your perfect dinner! 
Spruce Up Your Space
Show some love to your place! We ran by Hobby Lobby and the Dollar Tree to grab these cute decorations and dress up our table setting. Want to have your place look AND smell great? Visit Villere's Florist to get some fresh blooms to accent your decor!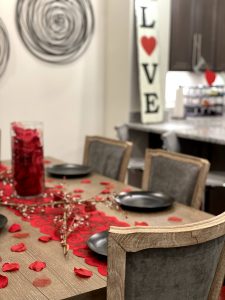 Don't limit your creativeness to just one room, embrace the theme throughout. We were able to dress up a few different areas to make our apartments look darling!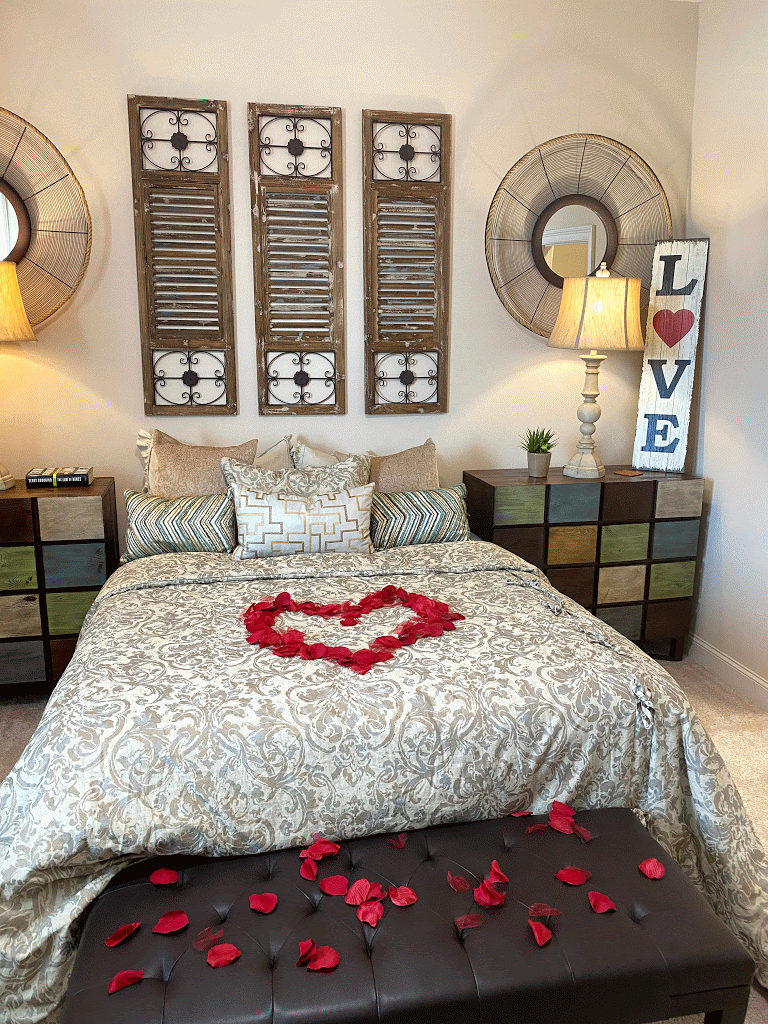 Savor Some Sweets
Get your cutie pie some treats from your local bakery. We cured our sweet tooth with these adorable goodies from Vain Villian Candy!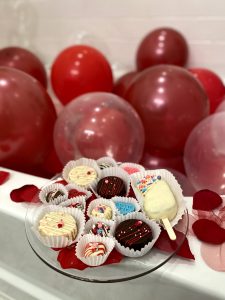 Looking for a new home to celebrate your V-Day? Let us help you find your perfect fit today!
---
Creating a show-stopping table setting for the holiday season is a must! Wow your guests with these easy tips and tricks.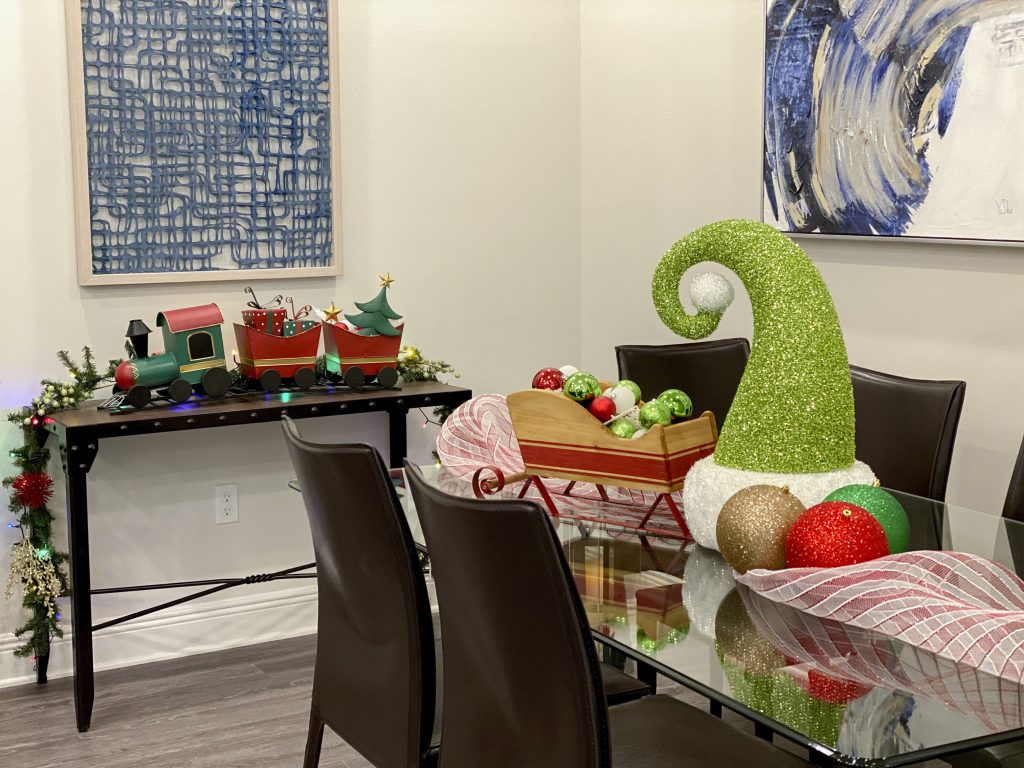 Keep It Simple 
Use items that you already have. Candles make for great centerpieces, and if you have neutral placemats those work too! 
Be Creative 
Adding a pop of color to your table makes it fun and inviting. At Bella Ridge South, we decided to bring color into the model and grabbed these fun pieces from Hobby Lobby.
Pick A Color Theme
Whether you want your table colors to match the rest of your holiday decor or you want to set your own tone, pick a color theme, and run with it! 
Decide On Your Centerpiece
The centerpiece of your table will be the focal point. The place where everyone's eyes go to first. Add height to your centerpiece to draw even more attention to the table.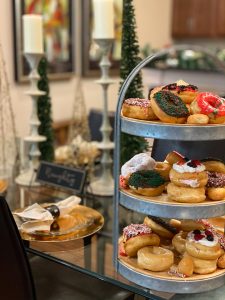 Add Some Donuts To Your Table
What better way to welcome guests than with a tray full of donuts! We grabbed our delicious doughnuts from Little J's Donuts on Hickory Ave in Harahan. 
Create A Delicious Vibe With Cookies
If donuts aren't your first pick for dessert, try baking up some festive cookies to add to your place settings or as a centerpiece. Not sure which recipe you want to try? No worries, we have our favorites here! 
Have Fun
More than anything, your table should represent you. Have fun with however you decided and don't be afraid to try something new.
Need more ideas for hosting this holiday season? Check out our tips for creating the perfect charcuterie board!
Looking for a new place to decorate? We can help with that! Check out our current specials and find your new home today!
---
A typical Charcuterie board usually consists of a variety of meats and cheeses and is a staple for holiday parties. This year, they have become more popular and people are making their boards with a variety of different items! 
We tried our hand at it with a couple of our own twists and tricks! See how we assembled two, modern charcuterie boards just in time for the holiday season, using items you will love! 
A Cheddar Together Board
First up, we created a charcuterie board that pairs perfectly with a glass of wine! Our board included three main ingredients: cheese, grapes, and crackers. All of which were purchased from Rouses! This year, our holiday decor at Artesia Apartments featured a lot of snowflakes, and we decided to bring those elements to the board.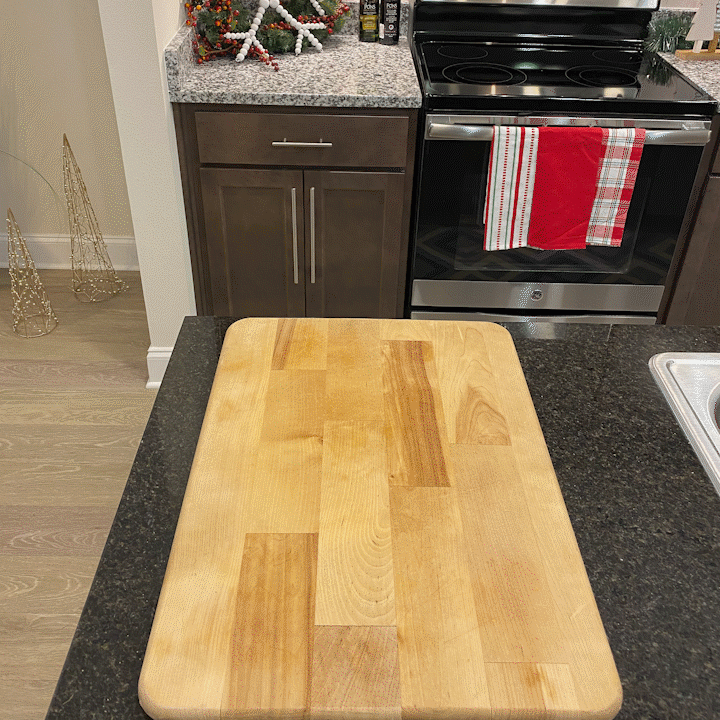 We placed tinsel in the shape of a tree and alternated between grapes and cheese. Add some snowflakes on top and you have a cheesy winter wonderland scene. Not only did this one come out tasty, but it also added a festive flair to our countertop! 
Dreamy Dessert Board
For our second board, we decided to go down a sweeter path to make the dessert board of our dreams! We gathered all of our favorite holiday treats and found the perfect spot to share, at our new apartment community, Bella Ridge South.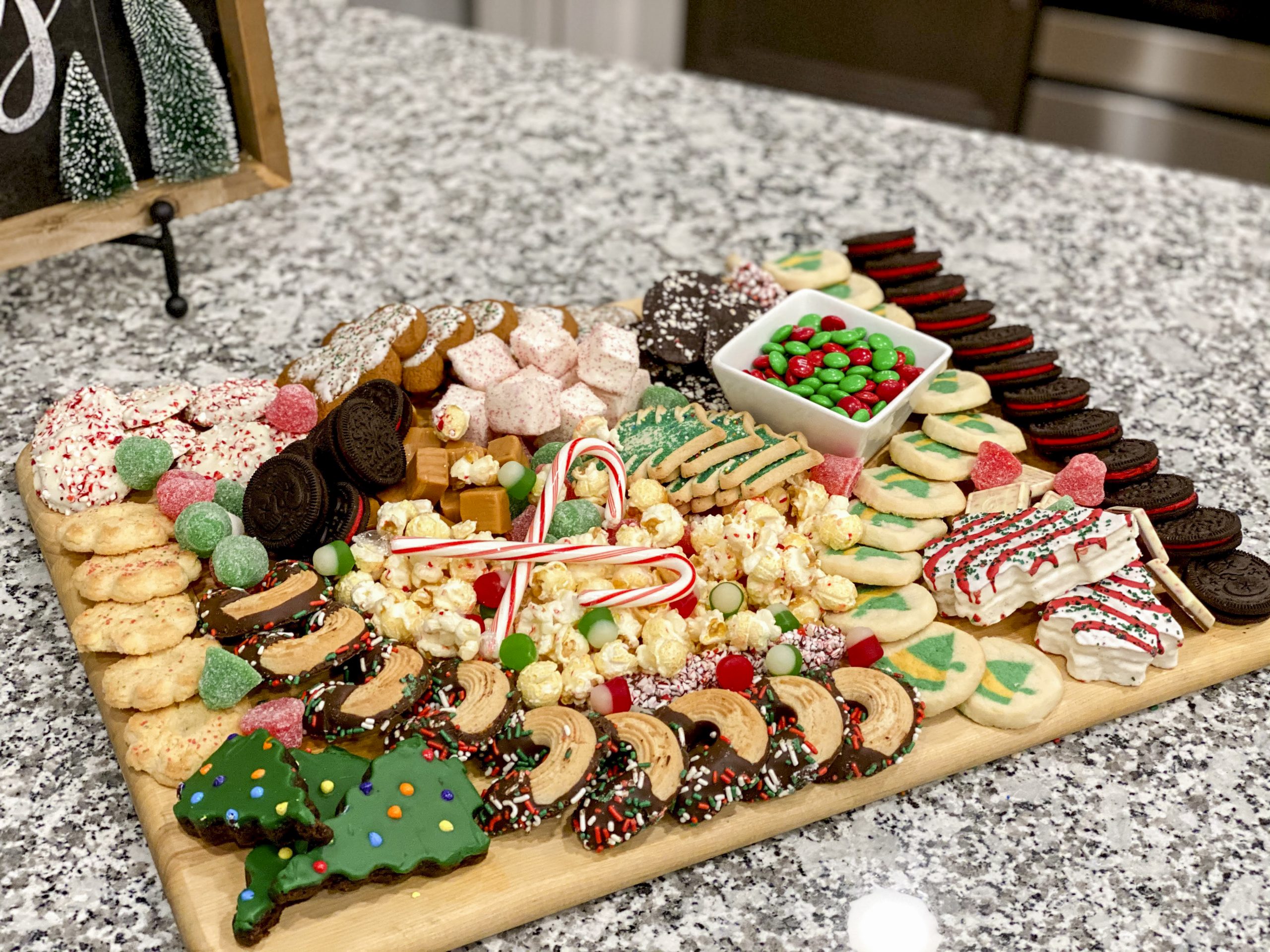 We suggest making yourself a delicious cup of hot chocolate or egg nog to enjoy this one. From staples like Little Debbie Treats, red and green gumdrops to peppermint marshmallows and even Oreo cookies, this board had everything! Adding popcorn and pretzels is a great way to add a splash of salty snacks into the mix. The final product is perfect to leave in the kitchen for midnight snacking or even to make as your table's centerpiece!
With oversized kitchens and huge floorplans, our apartment homes are a perfect place to come home to for the holidays!
For more ideas on holiday decorating, check out our blog on how to create a Show-Stopping Table Setting! 
---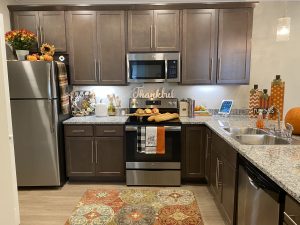 The summer heat is starting to dissipate, pumpkin patches are popping up everywhere, and fall colors are in full swing! Here are some ideas on how to decorate your apartment quickly, without breaking the bank.
Pumpkins – You can easily add a pumpkin of any size to your front entry way, kitchen counter, bathroom or more! They are relatively cheap and very low maintenance. Many stores also offer artificial pumpkins so that you can reuse them next year! We found our pumpkins at Target and Fresh Market.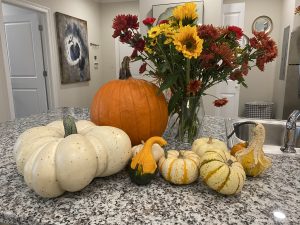 Floral Arrangements – Incorporating a fall floral arrangement in your fall decor is an easy way to brighten any space! We grabbed our fall mum from Sam's Club. 
Kitchen Towel – Add a fall themed towel to your oven to give your kitchen a cozier look.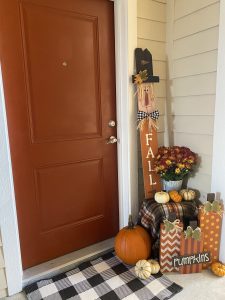 Welcome Mat – The key to a good entryway is a good welcome mat! We opted for a black and white checkered print that is very popular this year! 
 Some of our favorite stores to grab essential decorating items from are Hobby Lobby, TJ Maxx, Home Goods, Michael's Craft Store. 
---
Working from home isn't a new concept but with the recent pandemic, it has become more common. At 1st Lake Properties, some of our communities feature spaces that are perfect for setting up an at home office. We want to share a few tips on how to create a functional home office – plus how to stay focused when you're home!
Creating the Right Home Office Environment
Find the right spot in your home. The first step to creating a productive working environment is to dedicate a spot in your home. A sunroom, a spare bedroom, a kitchen counter, or a dining room table are all great areas!
Get organized! Organization is perhaps the largest component to working from home successfully. Make sure your home office is stocked with all the things you'll need throughout the day – pens, paper, chargers, Post-Its… whatever is important for you to succeed.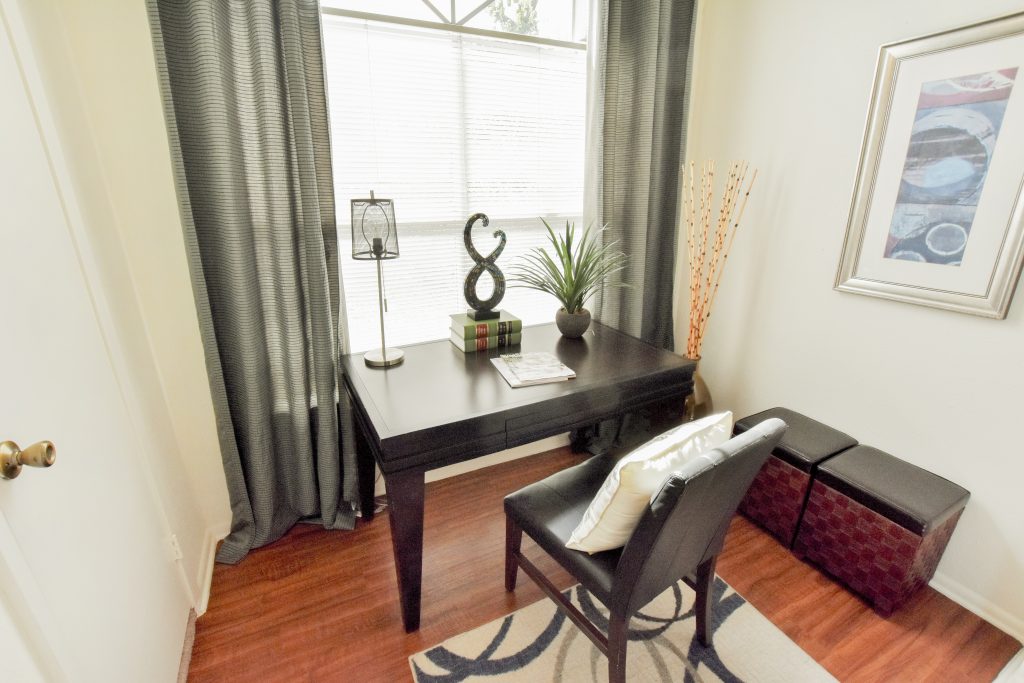 Invest in a good chair. Rather than balancing your computer on your lap as you sit on the couch (sound familiar?) look into finding an office chair with proper ergonomic support. Your back – and productivity – will thank you.
Prioritize good lighting. Working from home means you can choose an area of your home that offers a good balance of natural light. Adding attractive desk or table lamps creates a sense of ambience while also helping you to avoid straining your eyes. 
How to Stay Focused When You Work from Home
Treat it like a normal office day. One of the ways you're able to be so productive at the office is the natural structure that the office environment creates. Try to mimic it at home by setting specific times for your breakfast and lunch rather than grazing in front of your computer all day.
Keep your family and friends in the loop. Your family and friends might be tempted to chat or plan to get together while you're working from home. Of course, it makes sense to take advantage of work-from-home flexibility, but you can gently remind people that even though you're at home, you're still working.
---