King Cake in New Orleans is a beloved and special tradition – and one you can only enjoy during the Carnival season. So it's important to make the most of your King Cake window and try as many delicious renditions as you can!
Ask any local and they'll tell you that King Cake in New Orleans is only eaten from Twelfth Night (January 6) through Mardi Gras Day. And there are so many bakeries, restaurants and special spots that serve up their own spin on the confection.
Need a good starting point to find the best King Cake in New Orleans? Here's some must-try options for you to enjoy!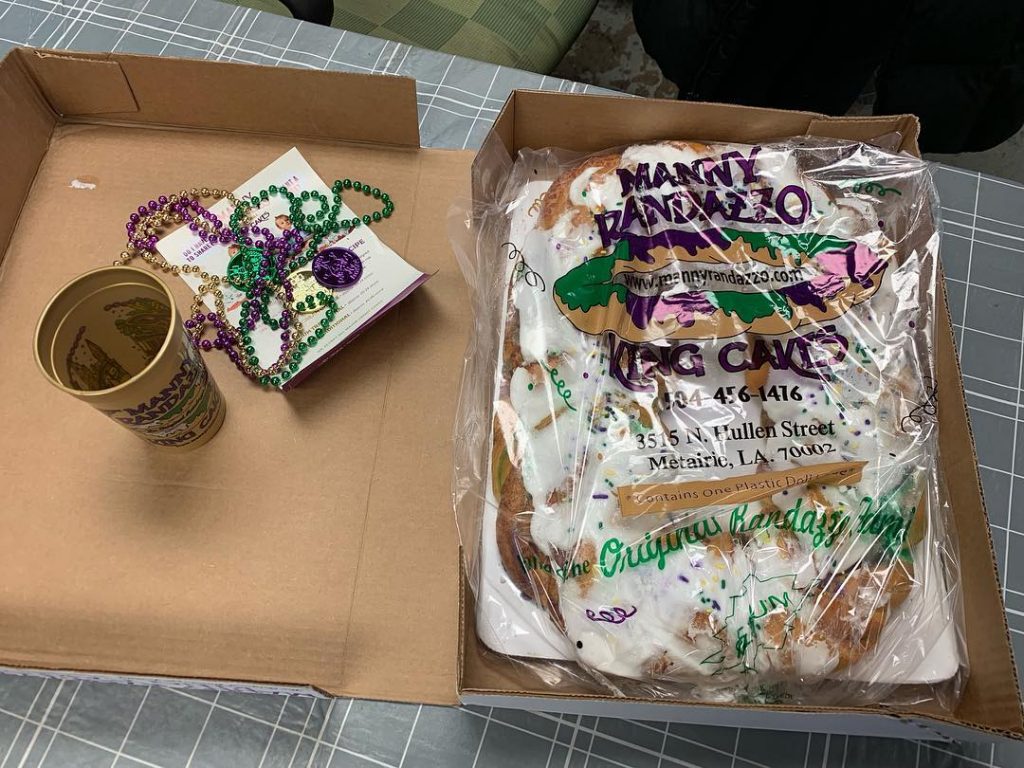 Almost everyone has heard of the Randazzo family and their secret family king cake recipe is the stuff of legend in New Orleans. As the most well-known keeper of the family's sweet treat, Manny Randazzo's King Cakes offers everything from traditional King Cakes to special flavors like apple, lemon and strawberry. 
A bite of Manny Randazzo's king cake is an essential part of the Mardi Gras experience!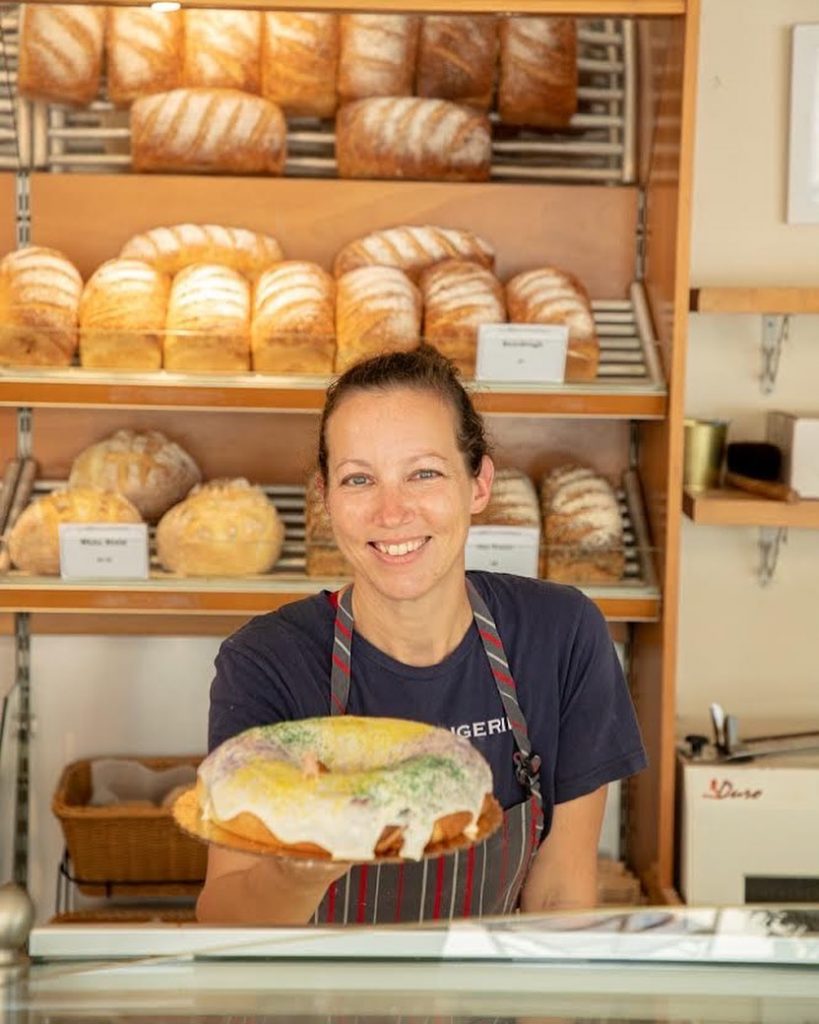 This French bakery on New Orleans' charming Magazine Street is the perfect spot to pick up a delicious King Cake. Well-known and popular year-round for their croissants and pastries, they offer traditional cakes alongside cinnamon, strawberry, almond, and pretzel flavors during Carnival. 
You can even grab a personal mini King Cake to enjoy on the go!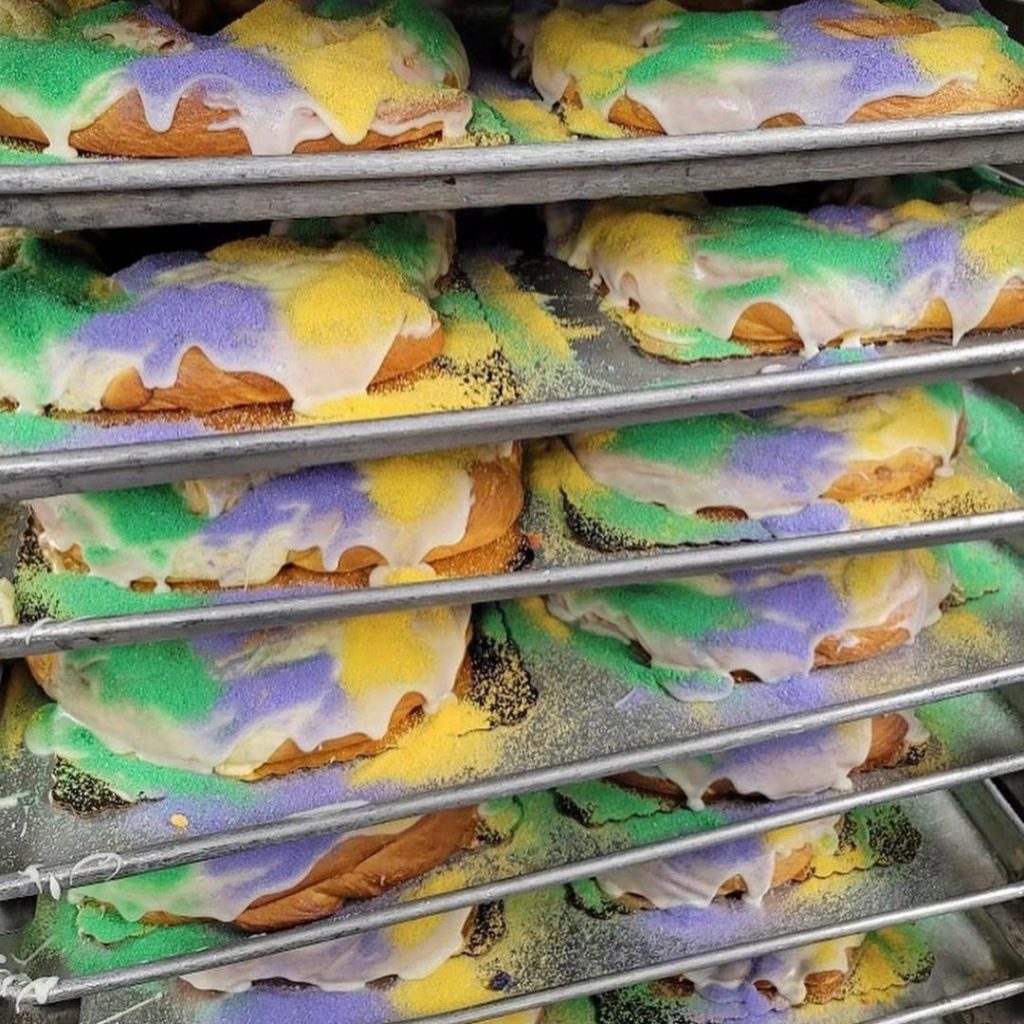 Haydel's classic king cake is famous around town. Made of danish dough, hand braided with cinnamon and sugar, and baked to perfection, these treats are sure to be one of your top favorites with just one bite. 
Plus, they have many special flavors to choose from like praline pecan, cream cheese, strawberry cream cheese, German chocolate, and brownie chocolate chip!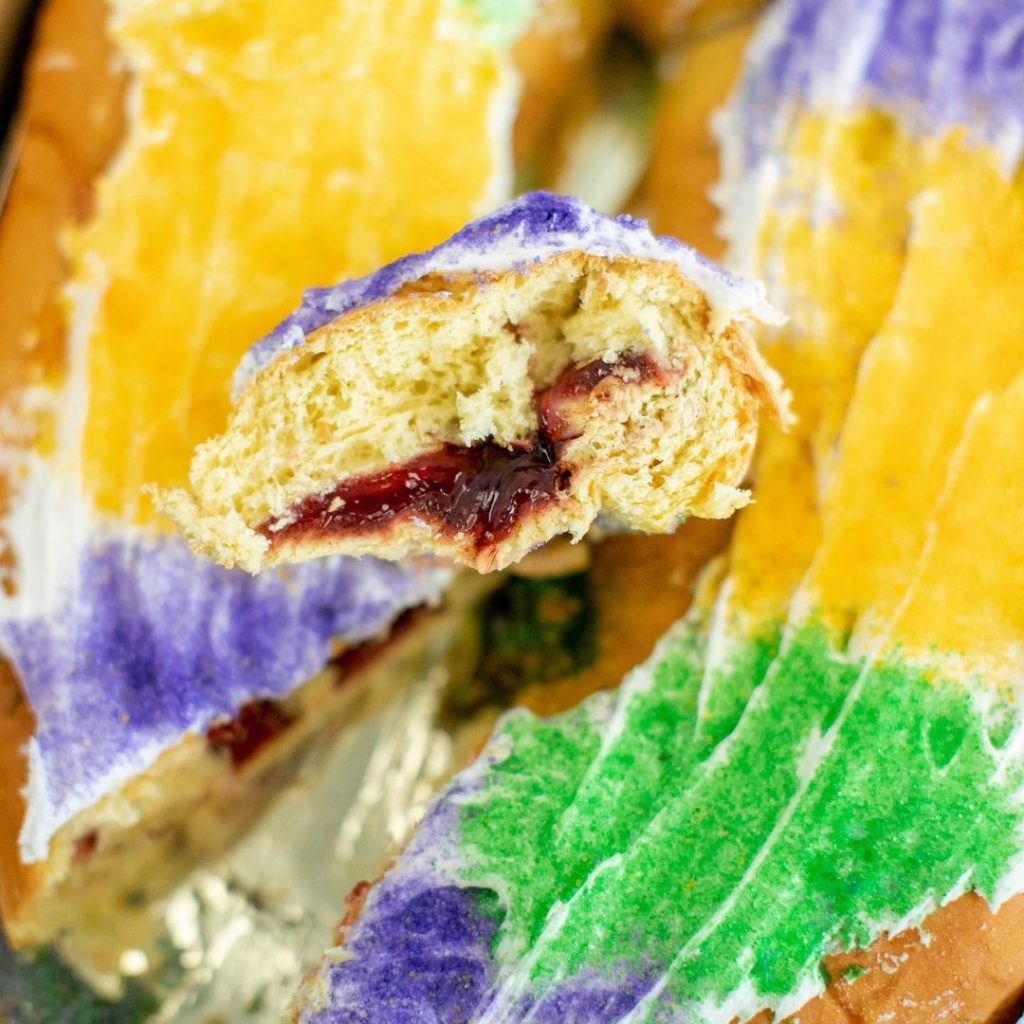 Gambino's has been a well-known New Orleans King Cake spot for decades. Many call them the King of King Cakes and with good reason. Their classic King Cake is just that – fluffy dough, topped with icing, and drizzled with sugar, exactly how a King Cake should taste.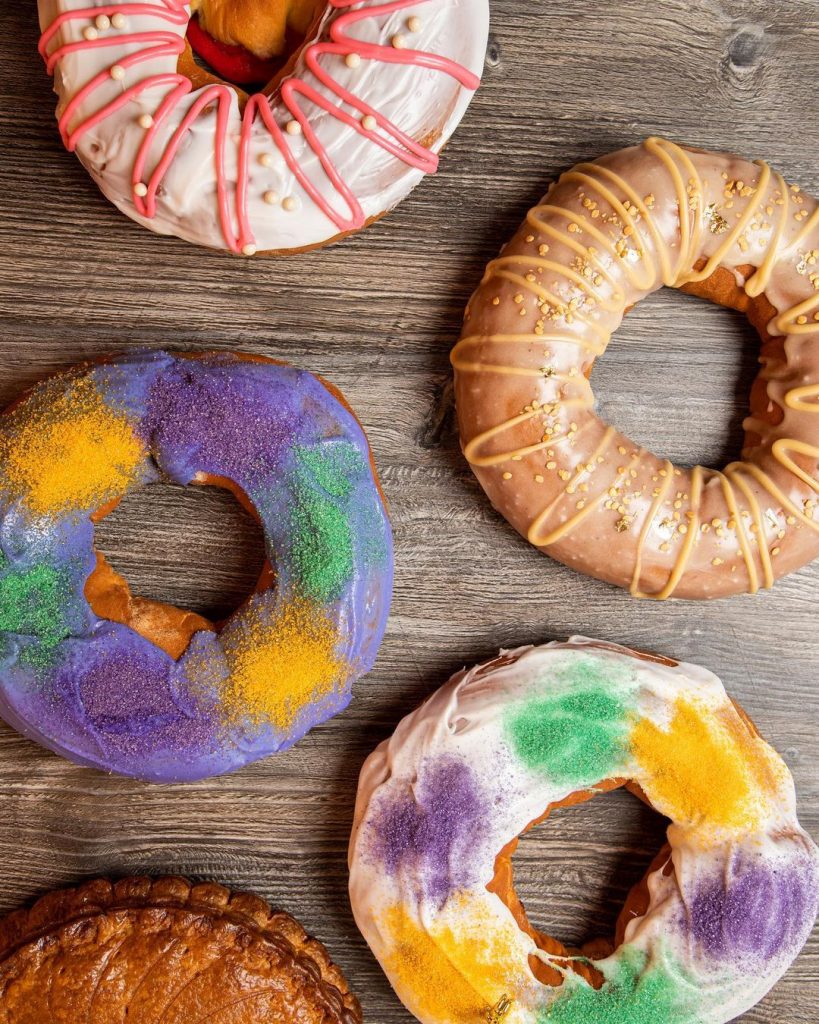 If you're looking for an adventurous flavor to try for your King Cake indulge, Gracious Bakery is the perfect place to start. Their delicious confections showcase some mouthwatering flavors like chocolate, almond frangipane, and nectar cream – they even have a bananas foster flavored King Cake that's definitely worth a bite!
Tried All Those and Still Want More?
Our friends at NewOrleans.com wrote a very extensive blog on all the king cake finds this city offers. Check it out here!
---
Fall and winter bring a host of healthy dining pitfalls. Just ask Halloween, Thanksgiving, and Christmas. It's hard not to enjoy all the decadent foods available. And people don't have time to cook with busy schedules during the holidays.
Fortunately, if you live in the Metairie, Kenner, and River Ridge areas, there are plenty of healthy dining options. Unsure of what to order? No matter which restaurant you choose, nutritionists suggest making small, healthy dining decisions. Like swapping standard sides for a healthier pick like vegetables. Or choosing entrees that are steamed, trading white rice for brown, and skipping empty calories like bread.
Healthy Dining Options
Mediterranean & International
Pan-Asian 
Seafood
Light Bites
Related Posts: Baton Rouge Restaurants, Kenner Restaurants, New Orleans Mardi Gras King Cake Guide, Metairie Restaurants
---
A heart-pumping workout is a great way to reduce stress — unless the gym creates a stressful environment in and of itself. While you can't always control the actions of others, you can help create a focused workout zone by following basic gym etiquette. Take a look below, and follow these simple rules while you get your burn on at one of our many 1st Lake Fitness centers!
Fitness Center Etiquette
Pack your gym bag like a pro. Stash your gym bag with essentials like a towel, wet wipes, and a water bottle. This means you won't have to hog the water fountain, and if for some reason the gym is out of towels or wet wipes, you'll be prepared.
Wipe down equipment. Most gyms provide antibacterial wipes specifically for gym equipment. After your workout, wipe down any surfaces you've touched, whether a bench, weights, treadmill, bicycle, etc. Remember, even if you can't see any evidence of sweat, germs are still present. Clean up after yourself to ensure the next person using the machine gets a truly fresh start.
Follow time limits on machines. Gyms can be busy places, especially at peak hours like after work or early in the morning. Because of this, many fitness centers implement a time limit rule on machines like treadmills or ellipticals. Be courteous of others and only exercise for the allotted period of time. If you're not quite finished working out, use the opportunity to try out a new machine instead.
Stay home if you're sick. While some doctors recommend a light workout to help your body recover more quickly from ailments like a cold or virus, plan to do an at-home workout video rather than put others at risk at the gym. If you do go, take extra care wiping down all the equipment, and wash your hands before and after you're finished exercising.
Mind headphones. You might be tempted to chat to your neighbor to help you get through a tough workout, but if they have headphones on, be respectful: they're in the zone!
Dress appropriately. Gyms are for focusing on your workout — not on someone else's distracting clothing. If you're worried about your outfit, test it out first at home to make sure everything stays put as you exercise.
Put weights away. Dumbells can be hazardous when left on the mat for people to trip over. Always put free weights back after you use them. Please unload the weight bar as well to keep the weights area accessible for everyone and free of any obstacles.
Watch your rest time between sets. If you're resting for more than 10-20 seconds between sets, plan to excuse yourself from a machine to give someone else a chance to use it. However, keep in mind that ideally you'll want to rest for no more than 10 seconds: studies show that short rest periods lead to increased caloric burn and a higher metabolic rate.
Be courteous. Allow other gym-goers their space and respect during a workout session. If the gym is busy and you have the flexibility to come back later, consider adjusting your time.
---
If you live in or near New Orleans, you know that finding a good place to eat is easy. But how easy is it to find a good vegan-friendly restaurant? We created this list of some of our favorite go-to places.
In recent years, people have become more health-conscious and have adapted to a healthy lifestyle. According to Emily Krempholtz in Veganism Has Gone Mainstream, But It's Not Just About The Animals Anymore, "The rise in selective eating habits whether due to allergies or diet trends has created a massive demand within the food market." Because of these growing trends, we have seen a rise in vegan restaurants in the metro New Orleans area. 
Whether you have adopted a vegan lifestyle or not, this list is a great place to start for healthy, earth-friendly options!
Looking for vegan "junk-food"? Look no further than this uptown cafe! At Kindred, you can enjoy vegan versions of classic New Orleans staples such as red beans and rice, a spicy chicken sandwich, shrimp po'boy, and more. The best part is, they also have brunch items too!
Did someone say baked goods? Cinnamon rolls, brioche puffs, blondies, and tea biscuits, and more. Breads on Oak has two locations, one on Oak Street and one in the CBD. You can even order a whole cake from them!
At Seed, located on Prytania, you can enjoy breakfast, lunch, or dinner. While you're there, enjoy one of their unique and artfully crafted cocktails, mocktails, or a plant-based coffee.
With two unique locations, the Bearcat Cafe is a local favorite. Bearcat Cafe offers fresh breakfast and lunch options and a wide variety of coffees and loose-leaf teas. The menu at Bearcat is divided into a "good cat" and a "bad cat" section. Most of the items on the good cat side are vegan-friendly.
Located on N. Broad St. in New Orleans, Sweet Soulfood-Nola Vegan Cuisine offers an ever-changing weekly menu with items such as red beans, jambalaya, bread pudding, potato salad, and more! 
Looking for a hot dog that's vegan-friendly? Look no further than Dat Dog! With three convenient locations on Magazine, Feret Street, and Frenchman's Street, getting a vegan dog is easy! Their buns are steamed, toasted, and vegan! and they have 4 vegan sausage options that include the Spicy Chipolte Dog, the Vegan Italian Dog, the Smoked Apple Sage, and the Vegan Bratwurst.
G's Pizza has two great locations that deliver to Mid-City, Lakeview, Old Metairie, Downtown, The French Quarter, Marigny, and the Garden District. This pizza joint doesn't just have vegan-friendly options, it has a separate menu dedicated strictly to vegan-friendly food! Check it out here.
According to their website, True Food Kitchen is the only restaurant that is fundamentally based on science. This chain restaurant opened its location on St. Charles and offers "crave-able food that boosts your mood."  From pizza to salads, to burgers and desserts, there are so many options to choose from!
At Vegan Wit' a Twist, they combine traditional preparations with fresh vegan ingredients for dishes that are authentic. They even host private parties with hookah, music, drinks, and food! Check out their happy hour specials menu here.
Located in the warehouse district, this tropical cafe and bar offer a unique menu with delicious vegan-friendly options! Whether it's breakfast, lunch, or dinner you're looking for you are sure to find something delicious! 
---
Whether you're hosting your loved ones in your 1st Lake apartment home or traveling to celebrate the holiday, there's no better way to show them how much you care than with a thoughtfully crafted homemade gift. Homemade gifts can mean more to your loved ones, too. You put a lot of effort into creating the perfect gift exclusively for them! Nothing is more loving than that.
Even with a short amount of time left, there are still plenty of quick and affordable homemade gift options you can create without worrying. Some of our favorite homemaking websites offer a plethora of choices and instructions for these gifts, but we're going to highlight a few of our favorites to get you started on your crafts.
For the Coffee Connoisseur
Good Housekeeping caught our DIY-eye with this easy, thoughtful, and tasty gift idea for the coffee drinker on your list. "Coffee Mug Mixers" are created from vintage silver spoons and baking goods. Head to an area thrift or antique store, or hunt down a garage sale, and find some intricately designed antique spoons for cheap. Then, head down to the grocery store to pick up an assortment of baking sweets, like chocolate, crushed nuts, and candy. Melt your mixed sweets onto the spoons, let them dry, and wrap them in clear packages. Your coffee-loving visitor might just dip one into his or her mug immediately after opening this delightful and thoughtful treat!
For the Farmhouse Design Fan
If they are big fans of rustic-themed home makeover shows and decorate with reclaimed wood and metal accent items, shower them with a homemade wood gift. Both The Nest and Country Living Magazine have a great collection of homemade wood gift ideas to show them how much you notice their personal interests. We love the idea of wood-burned labels on cutting boards and cooking utensils. You can add your personal signature to these items with a wood burner from your local craft store. That way every time they use these items, they'll be reminded of you.
For the First-Time Family
This homemade gift option might require a little more effort, but for the loved ones on your list with a newborn, it will mean the world. Your local craft store will have everything you need to create this precious hot air balloon-themed mobile for their baby's bedroom. Craftiness is Not Optional provides a great step-by-step visual guide to building this homemade gift with ease. If this seems too difficult, Craftiness is Not Optional has other easier new parent gifts.
For the Home Spa Fan
We all know someone who spends their free time soaking in hot bubble baths and pampering themselves with sugar scrubs, pedicures, and moisture-rich lotions. Show them you care with your own self-care creations! There are do-it-yourself soap recipes, easy sweet or floral-scented sugar scrub formulas, and nurturing lotion how-to's across the Internet! One of our favorites comes from PopSugar. Their DIY Spa Kit Trio features a scrub, a body butter, and a foot soak. We are not going to lie, this one you might want to keep for yourself!
From the Heart
These are just a few of the countless ways to make the holidays mean more this year. Do you have go-to homemade gifts you've perfected for the big day? Share your tips with our social communities and help your fellow 1st Lake residents make the ideal gift to go under the tree.
---