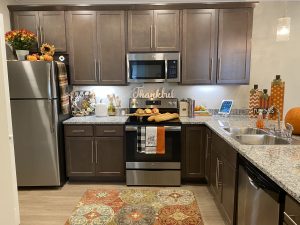 The summer heat is starting to dissipate, pumpkin patches are popping up everywhere, and fall colors are in full swing! Here are some ideas on how to decorate your apartment quickly, without breaking the bank.
Pumpkins – You can easily add a pumpkin of any size to your front entry way, kitchen counter, bathroom or more! They are relatively cheap and very low maintenance. Many stores also offer artificial pumpkins so that you can reuse them next year! We found our pumpkins at Target and Fresh Market.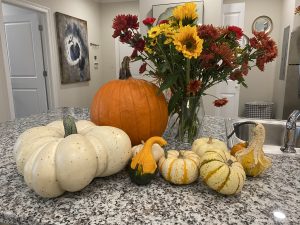 Floral Arrangements – Incorporating a fall floral arrangement in your fall decor is an easy way to brighten any space! We grabbed our fall mum from Sam's Club. 
Kitchen Towel – Add a fall themed towel to your oven to give your kitchen a cozier look.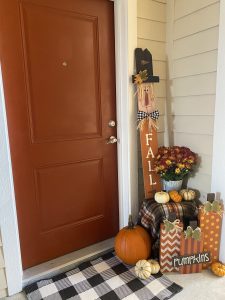 Welcome Mat – The key to a good entryway is a good welcome mat! We opted for a black and white checkered print that is very popular this year! 
 Some of our favorite stores to grab essential decorating items from are Hobby Lobby, TJ Maxx, Home Goods, Michael's Craft Store. 
---
Working from home isn't a new concept but with the recent pandemic, it has become more common. At 1st Lake Properties, some of our communities feature spaces that are perfect for setting up an at home office. We want to share a few tips on how to create a functional home office – plus how to stay focused when you're home!
Creating the Right Home Office Environment
Find the right spot in your home. The first step to creating a productive working environment is to dedicate a spot in your home. A sunroom, a spare bedroom, a kitchen counter, or a dining room table are all great areas!
Get organized! Organization is perhaps the largest component to working from home successfully. Make sure your home office is stocked with all the things you'll need throughout the day – pens, paper, chargers, Post-Its… whatever is important for you to succeed.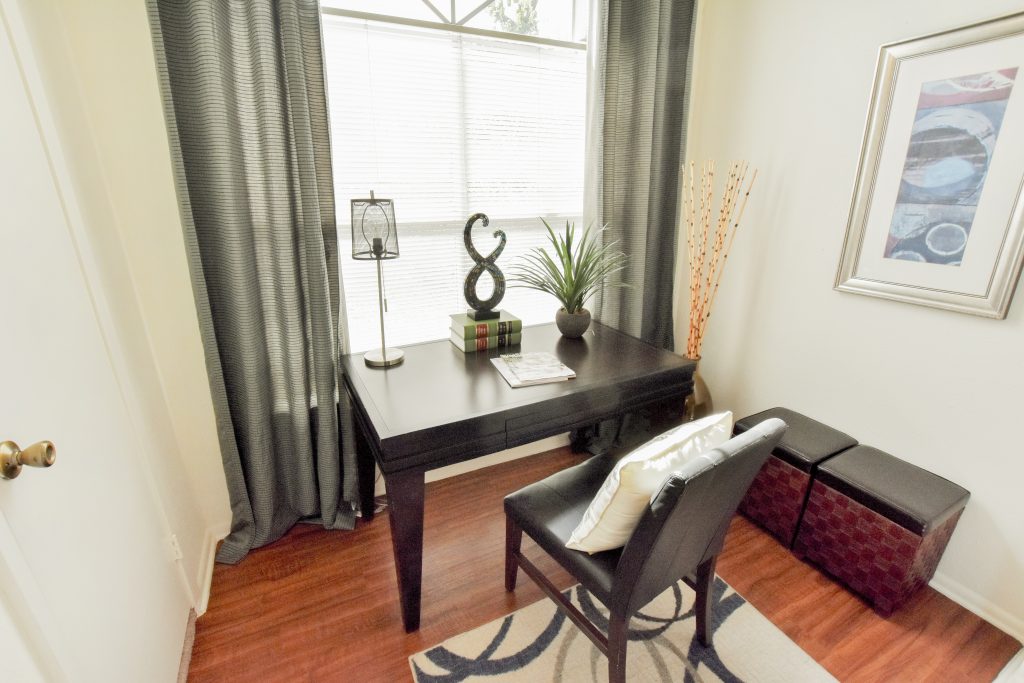 Invest in a good chair. Rather than balancing your computer on your lap as you sit on the couch (sound familiar?) look into finding an office chair with proper ergonomic support. Your back – and productivity – will thank you.
Prioritize good lighting. Working from home means you can choose an area of your home that offers a good balance of natural light. Adding attractive desk or table lamps creates a sense of ambience while also helping you to avoid straining your eyes. 
How to Stay Focused When You Work from Home
Treat it like a normal office day. One of the ways you're able to be so productive at the office is the natural structure that the office environment creates. Try to mimic it at home by setting specific times for your breakfast and lunch rather than grazing in front of your computer all day.
Keep your family and friends in the loop. Your family and friends might be tempted to chat or plan to get together while you're working from home. Of course, it makes sense to take advantage of work-from-home flexibility, but you can gently remind people that even though you're at home, you're still working.
---
At 1st Lake Properties, we encourage all of our residents to support local businesses. Through our Resident Rewards program, businesses are given the opportunity to promote their brand by offering special discounts that are only available to our residents. An initiative through JEDCO and Jefferson Parish called #SPENDLOCALJP was created in wake of COVID-19. According to JEDCO, "the campaign is to remind residents that when they spend their money on a local business, they're investing in brands they love while keeping friends, neighbors and family members employed."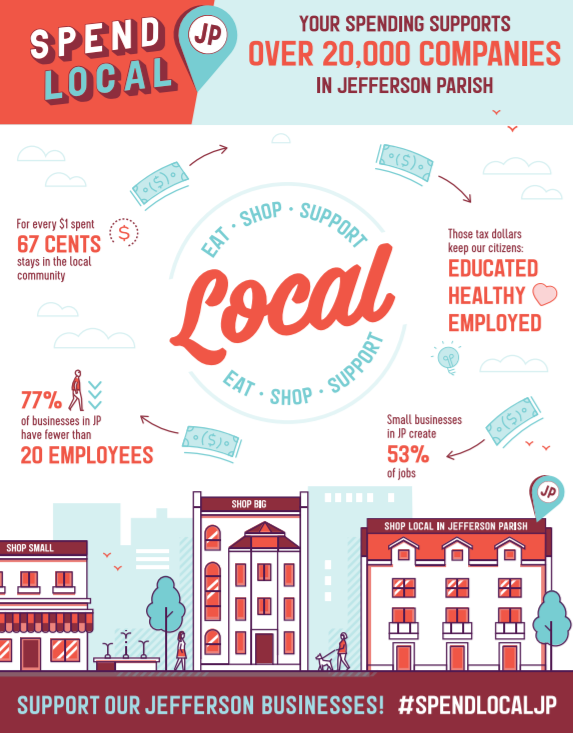 ---
The New Orleans Saints 2020 season kicks off on Sunday, September 13th. Although the season will look a little different this year, we at 1st Lake Properties want to help you make the best of it!
Here are tips on how to cheer on the Saints in our new normal:
Host a Virtual Viewing Party
With platforms like Zoom, Houseparty, Skype and more, it is easier than ever to host a virtual viewing party right from your sofa!
There are thousands of options when it comes to zoom backgrounds, making it fun and easy to be the life of the party. 
Grab some to-go food from your favorite restaurants
 Bobby Hebert's Cajun Cannon and Stepbrother's Bar and Grill are two of our top choices when it comes to game day grub! Both restaurants offer special coupons to 1st Lake residents. To learn more about our resident rewards, visit our Resident Portal. 
Dress to impress – Cheer on the saints by wearing black and gold!
Wearing black on gold on game day is a must!  A Saints mask from The Black and Gold Sports Shop or a "Holla from Home" from Fleurty Girl are perfect options! If you're looking for options for the kids, shop Mimi's Kids Boutique for everything Saints! 
Keep your game day traditions alive!
Just because we aren't watching from inside the dome, doesn't mean that your game day traditions should change. If you bleed black and gold, you know how important it is to keep those traditions alive! Whether it's that special shirt, the way you start your day, watching the game "with the TV turned down and the radio turned up", whatever you do, keep it going! 
Last but not least…scream WHO DAT! 
Checkout some of our previous blog posts with our favorite recipes to cook during football season: 
---
Hurricane season is back. It's a fact of life here in the Gulf South. We enjoy beautiful weather almost year round until hurricane season comes knocking. The most important element of hurricane season is preparation, and knowing when to evacuate.
Follow these tips to make sure you stay safe in event of an evacuation:

Make an evacuation plan.
If you'll need to leave your home, make sure you have a place to evacuate to. Think about family members, friends and hotels. Once you've decided on a refuge, confirm that you and your family can stay there. You need to make sure your plan is concrete on both ends.
If you're driving to your destination, be sure to fill up your gas tank before departure. You should also map out alternate routes as there will be huge amounts of traffic leaving the city.
Create communication channels.
Communication is key during times of severe weather and evacuations.
Once you have decided to evacuate, let all family members know, even those that aren't coming with you. It is important that everyone knows your whereabouts in case of emergency.
To find out information about the storm, use the internet. Phones will most likely be useless until you reach dry ground. Facebook and Twitter are great resources for live updates.
Renters Insurance
If you have a lot of valuable possessions stored in your apartment, consider renter's insurance. We found this helpful guide from The Zebra to help begin your Louisiana insurance search!
If your property is lost or damaged during a hurricane, renter's insurance will recover the replacement cost.
Many renters insurance policies will also cover the cost of lodging if your apartment is damaged during the storm.
Supply kit
It's always a smart idea to have a supply kit ready in case of a sudden evacuation.
Your kit should include one gallon of water per person per day for at least three days, three day supply of non perishable food, battery powered radio, flashlight and extra batteries, first aid kit, moist towelettes, garbage bags, local maps, phone chargers and enough clothes for three days.
Remember, hurricanes can occur at any time. Make sure you are always prepared. If this article was helpful, share on Facebook and Twitter.
Looking for a new apartment to call home? Let us help find you the perfect one today!
---