Here are four pawsome tips to help your cats cozy up to their new apartment. 
1. Elevated Points 
By cleaning the tops of bookshelves or setting up small cat posts around your apartment, your cat has room to perch and move. This gives them a great view of your space and even outside!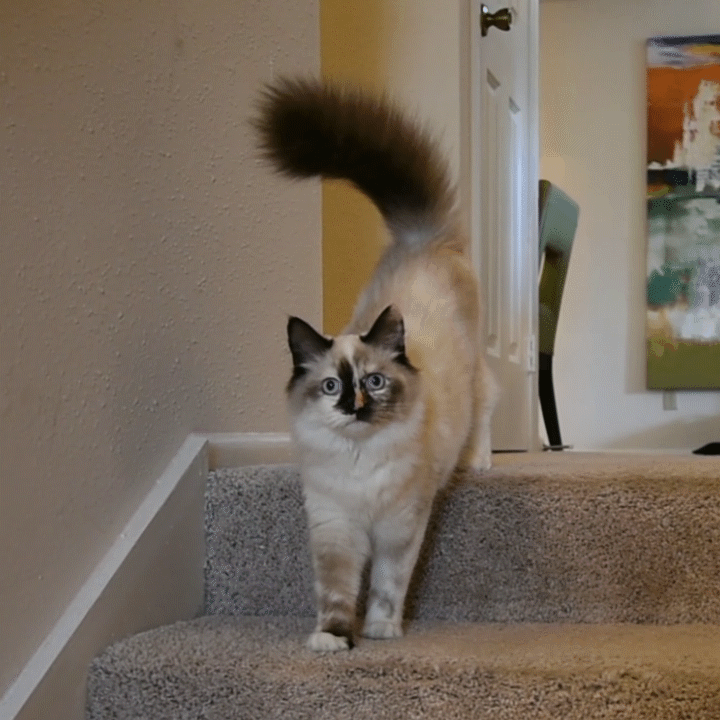 2. Scratching Posts 
Scratching posts are sure to be loved by your kitty! Scratching allows them to stretch and flex their paws. Grabbing a small scratching post from your local pet store will reduce unwanted scratches throughout your home. Keep your place and feline friend happy. The Humane Society goes in depth about the benefits of having a scratching post. 
3. Playtime 
Set aside some time for you and your cat for playtime, where both of you can play together either with a string toy or a laser pointer. This helps with bonding and gives your kitty some needed exercise. Cats also love to play on their own so by grabbing little balls of yarn or smaller toys, they can play with themselves when you are busy.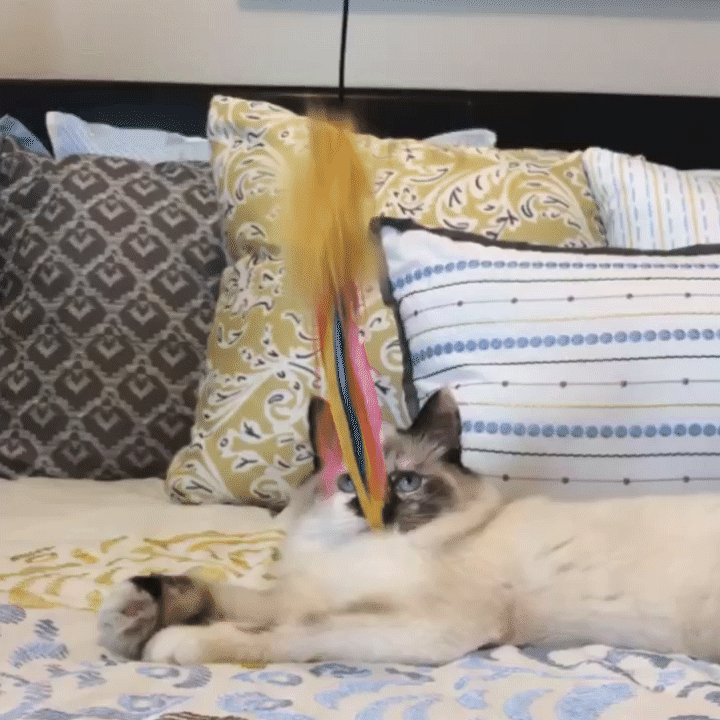 4. Calming Smells 
You can't be there for your cat all day every day so they can get sad without you. Help calm their separation anxiety with lavender and chamomile diffusers. Check out Chewy's cat-friendly diffuser to create a calm environment for your cat and yourself!
Keep your cat and apartment happy with these little tricks. Are you and your feline friend looking for a new home? Find your new place at any of our pet-friendly apartments today!
---
In case you didn't know, home decor stores everywhere are offering incredible Labor Day sales starting today! To save you time and money, we rounded up the best deals we could find. 
First, the Pier 1 in Elmwood Shopping Center is closing! That means the entire store is on sale with deals ranging from 20%-75% off! We already snagged the accent pieces of our dreams. 
Next, hit the bullseye at everyone's favorite place on Earth: Target. With 25% off home decor items, you can get what you want for less! Our personal obsession right now: throw pillows. Target has some of the trendiest throws for prices you'll want to tell your friends about. 
For a savings overload, head to Overstock.com. They've got multiple sales happening right now including the Labor Day Blowout Sale (extra 20% off products), the One Big Rug Sale (extra 25% off area rugs), and best of all the Fall Preview Event Sale (up to 70% off items)! 
Our next furniture giant, Wayfair, has a click-worthy sale going on!  The Fresh Start Sale has all things from back-to-school to bedding to storage and appliances.  
Rooms To Go has a Pre-Labor Day Sofa Sale happening right now: all sofas are on sale! It doesn't get better than that. With brand new couches starting at $425, you just found the perfect excuse to finally get a new sofa. Head to the local Rooms to Go on Veterans Blvd. for more in-store deals! 
Happy bargain hunting, friends! 
Need an apartment for all these great furniture finds? Visit 1stlake.com to find your perfect place.
---
Redecorating your space? Snag some furniture finds at a price that will make you feel warm and fuzzy inside.  
These five second-hand stores in New Orleans have some of the best reduced-cost, quality inventory around.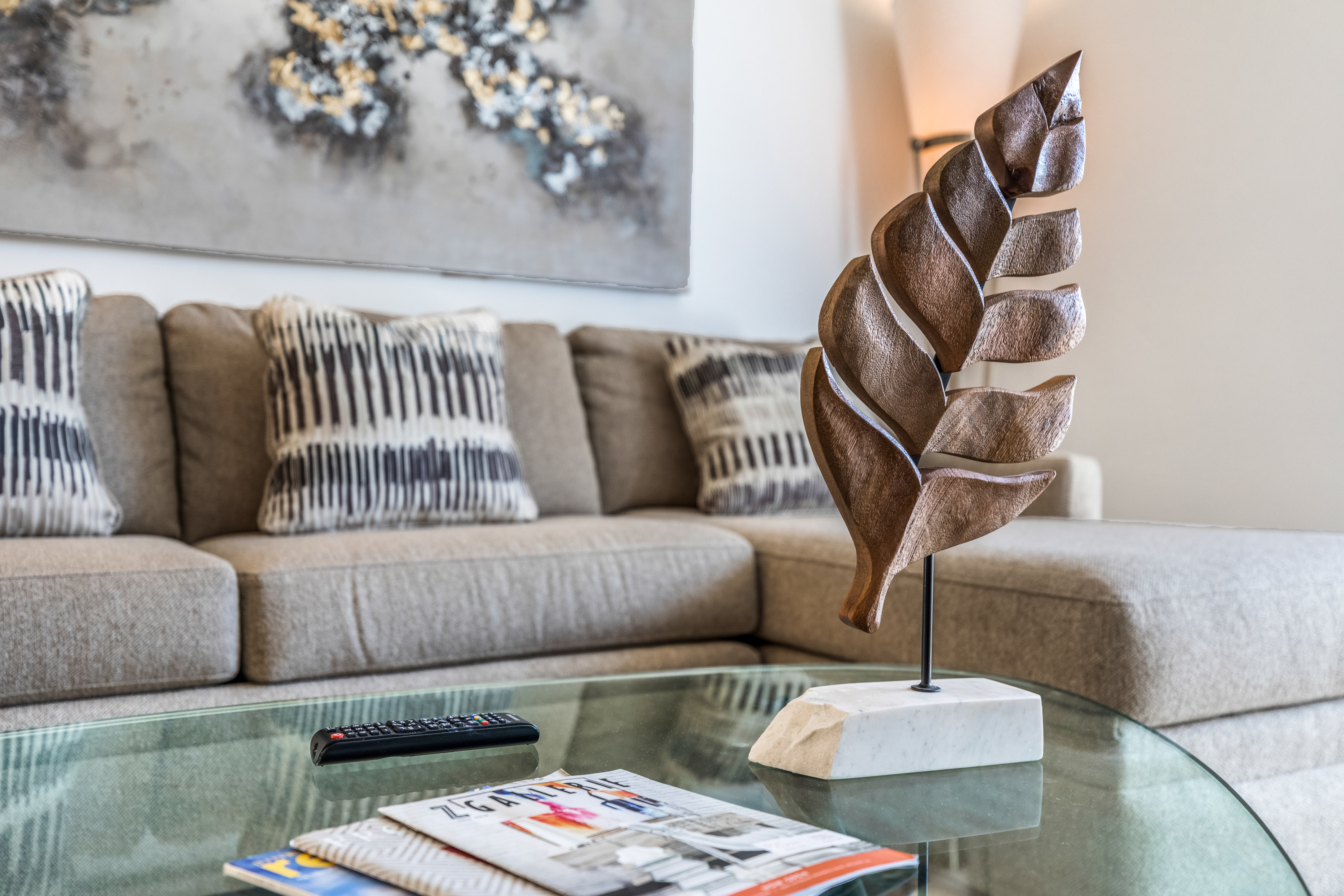 House Stuff: House Stuff is a boutique consignment store full of used furnishings, from living area furniture to accent pieces. Located at 3939 Toulouse St., House Stuff is a store owned by Flora Shaughnessy that pays homage to "well-designed, solid wood craftsmanship." If you're looking for used mid-century modern furniture, this is the place to start.
Pelican Furniture & Thrift Store: Just two blocks from the Carrollton Avenue streetcar stop, at 341 N. Hennessey St., is Pelican Furniture. A large variety of furnishings and appliances await you here. 
Additionally, you can take advantage of an ongoing special: Any purchase of $500 or more will be delivered to your home for free!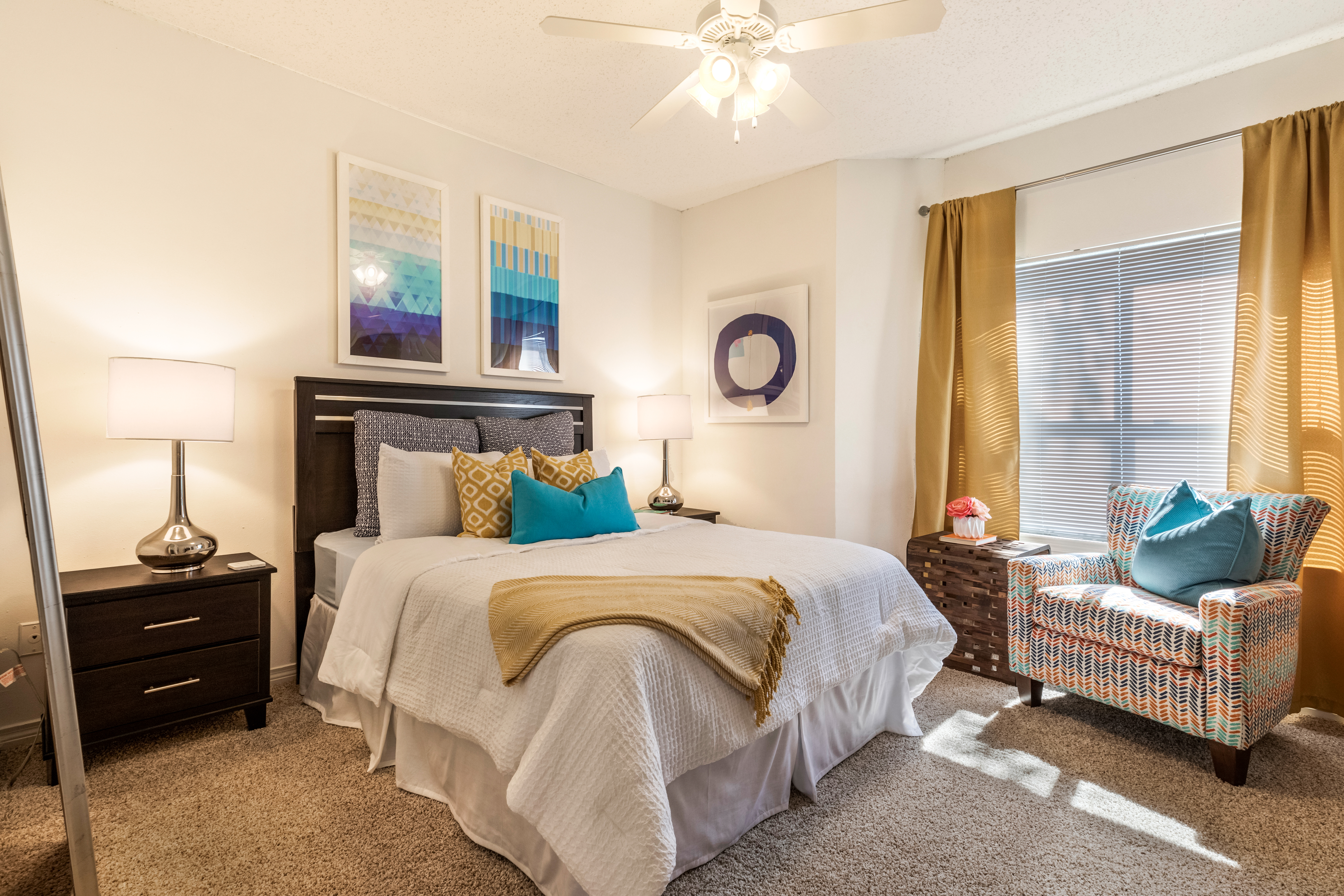 Bridge House Thrift Store: Bridge House is a remarkable New Orleans institution that primarily offers individuals seeking recovery from drug and alcohol addiction the time and structure needed to begin a new life. They also happen to have two thrift stores featuring a wonderful rotation of home furnishings for a bargain. 
You'll find their locations at 4243 Earhart Blvd. and 7901 Airline Drive.
Floor 13, formerly Canal Furniture Liquidators is another great spot for furniture finds. In their own words,  they "buy and sell pre-loved furniture." Find them at 400 Jefferson Hwy.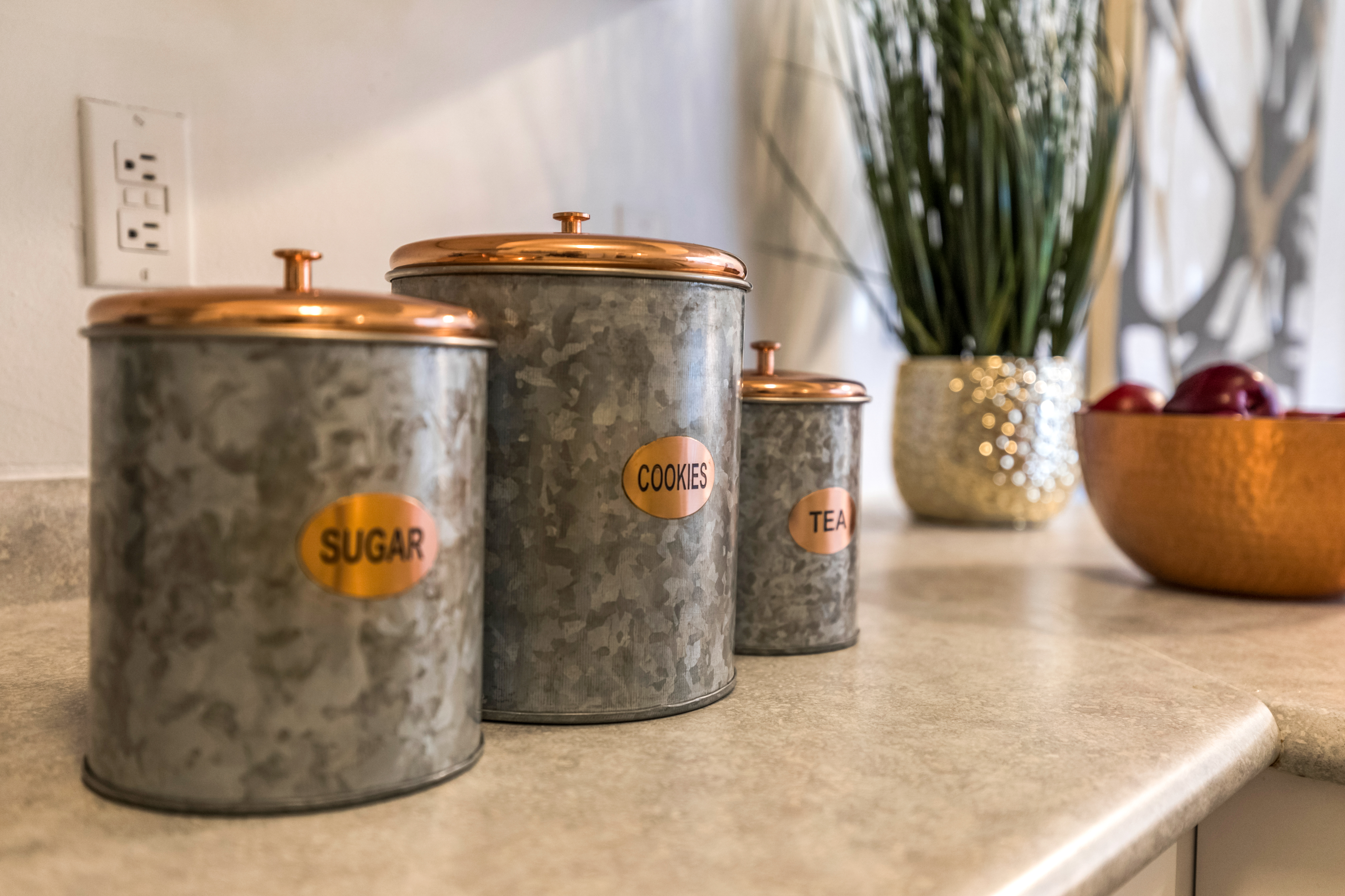 Seasoned: Seasoned's inventory is a bit more specific than the rest of our list, as it only sells second-hand kitchen items. They're on the pricier side, but this store is just too cool for us to pass up. 
Seasoned sells vintage cookware, both online and at their brick & mortar location at 3824 Dryades Street. If you're looking for the coolest cookware in the city, Seasoned is your spot to shop.
Looking for a New Apartment to Decorate? Let Us Help!
Check out our website to find a 1st Lake residential community near you! 
---
All pet owners understand the struggle of keeping a home clean with their favorite furry friends roaming around. So we selected five quick tips to make this challenge a bit easier.  
1. The Wag Rag
Try our simple wag rag hack by hanging a small wash cloth on a hook near the inside of your front door. This is the designated spot for wiping your wagging friend's paws before your pooch waltzes through the house from outside.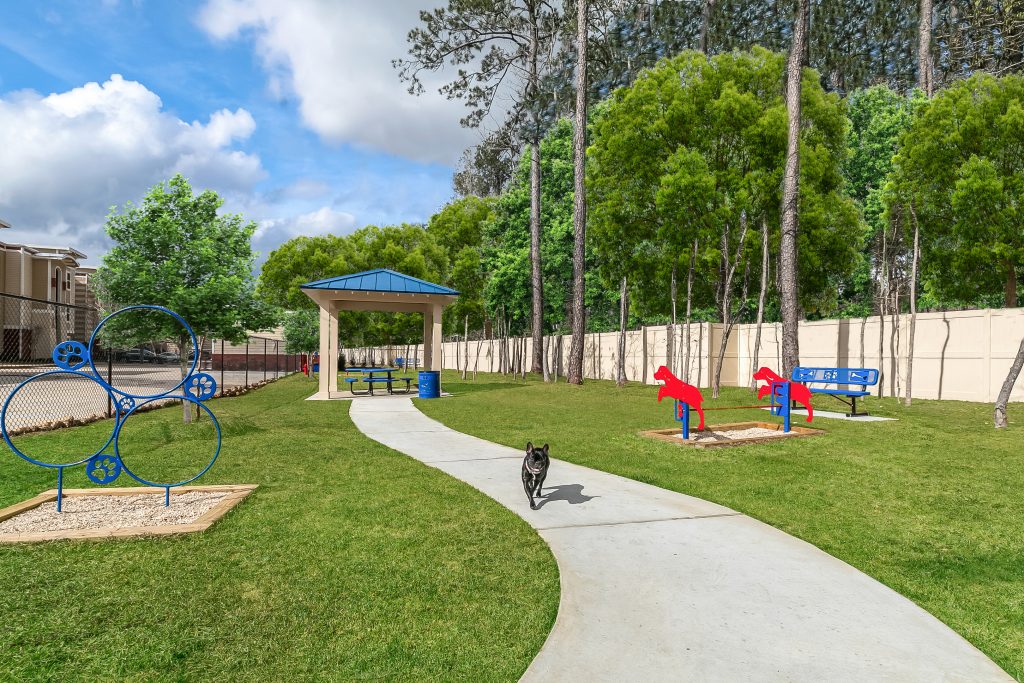 2. Shake the Smell
Notice an odor coming from your cat or dog's bed? Place the bed out of reach from your pets and sprinkle baking soda over it. Let the baking soda soak up the stench, then vacuum up the deodorizer before placing the bed back on the floor for your furry friend to enjoy.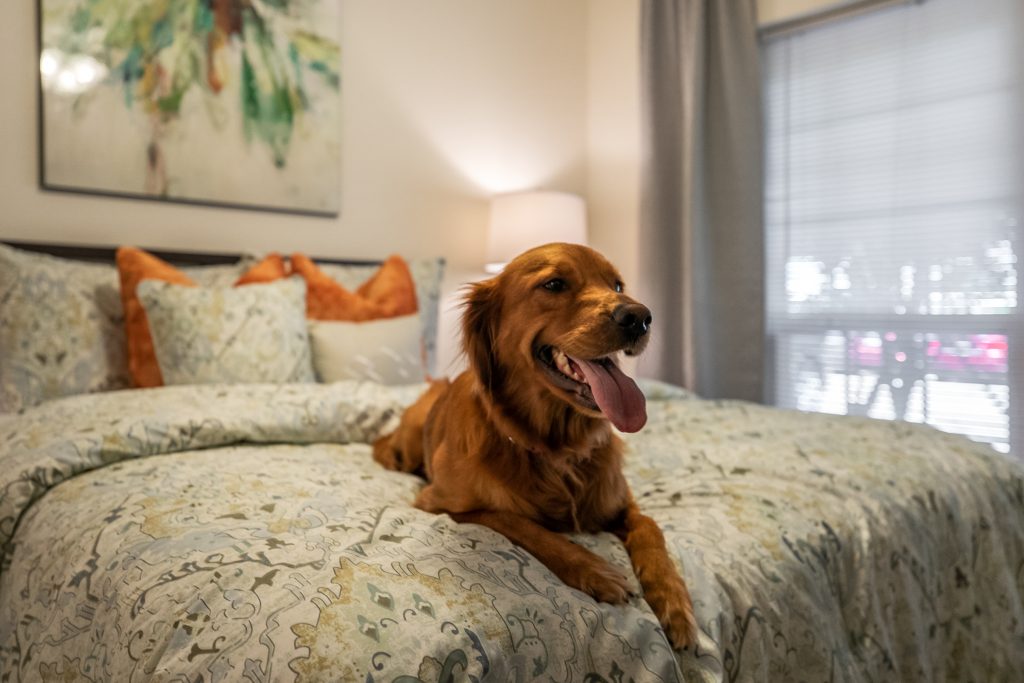 3. Stop the Shedding 
Feel like you're living in a sea of pet hair? Save yourself from drowning in it by keeping a lint roller or roll of duck tape handy to eliminate small and large hair clumps before vacuuming. Doing this on a weekly basis will make conquering your carpet and clothes less daunting.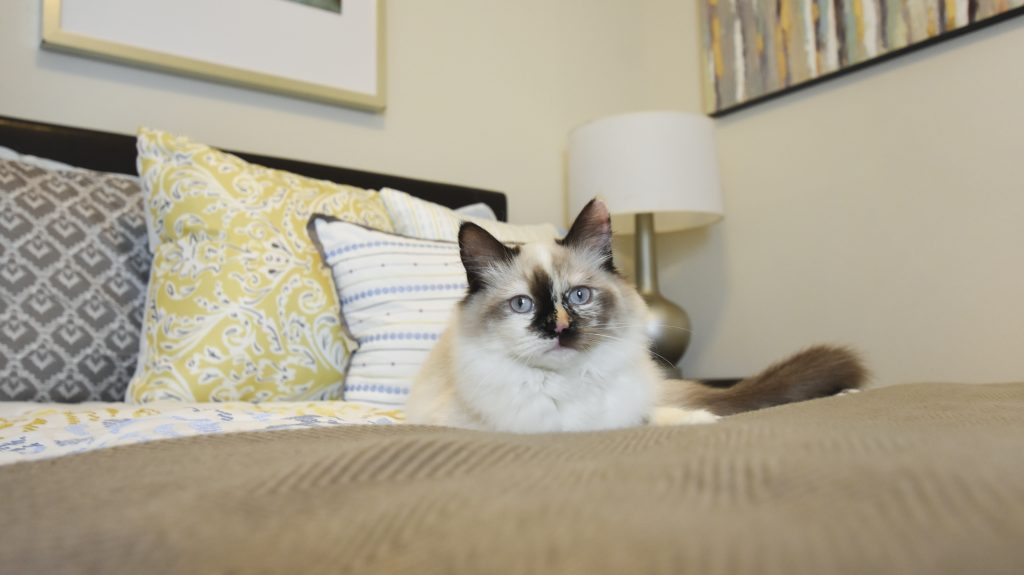 4. Accidents Happen
Accidents happen every once in a while, but don't fear! Soak a rag in a combination of half a cup of white vinegar and two tablespoons of salt to make a natural cleaning solution. Rub the stain with the soaked rag until it is no longer visible. Get rid of any lingering smell by sprinkling baking soda over the stained area and vacuum it up after a little while.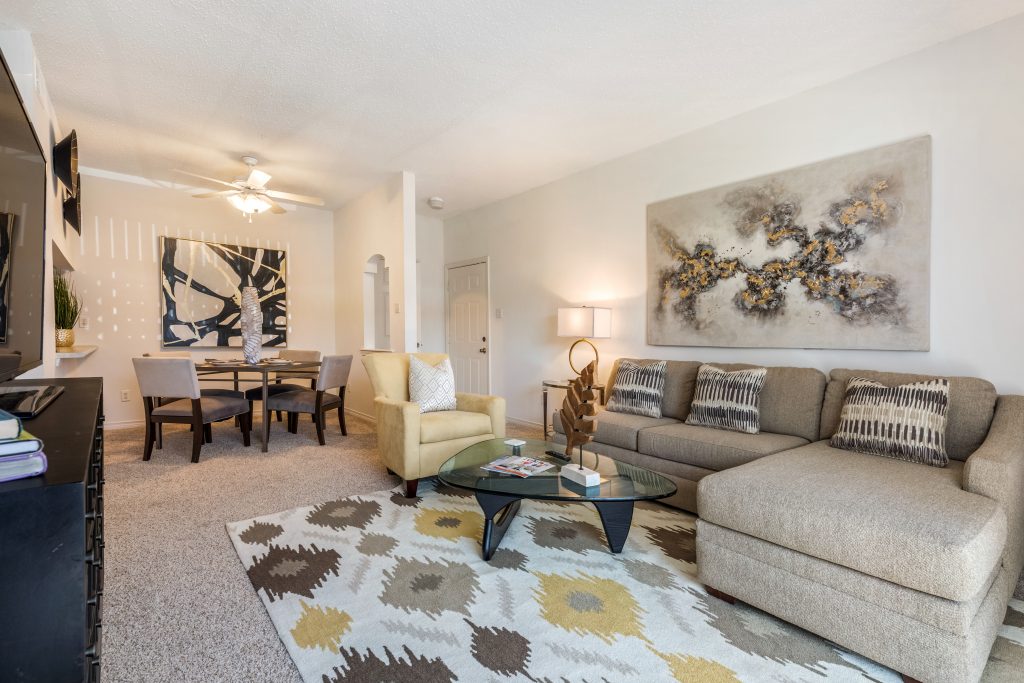 5. Simplify Sick Pet Clean-up 
Taking care of a sick pet is hard but the cleanup can be simple. If you catch the accident right when it happens, remove any solids from the stained area and clean the area with dish soap. If you have to clean it up a little while after the incident occurred, coat the area in baking soda and salt. After the spot drys, vacuum it up and blot it with vinegar and water to rid it of bad odors.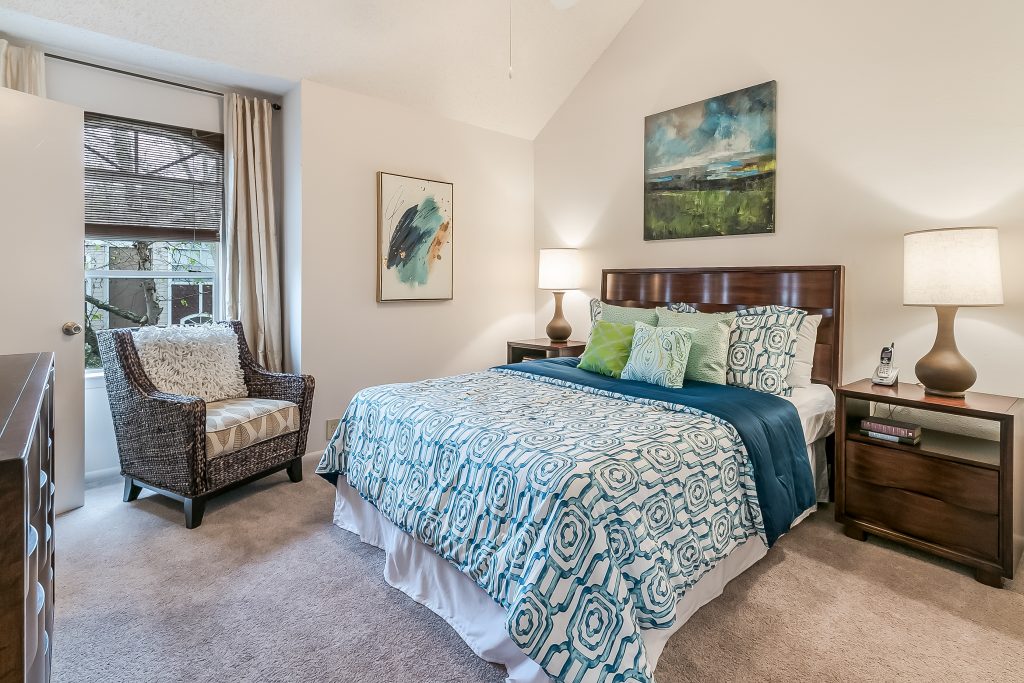 Keep your pet and your apartment happy and clean with these tips. Are you and your furry companion looking for a new home? Find your new place at any one of our pet-friendly apartments today!
---
Looking for more pieces to make your apartment feel like home? We did the digging for you and found deals on everything you need! From kitchen appliances to accent tables, we scrounged up several sales you can benefit from today!
1. Kitchen Clearance
Spice up your kitchen with new cookware! With up to 75% off from Sur La Table, you can feel like a master chef while trying out that new recipe. Plus, take advantage of Williams & Sonoma's semi-annual cookware event and save up to 25%  on essentials at Home Depot. We love this juicing blender from Sur La Table and it's currently 56% off! 
2. Bed & Bath Bargains
Looking for a fresh new look for your room or bathroom? Head to the semi-annual bed & bath sale at Wayfair. They've got steals like this classic comforter set that's 78% off! Oh and you can snag 60% off items at Birch Lane's Memorial Day Presale.
3. Furniture Finds
Home Depot does it again with this functional, classic side table. With up to 25% off here, you can find anything from headboards to dining tables without breaking the bank. 
4. More Steals
Still have things on your shopping list? No worries, we found even more deals. We love how this rug from West Elm adds subtle color and class to the room (and that it's 25% off!) Once you've filled your virtual shopping cart, take advantage of the Overstock Memorial Day Blowout with up to 70% off and free shipping! World Market has big sales on everything too! From chairs to towels and even snacks, you can get a bargain. 
Already have your pieces but need a place to call home? Check out our apartment homes to find your perfect place today! 
---