1st Lake Properties is committed to being a resource to our residents, especially during this time.
As of Monday, September 13th, all rental properties are open during regular business hours. Our teams are continuing to assess the damage to their properties. If you have any questions or concerns, we advise you to contact your leasing office directly. 
Thank you for your ongoing patience and understanding while we continue to rebuild our communities and provide safe living and working environments for our residents and our team members.
Below, we've compiled a list of resources for you that can offer further assistance during this time. 
---
Jefferson Parish Resources:
If you are a Jefferson Parish resident, we strongly encourage you to sign up for the JPAlert notification system that allows officials to contact you immediately during a major crisis or emergency. More information can be found here. 
Points of Distribution (POD) sites are currently up and running in affected areas. You can find ice, water, MREs, and tarps at these sites. To view which sites are open, click here.
Hurricane Season Dashboard has easy access to everything from power outage maps to community resources to FEMA disaster assistance.
Follow their Facebook and Instagram pages for updates.
Cox Communications has set up a disaster response page on its website with updates on restoring internet services, which can be found here.
FEMA:
FEMA Resources to Assist Your Recovery breaks down different agencies and programs with their contact information to streamline the recovery process.
You can also find answers to FAQs and rumor control about FEMA here.
Call 800-621-3362 or visit disasterassistance.gov for rental assistance.
For temporary shelter, text LAShelter to 898211 or call 211 to find a shelter.
DSNAP
The Louisiana Department of Children and Family Services received federal approval to begin Disaster Supplemental Nutrition Assistance Program (DSNAP) operations to provide additional food aid to families impacted by Hurricane Ida. 
What applicants need to know:
To see the entire press release from Jefferson Parish, click here.
DSNAP applications will be handled by phone and benefit cards will be mailed to approved applicants through the U.S. Postal Service.
Residents in the approved parishes can call the LAHelpU Customer Service Center, 1-888-524-3578 to apply and be interviewed for DSNAP. Applicants should call 1-888-524-3578, select their language, prompt 6, and then 1 between the hours of 7:30 a.m. and 6 p.m.
Translation services are available for individuals whose primary language is not English.
Residents are encouraged, but not required, to take the following steps before calling to apply for DSNAP:
Pre-register online first. Step-by-step instructions can be found at

 

www.dcfs.la.gov/DSNAP.
Download the LA Wallet mobile app for identity and residency verification. Information on the app, including download links, can be found at LAWallet.com
Gather all information needed for the application. A list of what is needed can be found in the FAQs at

 

www.dcfs.la.gov/DSNAP
---
If you need any other assistance from us, please contact us on our Facebook or Instagram pages.
---
As of today, all of our apartment communities have electricity. We do have some isolated issues where Entergy is trying to restore electricity to a handful of buildings within some of our communities. We also expect the possibility of temporary outages as Entergy performs work in nearby areas. We have worked closely with Entergy to bring power back to all communities. 
 We have been assessing damage at our communities since right after the storm and have begun the work to repair damages. Until very recently, most of our Rental Offices did not have power, working phones or internet. 
Starting Monday, September 13, 2021, all Rental Offices will be open during their regularly posted business hours. If you have any questions, please contact your office during those times. 
Thank you for your patience as we move forward from Hurricane Ida. 
For a list of resources visit our page here.
1st Lake Properties
---
---
Summertime is a great time for sunshine, smiles, and seeking new adventures! Looking for some fun places to explore that aren't too far from home? We have put together a list of parks in the Greater New Orleans area that you should check out this summer!
Lafreniere Park
Lafreniere Park is located in Metairie, Louisiana, and has several different attractions. From the walking path, playground, dog park, splash pad and more, the possibilities of fun are endless! Even more family fun awaits at Lafreniere Park's Annual Uncle Sam Jam! This great event takes place in the park on July 4th weekend with music, food, and fireworks. Each Wednesday, the park hosts a Farmer's Arts Market! You can find local vendors with unique gifts, fresh produce, and more!
Throughout the year, there is always something to fun going on at Lafreniere Park. From events to outdoor activities like running on the jogging trail or play on one of the sports fields. The 155-acre park also has several picnic shelters, playgrounds, a lagoon, a carousel, and a disc golf course! 
Want to live within walking distance of this beautiful park? We have our Lafreniere, Breckenridge, White Water Creek, Orange Park, and Wildflower Apartments that are just a few steps away from here!
Bonnabel Boat Launch Park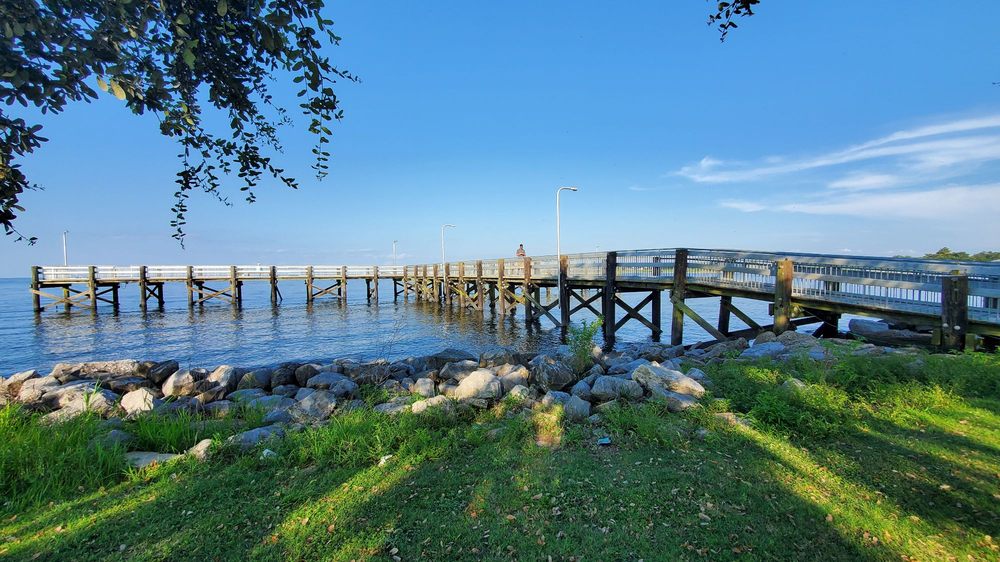 Play right next to Lake Pontchartrain at the Bonnabel Boat Launch Park. It is the perfect place to catch the sunset, or sunrise for early birds, over the water. Walk or bike along the Lakefront Trail, an over 9 mile-long paved path, that goes from Metairie to Kenner.
Take a closer look at the Lake by utilizing the boat launch! It also has a dog park so your furry friends can enjoy the day with you too. A play area makes it a fun stop for the whole family.
Bucktown Harbor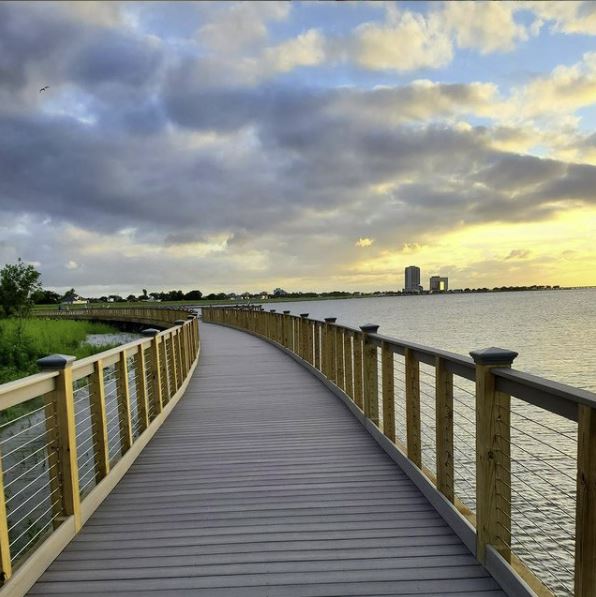 Head to Bucktown for more outdoor fun! Walk along the newly renovated, 1,000 foot long Bucktown Marsh Boardwalk and learn about the plants and wildlife through its informational signs. Pack a picnic and enjoy under one of the covered pavilions. There's lots of green space with a beautiful lakefront view to stretch your legs! The pier is a great fishing spot so bring your poles and bait. 
Our residents at Breakers, Surf Rider I & II, and Park Oaks can take a short drive to easily access this fun spot!   
Wally Pontiff Jr. Playground
Wally Pontiff Jr. Playground used to be known as Metairie Playground. It is one of the oldest public playgrounds in Jefferson Parish, with its development starting as early as 1945. In 2003, the park was renamed to honor Wally Pontiff, Jr., who played baseball at the playground before his college athletic career at Louisiana State University. To learn more about Wally's story and the Wally Pontiff, Jr. Foundation, you can visit the website.
You can find several sports fields, a track, a gym, and a couple of tennis courts at the park. Your fur-ever friends are welcome too! They can enjoy the dog park that is on-site as well. With a meeting center, picnic shelters, and a bird sanctuary, there are many ways to stay entertained here! 
A quick drive away from here is our Rosedale, Boardwalk, Severn Pointe, and The Crossings Apartments. 
Kenner City Park
Home to the Kenner Pavilion, a popular outdoor rental space, the park has a quarter-mile walking path for its visitors to enjoy. A couple of picnic shelters and playgrounds, including a handicap-accessible one, make this a great spot in West Jefferson Parish to stop by! Don't forget the pup – there's a dog park they can play in too.
Walking or taking a short drive is easy for our residents of Lakes of Chateau North & South, Harper's Ferry, and Falling Water Apartments.
---
Looking for the best happy hour spots in the Metairie/New Orleans area? We have composed a list that is perfect for your summer bucket list!
Located in Lakeside Shopping Center, this Creole Cuisine concept offers some of the best happy hour selections, every day from 2 pm – 6 pm.
Enjoy 1/2 off pizzas, $5  select wine glasses, $5 call cocktails, $6 premium and specialty cocktails, $3 beers, and $7 appetizers! They also have weekly specials, that you can find here.
With 2 locations, heading to The Boulevard for an afternoon of fun is easy and convenient! Enjoy daily deals, Monday – Friday from 3 pm – 6 pm at their Metairie location near Clearview Center or their location in Elmwood Shopping Center. Daily specials include $7 small plates, $3 beers, $7 wells, and 1/2 off select glasses of wine! Check out Wine & Dine Wednesday to enjoy half off select bottles of wine and Martini Thursdays to enjoy $5 martinis! 
Looking for a place with a view? Check out The Blue Crab, located on Lakeshore Drive in New Orleans! Happy Hour is from Tuesday – Thursday 4 pm – 6:30 pm. Specials include $1 off draft beer, $3 house wine, and half off all well and call brands! While you're there during happy hour, enjoy some $5 bite-size appetizers. 
You are sure to score a hole-in-one with this next happy hour suggestion! At Loft 18, located on Metairie Road, enjoy food and drink specials Monday – Friday from 3 pm – 6 pm. Specials include half-off draft beer, $3 domestic & imports ($15 buckets), house red and white wines are 50% off and $3.50 house singles and delicious food options starting at just $4! 
Got a sweet tooth? Our next suggestion will fill all of your happy hour needs! Wednesday thru Friday from 5 pm – 7 pm, enjoy a wide selection of cocktails and wines for just $5, grilled cheese for $7, and a BBQ empanada for $5. You won't want to leave The Bakery Bar without trying some delicious do-bites from Debbie Does Doberge! 
If you're from New Orleans, chances are you've heard of Larry Morrow or at least heard of his restaurant! New Orleans native, entrepreneur, and entertainment event curator opened this delicious restaurant with his mom in April 2018. This mother-son duo brings you delicious New Orleans and authentic Korean dishes daily and their happy hour is one you won't want to miss! Happy Hour at Morrow's is Monday – Friday, 4 pm  – 7 pm and specials include $5 cocktails, $5 wine, $3 beer, $7 frozen drinks, and  50% off select appetizers.
What's better than complimentary salsa, chip, and bean dip? Happy Hour of course! At Casa Garcia, located in Metairie, this hidden gem of a restaurant offers happy hour specials Monday through Thursday from 3 pm to 7 pm and Friday from 3 pm to 6 pm. Enjoy $5 margaritas and $3 draft beers!
If you are a resident, you will love this next restaurant! Bobby Hebert's located in Metairie is one of our Resident Rewards partners. At 1st Lake Properties, we have created a program called Resident Rewards to offer exclusive discounts from local businesses to our residents.* To check out the discount from Bobby Hebert's, visit the resident portal and log in! If you aren't a resident, don't worry, Happy Hour is for everyone! Enjoy 1/2 drinks Monday through Friday from 2 pm to 6 pm. They also have monthly dinner specials that you can find on their Facebook Page! 
Headed downtown and want a place to hang? The Mill Nola is perfect! Patio seating available for those pet lovers. Each day, The Mill Nola offers a drink of the day for just $6 in addition to their $6 drinks available during happy hour! Happy Hour at The Mill is from 3 pm to 6 pm, Monday through Saturday! If you're looking for a new brunch spot, we highly recommend you add this to your list! 
Located on St. Charles, this Creole-inspired restaurant offers a lively atmosphere and some of the freshest seafood straight from the Gulf of Mexico! Happy Hour is every day from 3 pm – 6 pm and includes $1 – local raw P&J oysters, $8/half dozen and $15/dozen fried oysters, and all wines by the glass, draft beer and specialty cocktails are half off!  
Pizza Domenica offers specialty, gourmet pizzas with a unique mix of toppings! Enjoy half-off pizza, beer, and wine during their happy hour which is Monday – Friday from 3 pm to 5 pm! Their Mid-City location is pet friendly and the tables at the magazine location also welcome pets! 
---