Want to create an inspiring accent wall without the hassle of a hammer?  Check out these easy accent wall alternatives. 
 1. Rest an oversized, eclectic mirror against any wall you want. Not only will this be a great talking piece, but mirrors instantly create the illusion of a larger space because they reflect the natural and artificial lighting in your apartment. 
2.  Install a plant stand. This simple addition to your space can go anywhere in your home, and the plants you use can add aesthetically pleasing health benefits like air purification to your apartment!
3. Set up an accent table with your favorite pieces. Rather than hanging your favorite art or plants on the wall, skip the nails and hammer and just place your pieces on a cute bench or table in your apartment.  
There are plenty of ways to revamp your space! Share your accent walls with us and tag @apartmentsat1stlake on Instagram.
Fall in love with your next apartment by visiting 1stlake.com!
---
Did you know most people only wear 20% of the clothes they own 80% of the time? Keep this factoid in mind as we talk about tips for downsizing from a house to an apartment. No matter why you're downsizing, the transition can seem daunting without these quick tips.
1. Determine What You Already Have
Once you've figured out exactly how much square footage you have in your new apartment, you can tackle the task of sorting through what you already have and then choosing what items are moving with you and what items are not.
2. Organize Your Belongings
It's important to prioritize in the early phases of downsizing. Identify the most important items you have which will most likely be key furniture such as your bed, sofas, dining table, bedside tables, and chairs. Start planning out where you will put these items first as they are the most important. Then you can begin to plan around with decor or smaller items.
3. Consider Lifestyle Changes
Getting into the mindset of your new life will be extremely helpful to your downsize project. Consider how your everyday activities will change in your new surroundings. For example, according to a long distance moving company in Dallas, if you are moving to a city without good public transportation, you need to restructure your budget to allow more spending on gas.
Think about your lifestyle changes as you go through your possessions and determine which ones make the cut, and which ones are better left behind. Consider things that may be useful to you now but won't be useful in an apartment and a different environment.
4. Choose Your Supplies Wisely
As you start packing, it may be helpful to designate boxes: items you're taking with you, items you're giving away, items you're putting in storage, items you're throwing away. Remember, long-term storage can be expensive, so if there are items you don't want to get rid of but don't have space for (like a piano, for instance) ask a friend or family member to store those for you.
5. Deciding What to Give Away vs. Keep
Many people find it hard to discard their belongings even if they haven't used them in a long time. While there is no getting around the sentimental value an item might have you should ask yourself two important questions when sifting through your things. One: how useful is it? And two: does it have aesthetic value?
Remember the stat we threw at you in the beginning of this post? Your downsize project may seem intimidating but the fact is most of the items we accumulate in our homes are not particularly useful. While you won't want to bring a rarely used kitchen mixer, you may want to bring a rarely read book. Why? Because books are great accent pieces that can add aesthetic appeal without breaking the budget.
6. Declutter Your Life
Making the most use of your available space will be very important when downsizing. For many, this means minimizing clutter. No matter how organized you are, we all have clutter and moving is the perfect time to declutter your life.
One helpful hint for minimizing clutter is using wirelessly connected devices like printers and laptops so you don't have a bunch of wires creating an eyesore in your new place. Plus, if you're relocating to a new office, you may consider bringing some home items to your new space (i.e. small plants, notepads, etc.) Also, utilize the space under your bed and behind your doors (door-mounted shoe racks and underbed storage are great sources of organization).
A Great Opportunity
In reality, downsizing is a great opportunity to simplify, de-stress and reprioritize your life. It's a chance to reinvent yourself and your living space. So we hope this post has given you a positive perspective of the whole ordeal. Ready, Set, Go!
Guest blog by North Dallas Moving and Storage
---
Create a cozy apartment with these three tips: 
Throw blankets: Adding fall-inspired blankets in your space will create coziness in an instant. Hobby Lobby has plaid throw blankets for under $10 right now, and Target has ridiculously soft fall throws for under $20! We recommend snagging a few of these throw blankets and putting them in a designated basket in your living room. This will tell guests: you can get comfy here.

Throw pillows: Throw pillows and blankets are like the power couple everyone wants to be. Right now, deep orange, gold, and green hues are making a statement in the world of fall decor. Lucky for you, World Market has a great deal on throw pillows in a myriad of fall colors. You can snag these pillows for just $9.99 in store or online!


Textured Accents: From woven baskets to cotton pumpkins, we've found countless cozy ways to spice up our space. In this apartment, we created a comfy centerpiece by stuffing a plaid and burlap basket with gold spray painted pine cones, a bundle of burlap, a golden pom pom bush and floral accent pieces.  We got everything but the pine cones from Hobby Lobby. The pine cones were free. We found those at our apartment community under our trees!
Bonus tip: Next time you're at the dollar store, grab a box of flameless, battery-powered candles. Sprinkling these throughout your apartment will create an ambiance of peace and quiet.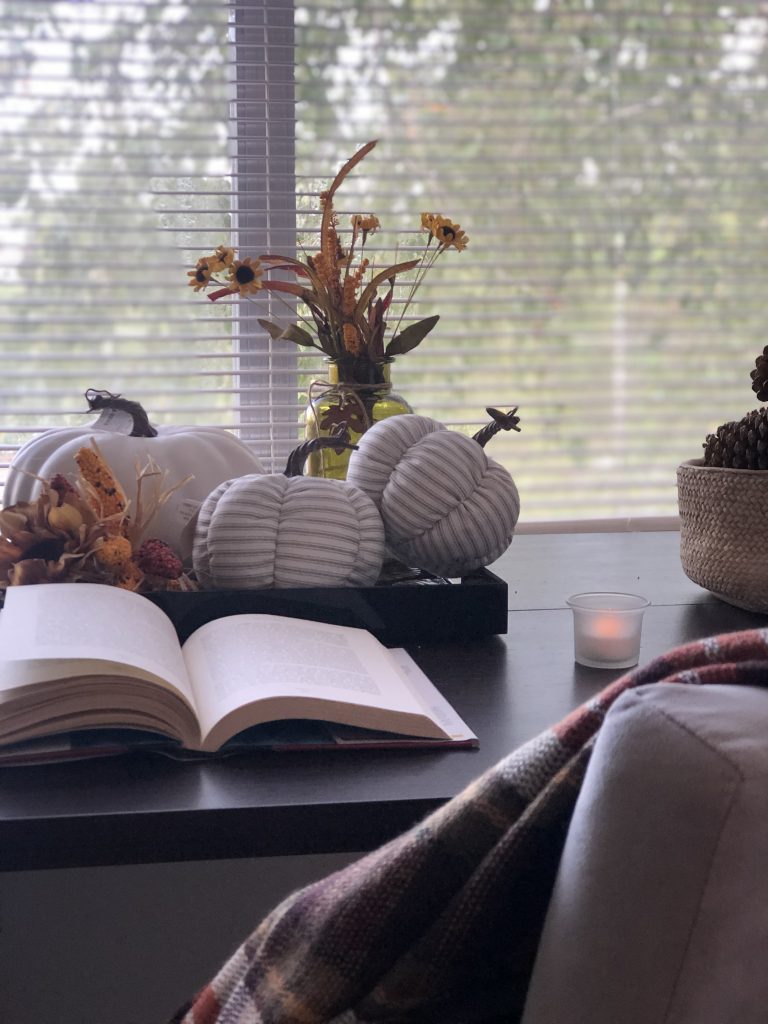 To snag one more bonus tip, head to our Instagram Story! 
Looking for an apartment you'll fall in love with? We can help! Just click here.
---
Arranging Your Apartment According to Feng Shui Principles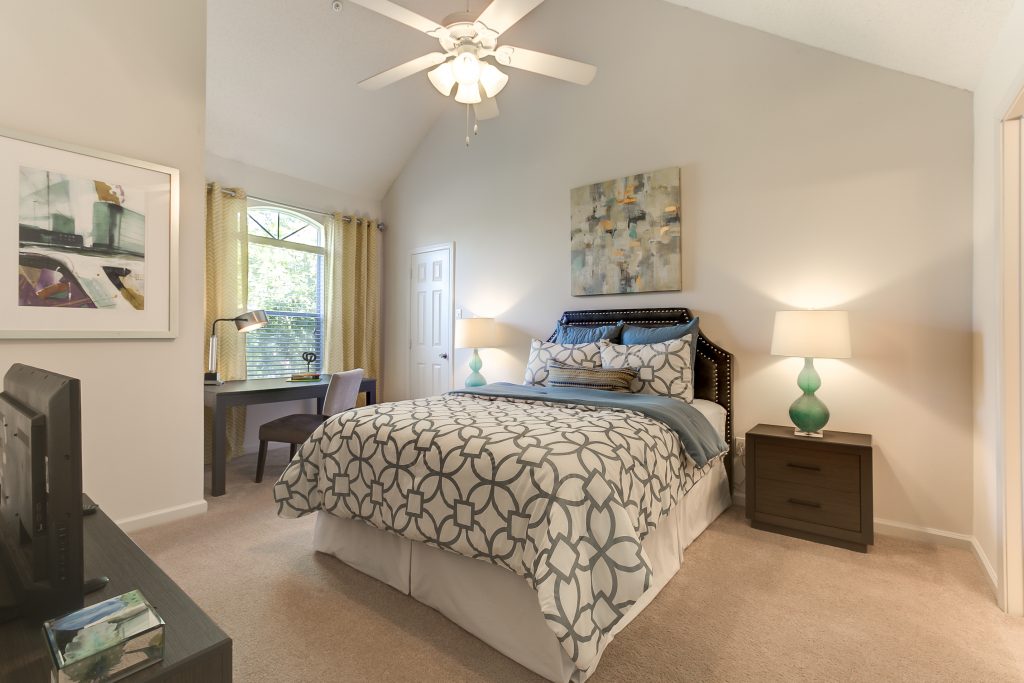 What is Feng Shui? You've probably heard about the practice in movies, books, or television shows. Feng Shui is an ancient Chinese practice that invites positive energy, or "chi" inside your home. Improving the flow of energy inside your apartment can boost your mental and physical health.
Chi has been described as the glue that binds your life together with the elements. The elements include wood, metal, water, fire, and earth. Each element can be represented in different pieces of furniture or decor.
Be Organized
A disorganized home can lead to chaos. Dirty dishes, unfolded clothes, and cluttered cabinets and countertops can create a stressful environment. If you have a beautiful natural stone counter in your kitchen like marble or granite, the last thing you want is to cover it up with clutter. If you are beginning to practice Feng Shui, you'll need to organize your apartment before moving forward.
It can feel overwhelming to begin this process. Start with a small closet or bedroom. Filter out clothing that you don't wear anymore or items that are just collecting dust. Donate them to a local nonprofit. Then, organize what's left into a new system. Get rid of items that you do not need.
Don't think of this process as decluttering. You are creating new space inside your apartment. While it's not the end of the world if you replace this open area with new items, just make sure the area stays organized over time.
Remove Obstacles
We're not getting philosophical here. I literally want you to think about the path inside your home. Are you moving around furniture to walk through your apartment? If so, it's time to adjust the placement of your furniture.
You might be overlooking these physical obstacles in your life. It's a nuisance that impacting your mental health more than you would think. Take the time to properly move furniture around your apartment. Figure out what floor plan works best for you and the chi inside your apartment.
Separate Your Work and Rest Space
This is another major rule in Feng Shui. When creating a floor plan inside your apartment, you will need to separate work and rest space. It's tempting to place a desk and computer inside your bedroom. But this practice will restrict the flow of positive energy inside your apartment. You will not be fully relaxed if you walk into your bedroom and relive your work day. Set up a workstation in a high-energy area like the kitchen, a small office, or a spare bedroom.
You will want to create a calming environment inside your bedroom. This is where you unwind after a long day. Place the head of your bed against a wall, so the piece of furniture is facing a door. This will allow you to properly recharge as you sleep. You will also want to avoid having too many electronics inside your bedroom. A blaring TV or radio will distract you from meditation and reflection each day. 
Understand Your Colors
It's important to understand how the color inside your apartment can influence your mental health. Strategically adding different color palettes inside your home can eliminate stress, boost your mood, and rejuvenate your soul.
Blue and green are calming colors that should be used in bedrooms. Red is a passionate color that can bring life to a room. Neutral colors can also be used in communal living spaces.
Brighten Your Entryway
Energy enters and leaves your apartment through the front door. It is important to create a positive and welcoming environment through your main entryway. Like other rooms inside your apartment, you'll want to properly declutter this area. Do not have shoes, jackets, or purses blocking the entryway.
You can make more space or compliment the doorway with decor, flowers, or a special door mat. You can really personalize this area and make it your own. You can also add more lightning inside or outside the entryway. By doing this, you are creating an inviting and spacious area. It invites positive energy into your apartment. And if you are properly practicing Feng Shui, that positive energy will stay.
Buy More Plants
There are plenty of benefits to adding fresh plants inside your home. From a Feng Shui perspective, plants bring life energy inside your apartment. Greenery can bring vibrant energies and moods inside your home. Plants represent health, vitality, and relaxation.
Guest blog by: marble.com 
---
Here are four pawsome tips to help your cats cozy up to their new apartment. 
1. Elevated Points 
By cleaning the tops of bookshelves or setting up small cat posts around your apartment, your cat has room to perch and move. This gives them a great view of your space and even outside!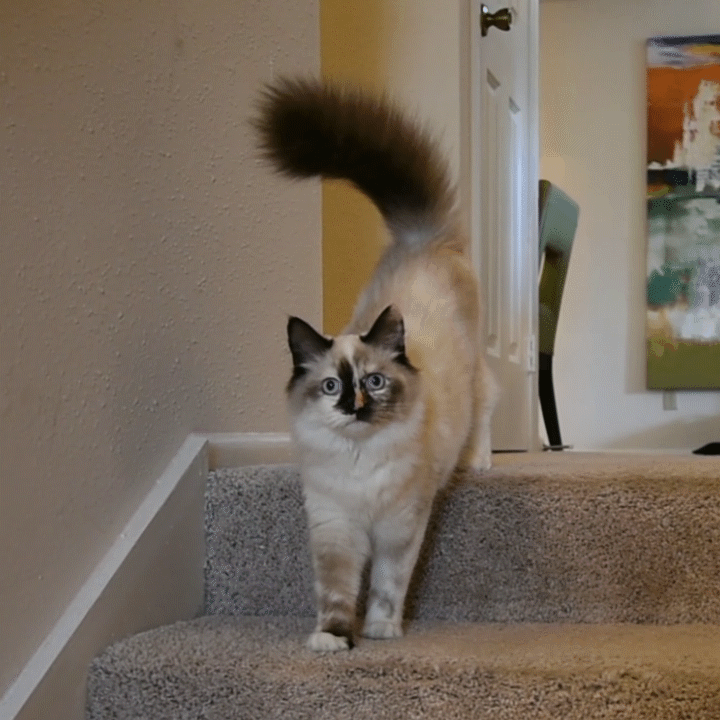 2. Scratching Posts 
Scratching posts are sure to be loved by your kitty! Scratching allows them to stretch and flex their paws. Grabbing a small scratching post from your local pet store will reduce unwanted scratches throughout your home. Keep your place and feline friend happy. The Humane Society goes in depth about the benefits of having a scratching post. 
3. Playtime 
Set aside some time for you and your cat for playtime, where both of you can play together either with a string toy or a laser pointer. This helps with bonding and gives your kitty some needed exercise. Cats also love to play on their own so by grabbing little balls of yarn or smaller toys, they can play with themselves when you are busy.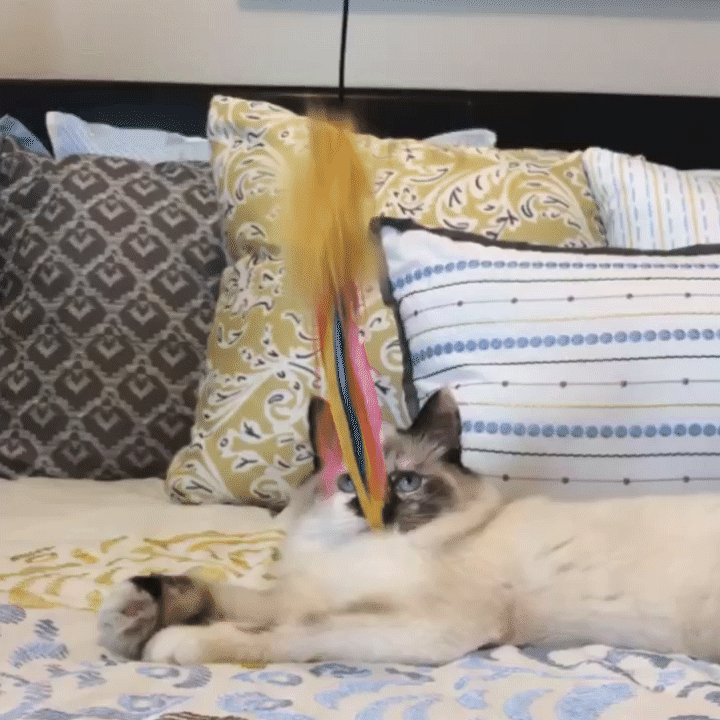 4. Calming Smells 
You can't be there for your cat all day every day so they can get sad without you. Help calm their separation anxiety with lavender and chamomile diffusers. Check out Chewy's cat-friendly diffuser to create a calm environment for your cat and yourself!
Keep your cat and apartment happy with these little tricks. Are you and your feline friend looking for a new home? Find your new place at any of our pet-friendly apartments today!
---