If you live in or near New Orleans, you know that finding a good place to eat is easy. But how easy is it to find a good vegan-friendly restaurant? We created this list of some of our favorite go-to places.
In recent years, people have become more health-conscious and have adapted to a healthy lifestyle. According to Emily Krempholtz in Veganism Has Gone Mainstream, But It's Not Just About The Animals Anymore, "The rise in selective eating habits whether due to allergies or diet trends has created a massive demand within the food market." Because of these growing trends, we have seen a rise in vegan restaurants in the metro New Orleans area. 
Whether you have adopted a vegan lifestyle or not, this list is a great place to start for healthy, earth-friendly options!
Looking for vegan "junk-food"? Look no further than this uptown cafe! At Kindred, you can enjoy vegan versions of classic New Orleans staples such as red beans and rice, a spicy chicken sandwich, shrimp po'boy, and more. The best part is, they also have brunch items too!
Did someone say baked goods? Cinnamon rolls, brioche puffs, blondies, and tea biscuits, and more. Breads on Oak has two locations, one on Oak Street and one in the CBD. You can even order a whole cake from them!
At Seed, located on Prytania, you can enjoy breakfast, lunch, or dinner. While you're there, enjoy one of their unique and artfully crafted cocktails, mocktails, or a plant-based coffee.
With two unique locations, the Bearcat Cafe is a local favorite. Bearcat Cafe offers fresh breakfast and lunch options and a wide variety of coffees and loose-leaf teas. The menu at Bearcat is divided into a "good cat" and a "bad cat" section. Most of the items on the good cat side are vegan-friendly.
Located on N. Broad St. in New Orleans, Sweet Soulfood-Nola Vegan Cuisine offers an ever-changing weekly menu with items such as red beans, jambalaya, bread pudding, potato salad, and more! 
Looking for a hot dog that's vegan-friendly? Look no further than Dat Dog! With three convenient locations on Magazine, Feret Street, and Frenchman's Street, getting a vegan dog is easy! Their buns are steamed, toasted, and vegan! and they have 4 vegan sausage options that include the Spicy Chipolte Dog, the Vegan Italian Dog, the Smoked Apple Sage, and the Vegan Bratwurst.
G's Pizza has two great locations that deliver to Mid-City, Lakeview, Old Metairie, Downtown, The French Quarter, Marigny, and the Garden District. This pizza joint doesn't just have vegan-friendly options, it has a separate menu dedicated strictly to vegan-friendly food! Check it out here.
According to their website, True Food Kitchen is the only restaurant that is fundamentally based on science. This chain restaurant opened its location on St. Charles and offers "crave-able food that boosts your mood."  From pizza to salads, to burgers and desserts, there are so many options to choose from!
At Vegan Wit' a Twist, they combine traditional preparations with fresh vegan ingredients for dishes that are authentic. They even host private parties with hookah, music, drinks, and food! Check out their happy hour specials menu here.
Located in the warehouse district, this tropical cafe and bar offer a unique menu with delicious vegan-friendly options! Whether it's breakfast, lunch, or dinner you're looking for you are sure to find something delicious! 
---
Whether you're hosting your loved ones in your 1st Lake apartment home or traveling to celebrate the holiday, there's no better way to show them how much you care than with a thoughtfully crafted homemade gift. Homemade gifts can mean more to your loved ones, too. You put a lot of effort into creating the perfect gift exclusively for them! Nothing is more loving than that.
Even with a short amount of time left, there are still plenty of quick and affordable homemade gift options you can create without worrying. Some of our favorite homemaking websites offer a plethora of choices and instructions for these gifts, but we're going to highlight a few of our favorites to get you started on your crafts.
For the Coffee Connoisseur
Good Housekeeping caught our DIY-eye with this easy, thoughtful, and tasty gift idea for the coffee drinker on your list. "Coffee Mug Mixers" are created from vintage silver spoons and baking goods. Head to an area thrift or antique store, or hunt down a garage sale, and find some intricately designed antique spoons for cheap. Then, head down to the grocery store to pick up an assortment of baking sweets, like chocolate, crushed nuts, and candy. Melt your mixed sweets onto the spoons, let them dry, and wrap them in clear packages. Your coffee-loving visitor might just dip one into his or her mug immediately after opening this delightful and thoughtful treat!
For the Farmhouse Design Fan
If they are big fans of rustic-themed home makeover shows and decorate with reclaimed wood and metal accent items, shower them with a homemade wood gift. Both The Nest and Country Living Magazine have a great collection of homemade wood gift ideas to show them how much you notice their personal interests. We love the idea of wood-burned labels on cutting boards and cooking utensils. You can add your personal signature to these items with a wood burner from your local craft store. That way every time they use these items, they'll be reminded of you.
For the First-Time Family
This homemade gift option might require a little more effort, but for the loved ones on your list with a newborn, it will mean the world. Your local craft store will have everything you need to create this precious hot air balloon-themed mobile for their baby's bedroom. Craftiness is Not Optional provides a great step-by-step visual guide to building this homemade gift with ease. If this seems too difficult, Craftiness is Not Optional has other easier new parent gifts.
For the Home Spa Fan
We all know someone who spends their free time soaking in hot bubble baths and pampering themselves with sugar scrubs, pedicures, and moisture-rich lotions. Show them you care with your own self-care creations! There are do-it-yourself soap recipes, easy sweet or floral-scented sugar scrub formulas, and nurturing lotion how-to's across the Internet! One of our favorites comes from PopSugar. Their DIY Spa Kit Trio features a scrub, a body butter, and a foot soak. We are not going to lie, this one you might want to keep for yourself!
From the Heart
These are just a few of the countless ways to make the holidays mean more this year. Do you have go-to homemade gifts you've perfected for the big day? Share your tips with our social communities and help your fellow 1st Lake residents make the ideal gift to go under the tree.
---
A typical Charcuterie board usually consists of a variety of meats and cheeses and is a staple for holiday parties. This year, they have become more popular and people are making their boards with a variety of different items! 
We tried our hand at it with a couple of our own twists and tricks! See how we assembled two, modern charcuterie boards just in time for the holiday season, using items you will love! 
A Cheddar Together Board
First up, we created a charcuterie board that pairs perfectly with a glass of wine! Our board included three main ingredients: cheese, grapes, and crackers. All of which were purchased from Rouses! This year, our holiday decor at Artesia Apartments featured a lot of snowflakes, and we decided to bring those elements to the board.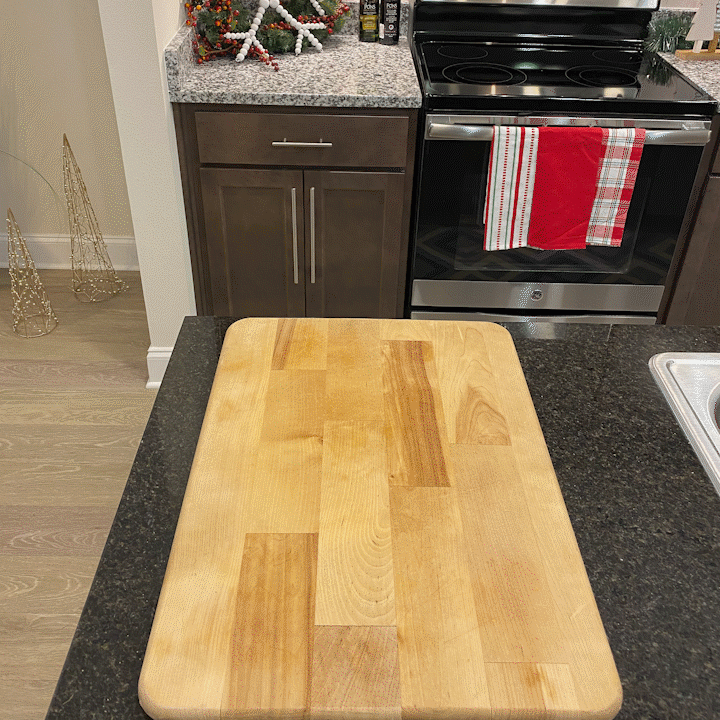 We placed tinsel in the shape of a tree and alternated between grapes and cheese. Add some snowflakes on top and you have a cheesy winter wonderland scene. Not only did this one come out tasty, but it also added a festive flair to our countertop! 
Dreamy Dessert Board
For our second board, we decided to go down a sweeter path to make the dessert board of our dreams! We gathered all of our favorite holiday treats and found the perfect spot to share, at our new apartment community, Bella Ridge South.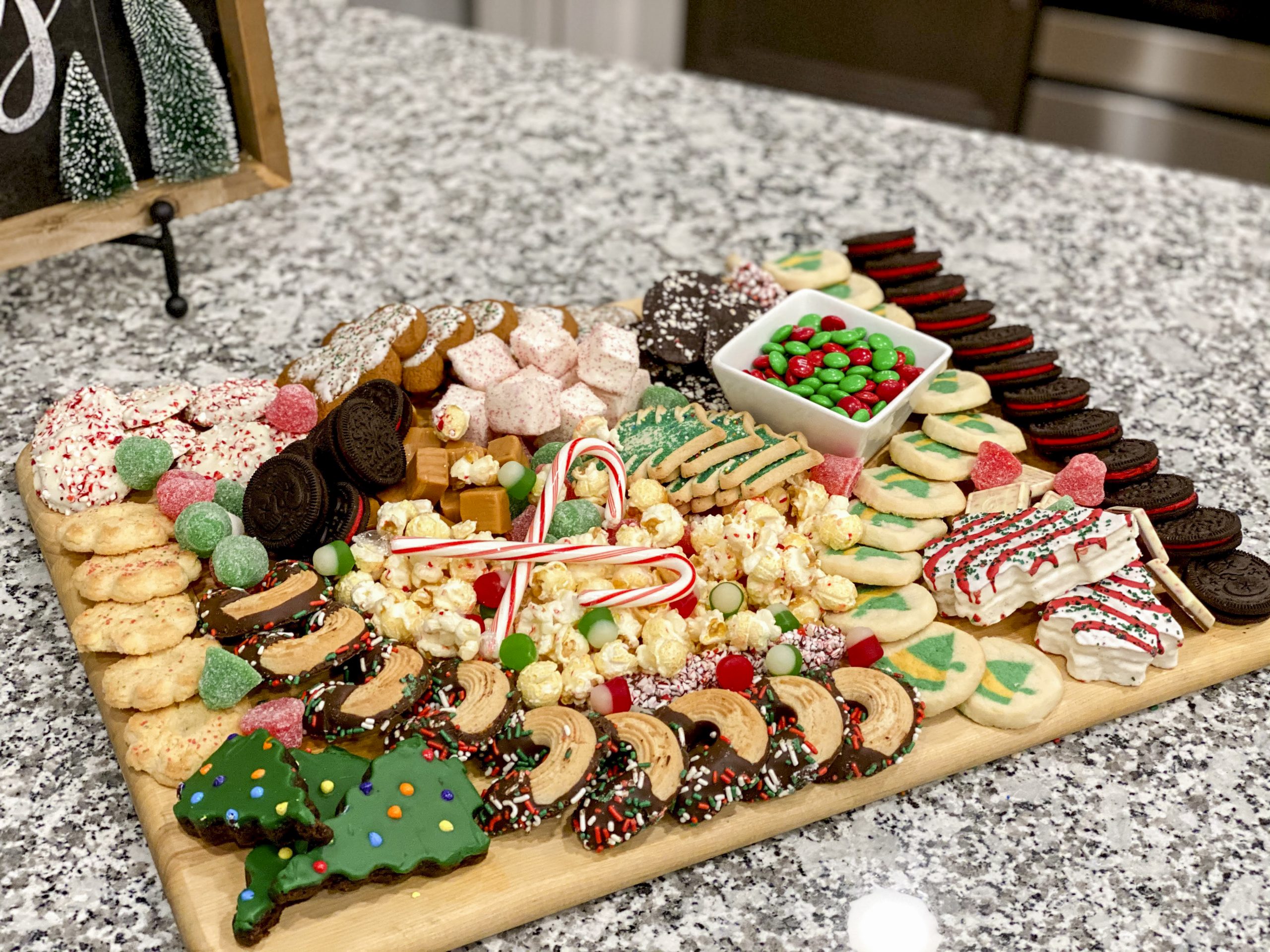 We suggest making yourself a delicious cup of hot chocolate or egg nog to enjoy this one. From staples like Little Debbie Treats, red and green gumdrops to peppermint marshmallows and even Oreo cookies, this board had everything! Adding popcorn and pretzels is a great way to add a splash of salty snacks into the mix. The final product is perfect to leave in the kitchen for midnight snacking or even to make as your table's centerpiece!
With oversized kitchens and huge floorplans, our apartment homes are a perfect place to come home to for the holidays!
For more ideas on holiday decorating, check out our blog on how to create a Show-Stopping Table Setting! 
---
1st Lake Properties is committed to being a resource to our residents, especially during this time.
As of Monday, September 13th, all rental properties are open during regular business hours. Our teams are continuing to assess the damage to their properties. If you have any questions or concerns, we advise you to contact your leasing office directly. 
Thank you for your ongoing patience and understanding while we continue to rebuild our communities and provide safe living and working environments for our residents and our team members.
Below, we've compiled a list of resources for you that can offer further assistance during this time. 
---
Jefferson Parish Resources:
If you are a Jefferson Parish resident, we strongly encourage you to sign up for the JPAlert notification system that allows officials to contact you immediately during a major crisis or emergency. More information can be found here. 
Points of Distribution (POD) sites are currently up and running in affected areas. You can find ice, water, MREs, and tarps at these sites. To view which sites are open, click here.
Hurricane Season Dashboard has easy access to everything from power outage maps to community resources to FEMA disaster assistance.
Follow their Facebook and Instagram pages for updates.
Cox Communications has set up a disaster response page on its website with updates on restoring internet services, which can be found here.
FEMA:
FEMA Resources to Assist Your Recovery breaks down different agencies and programs with their contact information to streamline the recovery process.
You can also find answers to FAQs and rumor control about FEMA here.
Call 800-621-3362 or visit disasterassistance.gov for rental assistance.
For temporary shelter, text LAShelter to 898211 or call 211 to find a shelter.
DSNAP
The Louisiana Department of Children and Family Services received federal approval to begin Disaster Supplemental Nutrition Assistance Program (DSNAP) operations to provide additional food aid to families impacted by Hurricane Ida. 
What applicants need to know:
To see the entire press release from Jefferson Parish, click here.
DSNAP applications will be handled by phone and benefit cards will be mailed to approved applicants through the U.S. Postal Service.
Residents in the approved parishes can call the LAHelpU Customer Service Center, 1-888-524-3578 to apply and be interviewed for DSNAP. Applicants should call 1-888-524-3578, select their language, prompt 6, and then 1 between the hours of 7:30 a.m. and 6 p.m.
Translation services are available for individuals whose primary language is not English.
Residents are encouraged, but not required, to take the following steps before calling to apply for DSNAP:
Pre-register online first. Step-by-step instructions can be found at

 

www.dcfs.la.gov/DSNAP.
Download the LA Wallet mobile app for identity and residency verification. Information on the app, including download links, can be found at LAWallet.com
Gather all information needed for the application. A list of what is needed can be found in the FAQs at

 

www.dcfs.la.gov/DSNAP
---
If you need any other assistance from us, please contact us on our Facebook or Instagram pages.
---
As of today, all of our apartment communities have electricity. We do have some isolated issues where Entergy is trying to restore electricity to a handful of buildings within some of our communities. We also expect the possibility of temporary outages as Entergy performs work in nearby areas. We have worked closely with Entergy to bring power back to all communities. 
 We have been assessing damage at our communities since right after the storm and have begun the work to repair damages. Until very recently, most of our Rental Offices did not have power, working phones or internet. 
Starting Monday, September 13, 2021, all Rental Offices will be open during their regularly posted business hours. If you have any questions, please contact your office during those times. 
Thank you for your patience as we move forward from Hurricane Ida. 
For a list of resources visit our page here.
1st Lake Properties
---