What's your favorite part of the holiday season?
Spending time with family, gift-giving, and some time off of work probably rank high on your list. But what about the food?
The holidays are a time to indulge in deliciousness, and this post will help you do just that in the coming weeks. Read on for 1st Lake's list of holiday baking ideas that will keep you, your family, and your friends full of cookies for the entire season!
Ingredients (Cookie Dough)
3 c.

 

all-purpose flour, plus more for surface
1 tsp. baking powder

1/2 tsp. 

kosher salt
1 c.

 

(2 sticks) butter, softened
1 c.

 

granulated sugar
1 large egg
1 tsp.

 

pure vanilla extract
1 tbsp.

 

milk
Ingredients (Buttercream Frosting)
1 c.

 

(2 sticks) butter, softened
5 c.

 

powdered sugar
1/4 c.

 

heavy cream
1/2 tsp.

 

pure almond extract
1/4 tsp.

 

kosher salt
Food coloring
Directions
In a large bowl, whisk together flour, baking powder, and salt and set aside.
In another large bowl, beat butter and sugar until fluffy and pale in color. Add egg, milk, and vanilla and beat until combined, then add flour mixture gradually until totally combined.
Shape into a disk and wrap in plastic. Refrigerate 1 hour.
When ready to roll, preheat oven to 350º and line two baking sheets with parchment paper. Lightly flour a clean work surface and roll out dough until 1/8" thick. Cut out shapes and transfer to prepared baking sheets. Freeze 10 minutes (so your shapes hold while baking!).
Meanwhile, make frosting: In a large bowl using a hand mixer, beat butter until smooth, then add powdered sugar and beat until no lumps remain. Add cream, almond extract, and salt and beat until combined.
Bake cookies until edges are lightly golden, 8 to 10 minutes.
Let cool, then frost and decorate as desired.
Cake Mix Cookies
What if you could eat cake AND cookies at the same time? Well, with Taste and Tell's cake mix cookie recipe, you can!
Ingredients
1 cake mix* (dry ingredients only)
1/2 cup vegetable oil
2 eggs
1/2 cup mix-ins
Directions
Preheat the oven to 350ºF. Line a baking sheet with a

 

silpat liner

 

or

 

parchment paper.
In a bowl, mix together the cake mix, vegetable oil and eggs until combined. Stir in the mix ins.
Scoop the dough onto the prepared baking sheet, at least 2 inches apart. Bake just until the cookies are set in the middle, 10-12 minutes.
Cool for 2 minutes on the baking sheet then transfer to a cooling rack or a sheet of waxed paper.
Gingerbread Cookies
Sally's Baking Addiction describes these delectables as "perfectly spiced, molasses and brown sugar-sweetened holiday goodness." Quite a review!
Complete your holiday baking vision with these iconic holiday cookies from Taste of Home.
Ingredients
3/4 cup butter, softened
1 cup packed brown sugar
1 large egg, room temperature
3/4 cup molasses
4 cups all-purpose flour
2 teaspoons ground ginger
1-1/2 teaspoons baking soda
1-1/2 teaspoons ground cinnamon
3/4 teaspoon ground cloves
1/4 teaspoon salt
Vanilla frosting of your choice
Red and green paste food coloring
Directions
In a large bowl, cream butter and brown sugar until light and fluffy. Add egg and molasses. Combine the flour, ginger, baking soda, cinnamon, cloves and salt; gradually add to creamed mixture and mix well. Cover and refrigerate until easy to handle, about 4 hours or overnight.
Preheat oven to 350°. On a lightly floured surface, roll dough to 1/8-in. thickness. Cut with floured 2-1/2-in. cookie cutters. Place 1 in. apart on ungreased baking sheets.
Bake until edges are firm, 8-10 minutes. Remove to wire racks to cool. Tint some of the frosting red and some green; leave remaining frosting plain. Decorate cookies.
Bake Your Holiday Treats in Your New 1st Lake Apartment!
Now that you've got the recipes that it takes to fill the holiday season with delicious snacks, let us help you find a beautiful apartment to bake them in! Contact us today for information on our private residential communities.
Did you know we have an Instagram? Follow us here!
---
Whether with your friend or with your love, these are some of the best fall date ideas!
New Orleans
The Music Under the Oaks Fall Concert Series is not only free, but it's a majestic evening of melodies provided by The New Orleans Concert Band. Head to Audubon Park from 5-6:30 p.m. this Sunday to enjoy! Any donations you choose to make will fund the continual preservation and improvement of the park.
The Paradigm Gardens will host their annual fall concert series from October 2 – November 13. Each of the four concerts will feature an evening of music, along with a menu from local chefs and restaurants, as well as beer and cocktails from local breweries and bars.
These concert series are a wonderful way to spend a low-key but romantic evening with your special someone or your best friend.
Nola Mac N' Cheese Fest is everything you're hoping for and more. From the Big Cheezy to Frey Smoked Meats, your taste buds will thank you for gobbling up crawfish mac, vegan mac, and pulled pork mac (cue the salivating). Head to Armstrong park Saturday from 11 a.m. to 6 p.m. to enjoy this fest, plus admission is free!
The Second Saturday Community Market at the Audubon Louisiana Nature Center is this Saturday! Head over to enjoy this family-friendly event full of local produce, handmade items, community services, nature hikes, live music, Planetarium shows and more!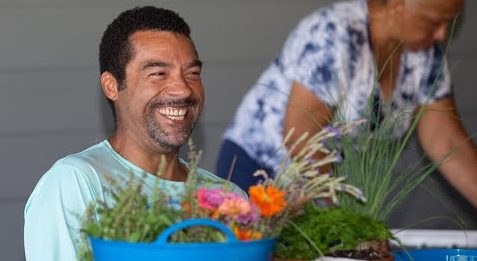 Audubon Nature Institute Photo
Northshore
St. Tammany Parish, also known as the Northshore, is a great place to get away from the hustle and bustle of New Orleans for a leisurely autumn date.
The Covington Farmers Market is full of in-season veggies, fruit, dairy, pastries, dog treats, potted plants and more! Rise and shine early on Saturday so you can get the cream of the crop! This event happens every Saturday, so you can always mark this one for next weekend.
Covington Three Rivers Arts Festival
The Three Rivers Arts Festival takes place November 9 – 10 in the historic downtown district of Covington, LA. This weekend-long event is a showcase of over 200 artists from around the US. The festival takes over several city blocks, featuring ceramics, paintings, photography, fiber art, woodworking, metalwork, sculptures, jewelry and more.
There's no admission charge, and parking is free. Take a leisurely stroll, enjoy live music in the crisp November air, and maybe purchase a handmade keepsake for your significant other.
Mandeville Trailhead Farmer's Market
Sometimes, a morning date can be a great way to shake up your dating routine. The Mandeville Trailhead Farmer's Market takes place every Saturday from 9 a.m. – 1 p.m. It features over 50 vendors offering "food of all types, wood-crafted items, artwork, pottery, children's toys and clothing, soaps & lotions, and more." Fall is the perfect time of year to grab a cup of coffee and enjoy the local flavor.
Once you've seen the marketplace, take a 5-minute walk to the shores of Lake Pontchartrain and soak in the incredible view.
Baton Rouge
Coffee, Pastries, and Nostalgia
It's no secret that Baton Rouge is exploding with incredible coffee shops and cafes! With so many options, you can get just about any ambience you're searching for. If it's the warm, cottage feel you want, head to Magpie or Highland Coffees. For the bustling downtown feel, pop in at French Truck  or Magpie Downtown. Right now it seems like everyone is talking about  Light House Coffee, the number 1 rated coffee shop on Yelp.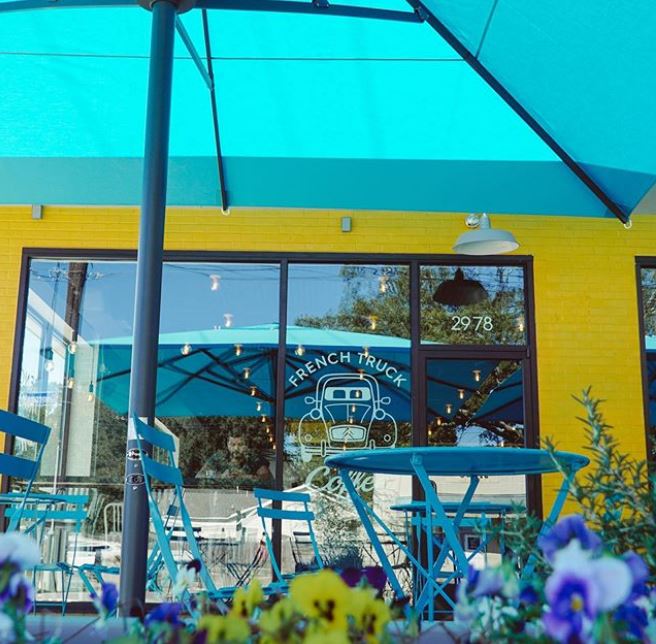 Fall is the Perfect Time to Find a New Home at 1st Lake Properties!
We hope you take advantage of the fantastic weather and jam-packed events schedule this autumn in Louisiana.
1st Lake has properties located near all of our suggested date spots. Contact us today to learn more about our private gated apartment communities!
---
Want to create an inspiring accent wall without the hassle of a hammer?  Check out these easy accent wall alternatives.
 1. Rest an oversized, eclectic mirror against any wall you want. Not only will this be a great talking piece, but mirrors instantly create the illusion of a larger space because they reflect the natural and artificial lighting in your apartment.
2.  Install a plant stand. This simple addition to your space can go anywhere in your home, and the plants you use can add aesthetically pleasing health benefits like air purification to your apartment!
3. Set up an accent table with your favorite pieces. Rather than hanging your favorite art or plants on the wall, skip the nails and hammer and just place your pieces on a cute bench or table in your apartment.
There are plenty of ways to revamp your space! Share your accent walls with us and tag @apartmentsat1stlake on Instagram.
Fall in love with your next apartment by visiting 1stlake.com!
---
Did you know most people only wear 20% of the clothes they own 80% of the time? Keep this factoid in mind as we talk about tips for downsizing from a house to an apartment. No matter why you're downsizing, the transition can seem daunting without these quick tips.
1. Determine What You Already Have
Once you've figured out exactly how much square footage you have in your new apartment, you can tackle the task of sorting through what you already have and then choosing what items are moving with you and what items are not.
2. Organize Your Belongings
It's important to prioritize in the early phases of downsizing. Identify the most important items you have which will most likely be key furniture such as your bed, sofas, dining table, bedside tables, and chairs. Start planning out where you will put these items first as they are the most important. Then you can begin to plan around with decor or smaller items.
3. Consider Lifestyle Changes
Getting into the mindset of your new life will be extremely helpful to your downsize project. Consider how your everyday activities will change in your new surroundings. For example, according to a long distance moving company in Dallas, if you are moving to a city without good public transportation, you need to restructure your budget to allow more spending on gas.
Think about your lifestyle changes as you go through your possessions and determine which ones make the cut, and which ones are better left behind. Consider things that may be useful to you now but won't be useful in an apartment and a different environment.
4. Choose Your Supplies Wisely
As you start packing, it may be helpful to designate boxes: items you're taking with you, items you're giving away, items you're putting in storage, items you're throwing away. Remember, long-term storage can be expensive, so if there are items you don't want to get rid of but don't have space for (like a piano, for instance) ask a friend or family member to store those for you.
5. Deciding What to Give Away vs. Keep
Many people find it hard to discard their belongings even if they haven't used them in a long time. While there is no getting around the sentimental value an item might have you should ask yourself two important questions when sifting through your things. One: how useful is it? And two: does it have aesthetic value?
Remember the stat we threw at you in the beginning of this post? Your downsize project may seem intimidating but the fact is most of the items we accumulate in our homes are not particularly useful. While you won't want to bring a rarely used kitchen mixer, you may want to bring a rarely read book. Why? Because books are great accent pieces that can add aesthetic appeal without breaking the budget.
6. Declutter Your Life
Making the most use of your available space will be very important when downsizing. For many, this means minimizing clutter. No matter how organized you are, we all have clutter and moving is the perfect time to declutter your life.
One helpful hint for minimizing clutter is using wirelessly connected devices like printers and laptops so you don't have a bunch of wires creating an eyesore in your new place. Plus, if you're relocating to a new office, you may consider bringing some home items to your new space (i.e. small plants, notepads, etc.) Also, utilize the space under your bed and behind your doors (door-mounted shoe racks and underbed storage are great sources of organization).
A Great Opportunity
In reality, downsizing is a great opportunity to simplify, de-stress and reprioritize your life. It's a chance to reinvent yourself and your living space. So we hope this post has given you a positive perspective of the whole ordeal. Ready, Set, Go!
Guest blog by North Dallas Moving and Storage
---
Create a cozy apartment with these three tips: 
Throw blankets: Adding fall-inspired blankets in your space will create coziness in an instant. Hobby Lobby has plaid throw blankets for under $10 right now, and Target has ridiculously soft fall throws for under $20! We recommend snagging a few of these throw blankets and putting them in a designated basket in your living room. This will tell guests: you can get comfy here.

Throw pillows: Throw pillows and blankets are like the power couple everyone wants to be. Right now, deep orange, gold, and green hues are making a statement in the world of fall decor. Lucky for you, World Market has a great deal on throw pillows in a myriad of fall colors. You can snag these pillows for just $9.99 in store or online!


Textured Accents: From woven baskets to cotton pumpkins, we've found countless cozy ways to spice up our space. In this apartment, we created a comfy centerpiece by stuffing a plaid and burlap basket with gold spray painted pine cones, a bundle of burlap, a golden pom pom bush and floral accent pieces.  We got everything but the pine cones from Hobby Lobby. The pine cones were free. We found those at our apartment community under our trees!
Bonus tip: Next time you're at the dollar store, grab a box of flameless, battery-powered candles. Sprinkling these throughout your apartment will create an ambiance of peace and quiet.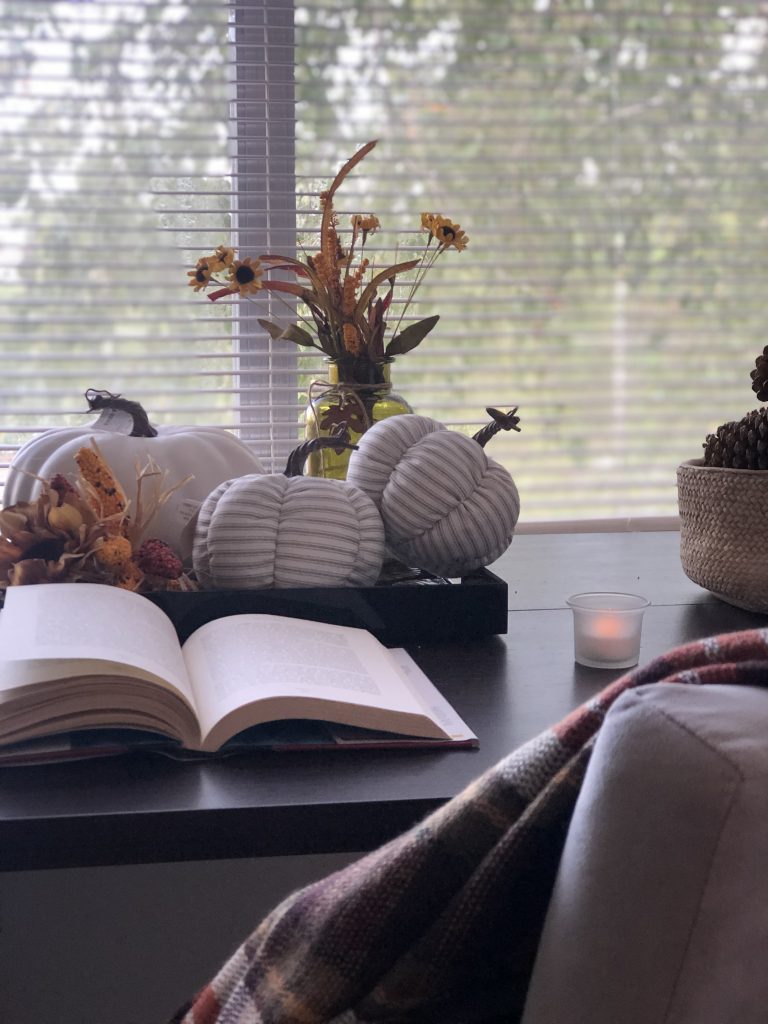 To snag one more bonus tip, head to our Instagram Story! 
Looking for an apartment you'll fall in love with? We can help! Just click here.
---