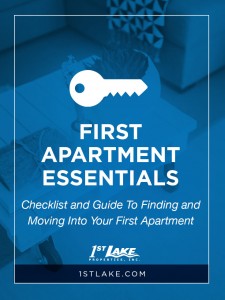 If you're never had to find your own place to live, there are some first apartment essentials you need to be aware of.
Whether you've just finished college or are moving out of your parents' house, you want your moving process to be as stress free as possible. That's why we've compiled this guide for any first-time apartment hunter.
Here's all the tips you'll need to move into your first apartment!
Before Moving Into Your First Apartment…
For those who haven't yet made the big move to apartment living, there are some first apartment essentials to consider. Keep these questions in mind when it's time to start thinking about moving out of Mom and Dad's.
Be smart about your budget.
Most experts will tell you when looking for an apartment for rent that rent should be no more than 25-30% of your annual income. While you might be dying to move into that two bedroom luxury apartment, you may not be able to afford it and should take many factors into consideration. Budgeting realistically for your new apartment, and finding one that suits your needs, is key.
Take the time to examine what your exact income is after taxes and subtract your expenses. Include food, household supplies, phone, car payment and insurance, credit card bills, clothing, gas, internet, healthcare, school loans, entertainment, and an extra category for "miscellaneous" for those unexpected expenses.
What you have left is the rental budget for your new place. Some management companies, like 1st Lake Properties, Inc., include a flat rate for certain utilities per month. With others, you may have to pay separate. Keep this in mind when considering monthly expenses.
Consider roommates carefully.
Choosing who you're living with should not be taken lightly. With the right roommate, sharing a space is a breeze and really fun, but if they're the wrong choice, it can end badly.
Before agreeing to live with someone you didn't know, make sure to spend some time with them first and decide if you're able to get along and live in harmony.
On the other hand, living with your best friend can also be tricky. Best friends don't always make the best roommates. It's up to you to decide what's best.
Is it a good location?
While apartment hunting, be sure to consider how close the location is to work, grocery stores, hospitals and entertainment. You might find your dream apartment, but it's not worth it if the location is a nightmare.
What facilities are available?
Does the house or apartment you're looking to rent have what you need, like washers and dryers, an alarm system, dishwasher, garbage disposal or outside space? 
Also, you should never move into an apartment for rent before at least touring the community. It's most helpful to view the layout of the apartment as it gives you a good idea of where and how much furniture you can have. Sometimes the actual apartment is not available to view – in these cases, its best to see an interior to view the fixtures and finishes.
Turn knobs, open and shut doors, and open windows. Do you get a cell phone signal inside your apartment? Don't be afraid to test all of these things out when you're looking at potential apartments. While it may feel awkward, it is a very necessary step in making sure your new home is right for you.
Ask as many questions when touring apartments as you need. You should be happy and comfortable and the tour should be a good experience.
Lease Items to Consider
Once the hard part is over and you've decided on your brand new first apartment, take the time to read the lease from cover to cover. Since this is your first time renting, you probably aren't familiar with the legal lingo. Try to familiarize yourself with it before showing up for the lease signing.
Don't be afraid to take your time combing through the details and ask the agent about any questions or concerns you may have. Sometimes, simple clarification can lend to peace of mind.
If you're unclear about what your future plans may be long-term, ask about the possibility of a short lease term. Everything from re-painting the walls to what kind of roommates you can have is typically covered in the language of the lease. Reading the small print can make a big difference.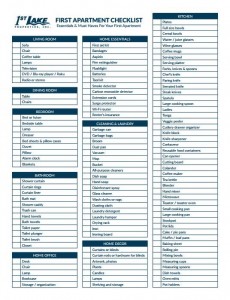 Free Printable First Apartment Checklist
Download our free printable first apartment checklist to make your move a breeze.
Furnishing Your First Apartment Cheaply
Many first-time apartment renters find it hard to furnish their new apartment on a budget. While many of us would like a comfortable and stylish home, finding the finances to do so can be tough sometimes.
Thankfully, there are many resources and decorating ideas available for furniture shoppers without a lot of money to spare. It is possible to have a stylish apartment without a lot of funds! Finding everything you need simply requires a little hunting, a dash of luck, and a bit of scrutiny!
Begin by digging through your local classified ads. Whether you're looking at your local paper or at a local site online, make sure you check in on all the ads you can find. Once you have some free time, devote a day or two to hitting up local flea markets, thrift shops or second-hand stores.
Sometimes neighborhood garage sales, yard sales, or rummage sales can yield amazing vintage finds, perfect for decorating! If you're at a neighborhood sale, don't be afraid to ask about the history of the item or why they might be getting rid of it. You can never be too cautious, and most owners are more than happy to answer any questions you may have.
If you don't have luck with local resources, online sales and auctions are a possibility. However, do your research and try to stick to more reputable sites when buying larger items. If you're unfamiliar with the website or source, there is a possibility of it being a scam. Even if the site is reputable, there are also risks involved. Generally, you will not be able to inspect the item in person before buying it and sales are usually final. You should also take into account shipping costs before bidding on or buying an item online. Depending on how much shipping costs, it may be cheaper to simply buy the item closer to home at a local store.
Whether you're buying online or in person, it's always important to inspect your item closely and thoroughly! Pull out drawers, look underneath the piece of furniture, and test doors. If the seller doesn't allow you to inspect the item, don't buy it! Even if the price of the item is cheap, you should expect it to be of good quality. Don't be pressured into buying a sub-standard item!
Lastly, don't be afraid to haggle. This can be most effective when buying from a garage sale or yard sale. Most times, the owner of the item is simply looking to get rid of it. As long as you remain realistic when haggling, you can generally come to an agreement on a lower price. Doing a little research and have a working understanding of the going rate can help you immensely. And if the seller refuses to lower the price, you can always shop elsewhere.
With these tips you may find it easier than expected to make your home look stylish on a budget. Your new apartment should reflect your personality and be a comfortable place to call home! Have fun searching for the perfect furnishings and trust your instincts when buying everything you need for your new apartment home!
Remember: rent comes first!
Without a place to call home, your other expenses might as well go out the window. Make sure to prioritize rent above all else when payday comes. If money is tight, try to trim down by seeing what expenses you may be able to cut down on or remove completely from your expenditures.
Do you have a cell phone and no longer use your home phone very much? Switch to a cell phone only. If you're going out to eat too much, try cooking at home instead to save money. There are always solutions to trimming your expenses down to help make ends meet.
Enjoy your first apartment!
Renting your own place for the first time can be exciting, but it shouldn't be stressful. If you take the time to make sure your apartment and lease are right for you, budget your expenses, make sure your utilities get turned on, and plan for the unexpected, transitioning into this new step in your life should be a smooth and fun process.
1st Lake = A Great Choice for Your 1st Apartment
Now that you've made all the important decisions about renting your first apartment after college, it's time to start looking! Search for the perfect apartment in the greater New Orleans area at 1st Lake Properties and check out our map to see what 1st Lake location works best for you!
Be sure to also download our free printable first apartment checklist to ensure you make the move with everything you need.
---