1st Lake's Guide to Moving to New Orleans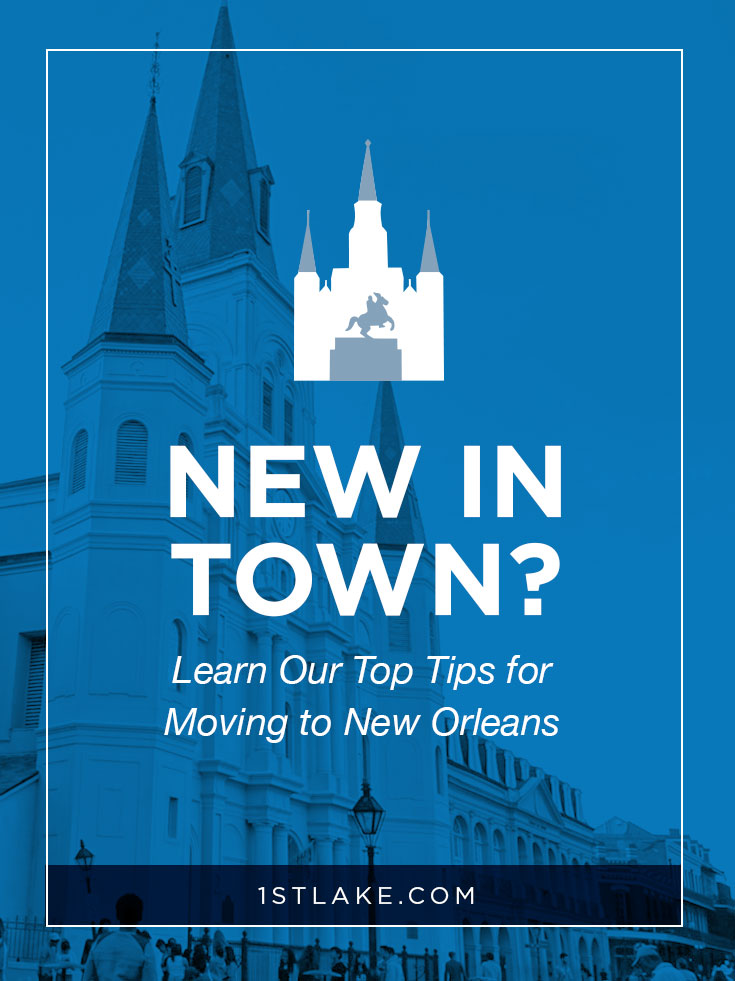 Are you planning a move to the Greater New Orleans area?
Moving can be an exhausting process when you're simply relocating to a new neighborhood – so it's no wonder that a move to a brand-new city can be intimidating and overwhelming! We hope our apartment moving checklist will be a helpful tool for preparing you for moving to New Orleans, but once you're here, there's plenty to learn.
New Orleans is a beautiful, vibrant city bursting with history and culture. There's music around every corner and delicious food to satisfy any palate. People love New Orleans because of how unique it is, but that can make things hard for NOLA newbies!
Explore thousands of apartments around New Orleans, and check out our advice for moving to New Orleans and our guide to living like a local below:
A place by lots of other names is still a sweet place to call home.
New Orleans is a city of many nicknames. You've probably heard it called The Big Easy, thanks to our laid back lifestyle. Maybe you've also heard it referred to as the Birthplace of Jazz, or the Crescent City? Our unique culture, a mixing pot with hundreds of years of history behind it, has also garnered us the nicknames America's Most European City and the Northern Most Caribbean City. As for fitting in with the locals, the nickname you need to know is also the shortest – just call it NOLA. (Short for New Orleans LA of course.)
No one uses North/South/East/West directions.
The city of New Orleans is wedged between multiple bodies of water, including the Mississippi River, Lake Pontchartrain and Lake Borgne. In an old city such as this one, standard directions are useless. Instead, we give directions in terms of proximity to bodies of water or landmarks. Think "downriver" or "towards the Lake" and you'll be fine.
Bikes are a great way to get around New Orleans.
Bikes are one of the most enjoyable ways to experience the city. In addition to exploring a wealth of trails around New Orleans and the surrounding areas like Elmwood and River Ridge, cyclists can also take leisurely rides through iconic areas of the city like the French Quarter and the Garden District. Several local shops like Bayou Bicycles and The Bike Shop can help you find a bicycle that's right for your needs. Not quite ready to purchase a bike? Test drive… er, ride… a rental to give you a better idea of city biking. 
New Orleans is a great place to build a career.
While the tourism industry is still booming, there are more and more job opportunities for young professionals in the greater New Orleans area every day. Did you know that New Orleans leads the country by 53% in number of startups-per-capita, and that we were voted a top city for woman-owned companies and young entrepreneurs? New Orleans was also recently ranked as one of the best cities for women in tech fields, outranking even Silicon Valley?
New Orleans is blazing trails in education.
New Orleans offers private schools and charter schools to meet the needs of students and families. Just last year, New Orleans closed the last five of its traditional public schools in favor of the charter school system; the Washington Post called the endeavor "a grand experiment in urban education for the nation." The charter school system and private schools give parents an unprecedented choice in where they send their children to receive an education. For more information on K-12 educational opportunities in NOLA, visit the New Orleans Public School System or Jefferson Parish Public School System.
We say things a little differently around here.
Perhaps the toughest part – and the most fun part – is adopting New Orleans' unique vernacular. The city has lots of hard-to-pronounce words that will make or break you: say it wrong, and people will know you're an out-of-towner! We've collected a few of the toughest pronunciations and uniquely NOLA words to keep you sounding like a local as you navigate the city.
Tchoupitoulas (Chop-a-tool-us)
The Uptown street that runs along the river. You can also use its abbreviation, Tchoup, pronounced "Chop."
Calliope (Cali-yope)
A street downtown. While people are split on this one, the way most people in New Orleans pronounce it rhymes with "nope."
Lagniappe (Lan-yap)
It means "a little something extra."
Burgundy (Bur-GUN-dy)
A street. In New Orleans, people emphasize the second syllable for this word. Pronounce it correctly and people will know you're in the know.
Beignet (Ben-Yay)
Delicious square-shaped doughnuts lavishly sprinkled with powdered sugar. Get the best in the world at Cafe Du Monde.
Muffuletta (Muf-A-Lot-A)
A huge sandwich made up of thick layers of several different types of Italian meats, cheeses and a briny olive salad. Central Grocery and Cochon make legendary versions of this New Orleans favorite.
Etouffee (Eh-Two-Fay)
A delicious stew made with seafood or meat and smothered in the Cajun "Holy Trinity" of celery, onions and bell peppers. To get a real taste of New Orleans, try the crawfish etouffee at Royal House.
Praline (Praw-Leen)
The praline is the sweetest of sweets. This confection is made simply with sugar, water and pecans. New Orleanians flock to Aunt Sally's for this tasty treat.
Lagniappe (Lan-Yap)
A lagniappe is a small gift; a little something extra. Lagniappe is a true representation of New Orleans culture.
Laissez les bon temps rouler! (Lay-Zay-Lay-Bon-Ton-Rou-Lay)
Translation: Let the good times roll! A mantra for every day in New Orleans.
Second Lines
A New Orleans musical tradition. Those who follow a brass band while dancing and enjoying the music are part of the Second Line. Second Lines are common after weddings, funerals and festivals. So, basically every day.
Vieux Caree (Voo-Ca-Ray)
A french term meaning "Old Quarter" and referring to the New Orleans French Quarter. Vieux Carre is the oldest part of New Orleans, dating back to 1718.
Neutral Ground
Known in other states as a "divider" or "median", the neutral ground is the strip of land found running down the middle of the street. For New Orleanians, the neutral ground is the best place to catch a parade.
New Orleans
What it is: The best city ever!
How you say it: Quite simply, it's New Or-lunz. Not New Or-leanz.
Having a costume box or closet is a thing.
New Orleanians love any excuse to party, parade and celebrate. And any excuse for a party means any excuse for a costume. After living in New Orleans for awhile, you'll inevitably start to accumulate a random assortment of boas, wigs, costumes and other wacky wearables. Need to get started? Check out Fifi Mahony's in the French Quarter for custom wigs and makeup, or visit Uptown Costume & Dancewear on Magazine Street at Napoleon or Southern Costume Company in the CBD.
The best way to feel like a local is to celebrate like a local.
Now that you know we love any excuse for a costume or party, be sure to take advantage of all of the festivities on tap any given weekend. Go to every festival you can your first year. New Orleans offers well-known big events like Jazz Fest and French Quarter Festival, as well as plenty of festivals with local flair like Bayou Boogaloo, Greek Fest and Po-Boy Fest. Be sure to also venture to surrounding areas, as the Southeast Louisiana region offers something for everyone. Kenner offers an annual Italian Heritage Festival each spring, while Covington plays host to the Three Rivers Art Festival each fall.
Mardi Gras is not limited to Bourbon Street.
Once you move to New Orleans and experience your first Mardi Gras as a local, you'll soon discover there's more to Mardi Gras than Bourbon Street. First off, it's weeks worth of parades, balls and festivities. Second, most locals prefer to experience the parades far, far away from Canal Street. Watch the parades from the Uptown route along St. Charles Avenue, and seek out smaller walking parades like the Barkus dog parade and the Krewe of Chewbaccus. Mardi Gras is also not limited to Orleans Parish: there are parades in Metairie, the Westbank and on the Northshore, all with their own flair.
New Orleans really does have four seasons.
However, they may not be the four that you're used to. While it DOES actually get cold here in winter, and it definitely gets hot here in summer, the four New Orleans seasons you really need to know are: carnival season, crawfish season, snowball season and football season.
New Orleans sticks with you.
Once you've visited and once you've lived here, you'll never be the same. The city has a way of pulling people back. With a culture and vibrancy like no other place on earth, you'll want to make it your home too. Contact us today and learn more about making New Orleans your new hometown.
Regardless of why you are here, you should enjoy this city as much as possible.
New Orleans and its surrounding parishes offer diverse cultural, leisure, and recreational activities.
While New Orleans is famous for jazz, food, Bourbon Street, Mardi Gras, and JazzFest, take our advice: get off the beaten path and find some time to enjoy several other unique attractions any day of the week.
Spend time with the kids.
Enjoy the outdoors.
Watch sports.
Go to festivals!
So, if you are moving to New Orleans for the first time or just relocating temporarily, enjoy your stay by living like a real New Orleanian. You will not be disappointed.
Let 1st Lake Help You Find the Perfect New Orleans Apartment!
Now that you know how to navigate the ins and outs of NOLA life, you might be wondering where to live. Use this detailed map to take a visual tour of our many apartment communities throughout the metro New Orleans area. We offer thousands of apartments in the suburban neighborhoods of Metairie, Kenner or River Ridge.
Are you relocating here for business, pleasure or a short term special event and looking for an extended stay apartment? 1st Lake Properties' on-site staff will tend to your every relocating need.
If you have any questions or are still searching for the perfect place in Greater New Orleans to call home, please contact us – we are here to help you find your perfect new apartment!
---