1st Lake Properties is always eager to help and serve the communities where its many properties are located. In the past, 1st Lake has participated in campaigns to benefit the United Way and Susan G. Komen foundations, as well the "Warm a Life" clothing drive and Coats for Kids Foundation, among other philanthropic efforts.
1st Lake Donates to Youth Education Programs
Coming up on February 28, all of the 1st Lake team members are encouraged to participate in the Jefferson Dollars for Scholars Jean Day. JDFS is a local, non-profit organization providing scholarships and summer enrichment camps for students in Jefferson Parish. By taking part in the JDFS Jean Day, the $5 donation included will go towards further education for underprivileged young students, whose dreams of going to college could become a reality with the help of programs like these.
All 1st Lake Properties team members are encouraged to participate and do their part for the good of their area. This is a great opportunity to empower the children in our communities to go down a college track, allowing a better future for everyone! So pick out your favorite pair of jeans and enjoy a casual Friday on February 28.
If you are a renter currently searching for a new apartment to move in to, and would like to be part of a community that values community service, contact 1st Lake Properties today!
Learn more about Jefferson Dollars for Scholars in the video below!
---
So you're looking for a new apartment? 1st Lake Properties has thousands of apartments at over 70 prime locations in metro New Orleans, Northshore, Baton Rouge and Mississippi. What does it take to successfully become a 1st Lake resident? See the step by step process from selecting the apartment that's right for you to getting the keys to the front door.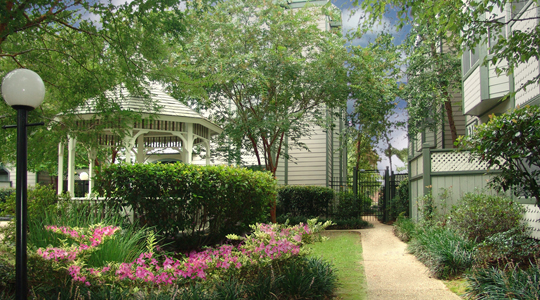 1. Visit 1stlake.com – Peruse our variety of apartment communities to find the right fit for your criteria, whether you need a studio, one, two or three bedroom apartment in your desired location. See what is currently available to make your selections!
2. Contact the leasing office for a tour – Once you've narrowed down the options to some properties you like, contact the manager at each location by calling the number or emailing the address listed on each individual property page on the website.
3. Submit an application and deposit – After you've toured the apartments and found the one for you, fill out a leasing application to start the rental process. Then, the last step before the consumer and criminal check have been approved is to put down a deposit on the apartment you applied for, which is usually between $250 – $400.
4. Pass the consumer and criminal check – Once your application has been processed, you will need to pass a consumer and criminal check. As soon as you are approved by the 1st Lake leasing office, you are officially eligible to be a 1st Lake resident!
5. Sign the lease – Congratulations! You've gone through all the steps and you are a proud member of the 1st Lake residential community. Get the keys to your apartment and start moving in on your move-in date!
---
Development of another state of the art 1st Lake Properties apartment community in River Ridge is currently underway. The new apartments, called Bella Ridge, are being constructed in the Elmwood Park area at the intersection of Mounes Avenue and Dickory Avenue.
Bella Ridge is located in a hot spot in the River Ridge neighborhood surrounded by an abundance of shopping, entertainment and dining options, positioning the River Ridge apartments in an ideal setting for active individuals and families. Bella Ridge will also offer all the convenience and amenities associated with all 1st Lake communities, including access gates, resort-style swimming pools with a tanning ledge and individual cabanas, a modern fitness center and much more.
Interior features at the Bella Ridge apartments in River Ridge include granite countertops, stainless steel and black appliances, wi-fi access, free-standing showers, extra-large walk-in closets, full size washers and dryers, personal intrusion alarms, parking with direct apartment access and more.
Bella Ridge, 1st Lake Properties' newest apartment community is slated to be open for occupancy in 2014. There will be 264 apartments with a variety of floor plans and sizes. With the arrival of Bella Ridge, the total number of apartments in the 1st Lake family comes to over 9,500. 1st Lake Properties is excited to welcome these new River Ridge apartments to its high quality selection of apartments in southeast Lousiana.
---
Recently, 1st Lake Properties put their passion for community service into action to support United Way and the Susan G. Komen foundation in honor of breast cancer survivors. Two 1st Lake team members initiated fundraising campaigns for each organization and together they raised over $10,000 with "Jeans and Jersey Day."
1st Lake Aids Health Organizations Through Charity Efforts
Jeans and Jersey Day was a raffle for a two night stay at the Four Points Sheraton Downtown hotel, donated by Flooring Depot of Elmwood. Direct donations in addition to the raffle were also welcome. Christian Rooney, owner of Flooring Depot said, "1st Lake Properties has always been involved in community service, and we wanted to help them raise more funds." Thanks to Flooring Depot's generous donation, the raffle was a big success.
Both United Way and Susan G. Komen rely on corporate sponsorships and 1st Lake Properties values the opportunity to support these important foundations. Michele Shane L'Hoste, President of 1st Lake Properties, said, "Several of our employees have been affected by cancer or financial hardship either personally or someone they care for. We are pleased to see their willingness to give back. We get calls from the team members asking when the Susan G. Komen walk is or what the raffle will be for the United Way campaign."
To get involved in volunteer and charity efforts such as these, contact 1st Lake Properties for career or residential availability, and you'll be on the path to becoming a member of a socially conscious and caring community.
---
Last month's Up on the Roof fundraiser for East Jefferson General Hospital hosted by 1st Lake Properties was a smashing success. Not only did all who attended enjoy an amazing, fun-filled night, but $150,000 was raised to fund important healthcare programs.
With the help of 59 sponsors, 150 volunteers and over 1,300 attendees, the hospital's signature event went off without a hitch, and raised the record-breaking funds to support INSPIRE, The Foundation at East Jefferson General Hospital's competitive grants program to fund innovative medical projects including specialized patient care, advanced technology and capital expansion.
While they were donating to a very worthy cause, attendees were able to sample over 80 beers and delicious food from 33 local restaurants while enjoying live music entertainment provided by The Boogie Men and B-97.1 FM emcees.
"We are so thankful to our sponsors, volunteers and the community support we received," said Stacey Shane Schott, event chair and Senior Vice President of 1st Lake Properties. "We are humbled by the number of people who participate in this event; it shows the community's support for EJGH."
Following Up on the Roof, The Foundation gave the hospital a check for $1 million, its second installment for the expansion of the EJGH Cancer Center, part of a campaign to expand the Oncology Infusion Center, which is expected to open Spring 2014.
1st Lake Properties is honored to have hosted such a wonderful event and is looking forward to next year. See you at Up on the Roof in 2014!
---