April is a busy time in the New Orleans area. It is officially festival season with French Quarter Festival and Jazz Fest on the horizon, and plenty of new deals and specials on 1st Lake apartments! If you're looking for a great new apartment to move in to, consider one of these communities with offers you won't want to resist!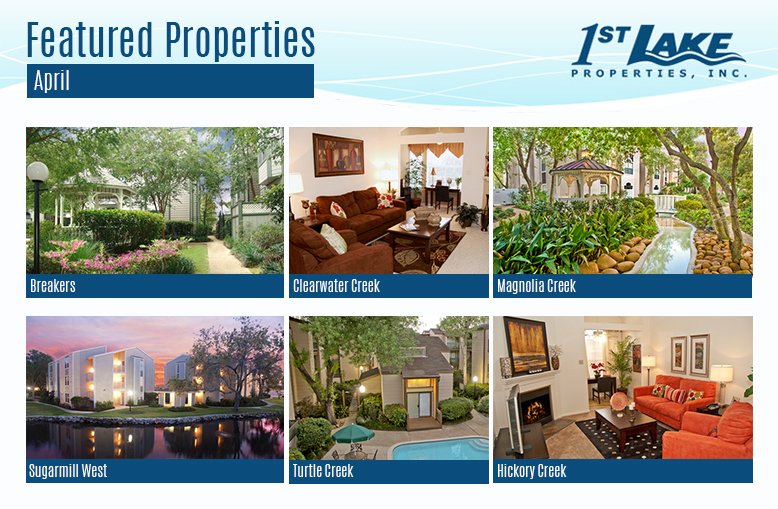 Metro New Orleans Apartment Deals
Turtle Creek – The Turtle Creek apartments in Metairie not only offer a lighted swimming pool area and private patios and balconies on select apartments, but for April, one week of free rent and reduced move-in costs on select apartment homes!
Hickory Creek – This peaceful River Ridge apartment community is making offers that prospective residents simply can't refuse. Sign a 17 month lease and receive two weeks free rent or one week free rent on a 12 month lease! On top of that, Hickory Creek is offering half off deposits on two bedrooms.
Clearwater Creek – Clearwater Creek offers beautiful apartment homes featuring full size washer and dryers, fireplaces, split level floor plans in a tranquil setting. This River Ridge community is offering a $99 deposit and waived administrative fees with a long term lease.
Sugar Mill West – Not only does Sugar Mill West feature immaculate landscaping with fountains, creeks, paths and bridges, but the Kenner apartments are offeing up to $175 off move-in costs on select apartments and reduced rental rates on select apartments.
Breakers – At the Breakers apartments in Metairie, enjoy great community features like a courtyard, access gates and gazebo, plus special rental rates on select apartments.
Magnolia Creek – One of the pristine apartment communities located in the Creeks of River Ridge, Magnolia Creek has unbeatable amenities and a special rental rate on one bedroom apartments for a limited time.
---
1st Lake Properties takes pride in each of their individual apartment communities with meticulous landscaping and reliable maintenance. To reward properties who demonstrate outstanding attention to detail, that has become to be known as the "1st Lake Look", 1st Lake recognizes winners of the Beautification Awards each quarter and the results are in for the most recent winners! Congratulations to these properties, worth checking out if you're looking for a lovely new apartment to move in to!
Lake Towers – Lake Towers has its own pool area with a gazebo and courtyard overlooking the peaceful Capital Lakes in Baton Rouge that is beautifully landscaped.
Camelot Court – Camelot Court offers townhome style apartments that provide a private home living experience with all the amenities that apartment living affords! In addition to private backyards, there is a private pool and courtyard area that is carefully maintained and landscaped.
Turtle Creek – At these tranquil Metairie apartments, enjoy a spacious swimming pool surrounded by manicured greenery.
White Water Creek – The property grounds at the White Water Creek apartments in Metairie are adorned with winding walkways, bubbling creeks, fountains and palm trees to make living more of a resort-like, luxury experience.
Willow Creek – Bask in pleasant living at the oak tree-lined Willow Creek apartments in River Ridge with landscaped paths, creeks and fountains and a private swimming pool.
Palmetto Creek – Palmetto Creek always have attentive maintenance staff on hand to handle any resident need thoroughly and efficiently. Palmetto Creek has walking paths, pavilions, lush plants and creeks for its residents to enjoy.
---
March marks the beginning of spring, the season for new beginnings! Let one of those new beginnings be a new 1st Lake Properties apartment. Embrace the changing of the seasons with a fresh new place to call home, and with these exclusive deals and specials at several quality apartments in the metro New Orleans area, you'll be sure to find one that fits your criteria and budget.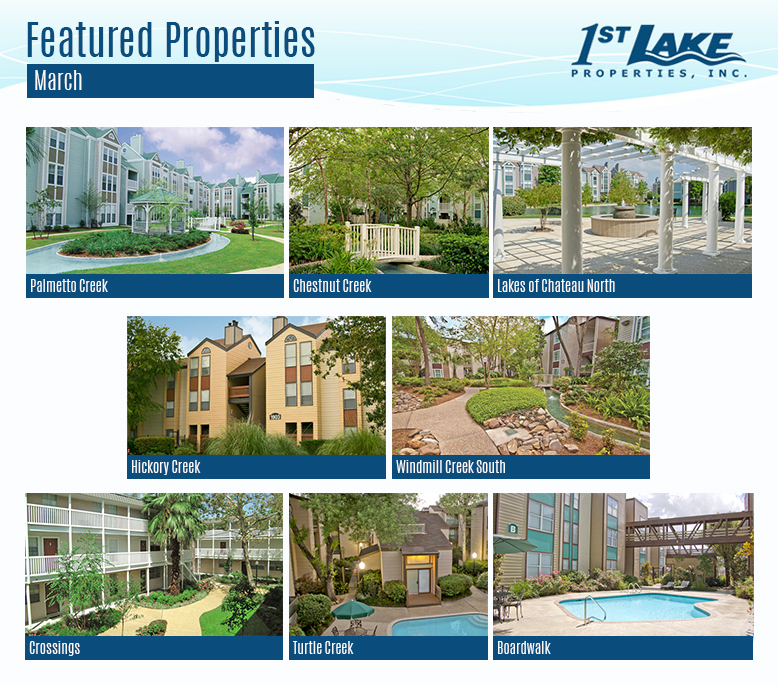 Metro New Orleans Apartment Deals
Palmetto Creek – At Palmetto Creek, you will find luxury apartment living at its finest with the best in amenities including elaborate landscaping, gazebos, jogging trails, tennis court, fitness center, swimming pool and more. This month, the River Ridge apartment community is offering two weeks of free rent, totally $1,200 off the annual rental rate.
Hickory Creek – Check out these great River Ridge apartments, offering special reduced rates on two bedrooms in March. Apartments come with spacious closets, full size washer & dryer, free movie rentals, 24 hour maintenance and more.
Chestnut Creek – Another lavish River Ridge apartment community, the Chestnut Creek apartments are offering reduced rents, half off deposits and waived move-in fees. Find bonus features like wood burning fireplaces, sunrooms, extra-large walk-in closets and more.
Turtle Creek – Find privacy, rest and relaxation at this peaceful Metairie community with a recreation area and swimming pool. This month, the Metairie apartments are offering one week of free rent on select studio apartments, so call now to schedule a tour.
Lakes of Chateau Estates North – In addition to all the exterior features like fountains, walking paths, bridges, a tennis court and swimming pools, these luxurious Kenner apartments are offering $1,125 in savings on select apartments plus reduced move-in costs.
Crossings – These Metairie apartments not only have large floor plans, are minutes away from New Orleans and have an on-site service team, this month the Crossings apartments are offering special rates on two and three bedrooms!
Boardwalk – The Boardwalk apartments in Metairie have extra space for sunrooms and home offices, plus a pool, modern design and amenities, plus reduced move-in costs this month. Call today to learn more!
---
One of the comforts of living at a 1st Lake Properties apartment is all the amenities residents can enjoy right at home. Another perk of apartment living: we bring the luxury experience to you. You don't have to seek it out. At 1st Lake, we take pride in our carefully maintained and artfully landscaped properties, and one of our favorite features are the walking paths at select apartments. If you enjoy a brisk walk before work to get your blood pumping, or prefer a leisurely stroll in your spare time, these metro New Orleans apartments accommodate.
Walking Paths at Metro New Orleans Apartments
Citrus Creek – If you want to live at an apartment community where it's easy to get in shape, the Citrus Creek apartments in River Ridge are for you. Citrus Creek promotes fitness, not only with their on-site fitness center and tennis courts, but the ¾ mile exercise path with custom designed training stations.
Palmetto Creek – These charming apartments in River Ridge offer an excellent amenity package including access gates, creeks and fountains, garden, gazebos, pet walk, swimming pool, theater room and more. Palmetto Creek also has a jogging trail with workout stations, so all you have to do is lace up and hit the ground running right outside the door!
Lakes North and South – Get lost in these sister communities that have winding walkways and jogging paths adorned with bridges and flourishing landscaping. Plus at Lakes of Chateau Estates South, you can enjoy the ultimate walking path along a private lake as well as a golf course!
---
February is an exciting time in the New Orleans area. Valentine's Day romance is in the air and Mardi Gras parades start rolling. But the good times don't stop there. This February, 1st Lake Properties is bringing prospective residents more great chances to save by renting one of the many fine metro New Orleans apartments that are available!
Metro New Orleans Apartment Deals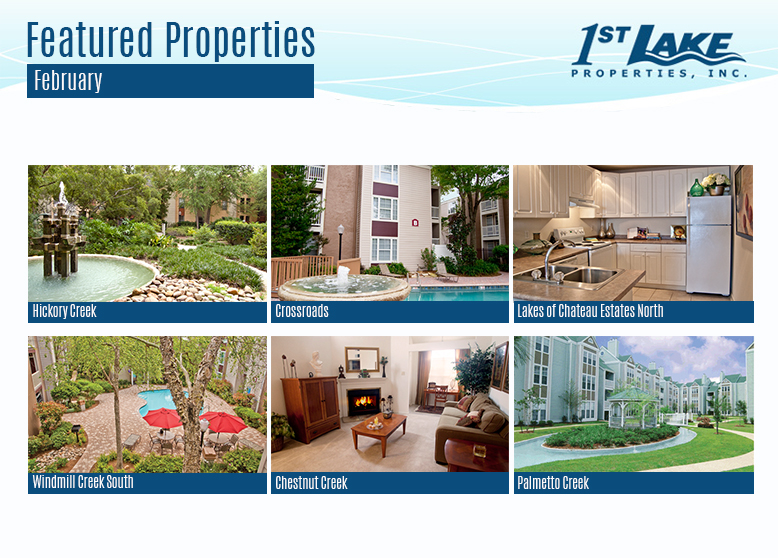 Palmetto Creek – You won't find better residential services or property maintenance than at the beautiful Palmetto Creek apartments in River Ridge. Plus, this month, enjoy two weeks of free rent on a 11 or 17 month lease, saving $1,200 for a year!
Lakes of Chateau Estates North – This luxury apartment community in Kenner offers pristine landscaping, not to mention a two and a half acre lake surrounded by miles of walking paths. In February, save up to $175 in reduced move-in costs.
Chestnut Creek – In addition to the attractive amenities at these River Ridge apartments including a gatehouse entrance, fountains, creeks, swimming pools, lighted tennis courts and extra space for sunrooms and home offices, Chestnut Creek is offering half off deposits and waived move-in fees.
Hickory Creek – These River Ridge apartments not only offer one and two bedroom homes with European soaking tubs, full sized washer and dryer, large walk-in closets and more, but this month, up to $1,350 in move-in specials plus reduced rent on select floor plans!
Crossroads – You can't beat the amazing interior and exterior features at these Metairie apartments including washers and dryers, sunrooms, creeks, walking paths, fountains and a censored access gate. Plus you can save on half off deposits, waived administration fees and reduced rents this month.
---