The bathroom is a great place to relax with a soothing bath or steaming hot shower, but it's also one of the biggest hubs for clutter. Bathrooms often lack ample storage, and with so many bottles (medicine, shampoo, body wash) requiring designated space, it's easy for clutter to take hold. Read on for pretty, easy bathroom de-cluttering tips you can take to make your bathroom a place of respite, not mess.
Divide and conquer. Bathroom drawers are often as jam-packed as junk drawers, and as messy, too. Insert drawer dividers, available in a variety of sizes, to create instant order. Use them for makeup and accessories, or create an organized drawer for your most-used toiletries like toothpaste, floss, and face wash.
Think vertically. Wall space is a viable yet underused storage option. Placing towel racks and hooks (3M Command hooks are especially good for renters) on the wall creates instant storage for towels and robes. You can even create a DIY caddy to hang for extra storage.
Fold on. Big, fluffy bath towels can take up precious real estate in the bathroom closet. Use this technique to fold them neatly, which will maximize your space. If the bathroom also doubles as a linen closet, try bundling your blankets and sheets together.
Brush up your brush display. With a bit of decorating finesse, you can transform your makeup brushes into a centerpiece for the bathroom counter: like a floral display, but functional! Use a pretty glass container and fill it with clear or colored glass beads to hold your brushes in place. You can even transform a gelato container – the perfect excuse to buy ice cream.
Bathroom Design Ideas
Just like the kitchen, there are many great bathroom décor options to implement in your apartment. There's always a need for more hooks in the bathroom for towels, robes, etc. and damage-free hooks, like those sold by Command, are perfect for adding more hanging options. Wire mesh organizers are excellent bathroom design solutions for the vanity, as are caddies for the shower to neatly consolidate all of your toiletries.
Bathroom Furniture Essentials
Towels – This is probably the first thing that comes to mind when furnishing the bathroom. You'll want to make sure you have plenty of hand towels and larger shower towels. Before you make your purchase, think about what color or design would complement the look of your bathroom and the other elements, including the shower curtain and bath mat. Find something that matches your personality, whether it's a funky pattern, solid subdued color or bright multi-toned color scheme.
Bath mats – When shopping for your bathroom suite, make sure to get a bath mat to lay down in front of the shower to absorb excess moisture. Think about the rest of your bathroom design and pick a color or pattern that meshes well for a cohesive bathroom design.
Storage caddies – These toiletry containers come in handy for organizing shampoo, conditioner, body wash, razors, sponges, etc. all in one place so it's easily found and accessible.
Toothbrush holder – This is an essential vanity item to store your toothbrush in a place where you won't lose it.
Soap – This is a no-brainer, but hand soap has really reached a new level over the past few years. Brands like Mrs Meyer's offer incredibly fresh fragrances like basil.
Shower Curtain – Here's another chance to showcase your own design aesthetic and personality. No matter if you prefer a basic shower curtain or a creative, whimsical design, there are plenty of patterns out there to choose from.
Flair – Don't be shy with your bathroom design! Add flowers, pictures, art, and anything else to put the finishing touches on this room in your apartment!
If you found this article helpful, please share on Facebook or Twitter
Related posts: Must Know Refrigerator Organization Tips, Apartment Spring Cleaning Checklist, How to Clean a Refrigerator: 5 All-Natural Fridge Cleaning Hacks
---
People often associate vintage pieces with dated décor – but where some see stodgy, we see potential. With so many communities in and around New Orleans, residents at 1st Lake can take full advantage of the city's robust antiques scene. Fall is also an ideal season for decorating with vintage pieces: Cooler temperatures make a day of antiquing extra pleasant.
If you're on Magazine Street, check out places like Lucullus or Passages Antiques. For even more antique treasure hunting head to the French Quarter. Shops like Keil's Antiques (founded in 1899!) and Royal Antiques, both on Royal Street, feature formal pieces from the Georgian era and beyond.
Now that you've found your perfect vintage piece, here are our top three tips on how to incorporate a bit of retro allure to your apartment:
Paint it. An antique wood chest of drawers can look awfully formal, but with a coat of paint in a bright color – rich turquoise or sunny marigold, for example – the result is completely fresh and modern. The added benefit of using a bright color on furniture means that you can leave the rest of the space neutral. All of our properties feature a neutral color scheme perfect for pops of color.
Consider placement. Let's say you purchased a mid-century dining room credenza. Fantastic! But remember, this piece could work in a multitude of ways. Use it in the bedroom as a makeshift dresser, or place it directly behind the couch as a stylish, unexpected sofa table.
Revive, repurpose. Vintage tins have great graphics and punchy colors. They are also incredibly affordable. But, what could you do with a tea tin? A whole lot, actually! We love using them as an herb planter or vase for flower arrangements. They're great for kitchen organization, too – place long utensils like spatulas and wooden spoons inside a tin for a cheerful look. If you're feeling adventurous, try making your own candle using the tin as a base.
---
After a certain amount of time, even the most wonderfully-decorated bedrooms can feel boring and in need of a change, but spending a ton of money on re-decorating isn't always in the cards. Luckily, there are many ways that you can infuse new life into your bedroom that don't cost any money at all. Try these simple tactics to help you see your personal space with fresh eyes and excitement.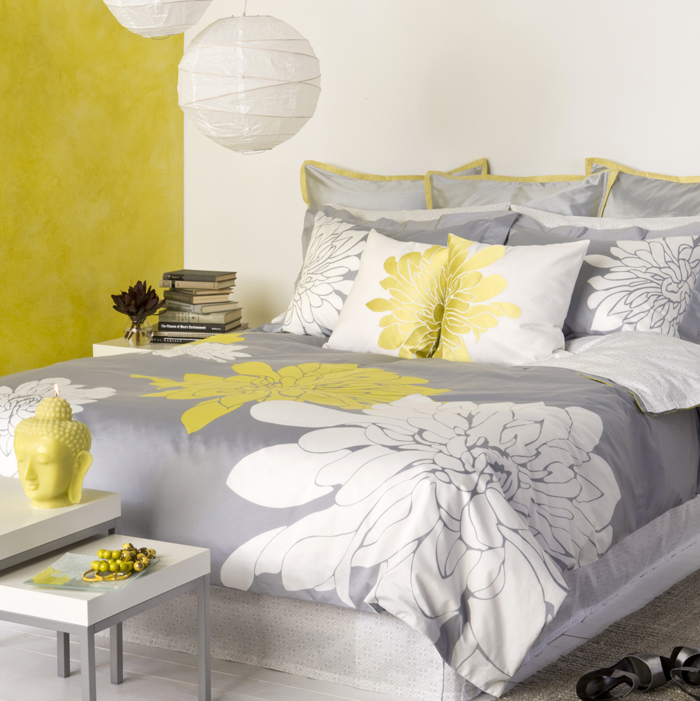 Clean Your Bedding
When life is busy, cleaning the bedding may be the last thing on your list, but if you take everything off the bed and give it a good wash, putting the bed together again with crisp, delicious smelling fabric can make the whole room feel fresh and renewed.
Use Pieces from Other Rooms
If your bedroom is feeling drab, try taking artwork and lighting from other rooms in your home. Maybe the wall piece above your couch would really change the space above your dresser; or maybe the floor lamp by your book case could really bring a fresh lighting scheme into your bedroom. Small changes like this make the world of a difference, and get you excited about the things you already own.
Organize Your Nightstand
It's easy to let your nightstand gather clutter and that can make your bedroom feel messy and frustrating, especially since it is the last thing you see at night and the first thing you see in the morning. Take time to organize and de-clutter your nightstand; keep only what you need and want displayed next to your bed and you can change your whole attitude about your room.
Make Your Bed
Cleaning your bedding is one way to help refresh your bedroom, but on a daily basis, making your bed is key. When you are busy, it may be an easy thing to think you can "do later", but then you end up with an un-made bed all day, every day, and the bed is one of the biggest pieces in any bedroom. Simply making your bed every morning can make you feel organized and make your space look clean. And you can always remind yourself: in a world of chaos, at least the bed is made.
Get Rid of Things You Don't Love
In your closet, in your dressers, and on your tables, take a month and each day get rid of one thing that you don't use, need, or love. Built up clutter and things that we see and don't want anymore can make us feel frustrated and chaotic. Getting rid of excess makes room for the new, and seeing only the things we love in our closets and dresser can help us to appreciate and utilize the things we own more, and more clearly see what it is we actually need in our lives.
---
One of the perks of renting your own apartment is the freedom to throw parties whenever you want! And what better time or reason for a party than 4th of July? Independence Day is a time of national celebration, so it's the perfect opportunity to go all out and be as festive as you want! Try these ideas for party decorations to host the best 4th of July blowout ever!
4th of July Apartment Party Ideas
Use the patriotic red, white and blue motif to your heart's desire and purchase party decorations like a 4th of July garland, and decorate your house with red, white and blue flowers. Adorn your table with an American flag table cloth or runner, stars and stripes place settings, and red, white and blue star-shaped glitter. Use mason jars stuffed with red and blue bandanas to hold silverware for that extra touch.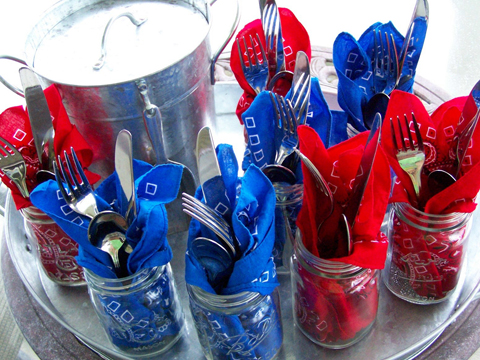 You can even take your food to the next level. In addition to the 4th of July favorites like hamburgers and hotdogs, there are many ways to incorporate the American motif into your presentation:
Serve blueberries and strawberries with whipped cream for an edible pop of red, white and blue.
Create a signature summer cocktail using festive straws or drink stirrers for even more party flair.
Make a cake using blueberries, strawberries and whipped cream or go miniature and make cake pops with red, white and blue frosting.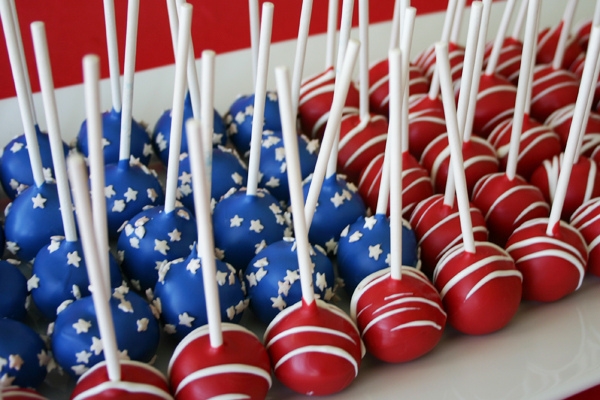 Looking for an apartment to host fun dinner parties for the holidays, or any occasion? Check out the available apartments right now in the metro New Orleans area from 1st Lake Properties.
---
There are many creative ways to give your apartment a fresh look without violating your lease terms or causing any damage. Creating extra storage space in an attractive way is always a good idea, and adding your own pops of color will quickly and smartly enhance your interior. Here are some tips that will put you on the path to an apartment you'll love to come home to!
Apartment Improvement Projects

Funky and Functional – If you love wooden or industrial touches in your apartment, a great way to incorporate functional style is to search for separate pieces like ladders or doors at flea markets, hardware stores or home goods stores. Placing a ladder smartly in the kitchen or bathroom can be used for hanging towels or placing appliances. Using a door with extra knobs is a funky way to hang personal items like umbrellas, scarves, bags, hats and more.
Adding Interior Color – If you want some more color in your apartment, there are safe ways to add it without painting the walls. Removable wall decals come in all sorts of designs and colors for adding fun and creative patterns that will revitalize any room and give it unique personality. A more rustic and D.I.Y. approach to adding color would be to paint wooden pieces like plywood to lean against the wall for a more layered, natural look. Another material that is a great resource that can be personalized with some painted color is pegboard, which looks cool and can act as a hanger for a number of items.
If you're looking for a metro New Orleans, Northshore or Mississippi apartment to make and call your own, check out the available apartments right now from 1st Lake Properties!
---