Ready to get moving? The Greater New Orleans area offers so many ways to stay fit and have fun while you're at it. Whether you take advantage of an outdoor space like Lafreniere Park or go straight for a fitness class, we've compiled a list of free and cheap fitness activities to keep you healthy and happy.
Parks
Lafreniere Park — This 155-acre park features so many things to do, from a 2-mile jogging trail to an on-site, 20-acre lagoon ideal for birdwatching and immersing yourself in nature. The park features 2 distinct playgrounds, a carousel, and a splash pad for the kids, plus sports fields and a disc golf course. It's the perfect place to stay active in the heart of Jefferson Parish!
City Park — City Park in New Orleans is one of the largest public parks in the country. Kids will love Storyland, the on-site amusement park, while adults can partake in healthy activities like canoeing, jogging, or golfing (mini golf, disc golf, and regular golf are all available for nominal fees). There's also an on-site dog park – just remember to review dog park etiquette first!
Audubon Park — This park is free to enter, although you can pay a small fee for activities like tennis or horseback riding. A playground for kids makes it family-friendly, as does the Audubon Zoo on the premises.
Bike Trails
Tammany Trace — A "hike and bike trail," Tammany Trace touts a whopping 31 miles of gorgeous scenery. The trail used to be a railway, but now it's perfect for a leisurely stroll, upbeat jog, or bicycle ride to get some fresh air.
Lafitte Greenway — Recently restored, the Lafitte Greenway is a pedestrian and cyclist path that winds through the heart of New Orleans. A gorgeous respite from the urban landscape of the city, Lafitte Greenway features 2.6 miles of trail connecting downtown New Orleans to City Park.
Fitness Classes
Romney Pilates Community Class — Head to Uptown New Orleans every Saturday at 8 a.m. for a $5 community class at Romney Pilates (5619 Magazine St.). The space is absolutely gorgeous, and is directly across the street from a Whole Foods, so you can get your grocery shopping done, too! Plan to arrive early as this class tends to fill up quickly.
Free Zumba in City Park — At the Peristyle in City Park, you can partake in a free zumba class every Saturday morning at 8 a.m. It's a great way to get your heart rate up and enjoy nature. We won't say anything if you go to the City Park Morning Call afterward… you deserve it!
Yoga at the Cabildo — Enjoy a most beautiful view of the French Quarter for $12 at the Yoga at the Cabildo class offered Tuesdays, Thursdays, and Sundays from 8:30 a.m. until 9:30 a.m. Friends of the Cabildo members pay just $8 per class.
Salvation Studio Charity Spin — Donate to charity, and get a free workout! Every Friday at Salvation Studio, donate $5 or more to the weekly charity or cause of choice, and you'll be enrolled in their spin class for free. Think of how good you'll feel after you help the community and complete a heart-pumping workout!
---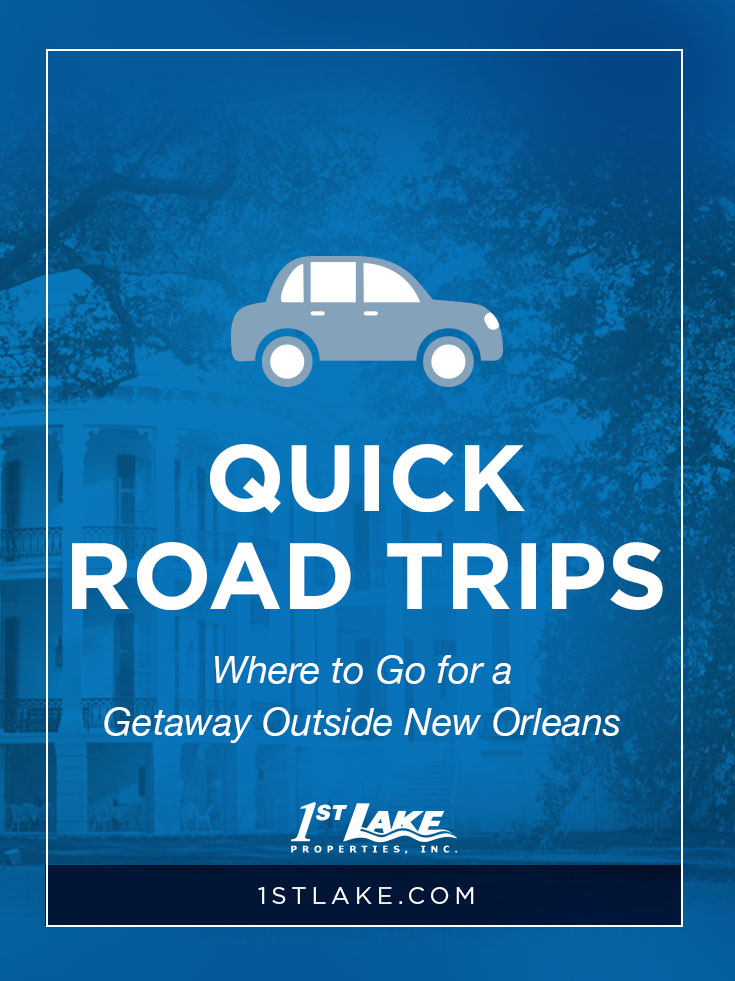 New Orleans has so much to offer, you could never leave and still find something to do every single day of the week. But sometimes, you need a change of pace without spending very much.
Sure, we'd love to hop on a flight to some exotic island, but with our wallets in mind, we've created a list of "staycations" – places outside the city that feel like a whole new world but are just a short drive away. Whether you head to the shores of Dauphin Island or the stately guest rooms of Nottoway Plantation, bookmark this list for a weekend getaway or a quick day trip… you deserve it!
Road Trips from New Orleans
Celebrate a Noted Ceramicist
Take the hour-and-a-half drive to Biloxi and visit the Ohr-O'Keefe museum, a non-profit museum that highlights the work of ceramicist George E. Ohr. While the O'Keefe component may conjure up images of desert flowers, it isn't named for Georgia O'Keefe: instead, the O'Keefe portion of the museum's name comes from Annette O'Keefe, the late wife of the former Biloxi mayor whose donation dollars were instrumental in bringing the museum to life.
Famed architect Frank Gehry designed the museum, which is a work of art in and of itself. Comprised of five separate buildings, the museum includes dedicated spaces for special exhibitions, African American art, and ceramics.
Where to Stay: If you decide to extend your stay beyond a day trip, there are a variety of hotels within the area. Many even give you the option to test your luck at an included casino!
What Else to Do in Biloxi: Go on a fishing charter, visit the outlet malls in nearby Gulfport, or simply hit the beaches. With that in mind… 
Stay at a Gulf Coast Beach
The Gulf Coast is full of gorgeous beaches perfect for a getaway from New Orleans. Our recommendations? Bay St. Louis for its charming downtown, Dauphin Island near Mobile for a more rustic and nature-immersed feel, and Grand Isle to stay in state and experience a beautiful state park. All of these beaches are fewer than three hours away (Bay St. Louis is only an hour drive), but if you're willing to drive even farther, we have two additional recommendations:
Destin, FL: The four-hour drive is worth every minute for sparkling blue waters and a charming town.
Rosemary Beach, FL: Just a bit farther from Destin, you'll find Rosemary Beach, which has the same charming feel and beautiful waters. If you can spring for the Pearl Hotel, we say go for it – their high-style décor, incredible pool, and proximity to both downtown and the beach makes for a memorable vacation.
Holly Beach, LA: This coastal community in Cameron Parish is about a four-hour drive from New Orleans. You won't get the same crystal-clear waters as Florida beaches, but the abundance of shells and serene, peaceful feel will keep you intrigued and in awe.
Experience the Past at Plantations
Plantations pepper the region just outside of New Orleans, serving as architectural reminders of the Antebellum South. While there are several to choose from, like Houma House, Oak Alley, and Destrehan Plantation, our top picks are as follows:
Laura Plantation: This plantation about an hour outside New Orleans is a little different than the vast and sprawling plantations elsewhere in the state. Because it was a Creole plantation where mixed cultures lived and work, Laura Plantation has a completely different architecture. You can also connect to the past more closely and realistically at Laura, where examples of slave homes and banana tree farms abound. If you crave the classic plantation style, Oak Alley Plantation is right next door.
Nottoway Plantation: Nottoway isn't just a plantation – it's a resort. Drive about an hour and a half outside New Orleans, and you'll have access to beautiful architecture and elegant furnishings, plus vacation-worthy amenities like tennis courts, a spa, an on-site restaurant, and live entertainment. Stay in the main mansion or choose from guest houses and cottages, some of which even have a private pool.
Visit a Museum that Honors Two Louisiana Pastimes
At first glance, aviation and lumber seem like an odd combination to appear in the same museum. But the Wedell-Williams Aviation and Cypress Sawmill Museum in Patterson is actually a fitting combination. The dual focus is a nod to two components of Louisiana history: Jimmie Wedell and Harry P. Williams formed an air service together in Patterson during the golden age of aviation in the 1920s, and Patterson – about an hour and a half drive from New Orleans – was once home to the largest cypress sawmill in the world.
Top 5 Road Trip Tips
Even a short road trip benefits from a little bit of planning and a little bit of packing. Here are 5 tips to help make your next road trip even better:
1. Plan for high-traffic areas. Are you planning on leaving New Orleans at 5 p.m. on a Friday? Probably not a great idea if you can help it. Instead, try avoiding peak rush hour times if possible, and always remember to plan ahead for the next town — for example, even if you leave New Orleans a little early at 3, you'll be hitting Biloxi just as traffic starts to peak.
2. Consider joining AAA or another roadside assistance group. Louisiana roads have a real knack for banging up cars, from rock chips to flat tires. Joining a roadside assistance group like AAA ensures you'll get free help and free towing in the event of anything that brings your car to a halt. These programs are typically pretty affordable — usually about $100 annually — and also include great member discounts on hotels.
3. Have cash and change handy. Don't forget about toll money! Carry small bills and plenty of quarters in your car so that you can easily pay tolls on the way to your destination and on the way back. Spare change is also helpful in case you can't get cell phone service: believe it or not, pay phones still exist — but you'll need coins to get them to work.
4. Have your documents in order. License? Check. Registration? Check. Proof of insurance? Check. If you've decided to rent a car, make sure to keep any documents and receipts with you in the front glove compartment.
5. Bring a spare key. This simple little hack can help you avoid a major headache.
---
It's arguably the best time of the year in New Orleans right now. Yes it's spring, but in addition to blooming flowers and pleasant weather, it's officially festival season!
French Quarter Festival will bring four days of incredible New Orleans music and food to the entire historic French Quarter neighborhood. Take a look at what you can expect and reserve April 7-10, 2016 on your calendar for French Quarter Fest fun, just a short drive from any of our New Orleans area apartment communities!
Music
French Quarter Fest spans the entire downtown neighborhood, with more than twenty music stages scattered throughout. Enjoy some of the city's best artists with genres ranging from blues to jazz, funk, rock, brass bands, Cajun and soul. Check out the full music schedule on the French Quarter Festival website.
Food
It's hard to say if the music or the food is better at French Quarter Fest, but luckily, attendees can enjoy both to their hearts' content. There are a variety of food options available at French Quarter Fest, each with delectable delicacies like jambalaya, meat pies, snoballs, alligator sausage, oysters, crawfish, bread pudding, po-boys and much more.
Special Events
Because New Orleans always takes their festivals to the next level, it doesn't stop at the food and music. There's just as many other events going on as the food and the music, including the second line kick-off parade, an entire family section with kid-friendly activities, a film fest, free dance lessons and much more. Check out the full special events schedule online.
Getting There
Many of our properties, especially those in Metairie and River Ridge, are just a short drive from downtown New Orleans. However, be aware that French Quarter Fest brings in a lot of traffic, so you'll want to avoid parking in the French Quarter itself and seek parking garages in the Central Business District instead (there's even a Park-n-Ride shuttle available.)
---
There's an old saying that oysters are best during the months that end with "r." And while it's true oysters tend to be larger in the winter months when the weather is colder, these days, it really is just a saying – you can find fresh oysters any time of year in the greater New Orleans area (the "r" saying harks back to the days before suitable refrigeration and food storage). There are so many fantastic options for oysters in River Ridge, Harahan, Jefferson, Metairie, and Kenner. Who's hungry?
The Best Oysters Just Outside New Orleans

Acme Oyster House — 3000 Veterans Memorial Blvd., Metairie
A delicious local chain bursting with Cajun-Creole classics. Order the fried oysters and the Oyster Rockefeller soup, with a hint of Herbsaint.
Drago's Seafood — 3232 N. Arnoult Road, Metairie
This family-run restaurant is famous for its charbroiled oysters. They also have an extensive, separate gluten-free menu perfect for folks with food allergies.
Charles Seafood — 8311 Jefferson Highway, Harahan
Try the oyster platter with your choice of side. We'll be choosing the jambalaya grits.
Jaeger's Seafood and Beer Garden — 901 S. Clearview Parkway, New Orleans
Order the salted raw oysters or try their signature style, Oysters Jaeger. With interesting sides like stuffed Creole eggplant and stuffed mirliton, this restaurant lets you pick and choose a memorable meal.
Mr. Ed's Oyster Bar and Fish House — 3117 21st St., Metairie
The fried oysters are somewhat of a specialty here, although you can order 'em charbroiled and raw as well.
Deanie's Seafood — 1713 Lake Ave, Metairie
Crowd-pleasing seafood in Bucktown – and it's just around the corner from R&O's if you get a po-boy craving.
The Blue Crab Restaurant & Oyster Bar — 7900 Lakeshore Drive, New Orleans
Another Bucktown favorite with a beautiful waterfront location. Try the oysters on the half shell (though we also recommend the fried crab claw appetizer).
Harbor Seafood & Oyster Bar — 3203 Williams Blvd., Kenner
Head straight to the raw oyster bar at this low-key spot on Williams Boulevard… but if you're feeling brave, you can order the swamp platter, too, with alligator, frog, and turtle.
Dockside Seafood & Oyster Bar — 1820 Dickory Ave. Suite A, Harahan
Big, succulent charbroiled oysters are one of many excellent options at this Harahan site, offering generous portions of fresh Gulf seafood.
---
Whether you head to the Metairie Cemetery for a good scare, a little bit of history, or simply a calm, quiet place to reflect, there's so much to learn at this beautifully landscaped space along Old Metairie Road on Metairie Ridge. The cemetery dates from 1872, and it has housed wealthy and famous "residents" in the decades since. The cemetery features elaborate tombs; some are clustered together in a section known as "Millionaire's Row." More humble graves where less-affluent families have laid their loved ones to rest make up the remainder of the cemetery.
The History
The Metairie Cemetery features a lot of interesting history for Civil War buffs. In fact, two of the cemetery's largest burial sites were built specifically for veterans of the Civil War. You'll see a huge column featuring a statue of Thomas "Stonewall" Jackson as well as tombs for prominent Civil War figures like Jefferson Davis and Pierre Gustave Toutant-Beauregard.
The Architecture
The graves feature a mix of styles that show the cemetery's age. You'll see Italianate and Classical Revival styles as well as Gothic Revival. Statues, elaborate tombs, and simple graves all stand side by side in this beautifully landscaped graveyard, featuring meticulously clipped lawns and walkways that allude to the cemetery's former life as a horseracing track in the early 1800s.
Famous "Residents"
Here are just a few examples of the graves you'll see in Metairie Cemetery:
William Claiborne – d. Nov. 23, 1817; U.S. congressman, senator, and Louisiana governor
Alvin Copeland — d. March 23, 2008; created Popeye's Chicken and Biscuits
Eve Curie — d. Oct. 22, 2007; the daughter of famous scientist Marie Curie
Jefferson Davis — d. Dec. 6, 1889; the president of the Confederate States of America (note: Davis' remains were later transferred to Richmond, Virginia, but the tombstone remains)
Andrew Higgins — d. Aug. 1, 1952; inventor and shipbuilder who created the PT boats used during World War II
Louis Prima — d. Aug. 24, 1978; acclaimed jazz musician
For a full list, visit the Find a Grave website.
How to Get There
The cemetery is located at the junction of I-10 and Metairie Road and is technically in New Orleans city limits. From most of our New Orleans-area 1st Lake Properties, you'll simply take I-10 East to exist 231A for City Park Ave/Metairie Road. Cars are allowed inside the cemetery, which closes at 5 p.m.
---