This month, the nation celebrated our country's independence with festive Fourth of July festivities of all kinds. 1st Lake Properties took part in the patriotism with a very special flag raising ceremony on June 26 at one of their commercial property locations in Kenner, LA. The event was an opportunity for 1st Lake Properties to come together with the community and celebrate our flag of the United States of America, and all that it means to us as citizens.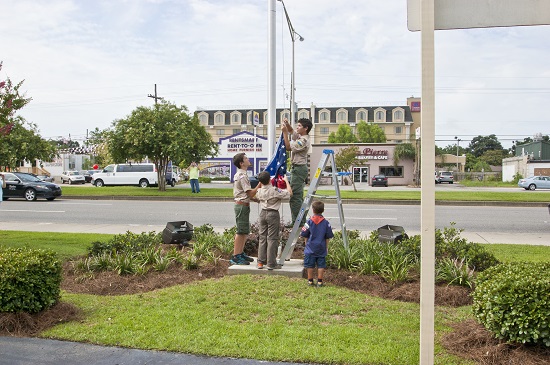 For the event honoring the country, Boy Scouts Troop 223 officiated the ceremony, along with Kenner City Councilman of District 2, Mike Sigur. On the day of the ceremony, Susan Wallace, 1st Lake Commercial Properties Agent, said, "The flag brings much needed attention to our country and our servicemen here and abroad. And we all recognize the appreciation they deserve." After the flag was raised in silent respect, all in attendance spoke the Pledge of Allegiance in unison.
Veterans from the Vietnam and Korean wars were there to view the ceremony, giving a special honor to the event. 1st Lake Properties is grateful for their service and was proud to have them at the flag raising ceremony.
1st Lake Properties recognizes the connection to the country they enjoy in both business and in spirit. Bria Martinez, Regional Vice President for 1st Lake Commercial Properties said, "We have a unique opportunity for local and out of state companies in this building with its strategic location to the Louis Armstrong International Airport."
1st Lake Properties was proud to share in such a meaningful display of patriotism with the community. The flag will continue to fly and will be lit at night for the neighborhood to see. If you are in the area, stop by and see it at 2200 Veterans Boulevard in Kenner, LA.
---