The Internet makes it easy to shop from home, or you can take it old-school and turn on the television to watch QVC. But why not actually shop at home – as in, using the things you already own for a whole new look. Learn how to borrow from other rooms of the house below. You can give your apartment a fresh new look with some creative "shopping" – just make these five easy swaps from room to room.
Chair
Where it is now: The dining space or office
Where it should go: The bathroom
Why: Adding a chair to the bathroom instantly gives the space a chic, spa-like feel. You can also use it as added storage – place a stack of fluffy towels on it, or a tray topped with bath products and an orchid. Even if you never actually sit in it, the effect remains: your bathroom will feel more like a destination and a sanctuary than ever before.
Bar Cart
Where it is now: The dining space
Where it should go: The bedroom, the office space, the living room, the kitchen – anywhere!
Why: Bar carts are incredibly versatile and offer streamlined, portable storage. Fill one with books and nighttime accessories like lip-balm or hand cream for a unique bedside table, or try it in the living room filled with your favorite magazines. In the kitchen, stock it with pantry essentials or cookbooks. For your home office space, you can fill with necessary items like notepads, reference books (dictionaries or encyclopedias), mason jars filled with pens, and more.
Dresser
Where it is now: The bedroom
Where it should go: The living room
Why: Use a dresser for storage in the living room just as you would for clothes in the bedroom. It provides the look of a console when topped with a TV and decorative elements like potted plants, picture frames, and a candle.
Bookcase
Where it is now: The bedroom or office space
Where it should go: The kitchen
Why: We make sure our properties offer plenty of cabinet space, but some kitchen items are just too pretty to keep hidden! Place your attractive kitchen items like cookbooks, beautiful bowls, or vases on a bookshelf for major visual impact (and added storage).
Loveseat
Where it is now: The living room
Where it should go: The dining space
Why: Give your dining space the vibe of a high-end restaurant when you swap chairs on one side of the table for a loveseat. This works best with a settee-style loveseat that has a high back and sits higher up, but you can always test it out and see what works – experimenting is half the fun!
---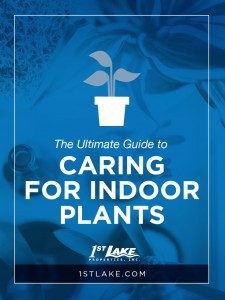 Foliage in your apartment can really make a space feel fresh and with the right indoor plants, you can literally purify the air in your home.
A little greenery can make a big impact and brighten up the room, but caring for houseplants can be tricky. After all, they are living, breathing beings, and each one is different.
These tips can help you approach the task responsibly so that you can enjoy beautiful indoor plants in your apartment for years to come.
Choose The Right Type of Indoor Plant
Different plants have different needs, and some plants are better for indoors than others. Some plants that tend to flourish in apartments include Cast Iron Plants, Chinese Evergreens, Philodendron varieties, Peace Lilies, Orchids, and Snake Plants.
Air Purifying Plants
Houseplants aren't just pleasing to the eye; many also serve a beneficial function such as purifying air. NASA has even executed studies on common household air pollutants and found that certain household plants filter a stunning amount of toxins.
Ficus plants are at the top of the chart when examining air purifying qualities. Plants of this family include the Rubber Plant (Ficus elastica) and Weeping Fig (Ficus benjamina).
Other beneficial plants that will thrive in New Orleans' climate include the Dumb Cane (Dieffenbachia), Caladium, Spider Plants (Chlorophytum), ivy, and ferns.
If your apartment gets little light, choose a plant with low light requirements such as an Umbrella Tree (Schefflera), Chinese evergreen (Aglaonema), or Mother-in-Law's Tongue – also known as Snake Plant – (Sansevieria trifasciata).
Beneficial Flowering Plants
For filtering and fragrance, choose a flowering plant to improve indoor air quality. Peace lilies (Spathiphyllum), for example, can filter toxic benzene. Persian Violets (Cyclamen), African Violets (Saintpaulia), and Paperwhite Narcissus (Narcissus Tazetta) perform similar functions, serving to sift dangerous chemicals from the air.
Chrysanthemum, too, are excellent purifiers. A study by NASA in the late 1980s indicated that a single chrysanthemum filtered more than 60 percent of toxic formaldehyde from a small room in just 24 hours.
Low Maintenance Houseplants
The best houseplants are pretty while are deceptively easy to keep alive. Philodendrons only require moderate light and water levels, so no need to frequently water or worry about light exposure. Not only do ponytail palms sound cute, but they look cute too, and only need watering once every one or two weeks.
The snake plant (also called mother-in-law's tongue or its formal name Sansevieria trifasciata) is another great indoor plant that is virtually impossible to kill. With a little TLC every now and then, this houseplant can grow in almost any indoor condition.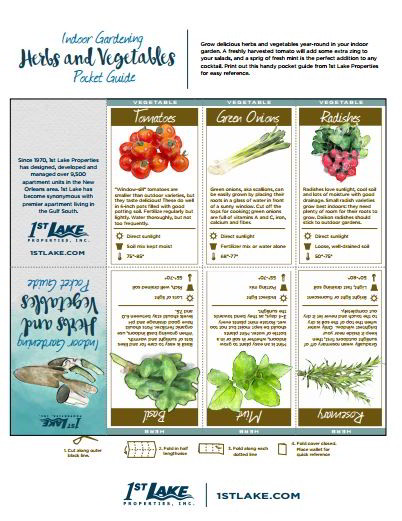 Herbs and Vegetables for Indoor Gardens
Grow delicious herbs and vegetables year-round in your indoor garden. A freshly harvested tomato will add some extra zing to your salads, and a sprig of fresh mint is the perfect addition to any cocktail. Print out our handy pocket guide from 1st Lake Properties for easy reference. 
Poisonous Houseplants
As many great houseplants as there are to choose from, there are also some to avoid as to not put any pets or small children in danger. Many are only poisonous if ingested, but be on the lookout for these different species when shopping for houseplants.
10 Houseplants For Pet Owners To Avoid:
Anthurium
Calla Lily
Chinese Evergreen
Dieffenbachia
Elephant Ear
English Ivy
Oleander
Philodendron
Schefflera
Spathiphyllum
A great solution for pet owners is to grow wheatgrass at home: it's safe for pets, cats love it, and it even helps to neutralize pet odors!
You might also want to try making a terrarium, to keep the plants away from prying paws.
Need more help deciding what type of plant to choose? Bookmark our handy infographic:

Picked Your Houseplant? Start Planting!
Now that you've determined the right types of plants for your apartment lifestyle, it's time to plant them and get them set up in your home.
Pick The Right Type of Pot
Obviously, you'll want to choose a beautiful pot that matches the rest of your apartment's décor. But choosing the right type of pot is about more than just how it looks.
All pots should have at least one hole on the bottom. You'll need to pair your pot with a tray underneath to catch any water. Line the tray with about an inch of aquarium gravel – this will help disperse the water and help it evaporate. You never want a plant to sit in water, because the plant's roots will rot if they sit in water for too long.
If you are placing your plant on a wooden or painted surface, be sure to use a trivet underneath the tray to avoid condensation that can damage wood and paint.
Sunlight
All photosynthetic organisms need light to live and grow, but some need more than others. Depending on the direction your window faces, you'll be able to get more or less sunlight.
This light can be measured in what are called foot-candles, with each foot-candle representing the light on a square foot of surface 12 inches from a single candle. A plant requiring "Low" light needs around 50 foot-candles, but "High" light plants require around 200 foot-candles of light to flourish.
When living in an apartment, you'll want to find plants that grow well in indirect or filtered light conditions if your window faces north or south. Once you've picked a plant, make sure you know its sunlight needs to place it accordingly.  If possible, place your plant near a window.
If the sunlight coming through your window is very intense, you may need to position your plant about 12 inches away from the window. You can determine if the window is too hot or too cold by putting your hand there – if you place your hand on the window in the summer, and your hand gets hot quickly, it's probably too hot for the plant. If the window gets very cold in the winter, move your plant further indoors to keep it warmer.
Rotate your plants periodically so that all of the parts of the plant get some sunlight.
Watering Your Plants
Regular watering is important for plants, but you never want to over-water.
For most plants, you'll want to water them until you see water emerge from the bottom of the pot. (This is why you should always use pots that have at least one hole in the bottom!)
Make sure that your plant has good drainage, as well, so the roots don't rot. Make sure to include something underneath the pot to catch any drips and condensation.
Spritzing the leaves with water can be just as important as watering the roots, depending on the type of plant you have.
Large plants in larger pots need to be watered less regularly than small plants in small pots, which dry out more quickly.
Often, tropical plants do well inside, so in the winter, when the weather can be drier, you'll want to treat your tropical indoor plants to the shower steam in the bathroom every so often.
Too busy to water your plants often? Look for plants that don't need to be watered regularly, like succulents and cacti.
Have trouble remembering to water your plants regularly? Set a recurring reminder for yourself on your smartphone's calendar, ensuring that you water your houseplants regularly.
Clean Your Plants
Cleaning your plants might sound silly, but indoors, dust get can get everywhere, and to keep your plants healthy, you'll want to make sure to keep them clean.
Wipe down their leaves, prune them as needed, and make sure they are dust free. They will look more beautiful and live longer that way.
Keep an eye out for pests, like spider mites, whitefly, scale and mealy bugs.
Pest Control Tips
To keep pesky insects from snacking on, or living in, household plants, try an organic solution before rushing out to buy harmful chemicals.
One way to keep the buggies away is to pack used coffee grounds around the base of a plant, as insects are deterred by the bitter but nutrient-rich waste.
If you're not a java fan, mix Cayenne pepper and water in a spray bottle and spritz the leaves and stems of houseplants to keep pests away.
Where To Buy Indoor Plants in New Orleans
Of course you can go to the national home improvement chains to pick up plants, but a city like New Orleans also offers plenty of locally-owned options to shop for houseplants of all shapes and sizes. Here are just a few of our favorites:
Perino's Garden Center
Perino's Garden Center in Metairie offers a variety of houseplants, not to mention furniture and seasonal decorations.
3100 Veterans
Metairie, LA 70002
(504)  834-7888
The Plant Gallery
The Plant Gallery, located on Airline Highway, features plenty of indoor plants and home decor.
9401 Airline Highway
New Orleans, Louisiana 70118
(504) 488-8887
Laughing Buddha Nursery
Laughing Buddha Nursery in Metairie offers a holistic approach to gardening, with organic gardening gear including composted soil they make in-house.
4516 Clearview Pkwy
Metairie, LA 70006
(504) 887-4336
Have additional tips to share?
Reach out to us on Facebook and share your favorite tips for caring for indoor plants with us!
---
We recently spoke with local interior designer Whitney Jones about how to create a space – even when you're renting! – that truly feels like home. Jones believes that a beautiful apartment isn't just attainable; it's also affordable. How? Three simple letters: D I Y. Check out our conversation with Jones below.
1LP: Your blog features a lot of DIY projects, and it seems like something you're very passionate about. Why is it so important?
WJ: In my apartment, I actually pretty much did everything custom, which really can be code for DIY. You don't want to go into your friend's house or post a picture online and have someone say, "I have that! And I have that!"
If you try to do custom, you always have a unique space that will get you compliments. When you love décor and love for your home to look good, it feels good for someone to feel welcomed into a really nice space.
1LP: Can you recommend some examples of DIY projects?
WJ: Of course! I have some chairs I purchased at Target for $26 on clearance. They're metal chairs with gray and teal upholstered fabric – they didn't match, but I bought them anyway because I knew they had potential. I went to a fabric store and purchased some orange vinyl, and I upholstered both of them in the vinyl [using a staple gun]. They look like a totally custom chair for under $75.
Then, there are my curtains that I purchased from Pier 1. I bought two matching curtains and then a third in a contrasting color and fabric. Then, I used parts of the third curtain to add to the bottom of the matching pair to create a custom look. It also added length, which meant I could suspend them from higher on my ceiling – that's a great trick to add a feeling of height to a space. I also make pillows and sell them on my website.
I also DIY'd a wood bench I purchased at a flea market. I painted the bench white and recovered with faux fur that I purchased at a fabric store. There are so many different options!
1LP: What, in your opinion, is the easiest kind of DIY?
WJ: Before you purchase or do anything else, I suggest going with pillows first. They shape your sofa, they can even reinvent your sofa, and they're your source of inspiration for the rest of the room. If you decide to make DIY pillows, you have hundreds of different selections that inspire you that you can use to have as a jumpstart for the rest of the room. They're really easy to make – just search for a tutorial whether you prefer to hand sew, use a sewing machine, or even use hot glue!
I also love DIY art because it's easy and affordable. I have a DIY canvas board with some song lyrics that I painted – really simple.
1LP: What if someone is feeling stuck once they start decorating? Or maybe they're too overwhelmed to even get started! What advice do you have?
WJ: ALWAYS PLAN before you do anything. Don't start buying stuff without a plan. You have to pick something that's your starting point. If you find something you love or just have to have, make it your jumping point so you can plan your room around it. If you choose art, choose a color out of your artwork that you can use in your pillows; another color can be your curtains; another color can inform your accessories.
My other best piece of advice is to start with the room where you spend the most time. People see pictures of my living room and they think I have it going on. And then you look to the right and it's like, 'Oh my gosh, it's a disaster over there!' My dining room functions as my office! I had so much energy to do my living room and then I wasn't sure if I was ready to start on something else. For me, I started with the room that I spend the most time in; the room that means the most to me. If your bedroom is your sanctuary or if you want to feel more comfortable there, that's where you should start. If you cook a lot, you should start in the kitchen. Because if you start somewhere where you don't spend a lot of time, you'll get burned out fast. You'll have the energy and the spirit to start in other rooms if you begin a project in a room you enjoy being in the most. It'll have a domino effect.
1LP: Where are some of your favorite places to find furniture and accessories in New Orleans?
WJ: My favorite place to shop in the city is Target. They're really trendy – they're on the mark on what's hot in decor. I'm not a trendy decorator, per se, but I like to see what they have. If you're not really good at decorating or don't know what you like, Target allows you to do it on a budget. Pillows, linens, living chairs, lounge chairs, and all for good quality and price.
Nadeau has really good price points and unique items, so I'd definitely say Nadeau for furniture. TJ Maxx for accessories and Pier 1 for glamorous accessories – they're pricier but they're not outrageous, and you can have a really glamorous look for a lot less than you'd expect. 
1LP: What are some of your favorite websites for that same purpose?
WJ: Ballard Design – they're not the most inexpensive but they have beautiful items. I really love Wayfair so there are hundreds of thousands of times so you could shop all day! Sometimes it's way too much stuff to look through, but in a good way. I like Wayfair for the options. Home Decorators Collection – it's actually Home Depot's home line. They don't tell people that, but it is! They have really good stuff for really great prices. 
Find Whitney on Instagram at @whitneyjdecor or visit http://whitneyjdecor.com to connect with this amazing local designer!
---
It's a conundrum we've seen a lot: renters don't want to spend a lot of money tricking out their space, but they still want an apartment to feel like home. That's why we've teamed with local interior designer Whitney Jones of Whitney J. Decor to get her expert advice on how to jazz up your apartment smartly and affordably – and with gorgeous results. In the first of our two-part series, we talk the basics of what to buy and how to rethink your approach to decorating. Stay tuned for our next post when we delve into specific DIY projects and the best places in New Orleans (and online) to find decorative accents, furniture, and more.
1st Lake Properties:
Obviously, we're proponents of renting, and we think it's important that a rented space feels like home. We've taken great care to create beautiful landscaping, smart floor plans, and other welcoming details across
our properties
– how else can someone make a rental feel like home?
Whitney Jones: First, I always like to say that I think it's a misconception that we whouldn't spend money or we shouldn't invest in home décor just because we rent. I believe that if you can afford to get quality pieces, you should invest in them because those pieces can move with you. Things that require custom fitting – like custom draperies or rugs – are things I wouldn't suggest for a rented space because you don't know if they'll work in a home or in your next apartment, but there are other things you can purchase that can take your space to the next level.
1LP: What are some examples of the types of things renters can purchase that will make a big impact?
WJ: A quality sofa or quality artwork. They are something you should invest in because those pieces can move with you. And pillows! Pillows are a really good way to update a space and make an apartment look totally different without spending too much money.
1LP: Let's say a renter has $500 they can use to 'jazz up' their space. How should they use it?
WJ: I just redecorated my own apartment! I'd say $500 would be a good budget to buy art, new pillows, and also draperies. I think one of the things for apartment renters that we forget altogether is drapery. It can be expensive if you get them custom, but if you purchase ready-made panels from a store like Target or JC Penney, you can really shape a window. Draperies really ground a room.
1LP: Draperies, really? We wouldn't have guessed that!
WJ: They are a game-changer. As for solid or prints, I think personally, and especially in an apartment, prints are the best way to go. A lot of times you bring in interests by actually putting some pattern on the wall – most apartments come with mini blinds, so putting a plain curtain on top of it doesn't really add a big effect. Even a colored panel just doesn't do enough. Bringing in some pattern and texture allows for that big pop and serves as another work of art depending on the kind of curtain you use. It lets you show your personality and brightens things up while having a little bit of fun. Curtains already ground a space, and by having a pattern, it really brings a pop of interest to a small space, which is needed for apartments – sometimes they can all look the same! Curtains are an easy, beautiful way to differentiate yourself stylishly.
1LP: Should people consider hiring an interior designer even for a rented space?
WJ: I definitely think that it's a lot better to work with a designer and decorator even if you rent, because you can save yourself a lot of money and a lot of headaches in the end. You give a designer a budget, and they can have your apartment laid out for you without you having to lift a finger. There's a really big misconception that we're super unaffordable but that's not the case – a lot of designers work in relation to your budget. For me as a designer, anything you should buy should be something you buy to KEEP, and an interior designer can help you find those pieces that'll move seamlessly with you as you transition from apartment to apartment.
Next week, we pick up the conversation with Whitney about DIY, how to plan for decorating, and how to avoid feeling "stuck" when it comes to revamping your space. Follow her on Instagram at @whitneyjdecor or visit whitneyjdecor.com.
---
Did our Instagram blog post spark your desire for a picture-perfect home? Spring is a great time of year to freshen up your space through cleaning and redecorating, and you'll probably want to photograph the results to share on social media (tag us on Facebook and Twitter!). We came across a great article on how to make your home more photogenic and wanted to share these easy home photography styling tips with you.
Add fresh flowers.
Fresh flowers – especially during spring, when they're particularly abundant – are a great detail in a photograph of a room. While full bouquets and arrangements are gorgeous, they aren't necessary. A simple bloom in a glass jar makes a photo of your nightstand, for example, fresh and visually interesting. Fresh fruit has a similar impact in a kitchen shot – citrus fruits like lemons and limes offer vibrant color while pineapples show off an interesting, architectural shape.
Use a flash of red.
It's a good thing marsala is the Pantone Color of the Year, because a bit of red instantly attracts the eye and brightens up a photo. Red is psychologically one of the most eye-catching colors – even if it isn't your favorite color, use it sparingly to add major pop to a photo.
Take advantage of books and magazines.
Stacking books and magazines can add height and depth to photographs. We recommend stacking your books neatly on a coffee table then placing a jar of flowers (red ones!) to incorporate several elements of photography styling into one beautiful shot.
---