Other than Mardi Gras, to many, Jazz Fest is the biggest and best annual event in New Orleans, and with good reason. The New Orleans Jazz and Heritage Festival is a whopping seven full days of music, food and art. If you're looking to experience a huge amount of New Orleans culture condensed into one day, Jazz Fest would be the place to do it. Use these tips for how to have a great Jazz Fest experience, which is easily and conveniently accessed by 1st Lake Properties residents of New Orleans area apartments!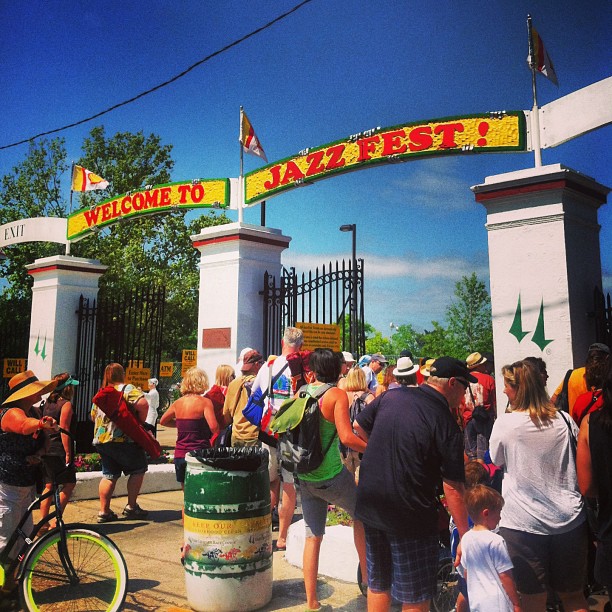 Music – You really can't go wrong with any music selection at Jazz Fest because it's always going to be an excellent choice, even if you've never heard of the performer. The lineup this year features major headliners like Eric Clapton, Bruce Springsteen, Christina Aguilera, Phish and Arcade Fire. In addition to the big name, as always the fest features some of the best established New Orleans artists and some very talented newcomers. Check out the full Jazz Fest music schedule online.
Food – For some people, Jazz Fest is more about the food than the music. There are nine food areas, each with an amazing sampling of New Orleans food and some ethnic offerings for something different. Some festival favorites not to miss include crawfish bread, cochon de lait po-boy, the iced teas from Sunshine Concessions, Ms. Linda's Ya Ka Mein, the fried softshell crab po-boy from Galley Seafood Restaurant, the Phesant, Quail and Andouille Gumbo from Prejean's Restaurant, and of course the Crawfish Monica.
Crafts – If you want to bring a tangible piece of Jazz Fest home with you, there are three art markets throughout the festival grounds where you can find some amazing, hand-made crafts. In addition to the coveted Jazz Fest posters from years past, including the 2014 poster, you can find African art and wares at the Congo Square African Marketplace; paintings, pottery and more at the Contemporary Crafts in Heritage Square; and regional crafts including photography and jewelry at the Louisiana Marketplace.
Family – Jazz Fest is one festival where kids can have as much fun as the adults. There is a section just for kids that includes a kids' tent and a food area with favorites like peanut butter and jelly sandwiches and mac and cheese.
Transportation – It's important to have a game-plan for how to get to Jazz Fest. It can be difficult to find a parking space if you are driving, but if you find a parking space within walking distance, you can take the Canal Street streetcar that drops you right off at City Park just a few blocks away, or take a pedicab or the Esplanade bus.
---