'Tis the season to liven up your decor, but sometimes a small space can present challenges you may not face in a traditional house. Check out our dos and don'ts for decorating a small space for the winter holidays.
Do think miniature. A 20-foot tree works for the White House, but a grandiose fir can be unrealistic when decorating a small space. Stores like Whole Foods and The Home Depot offer fresh, beautiful mini trees that have the look, feel, and smell of their larger counterparts. The trees might be small, but their benefits are enormous: they're easier to transport (both to your home and out to the dumpster after the season), they're cheaper to purchase, and they only have room for your most special ornaments.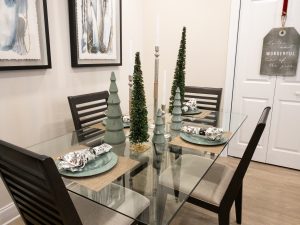 Don't let your festive dishware stay hidden. You probably have some fun holiday dishware at the back of your cupboard – maybe a themed mug or a set of dessert plates. Why not let these dishes take center stage during the holiday season? Fill a festive mug with fresh, white flowers for a wintry look for your desk or kitchen counter, or use holiday dessert plates as a tray for simple ornaments to create a festive display.
Don't wait to wrap gifts. The winter season is often a time of giving, but we are quick to consider gift wrapping a chore. Instead, make a plan to wrap presents early, then place them around your apartment for a fun and festive look.
Do dress up your dining chairs. Whether you're using them in the dining room or a non-traditional space like the bedroom or bathroom, dining chairs can benefit from a bit of holiday pizzazz. Tie wide ribbons to the backs of the chairs and suspend small, lightweight ornaments at the bottom. You can also hang pinecones from the back using this tutorial.
Don't forget about easy decorating opportunities. Coat racks, doorknobs, towel hooks, and any other hanging place can become a home for a wreath, festive scarf, ornaments, or other holiday items as part of your décor.
Do consider old-school crafts. Remember when you made paper snowflakes as a kid? Believe it or not, they can look incredibly chic and take up very little space. Place them in windows where they'll catch the light and cast dancing shadows. Other space-friendly favorites include cranberry garlands (use dental floss!), tinsel stars, and fragrant citrus pomanders.
Don't get hung up on what the holidays "should" look like. Who says you need a real tree or decorations galore? Displaying sentimental pieces or even a simple strand of lights over your doorway can bring festive cheer when decorating a small space. Plus, the fewer items you put out, the less there is to clean up after the holidays!
---