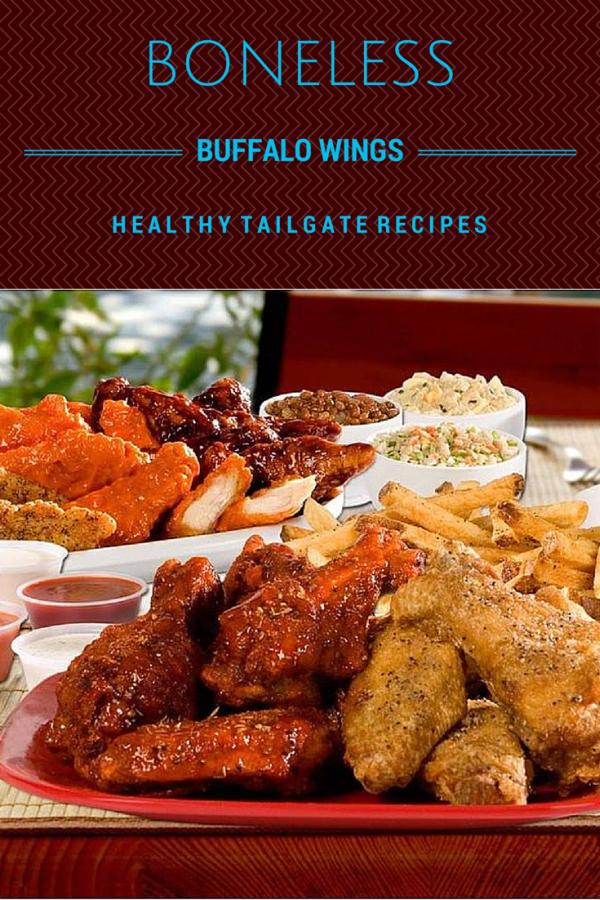 Who doesn't love to sit down and watch the football game with a bag of chips and a bowl of candy? That being said, there are plenty of healthy tailgating recipes for your football snacks. You can definitely enjoy the game without feeling the tiniest built of guilt afterwards.
Here is one of our favorite healthy tailgating recipes for boneless Buffalo wings. Make this at home to help you enjoy watching the New Orleans Saints battle it out on the field of victory!
Enjoying Healthy Eating
If you live at 1st Lake Properties, you should know that we're big supporters of New Orleans football. Often, there's nothing better than getting together at each other's apartments to watch the game, and Buffalo wings are perfect menu items.
However, there is a way to turn this traditional snack into something that is low on sodium and fat. Add ingredients like whole-wheat flour, skip out on extra salt, and use minimal amounts of oil to avoid extra saturated fat.
Healthy Boneless Buffalo Wings Recipe
This recipe makes about 10 servings. And it should provide about 2 large strips for 5 people along with ½ a cup of vegetables and enough dip. Feel free to adjust the ingredients if you want to make more or less wings.
Total Preparation Time: 45 minutes
Chicken Wing Ingredients
4 to 8 tbsp. of hot sauce, preferably Frank's Red Hot sauce, depending how hot you like it
4 tbsp. of white vinegar
3 pounds of chicken tenders
8 tbsp. of whole-wheat flour
8 tbsp. of cornmeal mix
1/2 tbsp. of cayenne powder or chili powder
3 tbsp. of canola oil
Veggies
Basically you'll want 3 cups of celery and carrot sticks, a must-have for Buffalo wings.
Blue Cheese Dip
1 cup of crumbled blue cheese
1 cup of reduced-fat sour cream
1 tbsp. of white vinegar
1/2 or 1/4 teaspoon of cayenne pepper or chili powder to add a bit of spice to your dip if you want
Making the Dip
Throw in sour cream, blue cheese, 1 tbsp. vinegar and ¼ cayenne pepper or chili powder, and whisk ingredients together for a few minutes. Then cover the dip for storage in the refrigerator. That way, it will be nice and cold by the time the game is ready.
Making the Wings
1. Next, take buttermilk, 3 tbsp. vinegar, 3 tbsp. hot sauce and mix them together in a large bowl; then throw in the chicken until all of the wings are thoroughly coated. Marinate the chicken in the refrigerator for 30 minutes to an hour, but if you just have a bit of time before the game starts, it's also ok to place them inside for just 10 minutes. Be sure to occasionally mix your marinade so that all the wings are equally coated.
2. In the meantime, whisk cornmeal and flour, 1 tbsp. vinegar and hot sauce in a bowl and then set it aside. Take the chicken out of the marinade, and mix it in with this cornmeal-flour, giving each one a good coating.
3. Now it's time to heat half the chicken in a large nonstick skillet at medium-heat heat. It should take 3 to 4 minutes on both sides to get a nice golden brown look to your chicken. Repeat this with the rest of the chicken. Take the chicken off and pour any remaining hot sauce mixture over each piece. Place the wings out with the vegetables and blue cheese dip nearby, and watch as your guests happily chomp away. You can also place a small bowl of hot sauce nearby for guests who really like their spice.
In the end, you'll get delicious buffalo wings that aren't slathered in butter and high amounts of salt. After all, many other buffalo wing recipes call for an extra heaping of sodium to your dish.
A Great New Orleans Community
It's good living at one of our New Orleans apartment communities, with plenty of people loving the rentals and lease opportunities available. You can relax, watch an exciting football game in a spacious apartment, and enjoy a great connection to New Orleans. Join one of our properties, make some friends, and enjoy watching football in New Orleans, and you won't regret it!
---