Looking for a dog park in New Orleans for your best furry friend? You're in luck! Greater New Orleans is home to several awesome dog parks for you and your pet to enjoy, including our own Bella Ridge property which features an on-site place for dogs to roam safely.
We know how important it is to keep your pet happy and healthy at 1st Lake, so we've compiled all the best New Orleans dog parks to help you find the perfect spot to play for you and your pup. Check out some of the best dog parks in NOLA!
NOLA City Bark
Located in City Park, this dog park spans nearly 5 acres and is a pup's dream. Lush green spaces, dog activities, and a communal water fountain (in the form of a bright, red fire hydrant) make City Bark a fun destination for dogs and owners alike. The property is located in City Park behind Popp Fountain, bounded by Zachary Taylor Drive, Diagonal Drive, and Magnolia Drive.
The Dog Levee
Uptown dogs love the Dog Levee, near the corner of Leake Avenue and Magazine Street. The levee features a paved walking path that leads to a swimming hole (be sure to bring a towel for cleanup!). Be wary if your dog is a flight risk – this park is an open space free of fencing.
Wisner Dog Park
Another dog park in Uptown New Orleans, Wisner Dog Park is located at 4876 Laurel St. Water fountains for dogs and people are available, but be aware there aren't any public restrooms for the humans!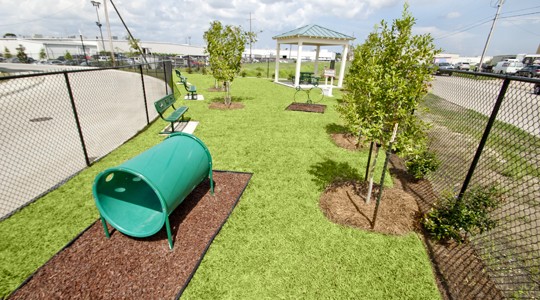 Bella Bark
Bella Bark is the on-site dog park at our Bella Ridge property in Elmwood. Fido might not appreciate the beautiful landscaping, but owners sure do! The convenience of having an on-site, safe space for your pup to play right outside your door is an added bonus of the many luxuries you'll experience at Bella Ridge.
---