Learning how to fly a kite is one of the quintessential summer break activities. And now that school's out for summer, the kids are home a lot more and looking to maximize on fun in the sun while they can!
There's no better way for them to have fun, exercise and work out their energy while spending some quality family time than kite flying at the local park. But before embarking on this day-time adventure, you might be wondering about some logistics.
Here's everything you need to know about flying a kite!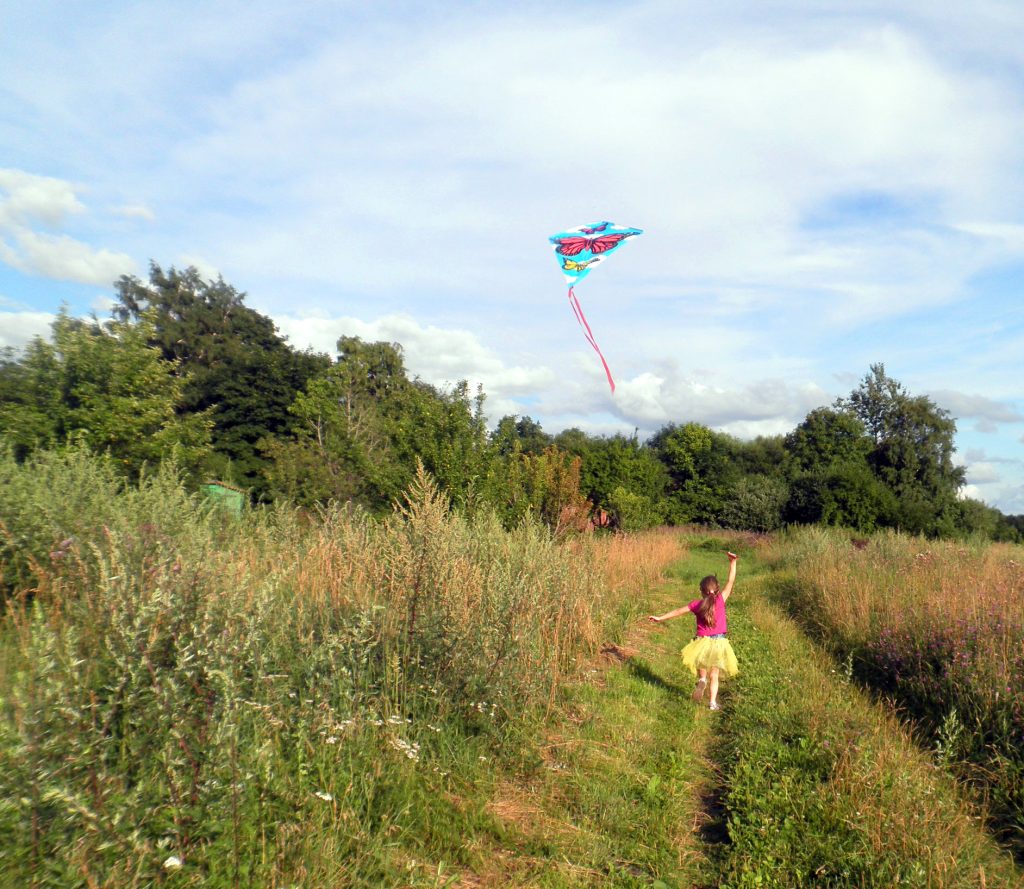 How To Make A Kite
Sure, you could go buy a fancy kite with a bunch of bells and whistles at the store where it will probably be overpriced. But then you'd miss out on half the fun of flying a kite!
The truth is, kites are easy and very affordable to make. Plus, kids will experience the joy of seeing something they created come to life – like little Ben Franklins!
There are many different kite designs to choose from. Wind intensity will definitely factor in to how structured the kite should be, but here are the directions for making the most basic kind of kite. It gives you all the details, from cutting out the shape to making the spars and the bridle line. For more advanced designs or for flying in stronger wind conditions, refer to this comprehensive kite-making chart.
To make a standard dowel kite, you'll need the following tools and materials: electrical tape, clear Scotch tape, colored plastic bags, dark garbage bags, 12 inch bamboo skewers, flying line (nylon, plastic or cotton), wood glue, ruler, marking pen, scissors and a smooth, flat work space. Once you've collected all of this equipment, you'll have enough to make kites for the whole summer!
For visual learners, refer to this instructional and helpful video on how to make a kite with your kids!
How To Fly A Kite
So you've made the kite. But how do you actually fly one?
First, make sure that the wind conditions are prime: moderate winds are best. If it's not windy enough, the kite won't fly. And if it's too windy, the kite will loop around and take a nose dive to the ground.
If you're flying in perfect wind conditions and the kite still won't fly, you need to adjust the towing point – the spot where a knot is tied to secure the flying line to the kite's bridal. The towing point has a sliding knot that is easily adjustable.
If the kite is taking off but not soaring, slide the knot up higher to the top of the kite. If the wind is gusty, it's best to have a helper carry the kite out a distance while you let out the flying line. When the next gust of wind comes, let it go. Just make sure the kite is held right side up!
Where To Fly A Kite
You'll need open space without too many trees obstructing its path. So, a park is the best place to test out your kite.
Luckily, there is a park near all 1st Lake Properties apartments! And probably more neighborhood parks that could be discovered with a little exploring. The Metairie and River Ridge apartments are close to the beautiful Lafreniere Park and in close proximity to Audubon Park and City Park in New Orleans. The North Shore apartments, including Mandeville, Covington and Slidell, are close to many great parks like Fountainbleau State Park, Pelican Park and Heritage Park.
Get busy making some precious memories this summer whether it's with friends, the kids or the whole family and go fly a kite!
---