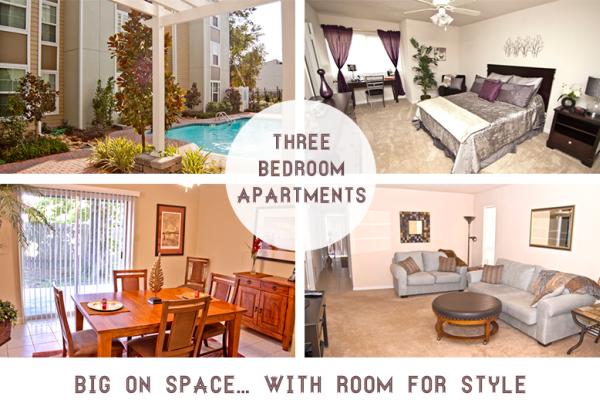 While 1st Lake Properties features an abundance of beautiful living spaces, today we're spotlighting our 3 bedroom apartments in Metairie. Beyond conveniences like dedicated parking and outside storage, these apartments truly feel like home thanks to their spacious setup and added amenities like private master balconies, driveways, and serene, landscaped green space. With additional square footage comes additional opportunities to put your personal touch on a three bedroom apartment. Check out a few tips below to integrate style with space below!
Opt for decor with sentimental value. Nothing makes a space feel more like home than decorating with meaningful pieces. A vase from a friend; a painting your child made; a framed photo of an unforgettable vacation – make sentimental items the focal point of your apartment, and a happy, homey feel follows naturally.
Remember your furry friends. All of our three bedroom apartments are pet friendly. You'll enjoy extra square footage and private outdoor space, so why not make a special retreat for your pet? Incorporate a bright food dish into your decor or create a dedicated sleeping spot for your pet, perhaps under a dreamy skylight. Our pets have a knack for making us feel at home no matter where we are, so it only makes sense to return the favor.
Think beyond visual cues. We tend to decorate with our eyes, and while pops of color are a great addition to the cozy, neutral palettes at 1st Lake Properties, there are other ways to enhance your space. Candles or diffusers can impart a luscious scent that invites guests to linger, and a soft blanket is the perfect companion for a night of Netflix. Experiences make a space feel extra alluring, so remember to incorporate decor that engages all of the senses.
Consider the greater community. An apartment isn't just an apartment – it's your home base for doing amazing things like dressing up for Mardi Gras or hosting a Saints tailgate. The greater New Orleans area is ripe for joyful experiences: once your apartment becomes the place where you did, saw, or heard something unforgettable? That's when it becomes home.
Looking for a 3-bedroom apartment? 1st Lake Properties has just what you need! Find your personal style at Camelot Court, Rosedale, Parktowne, or Willowood apartments.
---