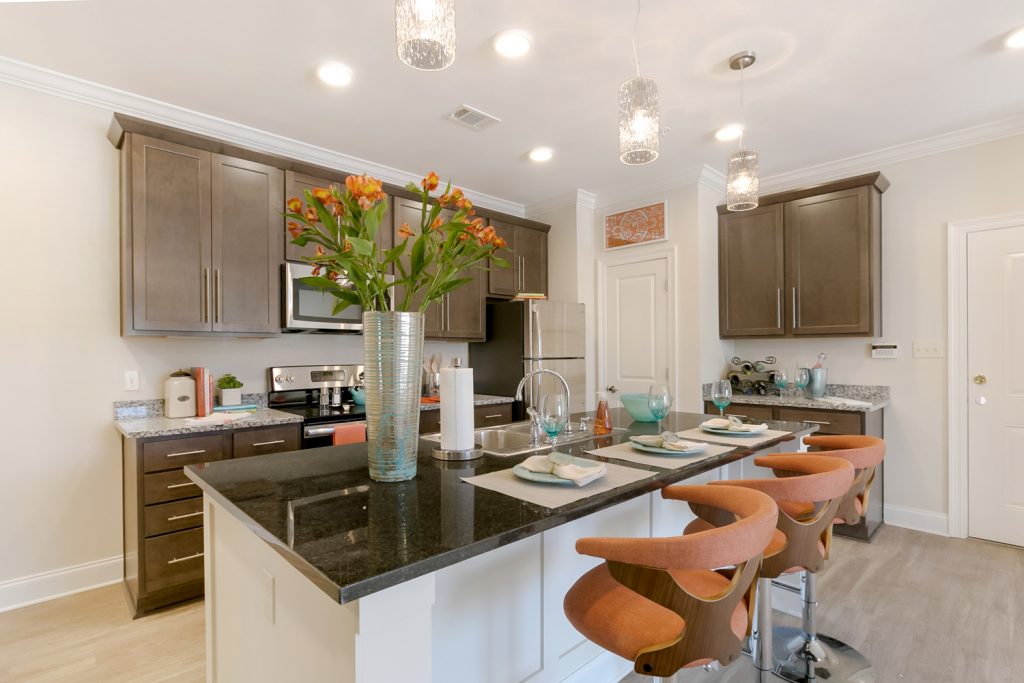 We're excited to bring you the good life at our newest apartment community, Artesia Apartments! Located in the heart of scenic Covington, this 264-unit property features all of the luxurious, modern amenities you'd expect from a new community. Case in point? Artesia's resident services center. Clocking in at 5,654 square feet, this enormous area just for residents features touch screen virtual property tours, a furnished snack bar, and a professional fitness center overlooking Artesia's resort-style swimming pool (complete with tanning ledges!).
Speaking of the pool, unwind in style under double arbors and semi-private cabanas. Bring your furry friends along to Artesia's private pet park, or grill out at the outdoor kitchen facility. With nature as our focal point, Artesia is brimming with peaceful water features and beautiful landscaping—not to mention our zen sculpture garden!
Of course, when you're deciding which apartment community to call home, a property's most important features are within individual units.
At Artesia, you'll find thoughtful details like stainless steel appliances, freestanding showers, garden tubs, shaker panel kitchen cabinets, faux wood flooring, granite countertops, and crown molding. Many apartments also boast smart features like USB charging ports. In addition to design, Artesia is also focused on convenience: freestanding, remote-access garages are available, as are on-site package delivery modules. All units include washers and dryers with some having a dedicated laundry room.
If you're interested in calling Artesia your new home, contact us today! Two-bedroom apartments will be move-in ready on May 1, and we're currently offering select special like one month free rent, reduced deposits, and waived administrative fees on select units.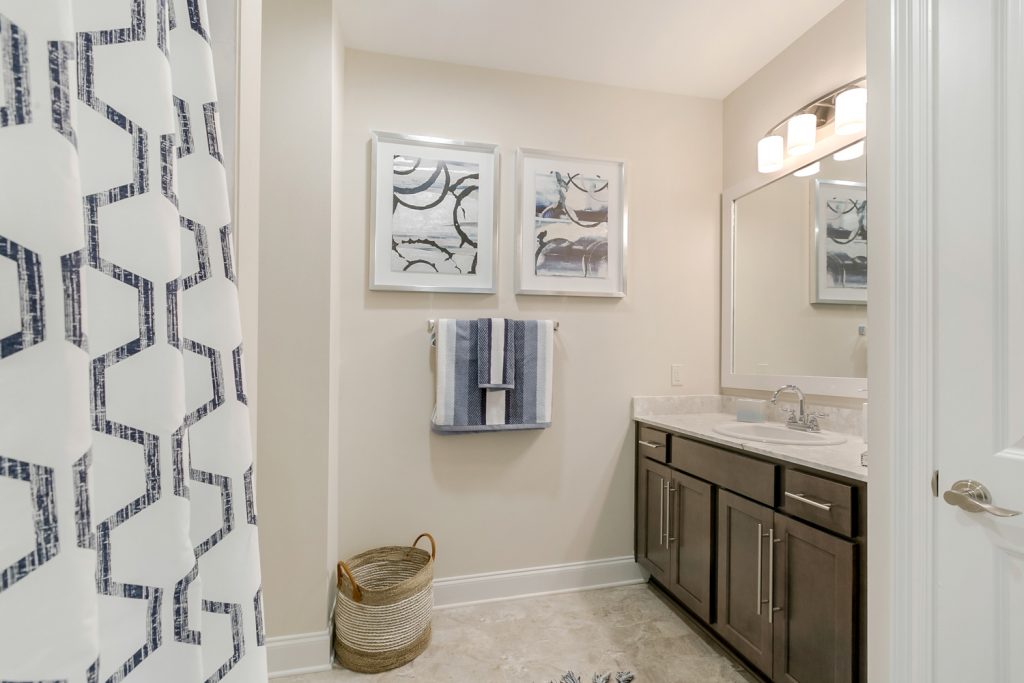 ---
Chances are that after Mardi Gras, most people's apartments could use a good scrubbing. There's no better feeling than a clean space, but it's easy to forget to clean certain areas. We've collected a list of spring cleaning tips focused on commonly forgotten areas – give these places a good scrubbing, and you'll notice a difference in your home's overall appearance and feel while also reducing germs, dirt, and grime.
Unexpected Spots to Clean
Crevices between Appliances
Have you noticed crumbs or food stuck in the tiny gap between your oven range and countertop? Use a crevice attachment on your vacuum or a long, thin duster to capture grime between nooks and crannies.
Tops of Appliances
Just because you can't see it doesn't mean it's not there. Dirt and dust can accumulate on top of appliances like microwaves, refrigerators, and stove vents – clean these areas to remove months of buildup in one simple swipe!
Ceiling Fan
Similarly to the tops of appliances, ceiling fans can collect dust and grime on the tops of their blades. Use the pillowcase trick so that dust doesn't fall onto the floor!
Electronics
Did you know your television remote control could be one of the germ-covered items in your home? Use a disinfectant wipe or spray to clean between the buttons and on the front and back of the remote. Remember to clean other oft-handled small appliances, too, like keyboards and tablets.
Salt and Pepper Shakers
Have you ever cleaned your salt and pepper shakers individually? Probably not – but you should! Like the remote or shared tablet, salt and pepper shakers are used by everyone in the household every day.
Soap Dispenser
Similar to salt and pepper shakers, your soap dispenser is an oft-used item that can accumulate germs and grime. Wipe it down each time you clean your kitchen or bathroom countertops.
House Plants
Use a duster on house plants like orchids or ferns. The plants will immediately look brighter and refreshed, plus you'll be removing surface dirt and grime!
Inside the Fridge
Don't wait until move-out day to give the fridge a frantic scrub-down. Take your time wiping the insides of all drawers and shelves, and you're guaranteed to smile every time you open the fridge. You can also refer to these five all-natural methods for cleaning the fridge.
Baseboards
Even if you vacuum and wash the floors, you'll see a big difference visually if you take the time to wipe down your baseboards with a damp cloth. Dust and small hairs can accumulate easily on baseboards, sullying the overall look of your floors.
Keep It Clean With More Easy Tips
Be sure to read up on more easy cleaning hacks here on our blog, or visit our Pinterest board dedicated to apartment organization and cleaning tips for ideas you can use throughout your apartment!
---
Valentine's Day is a sweet way for couples to acknowledge one another. But what if you're single? Don't fret. We've collected five fun ideas for treating yourself this Valentine's Day — no plus-one required.
Valentine's Day Ideas if You're Single
Order a Decadent Meal…
With apps like Postmates and Uber Eats now available in New Orleans, you can have gourmet cuisine delivered straight to your door. Just think of how much more comfortable you'll be on the couch in pajamas than waiting at a busy restaurant.
…or Fall in Love with a New Recipe
Channel your inner celebrity chef and whip up a new recipe for dinner. We like browsing The Kitchn — they even have a special post with "12 Recipes for a Solo Valentine's Day Celebration."
Grab Your Gals (or Guys) and Head to the Movies
Round up some fun-loving friends, and go see a movie. Opt for a comedy or thriller, and definitely plan to spring for popcorn and candy.
Take a Day Trip
Sometimes, getting out of town means getting a fresh, new perspective. If your schedule permits, plan for a day trip just outside of the city. We've got a few ideas here.
Remember, It's About Love
The holiday is all about love, so think about how that might translate into non-romantic meanings. Give your mom or friend a call and let them know you love them. Offer some extra snuggles to your pet. Or pamper yourself with a pedicure or beauty treatment for a little self love.
---
Decking the halls might be reserved for the holidays, but you can deck the walls any time of year. Even better? You can do it on a dime. Keep scrolling for the best places — some predictable, some unexpected — to find affordable home decor online.
12 Websites for Affordable Home Decor
One Kings Lane — You'll have to sign up for this site, but it's endless fun to browse. Sure, some of the decor and furniture are investment pieces, but keep an eye out for frequent sales and specials that help keep your budget in check.
Society6 — Find a print or pattern you love on this site, and put it on just about anything: prints, pillows, shower curtains, rugs, and more. Many designs come from independent artists and have a quirky, colorful vibe.
ModCloth — You might know about this vintage-inspired shop for its cute clothes. But ModCloth also has a great home and decor section featuring blankets, pillows, prints, rugs, string lights, chandeliers… the list goes on…
Wayfair — The commercial jingle is true: Wayfair really does have just what you need, whether it's furniture or a poster frame. The website giant also several awesome retail partners you'll want to check out, like Joss & Main, AllModern, Dwell Studio, and Birch Lane.
JC Penney — This established department store has a surprisingly fresh, modern home section online (you definitely won't find this stuff in the store).
Etsy — Head straight to the "Home & Living" section on this mega-site, where you can find unique, handmade products tailor-made to your tastes.
Fab — Best suited for those with a modern design aesthetic, Fab offers bright, playful products that just make your home feel cheerier. Keep an eye out for sales!
CB2 — This Crate and Barrel spinoff has a fresher feel than its predecessor, favoring clean lines with the same quality you'd expect from its parent company (but at a lower price).
H&M Home — Just like ModCloth, this clothes-minded store also has a great home section. The overall vibe is serene and European. We particularly like the linens and decorative pillows.
Poppin' — This website is technically for office spaces, but the clean, cool lines also look great at home. And if you have a home office, this is the place to stock up on furniture, fun accessories, and more.
Hautelook — Part of the Nordstrom family, this website requires you to sign up, but it's totally worth it for the amazing sales that happen every day on chic home products.
World Market — Yes, there are two locations in Greater New Orleans, but the online site has options that you won't find in store! Plus, they often have deals on products and shipping.
---
Genius doesn't have to be 99% perspiration, as the old adage famously says. Go for 99% inspiration instead with these seven awesome Instagram accounts focused on fun, attainable interior design. Your thumb will do a lot of scrolling, but that'll hardly make you work up a sweat.
7 Interior Design Accounts to Follow
@dabito
This account is a favorite of ours because it's based right here in New Orleans! Los Angeles transplant Dab shows off his eye for fun colors and funky accents with a subtle mid-century aesthetic. He's big on gallery walls and indoor plants, two easy ways to incorporate interior design into your space.
https://www.instagram.com/p/BPLpRFQAF_2/?taken-by=dabito
@grantkgibson
Designer Grant Gibon proves that minimalism and eclecticism aren't mutually exclusive. Use his Instagram account as a visual guide for how you can incorporate knick-knacks into your decor tastefully. Notice the Hunt Slonem painting in the photo below — he went to school at Tulane University!
@simplygrove
With a subtle Scandinavian vibe, Kirsten Grove focuses on the essentials: clean lines, fresh colors, and plenty of natural light. Keep an eye out for quirky accents like hints of metallic or playful figurines that enhance her design style.
@joannagaines
Chances are, you love her show "Fixer Upper." But HGTV star Joanna Gaines' pictures are just as fun to browse. Gaines blends rustic elements with feminine details for a country-chic look.
https://www.instagram.com/p/BFU2Q82Aeyq/?taken-by=joannagaines
@thefauxmartha
Follow this account for the fun name and the awesome recipes, sprinkled in with design photos that capture designer Melissa Coleman's clean style.
@yellownote
Pet lovers will enjoy this account from a designer based in upstate New York. Her two pups are a big part of her cozy design style — and they're definitely allowed on the furniture.
@thegrovestreetpress
Another NOLA-based account to finish off the list! This fun stationery store in downtown New Orleans has a great Instagram account full of polished pictures sure to inspire. Like @theyellownote, the ladies behind @thegrovestreetpress love their pets, too.
---