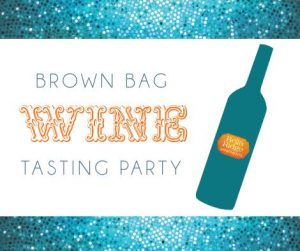 At the Bella Ridge Brown Bag Wine Tasting Party, our residents and their guests tasted 8 different wines ranging from $6 – $38. Sip after sip, votes for the crowd favorites poured in.
Contending for the crown in the Merlot category, we had Chateau Ste. Michelle, Crow Canyon, Swanson Vineyards and Ramspeck. Among the Sauvignon Blanc contenders were Oak Grove Vineyards, Mohua, J. Lohr and Cake Bread Cellars.
The winners? You might be surprised.
Merlot
Crow Canyon ($6)
Chateau Ste. Michelle ($16)
Ramspeck ($19)
Swanson Vineyards ($38)
Sauvignon Blanc
J. Lohr ($17)
Oak Grove Vineyards ($8)
Cake Bread Cellars ($30)
Mohua ($12)
Turns out your wallet doesn't have to take a hit for you to snag wine that's the hit of the party! Win your friends over this weekend with a wine that's surprisingly inexpensive and incredibly delicious!
To sip on something from this list, visit Martin Wine Cellar or any local grocer!
---
Obviously, we think it's great to live at 1st Lake Properties – and we hope you do, too! We pride ourselves on providing modern, comfortable apartment living for each and every one of our residents, but did you know we also offer other perks? As 1st Lake Residents, you have access to several unique benefits. Take a look at these reasons why it's easy and fun to be a 1st Lake Properties resident.
Seamless Transfer Between Properties
Did you know 1st Lake Properties features thousands of apartment homes within more than 70 distinct apartment communities? Perhaps you're currently living in Metairie but are interested in making the leap to River Ridge, or maybe you're interested in an apartment home in Covington. No matter where you're looking to move in the Greater New Orleans area, 1st Lake Properties can deliver. What's more, if you're already a 1st Lake resident, we make it easy to transfer your lease for a hassle-free moving experience.
Maintenance Requests Made Easy
We pride ourselves on fast and easy repair service – and now you don't even need to call! Residents have access to an online portal where they can log in and submit a maintenance request. Included maintenance is one of the very best things about renting (see more great reasons to rent right here), and our online portal makes it that much better.
Exclusive Resident Rewards and Discounts
In addition to maintenance requests, easy rent payments, and facility reservations, our online resident portal is also home to Resident Rewards. This free program is exclusively for 1st Lake residents, providing tailored deals and discounts whether you live in Metairie/Kenner/River Ridge or on the Northshore. Some of the current deals include discounts on restaurant meals, car washes, grocery delivery, veterinary care, moving services, dog grooming, and so much more. Head to the portal for full details!
Fun Events
Get to know your fellow 1st Lake residents at special events like movie screenings, food truck roundups, farmers markets, and more all hosted at select 1st Lake Properties. To stay tuned on upcoming events, keep an eye out on our blog and social media channels. Speaking of…
Blog and Social Media Access
Chances are, if you're reading this, you already know about our blog and social media channels! We publish new stories each week on the blog, covering everything from recipes to décor tips to events and more. Be sure to follow us on Facebook, Instagram, Pinterest, and Twitter to stay up-to-date on all things 1st Lake.
---
"Roads? Where we're going, we don't need roads…" Sure, this is a famous line from the beloved classic, Back to the Future, but it's also true of our latest Movies in the Sky presentation. You won't need roads (except for the ones you take to get to the Bella Ridge third floor parking garage), but you will want to bring a blanket and chair to get extra comfy. Get all the details below!
Movies in the Sky: "Back to the Future" Outdoor Screening at Bella Ridge
This free outdoor movie event has not one but two purposes: first and foremost, have fun. Second, raise money for the Jefferson Performing Arts Society, a group that supports artistic endeavors in River Ridge and throughout Jefferson Parish. Head to the third-floor parking garage at Bella Ridge Apartments with your pals plus a blanket and chair, if desired. No need to bring popcorn, though: you can purchase it along with other concessions like Domino's Pizza, Cold Stone Creamery Ice Cream, candy, and soft drinks. All of these items will be available for cash purchase during the event with proceeds benefitting JPAS. Remember, the movie is still free, but this is a great opportunity to support a local nonprofit (and enjoy tasty food at the same time).
For more information about the event, call 1-THINK-BELLA (1-844-652-3552). Great Scott, we hope to see you there!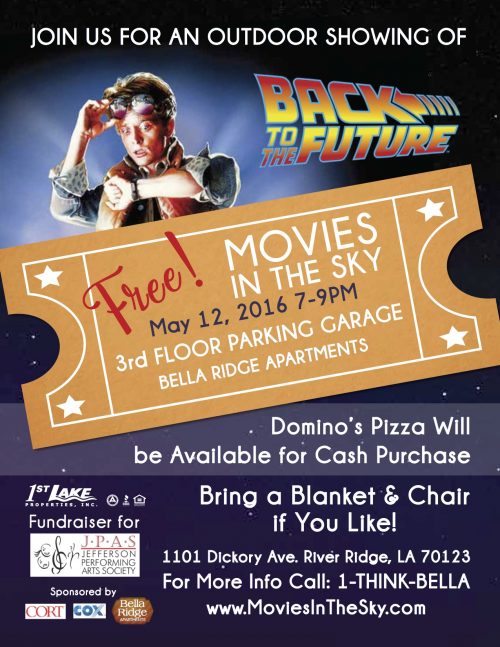 ---
We have some exciting news to share! J Turner Research conducted an assessment of the 5 best properties for positive online reputation in each state in the nation — and guess who received 4 out of 5 of the top apartments in Louisiana?
That's right, 1st Lake Properties received the humbling distinction of having 4 of the top 5 properties in Louisiana known for their strong reputation. Featured on the Multifamily Executive website, this list goes into great detail about the factors needed to be among the top management companies. Using ORA (Online Reputation Assessment) Power Rankings, researchers assigned a score from 1-100 for all properties in the nation, cross-checking against multiple review sites to create an industry benchmark for a property's overall good standings.
As a whole, property management companies and individual apartment communities in Louisiana received an average score of 58. However, our 1st Lake Properties featured in this list went well above and beyond the statewide benchmark. Here's how our top properties stacked up:
1st Lake Properties Top Louisiana List of Best Apartment Reputations
---
As a long-time New Orleans company, we're always excited to share good news about the Greater New Orleans area. We already knew NOLA was a star, and now we have STARs (Statistics, Testimonials, Awards and Rankings) to prove it. Greater New Orleans Inc., an economic development organization, released its 2015 STARs data on New Orleans, and we're so proud to live in a city that has accomplished so much.
The distinctions and statistics collected by GNO Inc. come from a variety of sources. Whether from print and online publications (including everything from Forbes to Thrillist) or from government agencies like the U.S. Chamber of Commerce, New Orleans has received praise across the board in areas like talent and workforce, entrepreneurship, quality of life, economic development, and more.
Here are just a few of the many stellar accolades bestowed upon New Orleans:
Greater New Orleans Inc. STARs
Named the No. 1 Most Cost-Friendly Place for Businesses in the United States (KPMG)
Ranked No. 1 in the USA for export growth (U.S. Chamber of Commerce)
Ranked No. 2 boomtown in America due to population and GDP growth (Bloomberg)
Named the No. 3 big city winning the IT jobs battle, after Silicon Valley and San Francisco (Forbes)
Ranked  No. 1 most improved metro in the USA (Wall Street Journal)
Ranked No. 1 brainpower city in the USA (Forbes)
Ranked No. 1 in the USA for in-migration of workers in their prime, ages 35-49 (Forbes)
Ranked No. 2 in the USA for women in technology (U.S. Census)
Leads the USA by 56% in the number of startups per capita (GNO Community Data Center)
Ranked No. 1 "food city" in America (Thrillist)
Named "America's Favorite City" (Travel + Leisure)
Named a top 10 city in the world (Travel + Leisure)
Among the top 5 cities in the U.S. for an increasing share of millennial jobs (CareerBuilder)
Visit GNO Inc.'s full list of STARs. Congrats, New Orleans!
---