"Roads? Where we're going, we don't need roads…" Sure, this is a famous line from the beloved classic, Back to the Future, but it's also true of our latest Movies in the Sky presentation. You won't need roads (except for the ones you take to get to the Bella Ridge third floor parking garage), but you will want to bring a blanket and chair to get extra comfy. Get all the details below!
Movies in the Sky: "Back to the Future" Outdoor Screening at Bella Ridge
This free outdoor movie event has not one but two purposes: first and foremost, have fun. Second, raise money for the Jefferson Performing Arts Society, a group that supports artistic endeavors in River Ridge and throughout Jefferson Parish. Head to the third-floor parking garage at Bella Ridge Apartments with your pals plus a blanket and chair, if desired. No need to bring popcorn, though: you can purchase it along with other concessions like Domino's Pizza, Cold Stone Creamery Ice Cream, candy, and soft drinks. All of these items will be available for cash purchase during the event with proceeds benefitting JPAS. Remember, the movie is still free, but this is a great opportunity to support a local nonprofit (and enjoy tasty food at the same time).
For more information about the event, call 1-THINK-BELLA (1-844-652-3552). Great Scott, we hope to see you there!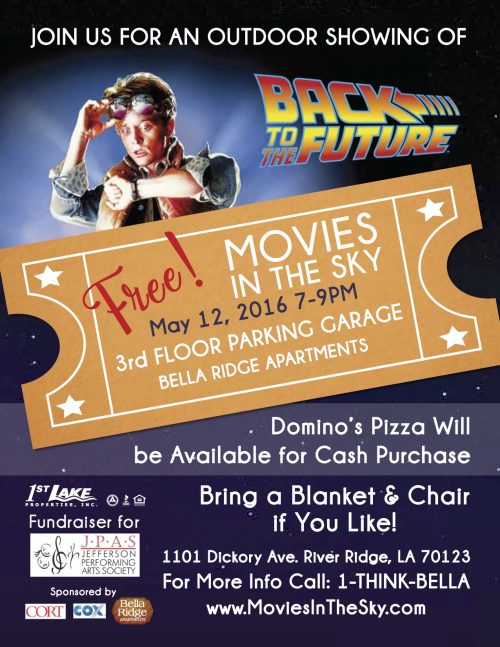 ---
We have some exciting news to share! J Turner Research conducted an assessment of the 5 best properties for positive online reputation in each state in the nation — and guess who received 4 out of 5 of the top apartments in Louisiana?
That's right, 1st Lake Properties received the humbling distinction of having 4 of the top 5 properties in Louisiana known for their strong reputation. Featured on the Multifamily Executive website, this list goes into great detail about the factors needed to be among the top management companies. Using ORA (Online Reputation Assessment) Power Rankings, researchers assigned a score from 1-100 for all properties in the nation, cross-checking against multiple review sites to create an industry benchmark for a property's overall good standings.
As a whole, property management companies and individual apartment communities in Louisiana received an average score of 58. However, our 1st Lake Properties featured in this list went well above and beyond the statewide benchmark. Here's how our top properties stacked up:
1st Lake Properties Top Louisiana List of Best Apartment Reputations
---
As a long-time New Orleans company, we're always excited to share good news about the Greater New Orleans area. We already knew NOLA was a star, and now we have STARs (Statistics, Testimonials, Awards and Rankings) to prove it. Greater New Orleans Inc., an economic development organization, released its 2015 STARs data on New Orleans, and we're so proud to live in a city that has accomplished so much.
The distinctions and statistics collected by GNO Inc. come from a variety of sources. Whether from print and online publications (including everything from Forbes to Thrillist) or from government agencies like the U.S. Chamber of Commerce, New Orleans has received praise across the board in areas like talent and workforce, entrepreneurship, quality of life, economic development, and more.
Here are just a few of the many stellar accolades bestowed upon New Orleans:
Greater New Orleans Inc. STARs
Named the No. 1 Most Cost-Friendly Place for Businesses in the United States (KPMG)
Ranked No. 1 in the USA for export growth (U.S. Chamber of Commerce)
Ranked No. 2 boomtown in America due to population and GDP growth (Bloomberg)
Named the No. 3 big city winning the IT jobs battle, after Silicon Valley and San Francisco (Forbes)
Ranked  No. 1 most improved metro in the USA (Wall Street Journal)
Ranked No. 1 brainpower city in the USA (Forbes)
Ranked No. 1 in the USA for in-migration of workers in their prime, ages 35-49 (Forbes)
Ranked No. 2 in the USA for women in technology (U.S. Census)
Leads the USA by 56% in the number of startups per capita (GNO Community Data Center)
Ranked No. 1 "food city" in America (Thrillist)
Named "America's Favorite City" (Travel + Leisure)
Named a top 10 city in the world (Travel + Leisure)
Among the top 5 cities in the U.S. for an increasing share of millennial jobs (CareerBuilder)
Visit GNO Inc.'s full list of STARs. Congrats, New Orleans!
---