It's not hard to find countless tips and best practices for apartment hunting online, but what if you're looking for the perfect apartment space for you and your significant other?
While apartment hunting individually or as a couple can be similar in many ways, there are certain factors to consider that are unique to approaching the process as a pair – just like deciding how to spend the holidays or making big purchases. If you're launching into an apartment hunt with that special someone, check out these 3 things that'll make the process faster, easier and more enjoyable for both of you.
1.  Know Your Apartment Negotiables & Non-Negotiables in Advance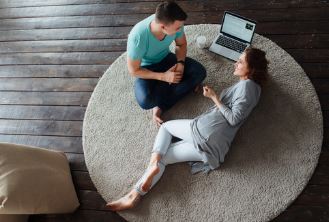 This is a largely ignored step that can save couples a ton of hassle and disagreements. Before launching into your couple apartment search, make sure to write separate lists of each of your apartment negotiables and non-negotiables. Then, combine all your non-negotiables into one list and make this your starting point. If the list seems too long, try to cut it down by eliminating items that both of you don't feel strongly about. Completing this exercise before going into the process will be instrumental in avoiding nasty surprises later on.
For example, are there certain locations that won't work for one of you? Is a community pool a necessity or are both of you willing to forgo that amenity? Questions like these can help both partners get on the same page and narrow down the apartment search criteria – separating the necessities from the "icing on the cake" items will help speed up the apartment search process tremendously.   
2. Split the Apartment Search to Double the Efficiency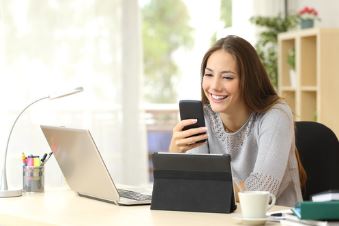 Okay, we get it, you do everything together. However, when it comes to apartment hunting as a couple, this may not be the most efficient strategy. We suggest maximizing the fact that there are two of you – you can cover twice as many locations, online resources and showings if you split the search process between the two of you. While there will be times when you need to research a listings site or attend an apartment appointment as a pair, tackling some of the legwork separately can make your apartment search twice as effective.
To avoid any miscommunication or confusion, make sure to keep each other in the loop through cc'd emails, pictures and regular touch bases. As far as visiting apartments solo, that's what FaceTime is for.
3. Establish a Soft Timeline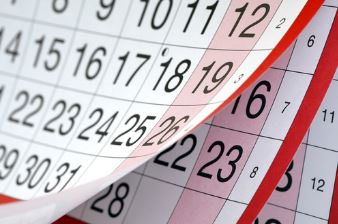 When you first decide to rent, you've most likely discussed a feasible timeline for research, appointments, application process, etc. However, it's best not to place a hard deadline on when to make a decision. Unless there are factors such as a new job or the birth of a child to consider, it's best to leave plenty of room for research, discussion and changes of heart. Renting an apartment as a couple should never be approached in a rushed fashion, and if one person isn't 100% on board with a particular place, it's best to wait rather than try to convince them otherwise.
Apartment hunting with a significant other can be an exciting time but can turn ugly if both parties aren't open to reaching common ground. It's important to consider your partner's point of view while being clear about your own needs and non-negotiables. As long as you know what to stand firm on and what to let go, you'll be moving into both of your dream apartment in no time!
Finding the ideal apartment is a big part of the puzzle when moving as a couple but there are many other moving-related tasks to consider as well. If you're moving in the near future, check out CableMover's Custom Moving Guide for personalized tips, tools & timelines for your move – your way. 
Guest blog by CableMover
---
The holidays are a time for friends and family to come together and enjoy one another's company — but what if your living room isn't up to the task? We've collected some fantastic ideas for creating a functional living room that's big on style. Incorporate some (or all!) of these tips into your space, and folks will flock to this cozy spot in no time.
How to Create a Functional Living Room
Consider the color scheme
Lighter colors are typically best for a living room because they can make a space feel larger and more airy. If your living room is part of an open floor plan, opt for a color that complements your kitchen decor to create a cohesive look.
Anchor your space with an area rug
Even if you have carpet, an area rug helps designate the confines of the living room and adds an extra layer of comfort and style. Area rugs can introduce texture and color into a space, and can also serve as a basis for choosing other decor like curtains, pillows, and artwork.
Choose your seating wisely
When possible, opt for wipe-clean seating like a leather couch, or slipcovers that can be easily removed and washed. If the aim is to create a room everyone can enjoy (maybe even furry friends!) you'll want to rely on pieces that are as functional as they are comfortable. When in doubt, choose dark colors for your furniture to help hide stains, and keep the rest of your decor light and airy.
Add storage
Choose double-duty pieces like storage ottomans or trunks that can double as coffee tables. Then, fill them with living room essentials like board games, spare batteries for the remote, and extra blankets. Oversized wicker baskets filled with accent pillows are another way to incorporate texture while also adding storage.
Take the TV into consideration
Most living rooms are a primetime spot to watch TV, so use this simple trick to know how far away to place the TV from the sofa: multiply the size of your TV by 1.5. For example, if you have a 40″ television, the sofa should be at least 60″ (5 feet) away. Remember to place the TV at the right level so that your eye naturally gazes toward the middle of the screen when you're sitting on the sofa.
---
Some of the very best memories are made around the dinner table, whether at a dinner party or maybe even just while chowing down on leftovers. Dining tables represent a place to sit down together and share a meal while also sharing time with one another: sit-down meals nourish both the body and the heart! With this simple truth in mind, we're sharing a few of our favorite tips for creating a special dining environment on what is perhaps the ultimate in shared meals: Thanksgiving. The food is usually the centerpiece of this annual meal, but beautiful table settings can amplify the hard work you've put into that roasted turkey or sweet potato pie. Whether your decor taste leans rustic or elegant, keep reading for some seriously stylish ideas.
Tablescape Tips for Thanksgiving
If You're a Rustic-Chic Chef
Stick to a perennially fresh color scheme of blue, white, and wood. Prints like ikats in blue and white create a warm and welcome basis for the rest of your tablescape, which could include items like natural white gourds, burlap or linen napkins, and simple white plates. We love the addition of natural spices here, too, like cinnamon sticks. Try tying up your napkins with twine and sliding a cinnamon stick through each for a cohesive look.
If You're a Posh Partier
Add a bit of mystery by using deep, jewel-tone colors and rich textures. A velvet table cloth in an eye-catching shade like plum or emerald green is a great place to start. From there, try adding lux greenery like cabbage roses and ferns. Gold flatware and candlesticks are a must to tie everything together.
If You're a Nature Lover
Go all out with a nature-inspired table! Start with a wood table and add a simple runner. From there, use glass vases and fill them with items like pine cones and acorns. Add fresh herbs like sage and rosemary into the mix, whether scattered across the table, in rustic mason jars, or even tied together and placed on top of each place setting. Branches, berries, and baby pumpkins all make sense within this serene tablescape, too.
Even More Ideas
Use LED candles for worry-free ambience.
Think of using fruits and vegetables within your décor: winter citrus adds a pop of color, while gourds bring in a traditional Thanksgiving vibe. Cinnamon sticks, pears, and oranges studded with cloves are all beautiful additions to the table.
Incorporate metallic elements beyond your flatware: mercury glass candleholders and glittered pinecones will create a glimmering vibe.
---
Looking for a short-term living option that's as comfortable as it is convenient? Enter our corporate extended stay apartments. Contact us today for more information, or visit this page to get the full scoop! Check out a few reasons why we love our 1st Lake corporate apartment options below.
Infographic Text:
STAY COMFORTABLE
Get to know our corporate extended stay apartments
Our corporate extended stay apartments are a fantastic option for professionals working in Greater New Orleans. In addition to quick, easy proximity to downtown, our corporate extended stay apartments are the key to convenient temporary living.
Your Home Away from Home
In every apartment:
Fully furnished including linens, kitchen wares, accessories, and small appliances
Includes paid utilities, television, basic cable, local phone, and internet access
Tasteful, comfortable aesthetic
Move-in ready
Special Amenities
Gated access
Picturesque landscaping
Fitness centers
Garage availability
Washers and dryers
24-hour emergency maintenance
Maid service available
Contact us today for more information on these turn-key extended stay apartments!
---
Hosting a dinner party is a great way to enjoy an intimate evening with friends and family. But it can feel like the pressure is on: the menu, the music, and the atmosphere all come into play. We've collected a few top tips to hosting a successful dinner party. Get cooking!
Dinner Party Tips
Plan ahead. You'll want to give your guests plenty of notice about when you're hosting your party, and you'll also want to ask about any food allergies in advance. Remember to choose friends who get along together (or whom you think will get along), and aim to keep the group at about six people.
Failsafe food. Your dinner party should include menu items that can largely be prepped in advance and simply need to cook through in the oven. No made-to-order entrees or desserts here (souffles? Just say no). Instead, opt for family-style preparations when possible. Take a look at our sample dinner party menu below, featuring a Mexican flair:
Set the table the night before. Trust us: even with the most careful planning in place, chances are you'll have your hands full the night of the dinner party. Do what you can in advance, including setting the table the night before. Make sure you have enough chairs plus proper utensils, extra napkins, and a bit of design elements — candles or flowers (or both!) are usually a nice touch.
Buy ice. Whether your dinner party includes a signature drink or not, no beverage is quite as palatable when it's warm. Even if you have an ice maker in your apartment, have at least one bag of ice on hand if the drinks really start to flow!
Make a playlist. Or rely on someone else's! Music is an integral part of a dinner party, and streaming services like Spotify and Pandora offer pre-made lists based on artists you enjoy or a particular mood you're after.
Lighting, lighting, lighting! Both you and your guests will likely appreciate soft lighting. Dim the lights a bit and use lamps where possible to strike a mood that feels fancy and fun, but not too formal.
---