Do you find yourself practically playing a game of Tetris to fit all of your groceries into your refrigerator? Whether you have a smaller fridge or just more refrigerated items than you know what to do with, don't stress.
How To Organize Your Fridge
There are ways to create more space to make room for everything that needs to be refrigerated. Start with these fridge organization hacks, and read on for the best places to store everything inside your refrigerator:
Remove packaging
This is a quick and easy fix for products that are taking up more room than necessary. Many products like rice or prepared food come sealed in a bag inside a large, bulky box. By eliminating the packaging, less space will be needed to store the item in the refrigerator.
Cleanse your fridge
Chances are, you have a lot of products that have been sitting in your refrigerator, neglected for a long period of time. Most likely these items include salad dressing and condiments, wilting produce, half-empty bottles of flat soda, frozen popsicles or prepared meals, just to name a few. Make a habit of routinely cleaning out your fridge to throw out the items that have expired or spoiled.
To keep the surfaces of your refrigerator clean, lay down some easily removable cling film on each shelf of your refrigerator to catch spills and crumbs, and remove them and replace as needed.
Organize your groceries
Smartly utilize your refrigerator space by separating different types of food in designated baskets, like condiments, greens, dairy, fruit and meat. Label the containers to keep to a consistent system going and for quick and easy access.
Best Places To Put Everything In Your Fridge:
Did you know that there is a correct method for organizing your fridge and making the most out of your groceries? Follow these tips to maximize your food's freshness and save money in the process!
On Top of the Fridge
Store things like cookbooks, paper towels and appliances on top of your fridge. NEVER store bread, wine or produce on top of your refrigerator.
Refrigerator Doors
The door is the warmest part of your fridge, so use it to store products that aren't as sensitive to temperature, such as confinements and sauces, juice, pickles, sodas and bottled water.
Refrigerator's Upper Shelves
The upper shelves of your fridge have a consistent cold temperature perfect for storing leftovers, drinks, ready-to-eat prepared foods and herbs.
Refrigerator's Lower Shelves
The lower shelves of your refrigerator are the coldest part of your fridge, which makes them ideal for keeping your milk, eggs, dairy products and raw meat safe.
Crisper Drawers
Your refrigerator has two crisper drawers for a reason. These are made for storing fruits and vegetables separately.
Other Fridge Storage Tips
There are certain things you NEVER want to refrigerate, including tomatoes, onions, squash and potatoes.
Many items in your kitchen pantry can be stored in your fridge if you prefer, like nuts, peanut butter and almond butter, flour and natural oils. Some medications and beauty products are also best when refrigerated.
How does your fridge stack up?
1st Lake Properties offers spacious kitchens with modern appliances at our many convenient New Orleans area apartments that will make refrigerator organization a breeze.
---
With its meaty texture and family-friendly size, cabbage is a versatile vegetable for weeknight meals (bonus: it stores beautifully and has a long fridge life of up to two months!). Cabbage is a cruciferous vegetable that boasts anti-carcinogenic properties, so it's a great food to incorporate into your diet. Whether you caught a cabbage in the St. Patrick's Day parades or just picked one up on special at the grocery store, here are a few cabbage recipes ideal for a side dishes or entrees.
Cabbage Recipes for Sides and Mains
Sides
Sauteed Cabbage and Apples: A quick saute of green cabbage helps the vegetable retain its satisfying texture while also adding a touch of sweetness thanks to tart, crisp apples. Get this basic recipe from My Recipes. Once you've mastered it, feel free to improvise! Try adding an egg on top for breakfast or stirring in some grainy mustard (and keep scrolling to learn how to transform this side into a main dish).
Cheesy Cabbage Casserole: Who needs mac 'n' cheese when there's cheesy cabbage casserole on the table? This recipe from The Pioneer Woman is an instant comfort classic. The green cabbage casserole pairs great with brisket or chicken, but as recipe author Ree Drummond points out, "Sometimes, this really feels like a meal in itself."
Braised Red Cabbage: This dish from Bon Appetit can be made ahead and reheated — perfect for a busy weeknight! Pantry ingredients like vinegar and chicken broth are all you'll need (bacon is optional).
Mains
"Unstuffed" Cabbage Rolls: Cabbage rolls are a beloved preparation of the vegetable, but they can be tricky. Get all the flavor without any of the persnickety rolling by cooking all the ingredients together in a skillet. About Food has the easy recipe.
Smoked Sausage with Cabbage and Apples: Remember the quick sauteed cabbage and apples recipe in our Sides section? Simply add in your favorite smoked sausage (we like turkey kielbasa) for an instant main dish.
Shortcut Choucroute: Chef Mark Bittman found a quick and clever way to prepare a whole cabbage with his shortcut choucroute recipe. This easy main dish requires just about 5 minutes of prep. Let the oven do the work — you've got better things to do!
For more recipe ideas, visit our Cooking Tips hub on the blog. 
---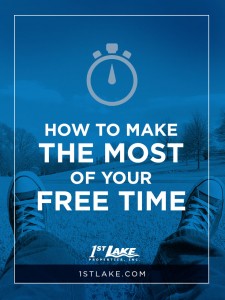 In our busy culture, free time is often painted as a luxury rather than a necessity, but it is exactly that: a necessity.
To give your body and mind a chance to unwind, refresh, and rest, you need to take time for yourself.
Since free time is precious, here are some ways to help you make the most of the time you have and carve out more free time to yourself:
Make A Blueprint For Your Life
In order to create more free time for yourself and spend it wisely, you must first know where your priorities lie.
Step away from your computer and spend some quiet time by yourself with pen and paper. Imagine how you want to remember your life, looking back on it in old age. Think about what aspects of your life you want to fill those memories. Maybe it's time spent with friends and family, or maybe it's running marathons around the world.
Plan out your priorities and write them down. Keep a copy of this list close at all times, and when life begins to get hectic, take a step back and remember what really matters to you.
Block Out Free Time On Your Schedule
When work, friends, family, and hobbies all add up to a packed schedule, free time can be hard to come by, but actively scheduling time for yourself to spend free of obligations can help reset your mind and make you a happier person.
Sometimes that means carving out when you give yourself permission not to worry about anything else in your life. Add daily or weekly appointments to your calendar for self-care and honor this time with yourself.
Don't Do Work
During your scheduled "me time", don't cheat yourself. Unplug and don't let work creep into your well-deserved time away.
Ignore emails and stop checking social media for just a little while. Try to stay away from television and the computer all together. Your brain needs a rest in order to maximize productivity when it's time to get back to work.
Instead, go for a walk outside, read a book, meditate or throw a one-person dance party in your living room. Your future self will thank you for this time spent re-charging.
Connect With Others
In our digital age, technology and social media can keep us from interacting in person. In addition to scheduling time in your calendar for yourself, schedule recurring dates with close friends and family as well as your spouse or partner.
Make regular plans to meet friends or family for dinner or coffee. Enjoy laughing with your favorite people. You'll remember how much you crave and miss that connection the moment you see their faces.
Do Things That You Are Passionate About
Make time to do things that are authentically you. If you care about animals, volunteer at an animal shelter; if you love painting, get outside and paint something new.
Make time to do those things that make you who you are; doing this will not only remind you how much those things mean to you, they can bring a renewed energy, as well.
Rest & Relax
If you are a busy person, one of the best things you can do for yourself is take a rest. Schedule a nap or take time to lounge around and do nothing.
Our bodies, minds, and souls function best when rest is included in our lives regularly. Balance is important for achieving our best possible selves.
Learn To Say "No"
Our time is precious and finite, and as much as we would like, it's not possible to say yes to everything.
Show some respect for your own time by saying "no" more often. Before saying yes to a new project or event invitation, take a moment to really evaluate if that opportunity aligns with your goals for your life.
How Do You Make Free Time?
Do you have additional tips for carving out free time for yourself? Share them with us on Facebook or Twitter.
---
A common challenge for renters is space constraints. It may seem like your apartment can't fit all of your stuff, but there are ways that you can make everything fit comfortably with the space available that you may not have thought of. Enter these awesome storage ideas.
Maximizing the space you have is key. One of our favorite solutions for storage in a small apartment is making use of vertical space.
Storage Ideas for Apartments
Vertical Storage

It's easy to use up the available horizontal space in your apartment, but often times there is a lot of leftover vertical space that can be utilized. Here are the best ways to use vertical space in your apartment.
Free standing shelves and bookcases
Free standing shelves are not only portable, convenient, and rental-friendly, but also a great space saver! They come in a variety of shapes and sizes and can be used in any room in the apartment, including the kitchen for extra dish or appliance storage, the bathroom for towels and toiletries, as bookcases, or in the closet to store shoes or clothes that won't fit in drawers.
A ladder-style leaning bookshelf can be an easy, modern way to add some extra storage furniture to a bare wall – use it to display decorative items or store books.
Under shelves
Another great way to use vertical space especially in your kitchen is with under-shelf storage baskets. If there is a lot of room between the shelves that are already built in to your cabinets, simply attach an under-shelf basket to create more storage space for additional items.
If you need more space to store glassware, there are also under-the-shelf stemware holders that are a convenient solution.
Wall space
One thing we sometimes forget is that we have plenty of space on our walls for storage. This can be easily and safely used by placing shelves along the walls to use that vertical space to its capacity.
Hidden Storage Solutions
There's more to storage than meets the eye with these clever items.
Risers
Give storage a lift when you use bed risers — they're affordable, easy to use, and add valuable inches to store items under your bed. Adding height is also a great way to give the illusion of more space: your bed will look and feel more regal, and you'll benefit from the added storage beneath.
Storage Beds
Storage beds have built-in storage within a hollow portion of the bed frame. Many feature drawers along the bottom for a look that is both attractive and incredibly functional. Use the added space to store bedtime essentials like blankets or pajamas.
Storage Ottomans
Ottomans are a great addition to a living room — you can bring in new colors and prints at an affordable price, and if you choose a storage ottoman, you can also add a little more practicality. Storage ottomans are hollow on the inside with a removable lid for easy access. Stock yours with living room items like games, remotes, or blankets.
Looking for a new apartment? We have many excellent and spacious choices for metro New Orleans apartments and in Mississippi!
---
With startups, medical hubs, and entrepreneurial opportunities, New Orleans is increasingly becoming a global destination for young professionals. Many millennials are moving to the city, and with a new move comes a new consideration: where should I live? We're a bit biased, but think Bella Ridge is a great choice. We've already explored why renting is such a great option, but today we're taking a closer look at three reasons why Bella Ridge is among the best apartments for young professionals in New Orleans. Read on for why these River Ridge luxury apartments are an ideal place to rent.
Proximity
The city of New Orleans has dozens of iconic neighborhoods like the Garden District and the French Quarter, but longtime residents know that life in one of these historic sectors has both pros and cons. Sure, you're living in a historic space, but that also means living in outdated confines without modern amenities. Other issues include no dedicated parking and sub-par road conditions. Conversely, Bella Ridge offers proximity to New Orleans – it's just about 10 minutes from the French Quarter – without all the headaches. As a brand-new construction, Bella features state-of-the-art amenities and a dedicated, covered parking garage. It's also spacious and energy efficient. In addition to being near downtown New Orleans, Bella Ridge also boasts close proximity to major shops and restaurants.
Affordability
Living just outside downtown New Orleans gives young professionals a lot more bang for their buck. We recently compared a downtown property to our Bella Ridge property, and in terms of value, the results were staggering. Bella Ridge offered 100 additional square feet, better amenities, and free parking for nearly $1,000 less per month than a comparable downtown property. If you add in parking (which isn't included in downtown apartments) the value differential increases even more.
Lifestyle Perks
We mentioned how Bella Ridge offers better amenities than comparable downtown apartments – but what exactly does that mean? First and foremost is free covered parking. You'll never have to fight for a spot, and you'll never get stuck in inclement weather. Our parking garage is clean, lighted, and a great way to add a layer of ease into your daily routine. Bella Ridge also features a beautiful outdoor pool with a built-in tanning ledge plus a state-of-the-art fitness facility. If you have a dog, you're in luck: we're big animal lovers at 1st Lake Properties, which is why we've included an on-site dog park called Bella Bark at our Bella Ridge property.
All in all, if you're looking for the best apartments for young professionals in New Orleans, put Bella Ridge at the top of your list! Learn more today about specials and other promotions – we'd love to hear from you.
---