The midday meal is an oft-forgotten one. Sometimes we eat it quickly and mindlessly at our desks at work, other times we blow through a drive-thru as we use our lunch break to conquer errands like going to the bank or the post office. While most people look forward to breakfast or dinner, lunch is the middle child of the food spectrum. But it doesn't have to be that way! With so many great, local lunch options in Metairie and Kenner, you can take a REAL lunch break and enjoy some REAL food while you're at it. Is it noon yet?
Get to the Greek
Mediterranean eats are a popular lunchtime choice, because you can opt for something light like tabbouleh and hummus, or enjoy a full-on feast with a decadent, savory gyro. In Metairie and Kenner, there are a few standouts.
Byblos – Located on Metairie Road (one of several locations around Greater New Orleans), Byblos has an attractive but casual atmosphere and authentic Mediterranean menu items. Start with the muhumra dip – a mix of red peppers, walnuts, and pomegranate molasses – for a flavorful vegetarian appetizer.
Acropolis – This Veterans Memorial Boulevard staple serves up tried-and-true favorites like homemade hummus alongside creative dishes like Pork Corfu – a center-cut grilled pork loin served with feta cheese and roasted potatoes. You can eat the leftovers for dinner!
Classic New Orleans
Drago's Seafood – Oysters, shrimp, and all sorts of Gulf seafood are what's on the menu at this Arnoult Road restaurant in Metarie. Order the charbroiled oysters first, then try the tuna. It doesn't get more boat-to-table than at Drago's – the yellowfin tuna comes directly from local fisherman and is on your plate that very day. Try it just slightly seared to let the flavors shine through.
Martin Wine Cellar – No, we don't mean a liquid lunch. But you can pick up a French-style meal with gourmet cheeses and charcuterie at this spot on Veterans Memorial Boulevard plus a variety of sandwiches, entrees, soups, and quiches. Try the half-sandwich special dressed to order and served with your choice of the soup du jour, a salad, or a side of fresh fruit.
R & Os – Italian-accented Cajun dishes are the specialty at this Bucktown spot. The roastbeef po-boys are an excellent lunchtime choice. No-frills seafood platters, spaghetti, and chicken parm are other winners, and be sure to order the Italian tossed salad with olives.
Pan-Asian Eats
Pho Orchid – Banh-mi, spring rolls, and vermicelli bun are all great options for lunchtime – you can eat them at room temperature, cold, or hot! Pho Orchid bakes its own bread for the banh-mi, and the pho has a wonderful depth of flavor if you're craving soup. Wash it down with a Thai iced tea or Vietnamese iced coffee, both of which have a nice kick of caffeine to get you through the rest of the day.
Kanno Sushi – Fresh, California-style sushi in Fat City is a reality with Kanno. Beautifully plated dishes make even an office lunch break seem like an escape to some sort of spa resort. The Protein Roll with tuna, snowcrab, avocado, and salmon is tasty and healthy.
Korea House – Get your whole lunch in a single bowl when you order the bibimbap, a mix of fragrant white rice and toppings to your liking, including typical options like beef and a fried egg.
---
The area of Metairie known as Fat City has seen some incredible improvements over the past few years, with even more to come. After a heyday during the 1970s, Fat City's popularity waned in the following decades. However, a recent resurgence has made it one of the most desired locations in Greater New Orleans. And, lucky for you, we have a range of First Lake Properties located in and around Fat City.
Ready – set – explore! 
New Developments
Severn Avenue, a main thoroughfare in Fat City, has several development and revitalization projects in the works. From new hotels to pedestrian-friendly details like widened sidewalks, benches, trellises, and more, Severn Avenue is in the midst of a renaissance.
Enticing Restaurants
It wouldn't be a part of Greater New Orleans without dozens of incredible restaurants. In addition to Morning Call for beignets, café au lait, and other New Orleans cuisine like red beans and rice, Fat City is home to several Asian-style restaurants.
A few of our favorites include: Ohana for incredible sushi rolls; Korea House for authentic bibimbap (a savory bowl of white rice with a variety of toppings like beef and fried egg); and Kanno for fresh, California-style sushi.
Not craving Japanese or Korean food? No problem. Fat City is home to other enticing restaurants like Mellow Mushroom, Taqueria Corona, Acme Oyster House, and Drago's Seafood.
 Ways to Work Off Those Calories
Perhaps you ordered the barbecue chicken pizza at Mellow Mushroom (it's our favorite) or indulged in piping hot beignets from Morning Call. Fortunately, Fat City is also home to a sleek gym called Chronos Body Health and Wellness that features more than 7,000 square feet of space.
From a variety of workout classes to an on-site day spa and med spa to a fresh juice bar, Chronos is a beautiful, fully equipped facility to keep your body in tip-top shape. It's also open 24 hours – no excuses!
What You'll Find at First Lake Properties Near Fat City
Gallery Apartments in the Metairie area is nice and close to Fat City. The small, limited-access gated community features attractive landscaping, and inside each apartment you'll find smartly appointed details like oval soaking tubs, bay windows, recessed lighting, and alarm systems. The interiors speak to contemporary luxury with plenty of space – and you're just a short drive from Lakeside Shopping Center, Fat City, and the business districts of both New Orleans and Metairie.
In addition to a meticulously landscaped courtyard and sparkling swimming pool, Millstream offers convenient access to the best of Fat City. It's also just a short drive to Lakeside Shopping Center and other Metairie retail destinations.
---
The New Orleans suburbs are fast becoming some of the most sought-after neighborhoods in the region. Offering close proximity to downtown New Orleans for work and play, the suburban area of River Ridge, Elmwood and Harahan are that perfect mix of convenience and quiet you simply won't find in the city.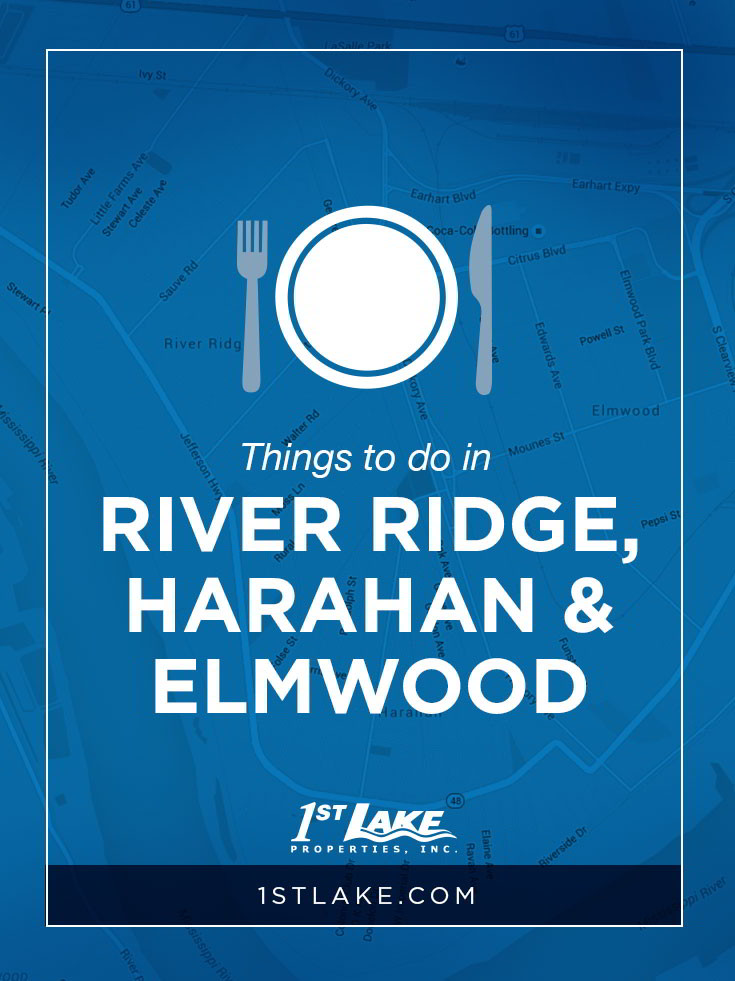 What's more, apartments in River Ridge offer you space and luxury amenities like a pool, on-site dog park, gym, and much more. Our Bella Ridge property, for example, is in the heart of River Ridge and boasts perks like a covered parking garage.
Are you new to River Ridge, Louisiana? Whether you've just moved or are considering taking the plunge, explore a few of the things to do in River Ridge, Harahan and Elmwood.
Entertainment
With easy access to New Orleans, this neighborhood offers an endless array of activities for all ages, but you don't have to drive into the city to be entertained. Here are a few of our favorite entertainment options in your backyard:
1200 Elmwood Park Blvd, Harahan, LA
The AMC Elmwood Palace movie theater in Elmwood offers 20 screens, including a full IMAX experience. In true New Orleans style, this movie theater also features a full-service bar, making it a great place for date night.
6000 Airline Drive, Metairie, LA
Sports fans will love living so close to Zephyr Field. The local minor league baseball team hosts plenty of special events and promotions throughout the year, such as Military Night, Star Wars Night, Japanese Heritage Night, Italian Night and even a Luau themed event!
1200 Clearview Parkway, Suite 1106, Harahan, LA
Adventure Quest Laser Tag offers a variety of fun indoor activities for groups of any age. In addition to laser tag, they also offer bumper cars, cosmic golf, an adventure maze and an arcade. Look for their weekly specials and check out their membership option for extra savings.
6601 Jefferson Hwy, Harahan, LA
This locally-owned bowling alley features 24 wooden lanes and a laidback atmosphere. Colonial Bowling offers a variety of league bowling as well as group rates and parties. Need a break from bowling? Just head to their gameroom for arcade style games, or visit their Lamplighter Lounge for cocktails.
3000 Downs Boulevard, Metairie, LA
Nearby Lafreniere Park offers 155 acres of outdoor fun, including a 2-mile jogging trail, 18-hole disc golf course, two playgrounds and a 20-acre lagoon. It's the perfect place to get away from it all with a good book and a picnic.
Dining
River Ridge is home to several casual dining options to sate any craving. We love how you'll find a mix of not only prominent national chains but also local restaurants. Some of our favorites include:
279 Hickory Ave, Harahan, LA
New Orleans is of course known for its great seafood, and the suburbs like Harahan are no exception. Seither's Seafood is one of the top-rated locally-owned restaurants in this neck of the woods, and for good reason. Enjoy classic Southern dishes like shrimp po-boys, gumbo, crawfish, fried green tomatoes and raw oysters.
1640 Hickory Ave, Harahan, LA
Phil's Grill offers multiple locations throughout the greater New Orleans area, including one in Harahan. Customize your burger as you choose your perfect protein (options range from the traditional like Angus beef to vegetarian options like Portobello mushroom to exotic like bison or alligator). Opt for your favorite bun and toppings or skip the carbs and choose a lettuce bun or turn your meal into a salad.
1827 Hickory Ave, Harahan, LA
A local's favorite, this hidden gem is located in the heart of Harahan and features delicious daily specials as well as staple salads, sandwiches and wraps. Entree options include pecan crusted red fish, chicken marsala pasta and portabello stuffed ravioli.
1208 S. Clearview Parkway, Suite D, Harahan, LA
Specializing in Mediterranean flavors with a Southern twist, Zoe's Kitchen is your ideal destination for healthful dishes like grilled chicken kebabs, veggie pita pizza, orzo soup, Greek salads, and much more. They offer a menu for those with food allergies (several items are gluten-free or vegetarian) plus a menu called "Simply 500" where all items clock in at fewer than 500 calories. Not counting calories? Finish the meal with a slice of their YaYa's Hand-Made Chocolate Cake.
1212 S. Clearview Parkway, Harahan, LA
This local pizza chain is a regular winner of foodie awards, including most recently a Gambit Best of New Orleans Award for best pizza, and a New Orleans Magazine Tops of the Town nod. In addition to a comprehensive wine and beer list, Theo's main draw is its pizza. Unexpected toppings like yellow squash, Anaheim peppers, goat cheese, and jalapenos make Theo's a step up from your basic Margherita. Build your own pizza or choose from their own creative specialties. Salads, sandwiches, and appetizers are also available.
5608 Citrus Blvd, Harahan, LA
Noted for its consistently fresh and delicious sushi, Kyoto 2 is the Elmwood/River Ridge outpost of its Uptown New Orleans location. We go crazy for the poke salad or the ponzu-topped ceviche. Kyoto 2 also gets points for creative sushi names: order the No Name, Tiger Eyes, or Funky Margarita rolls on your next visit.
1212 S. Clearview Parkway, Harahan, LA
Sometimes you just need a burger and fries. Skip the typical drive-through options and head to Five Guys Burgers and Fries instead. At Five Guys, handcrafted burgers and real, handmade fries are just a dollar or two pricier than a drive-through and infinitely more delicious. Choose as many free toppings as you want (may we suggest the grilled mushrooms…) and try the fries Cajun style for an extra kick of heat.
6625 Jefferson Hwy, Harahan, LA
Oak Oven is a locally owned Italian style restaurant with a casual bistro atmosphere. Any restaurant in the New Orleans area can't help but be inspired by local cuisine and Oak Oven is no exception… Not only does Chef Adam Superneau pair southern Louisiana influences with his classic Italian recipes, but the restaurant also uses many locally grown and house-made ingrediencts. (The fresh mozzarella, pasta and Sicilian semolina bread are all made from scratch in-house!)
5171 Citrus Blvd #2000, Elmwood, LA
Comfort food classics with a Francophile spin are the order d'jour at La Madeleine. Quiche Florentine is the perfect meal for breakfast, lunch, or dinner, and if you're unsure what to order – well, they have an on-site bakery. Specialty coffees and a selection of wine are available; so, too, are traditional French classics like Croque Monsieur, Quiche Lorraine, and flaky Spinach Pochette.
1212 S. Clearview Parkway, Harahan, LA
Frozen yogurt is that perfect blend of tart and sweet that really hits the spot on a warm day. Pinkberry, an international chain, is known for its inventive flavors and options for people with food allergies. For example, their dairy-free mango frozen yogurt has bright, tropical flavors without any gluten, dairy, or added sugar.
Shopping
Shopping is as easy as it is fun in River Ridge. Convenient shopping centers like Elmwood Shopping Center on Clearview Parkway pack a punch, while local boutiques offer unique finds.
Here's a peek at our favorite shopping spots in River Ridge:
1915 Hickory Ave, Harahan, LA
This locally-owned fashion boutique is located in the heart of River Ridge and features trendy women's clothing, shoes and accessories at affordable prices. Be sure to check out their sale rack for unbeatable deals.
1126 S. Clearview Parkway, Harahan, LA
Ulta is the ultimate high-low mix when it comes to cosmetics. Shoppers will delight at department store beauty brands like Bare Minerals, Tarte, and Benefit right alongside drugstore favorites like Covergirl and Almay. Check their website before you go: there's almost always a sale and a coupon you can print or download.
1126 S. Clearview Parkway, Harahan, LA
Designer Shoe Warehouse (DSW for short) has shoes for the whole family. With hundreds of pairs in stock, DSW offers a wide variety of styles, sizes, and prices. It's the go-to spot for shoes whether you need a formal pair for a wedding, classic work pumps, or vacation-ready sandals.
1126 S. Clearview Parkway, Harahan, LA
Have you ever noticed how accessories can change the whole look of your outfit? That's the ethos behind Charming Charlie, a sprawling accessories store with affordable jewelry that ranges from bohemian-chic to preppy. Hair accessories, purses, phone cases, and select styles of shoes are also in store. All you need to do is add your favorite outfit!
1134 S. Clearview Parkway, Elmwood, LA
In addition to furniture and other housewares, World Market features an international grocery store where you can find global favorites like Milka chocolate bars from Germany, Australian vegemite, and Britain's favorite topper, HP Sauce.
Need more shopping options? Lakeside Mall in Metairie and Esplanade Mall in Kenner are both within just a few miles of River Ridge and the boutiques in downtown New Orleans, such as The Shops At Canal Place, are just 15 minutes away.
Annual Events
This annual festival in Harahan celebrates everyone's favorite Southern nut, the pecan, with plenty of food options including pecan pepper jelly, pecan pralines, pecan pies and much more. The weekend-long event takes place each November and features live music and fun activities for all ages.
We want to know!
Jefferson Parish residents, what are YOUR favorite things to do in the neighborhoods of River Ridge, Harahan and Elmwood?
If you live in one of our River Ridge apartments, be sure to join us on Facebook or Twitter and let us know your favorite neighborhood spots!
---
Metairie is a bustling place, no doubt – just a short drive from downtown New Orleans, the suburb is chock full of shopping, dining, and entertainment options, plus worthwhile residences like Crossroads apartments and Parktowne apartments (two of First Lake's many Metairie and other Jefferson Parish properties).
However, Metairie holds a tranquil secret: Lafreniere Park. This ambling green space in the center of Metairie is home to multi-use lawns, fountains, picnic areas, hills, landscaped gardens, boating, fishing, paths, a running trails, a Frisbee golf course… the list goes on and on.
First founded in the 1970s, the park allows "all people of the Parish to rest and refresh their spirit in its peaceful, natural surroundings." We couldn't agree more!
Things to Do at Lafreniere Park
Go For a Run on the Healthtrak
One of the most enticing aspects of the park is a landscaped, 2-mile jogging trail called the Healthtrak. Cardiovascular activity is a great way to let go of a hectic workday, and while many of our properties offer gyms and pools for exercise, sometimes pounding the pavement outdoors is truly the best method to relieve stress.
Whether you take the trail at an ambling pace or at a full-blown sprint, you'll experience scenic flora and fauna, water elements, and more.
Explore Marsh Island
Within the park, you'll find Marsh Island, a water-surrounded area in the park's southwest corner that is home to endemic flora and fauna of Louisiana. It's also a dedicated bird sanctuary.
Authentic marshland habitat is home to different vegetation and bird life than you'll see in other parts of the park. Keep an eye out for different species of plants and animals.
Have a Picnic
A meal outdoors is a spring and summertime tradition. Whether you pick up snowballs from a nearby Metairie snowball stand or pack your own picnic lunch, bring a blanket to Lafreniere Park and enjoy your food on one of several multi-use lawns or a designated picnic area (both are available at the park).
Not sure what to pack? Real Simple comes to the rescue with their simple Picnic Packing Checklist.
Play Frisbee Golf
Perhaps you're asking, "What the heck is Frisbee golf?" Well, it's exactly what it sounds like. This hybrid of Frisbee and golf (also known as disc golf) has seen popularity recently, and is part of the reason Lafreniere Park created a proper Frisbee golf course.
The 24-hole course not only lets you explore the parks twists and turns, but also lets you make a game out of it – bring your own Frisbees and throw them at select targets throughout the course. It's free to play! If you prefer City Park to Lafreniere, they also have a free Frisbee golf course on site.
Cool Down in the Spray Park
Another enticing option at Lafreniere Park is the Spray Park for children ages 10 and under. With 4,000 square feet of water fun (featuring 13 water features), this large space is a great place for children to enjoy water safely.
Keep in mind that the spray park is only open on weekends and charges $5 per child for each session up to 90 minutes.
Host a Party at the Carousel
Spring and summer is often party season… but sometimes apartments (no matter how spacious!) can't quite hold all your friends and family. Lafreniere Park presents a great alternative: you can rent out their Carousel, a spacious pavilion surrounded by a lagoon, for a private party.
Read their full rental agreement terms here, and contact the park for more information about hosting a private party.
Looking to settle down near this peaceful urban oasis? 1st Lake Properties offers plenty of nearby Metairie apartment communities you're sure to love!
---

There's no season like snow season in Greater New Orleans. Snowballs are that perfect combination of finely shaved ice and decadent cane syrup that come together as a cooling treat in as many flavors as you could possibly imagine.
New Orleans proper certainly has its fair share of snowballs – Hansen's for inventive flavors like ginger-cayenne and Plum Street for the cutest packaging – but the suburbs have a snowball game that is equally strong.
Check out our list for some of the best snowballs in the Lakeview, Metairie, Elmwood, and Harahan areas. They're close to several 1st Lake Properties like Bella Ridge, Millstream, and more. Get one to go and enjoy it at the lake or at home on the balcony – each icy spoonful is a taste of summer!
With a convenient location on Harrison Avenue in Lakeview, NOLA Snow is a great place to grab a snowball then head to the lakefront. Kids go crazy for flavors like cotton candy and bubblegum, but mellower flavors like NOLA nectar and wedding cake please more grown-up palates. The ice is particularly soft and fluffy, but if you prefer something denser, any snowball flavor can be served as a milkshake or malt instead. Soft serves, floats, and stuffed snowballs are also available – definitely bring your sweet tooth.
Says one Yelp reviewer, "The ice doesn't clump, they don't skimp on the syrup, and the flavor choices are vast and unique." Could you ask for anything more in a snowball stand? Casey's Snoballs in Metairie is located on Esplanade Avenue, so it's another option for a to-go snowball you can enjoy at the lake. We're partial to nutty flavors like almond cream and exotic choices like orchid vanilla, but you'll find plenty of classics like nectar, lemon, and wild cherry.
Tree stump seating sets this Old Metairie snowball stand apart. Enjoy your snowball on site, and you'll get the feeling of camping when you were a kid – except instead of s'mores, it's snowballs. Sal's stays open late, so if you get a snowball craving at 10 p.m. (and really, who could blame you?) you can still get your fix. Fun flavor names like Robin (ice cream and nectar), Pink Squirrel (nectar, almond, and cream), and Joker (grape, blackberry, and raspberry) will delight youngsters and adults alike. Sugar-free options are available for those looking to save calories, but you'll probably want those hard-to-resist toppings like condensed milk – again, who could blame you?
This Harahan location serves up decadent snowballs like strawberry cheesecake with condensed milk – also known as heaven in a cup. Robear's velvety smooth, melt-in-your-mouth ice is never crunchy: think freshly powdered snow and confectioner's sugar. Flavors like Creole cream cheese and king cake are worth a try, as are the butterscotch, chocolate, and cantaloupe varieties. Actually, you should probably just try them all!
Ike's is located in Mid-City, but it's just a quick drive from Metairie Road on City Park Avenue. We love Ike's because of their doggie snowballs – while a chicken snowball doesn't sound particularly appetizing to us, but we know our furry friends will love them. Don't have a pet? Trust us, you'll still want to go to Ike's. First of all, it's open year-round, and second, juicy flavors like watermelon, strawberry, and pineapple are sure to satisfy. Plenty of outdoor seating here, although another option is to order your snowball to-go and enjoy at City Park.
---