As the city experiences beautiful weather, it's easier than ever to get outside and go for a walk with your dog. Greater New Orleans is home to several awesome dog parks – including our own Bella Ridge property, which features an on-site place for dogs to roam safely. Check out some of the best dog parks in NOLA!
NOLA City Bark
Located in City Park, this dog park spans nearly 5 acres and is a pup's dream. Lush green spaces, dog activities, and a communal water fountain (in the form of a bright, red fire hydrant) make City Bark a fun destination for dogs and owners alike. The property is located in City Park behind Popp Fountain, bounded by Zachary Taylor Drive, Diagonal Drive, and Magnolia Drive.
The Dog Levee
Uptown dogs love the Dog Levee, near the corner of Leake Avenue and Magazine Street. The levee features a paved walking path that leads to a swimming hole (be sure to bring a towel for cleanup!). Be wary if your dog is a flight risk – this park is an open space free of fencing.
Wisner Dog Park
Another dog park in Uptown New Orleans, Wisner Dog Park is located at 4876 Laurel St. Water fountains for dogs and people are available, but be aware there aren't any public restrooms for the humans!
Bella Bark
Bella Bark is the on-site dog park at our Bella Ridge property in Elmwood. Fido might not appreciate the beautiful landscaping, but owners sure do! The convenience of having an on-site, safe space for your pup to play right outside your door is an added bonus of the many luxuries you'll experience at Bella Ridge.
---
French Quarter Festival is one of our favorite New Orleans spring festivals. Starting Thursday, April 9 and running through Sunday, April 12, French Quarter Fest features more than 1,700 local Louisiana musicians on 23 different stages. Food is another huge draw – traditional New Orleans favorites like cochon de lait po-boys and, of course, crawfish are tough to resist as you stroll through Jackson Square and along the riverfront at Woldenberg Park. While there's simply no way to see and do everything at French Quarter Fest, we've collected a list of areas and activities to seek out while you're there.
The Entertainment
You'll find big acts like Allen Toussaint, Ellis Marsalis, and Rebirth Brass Band performing on the larger stages, such as the Abita Stage at the riverfront and the Jackson Square Stage in (where else?) Jackson Square. However, the smaller stages are nothing to scoff at! Head to the Cajun/Zydeco Showcase stage on Saturday or Sunday where you'll experience traditional two-step dancing. In French Market, you'll find swing-dancing lessons set to live hot jazz.
The Food
Come hungry to French Quarter Fest: iconic restaurants like Galatoire's, Antoine's, and Court of Two Sisters are just a few of the many food vendors. At French Quarter Fest, tips at all beverage stands are split amongst the musicians. Be sure to add a tip to the bucket to thank them for their incredible music!
Getting There
Many of our properties, especially those in Metairie, are just a short drive from downtown New Orleans. However, be aware that French Quarter Fest brings in a lot of traffic, so you'll want to avoid parking in the French Quarter itself and seek parking garages in the Central Business District instead (there's even a Park-n-Ride shuttle available.)
---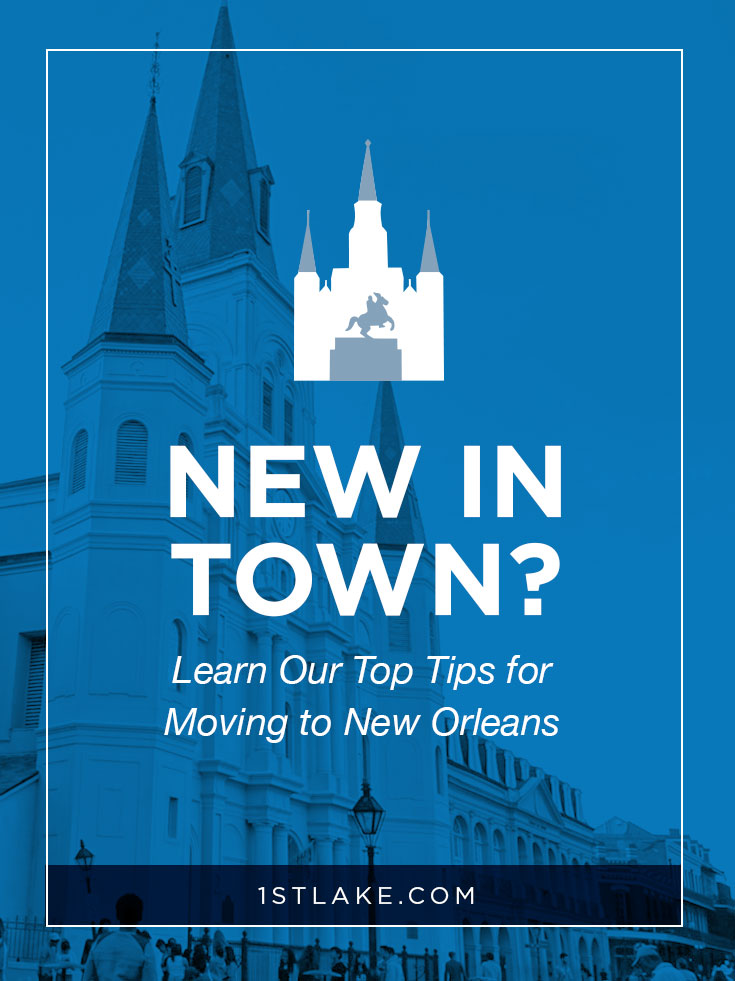 Moving can be an exhausting process when you're simply relocating to a new neighborhood – so it's no wonder that a move to a brand-new city can be intimidating and overwhelming! We hope our apartment moving checklist will be a helpful tool for preparing you for moving to New Orleans, but once you're here, there's plenty to learn.
New Orleans is a beautiful, vibrant city bursting with history and culture. There's music around every corner and delicious food to satisfy any palate. People love New Orleans because of how unique it is, but that can make things hard for NOLA newbies! Check out our top tips for moving to New Orleans and living like a local. If you have any questions or are still searching for the perfect place in Greater New Orleans to call home, please contact us – we are here to help you find your perfect new apartment!
Bikes are a great way to get around New Orleans.
Bikes are one of the most enjoyable ways to experience the city. In addition to exploring a wealth of trails around New Orleans and the surrounding areas, cyclists can also take leisurely rides through iconic areas of the city like the French Quarter and the Garden District. Several local shops like Bayou Bicycles and The Bike Shop can help you find a bicycle that's right for your needs. Not quite ready to purchase a bike? Test drive… er, ride… a rental to give you a better idea of city biking. Bicycle rentals and tours are available all over the city.
New Orleans is a great place to build a career.
While the tourism industry is still booming, their are more and more job opportunities for young professionals in the greater New Orleans area every day. Did you know that New Orleans leads the country by 53% in number of startups-per-capita, and that we were voted a top city for woman-owned companies and young entrepreneurs? New Orleans was also recently ranked as one of the best cities for women in tech fields, outranking even Silicon Valley?
New Orleans is blazing trails in education.
New Orleans offers private schools and charter schools to meet the needs of students and families. Just last year, New Orleans closed the last five of its traditional public schools in favor of the charter school system. Governor Bobby Jindal hopes the charter school system will serve as a model for the rest of the country; the Washington Post called the endeavor "a grand experiment in urban education for the nation." The charter school system and private schools give parents an unprecedented choice in where they send their children to receive an education. For more information on K-12 educational opportunities in NOLA, visit the New Orleans Public School System or Jefferson Parish Public School System.
No one uses North/South/East/West directions.
The city of New Orleans is wedged between multiple bodies of water, including the Mississippi River, Lake Pontchartrain and Lake Borgne. In an old city such as this one, standard directions are useless. Instead, we give directions in terms of proximity to bodies of water or landmarks. Think "downriver" or "towards the Lake" and you'll be fine.
A place by lots of other names is still a sweet place to call home.
New Orleans is a city of many nicknames. You've probably heard it called The Big Easy, thanks to our laid back lifestyle. Maybe you've also heard it referred to as the Birthplace of Jazz, or the Crescent City? Our unique culture, a mixing pot with hundreds of years of history behind it, has also garnered us the nicknames America's Most European City and the Northern Most Caribbean City. As for fitting in with the locals, the nickname you need to know is also the shortest – just call it NOLA. (Short for New Orleans LA of course.)
We say things a little differently around here.
Perhaps the toughest part – and the most fun part – is adopting New Orleans' unique vernacular. The city has lots of hard-to-pronounce words that will make or break you: say it wrong, and people will know you're an out-of-towner! We've collected a few of the toughest pronunciations to keep you sounding like a local as you navigate the city.
Tchoupitoulas
What it is: A street.
How you say it: Chop-a-tool-us. You can also use its abbreviation, Tchoup, pronounced "Chop."
Calliope
What it is: A street.
How you say it: While people are split on this one, most people in New Orleans pronounce it Cali-yope. (Rhymes with "nope.")
Lagniappe
What it is: A word that means "a little something extra."
How you say it: Lan-yap.
Burgundy
What it is: A street.
How you say it: In New Orleans, people emphasize the second syllable for this word. Pronounce it Bur-GUN-dy and people will know you're in the know.
New Orleans
What it is: The best city ever!
How you say it: Quite simply, it's New Or-lunz. Not New Or-leanz.
Having a costume box or closet is a thing.
New Orleanians love any excuse to party, parade and celebrate. And any excuse for a party means any excuse for a costume. After living here awhile, you'll inevitably start to accumulate a random assortment of boas, wigs, costumes and other wacky wearables. Need to get started? Check out Fifi Mahony's in the French Quarter for custom wigs and makeup, or visit Uptown Costume & Dancewear on Magazine Street at Napoleon or Southern Costume Company in the CBD.
The best way to feel like a local is to celebrate like a local.
Now that you know we love any excuse for a costume or party, be sure to take advantage of all of the festivities on tap any given weekend. Go to every festival you can your first year. New Orleans offers well-known big events like Jazz Fest and French Quarter Festival, as well as plenty of festivals with local flair like Bayou Boogaloo, Greek Fest and Po-Boy Fest. Be sure to also venture to surrounding areas, as the Southeast Louisiana region offers something for everyone. Kenner offers an annual Italian Heritage Festival each spring, while Covington plays host to the Three Rivers Art Festival each fall.
Mardi Gras is not limited to Bourbon Street.
Once you move to New Orleans and experience your first Mardi Gras as a local, you'll soon discover there's more to Mardi Gras than Bourbon Street. First off, it's weeks worth of parades, balls and festivities. Second, most locals prefer to experience the parades far, far away from Canal Street. Watch the parades from the Uptown route along St. Charles Avenue, and seek out smaller walking parades like the Krewe of Chewbaccus. Mardi Gras is also not limited to Orleans Parish: there are parades in Metairie, the Westbank and on the Northshore, all with their own flair.
Not all of NOLA is cash-less.
Be sure to keep a little cash and a few coins handy, as not all New Orleans businesses accept credit cards. One of our residents told us, "I was really surprised when I first moved here at all of the shops and parking meters that do not take credit cards. If you want some hot beignets without a $3 ATM fee, remember to keep some green on you!"
New Orleans really does have four seasons.
However, they may not be the four that you're used to. While it DOES actually get cold here in winter, and it definitely gets hot here in summer, the four New Orleans seasons you really need to know are: carnival season, crawfish season, snowball season and football season.
New Orleans sticks with you.
Once you've visited and once you've lived here, you'll never be the same. The city has a way of pulling people back. With a culture and vibrancy like no other place on earth, you'll want to make it your home too. Contact us today and learn more about making New Orleans your new hometown.
---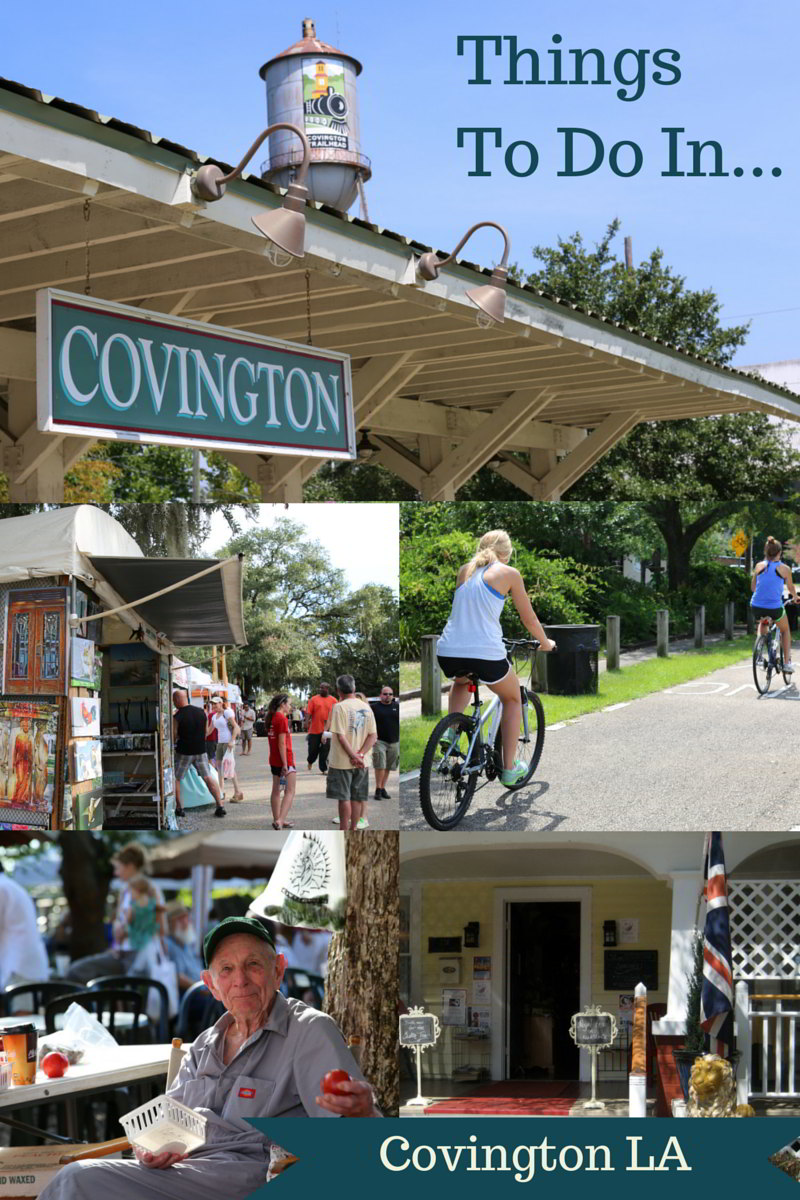 Photos courtesy of Infrogmation and St. Tammany Parish on Flickr
Though Greater New Orleans gets much of the glory, the Northshore is a destination all its own. Just across Lake Pontchartrain, you'll find Covington, LA, a robust community full of cultural treasures, historic homes, and delicious dining. You'll also find one of our favorite 1st Lake Properties: Brewster Commons at River Chase:
This peaceful community in Covington, LA, is located on the Northshore close to dining, entertainment, and retail. With cozy amenities like energy-saving appliances, self-cleaning ovens, granite counter tops and wood-finish flooring, you may not want to leave your apartment… but if you decide to venture out, here are a few of our favorite things to do in Covington.
Drink Tea at the English Tearoom
This charming spot transports guests to England via a piping hot cup of Earl Grey, organic Ceylon or jasmine tea (their full menu includes many more options). Whether you attend breakfast, lunch, or High Tea, save time for shopping afterward: their "Queen's Parlor" shop is full of gift items, teas, and treats.
Check Out Covington Trailhead and Tammany Trace
Covington Trailhead is a picturesque spot with a railroad and outdoor space that hosts free community concerts in spring and fall, including the Rockin' the Rails concert series. Covington Trailhead is also the start of Tammany Trace, a 31-mile paved trail for hikers and bicyclists connecting several North Shore communities like Mandeville and Abita Springs.
Get Dinner at Lola
Offering a contemporary rendition of Louisiana comfort foods, Lola is the perfect union of fine dining cuisine and family-style presentation. Mascarpone cheese grits, thyme pan gravy, and oven-roasted chicken with Abita Amber pan jus are just a few examples of how Lola's chefs put an accessible gourmet spin on Southern classics.
Shop Local at the Covington Farmers Market
Vendors at the weekly Covington Farmers Market offer up plenty of homegrown goodness, including delicious local produce and carefully prepared food. You can shop their wares every Wednesday from 10 a.m. until 2 p.m. at The Covington Trailhead or each Saturday from 8 a.m. until noon at the side yard of Covington Police Station (609 N. Columbia St.); they're open rain or shine.
Go Wild With Wildlife
Get up close and personal with local wildlife at the Insta-Gator Ranch in Covington, as experienced tour guides walk you through the gator life cycle. The most adventurous animal lovers will even get the chance to pet a baby gator! Nearby, check out the Global Wildlife Center in Folsom, LA and take a safari tour where you'll have the chance to meet giraffes, zebras, kangaroos and other animals up close and personal.
Get Cultured and Discover Local Artists
Each fall, Covington plays host to the Three Rivers Art Festival, which draws more than 50,000 visitors to the area. Regarded as one of the best art shows in the region, the festival showcases 200 talented artists and craftsmen. If you haven't gotten your fill of local art just yet, stick around for a few weeks, because another long-running craft show takes place the first weekend each December at the Covington Fairgrounds. The annual Christmas Extravaganza Expo in Covington brings more than 500 artists from across the Gulf South to town.
Relax In Affordable Luxury at Brewster Commons
Tired from all that exploring? Relax back at Brewster Commons at the on-site pool featuring a hot tub and tanning deck. Or, if you're burning off your meal from Lola, head to the fitness center stocked with the latest Precor equipment and a separate yoga room.
Reserve your new Brewster Commons apartment home today – a place to work and play in the heart of Covington.
---
King cake is popular this time of year, but it's not the only way to celebrate Mardi Gras. Check out some recipes inspired by one of our favorite parades, Zulu.
The krewe rolls on Mardi Gras Day, Feb. 17, in Uptown at 8:00 a.m. Perhaps you'll get one of their prized coconuts, but if not, no problem! Whether you prefer savory or sweet, we've got your coconut fix right here with these easy coconut recipes.
Toasted Coconut Brussels Sprouts
The exotic flavors of coconut create an intriguing flavor combination alongside Brussels sprouts while toasted coconut flakes add a satisfying crunch. Hearty enough for a vegetarian main, this dish is also the perfect side for a steakhouse dinner at home.
Cranberry Coconut Trifle
With Mardi Gras falling close to Valentine's Day, we think this recipe is a delectable way to celebrate both. Surprise your sweetie with a cranberry coconut trifle – pops of red cranberry tie in Valentine's colors while coconut, of course, says nothing but Zulu. You can follow the instructions for the homemade sponge cake, but we won't tell if you use store-bought ladyfingers instead.
Baked Coconut Shrimp
This classic dish is healthier when baked. The dipping sauce continues the theme of exotic flavors – curry, rice vinegar, and orange zest are spicy and bright. Serve as an appetizer or pair with a simple salad for an elegant weeknight dinner.
Slow-Cooker Coconut Ginger Chicken & Vegetables
You had us at "slow-cooker." This one-pot meal is a wonderful and warming dish to come home to – simply put assemble all the ingredients and let the slow cooker do the work while you're at the office. Chicken thighs are a budget-friendly choice, but you can swap boneless, skinless chicken breasts for a more health-conscious meal.
Coconut Macaroons
Five ingredients and you're on your way to moist and chewy cookies. They're also gluten-free! Drizzle them with chocolate for extra richness and depth of flavor.
---