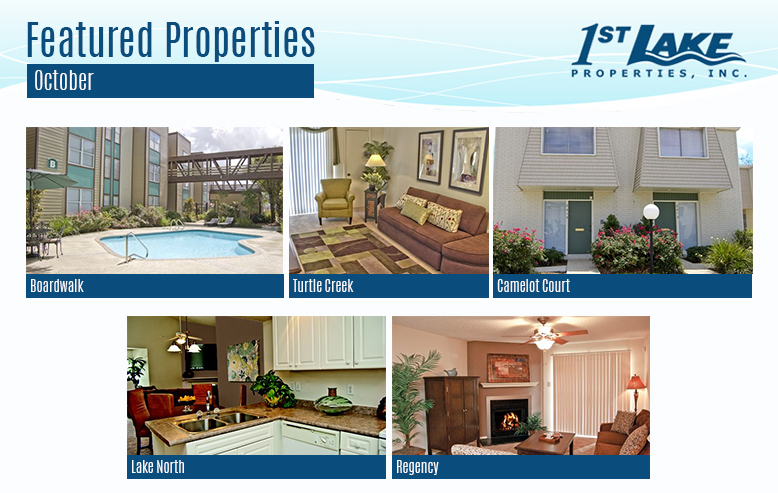 Leaves and temperatures aren't the only things falling. Our October specials at 1st Lake Properties keep prices low at several of our amazing communities. Reduced rents, waived administrative fees, and rarely available loft apartments are just a few of the deals you'll find. Check out a list of all our discounts now!
Greater New Orleans and Mississippi Apartment Specials
Sugar Mill East – This beautifully landscaped Kenner community features amenities like a lighted tennis court and pristine swimming pool. Just a block away from Lake Ponchartrain, Sugar Mill East is offering $175 off move-in costs – 1 bedrooms are available now!
Boardwalk Apartments – Offering up to $250 in savings this month, Boardwalk Apartments is a gated community in Metairie that entices future residents with features like a sunroom and large closets. Call now to find out more on savings, and get the details on select apartments that feature dedicated office space.
Camelot Court – Conveniently located in Metairie, Camelot Court Apartments features 3 bedroom apartments that are like a private home. Inside a gated community, each apartment features a full-size washer and dryer, large backyard, and access to the community pool. Call us today to take advantage of our 2 weeks free rent special.
Rosedale Apartments – The townhomes in Rosedale are surrounded by majestic oak trees, with a private backyard and all the amenities of home. Take advantage of the October special featuring 2 weeks free rent and move into a beautiful Metairie townhome with pool access and nearly 2,000 square feet of living space.
Parktowne Apartments – An award-winning property, Parktowne has all the space and luxury you need. With a 4-acre park, 3 swimming pools, a playground, and recreational space, our 3-bedroom apartments are a peaceful respite within the greater New Orleans metro area. Call today to find out about our special discounts for October.
Arbor Gate – Bringing big-city luxury to Picayune, MS, Arbor Gate apartments feature amenities like a palatial swimming pool and state-of-the-art fitness center. Plenty of green space creates a sense of tranquility within this gated community. Call now to inquire about reduced move-in fees with select leases.
Lakes of Chateau Estates South – A putting green and a private lake make this Kenner community a spectacular choice for outdoor enthusiasts. Call now to find out about our reduced rates on one and 2-bedroom apartments, plus additional savings on move-in costs.
Sawmill Creek – Offering reduced rent and move-in costs on select 2-bedroom apartments, Sawmill Creek could garner you up to $1,200 in total savings! This River Ridge, LA, community creates a cozy atmosphere with wooded landscaping and in-apartment amenities like a fireplace and vaulted ceilings.
Lakes of Chateau Estates North – One bedrooms start at just $965 as part of our fall special. This Kenner property offers amenities made for enjoying the fall weather, like landscaped walkways and a private lake. Call now for more details and to learn about our specials for 2-bedroom apartments.
Turtle Creek – Interested in a studio? One week of free rent is the word at Turtle Creek in Metairie. Washers and dryers and sunroom are just a few of the amenities at this small community. If you're looking for a larger space, call now for deals on our one and 2-bedroom apartments.
Regency Club Apartments – For a limited time, get $175 off move-in costs and up to $200 off your first full month of rent at Regency Club. With awesome upgrades like wood-burning fireplaces and private patios and balconies, this Baton Rouge community is a quick drive from LSU.
---