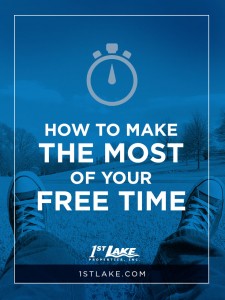 In our busy culture, free time is often painted as a luxury rather than a necessity, but it is exactly that: a necessity.
To give your body and mind a chance to unwind, refresh, and rest, you need to take time for yourself.
Since free time is precious, here are some ways to help you make the most of the time you have and carve out more free time to yourself:
Make A Blueprint For Your Life
In order to create more free time for yourself and spend it wisely, you must first know where your priorities lie.
Step away from your computer and spend some quiet time by yourself with pen and paper. Imagine how you want to remember your life, looking back on it in old age. Think about what aspects of your life you want to fill those memories. Maybe it's time spent with friends and family, or maybe it's running marathons around the world.
Plan out your priorities and write them down. Keep a copy of this list close at all times, and when life begins to get hectic, take a step back and remember what really matters to you.
Block Out Free Time On Your Schedule
When work, friends, family, and hobbies all add up to a packed schedule, free time can be hard to come by, but actively scheduling time for yourself to spend free of obligations can help reset your mind and make you a happier person.
Sometimes that means carving out when you give yourself permission not to worry about anything else in your life. Add daily or weekly appointments to your calendar for self-care and honor this time with yourself.
Don't Do Work
During your scheduled "me time", don't cheat yourself. Unplug and don't let work creep into your well-deserved time away.
Ignore emails and stop checking social media for just a little while. Try to stay away from television and the computer all together. Your brain needs a rest in order to maximize productivity when it's time to get back to work.
Instead, go for a walk outside, read a book, meditate or throw a one-person dance party in your living room. Your future self will thank you for this time spent re-charging.
Connect With Others
In our digital age, technology and social media can keep us from interacting in person. In addition to scheduling time in your calendar for yourself, schedule recurring dates with close friends and family as well as your spouse or partner.
Make regular plans to meet friends or family for dinner or coffee. Enjoy laughing with your favorite people. You'll remember how much you crave and miss that connection the moment you see their faces.
Do Things That You Are Passionate About
Make time to do things that are authentically you. If you care about animals, volunteer at an animal shelter; if you love painting, get outside and paint something new.
Make time to do those things that make you who you are; doing this will not only remind you how much those things mean to you, they can bring a renewed energy, as well.
Rest & Relax
If you are a busy person, one of the best things you can do for yourself is take a rest. Schedule a nap or take time to lounge around and do nothing.
Our bodies, minds, and souls function best when rest is included in our lives regularly. Balance is important for achieving our best possible selves.
Learn To Say "No"
Our time is precious and finite, and as much as we would like, it's not possible to say yes to everything.
Show some respect for your own time by saying "no" more often. Before saying yes to a new project or event invitation, take a moment to really evaluate if that opportunity aligns with your goals for your life.
How Do You Make Free Time?
Do you have additional tips for carving out free time for yourself? Share them with us on Facebook or Twitter.
---
How would you describe your apartment? Is it a little bit of everything? An Oriental rug with a leather chair, perhaps? Stark, elegant flowers on a rugged coffee table? Different eras and periods all coming together to create one happy home? If so, you probably lean toward an eclectic design style. We're exploring exactly what is eclectic home decor — plus a few tips on how to achieve it.
A Litmus Test to Determine What is Eclectic Home Decor
If your apartment hones in on some of the following characteristics (or if you'd like it to!), you probably prefer eclectic interiors.
The Furniture: Eclectic furniture tends to be a mix of pieces from different eras, like a mid-century modern sofa paired with opulent, leather club chairs, for example. Antique pieces and modern designs play together nicely in an eclectic home. However, all the mixed furniture shares a unifying feature: the same color palette. Typically, eclectic design styles favor neutral hues for furniture and brings in dazzling color through fabrics and accessories. On that note…
Fabrics and Accessories: Eclectic home decor features a wide variety of fabrics ranging from patterned, textured, trimmed, or all of the above — there's truly room for everyone in an eclectic design scheme! Again, color palette is important. Use shades that go well together, whether you keep it in the same color family and play with textures or opt for complementary colors.
Finishes: Do you like wearing mixed metals for jewelry? If you have no qualms pairing a gold necklace with a silver bracelet, you're probably a good candidate for embracing eclectic home decor. Because the furniture often comes from different eras in an eclectic style, so do the finishes — bronze, brass, nickel, and iron are all welcome!
The Takeaway: Eclectic home decor is all about mismatching — but there's a method to the madness. Remember to choose a unifying color scheme to tie everything together.
Read more: Our in-depth interviews with local interior designer Whitney Jones, whose own apartment boasts an eclectic home decor style full of DIY tricks. 
---
A homemade bowl of chili is kind of like a hug. It wraps itself around you, comforts you, and is there for you at the end of a long day. Using common pantry items and a slow-cooker technique, you can assemble this easy chili recipe in the morning. By the time you get home, it's ready to go — simply add toppings of your choice like sour cream, thinly sliced jalapeños, crushed tortilla chips, avocado, fresh cilantro, or shredded cheddar cheese (or all of the above!).
Our favorite part about this chili is that it tastes even better after a day or two. Store it in an airtight container in the refrigerator to let the flavors marry together, then enjoy a bowl for lunch the next day, use it as a topping for chili dogs, or make late-night nachos with the leftovers.
Before you get started, take a look at some of our other ideas for weeknight cooking, like these 5 healthy ingredients or these 10-minute dinner ideas.
Slow-Cooker Chili Recipe
Ingredients
3/4 pound ground chuck (you could also sub for another meat like ground turkey for a leaner chili)
1 pound chuck-eye steak, cut into bite-size pieces
1/4 cup crushed garlic cloves (about 10 cloves)
1 1/2 tablespoons kosher salt
1 tablespoon ground cumin
1/2 teaspoon ground red pepper
1 pound dried red kidney beans (note: you may want to soak overnight)
1 (28-oz.) can crushed fire-roasted tomatoes
1 (8-oz.) can tomato sauce
Recipe
Brown the ground beef in a large skillet over medium-high heat, stirring often, 6 minutes or until meat crumbles and is no longer pink. Transfer browned beef to a 6-qt. slow cooker. Add chuck-eye cubes to the skillet, and saute them for 6 to 8 minutes, or until brown on all sides. Then, add the chuck-eye cubes to slow cooker. (Note: You can brown the meat the night before, sealing in an air-tight container in the refrigerator, to save time)
Add the remaining ingredients into slow cooker except the stock. Then, pour in the stock and stir. Cover and cook on high for 8 hours, or until beans are tender. (Note: Using pre-soaked or canned beans can shorten the cooking time)
---
Remember when you were a kid and all you wanted was to do something "all by yourself"? Now that you're grown up, it can be hard to harness that same can-do attitude, especially when it comes to interior design. However, there are plenty of easy, DIY home decor ideas for every single room of your home that can make a big impact. You'll save money, and you'll be proud of the results — tell everyone you did it all by yourself!
DIY Home Decor Ideas
Kitchen
Colorful, Customized, No-Sew Placemats: Placemats aren't just for the dining room. Use them in the kitchen beneath a mixer as you bake, or for those moments when "sitting down to a meal" really means standing at the counter as you check your email on your phone. The colorful placemats below couldn't be any easier to make: simply find a home decorating fabric you like, then purchase iron-on vinyl topper (available at most craft stores). Cut the fabric into neat rectangles of 12 inches by 17 inches. Then, following the vinyl topper instructions, apply vinyl to each side — watch this video for a step-by-step tutorial. For added flair, you can trim any rough edges with scalloped pinking sheers.
Living Room
A Chic Tray: We're probably all guilty of enjoying a meal in front of the TV every now and then (or maybe even every night!). Create a tray to transport your meal from kitchen to living room seamlessly — it'll also be a handy surface to eat on. This DIY tray comes from a salvaged kitchen cabinet door destined for the trash bin. Sand it down, paint it any color you like, then drill handles at each end as pictured. If the cabinet door has any holes, be sure to fill them with wood filler and let dry overnight before painting.
Bedroom
Thumbtack-ular: Use metallic-finish thumb tacks to add instant polish to furniture and upholstery. If you have an upholstered headboard, try adding thumbtacks around the border to mimic a nailhead finish. You can use thumbtacks to jazz up plain or painted wood furniture, too — trim side tables, desks, or chairs with a neat row of thumbtacks, or get creative with swirling patterns.
Bathroom
Pretty, Practical Hamper: Use a patterned pillowcase as the basis for a beautiful, no-sew hamper that will look chic displayed from a hook in the bathroom — it'll also be super practical for catching dirty duds at the end of the day. Simply use a 12-inch embroidery hoop (available at craft stores) and about 10 inches of ribbon. Clamp the case into the hoop, then use the clamp as a spot to tie on the ribbon. Good Housekeeping shows you the end result, below:
Miscellaneous
Need more ideas? Our blog is here to inspire. Check out these helpful posts:
---
A common challenge for renters is space constraints. It may seem like your apartment can't fit all of your stuff, but there are ways that you can make everything fit comfortably with the space available that you may not have thought of. Enter these awesome storage ideas.
Maximizing the space you have is key. One of our favorite solutions for storage in a small apartment is making use of vertical space.
Storage Ideas for Apartments
Vertical Storage

It's easy to use up the available horizontal space in your apartment, but often times there is a lot of leftover vertical space that can be utilized. Here are the best ways to use vertical space in your apartment.
Free standing shelves and bookcases
Free standing shelves are not only portable, convenient, and rental-friendly, but also a great space saver! They come in a variety of shapes and sizes and can be used in any room in the apartment, including the kitchen for extra dish or appliance storage, the bathroom for towels and toiletries, as bookcases, or in the closet to store shoes or clothes that won't fit in drawers.
A ladder-style leaning bookshelf can be an easy, modern way to add some extra storage furniture to a bare wall – use it to display decorative items or store books.
Under shelves
Another great way to use vertical space especially in your kitchen is with under-shelf storage baskets. If there is a lot of room between the shelves that are already built in to your cabinets, simply attach an under-shelf basket to create more storage space for additional items.
If you need more space to store glassware, there are also under-the-shelf stemware holders that are a convenient solution.
Wall space
One thing we sometimes forget is that we have plenty of space on our walls for storage. This can be easily and safely used by placing shelves along the walls to use that vertical space to its capacity.
Hidden Storage Solutions
There's more to storage than meets the eye with these clever items.
Risers
Give storage a lift when you use bed risers — they're affordable, easy to use, and add valuable inches to store items under your bed. Adding height is also a great way to give the illusion of more space: your bed will look and feel more regal, and you'll benefit from the added storage beneath.
Storage Beds
Storage beds have built-in storage within a hollow portion of the bed frame. Many feature drawers along the bottom for a look that is both attractive and incredibly functional. Use the added space to store bedtime essentials like blankets or pajamas.
Storage Ottomans
Ottomans are a great addition to a living room — you can bring in new colors and prints at an affordable price, and if you choose a storage ottoman, you can also add a little more practicality. Storage ottomans are hollow on the inside with a removable lid for easy access. Stock yours with living room items like games, remotes, or blankets.
Looking for a new apartment? We have many excellent and spacious choices for metro New Orleans apartments and in Mississippi!
---