When it comes to gift-giving, it's often said that it's the thought that counts. However true this may be, you should strive to give the best gift possible.
Adding a personal touch to your gifts is a way to show someone they're special. That's why DIY gift baskets are so cool – they're a way to give a great gift with a personal touch.
In this post, we'll share some ideas for DIY holiday gift baskets. With a gift basket, you can give your loved ones an assortment of goodies that show you've been thinking about them.
Read on for some great gift basket ideas!
Wine & Coffee
Both wine and coffee are great themes for a holiday gift basket. Chances are, you know someone who is a wine or coffee enthusiast, or both. There are lots of coffee or wine-themed gifts you can turn into a basket that will provide them with everything they need to enjoy their favorite beverage.
For coffee, include mugs, to-go cups and lids, coffee beans of your choice, mini-creamers, and sugar. And if you want to go the extra mile, you can even include a coffee bean grinder.
For wine, include wine glasses, a corkscrew, wine aerator, and a bottle of delicious red or white. For a more in-depth tutorial on wine baskets, check out Among Other Things' detailed guide.
Gardening
Do you know anyone with a green thumb? If so, they'll be delighted by a gardening gift basket.
Use your gardening basket as a way to replace old or worn tools and provide inspiration for new things to grow.
Include gardening gloves, a garden trowel, seed packets, gardening books, air plants, garden cultivator for loosing soil and weeds, and gardening pots. Check out The Merry Thought for more.
Grilling & BBQ
The grilling gear basket is great for anyone who spends their holidays entertaining guests and flipping burgers out in the backyard.
Include a basting brush, a high-quality dry rub or sauce, skewers, an assortment of grilling-related condiments, and top it all off with a cutting board. Country Living provides a few more ideas for the grilling pro in your life.
Baking
You probably also know someone that loves to bake. Because those who bake love to share the fruits of their labor, a "baking essentials" basket might end up being a gift to yourself as well!
Include baking utensils, a whisk, spoon, spatula, measuring cups and spoons, tongs, and a strainer. Dish towels, oven mitts, and some kind of cake mix or dough are also great additions.
Start Making Your Holiday Gift Baskets in Your New 1st Lake Apartment!
Contact us today for information on our private residential communities.
.
---
What's your favorite part of the holiday season?
Spending time with family, gift-giving, and some time off of work probably rank high on your list. But what about the food?
The holidays are a time to indulge in deliciousness, and this post will help you do just that in the coming weeks. Read on for 1st Lake's list of holiday baking ideas that will keep you, your family, and your friends full of cookies for the entire season!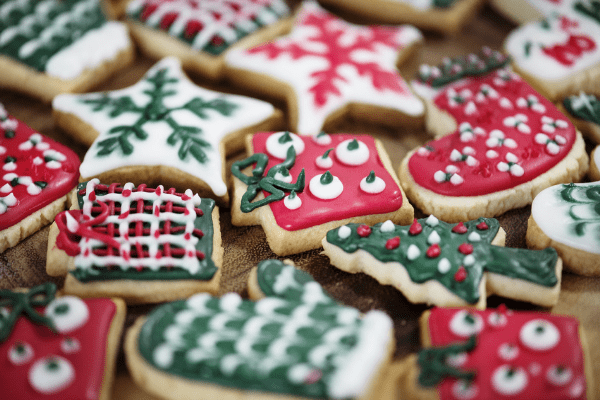 Perfect Sugar Cookies
Delish breaks down the process of baking the perfect batch of classic holiday treats:
Ingredients (Cookie Dough)
3 c.

 

all-purpose flour, plus more for surface
1 tsp. baking powder

1/2 tsp. 

kosher salt
1 c.

 

(2 sticks) butter, softened
1 c.

 

granulated sugar
1 large egg
1 tsp.

 

pure vanilla extract
1 tbsp.

 

milk
Ingredients (Buttercream Frosting)
1 c.

 

(2 sticks) butter, softened
5 c.

 

powdered sugar
1/4 c.

 

heavy cream
1/2 tsp.

 

pure almond extract
1/4 tsp.

 

kosher salt
Food coloring 
Directions
In a large bowl, whisk together flour, baking powder, and salt and set aside.
In another large bowl, beat butter and sugar until fluffy and pale in color. Add egg, milk, and vanilla and beat until combined, then add flour mixture gradually until totally combined.
Shape into a disk and wrap in plastic. Refrigerate 1 hour.
When ready to roll, preheat oven to 350º and line two baking sheets with parchment paper. Lightly flour a clean work surface and roll out dough until 1/8" thick. Cut out shapes and transfer to prepared baking sheets. Freeze 10 minutes (so your shapes hold while baking!).
Meanwhile, make frosting: In a large bowl using a hand mixer, beat butter until smooth, then add powdered sugar and beat until no lumps remain. Add cream, almond extract, and salt and beat until combined.
Bake cookies until edges are lightly golden, 8 to 10 minutes. 
Let cool, then frost and decorate as desired.
Photo by tasteandtellblog.com via Pinterest
Cake Mix Cookies
What if you could eat cake AND cookies at the same time? Well, with Taste and Tell's cake mix cookie recipe, you can!
Ingredients
1 cake mix* (dry ingredients only)
1/2 cup vegetable oil
2 eggs
1/2 cup mix-ins
Directions
Preheat the oven to 350ºF. Line a baking sheet with a

 

silpat liner

 

or

 

parchment paper.
In a bowl, mix together the cake mix, vegetable oil and eggs until combined. Stir in the mix ins.
Scoop the dough onto the prepared baking sheet, at least 2 inches apart. Bake just until the cookies are set in the middle, 10-12 minutes.
Cool for 2 minutes on the baking sheet then transfer to a cooling rack or a sheet of waxed paper.
Eggnog Snickerdoodles
This recipe takes a year-round favorite — snickerdoodles — and adds a holiday twist. 
Ingredients
1 cup butter, softened
2 1/3 cups sugar, divided
1 egg
1 teaspoon vanilla or rum extract
1 cup eggnog
4 1/2 cups flour
1 teaspoon baking soda
1 teaspoon salt
1 teaspoon cream of tartar
1/2 teaspoon ground nutmeg
Directions
Preheat oven to 350 degrees.
In a large bowl, cream together the butter and 2 cups sugar until light and fluffy. Beat in the egg and vanilla.
In a large bowl, sift together the flour, cream of tartar, baking soda and salt.
Add the flour mixture to the creamed mixture, alternately with the eggnog. The dough will be thick and slightly sticky.
Mix together 1/3 cup sugar and 1/2 teaspoon ground nutmeg in a small bowl.
Shape the dough into rounded tablespoons; roll in sugar and nutmeg mixture. Place 2 inches apart on ungreased baking sheets and bake for 8-10 minutes, or until cookies are just set and starting to crack.
This recipe, when done correctly, should only take 30 minutes to prepare. This will save you tons of time when preparing a larger holiday meal.
Gingerbread Cutout Cookies photo by Taste of Home
Gingerbread Cookies
Sally's Baking Addiction describes these delectables as "perfectly spiced, molasses and brown sugar-sweetened holiday goodness." Quite a review! 
Complete your holiday baking vision with these iconic holiday cookies from Taste of Home.
Ingredients
3/4 cup butter, softened
1 cup packed brown sugar
1 large egg, room temperature
3/4 cup molasses
4 cups all-purpose flour
2 teaspoons ground ginger
1-1/2 teaspoons baking soda
1-1/2 teaspoons ground cinnamon
3/4 teaspoon ground cloves
1/4 teaspoon salt
Vanilla frosting of your choice
Red and green paste food coloring
Directions
In a large bowl, cream butter and brown sugar until light and fluffy. Add egg and molasses. Combine the flour, ginger, baking soda, cinnamon, cloves and salt; gradually add to creamed mixture and mix well. Cover and refrigerate until easy to handle, about 4 hours or overnight.
Preheat oven to 350°. On a lightly floured surface, roll dough to 1/8-in. thickness. Cut with floured 2-1/2-in. cookie cutters. Place 1 in. apart on ungreased baking sheets.
Bake until edges are firm, 8-10 minutes. Remove to wire racks to cool. Tint some of the frosting red and some green; leave remaining frosting plain. Decorate cookies.
Bake Your Holiday Treats in Your New 1st Lake Apartment!
Now that you've got the recipes that it takes to fill the holiday season with delicious snacks, let us help you find a beautiful apartment to bake them in! Contact us today for information on our private residential communities.
---
It's that time of year again — when the weather gets colder and family and friends become a priority, and the feeling of togetherness with loved ones warms your heart.
Have you started making your shopping list for the year? For us, making sure we've checked off every name is a fun pursuit, even if it's difficult. 
Shopping for your friends and family is a personal journey that is different for everyone. However, every gift must get wrapped.
That's why we've put together a list of unique gift-wrapping ideas for the holiday season. 
Read on for a few ways to make sure your gift is a memorable one, even before it's opened!
Add Some Evergreen
While wrapping paper may be the most noticeable thing about how you present your gift — and we'll get to that — including a few natural elements that reflect the season is a great way to add some fresh flair to your present. According to Good Housekeeping, "kumquats, holly sprigs, and other seasonal decor attached with floral wire add a burst of color" to an otherwise plain wrapping.
Memorable & Sustainable 
A way to add a personalized touch to your gift is to wrap it in the traditional Japanese "furoshiki" style. A furoshiki wrapping technique uses only a single cloth or square piece of fabric and was created centuries ago in ancient Japanese culture. It is a convenient, economical, and eco-friendly way to wrap gifts.
Below is Wellness Mama's 2 step instruction manual for furoshiki gift wrapping:
Use a yardstick to measure out a square or rectangular piece of fabric. A typical size for a furoshiki wrap is 36 inches by 36 inches, but these can be made larger or smaller depending on what will be wrapped. Larger premade fabric pieces, like tablecloths and bedsheets, will probably also need to be cut down to size.
For a no sew version, cut out the fabric

 

with pinking shears. (Fabric must not be prone to fraying.) Otherwise, use scissors to cut out the measured fabric. Pin the edges like you would for a hem and sew.

Polka Dots
As far as patterns go, plaid is the go-to for holiday gifts. But it's important to differ from the norm if you want your wrapping to stand out. 
Just use a different, but extremely recognizable, pattern. Polka dots!
A Used, But Nice, Button-Down Shirt
Repurposing old dress clothes can be a quirky, fun way to wrap your gifts. In fact, it serves as two gifts in one! Using a button-down shirt to wrap a small gift makes it ready-to-wear.
Check out Country Living's tutorial on reusing patterned clothing for gift wrapping here.
Hand-Painted Wrapping Paper
This is the most personalized wrapping idea on our list. And all it takes is a few markers, or acrylic paint, and a brush. 
By painting minimal, simple patterns on several 24 inches x 36 inches or 18 inches x 24 inches poster boards, you will create plenty of wrapping paper for your gifts. 
Check out these instructions by Camille Styles to make beautiful, personalized wrapping paper for your loved ones:
SUPPLIES
1 hand painted poster board per book
scissors
ruler
pencil
hole punch
ribbon
Lay the book flat on the back side of the poster. Fold the edge of the poster until it covers 2/3 of the book front from top-to bottom. Let the folded poster fall back down and do not move the book. Measure the space between the bottom of the book and the edge of the poster.
Measure and mark the same amount of space from the top edge of the book. Cut along the mark. There should now be the same amount of poster from the top and bottom edge of the book.
Fold the left edge of the poster until it covers 2/3 of the book from left-to-right. Repeat the rest of steps 1 and 2. Your book should now be in the center of a rectangle that's perfectly sized to wrap around it.
Cut the corners out of your rectangle as pictured.
The edge of the folding flaps should line up with the edges of the book, as pictured.
Fold in the top and bottom flaps.
Fold in the left and right flaps, then mark and cut only the left and right flaps to form a triangular envelope shape with a flat point. Make sure that when you cut, these two flaps still overlap when folded.
Use a hole punch to poke two holes into the top flap.
Press the top flap down, and use a pencil to mark through the holes onto the second flap. Punch where holes were marked on the second flap. Repeat onto the third and bottom-most flap until all four flaps have holes punched in them that align.
Cut a long piece of ribbon and thread it through the bottom flap.
Fold the next flap down and thread the ribbon through again, as pictured.
Repeat with the two top flaps, then tie the ribbon into a pretty bow.
Fill Your New 1st Lake Apartment With Holiday Cheer!
Contact us today to learn more about our private gated apartment communities!
---
Candy canes and silver lanes are aglow in South Louisiana. The spirit of the season is here, and New Orleans, the Northshore, and Baton Rouge have a host of spectacular events you can check out to celebrate the holidays in true Louisiana fashion.
Read on for a regional breakdown of some great family-friendly holiday events this year.
Metairie & Kenner
Metairie and Kenner certainly get merry and bright for the holidays, which is why we love having apartment communities in those areas. You're just a quick drive away from extravagant lighting displays, Santa visits, and remarkable holiday performances.
Christmas in Lafreniere Park
Lafreniere Park's annual light display keeps getting better and better. This year they'll have a 60-foot lighted Sea Serpent in the park's lagoon, a giant gingerbread man, and a sparkling magical castle. Saints fans can see a towering Lombardi Trophy, and kids can enjoy an illuminated spin on the Children's Carousel. Entry is $5 per vehicle. Carousel rides are $1 per child.
Kenner Christmas Village 
Kenner Christmas Village is a great idea for a family outing this holiday season. The Christmas Village is filled with things to do and see the whole family will love. There's ice skating, nightly performances, and Santa's workshop. Parents can enjoy the spirit of the Biergarten and take care of some shopping, as well. On December 15th, let your kids have "Breakfast with Santa," for Santa photo opportunities, a pancake &  sausage breakfast, arts and crafts, story time with Mrs. Claus, and more! Entry is free, but the Village's special events are an additional charge.
Santa Photos at Lakeside Shopping Center & Esplanade Mall
Kenner's Esplanade Mall will have Santa photo opportunities daily until December 24 at 6:00 p.m. Check out Santa's photo hours on the Esplanade Mall's event page. Lakeside Shopping Center also has Santa photo shoots from now through December 24.
Northshore
The Northshore is just a short drive from New Orleans, across Lake Pontchartrain. The Northshore's holiday calendar is always jam-packed with wonderful events for the whole family.
Merry Madisonville & Lighting of the Oaks
The 10th annual Merry Madisonville is a holiday festival that begins with a holiday parade, where Santa arrives by boat at Town Hall. Soon after is "Santa's Workshop," which features caroling, kids' activities, photos with Santa and Mrs. Claus, and arts and crafts. 
Finally, Madisonville Mayor Jean Pelloat will begin the "Lighting of the Oaks," during which Madisonville's majestic oaks will be illuminated with beautiful twinkling lights.
Slidell's Bayou Christmas
The 5th annual Bayou Christmas is a free festival presented by the Boys and Girls Club of Southeast Louisiana. It will take place December 19-22, 2018 in Slidell's Heritage Park.
Over 80,000 lights decorate wonderful lighted displays and holiday music, setting the scene for free photo shoots in Santa's Village.
Baton Rouge
Louisiana's capital city will soon feature plenty of events and shows that will put you in the holiday spirit.
Holiday Lights at Baton Rouge General
Baton Rouge General Medical Center presents its first fantastic holiday lights display this year, transforming its lawn into a synchronized musical light show. It's already running, and you'll have the opportunity to see it through December 31! 
Festival of Lights
Go Downtown to Baton Rouge's Town Square for an immersive holiday celebration. According to Visit Baton Rouge, the whole family can "frolic in the imported snow, ride a magical train at the Old Governor's Mansion, see Santa and Movies at the Old State Capitol, and listen to Holiday Music Magic at the Art and Science Museum." Sounds like a blast!
This year's event will also feature a "Cajun Night Before Christmas" performance.
Get Cozy in Your New 1st Lake Apartment this Holiday Season!
Contact us today to learn more about our private gated apartment communities!
---
Create instant holiday warmth in your home by streaming our cozy, crackling fireplace on your TV, iPad,  or smart phone. Throwing a festive party? Use this fireplace as the centerpiece. You can stream directly from our blog or head to our Youtube channel.
Let's get crackling!
Want your own apartment with a fireplace? See our list of apartments here:  //bit.ly/1stlakefireplaceapts.
---