The New Orleans suburbs are fast becoming some of the most sought-after neighborhoods in the region. Offering close proximity to downtown New Orleans for work and play, the suburban area of River Ridge, Elmwood and Harahan are that perfect mix of convenience and quiet you simply won't find in the city.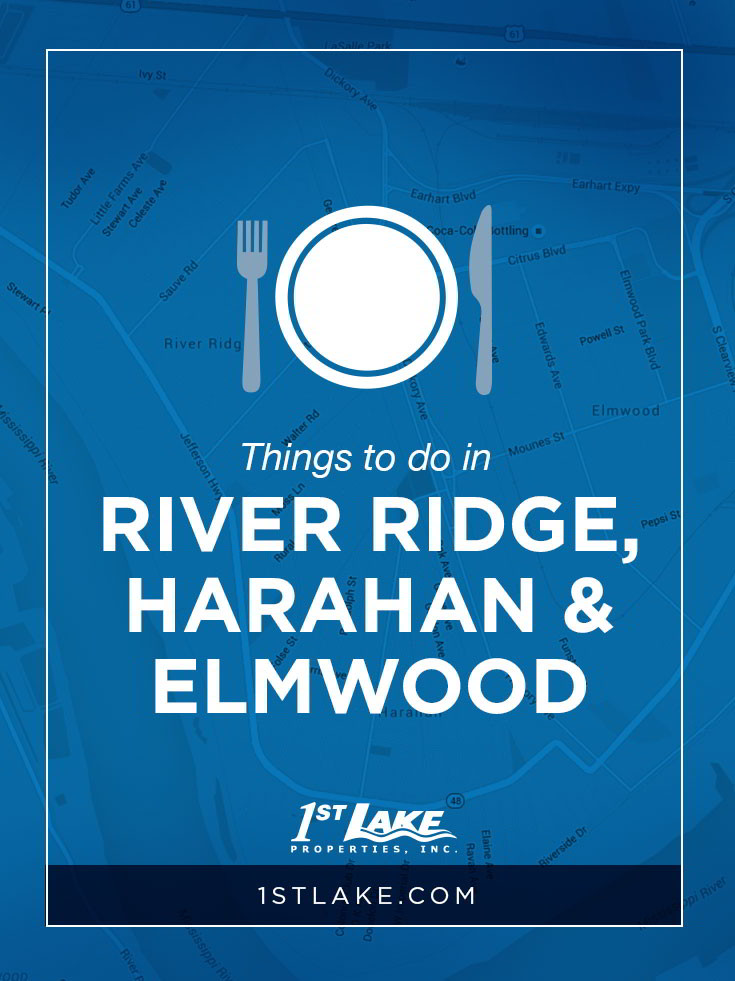 What's more, apartments in River Ridge offer you space and luxury amenities like a pool, on-site dog park, gym, and much more. Our Bella Ridge property, for example, is in the heart of River Ridge and boasts perks like a covered parking garage.
Are you new to River Ridge, Louisiana? Whether you've just moved or are considering taking the plunge, explore a few of the things to do in River Ridge, Harahan and Elmwood.
Entertainment
With easy access to New Orleans, this neighborhood offers an endless array of activities for all ages, but you don't have to drive into the city to be entertained. Here are a few of our favorite entertainment options in your backyard:
1200 Elmwood Park Blvd, Harahan, LA
The AMC Elmwood Palace movie theater in Elmwood offers 20 screens, including a full IMAX experience. In true New Orleans style, this movie theater also features a full-service bar, making it a great place for date night.
1200 Clearview Parkway, Suite 1106, Harahan, LA
Adventure Quest Laser Tag offers a variety of fun indoor activities for groups of any age. In addition to laser tag, they also offer bumper cars, cosmic golf, an adventure maze and an arcade. Look for their weekly specials and check out their membership option for extra savings.
6601 Jefferson Hwy, Harahan, LA
This locally-owned bowling alley features 24 wooden lanes and a laidback atmosphere. Colonial Bowling offers a variety of league bowling as well as group rates and parties. Need a break from bowling? Just head to their game room for arcade style games, or visit their Lamplighter Lounge for cocktails.
3000 Downs Boulevard, Metairie, LA
Nearby Lafreniere Park offers 155 acres of outdoor fun, including a 2-mile jogging trail, 18-hole disc golf course, two playgrounds and a 20-acre lagoon. It's one of the many great places for a bike ride, and it's the perfect place to get away from it all with a good book and a picnic.
Dining
Whether its classic American fare or local oysters joints, River Ridge is home to several casual dining options to satisfy any craving. We love how you'll find a mix of not only prominent national chains but also local restaurants. Some of our favorites include:
279 Hickory Ave, Harahan, LA
New Orleans is of course known for its great seafood, and the suburbs like Harahan are no exception. Seither's Seafood is one of the top-rated locally-owned restaurants in this neck of the woods, and for good reason. Enjoy classic Southern dishes like shrimp po-boys, gumbo, crawfish, fried green tomatoes and raw oysters.
1208 S. Clearview Parkway, Suite D, Harahan, LA
Specializing in Mediterranean flavors with a Southern twist, Zoe's Kitchen is your ideal destination for healthful dishes like grilled chicken kebabs, veggie pita pizza, orzo soup, Greek salads, and much more. They offer a menu for those with food allergies (several items are gluten-free or vegetarian) plus a menu called "Simply 500" where all items clock in at fewer than 500 calories.
Not counting calories? Finish the meal with a slice of their YaYa's Hand-Made Chocolate Cake.
1212 S. Clearview Parkway, Harahan, LA
This local pizza chain is a regular winner of foodie awards, including a Gambit Best of New Orleans Award for best pizza, and a New Orleans Magazine Tops of the Town nod. In addition to a comprehensive wine and beer list, Theo's main draw is its pizza. Unexpected toppings like yellow squash, Anaheim peppers, goat cheese, and jalapeños make Theo's a step up from your basic Margherita. Build your own pizza or choose from their own creative specialties. Salads, sandwiches, and appetizers are also available.
5608 Citrus Blvd, Harahan, LA
Noted for its consistently fresh and delicious sushi, Kyoto 2 is the Elmwood/River Ridge outpost of its Uptown New Orleans location. We go crazy for the poke salad or the ponzu-topped ceviche. Kyoto 2 also gets points for creative sushi names: order the No Name, Tiger Eyes, or Funky Margarita rolls on your next visit.
1212 S. Clearview Parkway, Harahan, LA
Sometimes you just need a burger and fries. Skip the typical drive-through options and head to Five Guys Burgers and Fries instead. At Five Guys, handcrafted burgers and real, handmade fries are just a dollar or two pricier than a drive-through and infinitely more delicious. Choose as many free toppings as you want (we suggest the grilled mushrooms) and try the fries Cajun style for an extra kick of heat.
6625 Jefferson Hwy, Harahan, LA
Oak Oven is a locally owned Italian style restaurant with a casual bistro atmosphere. Any restaurant in the New Orleans area can't help but be inspired by local cuisine and Oak Oven is no exception – not only does Chef Adam Superneau pair southern Louisiana influences with his classic Italian recipes, but the restaurant also uses many locally grown and house-made ingredients. (The fresh mozzarella, pasta and Sicilian semolina bread are all made from scratch in-house!)
5171 Citrus Blvd #2000, Elmwood, LA
Comfort food classics with a Francophile spin are the order d'jour at La Madeleine. Quiche Florentine is the perfect meal for breakfast, lunch, or dinner, and if you're unsure what to order – well, they have an on-site bakery. Specialty coffees and a selection of wine are available; so, too, are traditional French classics like Croque Monsieur, Quiche Lorraine, and flaky Spinach Pochette.
1212 S. Clearview Parkway, Harahan, LA
Frozen yogurt is that perfect blend of tart and sweet that really hits the spot on a warm day. Pinkberry, an international chain, is known for its inventive flavors and options for people with food allergies. For example, their dairy-free mango frozen yogurt has bright, tropical flavors without any gluten, dairy, or added sugar.
Shopping
Shopping is as easy as it is fun in River Ridge. Convenient shopping centers like Elmwood Shopping Center on Clearview Parkway pack a punch, while local boutiques offer unique finds.
Here's a peek at our favorite shopping spots in River Ridge:
1915 Hickory Ave, Harahan, LA
This locally-owned fashion boutique is located in the heart of River Ridge and features trendy women's clothing, shoes and accessories at affordable prices. Be sure to check out their sale rack for unbeatable deals.
1126 S. Clearview Parkway, Harahan, LA
Ulta is the ultimate high-low mix when it comes to cosmetics. Shoppers will delight at department store beauty brands like Bare Minerals, Tarte, and Benefit right alongside drugstore favorites like Covergirl and Almay. Check their website before you go: there's almost always a sale and a coupon you can print or download.
1126 S. Clearview Parkway, Harahan, LA
Designer Shoe Warehouse (DSW for short) has shoes for the whole family. With hundreds of pairs in stock, DSW offers a wide variety of styles, sizes, and prices. It's the go-to spot for shoes whether you need a formal pair for a wedding, classic work pumps, or vacation-ready sandals.
1126 S. Clearview Parkway, Harahan, LA
Have you ever noticed how accessories can change the whole look of your outfit? That's the ethos behind Charming Charlie, a sprawling accessories store with affordable jewelry that ranges from bohemian-chic to preppy. Hair accessories, purses, phone cases, and select styles of shoes are also in store. All you need to do is add your favorite outfit!
1134 S. Clearview Parkway, Elmwood, LA
In addition to furniture and other housewares, World Market features an international grocery store where you can find global favorites like Milka chocolate bars from Germany, Australian vegemite, and Britain's favorite topper, HP Sauce.
Need more shopping options? Lakeside Mall in Metairie and Esplanade Mall in Kenner are both within just a few miles of River Ridge. And the boutiques in downtown New Orleans, such as The Shops At Canal Place, are just 15 minutes away.
Annual Events
This annual festival in Harahan celebrates everyone's favorite Southern nut, the pecan, with plenty of food options including pecan pepper jelly, pecan pralines, pecan pies and much more. The weekend-long event takes place each November and features live music and fun activities for all ages.
We want to know!
Jefferson Parish residents, what are YOUR favorite things to do in the neighborhoods of River Ridge, Harahan and Elmwood?
If you live in one of our River Ridge apartments, be sure to join us on Facebook or Twitter and let us know your favorite neighborhood spots!
---