It's not hard to find countless tips and best practices for apartment hunting online, but what if you're looking for the perfect apartment space for you and your significant other?
While apartment hunting individually or as a couple can be similar in many ways, there are certain factors to consider that are unique to approaching the process as a pair – just like deciding how to spend the holidays or making big purchases. If you're launching into an apartment hunt with that special someone, check out these 3 things that'll make the process faster, easier and more enjoyable for both of you.
1.  Know Your Apartment Negotiables & Non-Negotiables in Advance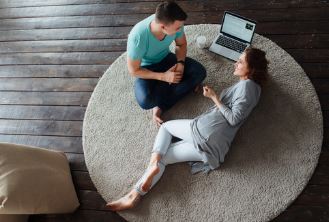 This is a largely ignored step that can save couples a ton of hassle and disagreements. Before launching into your couple apartment search, make sure to write separate lists of each of your apartment negotiables and non-negotiables. Then, combine all your non-negotiables into one list and make this your starting point. If the list seems too long, try to cut it down by eliminating items that both of you don't feel strongly about. Completing this exercise before going into the process will be instrumental in avoiding nasty surprises later on.
For example, are there certain locations that won't work for one of you? Is a community pool a necessity or are both of you willing to forgo that amenity? Questions like these can help both partners get on the same page and narrow down the apartment search criteria – separating the necessities from the "icing on the cake" items will help speed up the apartment search process tremendously.   
2. Split the Apartment Search to Double the Efficiency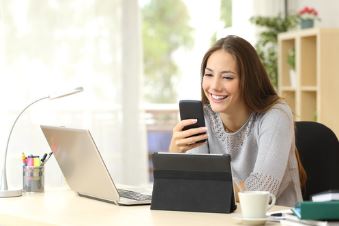 Okay, we get it, you do everything together. However, when it comes to apartment hunting as a couple, this may not be the most efficient strategy. We suggest maximizing the fact that there are two of you – you can cover twice as many locations, online resources and showings if you split the search process between the two of you. While there will be times when you need to research a listings site or attend an apartment appointment as a pair, tackling some of the legwork separately can make your apartment search twice as effective.
To avoid any miscommunication or confusion, make sure to keep each other in the loop through cc'd emails, pictures and regular touch bases. As far as visiting apartments solo, that's what FaceTime is for.
3. Establish a Soft Timeline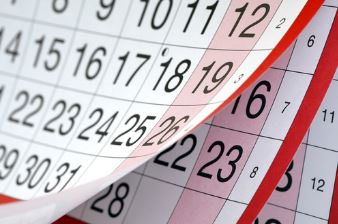 When you first decide to rent, you've most likely discussed a feasible timeline for research, appointments, application process, etc. However, it's best not to place a hard deadline on when to make a decision. Unless there are factors such as a new job or the birth of a child to consider, it's best to leave plenty of room for research, discussion and changes of heart. Renting an apartment as a couple should never be approached in a rushed fashion, and if one person isn't 100% on board with a particular place, it's best to wait rather than try to convince them otherwise.
Apartment hunting with a significant other can be an exciting time but can turn ugly if both parties aren't open to reaching common ground. It's important to consider your partner's point of view while being clear about your own needs and non-negotiables. As long as you know what to stand firm on and what to let go, you'll be moving into both of your dream apartment in no time!
Finding the ideal apartment is a big part of the puzzle when moving as a couple but there are many other moving-related tasks to consider as well. If you're moving in the near future, check out CableMover's Custom Moving Guide for personalized tips, tools & timelines for your move – your way. 
Guest blog by CableMover
---
Jefferson Parish must be on the nice list, because there are so many fun activities for us to enjoy this holiday season! Whether you live in Metairie, River Ridge, Kenner, or elsewhere in the Greater New Orleans region, we've got you covered with a veritable winter wonderland of holiday happenings.
Holiday Activities in Greater New Orleans
Music and Theater Events
Jefferson Performing Arts Society Presents: The Ultimate Christmas Show
This holiday variety show and Christmas pageant runs Fridays and Saturdays at 7:30 p.m. and Sundays at 2:00 p.m. from Dec. 2-11. If you'd like to catch it during the week, enjoy a special Thursday performance on Dec. 8 at 7:30 p.m. Tickets start at $25; call (504) 885-2000 for more information.
Rivertown Theaters for the Performing Arts' "Steel Poinsettias"
A comical riff on "Steel Magnolias," this play has a Christmas-themed twist and just as much Southern sass. Catch it Dec. 2-3; Dec. 9-10; and Dec. 16-17 at various evening and matinee times. Tickets are $30; call (504) 461-9475 for more information.
The National World War II Museum's "A Vintage Christmas"
Singing vintage tunes "Have Yourself a Merry Little Christmas," and "Rudolph the Red-Nosed Reindeer" in perfect harmony, the vintage-chic Victory Belles conjure up an era gone by during their show, happening throughout the holiday season. You can even catch a show on Christmas Day! Buy tickets in advance to reserve your spot.
Jefferson Performing Arts Society Presents: "The Nutcracker"
An absolute holiday classic. Last year, JPAS's performance of "The Nutcracker" was named the best ballet presentation of 2015 at the Big Easy Classical Arts award — you won't want to miss it! Get your tickets online (from $40) for Dec. 17 at 7:30 p.m. or Dec. 18 at 2 p.m.
Outdoor Events
Fridays, Saturdays, and Sundays through the holiday season, find caroling, holiday characters, crafts, food vendors, and entertainment at Kenner Christmas Village, 405 Williams Blvd. Admire beautiful Christmas lights and animated scenery, and don't even worry about bringing your wallet — admission is free! (Of course, food and drink are additional costs.)
Lafreniere Park hosts this dazzling event throughout its lush grounds. Explore LED light displays plus amusements like the Children's Carousel ride. Admission is $5 per vehicle, so plan to carpool and save some cash! Christmas in the Park runs every Sunday through Thursday from dusk until 9:45 p.m. and on Friday and Saturday until 11:45 p.m. throughout the holiday season.
Save Our Lake hosts this annual event at the New Canal Lighthouse on Lake Pontchartrain. It's free to attend, but you can also purchase $5 raffle tickets for your chance to win a variety of prizes, including a staycation, restaurant gift cards, City Park memberships, and more. Call (504) 836-2205 for details on event times.
For the Kids
Deanie's Seafood Holiday Kid's Sing-a-Long
The French Quarter location of Deanie's Seafood will host a kid's event on Dec. 10, 11, 17, and 18 at 9 a.m. This family-friendly event includes complimentary photos with Santa, a full breakfast buffet, face painting, arts and crafts, a commemorative crawfish, and more. Tickets are $42 per person, and children under 2 years are free.
Teddy Bear Tea at The National WWII Museum
On Dec. 3, 10, and 17, treat the kids to tasty food, sweet treats, and live music. They can bring their favorite teddy bear as a "plus one," but all young guests will leave with a new teddy bear to commemorate the event. Holiday songs, a photo station, and Santa are all part of the fun.
---
'Tis the season to overindulge. Fortunately, these cleansing smoothie recipes serve a multitude of purposes: they're perfect for on-the-go fuel while you're busy getting in the holiday spirit, and they're packed with healthy ingredients that will help your body detoxify from the inside out. Follow along with these recipes for delicious drinks that can boost your immune system, provide key nutrients like fiber and potassium, and — most important — still taste great!
Cleansing Smoothie Recipes
Tropical Green Smoothie
This smoothie produces a beautiful green color and a hint of exotic flavor. Kiwi is a powerhouse for vitamin C, and pineapple and celery help keep you hydrated.
Ingredients:
1 kiwi
1 banana
1/4 cup pineapple, roughly chopped (can substitute frozen pineapple chunks)
2 celery stalks
2 cups spinach
1 cup water (can sub coconut water for extra tropical flavor)
Recipe:
Combine all ingredients and blend. For a thicker smoothie, add ice and/or freeze pre-cut kiwi, banana, and pineapple in advance.
Antioxidant All-Star Smoothie
Berries are the star of the show in this smoothie, which blends up to a vibrant shade of purple. Oats add extra protein while berries boast antioxidants that can help stimulate the immune system and fight sickness.
Ingredients: 
1.5 cups frozen berry mix (blueberries, blackberries, and raspberries)
1.5 cups coconut milk
1 cup purified water
1/8 cup rolled oats
Recipe:
Add all ingredients to blender and blend until smooth. Substitute almond milk for coconut milk if desired.
Cherry-Chocolate Detox Smoothie
It's dark and rich, but it's also good for you!
Ingredients:
1 tablespoon cacao powder (can substitute cocoa powder)
2 tablespoons hemp seeds
5 red endive leaves
1/4 cup frozen dark red cherries
8-10 oz. water
Stevia to taste
Recipe:
Add all ingredients to blender and blend until smooth. Substitute water for almond milk if desired to create even more depth of flavor.
---
The holidays are a time for friends and family to come together and enjoy one another's company — but what if your living room isn't up to the task? We've collected some fantastic ideas for creating a functional living room that's big on style. Incorporate some (or all!) of these tips into your space, and folks will flock to this cozy spot in no time.
How to Create a Functional Living Room
Consider the color scheme
Lighter colors are typically best for a living room because they can make a space feel larger and more airy. If your living room is part of an open floor plan, opt for a color that complements your kitchen decor to create a cohesive look.
Anchor your space with an area rug
Even if you have carpet, an area rug helps designate the confines of the living room and adds an extra layer of comfort and style. Area rugs can introduce texture and color into a space, and can also serve as a basis for choosing other decor like curtains, pillows, and artwork.
Choose your seating wisely
When possible, opt for wipe-clean seating like a leather couch, or slipcovers that can be easily removed and washed. If the aim is to create a room everyone can enjoy (maybe even furry friends!) you'll want to rely on pieces that are as functional as they are comfortable. When in doubt, choose dark colors for your furniture to help hide stains, and keep the rest of your decor light and airy.
Add storage
Choose double-duty pieces like storage ottomans or trunks that can double as coffee tables. Then, fill them with living room essentials like board games, spare batteries for the remote, and extra blankets. Oversized wicker baskets filled with accent pillows are another way to incorporate texture while also adding storage.
Take the TV into consideration
Most living rooms are a primetime spot to watch TV, so use this simple trick to know how far away to place the TV from the sofa: multiply the size of your TV by 1.5. For example, if you have a 40″ television, the sofa should be at least 60″ (5 feet) away. Remember to place the TV at the right level so that your eye naturally gazes toward the middle of the screen when you're sitting on the sofa.
---
If you're entertaining at home this Thanksgiving, be sure to check out some of our latest lifestyle tips, from prepping the guest room to capitalizing on oven space by roasting vegetables together. All of our apartments at 1st Lake Properties are spacious and modern, but we know how easy it is for your space to feel more stuffed than a turkey when hosting friends and family. That's why we've put together another guide: how to host Thanksgiving in a small space. Take a look at our favorite hosting hacks!
Rise to the top.
Thinking vertically is one of our best bathroom organizational tips, but it works at Thanksgiving, too. Maximize space on the dinner table by using tiered plates to hold appetizers and desserts. This trick even works for the turkey, too: carve it ahead of time and separate white meat, dark meat, and legs on a three-tier display.
Table your concerns.
If your dining table won't accommodate all of your guests (or if you don't have a dining table), rethink other flat surfaces instead. Consoles, sofa tables, and nightstands can all work as alternate eating spaces or food displays. This allows you to create intimate areas throughout your space rather than one giant table. Folding tables and chairs from a party rental store can also help you maximize space on a small budget. Whatever you choose, drape coordinating linens over mismatched tables to transform them into a cohesive unit.
Rearrange furniture.
We get so used to seeing our stuff in the same place, it's easy to forget it's not bolted down! Rearranging furniture is a fun, free, and instant way to transform your home any time of year, but at the holidays, it's also a space-saving trick. Push couches against the wall, or move them to a different room altogether during dinner. Other rooms in your apartment can serve as storage so you're left with maximum space for entertaining.
Teach old furniture new tricks.
Your ironing board works great for extra counter space, and a spare side chair positioned near the front door is ideal for letting guests set down their purses and bags when they come in.  These two tricks help free up space and make the most of precious square footage at the same time.
Turn down the A/C.
Smaller apartments can heat up quickly with the oven going and extra guests mingling about. Keep everyone comfortable by being mindful of the A/C — turn it down a few notches and adjust accordingly throughout the evening!
What's your best trick for maximizing square footage?
---